Samsung Galaxy Watch5 PRO
Hitting The right Direction
The Galaxy Watch5 Pro continues Samsung's foothold into the Android wearable market, producing an even more competent smartwatch that can appeal to a very broad audience and maybe even some fitness junkies
Good
Great design with great buckle
3-4 day battery life
Some workouts auto-detect and start counting
Ungood
Could be bulky for some
Non-Pro version offers better value
Touch bezel and main display areas can cause mistouch
---
Specs
---
CPU
Exynos W920 Dual Core (5 nm)
Memory
1.5GB RAM with 16GB storage
Resistance
MIL-STD-810H compliant
50m water resistant (IP68)
Sensors
Accelerometer
Ambient Light Sensor
Barometer
BIA (Body Composition Analysis)
Continuous Sp02
Electric Heart Sensor (ECG)
Gyroscope
Optical Heart Rate Sensor
Skin Temperature Sensor
Display
1.4'' 450×450 AMOLED with with Sapphire Crystal Glass
Connectivity
Bluetooth 5.2, Up to WiFi 5 , eSIM
OS
Wear OS powered by Samsung
Battery
590 mAh
Case Material
Titanium Frame
20mm D-Buckle Sports Band with 20mm compatibility
Available Colors
Black Titanium, Gray Titanium
Retail Price
RM 1,899 (45mm)
The Works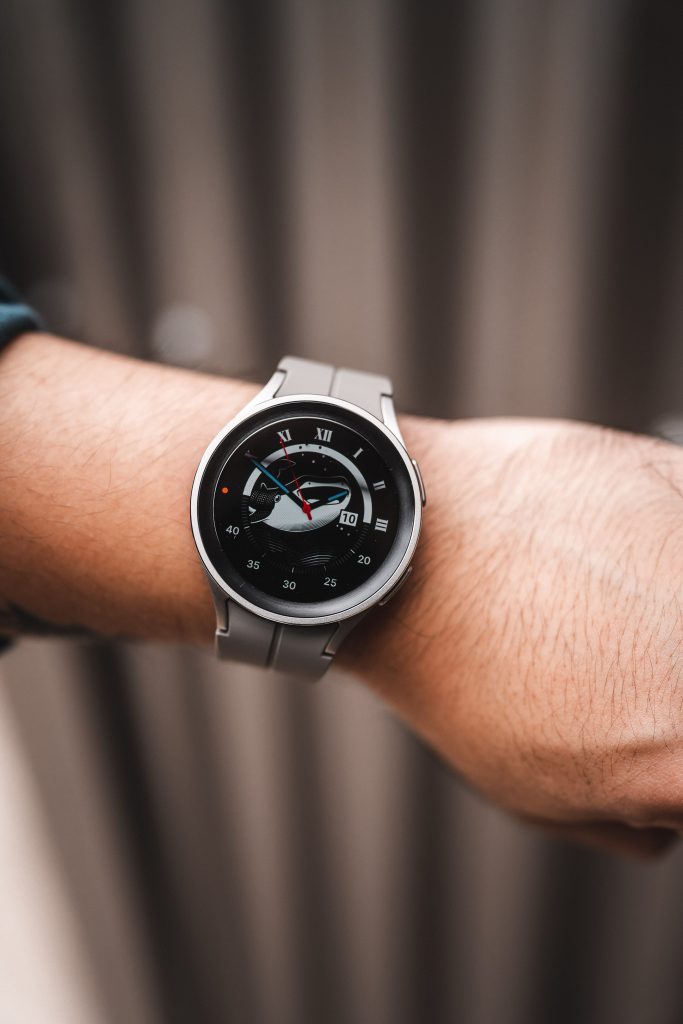 "Durability and Design Upgrades All Around"
As Samsung's current premium wearable, the game had to be stepped up since the wearable space is actually competitive. This time around, better materials were chosen to create the Galaxy Watch5 Pro.
Let's start with the case. The Galaxy Watch4 and Watch5 employ Samsung's own patented Armor Aluminum , which is pretty much reinforced aluminum. A step above that would be the much harder titanium, in which the Galaxy Watch5 Pro is made of. This easily makes it pass the stringent MIL-STD-810H qualification (the Galaxy Watch4 Classic had a slightly lower MIL-STD-810G which had only slightly lower resistant properties) , so apart from being able to withstand extreme elements and kinetic force, it ended up feeling like a well-made, solid smartwatch.
It's also chunkier too, weighing 13g heavier than the Watch5 and 16g than the Watch4. It also houses the biggest battery Samsung's ever fit into a wearable, which measures up to 590mAh, making it not only the toughest smartwatch the brand's ever made, but supposedly one that also lasts the longest on a single charge. If you're thinkin' of going for a swim, the Galaxy Watch5 Pro is highly qualified to do so, just like its predecessor. It comes with 5ATM and IP68 ratings, making it
The display is also protected by Sapphire crystal too, which adds plenty of scratch protection should you need it. Compared to the Gorilla Glass DX that the Watch4 Classic, this is definitely a step up.
Hardware Keys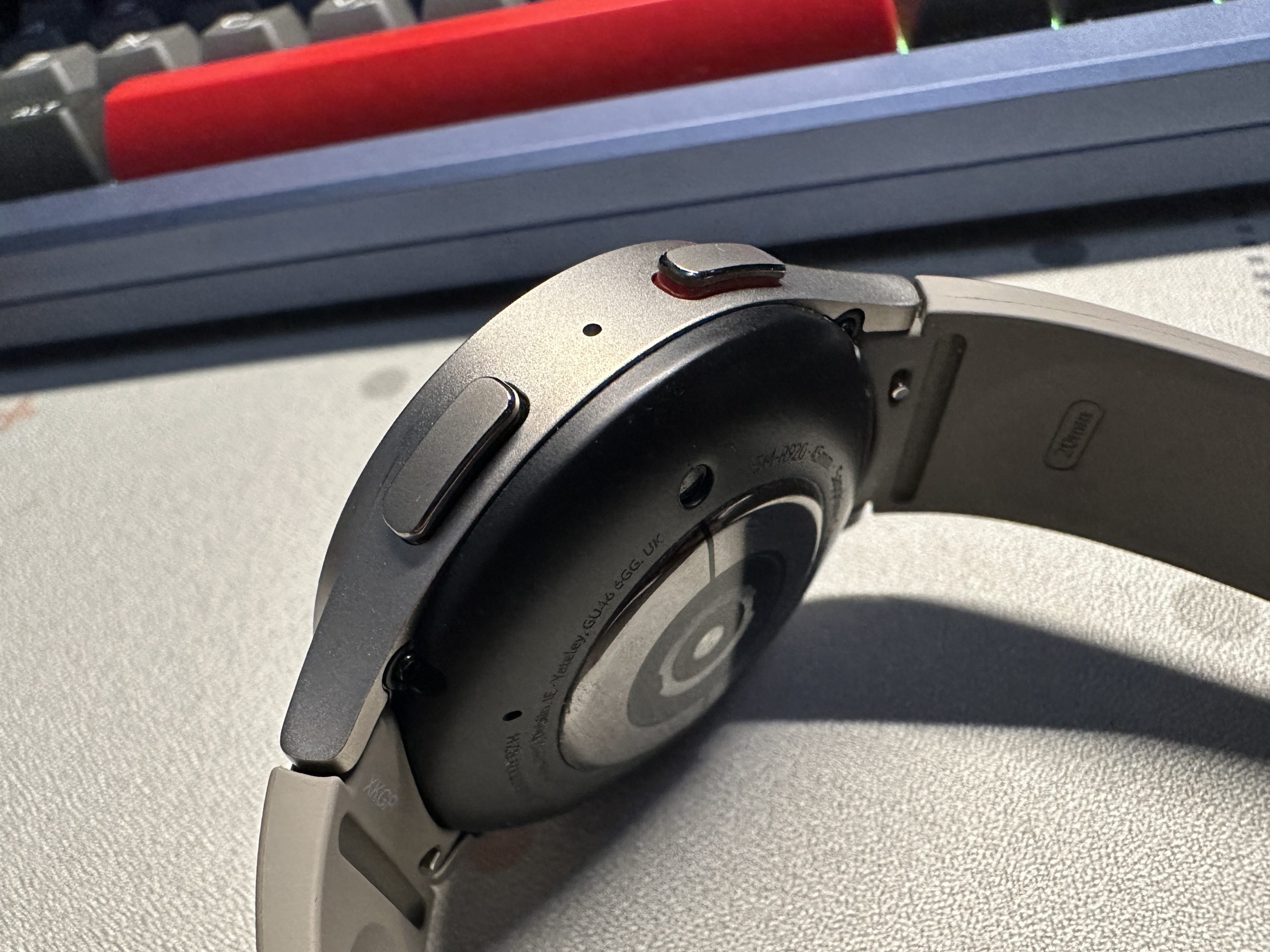 There are only two buttons to worry about, with the power button having its own little red accent. A quick press of that takes you to the home screen and you can customize the long-press and double-press buttons.
The bottom would act like a Back key, and would trigger Samsung Pay by default if you did a long-press. This too can be customized and I mapped it to Spotify instead. Both buttons also have electrodes built-in,so you can use it for ECG and measure metrics like your body composition.
The Galaxy Watch5 Pro introduces a new D-Buckle style rubberized strap. It has a magnetic clasp which helps opening easier. Adjusting the strap to your wrist length needed extra steps which took some time to learn. You simply have to pull the upper clasp to loosen it and you can adjust the strap's length to your liking. When that's done, simply press down the same clasp and you're good to go.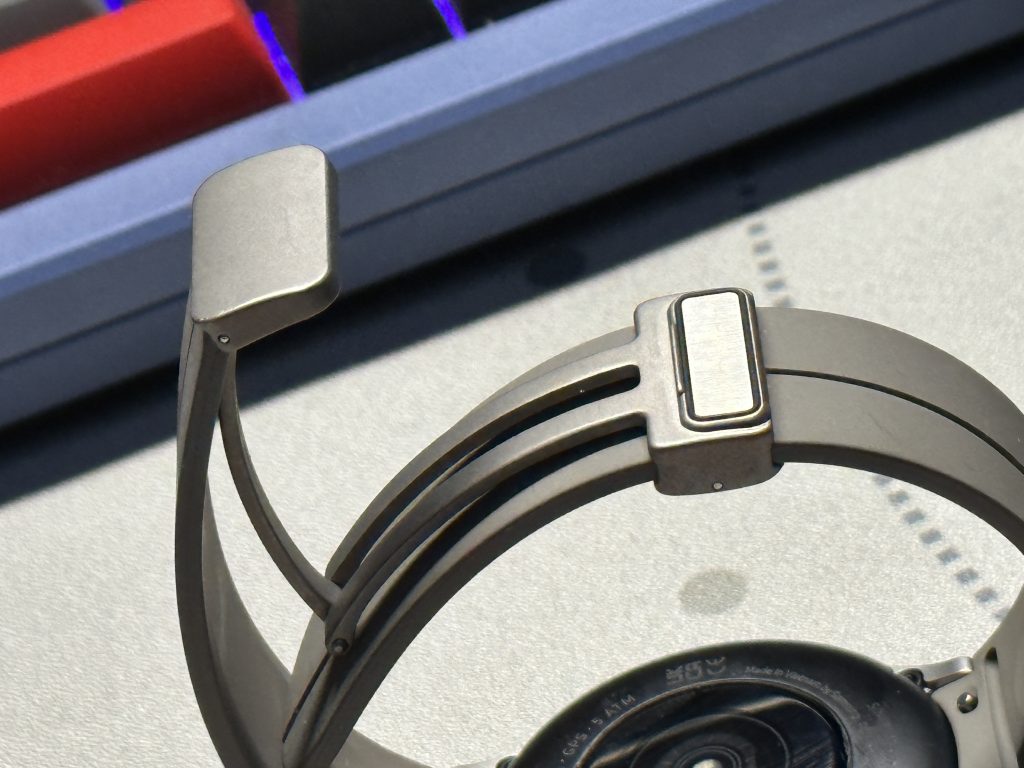 If this isn't your thing, you can replace these with other standard 20mm straps or Samsung's own. They're easy to pick up and install thanks to quick release mechanisms on the watch case itself.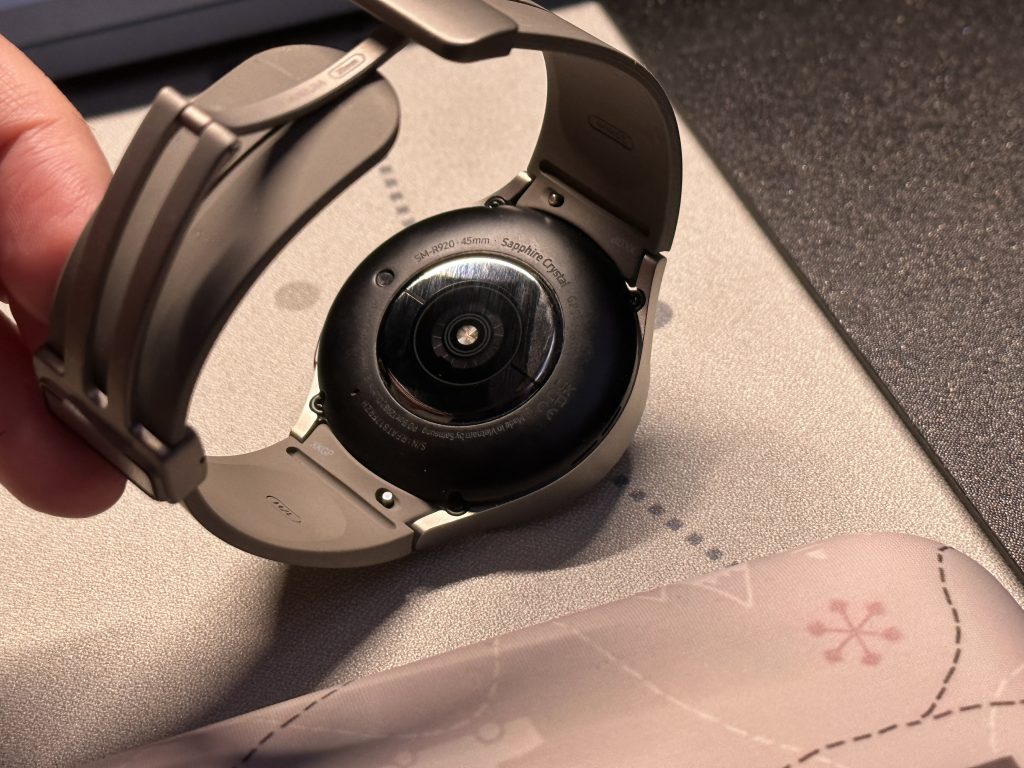 The underside protrudes out ever so slightly, housing the BioActive Sensor, ECG and Blood Pressure sensors. On top of that, it's also where the Qi wireless coils are housed, being able to charge wirelessly with the provided magnetic puck that needs to be plugged into a vacant powered USB port.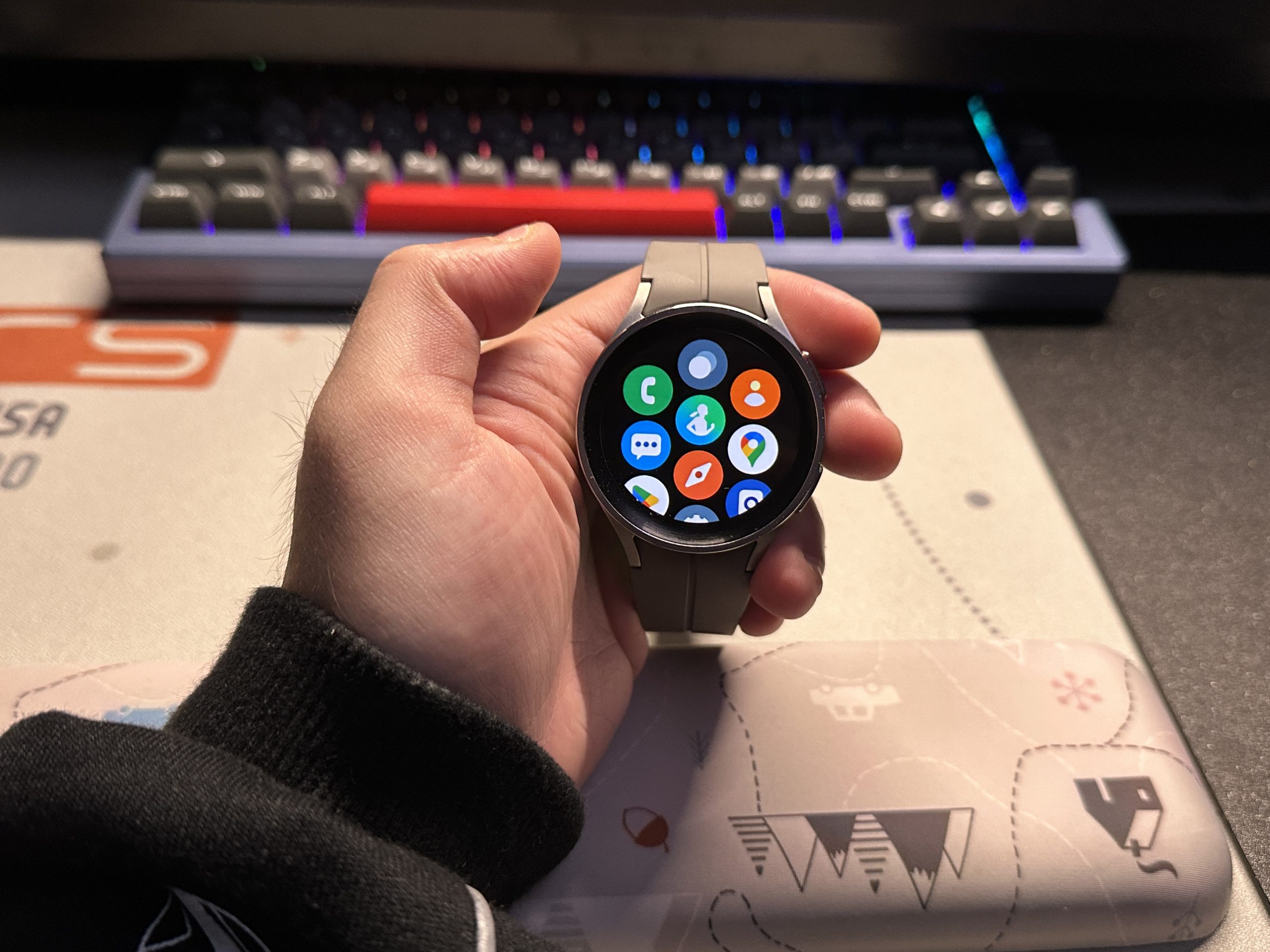 In the front is a 1.4″ round OLED screen with thicker bezels that's enveloped by the thicker, deepry titanium case. I personally like this design language as it's able to offer some level of basic protection from external elements since the screen is a little embedded into the bezel and case.
As a Casual Piece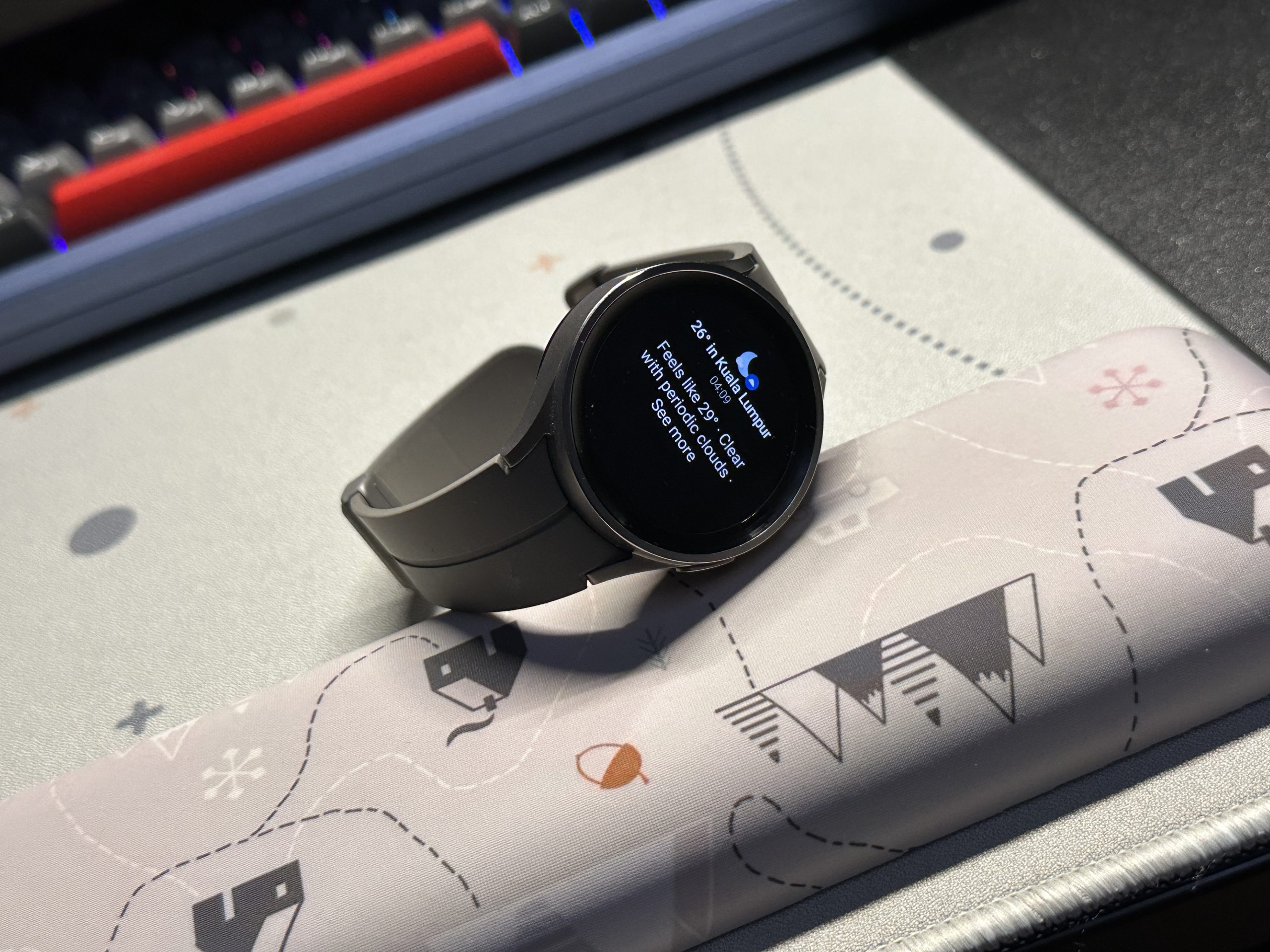 As a daily driver, the Galaxy Watch5 Pro is a refined piece that just works. It's a full smartwatch that brings Galaxy flavors to Android Wear, and it's proven to be a working model, from apps to battery life.
With the physical bezels out of the equation, you'll need to get accustomed to the digital bezels, which is why Samsung made 'em thicker. For the big finger folks, you'll need to be extra precise since the display and bezels are in the same area, so if you touch ever so slightly off the black bezel areas, you'll also be touching the screen which'll move your display somewhere else. I would constitute this as an unavoidable inconvenience that can only be remedied through user practice. Such is the price of moving forward.
With that out of the way, the Galaxy Watch5 Pro can handle everything from the simple stuff like notifications, music control, to the harder stuff like fitness recording. What's consistently stuck here with the previous generation is the seamless Bluetooth audio support where I was able to pair my earphones to play music off the Spotify I installed with some offline tracks downloaded. If you don't prefer to keep tracks downloaded, it'll still be streamed to your earphones via your phone and your Watch5 Pro will just be the remote (with the ability to see and choose next track and jump playlist to playlist).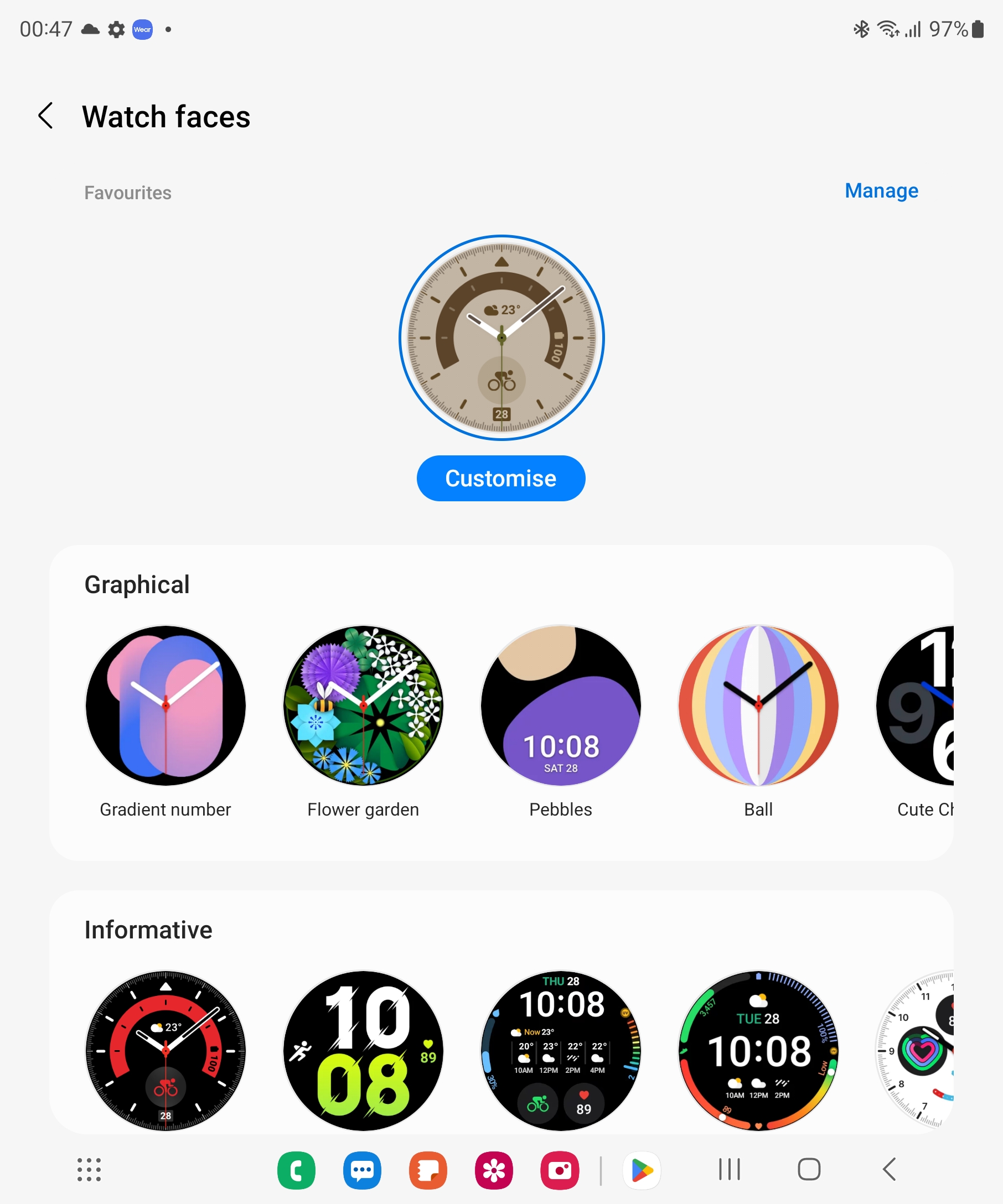 If the pre-installed watch faces don't appeal to you, then you can simply just get more from the Google Play Store. This opens a lot of doors in terms of customization and further encourages more designers to make more watch faces for Wear OS. On top of that, you can customize some of Samsung's own watch faces to your favorite color scheme, right down to what kind of complications you want your watch to have displayed. I went with Endangered Animals because nothing's more cute than an Otter holding a glass of wine.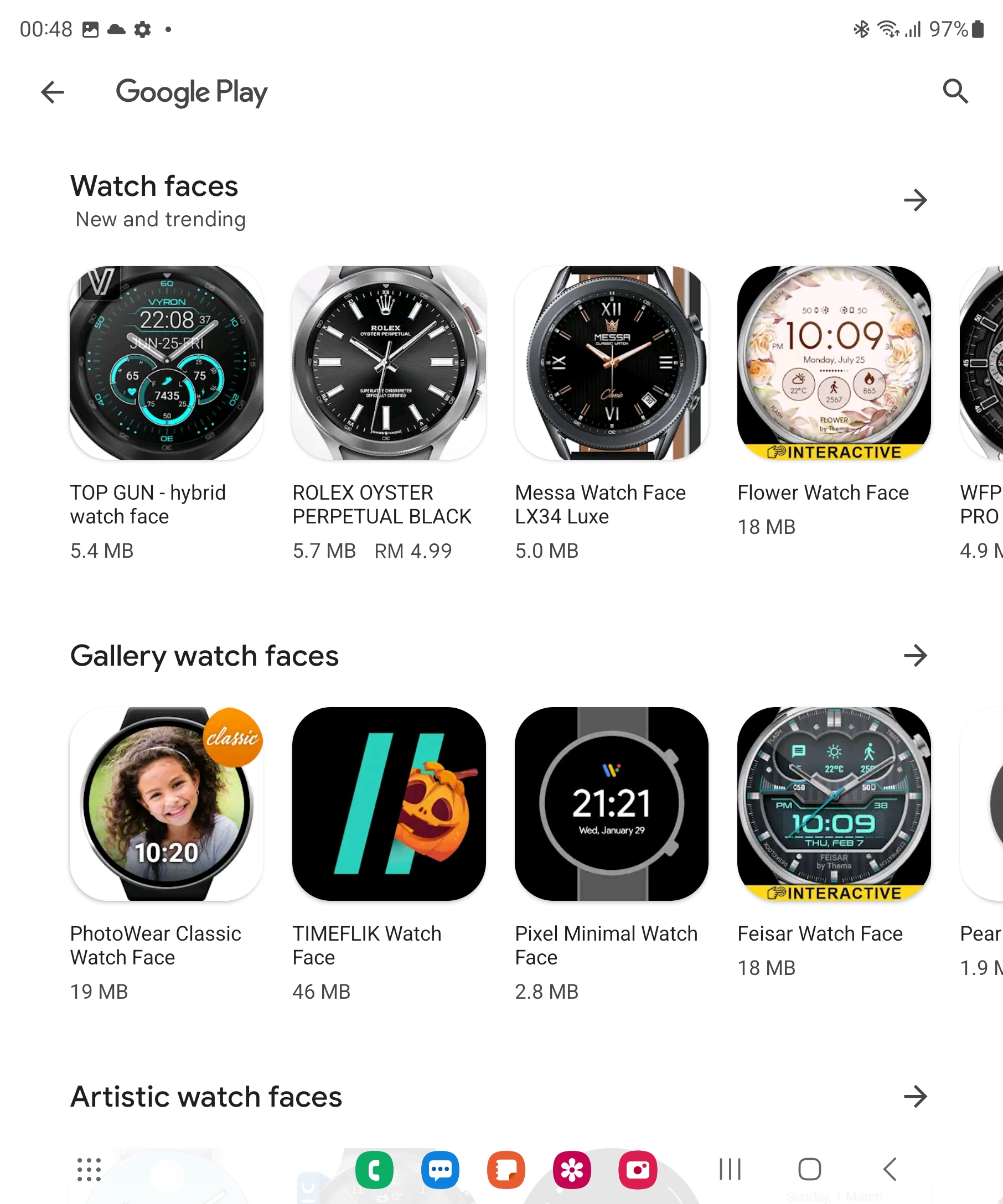 I actually turn off always-on, as I felt that this time around, tilt-to-wake was thundering fast, and it didn't feel necessary to leave it constantly on (and besides that adds to battery life too). The only time I had it on consistently was when I decided to open up Google Maps for navigation. We previously did not have access to Google apps on Tizen OS and now we can take full advantage of it.
You'll also be quite impressed with the microphone and speaker. My callers were able to understand my speaking clearly as well as I was able to hear 'em out too though I don't recommend it in crowded areas. Pair your phone to the watch and add your earbuds in and you'll be whole in no time.
As a Fitness Companion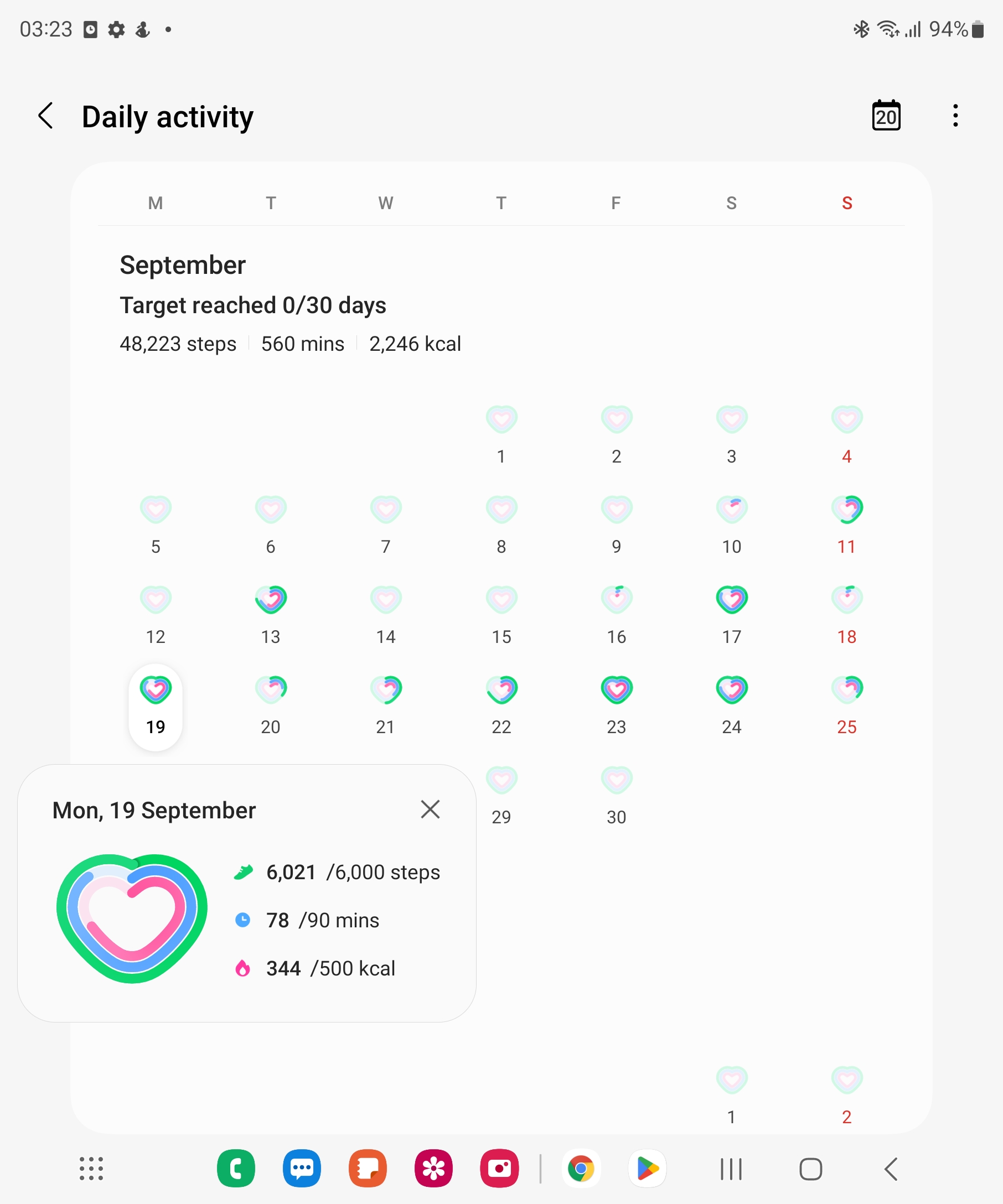 With the same Exynos W920 chipset, Samsung was pretty confident with sticking to what's not broken or flawed. It was a fantastic chipset that proved itself in performance and battery efficiency, two of the things that are constantly tested during workouts and stationary tracking such as heart monitoring and sleeping.
The 'BioActive Sensor' is here to stay, being Samsung's answer to health and fitness. This chip packs all 3 essentional wearable sensors into 1, taking care of reading your usual Heart Rate and Blood Oxygen monitoring. The BIA (Bioelectrical Impedance Analysis) monitors your blood pressure and detech Afibs (irregular heartbeat)
From there, you're able to record and get notified in-app when it does happen and you can take the next step to manage the situation. I didn't get to experience this just yet so I was only able to take this feature with a pinch of salt in terms of reliability (sorry for having an okay heart!).
How Do I Measure My BMI?
All you have to do is navigate to the app and you'll be asked to place your middle and ring fingers on the watch's side buttons for a few moments and you'll be told your BMI data, complete with body fat and skeletal muscle metrics. It worked like a charm, just like on my Galaxy Watch4 Classic, so there's not really much improvement here since all we need it to do is to work properly.
Samsung Health Is A Must Have
All health tracking data can only be recorded via Samsung's own Health App, and if you're a Samsung device owner you'll get an immediate advantage without needing to download too many extra plugins to get everything working.
It can be annoying at first, but if you're serious with your fitness tracking you'll just have to make do. There's over 80 trackable activities to choose from, and the beauty of it is you don't even need your phone. The Watch5 Pro has its own GPS and baro-altimeter so data's tracked no matter how you set it up.
Battery life took a good leap, offering 3-4 days of battery life from the Watch4 Classic which offered a maximum 2 1/2 days under strict configuration and display-on frequencies.
Runners will probably get just the 3-days if you're doing daily runs for 45 minutes per session, which is a 15 minute improvement over the Watch4 Classic. The essential bit here is, GPS was always-on, since I needed to punish that big battery to find its breaking point.
No more daily charging, as we've loaned it to our triathalon associate for a week and we've found that he could squeeze 2 days of back-to-back, 3 sessions a day of workouts and runs and that's seriously impressive. For atheletes that are wondering what kind of charging habit you're going to have here, it's simple. If you're training heavily, daily, charging once every 2-3 days is doable and that's more than satisfactory. Even more if your display is not always-on.
With a bigger 590 mAh battery, the Watch5 Pro takes more or less an hour to fully charge back to 100% from a crawling 5% on watch-only mode. If you're intending to track your sleep, the watch does remind you to plan your charging ahead by 2 hours before the time you think you're gonna go to bed. So far, this is the only smartwatch in the market that I know of that does remind you to do so.
A tracked 5KM run was captured well, in line with my Amazfit T-Rex 2 Pro. I love the fact that the Galaxy Watch5 Pro automatically gets into running track mode as soon as you run. This saves a lot of time setting things up, you literally just need to pick up the pace and the watch will do the rest. This is my favorite part of owning a Galaxy wearable.
You'll pretty much be closing heart shaped rings here, and the Galaxy Health app records down day-to-day on your ring progress. This is for both runners and those who are trying to maintain their physical health at minimum through means of just normal brisk walking. It's useful to keep this data to remind yourself on progress and personal motivation of not breaking a streak!
Finally, every 30 minutes, the Watch5 Pro does push an audio reminder about your timing and distance covered. A vibration comes along with it, which is typical of most wearables during a workout sesh.
---
Samsung's Exceeded Expectations Here.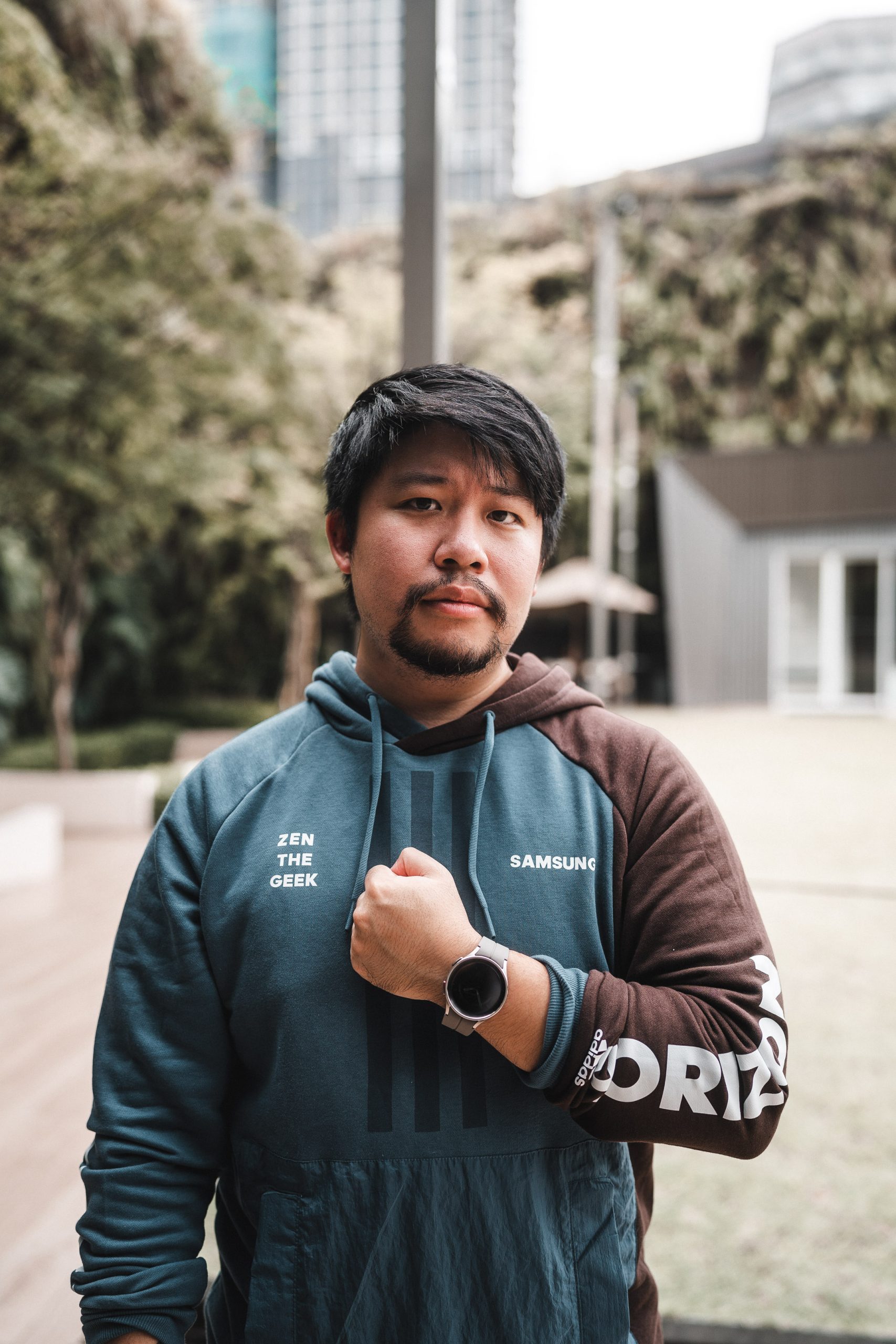 It's really not all the time a brand can make better successors to their product line, but not for the likes of Samsung this time around. They're on a roll, creating a very usable and likeable wearable that even non-Samsung users can get behind, especially battery life longevity and sensor accuracy.
The BIA sensor does as great job keeping you on your toes, but you'll only be able to fully utilize it if you're already part of #teamsamsung in terms of smartphone choice.
The cost of adoption may be a little too high for the Pro, since the Watch5 is able to offer more or less the same experience with its weakness being just battery life and less premium materials.
Still, if you're looking for a really good Android smartwatch, especially if you're already on a Galaxy device, we'd say this one is quite hard to reject.