Infinix note 12 2023
Infinix is still pretty new in the Malaysian market, and the Note 12 2023 is their new kid on the block that really wants to make an impact in the entry-level game, promising performance and experience with an attractive price-tag.
Love
Relatively cheap
AMOLED Panel
Competitive storage and RAM
Big battery with 33W charging
Loven't
Unimpressive design
Sacrifices visual quality for performance
Easy to beat device in terms of competitive offering
Key Specs
CPU
Mediatek Helio G99
Memory
128GB + 8GB RAM
microSD card slot – Yes, up to 256GB
Display
6.7″ 60Hz FHD+ True Color AMOLED
Camera
50 MP, (wide)
QVGA AI Lens Camera
2 MP, (depth sensor)

16 MP, (selfie)
Connectivity
Bluetooth, USB Type-C 2.0, WiFi 5
OS
Android 12, XOS 10.6
Battery
5,000 mAh, 33W Fast Charging
Available Colors
Tuscany Blue, Alpine White, Volcanic Grey
Retail Price
128GB + 8GB RAM – RM 799
---
Basic Design Fundamentals
The Infinix Note 12 2023, even though market as a gaming phone, does not actually look like a gaming phone. It's pretty much plastic all over, with a mixed finish. We got the Tuscany Blue, which is probably most interesting color of the 3. About 66% of the back is a shimmering matte finish, with the remaining 33% being mirrored glossy.
It's the glossy area that houses a circular triple sensor array and a horizontally stacked LED flash cluster.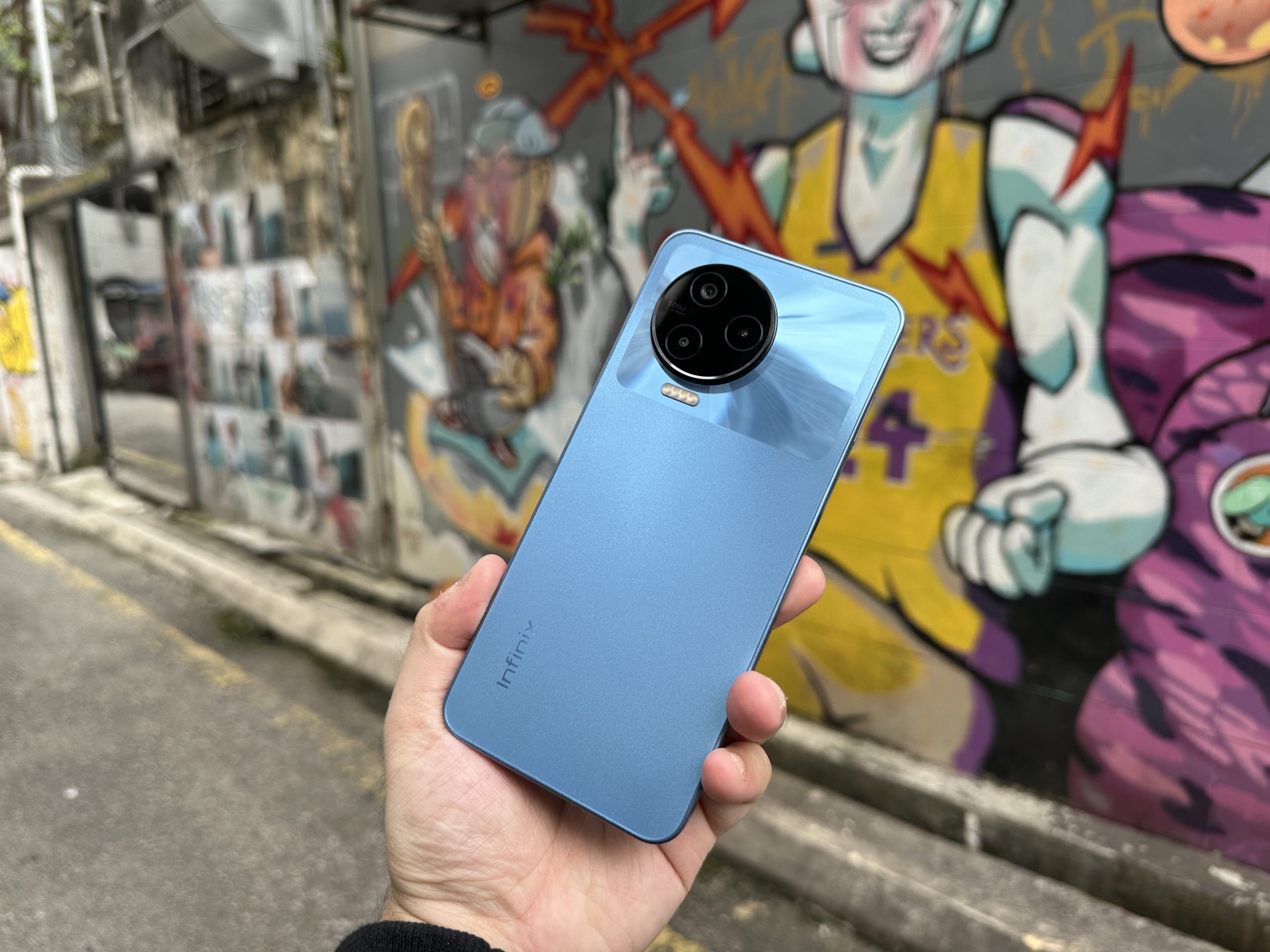 The sides of the Note 12 2023 has a slightly different hue of the same Tuscany Blue, with matching volume and power buttons. The power button is a protrudes ever so slightly but not as extensively as the volume buttons because it's also the fingerprint sensor.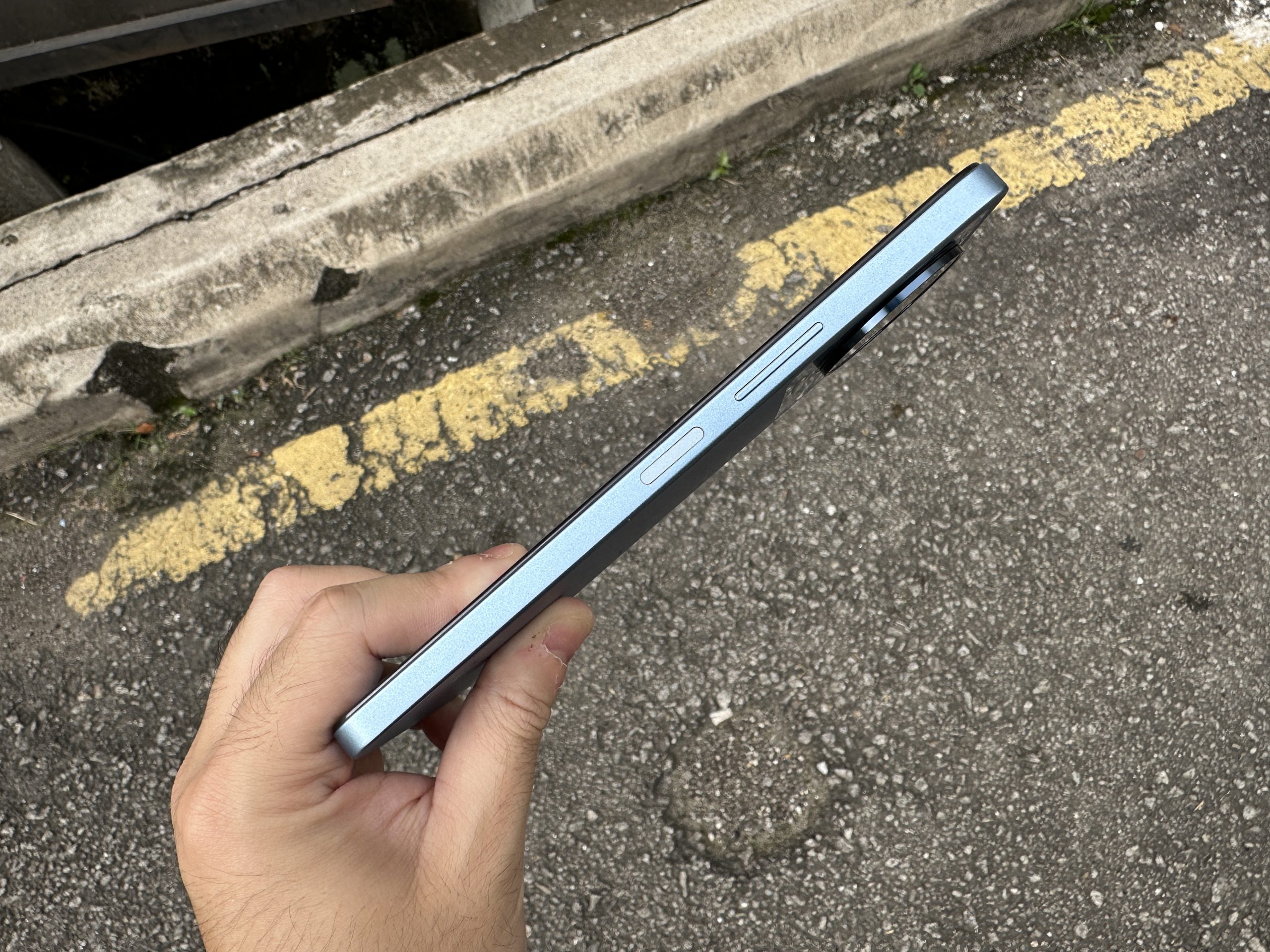 That being said, the fingerprint sensor was surprisingly snappy and gets you to your home screen rather quickly. Overall, it's a smartphone that looks nice in color and feels easy to hold. It gets the basic fundamentals right but it just means that it's generic. I can see the appeal, but only for those who just want a simple looking device that serves their respective purposes.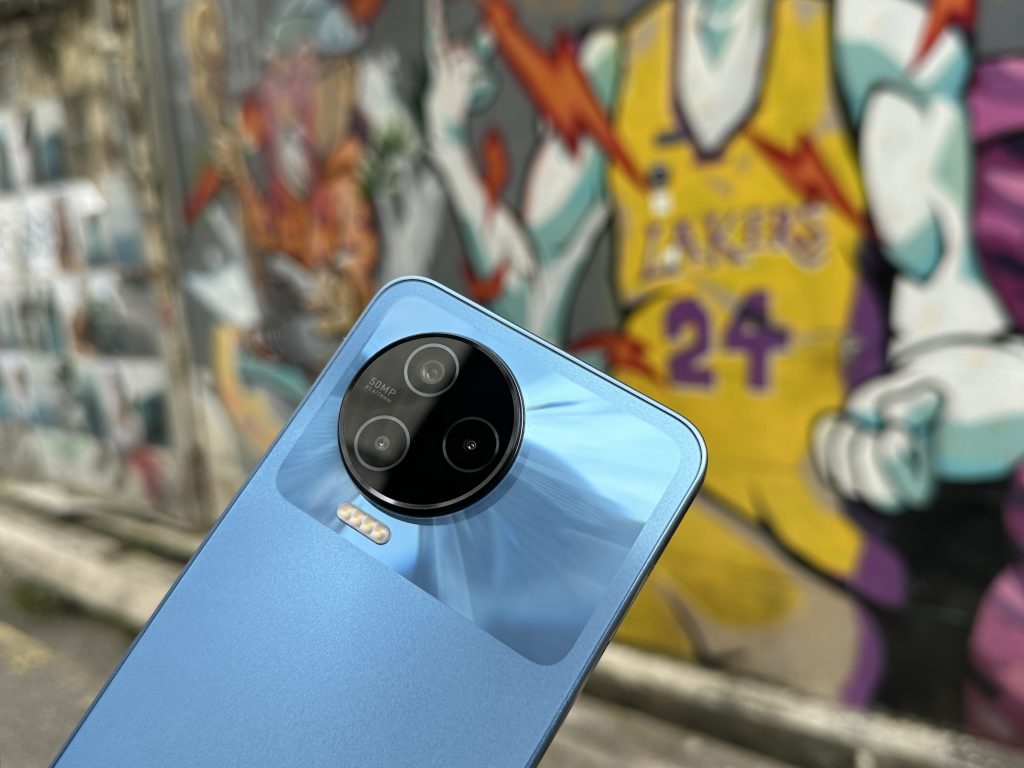 The Strange But Honest Camera Setup
At this price point, it's not about nitpicking any longer. The Note 12 2023 advertises a triple-camera setup and it's achieved based on technicalities rather than qualification. You get a 50MP main shooter with 2 supporting sensors rather than tertiary, dedicated sensors. A 2MP depth sensor helps with portrait blurs and field, along with a QVGA AI camera lens that assists in auto-HDR and auxiliary photovideo features.
Call me optimistic, but at this price point, it's nice to have one seemingly capable sensor that's assisted by 2 supporting sensors. A setup like this would help take decent wide angle shots along that's heavily AI assisted. We would wish for an ultrawide but we strongly believe that whatever ultrawide sensor they could shove in without increasing the price would be of low quality so this will have to do. Let's take a look at the camera samples.
Wide Angle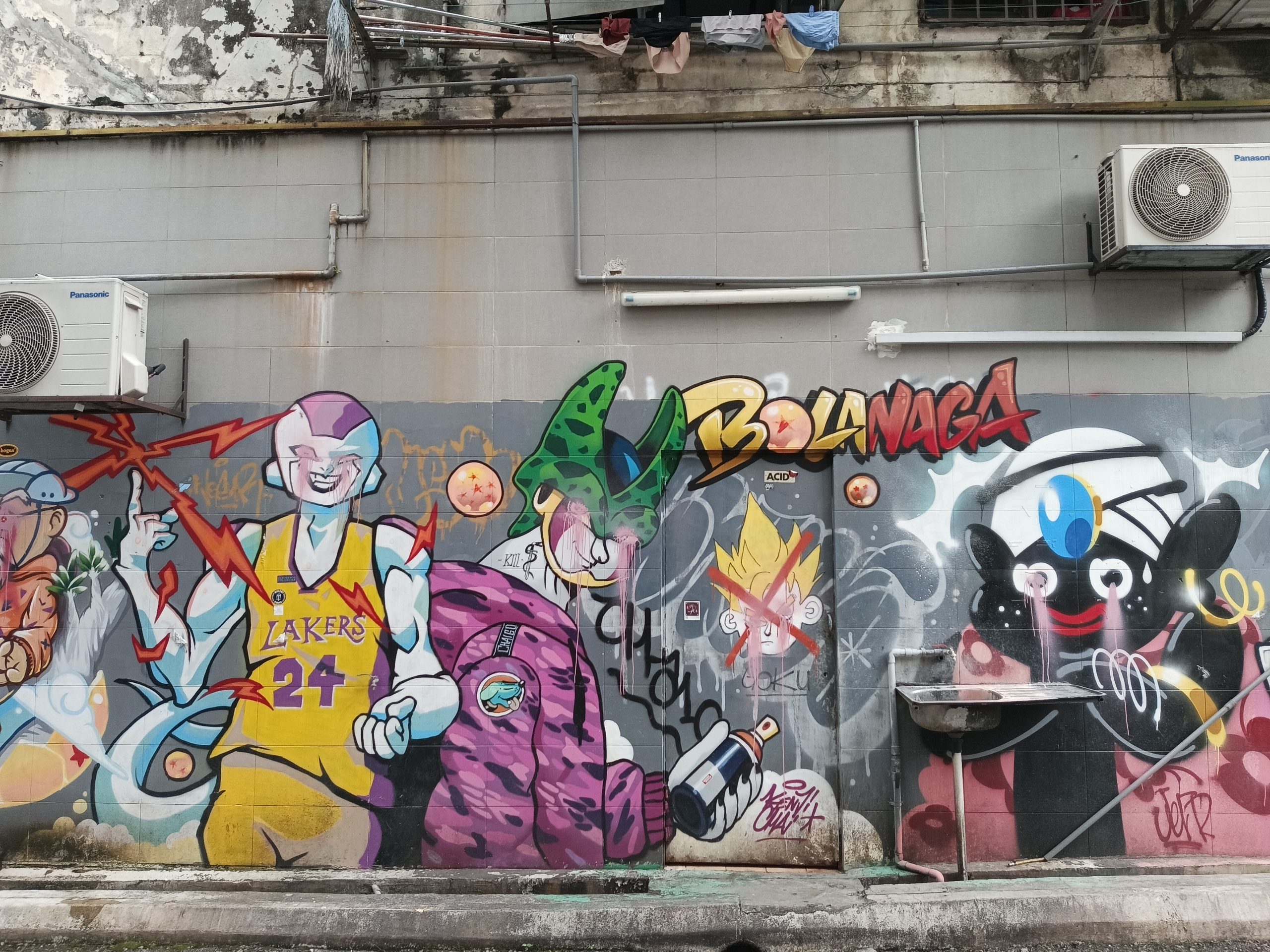 The one and only usable main sensor shoots nice and clean. It excels in daytime and takes a more flat and neutral tone which is rare for this price range. This leaves some photographers with some headroom for vibrant edits. The camera by default shoots in a 4064 × 3048 resolution so that makes it 13MP. The advertised 50MP is a dedicated mode that pretty much upscales the shot in post.
These upscaled shots improved some details but takes a little dip in sharpness so I would recommend shooting in default for the best results.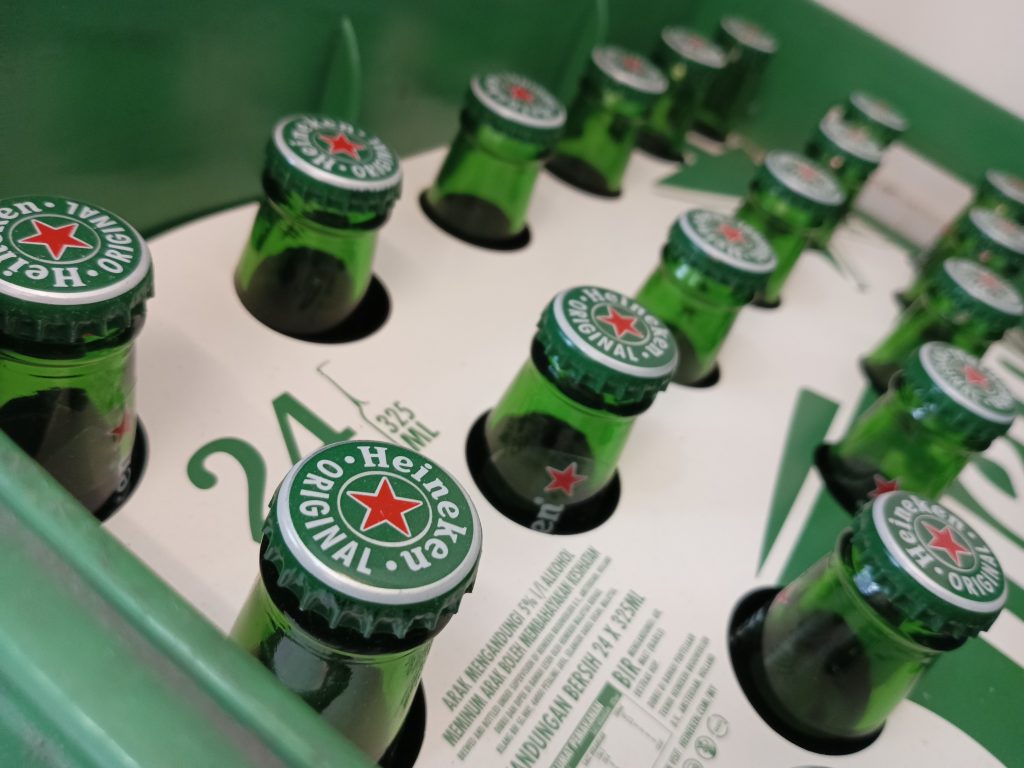 Close ups were interesting. we get some very decent level of detail with accurate colors, with the most noticeable drawback being focus loss and fringing towards the middle and the edges. This is a typical outcome since most of the work is being done by AI in post. Still, it works and passably gets the job done.
Dynamic Range is passable but easily overwhelmed
In overcast weather, Auto HDR kicks in and aggressively works towards neutralizing the image to make it as level as possible. This results in shots that suffer in highlights and sharpness, but overall detail is still well retained and easily on par with devices below the RM 1000 price point. I'd conclusively say that the Infinix Note 12 2023 has a decent single sensor with a hardworking post-process.
Zoom
Zoom's all digital, and there's only so much sharpening software can do to keep things realistic and true-to-life. 2x zoom is very usable, with good details and not-so-aggressive sharpening, even in non-ideal lighting. Beyond that, such as 5x zoom would be stretching it thin. Things started to get blocky and clumped together. This would be the work of the AI, making the image soft but not ugly. You'll still be able to make out words like that keluar sign but definitely nothing smaller than that, such as the brand of that electric fan.
Selfies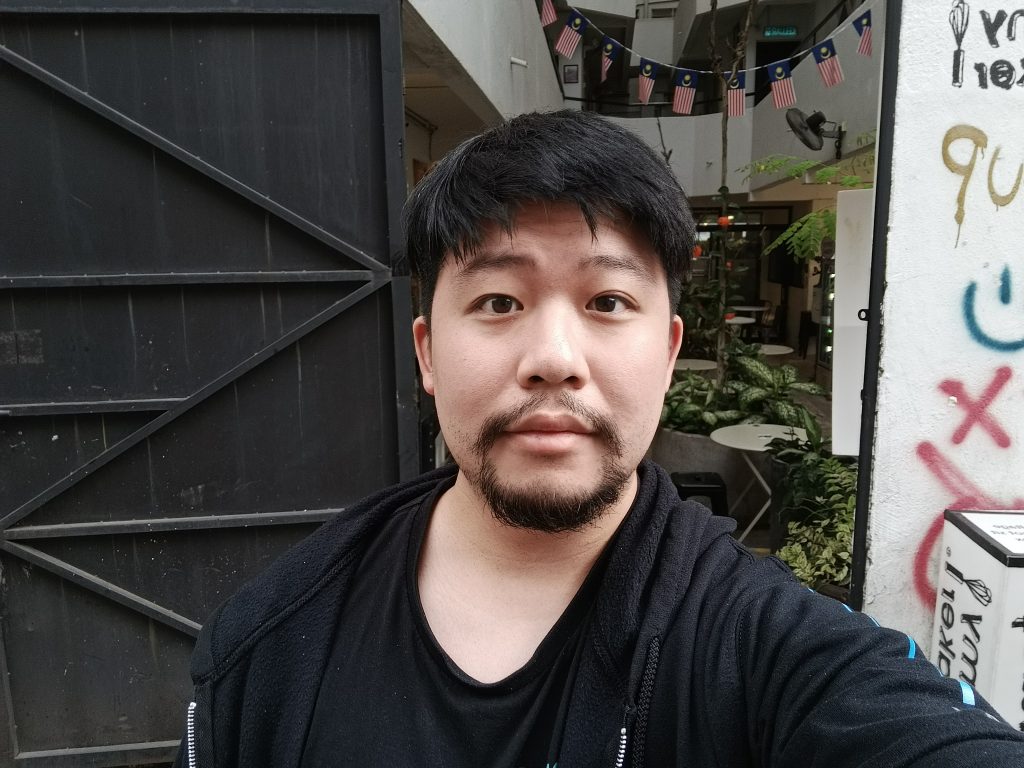 I was impressed by this fixed focus 16MP shooter. Skin tones were neutral with really nice detail and color accuracy. My hair and facial hair did not clump up together and its honestly all-in-all a good selfie-cam.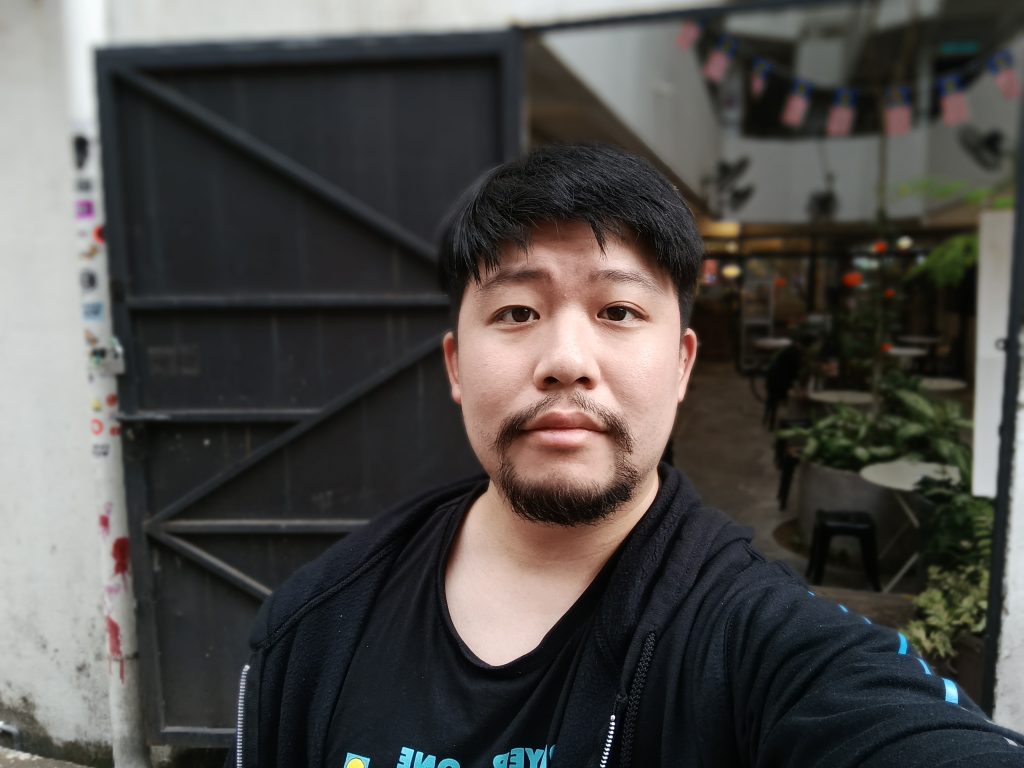 Portrait mode was nice but the blurs go all over the place. It couldn't make out the ends of my hoodie, as well as some of the stickers on my left, so some stickers had more blur than the others. The top left part of my hair was also caught in the blur, with the AI probably assuming that its' part of that metal black gate!
---
The Works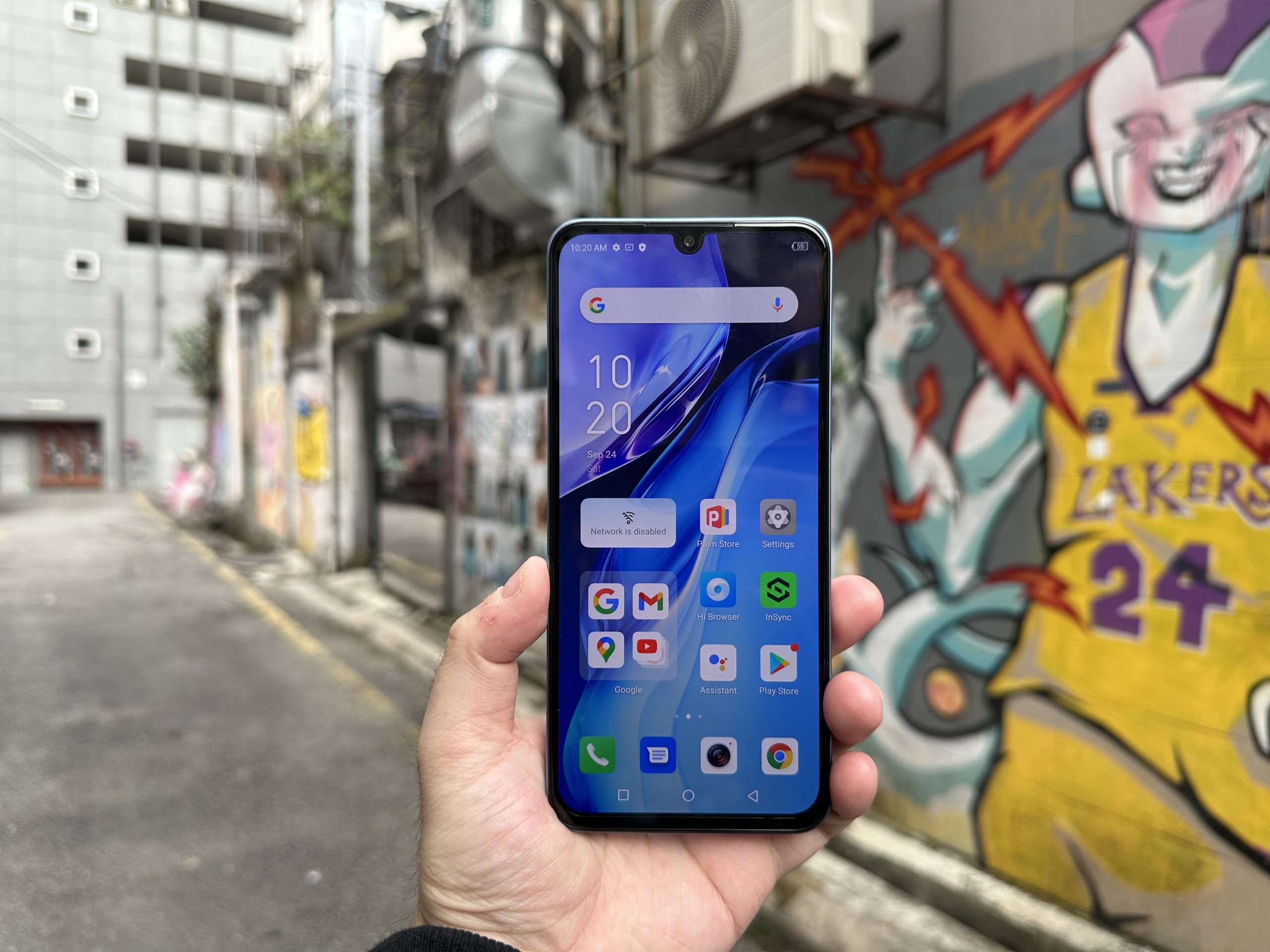 The Note 12 2023 was tailored to be a gaming device on a budget. It's meant to provide the user with slightly more than the basics while retaining a very reasonable asking price.
Like most smartphones of varying price tags, it sports a tall 6.7″ 60Hz FHD+ AMOLED panel that has nice colors and respectable blacks. It takes the DCI-P3 gamut coverage route, promising 100% but I would find that hard to believe. The panel supports HDR but does not have HDR ready qualifications for Netflix but only for YouTube. We can't really complain here as the value this phone brings easily justifies what it lacks (and gets away with it). The dual speakers were above average, offering Hi-res and DTS compatibility. It does better than most entry-level competitors, but really lacks in punch and really weak trebles. Regardless, it's still the better problem to have since most brands in this price range offer pretty weak audio setups.
As for gaming, a 6nm Mediatek G99 SoC takes care of graphically light games easily. You get 8GB of RAM and 128GB of internal storage, so you can install a couple of big titles and run some apps in the background with very little to worry about lagging. There's also a microSD slot that supports up to 256GB cards so you can use that for your media files and photos so that you can maximise your internal storage for your apps and games.
It's a fixed refresh rate too, so most games ran smoothly and without much heat. We definitely hit a couple of rounds on Mobile Legends with max details and it ran without a hitch. Framerates were pretty consistent, looming between 60 FPS in quiet moments and 56 FPS during intense teamfights.
Tougher to please games like Call Of Duty Mobile and Cookie Run Ovenbreak ran well too, with more or less a healthy 55 FPS – 60 FPS average. Call of Duty was the only title that generated more heat than the rest, but not up to an unbearable point. I'd say the chipsets pretty optimized and the phone's numerous graphene layers are doing their job keeping the phone free from heat.
The Infinix Note 12 2023 comes with the company's own Monster Gaming Kit, which is essentially a software suite of gaming-centric features such as image sharpening (graphic enhancement), revice countdown and a linear motor tactile system with 4D vibration. These features aren't technically focused on improving performance, but experience. That linear motor tactile system worked well on Asphalt but that's really about it. Turns felt more accurate in motion but beyond that, there's nothing much to shout about here. Image sharpening helped in making some games less pixelated, which I essentially used on Genshin since I had to play on the lowest graphical settings to obtain more desirable frame rates.
If you intend to play games like Genshin, we tested it out and did it for you. All we can say is, stay on 30FPS if you don't want to burn your hands. It's playable, but most below RM 1000 phones aren't built for that kind of demanding games, so manage your expectations.
TLDR ;
Play simple, esports mobile games on Infinix Note 12 2023 = YES
Play 3D intensive, hardware demanding titles on Infinix Note 12 2023 = NO
Battery Life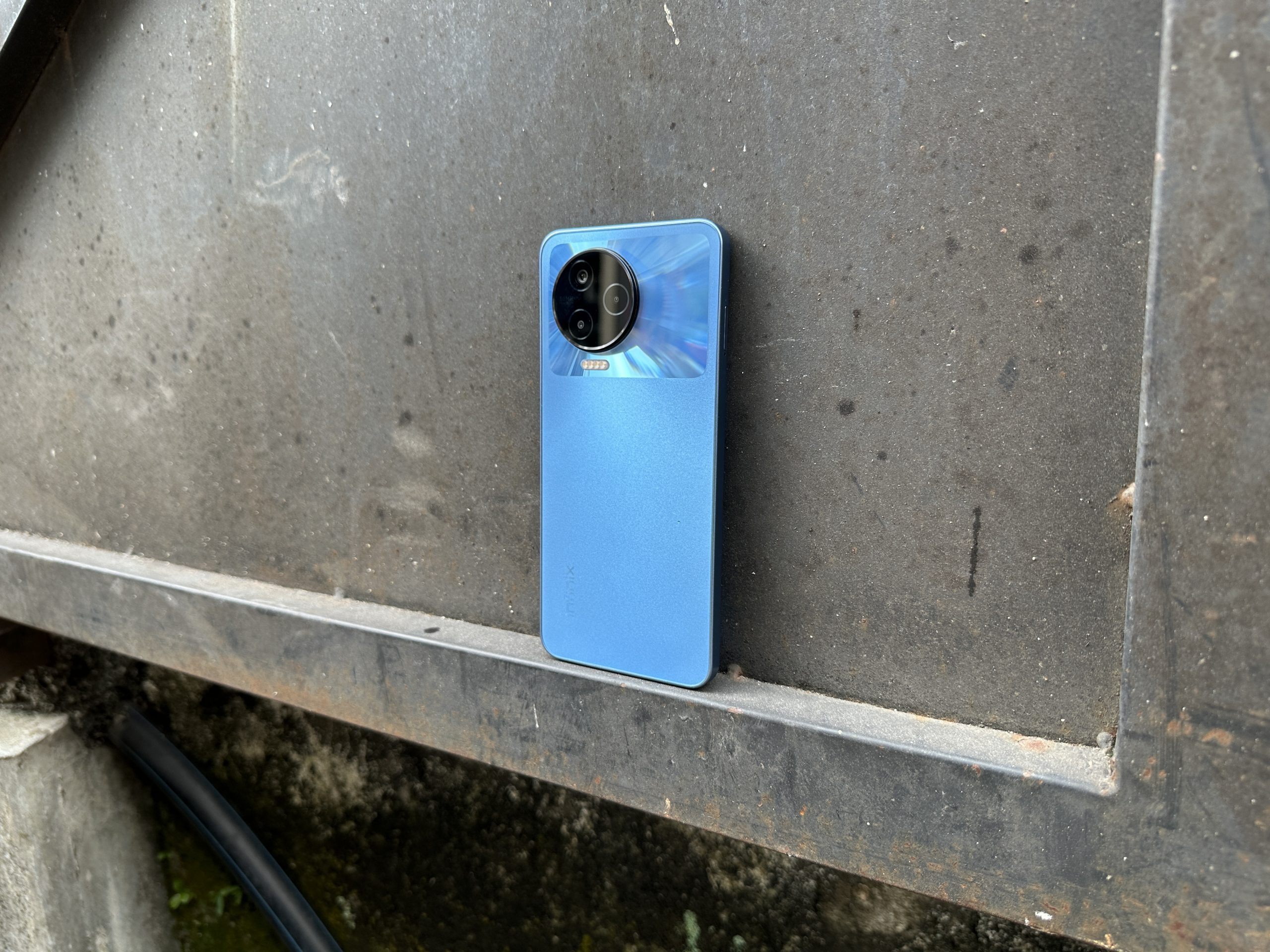 With a 5,000 mAh battery, the Infinix Note 12 2023 can navigate through 2 days use before flatlining. It's pretty expected to be honest, since the chipset's pretty energy efficient and the refresh rate is just 60Hz. If you're heavy on gaming, you'll still be able to get home with about 30% left in the tank from a long day of texting, streaming and playing a couple of 10 minute sessions in between.
The phone's charged back up by the included 33W charger, and a full charge takes over an hour to complete. These are pretty standard figures so there's nothing to complain or brag about here.
---
A Better All Rounder With A Simple Objective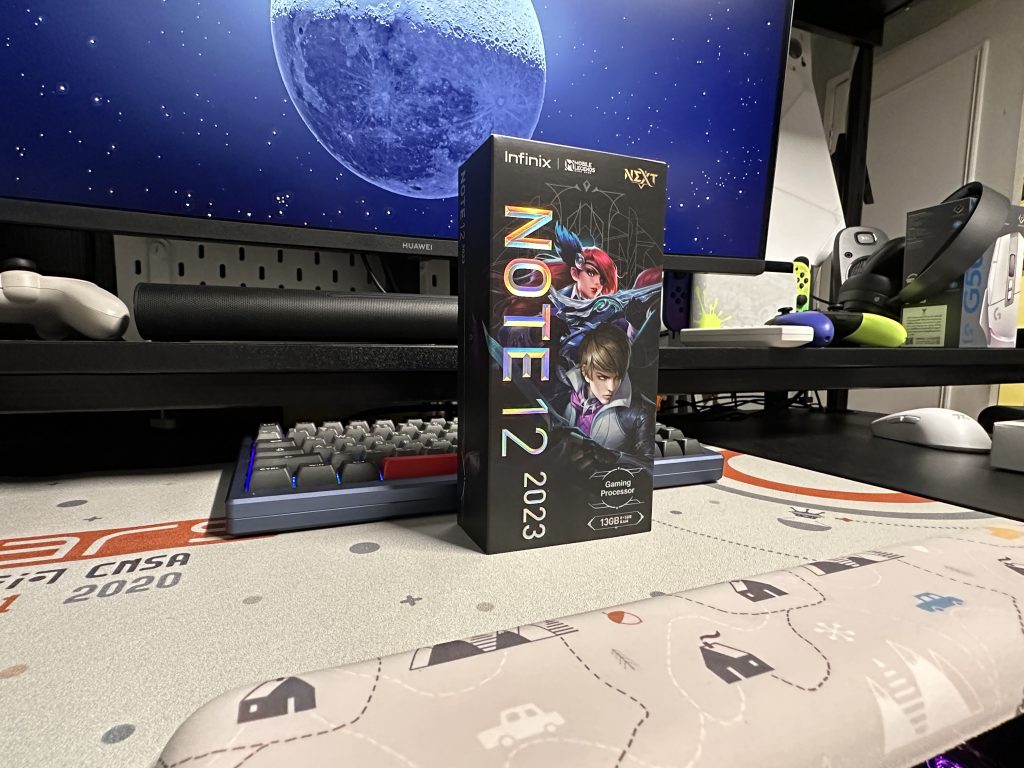 I feel that the most attractive point for the Infinix 12 2023 is the RM 799 price point. You get a decent set of hardware with a decent set of cameras here. Although it can be easily outpaced by the likes of POCO, its charm truly lies in the fact that the Note 12 2023 punches above its weight as an all-rounder and not a dedicated gaming phone.

It's basic up to a point that it's both right and wrong to recommend this to people just to play games because of realistic limitations. It's entry level, but it's probably one of the top 3 best entry level devices to play games, consume media and take the occassional photo.