The Galaxy Tab A7 Lite is a great offering, priced well at RM 699 for those seeking to lead simple lifestyle where they could directly benefit from simply having a bigger screen.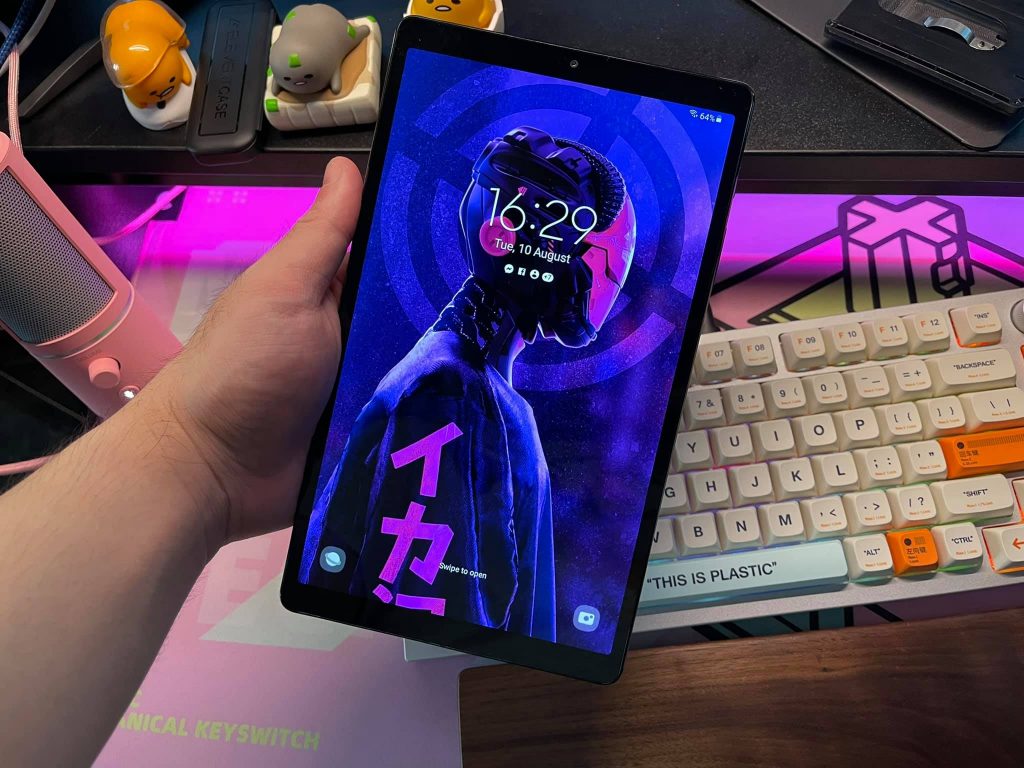 ---
Specs
CPU
Mediatek MT8768T Helio P22T
Memory
4GB RAM / 64GB Internal (microSD up to 1TB)
Display
8.7-inch HD+ 5:3 aspect ratio
Camera
8MP-rear
2MP-front
Connectivity
WiFi 5, Bluetooth 5.0, USB Type-C 2.0, 3.5mm audio
OS
EMUI 10.1 (Android 10 with Huawei Mobile Services)
Retail Price
RM 699
Available Colors
Gray / Silver
---
The Daily Use
---
What to love
---
The Size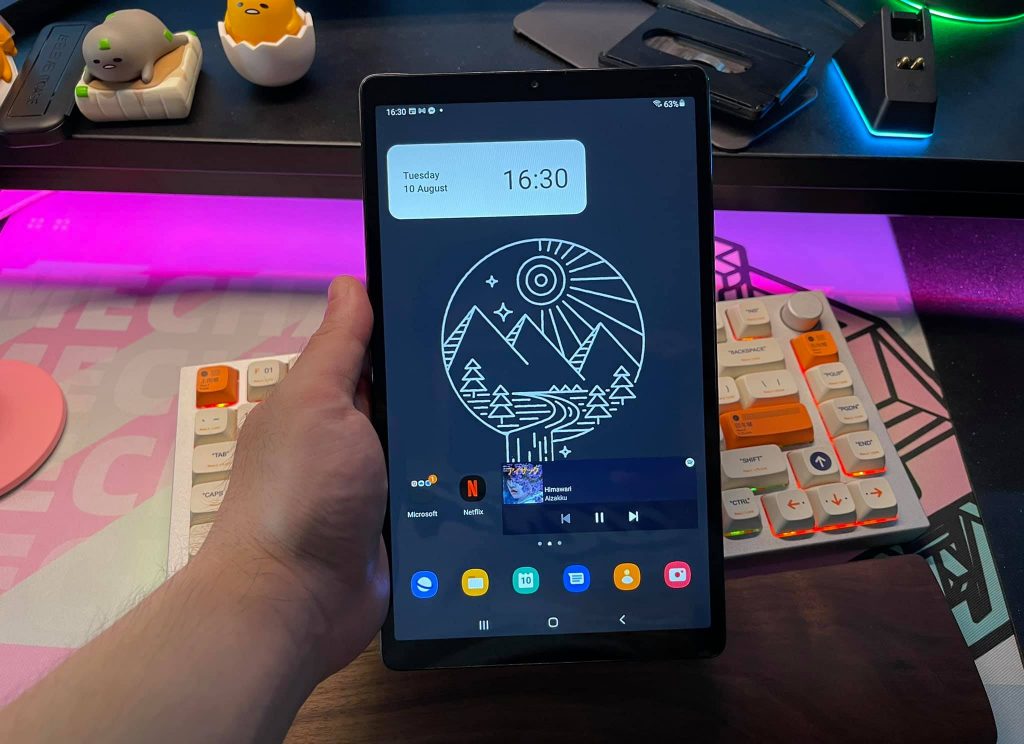 The form factor of the Galaxy Tab A7 Lite is quite common, but nothing comes close to the feel this tab gives. The metal body is nice to the touch with plastic ends on the top and bottom for the phone antennae (yes it's able to take calls). The size of storage was also a plus, being given 4 gigs of RAM to run One UI 3.1 and 64GB to store all your files locally. We live in a cloud age but sometimes you just have to have some files locally available, so this capacity is definitely enough. Besides, if your storage paranoia gets the better of you, you can always expand the memory via the microSD slot up to 1TB, which would be ludicrous (and a chore for that poor little MediaTek to read through) .
The Battery
Packing a robust 5100 mAh battery unit, the Tab A7 Lite can confidently last 2 days and over under moderate, typical use. The bulk of my use was primarily on Spotify, YouTube, Netflix and Moon+ Reader Pro. Occasionally I would slip in an Office sesh or two and the Tab A7 Lite was able to perform at a functional pace with a slight delay at some times. It's not a big deal , as I connect my Keychron K3 keyboard to this bad boy and there's bound to be some latency.
The Speakers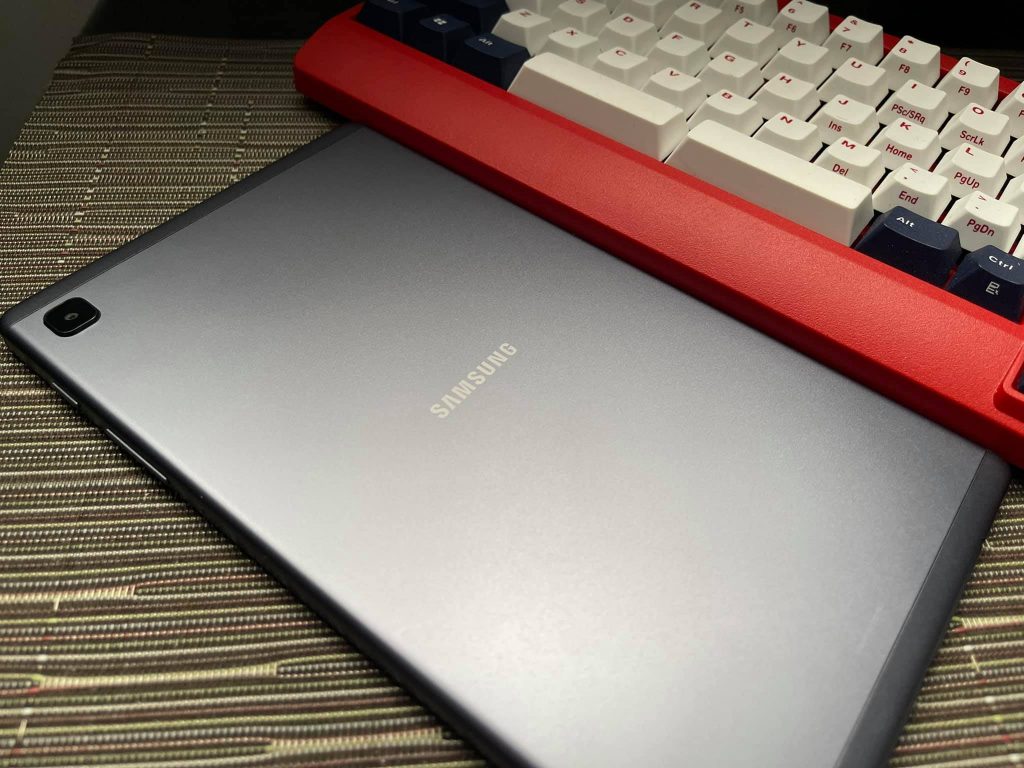 This is why I said it's a great, affordable tablet to consume audio visual media. The Tab A7 Lite has fantastic speakers that are Dolby Optimized. I was able to watch full-length movies without having to connect my speakers and not miss a thing in terms of audio. Vocals, gunfire and soundtracks were represented accurately with a bit more treble and clarity when I was watching Jean Claude-Van Damme's The Last Mercenary on NetFlix. (You can check out the sound test in the video review!)
It also proved capable to handle music well, as I had used the Tab A7 Lite as my LoFi Girl player when I was reading or doing my online courses.
What I didn't love
---
The Charging Speed
The provided 15W charger takes about nearly 2 hours to fully charge and therefore its not for jet-set use. It is highly recommended that you should plan your day ahead and start the day with a full charge especially if you're heading somewhere that has no plug point.
You could always carry a powerbank (which i'm sure most of you do) and use it for a quick 15-20 minute top up to get a couple hours of more use.
The Screen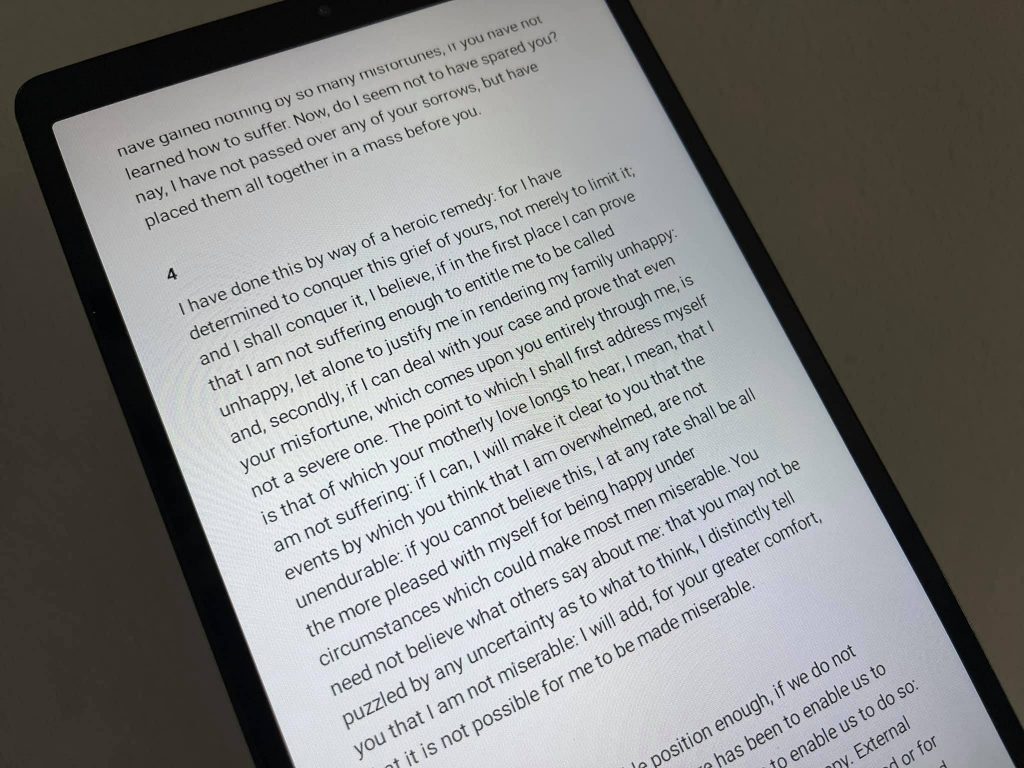 Although colors were punchy and well represented, it's impacted negatively by the HD+ resolution, resulting in darker colors appearing a little smudgier. It would have been nicer to have at least an AMOLED panel to counter this mild gripe.
The screen's highly reflective too, so light bounces off easily but you can try to use it at different angles to make it work.
The Verdict
It's a simple, easy-going tablet that should appeal to students, readers and even business owners. You can get your general office work done, read a book or two and maintain your social media pages easily thanks to a big screen at a small price.
Even e-hailing drivers would benefit too, being able to take advantage of bigger mapping and even taking calls while being connected to their wireless earpiece.
We all would want a better screen, better processor and even slightly better cameras, but let's not forget, RM 699 is not a lot to ask for but I'm willing to pay RM 899 for this exact same piece but with a better screen and processor alone.