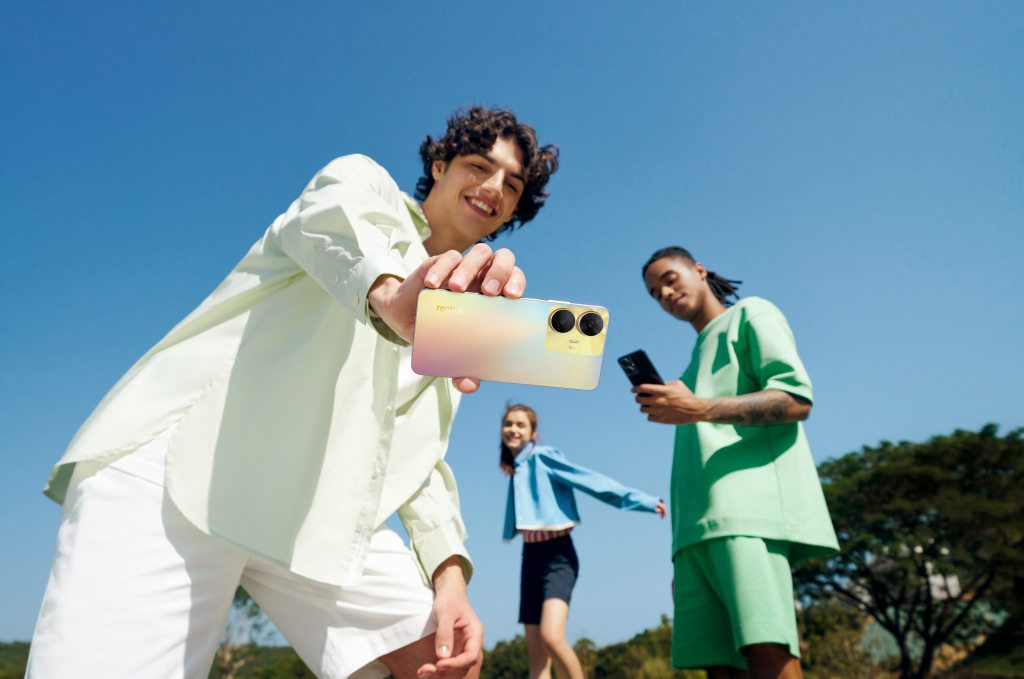 As we've previously covered, realme Malaysia had recently announced that their C55 series is now available in Malaysia with an attractive starting price tag of RM 699. It was quite the epic launch event, with the smartphone constantly proving itself to be the "Leap to Champion" that it really turned out to be, offering a slew of great features that well exceeds its retail value. Here's some of the fine pickings we've compiled that we felt needs to be put in the spotlight.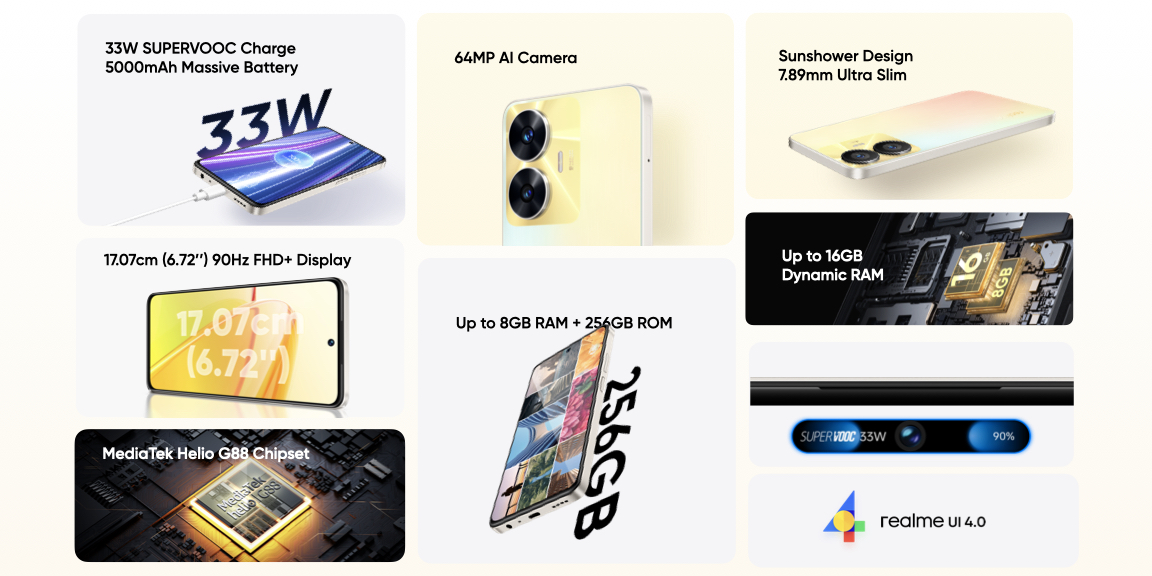 Large RAM, Large Memory
Going for the RM 799 variant, the C55 boasts 256GB of internal storage and up to 16GB RAM with DRE (Dynamic RAM Expansion) enabled. It's currently the largest internal memory available in the price segment, which is particularly useful for people who download a lot of apps, shoot lots of photos or even keep lots of videos for offline viewing.
Here's a typical, ballpark list of just how much of just how much media you can keep on the C55!
About 53760 photos or songs at 4MB each
About 860 apps at 250MB each
About 860 720P videos at 250MB each
About 70 games at 3GB each
If these aren't enough for you, you can still expand storage via a microSD card which is part of the C55's triple-card slot, so you don't even have to choose between using 2 numbers or 1 number and 1 memory card!
The next concern is multitasking if you keep forgetting to close unused apps. At native, you will have 8GB of RAM available for all tasks, which is already quite a good amount for a phone under RM 1000. If you need to speed up because you need to run lots of apps simultaneously, you can expand the phone's RAM by adding virtual RAM from DRE, which allows you to add up to another 8GB of RAM, giving you a total of 16GB for all your multitasking needs. This effectively increases the number of background apps you can run, as well as a much smoother operation in the long run.
Flagship Camera System
The C55 uses the realme GT Master Edition's Omnivision OV64B 64MP sensor. Although it's just one sensor, it can actually be a very versatile camera. Why? Because of its high pixel count. You will still be able to shoot close up zooms and even ultrawide from digital zoom/cropping, and because you have a high pixel count, zoomed in photos will still be sharp even if it's not from a dedicated zoom lens.
Imagine yourself trying to take photos in a crowded street and you can't control where people walk but the area is nice. Just simply take the shot as you would and just crop to the focus area you want to focus on. You'll always be able to get your ideal shot after that without losing out on detail since it's well preserved from the high pixel count and the size of the sensor (which is ½"). This is quite the value point as you're essentially getting a once-flagship sensor on an entry level device, equipping you with everything you need to take great shots when you're out!
Less Down time, more Fun Time
With so much talk about battery life these days, it's not always about the battery capacity, although the C55 already has a massive 5000 mAh. Combined with an energy efficient Helio G88 chipset, the realme C55 easily lasts over a day regardless of how heavy a user you are. Whether you spend your entire day on social media, Netflix binging or just gaming for hours on end, you'll never have to worry about running out of juice before you get home.
However, at some point, you'll eventually run out of battery and need to go through some down time. Fortunately it's not that long as the C55 charges up to 50% in just 30 minutes so you can get back to your day in just a moment.
Availability and Promotion
Product
Variants
Colour
Sales Platform Info
RRP (RM)
Free Gift





realme C55





6+128GB, 8+256GB





Sunshower & Rainy Night
realme Official Brand Stores
Pre-order
28 March – 30 March





699 & 799
FREE realme Buds 2 Neo & 6 Months Extended Warranty Value worth RM 129
realme Official Brand Stores and realme Authorised Dealers Malaysia




First Sales
31 March – 6 April
FREE 6 Months Extended Warranty
realme Malaysia's Official Shopee and Lazada Store
31 March
FREE realme Buds 2 Neo + 6 Months Extended Warranty + realme Key Chain
realme Tiktok
31 March
FREE realme Buds 2 Neo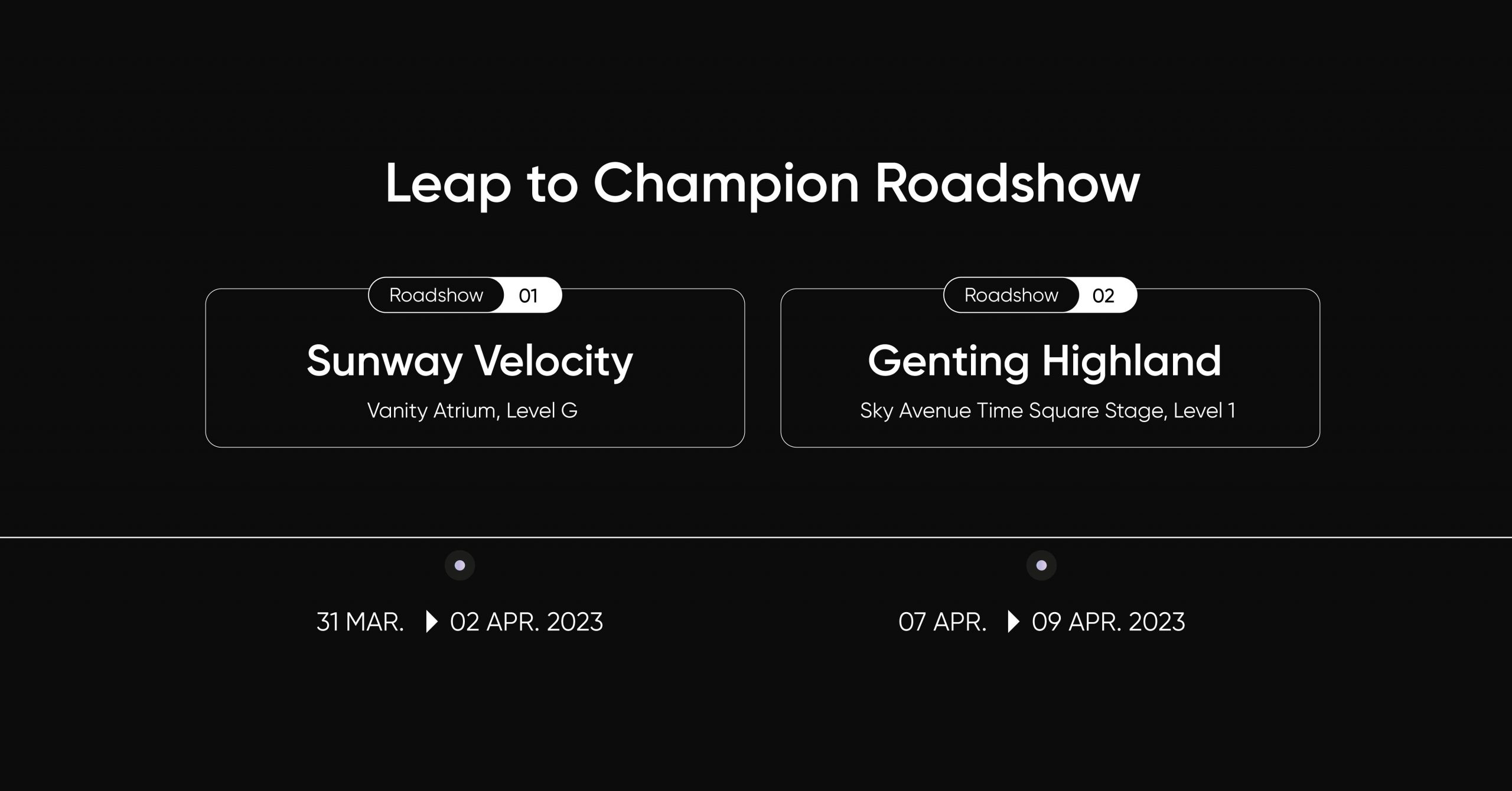 Celebrating the launch of realme C55, realme is proud to announce the schedule for the realme Leap to Champion Roadshows. realme will be hosting the roadshows at Sunway Velocity starting from 31st March until 2nd April and at Genting Highland from 7th April to 9th April. There will be a lot of exciting activities including artist meet and greet, lucky draw, sales promotion, product experience and also get a chance to win prizes up to RM30,000!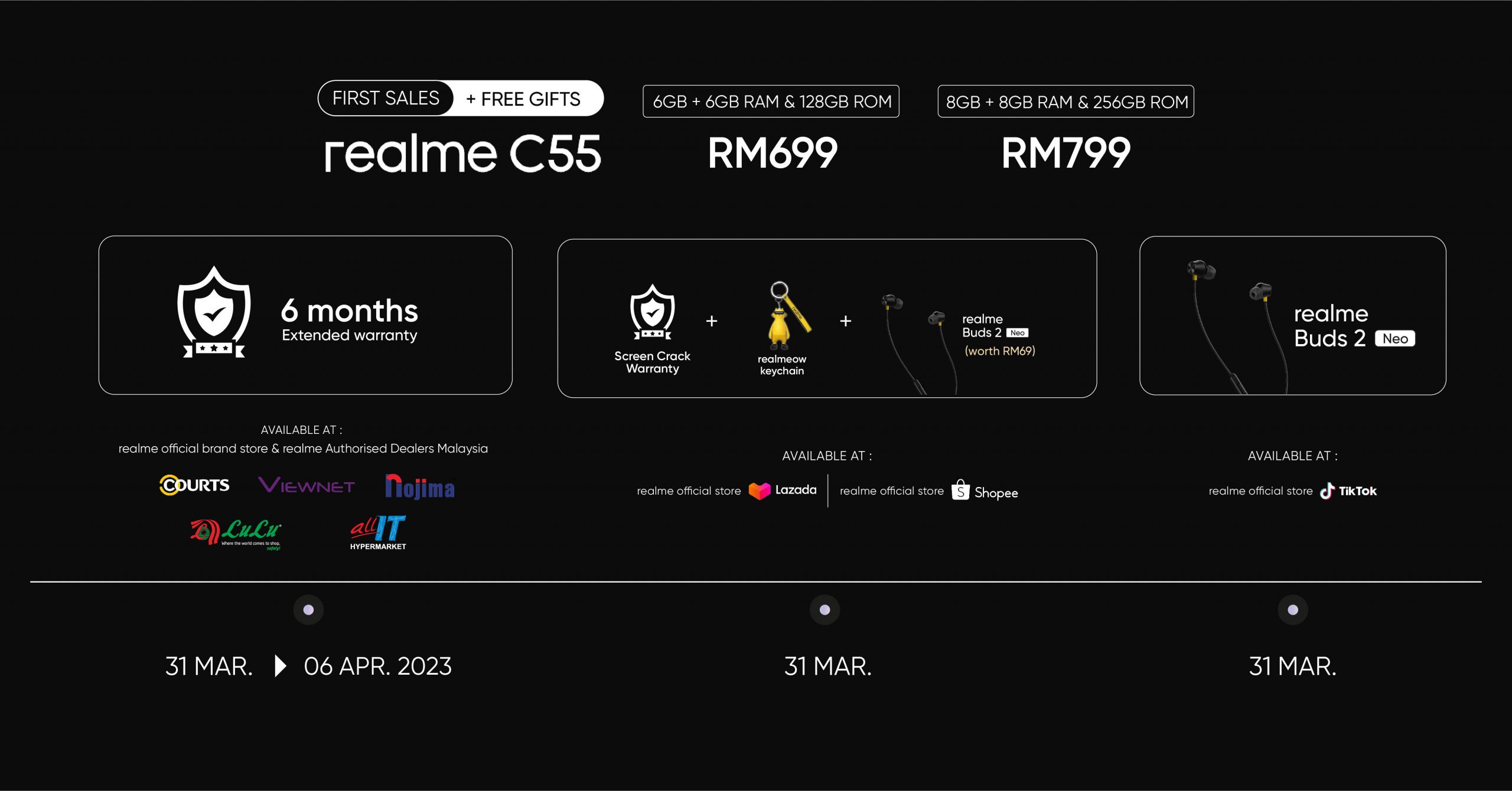 For more information, please visit realme Malaysia's official Facebook page – https://www.facebook.com/realmeMalaysia/, for more info and latest news.
Leap to Champion Roadshow @ Sunway Velocity Vanity Atrium, Level G
(In front of Parkson)
31 March – 2 April 2023
Activities :
Claw Machine Lucky Draw*
Show Your Champion Skill
Show Your Champion Pose
Show Your Champion Power
Show Your Champion Style
C Your Champion*
Stand a chance to win back prizes worth up to RM 20,000!
*Terms & Condition Apply.
Leap to Champion Roadshow @ Genting Highland Sky Avenue Time Square Stage, Level 1
(In front of Bona Cinemas)
7 April – 9 April 2023
Activities :
Show Your Champion Pose
Show Your Champion Style
C Your Champion*
Stand a chance to win back prizes worth up to RM 10,000!
*Terms & Condition Apply.