We've been working from home for the past 2 years now, and it's made a lot of bosses and business owners embrace the idea that productivity can be achieved from anywhere. In fact, it's even easier to look busier since no one can really tell what we're doing when they can't see us!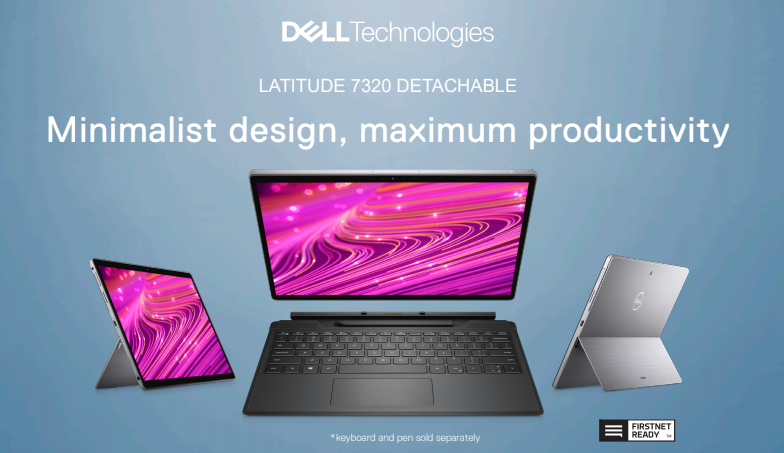 But for those that CAN be seen, you'd definitely can take a look at the Latitude 7320 Detachable. This lightweight 13″ menace packs a strong spec sheet and is able to be both a tablet and a laptop at a moment's notice.
Although it's not a brand new innovation, it's always nice to see improvements to recipes over time. It's also the first 2-in-1 laptop that Intel EVO-verified. What remains is DELL Optimizer, an AI-powered app that constantly optimizes battery life based on user behavior.
Key Specs
13″ FHD IPS with Corning® Gorilla Glass DX Touch & Active Pen Support
Up to 11th Gen Intel Core i7 vPro Processors (Intel Iris X Graphics)
Up to 16GB LPDDR4X on board RAM
Intel Wi-Fi 6 AX201
2 x Thunderbolt 4, 1 x optional uSIM card tray, 1 x optional SmartCard Reader
851g tablet weight , 351.4g keyboard attachment weight
The Latitude Attitude
Apart from specs, let's talk a bit on cooling. It stays cool via
thermally architected with dual opposite outlet fans and the battery positioned along the bottom of the device, making it comfortable on the hands and cool in the most common touch areas.
Dell's engineering team did groundbreaking work to design the Latitude 7320 Detachable, ensuring it is thin and light and cool to the touch, while also having the advanced features one would expect like AI, low blue light tech and more. After all, that's what tech should be about – helping you accomplish more in your day, from wherever you are.
Can…can I get it now ?
In Malaysia? Sure you can chum. It starts from RM 8362.43 (don't ask why it's so specific), and you can head on down to DELL's website to begin your customization.