It's been a long 8 years since we've seen Razer's Orochi mouse make its debut to the world, pushing features like a Precision 3G laser, Wireless/wired mode switching, and an ambidextrous design that might have paved the way for the Vipers that we see today.
Today, the new Orochi V2 reaches Malaysian shores, boasting unique features, an all-new shell design and interchangeable covers.

It can use 2 different batteries!
This made headlines. The Razer Orochi V2 is able to use two different batteries to stay powered! You can choose between using a AA or AAA battery cell, for added convenience. We do recommend going AA over AAA, as you'll be able to push for longer hours if you don't intend to change batteries frequently.
2.4GHz and Bluetooth
Instead of a dual wired/wireless mode, the Orochi V2 lets you alternate between 2.4GHz Hyperspeed mode and Bluetooth, to suit all types of use cases. Bluetooth is preferred by those who do work more, as they prioritize longetivty over extreme responsiveness. If you have the need for speed (for games and stuff), then moving to wireless 2.4GHz should be right up your alley.
Advertised Battery Life
The Orochi V2, under the right conditions and parameters boast up to an impressive 950 hours of battery life on a single AA battery, using Bluetooth mode. For Hyperspeed 2.4GHz, you'll only be able to get 425 hours but that's still an impressive number.
Key Specs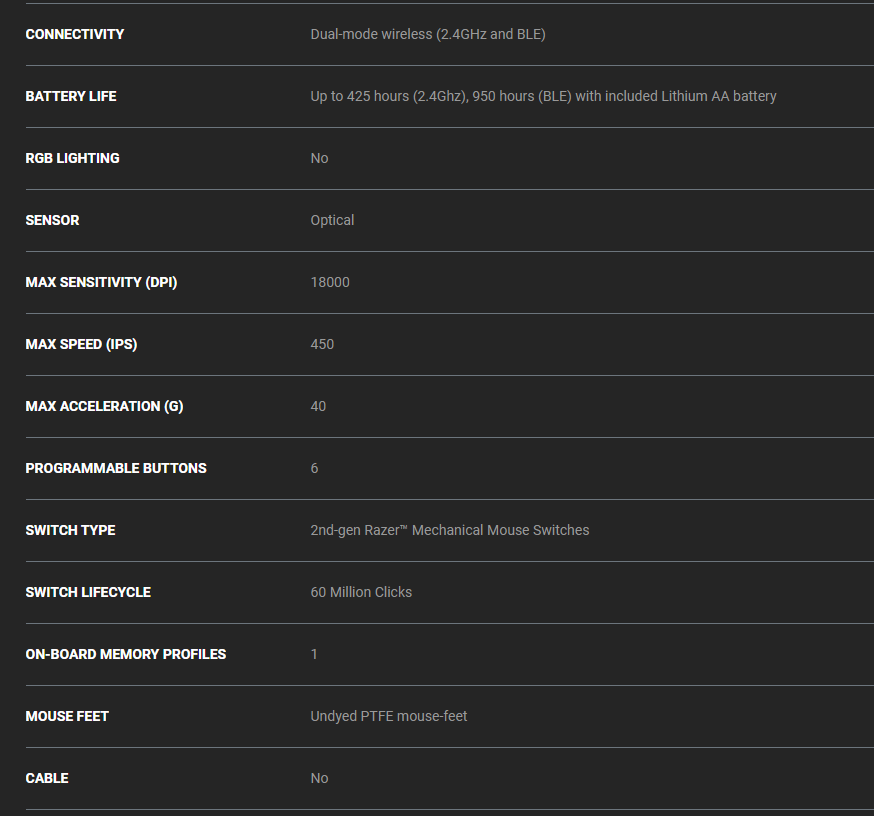 ---
It's now in Malaysia, for under RM 300
The Razer Orochi V2 is now officially in Malaysia, with a starting retail price of RM 289. There's only Black for now, with a future possibility of the white coming in later on. As for the custom covers, you'll be only able to order it through the Razer Customs Webpage, and it's USD $90 (It includes the mouse, not just the cover).
---