Starts from RM 1699
The ASUS BR1100FK's strengths don't lie in specs but in versatility and durability. It's built for most mishaps people can cause and the ability to replace almost every core component that might die during use. The touchscreen and stylus work great and you'll find yourself getting lots of work done with some minute delays here and then.
To love
User replaceable parts
Fair Price-tag
Long battery life
Well-built flexible hinge
To Love'nt
Stuttery under too heavy use
On-board RAM
No SD Card slot
---
| | SPECS |
| --- | --- |
| CPU | Intel Celeron N4500 |
| GPU | Intel UHD Graphics 600 |
| RAM | 4GB DDR4 RAM (on-board) |
| Storage | 128GB eMMC + 1 vacant m.2 SSD slot for expansion |
| Display | 11.6″ (1366×768) Touchscreen with Stylus, 250 nits NTSC 50% |
| Weight | 1.4 kg including 3 cell battery |
| Price | RM 1,699 (as of September 2021) |
Durable and Versatile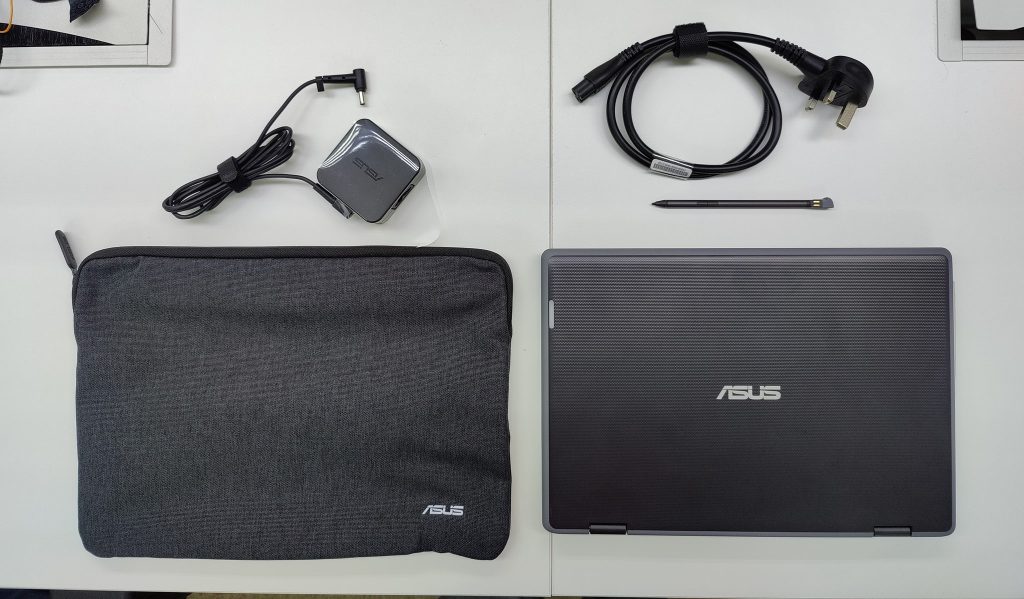 I actually used the Chromebook version of this exact laptop I am reviewing today, and i've always loved how portable and well-built it is. I ain't a kid but I can see why the laptop is so focused for such a market.
First off, is made out of incredible tough plastic. With kids being usually careless with devices it's definitely a relief to know that the chassic could take a big bad beating (also thanks to rubberized corners for "drop protection").
The laptop is is also easy to get a hold of as there's tiny little studs / beads all over to give an overall easy grip, so wet hands can still grab on to this and not have it slipped away.
The corners are rounded too, so there's nothing sharp to hurt anyone really.
Build quality is overall tough. The hinges are flexible enough to be used as handheld tablet as well, since there's a touchscreen and stylus for you to have fun with.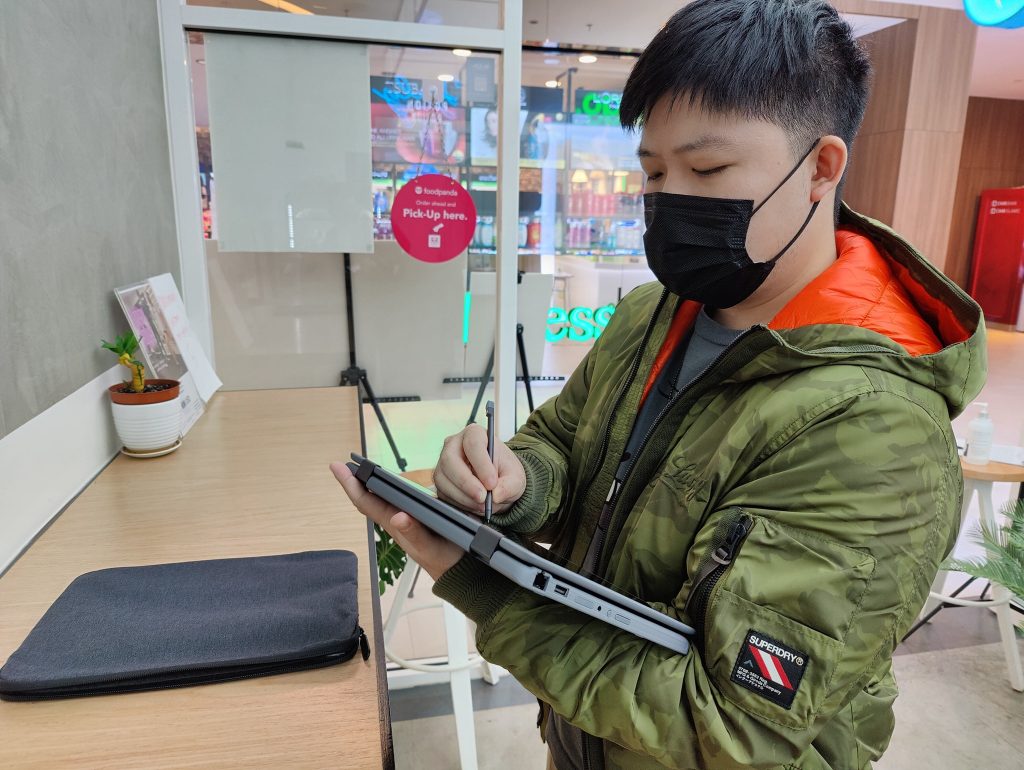 Getting Work Done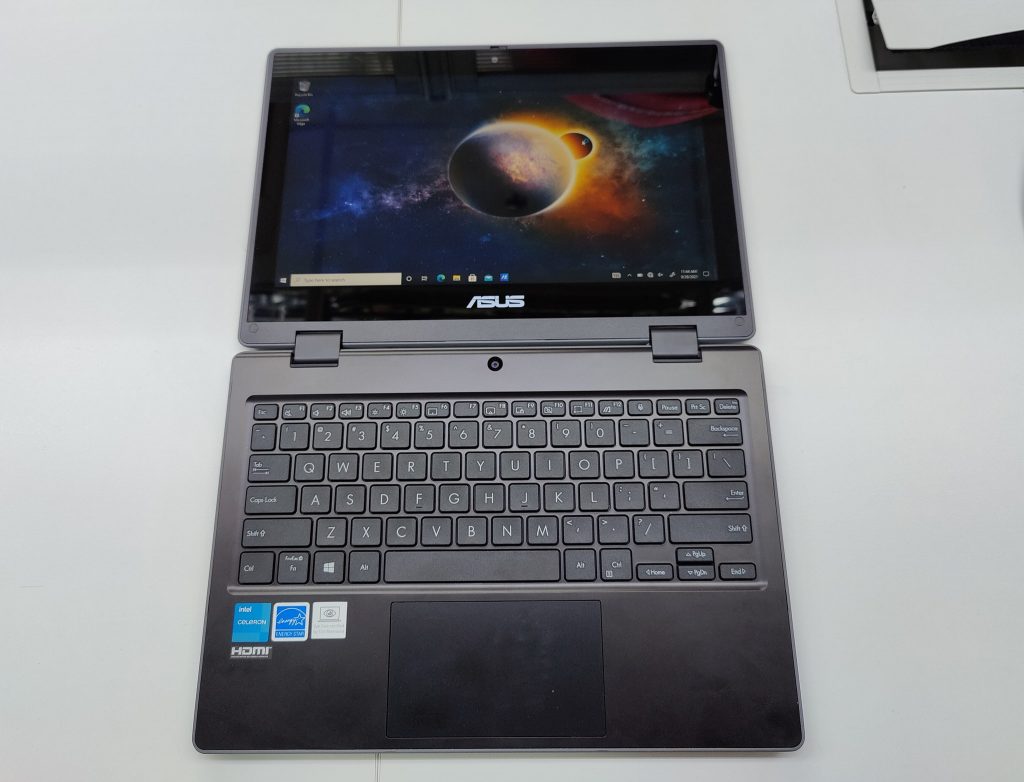 The usefulness of the BR1100FK in terms of work only depends on what kind of tasks you plan to do. Both kids and adults would pretty much use the same range of apps when it comes to productivity, and it'd be easy to assume that they'd just be: Microsoft Office, Chrome and Skype/Zoom. The screen is nothing to shout about. It's good enough to do work and relax to a couple of YouTube videos. Speakers are subpar at best, lacking in bass but its fine as this laptop wasn't particularly built for entertainment but more towards accessibility and value.
Office was a breeze to use, and I found myself tapping away rather quickly on a spreadsheet and document thanks to its tactile keyboard that's also water-resistant up to 330cc (330ML). You will not experience any lag or delay when it comes to Office.
Chrome is a cautionary tale. It's known to eat RAM up and the on-board 4GB is definitely limited. The BR1100FK started to stutter after using some high-intensity tabs, which were a mix of Canva, YouTube and WordPress. If you're casually surfing the web, having a couple of tabs open of articles and whatnot it would not stutter at all.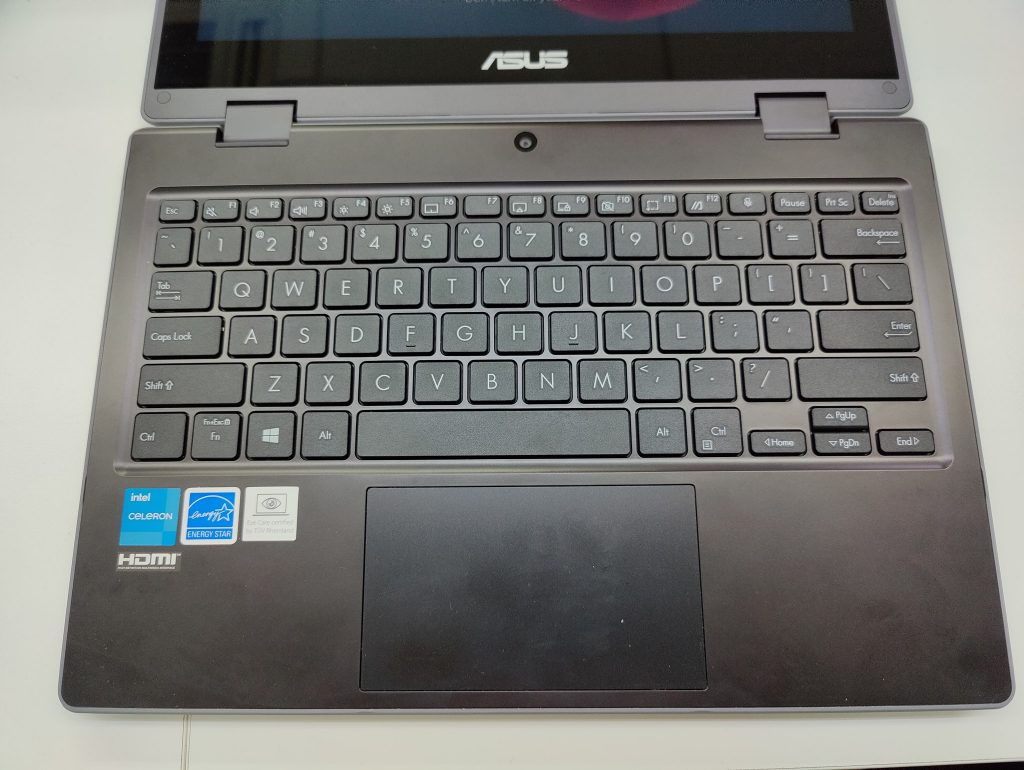 Video calls were basic at best. The built-in webcam is definitely not a highlight and so was the microphone. It raked in a lot of background noise and oftentimes I found myself repeating my sentences over again to during my test call. This isn't a big issue, as you'd definitely be using a wired/wireless headset for your calls these days so you'd be using that mic over what's offered internally.
---
Wide Port Selection
The BR1100FK comes complete with a wide range of ports to cover your typical situations of needing to plug in extra peripherals, a better webcam and even a microSD card.
Main Ports
USC Type-C x1 (3.2 Gen 2, supports power delivery)
USB Type-A x 1 (3.2 Gen 1)
USB Type-A x 1 (2.0)
HDMI 1.4 x 1
3.5mm Combo Jack x 1
RJ45 LAN x 1
DC-in x1
microSD card reader
---
Marathon Battery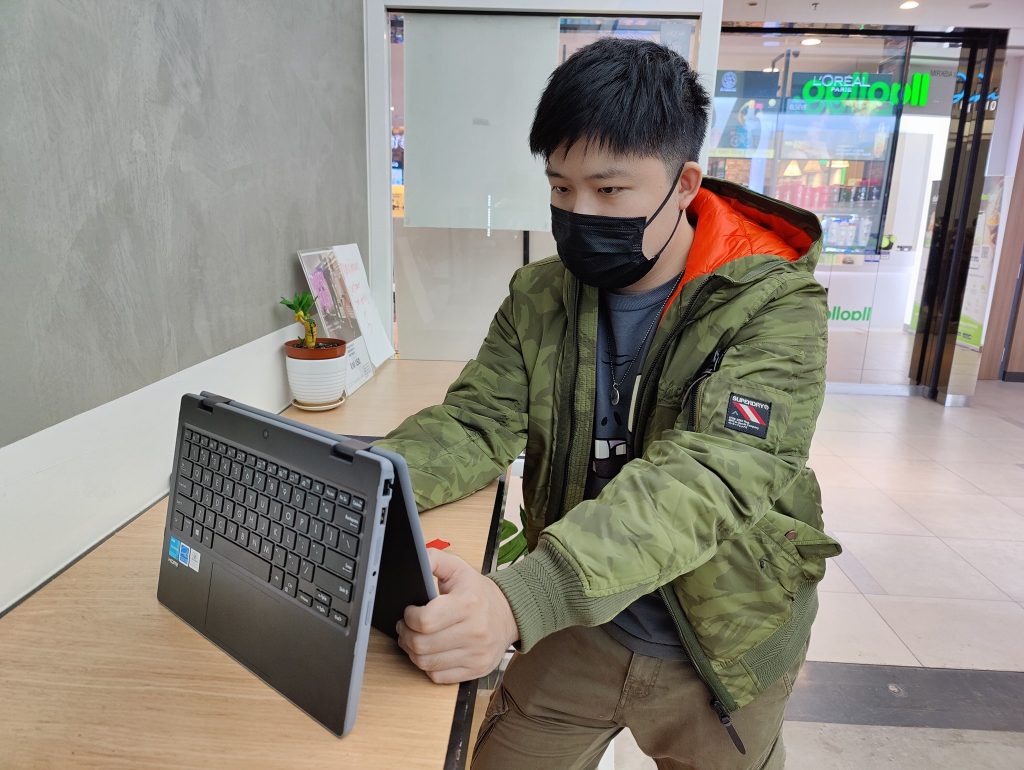 Here, we have to give thanks to the low-powered Intel Celeron N4500 chipset for being so energy efficient, as it managed to pull of just over 9 hours on a single charge. I did cloud video editing, write articles and replied my typical messages and the BR1100FK stood the test of (my day) time. Seems the 3 cell battery is put to good use!
As for charging , it's quite nice to have some versatility in the mix, especially at this price point. Provided in the box is a 45W charging bricklet (baby sized!) that can fit in the smallest of backpacks. If you or your child had forgotten the charger back home, you can charge it using USB Type-C, as the BR1100FK supports any PD supported 45W and above charger can be used to juice it back up again.
You wouldn't worry about this too much anyway, the battery is quite a marathoner here.
Can it be upgraded / modified?
The BR1100FK is quite open to be modified, with almost everything being user-replacable and easy to access. You can open it up to replace components like the battery, screen, I/O ports and even the thermal module.
There's also a vacant m.2 SSD slot for you to install if you're looking to expand internal storage.
---
So why would you buy one?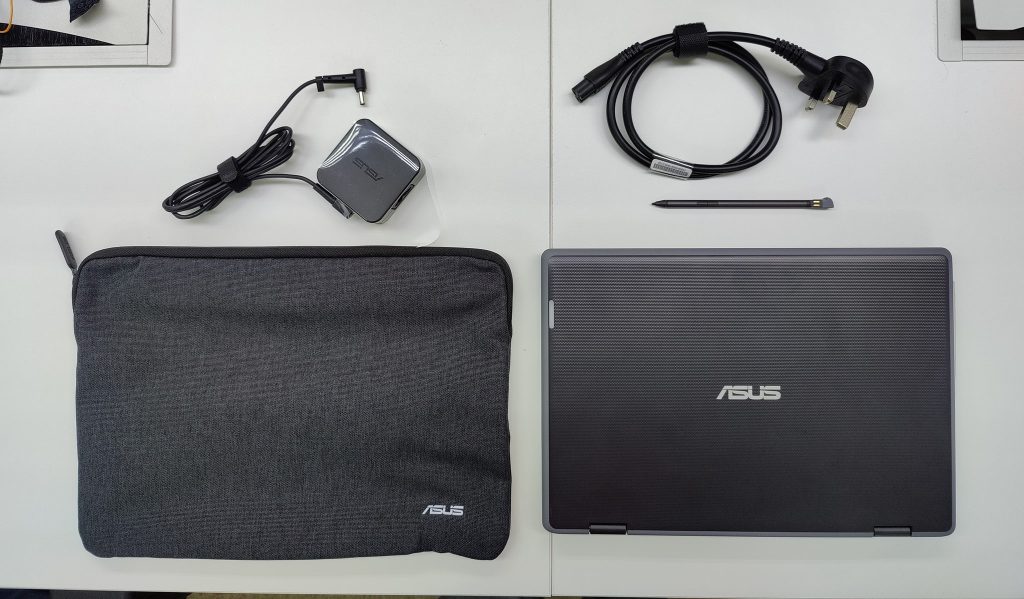 It's simple. It's made to be kid friendly in terms of physical aspects, but is also capable of being an ultra portable option for those that just want to get their office work done without taking up bag space. The specs are on the low side but it's justified by the price-tag and ease of use. The stylus is a fun tool to play with and I'm happy that its part of the touch experience. It works as a great notetaker as well if you're not the artsy type!
---