it's called the inzone because you really get in the zone with these
The sound quality and features are bleeding edge, the comfort level is A+ even for my glasses-wearing gigantic head, connects to a bunch of things I own, and even intelligently turns on ANC when I want it to and lasts all week.
Approve of
Class leading ANC
Super comfortable
Exceptional Battery life
Excellent Connectivity
Software Features
The whole INZONE lineup of gaming headsets was a real surprise for me, as Sony seemingly came out of nowhere with the announcement of not one but THREE products in a whole new lineup that they have not done in recent years. Sony is already widely known for making the industry-dominating WH-1000XM and WF-1000XM series of active noise canceling (ANC) headphones and wireless earbuds, so claiming that they are audio expert is no stretch at all. So, we have here today the flagship INZONE H9 ANC gaming headset which works on PC, and PS5 and has Bluetooth too!
Design & Comfort
First and foremost, Sony actually makes first-party gaming headsets for every generation of the Play Station, but they've just never been marketed for PC, which is why they've been catching such big waves. The design of the INZONE series is unmistakeably based on the current-gen PS5 and stands out a lot.
The body is made of lightweight but sturdy plastic in a very futuristic design language that hasn't been done in other headsets. It's pretty alien looking to me and doesn't scream edgy gamer-esque design which I actually prefer more. It looks more like a premium lifestyle headset than a gaming headset if you catch my drift. The microphone is also non-detachable and just swerves up and down with an auto-mute which is sick.
The H9 covers pretty much every type of adjustment you would want in a headset. Size adjustment, tilting cups, and even a swerving cup for the people who wear glasses like me. It fits my big head comfortably with a nice seal all around, and my first impressions of these were that the passive seal is great as the earcups are massive. The leather on the headband and earcups are also nice and plush, really nothing to complain about here it's exceptionally comfortable as a gaming headset, nothing to pick on here for me.
Sound quality and connectivity
The Sony INZONE H9's tuning is a far cry from the WH-1000XM3/4/5 if that's what you're expecting. Yes, those sound really good for music if you like bass, but when it comes to gaming and especially trying to locate enemies, you actually want more precise mids which is where footsteps land on.
The bass… it lacks severely on the sub-bass zone and even if you try to boost in the software it doesn't work that well, much like other 2.4GHz wireless gaming headsets. The mid-bass is actually muddy, and it's double-confirmed by the frequency response charts from SoundGuys and RTINGS.
Mids are pretty ok but the highs/treble could use a little more sparkle excitement which would make the H9 sound much nicer to the general uses, to be honest. Overall, the tuning on the H9 is okay for the average person but for the discerning audiophile it's not Harmon target tuning at all, this is a gaming headset after all, and if you understand what I'm trying to say you should EQ it to the way you want, lowering the 100-250Hz range gave me what I liked 🙂
On the underside of the headset we have a USB-C for charging, and all the controls are here. The on/off, connection type, ANC mode, Game-chat balance buttons, and volume rocker are all on here. Pretty intuitive and controls almost don't need a manual, and didn't come with one. Just an eco-friendly QR code approach to the instructions.
Bluetooth mode just works with my Androids and iPhone, the INZONE series supports SBC and AAC codecs, which are pretty universal, and no APTX or LDAC for the audio nerds, gotta remember this is a gaming peripheral and not an audiophile-grade headphone.
The USB dongle 2.4GHz and Bluetooth approach is superb if you ask me. Extremely inclusive as it allows the INZONE to be used with a PC, PS5, or smartphone so it can double as a music ANC headphone other than just a gaming headset (though you won't look very stylish if you wear these out, admittedly).
ANC and Software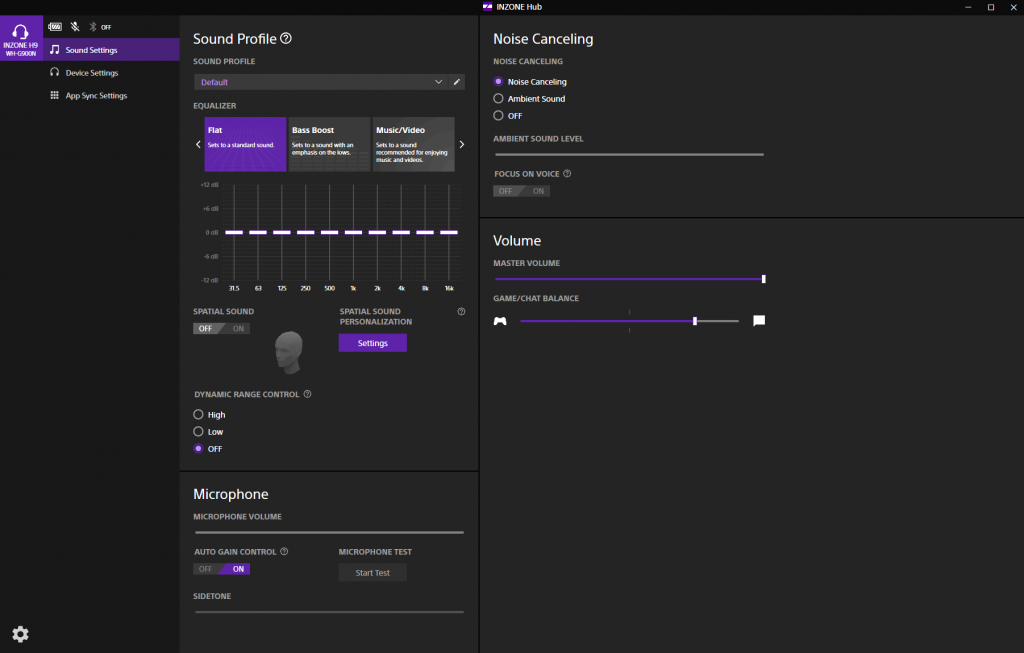 INZONE Hub is the name of the software that the series uses. Your EQ, ANC, mic, and sidetone controls are all here. There are some pretty intelligent features here too, like personalized spatial audio and Windows Application memory controls. I set Destiny 2 to auto-turn on ANC with a custom EQ and when I launch the game, INZONE Hub detects it and swaps to the desired settings. Very clever use of software, especially on a first-generation product.
Now let's talk ANC. Is it good? Hell yeah, it is! Air conditioning and PC fan noises in my room are entirely canceled out when I turn on ANC. The H9 really helped me reach a level of gaming immersion that I didn't know I needed. I already use a wireless gaming headset and I had no idea ANC would help so much with immersion when playing games. I guess that's why they are named INZONE, as they really do help you get into the zone. Toggling it on and off, the difference is really night and day, kinda like trying a 144Hz gaming monitor for the first time. Of course, there is the ambiance mode that plays back surroundings noises to you when you wear it, kinda like transparency mode, and could be handy when you are on the train or have to keep your ears open for food deliveries.
The Microphone.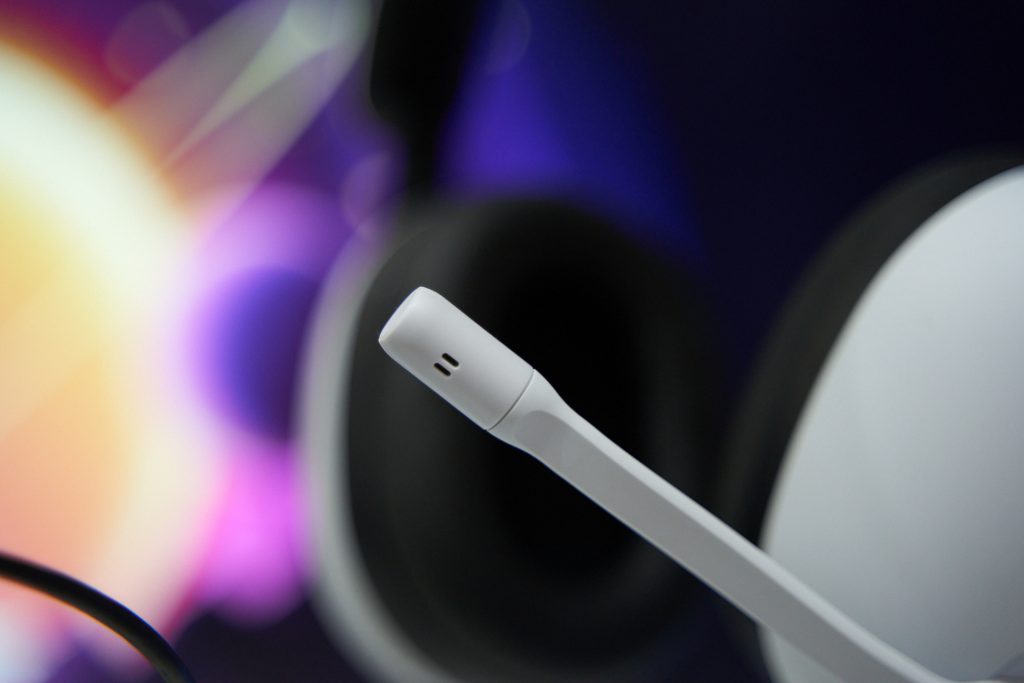 This is a mic test of the H9 in its default settings out of the box and nothing changed in an ideal condition.
Yeah, it's not on top of the food chain. This does have Discord certification, but the quality is honestly not great. It's a 6/10 for me. I get that this is Sony's first serious attempt at a current-gen gaming headset but the mic leaves a lot to be desired, especially when other wireless gaming headsets like the latest Corsair HS80 and Virtuoso deliver mic quality that is so good, it eliminates the need to buy a separate fancy microphone for discord.
Overall, it's muffled, lacks detail, and has a lowbitrate but your teammates can definitely understand what you say, it just doesn't sound very good. Gets the job done but there are certainly wireless gaming headsets with much better mics and costs less.
Battery Life
Battery life was sick. It's advertised for 32 hours but lasted me much longer with a mix of ANC on and off uses while connected to my PC. Lasted me more than 32 hours for sure, as I wore this almost 10-12 hours a day even when not gaming. The ANC was just a pure joy to use, I had it on as much as I could
Final Thoughts
RM 1,299 is the official price tag of the INZONE H9, but you can find a pair for around RM1,199 on Shopee, and probably even less as time goes on. So, at this price, do I think it's a worthy buy?
Yes, it is. Considering this is a first-generation, bleeding edge flagship gaming headset with Active-Noise-Cancellation from the company that practically popularized it, the steep price is well worth it for now. The sound quality and features are bleeding edge, the comfort level is A+ even for my glasses-wearing gigantic head, connects to a bunch of things I own, and even intelligently turns on ANC when I want it to and lasts all week.
You will have to put up with average mic quality, but very rarely do we get a first-generation product that works is this mature and all-rounded. This will be the first of many wireless ANC gaming headsets, and this will definitely be the next big thing in the gaming headset market.