Samsung's budget friendly Galaxy A Series just got even more budget friendly with their recent annoucement for their 2 mainstream models getting price-slashed!
The two models would be the Galaxy A33 and Galaxy A53. If you're looking to get an upgrade or introduce yourself to Samsung's best-selling smartphone range, the Galaxy A Series now features amazing new prices that are here to stay.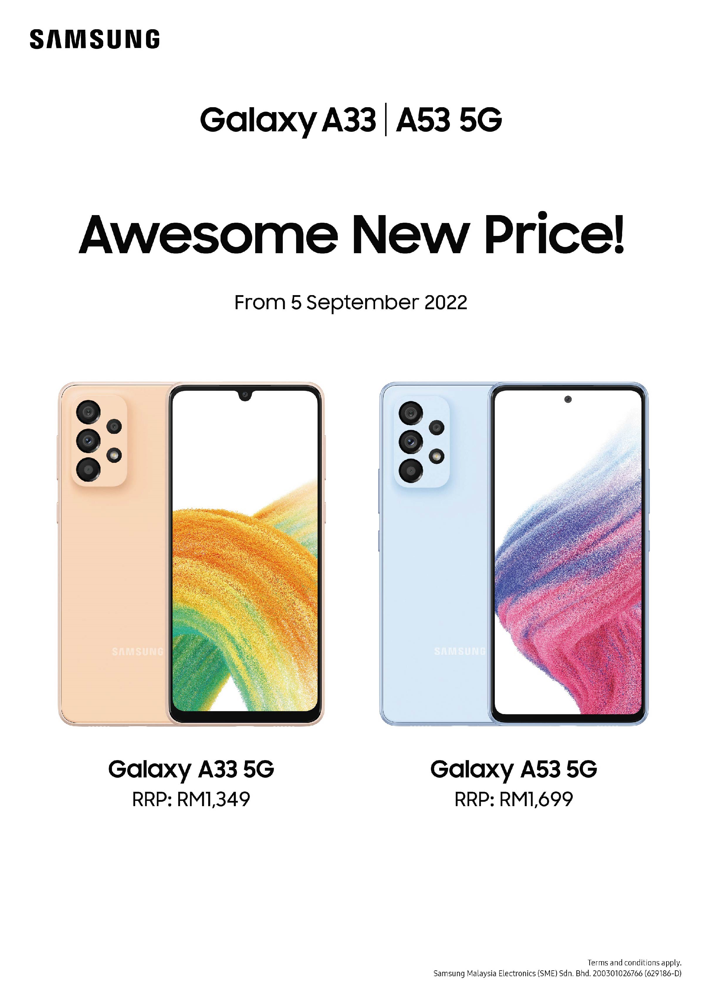 Galaxy A33 5G – RM1,499 RM1,349
Galaxy A53 5G – RM1,849 RM1,699
Reviewed – Here's What We Had To Say About The Galaxy A33 5G and Galaxy A53 5G
GALAXY A33 5G
A promising smartphone that delivers in display, battery and performance. A Good midranger with Samsung's promise of 4 generations of One UI updates and 5 years security.
GALAXY A53 5G
If you're looking for an under RM 2000 smartphone with the best display, good cameras and long-term updates and support, you may give this one a go with very little regret."
---
Useful Links
Galaxy A33 5G: https://www.samsung.com/my/smartphones/galaxy-a/galaxy-a33-5g-awesome-blue-128gb-sm-a336elbhxme/
Galaxy A53 5G: https://www.samsung.com/my/smartphones/galaxy-a/galaxy-a53-5g-awesome-blue-256gb-sm-a536elbhxme/