It's been 4 generations now with Samsung's foldable tech and what a journey it has been, going through its ups and downs as a reviewer and a customer. However, the common theme that the Z Flip series is quite infamous for is the battery life, which has become quite the touchy, one-sided subject for us all in the tech scene. Today, I'm here to share with you my findings on the Galaxy Z Flip4's battery life in a variety of scenarios, from stock to power saving.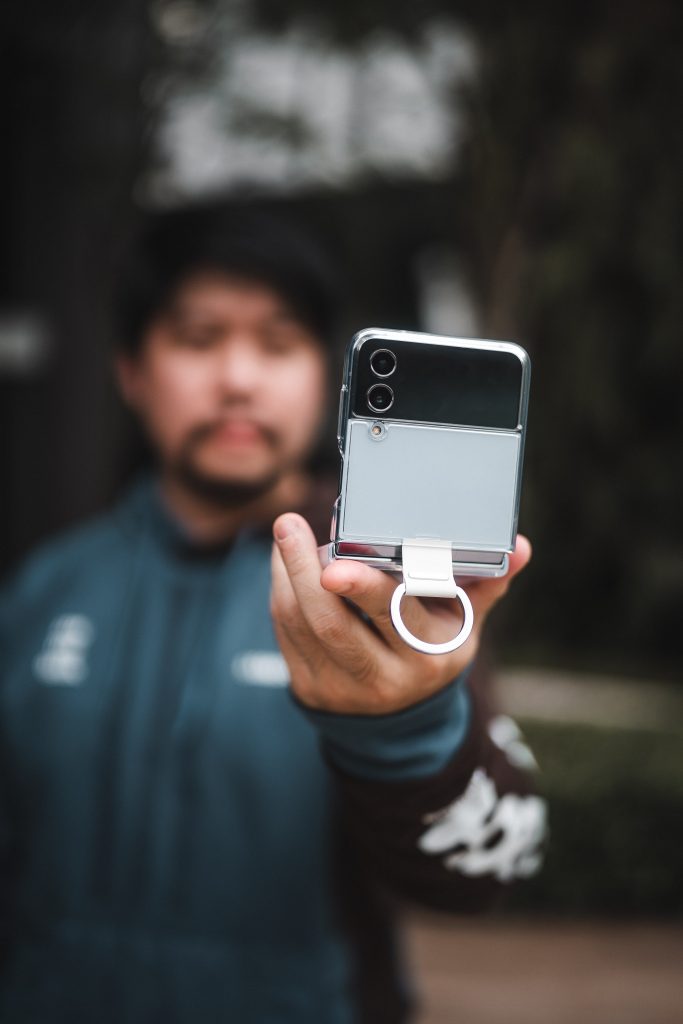 Hardware
CPU
Qualcomm SM8475 Snapdragon 8+ Gen 1 (4 nm)
Memory
128GB + 8GB RAM
256GB + 8GB RAM
512GB + 8GB RAM
Display
6.7″ Foldable Dynamic AMOLED 2X, 120Hz
Cover: 1.9″ Super AMOLED, 1.9 inches, 260 x 512
Camera
12 MP, f/1.8, 24mm (wide),
12 MP, f/2.2, 123˚ (ultrawide)

10 MP, f/2.4, 26mm (selfie)
Connectivity
Bluetooth 5.2, USB Type-C 2.0, WiFi 6
OS
Android 12, One UI 4.1.1
Battery
3,700 mAh, 25W Fast Charging, 15W Fast Wireless Charging
Available Colors
Bora Purple, Graphite, Pink Gold, Blue, Yellow, White, Navy, Khaki, Red
Stock (Default Settings)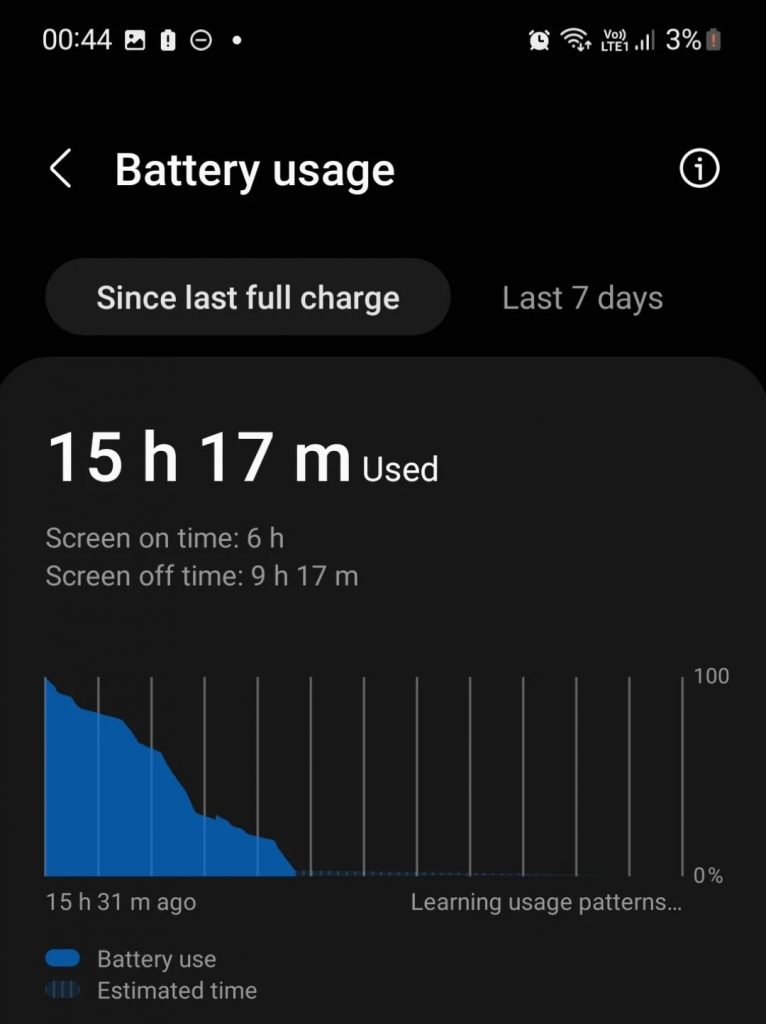 When we go stock, we leave everything on, from Bluetooth, Mobile Data and the screen refresh rate to be on 'Adaptive', meaning that the Z Flip4 will dynamically adjust its refresh rate according to the task you're doing or the game you're playing. It'll fire itself up to 120Hz during some menu navigation and some compatible games, while going all the way down to 1Hz when you're on something like a page of an ebook or a photo. The Galaxy Z Flip3's panel is similar to the Z Flip4's but without the adaptive part, on the 3 you can only move between 60Hz-120Hz
At a reasonable 200 nits of brightness, scrolling social medias, watching some YouTube videos and replying text messages had earned me the following hours, with diminishing returns as I crank up the brightness. These were conducted from a full tank of battery, with the always-on display toggled ON for the cover screen.
It's also worth nothing that it's cumulative hours, not constant.
Battery Life On Adaptive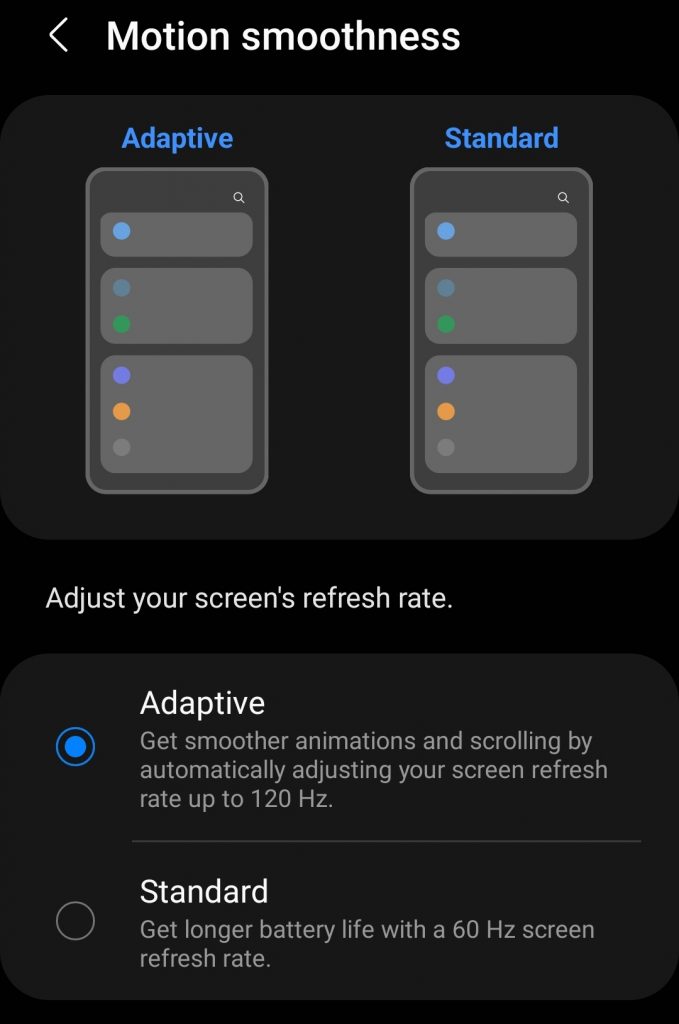 | | |
| --- | --- |
| Brightness Level | Screen On Time until 1% |
| 200 nits | 5 hours 50 minutes |
| 350 nits | 5 hours 39 minutes |
| 500 nits | ~5 hours |
As you can see, for the profile that I would consider that most people would use can nearly bag you 6 hours which is a definite improvement, especially coming from the previous Flip which had an abysmal 4.5 hour average. This brings the Z Flip4 to the competitive table where most candy bar phones can fetch more or less battery life in this range. Most times on the menu it's 120Hz constant so these are pretty good numbers.
If you truly want to push the envelope, you may toggle the refresh rate to 'Standard' instead of 'Adaptive', which locks it at a 60Hz constant which really brought the Z Flip4 to healthier single-charge life.
Battery Life on Standard
| | |
| --- | --- |
| Brightness Level | Screen On Time until 1% |
| 200 nits | 6 hours 11 minutes |
| 350 nits | ~6 hours |
| 500 nits | 5 hours 39 minutes |
With these gains, it's definitely worth the consideration opting to Standard. It may look sluggish and feel redundant as a user for turning off a headline feature (120Hz), but as a foldable, there's only so much battery you can pack in, so much optimization you can do to the processing to squeeze out every possible extra %.
Power Saving Nearly Broke My Brain (In A Good Way)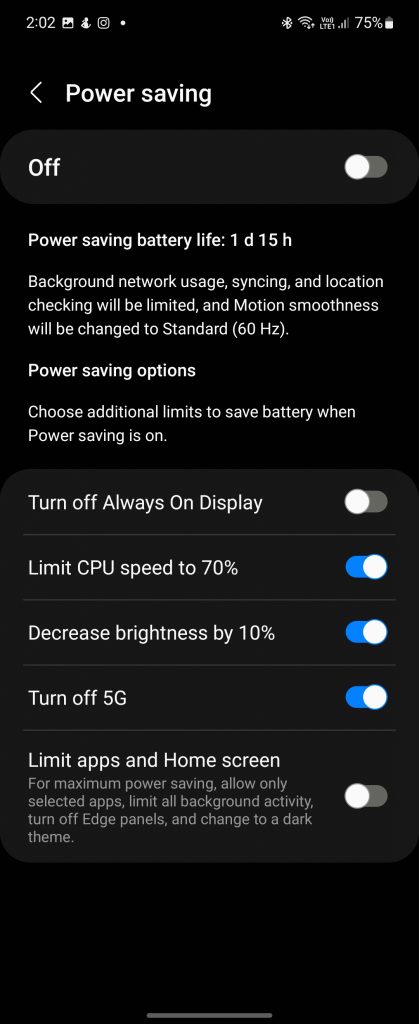 Okay, level with me here. This is probably the most flexible power-saving mode you can find on a smartphone. Look at those options made available for you to toggle to get better battery life! Obviously you'll get hard locked at 60Hz but what's most important here is the CPU speed limiter, turning off 5G and Limit Apps and Home screen.
Limit CPU speed to 70% – Pretty much lowers your CPU clock speed by 30%, making it consume less power without too much of a performance hit. Lower Mhz = lower power consumption. If you really use the Z Flip4 for work and not games, you will largely be unaffected and would barely feel a difference.
Turning Off 5G – Forces your phone to stick to LTE and stops itself from searching for a 5G signal. It's like those moments where you're in the cinema with barely any bars and your phone is warm even though you aren't even using it. It's because the phone is constantly searching for a signal to keep you connected, and this would stress your CPU which'll heat up along with your battery. We're in Malaysia, and the 5G scene is barely even at the infant stage, so this'll definitely keep your battery happy.
Limit Apps and Home Screen – Choose from a list of apps you want to continue running, including fetching new data in the background. The frequency is affected too making it less often. Other non-essential services would stop running too so combined with a lower CPU clock speed, there will only be a handful of things running with the mode toggled on. This uses less RAM too, so less of everything makes power consumption a lot lower.
| | |
| --- | --- |
| Brightness Level | Screen On Time until 1% |
| 200 nits | 7 hours 53 minutes |
| 350 nits | 7 hours 29 minutes |
| 500 nits | 6 hours 50 minutes |
I would say that the Power Saving mode is great for emergencies, for people who have a change of plans that prevents them from getting to a charger or when their powerbank has gone flat too. For the most part, it's also truly for those who just want to focus on getting their work or messaging tasks done with lesser hits on battery life.
---
Final Tips
Before I wrap this up, here are some tips to maximise your Z Flip4's battery life to keep it healthy, less hot and long lasting for your day to day!
Turn Of Data When Your Signal's Weak!
If you're in an area where you can't get messages or social media messages in, just toggle Mobile Data off and turn it back on again when you get a better signal. It's worth the little wait because you're essentially stopping your phone from forcing itself to stay connected in a weak area. You phone constantly tries really hard to maintain that connection so it'll generate heat due to that effort.
Put Less Used Apps To Sleep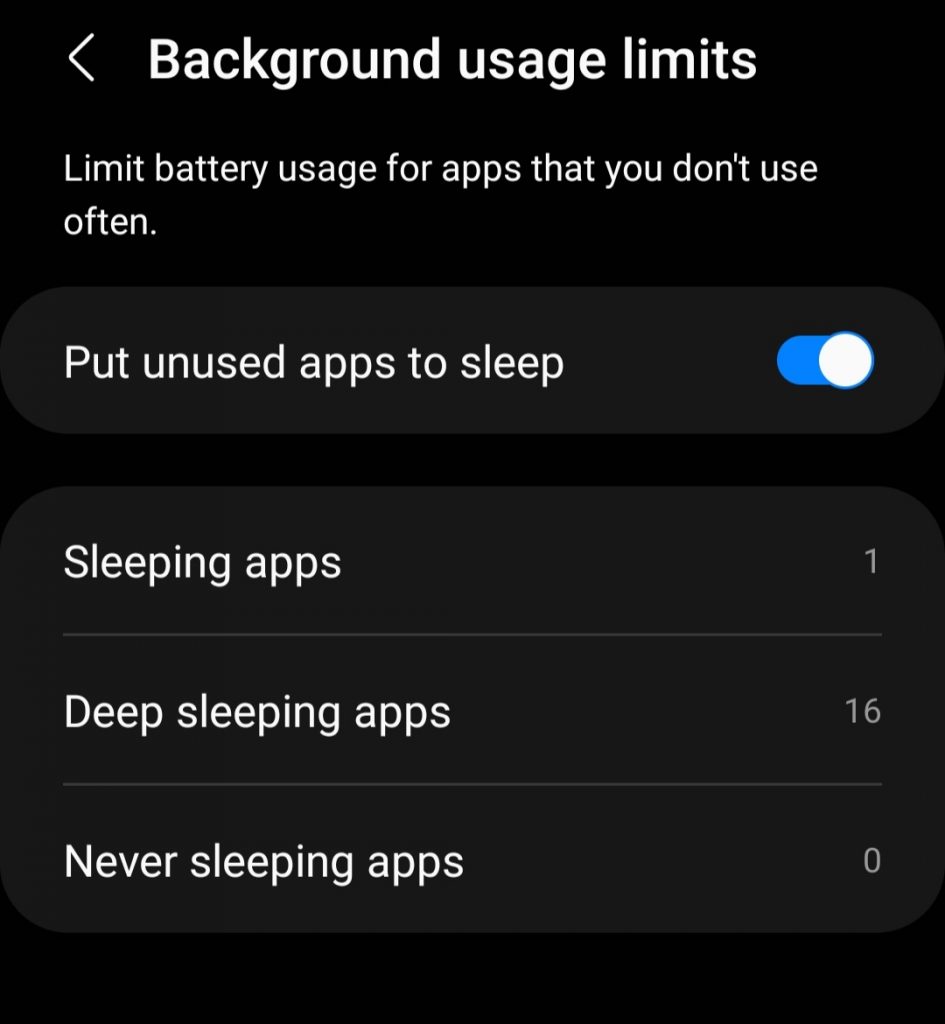 What this means is that you're limiting apps from working in the background. A fine example would be fetch Facebook notifications as soon as you get them. Less notifications means less data requests at LIVE intervals, so it'll either limit or not show up at all if you put that app to sleep. Less live notifications means less memory being used and that'll keep your phone all nice and cold. Facebook is notorious for high background memory use so this is a good practice to start off with. YOU DON'T NEED TO KNOW EVERY SINGLE NOTIFICATION COMING YOUR WAY AT ALL TIMES!
Keep Brightness To A Moderate
Screen brightness is arguable one of the biggest battery drainers due to higher power draws at brighter settings. I mean, you'll need a lot of wood to keep a big fire going right? same principle. Disable auto-brightness is a good thing to do if you're on the lower spectrum since what auto-brightness does is essentially optimize the level of brightness in accordance to what you're currently displaying on your phone. Watching a video or viewing a beautiful picture? The phone will crank up that brightness to make sure you're viewing it at a more 'immersive' level. Also, especially when you're in a sunny environment, your phone would crank it up too to make sure you can still see what's on your screen and that'll take a hit on your battery.