Roborock Malaysia is offering a one-day-sale with up to 50% off its products with free delivery on 10 October for its 10.10 Shopee Sale Day, including fan favorites Roborock G10, S7 MaxV Ultra and S7. With up to 50% off, the Roborock G10 will go for as low as just RM 3,699, S7 MaxV Ultra as low as RM5,099 and S7 at only RM2,099, this is one sale customers don't want to miss out on! The deals are available exclusively via the brand's official store on Shopee.
The Price List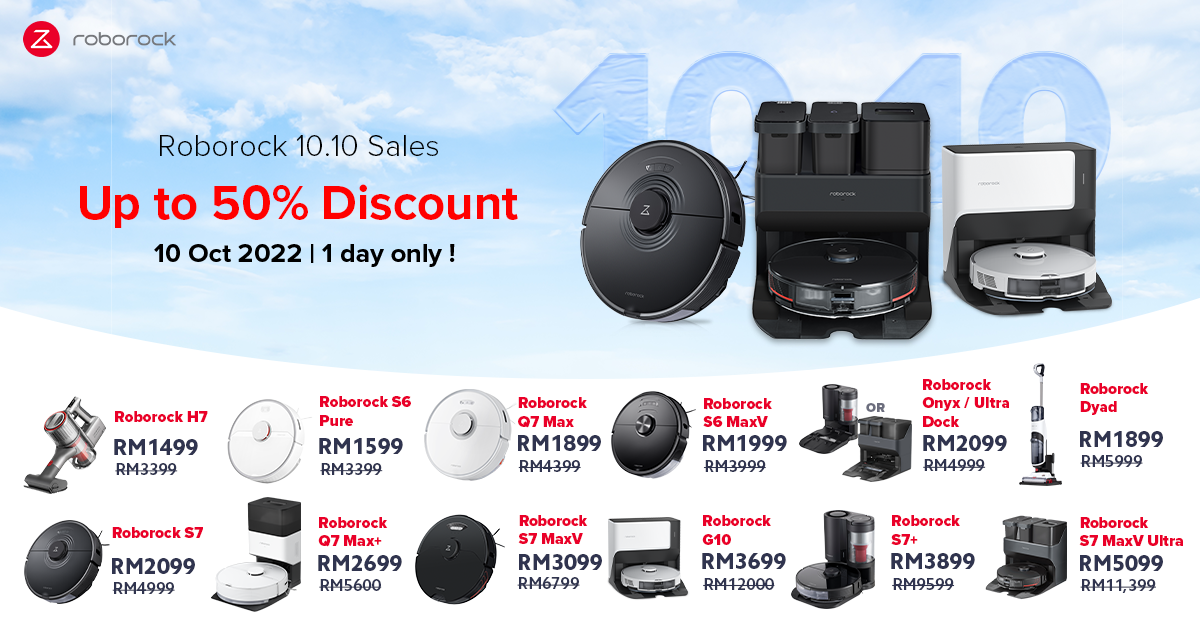 Launched just this year, the Roborock G10 is a dual function robot vacuum, capable of sweeping and mopping, on top of vacuuming. With Intense Sonic Mopping, the Roborock G10 adopts a high-frequency vibration design of up to 3,000 rpm motor which can effectively remove dirt on the ground. With the combination of floating mopping module and high-frequency vibration, even if the surface is rough and uneven, specks of dirt can effectively be removed.
Meanwhile, the Roborock S7 MaxV Ultra is the company's premium S-Series lineup. Compatibility with Empty Wash Fill Dock, the dock reduced manual maintenance for customers. Roborock S7 MaxV Ultra powered by ReactiveAI 2.0 Obstacle Avoidance System, a combination of an RGB camera, 3D structured light and an all-new neural processing unit, the S7 MaxV Ultra recognizes objects in its path more accurately and adapts quickly to clean around them, regardless of lighting conditions. In addition to that, the S7 MaxV Ultra features Roborock's acclaimed VibraRise® technology, a combination of sonic mopping with an automatic mop lift designed to transition smoothly over contrasting surfaces, while delivering effective high-intensity scrubs to tackle surface dirt.