Samsung Galaxy S22 Ultra 5G
note legacy preserved
The Galaxy S22 Ultra preserves the Note legacy with its built-in S Pen and a slew of new features to go along with it. Performance is close to top-notch, offering users a smooth experience in both normal and gaming use. It's difficult not recommend this device to those seeking the best of the best for Android.
Good
Breathtaking Display
Better and Faster S Pen
Strong horsepower with good battery life
Premium Design
Outstanding Cameras
Ungood
45W charger can't be justified
128GB Variant shouldn't exist
---
Specs
---
CPU
Qualcomm SM8450 Snapdragon 8 Gen 1
Memory
128GB+8GB RAM, 256GB +2GB RAM, 512GB+12GB RAM
Display
6.80″ Dynamic AMOLED 2X, 120Hz, 1750 nits Peak Brightness
Camera
108 MP, f/1.8, 23mm (wide)
10 MP, f/4.9, 230mm (periscope telephoto)
10 MP, f/2.4, 70mm (telephoto)
12 MP, f/2.2, 13mm, 120˚ (ultrawide)
40 MP, f/2.2, 26mm (wide selfie)
Connectivity
Bluetooth 5.2 ,USB Type-C 3.2, Samsung DeX
OS
Android 12, ONE UI 4.1
Battery
5,000 mAh, 25W/45W Fast Charging (PD 3.0)
15W Wireless Charging
Available Colors
Burgundy, Phantom Black, Phantom White, Green
Retail Price
8GB/128GB – RM 5,099
12GB/256GB – RM 5,499
12GB/512GB – RM 5,899
Design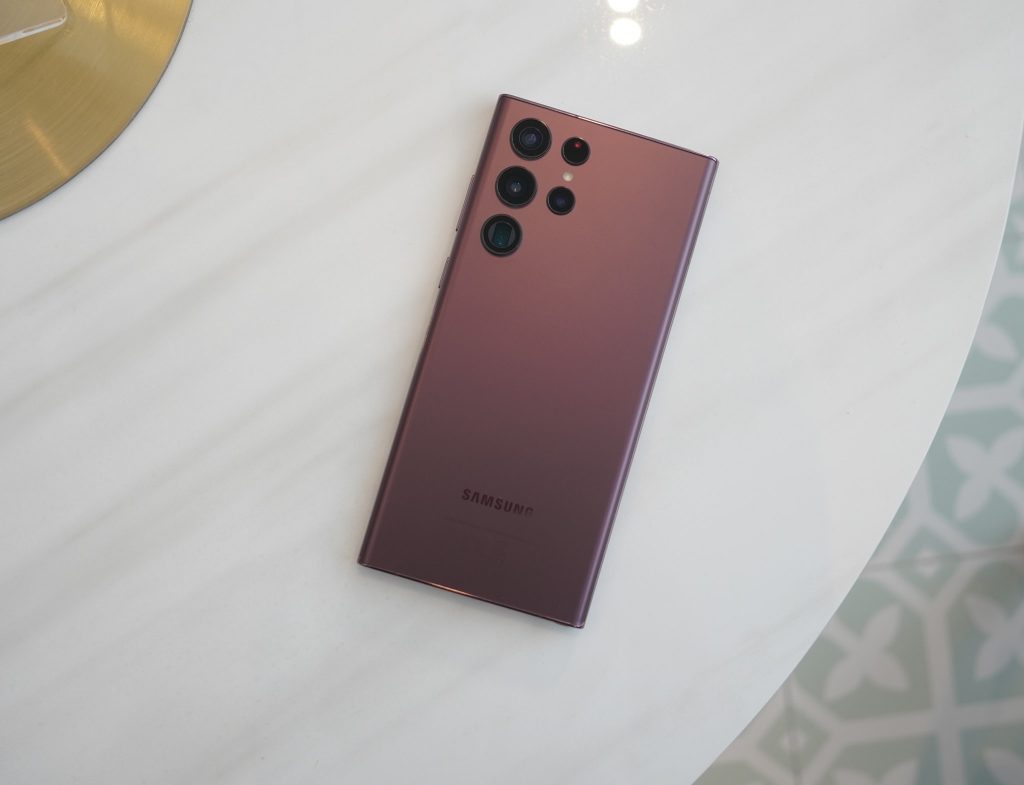 "It's The Note"
We're pretty sure you've read every other review out there that says that the design and body is literally a longer Note in a new set of colors. Well, if everyone is saying the same, means it's true right? From here I have to agree as well. It's like a Note 20 Ultra with changes to dimension with remixed colors from my perspective. Is that bad? no. We quite liked the Note 20 Ultra's size and curves and that perspective just doesn't change here. The camera setup looks a lot different now, with no combined module area in sight. Each sensor now is a camera ring of its own, cut into the case. These rings are slightly raised, giving a bit of breathing space for the glass. If you're particular about dust, please slap a case, as we realized that our rings were covered in dust / lint when we kept it in our reasonably clean.

Overall, it stands out from its younger brothers the S22 and S22 Plus, who take pages off the S21 design cook book. After all, the S22 Ultra is the only S22 that comes with its own S Pen.
Our unit is the Burgundy and it's our favorite color of the 4, which is pretty much several shades different from the Mystic Bronze of yesteryear. The frosty matte finish at the back is semi-grippy and reasonably does away with fingerprints. There are upgrades here too. It's now protected with Gorilla Glass Victus+, making sure cracks aren't too noticeable when you accidentally drop your phone.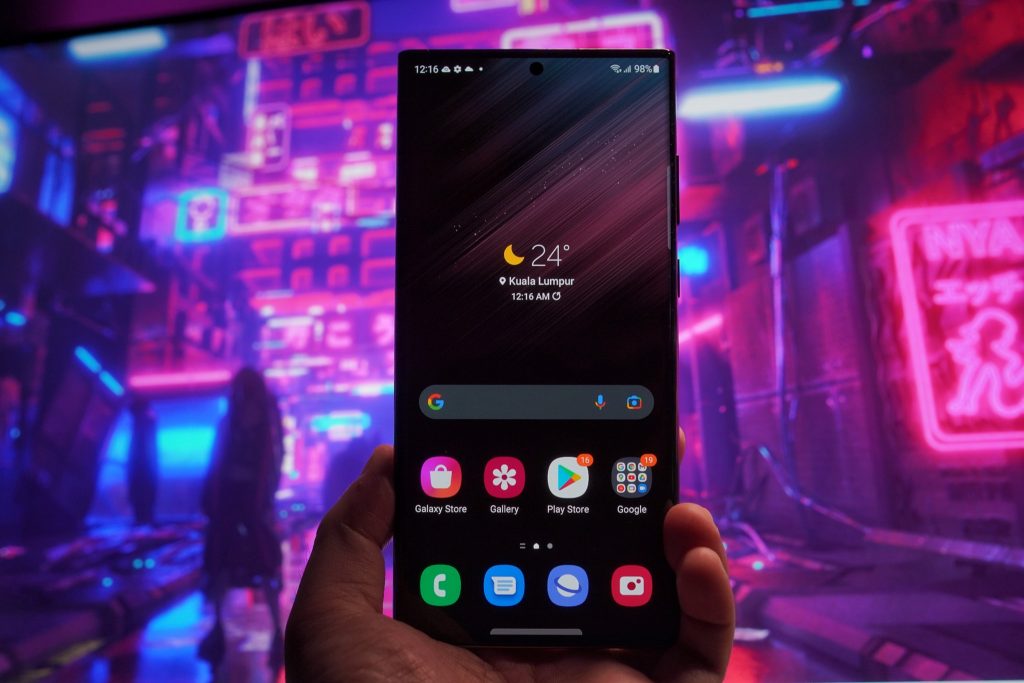 6.8″ OLED Love Machine
The S22 Ultra employs Samsung's latest and greatest non-foldable display, which is a 6.8″ OLED QHD panel with a tiny punch hole for the selfie shooter. Like their predecessors, the S22 Ultra is able to switch between refresh rates on-the-fly, depending on what you're currently doing with the screen on. The majority of the time you'll be getting true 120Hz, while at some points of idling it'll tone down to 24Hz and 60Hz when you're browsing the web.
The color coverage is pretty wide and rich if you're on the Vivid profile, while if you prefer to go on Natural, expect duller tones but that's practically correct as everything just looks more neutral and balanced. Either way, it should not affect your overall experience whether you're watching a movie or viewing your holiday photos.
It's a top-shelf display that's smooth, color-rich with the deepest blacks and shades of color we've every seen.
Work & Play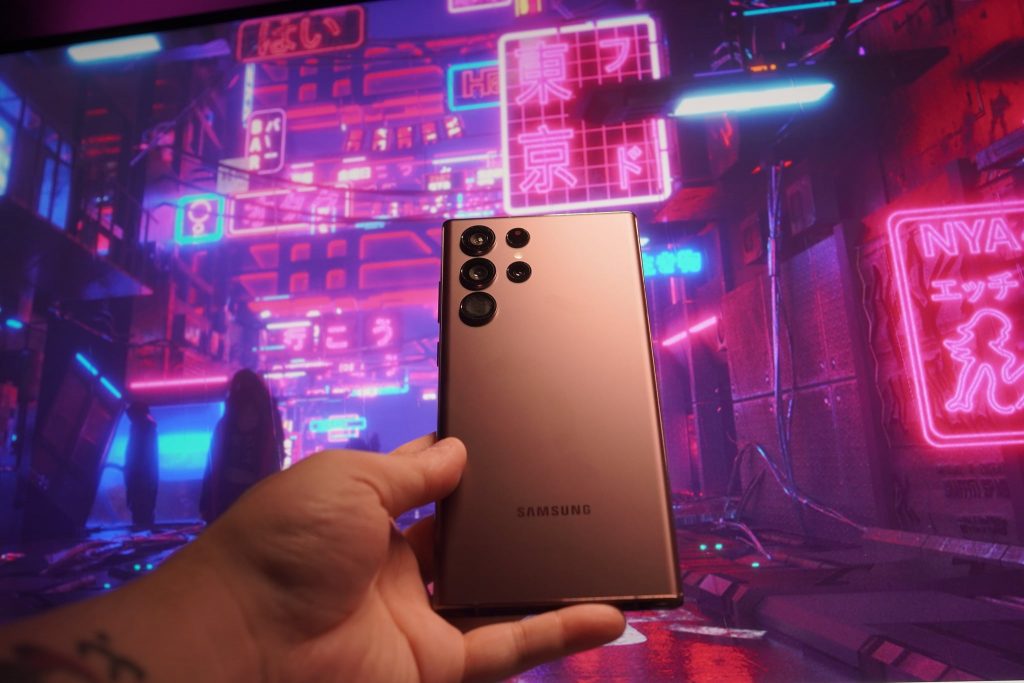 For the Malaysian market, the S22 Ultra comes with Qualcomm's Snapdragon 8 Gen 1, which potentially leads to a market win since locals tend to be chipset "sensitive" no matter how good other chipsets are. Snapdragon mentality is stupidly strong here and it might not change for the next few years.
That being said, performance for daily tasks are nothing short of perfect, with gaming as part of our testing, it performed as we'd expected. The S22 Ultra may be powerful but it is by no means going to beat a dedicated gaming class phone. On maxed-out Genshin Impact you'll be able to obtain 40-50 FPS with the max temp touching about 37 degrees Celsius while on more optimized titles like Honkai Impact and PUBG New State you'll consistently fetch 60 FPS with some mild drops to high 50s on maxed out settings.
Samsung tends to throttle during intense gaming moments and I don't blame them. I don't see it as a gaming phone therefore I would not expect high FPS gaming and would prefer more cooling temperatures above all else. No doubt the performance was still good, and with constant updates in software we expect to see 90-120Hz gaming in no time, at the cost of more heat potential of course.
By Far The Best S Pen
Before we jump right to it, I need to stress that this isn't an all-new S Pen. It's actually the Note20 Ultra's with some added extras. One of the big ones would be handwriting recognition, where 12 extra languages are added into the database, bringing the total of supported languages to a healthy 88.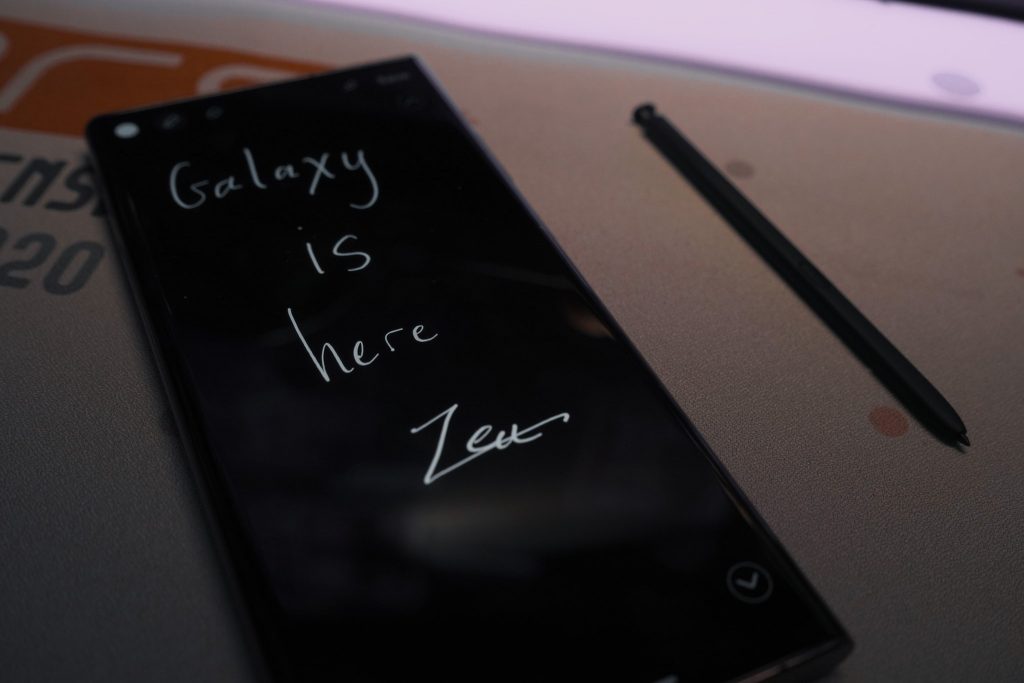 Latency is reduced too, by means of AI learning. The AI learns from your S Pen input and cleverly predicts where your next stroke or line would end up at, and because of this approach, Samsung had managed to reduce the latency to a lightning fast 2.8ms, which is more or less even faster than the S21 Ultra and its 9ms speed. Writing and drawing felt faster, and coming from 9ms, to most it may not have a difference, but to those who care would instantly feel how smooth and snappy its gotten. So yes, the S22 Ultra is an excellent Note.
Quick Note and Collaboration View
These 2 features are super useful, with Quick Note allowing entire webpages to be added into Samsung Note for editing (please ensure you've accepted cookies otherwise it'll get in the way). The one point of annoyance is the fact that I could only add my webpages from Samsung's own Internet Browser. It's all for branding and ecosystem, but I still prefer my Google Chrome.
Collaboration View synergized what we can do with the phone along with a Galaxy tablet. By connecting the 2 and enabling collaboration view, you're able to use the S22 Ultra and its S Pen as the drawing pad and the tablet as the canvas in which your strokes and drawings would appear on with very little delay. I see this application to be particularly useful in the work and education industry when you need to explain work or draw out your ideas in front of your team.
Surprising Battery Life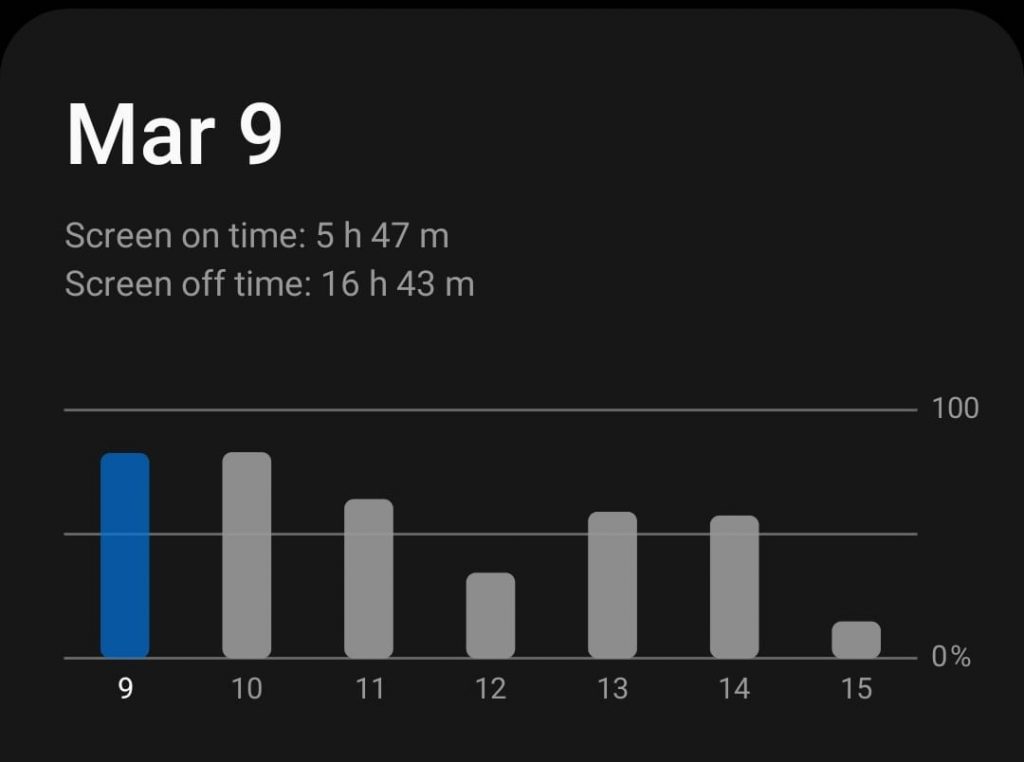 The battery is the typical 5,000 mAh, a 500 mAh increase from the Note20 Ultra but remains the same if you're coming from the S21 Ultra. With Adaptive Mode (for refresh rates) enabled, we've managed to squeeze nearly 2-days of use under the heaviest of app and hardware usage all across the board, including using the S Pen and mixing between data and WiFi connectivities. This includes having Bluetooth and WiFi on, as the S Pen depends on Bluetooth for connectivity.
We expected the battery to drain faster at QHD resolution but it didn't seem to be the case, and the heat up was minimal if not present. This sets the precedence that you could push single-charge life longer if you're toning the resolution down to FHD+. A full charge takes about an hour from the locally available 25W charger, and if you're short on time, you'll get to at least 60% in 30 minutes. This isn't that bad, even though we're living in times where competitors focus on obtaining a full charge in 30-40 minutes.
---
Camera System time.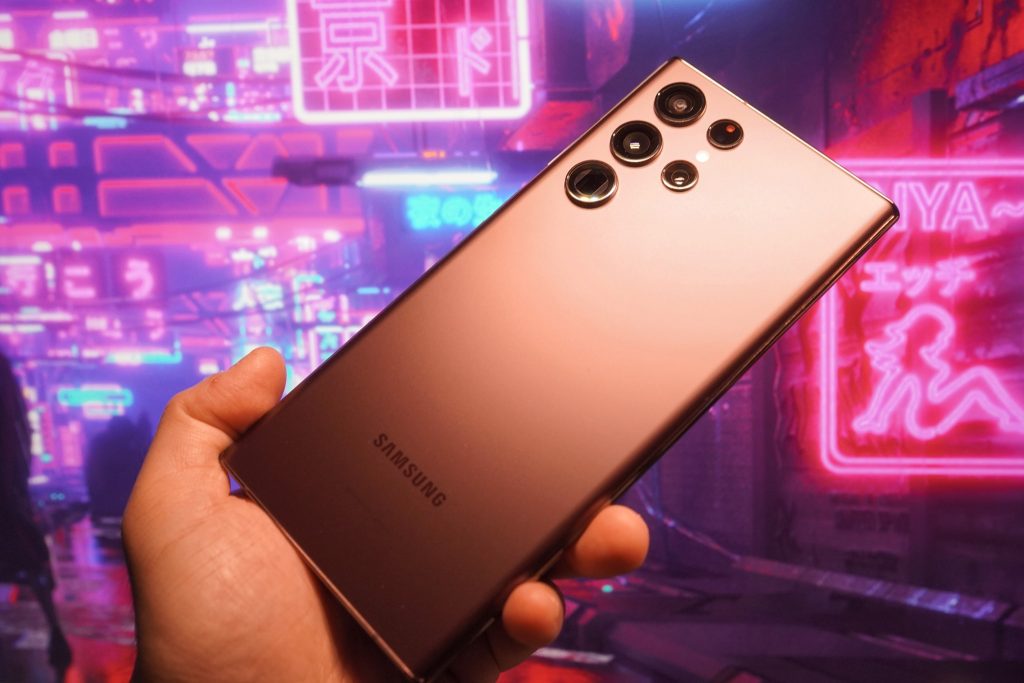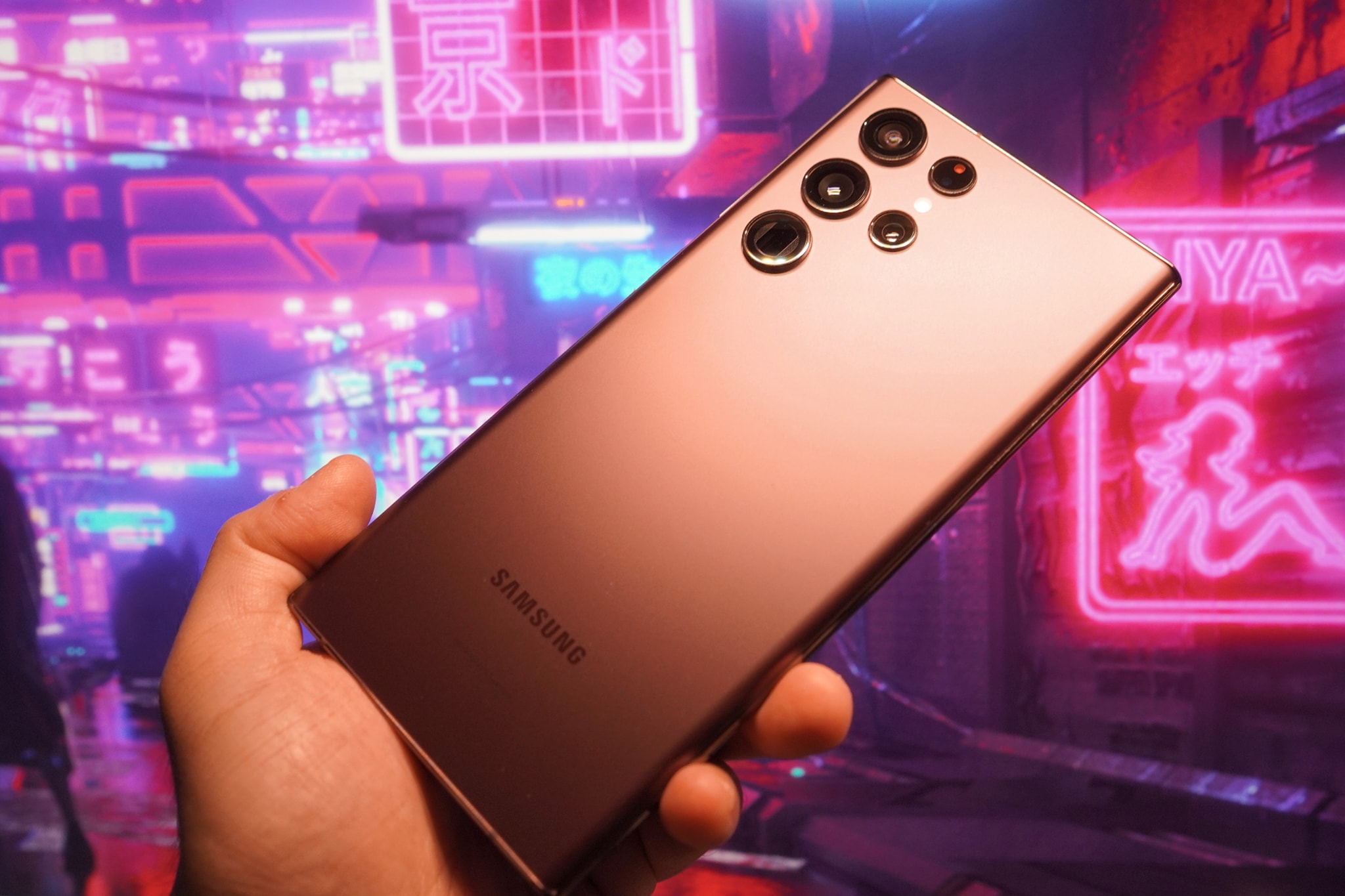 The Galaxy S22 Ultra 5G deploys quad-camera setup – a 108MP primary camera, a 10MP telephoto, 10MP periscope telephoto, and a 12MP ultrawide sensor.
Standard Wide Angle
The 108MP main sensor to me is a delicate, sensitive system. If you know what you're doing, expect excellent image that are balanced, vivid and well exposed. It is however not perfect. There's still some noticeable noise, even in daylight scenes that's hard to miss if you're someone who zooms in regularly to check their shots.
This camera may be too close to call coming from an S21 Ultra (because it's ISOCELL HM3 Sensor, which is good), but as a reference point after comparison, the S22 Ultra takes slight cleaner shots compared to the 21 Ultra but with a bit of more noise. Better or worse, a camera update might be in the works to crush this issue.
Ultrawide Angle
Ultrawide is always executed well on a Samsung, especially on flagships. They're sharp and incredibly detailed. Samsung's always paid attention to their secondary sensors, hence the hefty investment. Dynamic range is good and images can always be well exposed thanks to autofocus. The pain to me is the fact that it's constantly a plateau here. It's only a tiny bit better than the S21 Ultra, so it kinda dampens ones consideration of upgrading from last year's flagship.
Zooms 3x to 10x
At 3x, images are nearly lossless, packing plenty of detail and sharpness as though we were shooting from the main sensor. We were impressed with the Vivo X70 Pro and the Huawei P50 Pro but let's face it, they don't pay as much attention to secondary sensors as much as Samsung does. Even at 5x, shots remain excellent and class leading here, and surprising a tad bit cleaner than the S21 Ultra.
At 10x, it's like the last stop before heading into noise-town. Shots aren't as clean as 3-5x, and without some stability and practice your shots could end up blur. However, if you are a veteran to zoom shots, you should know the demands that need to be met in order to get crispy, sharp zooms without forcing yourself to crop from high-res modes. You can even shoot as far as 12x for fast moving objects like birds or cars and shots would still be just fine and sharp if you're not planning to zoom into the image in post. Zen is an avid bird watcher and the results will speak for itself in the shots when he's done.
Zooms 30x to 100x (Space Zoom)
When we first explored Space Zoom on the S20 Ultra, we straight up called it a gimmick. Even though yes it did live up to its advertisement of being capable of 100x zoom, shots were nearly unusable with not only noise but a painful watercolor effect that blotched things up.
We're pleased to see that in round 3 of Space Zoom on a Samsung flagship that there are immediately noticeable improvements in the post-processing stage where the AI would clean up the shots to make the final image more presentable. I won't lie to you as you can see from the shots. It's still blotched with paint, but it packs more detail than its earlier versions and we see this as an improvement. It's definitely the best in its ability to do so and therefore in theory, this is class-leading as no one else can currently do it better.
---
Clean Portrait Selfies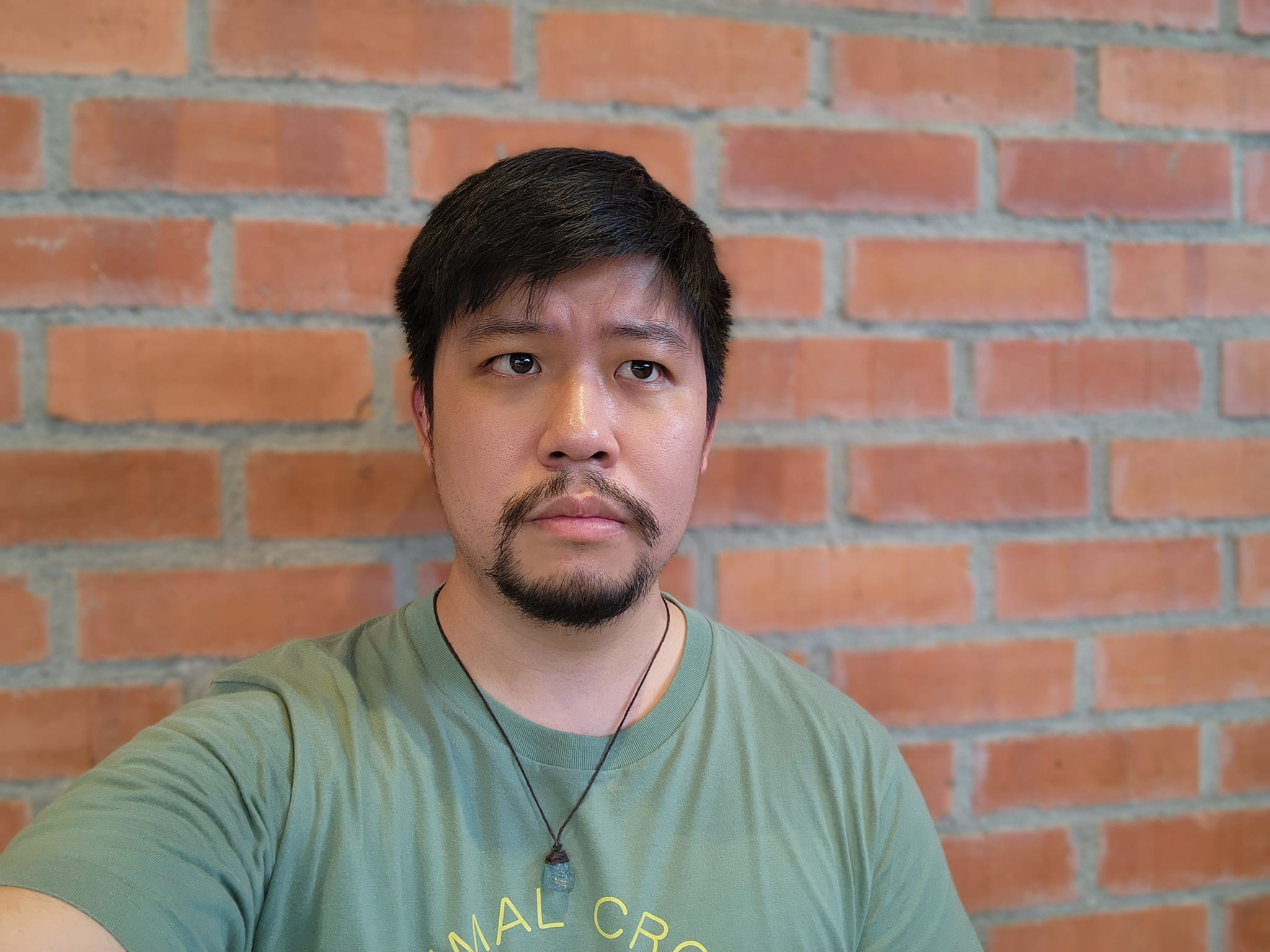 Alright, 40MP is a lot on paper, and please know that just like the 108MP sensor, it's a mode that you must enable before taking the shot, as the 40MP selfie camera by default outputs 10MP images and enabling high-res mode simply stitches multiple images together to attain the high pixel resolution.
With that out of the way, default shots are downright awesome. Both color and skin tone are very well represented to real life with even the dynamic range playing ball being wide and diverse. There's still some noise in-between shots regardless of the lighting condition but that's forgivable, as we're far from obtaining perfect selfies at a technological standpoint.
40MP high-res mode supplements extra details, with visible results near the eyes, skin pores and wrinkles (if you have them). For this to be seen you're going to need near perfect exposure and lighting as it takes seconds to shutter down and post process. You'll end up with soft and graining shots if you're not still so keep that in mind.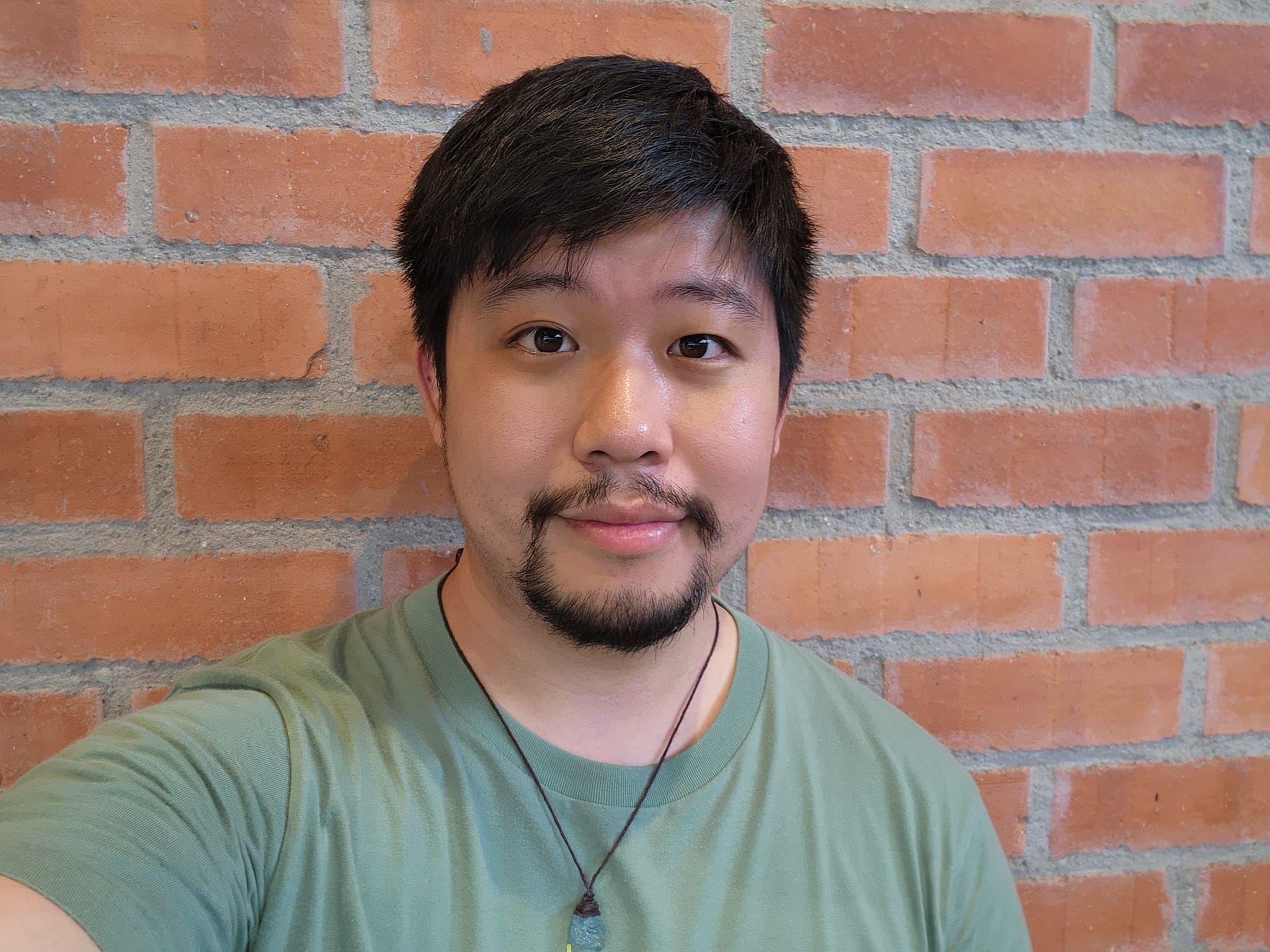 Portrait mode is always a treat, performing a commendable job isolating my face and body from a background blur of my choosing. Sometimes, just sometimes, if you're with a background that's overwhelmed with color and contrast, the camera might not be able to land the perfect shot, and you'll notice the regions around your hair to be melded into the bokeh.
Taking portraits in lowlight is challenging for any phone, and the S22 Ultra is still able to focus sharp on your face and body while separating the background for you. The background blur kicks in well but the end result will still fetch you some noise and make details less fine. It doesn't sound as sad as I've put it, as it's still one of the best lowlight portraits I've ever gotten to take from a front-facing camera.
When you reach flagship class, ALL sensors are useful and good. The S22 Ultra may not be image-quality leading but leads in consistency and balance, a trait that no other brand has been able to deliver at any price point.
---
It's A Big Hit With Very Little Compromises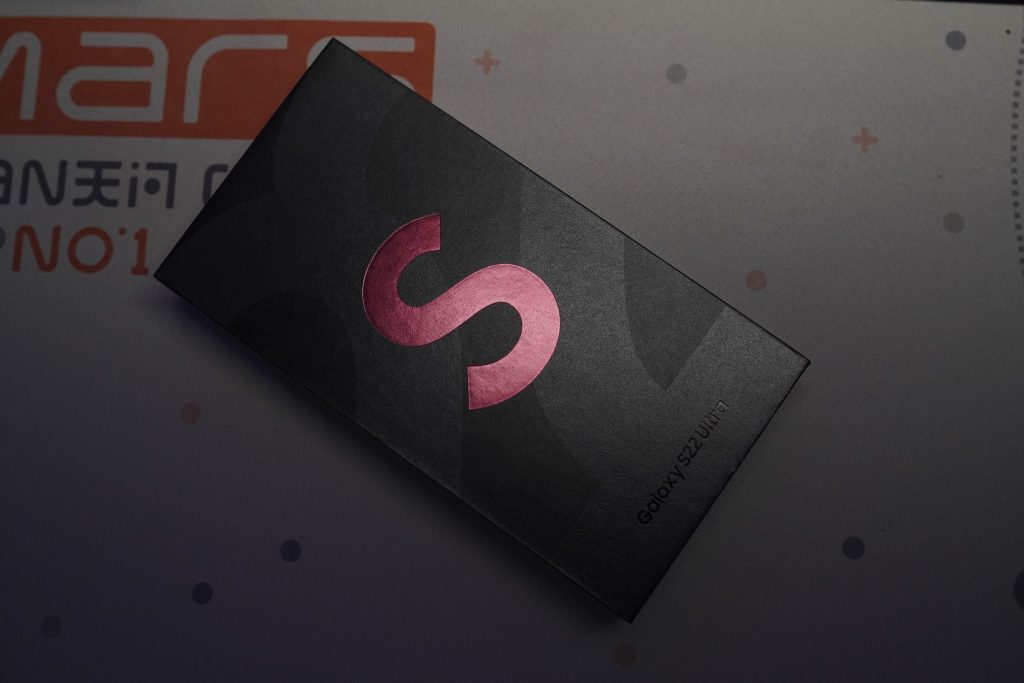 After being able to use the S22 Ultra to it's near fullest extent, we understand why it went out of stock so quickly. It represents everything we want from a good Android phone with enough bells and whistles to please just about anyone. It's a near-perfect phone that only sets the bar higher for the next Samsung flagship.
From execs to CEO's, this is the best stylus phone money can buy especially if you ACTUALLY use the S Pen. Along with an encouraging battery life, we loved every part of it except for one variant. The base model, priced at RM 5099, only comes with 128GB and that's by no means what we would call flagship level. We strongly urge future users to bump up to 256GB, as you'll get double the storage and 50% more RAM for a mere RM 400 more. With that out of the way, we confidently give the Samsung S22 Ultra the Gold Award, and recommend it to anyone with the budget to spend for it.