Samsung galaxy Buds FE
The Samsung Galaxy Buds FE is Samsung's first Fan Edition audio wearable with an interesting price point of RM 399. It offers ANC, Over 30 hours of battery life and wingtips for a secured and comfortable fit. How does it sound though?
Approve of
Great Price
Granular ANC
8 Hour Bud Battery Life, 31 hour total
Basic water sprayproofing
Can use older Buds cases
Approv'nt
Soundstage could be wider
No in-ear detection
Quick Specs
| | |
| --- | --- |
| Drivers | 6.5mm Custom One-way, no tweeter |
| Connectivity | Bluetooth 5.2 with Fast Pair |
| Codecs | SBC / AAC |
| Materials and Durability | Plastic with IPX2 Waterproofing |
| Colors | Graphite Black | White |
| Price | RM 399 |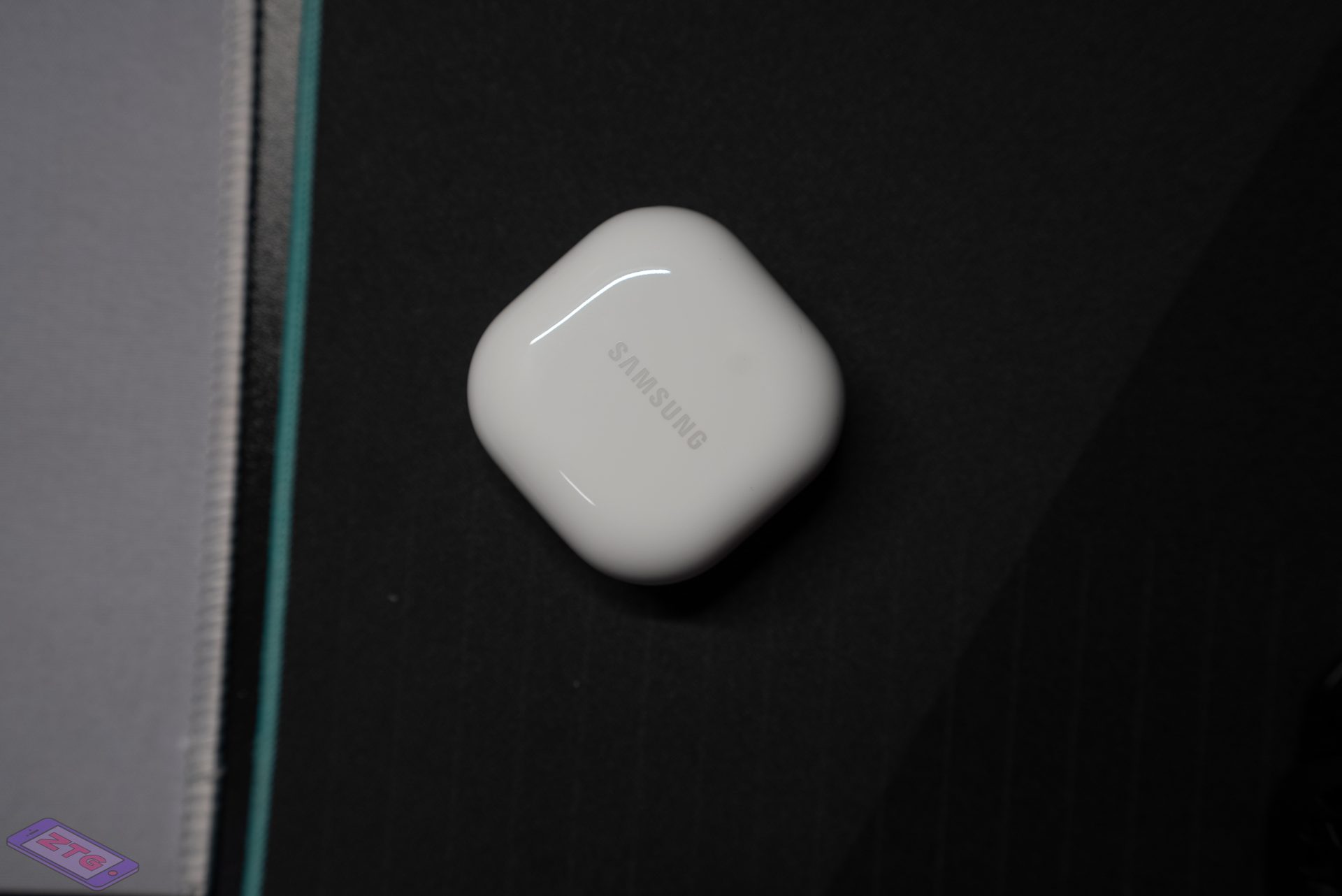 Design
The Galaxy Buds FE shares the same dimensions and design language with the likes of the Galaxy Buds2, Buds2 Pro and even the Galaxy Buds Live, maintaining an incredibly pocket friendly form factor with a glossy finish. It's fits right on the palm of your hand, and is available in Graphite or White. It will also be able to fit cases from your old Galaxy Buds, which is a huge plus towards reducing waste from throwing them away and instead repurposing them for this new pair.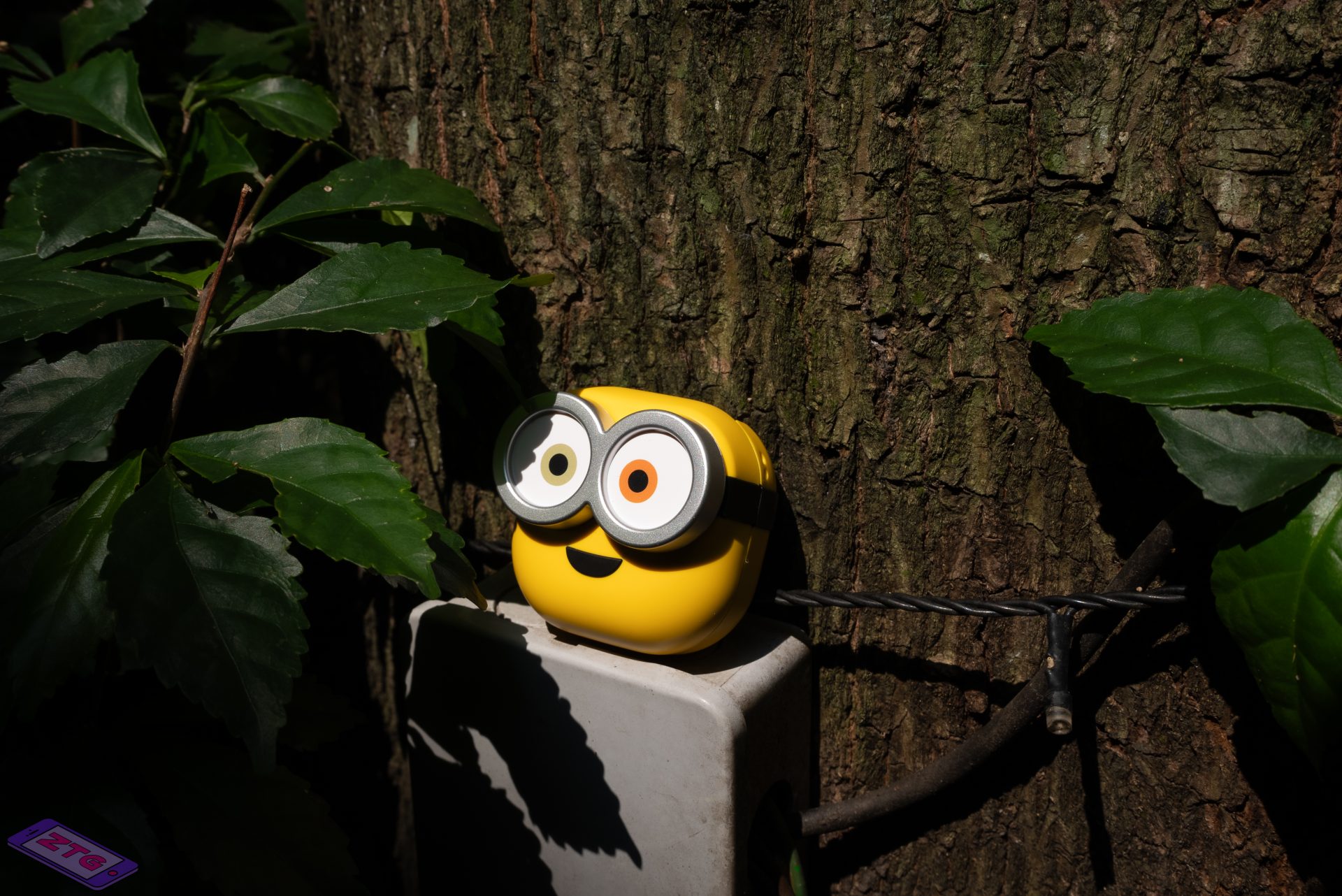 The Galaxy Buds FE also debuted a Limited Edition licensed Minions edition set of cases and they're just ridiculously cute! It's a high quality case with thick motifs for the goggles to give it that 3D effect. Those who have been wishing hard for a pocket-sized minion of their own, it's right here!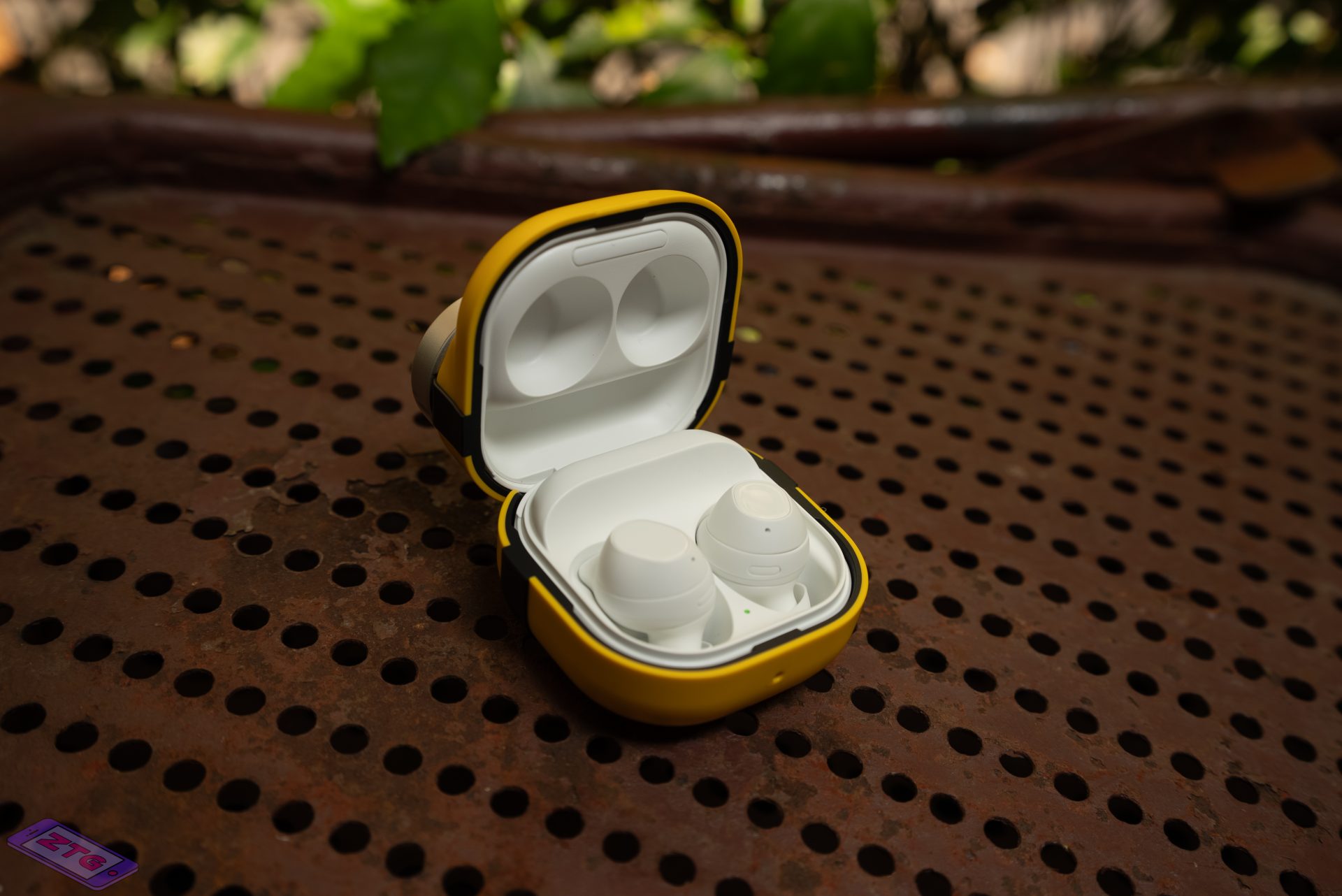 The lid is magnetically secured with the hinge tucked into the all-plastic case. Branding is kept to a minimum, with just the Samsung logo just faintly etched onto the outer shell.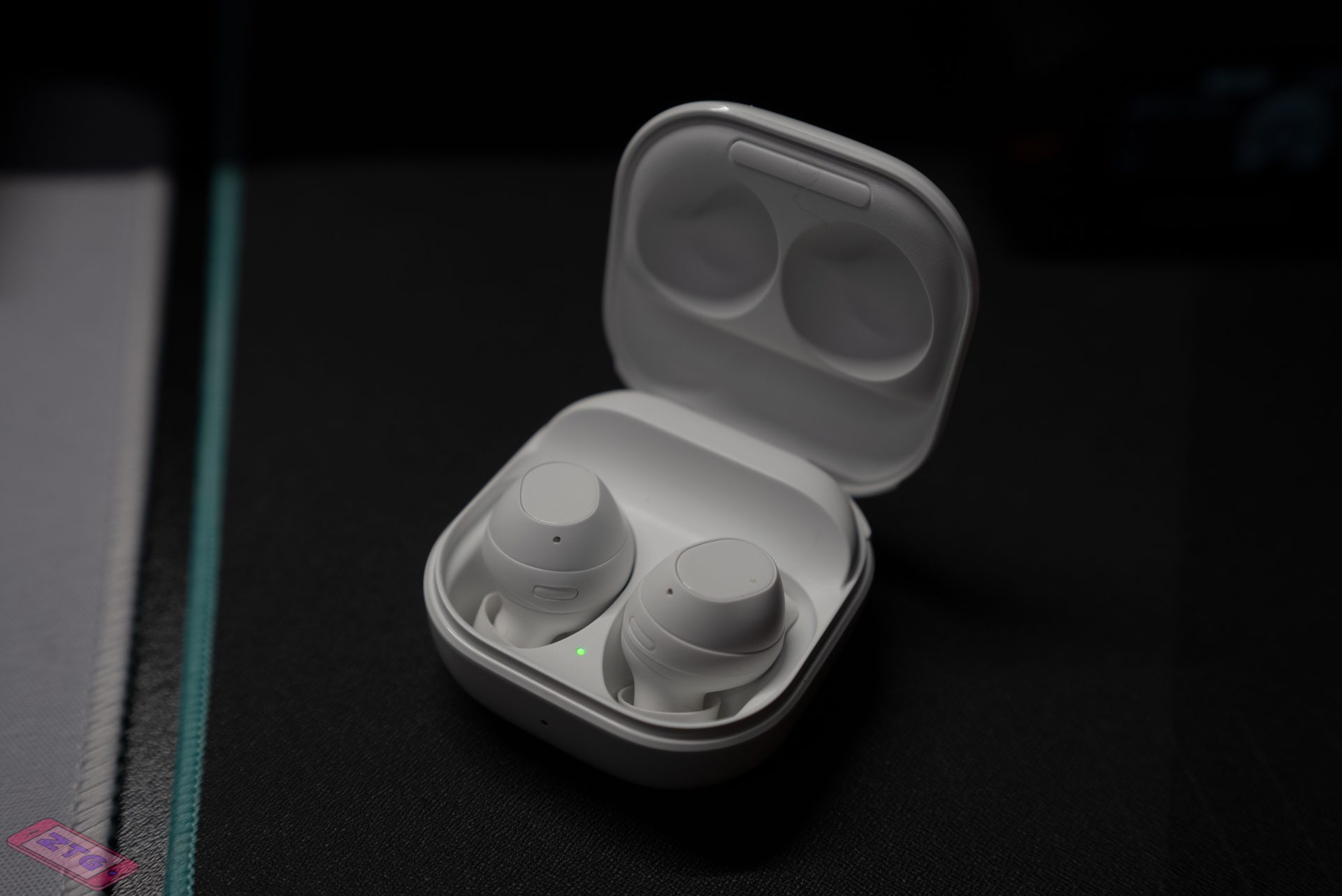 As usual, your USB-C charging port is at the back and a battery indicator LED down in front. Lifting the case up reveals the buds themselves and an additional LED indicator.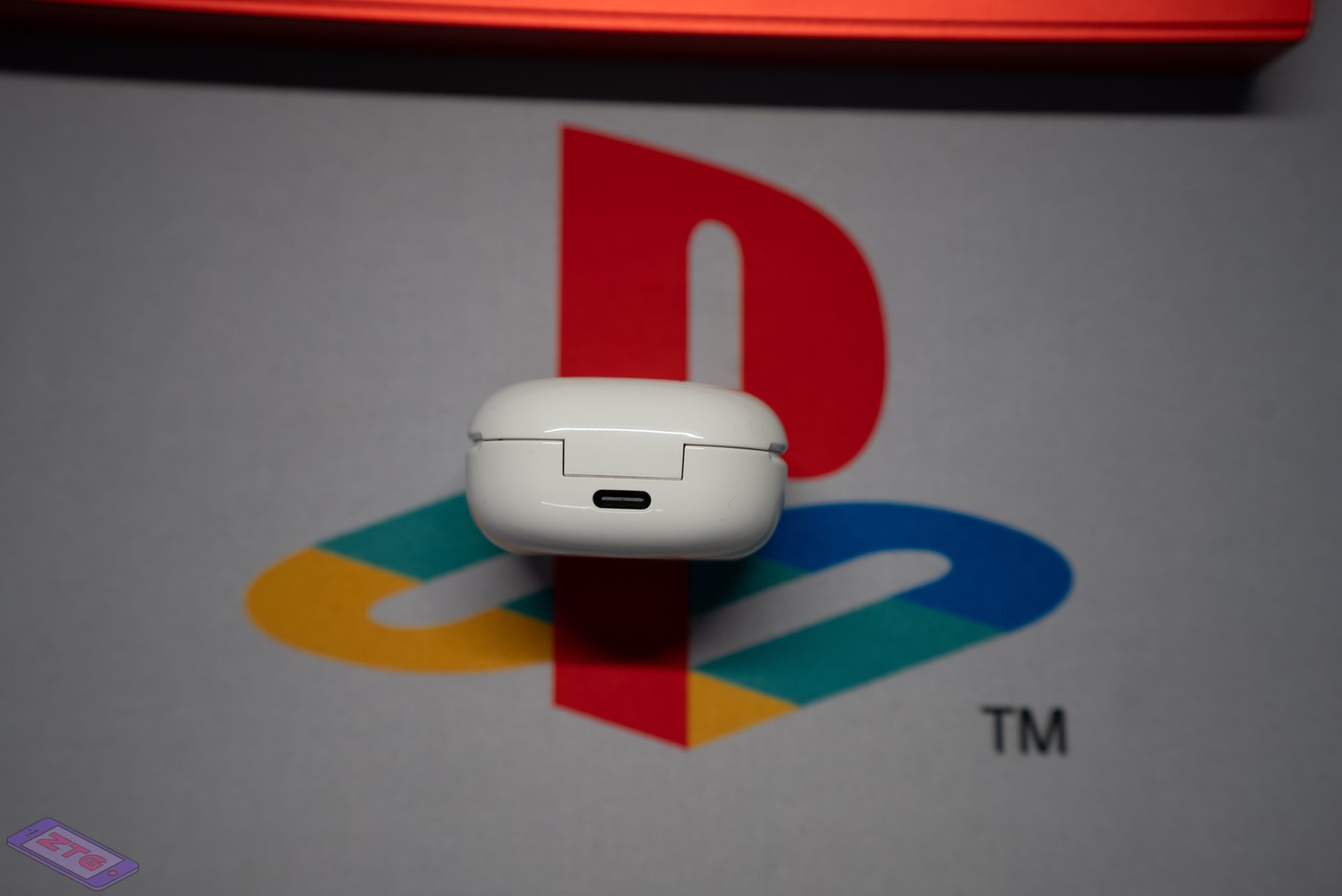 The buds themselves have a round shape but with more structure than any Galaxy Buds we've ever reviewed. You'll find that there is now a flat panel on the outer shell of the bud, and that would be the touch sensitive sensors, one on each side. This makes it more practical to remember and feel when you're out an about and you don't wanna whip your phone out.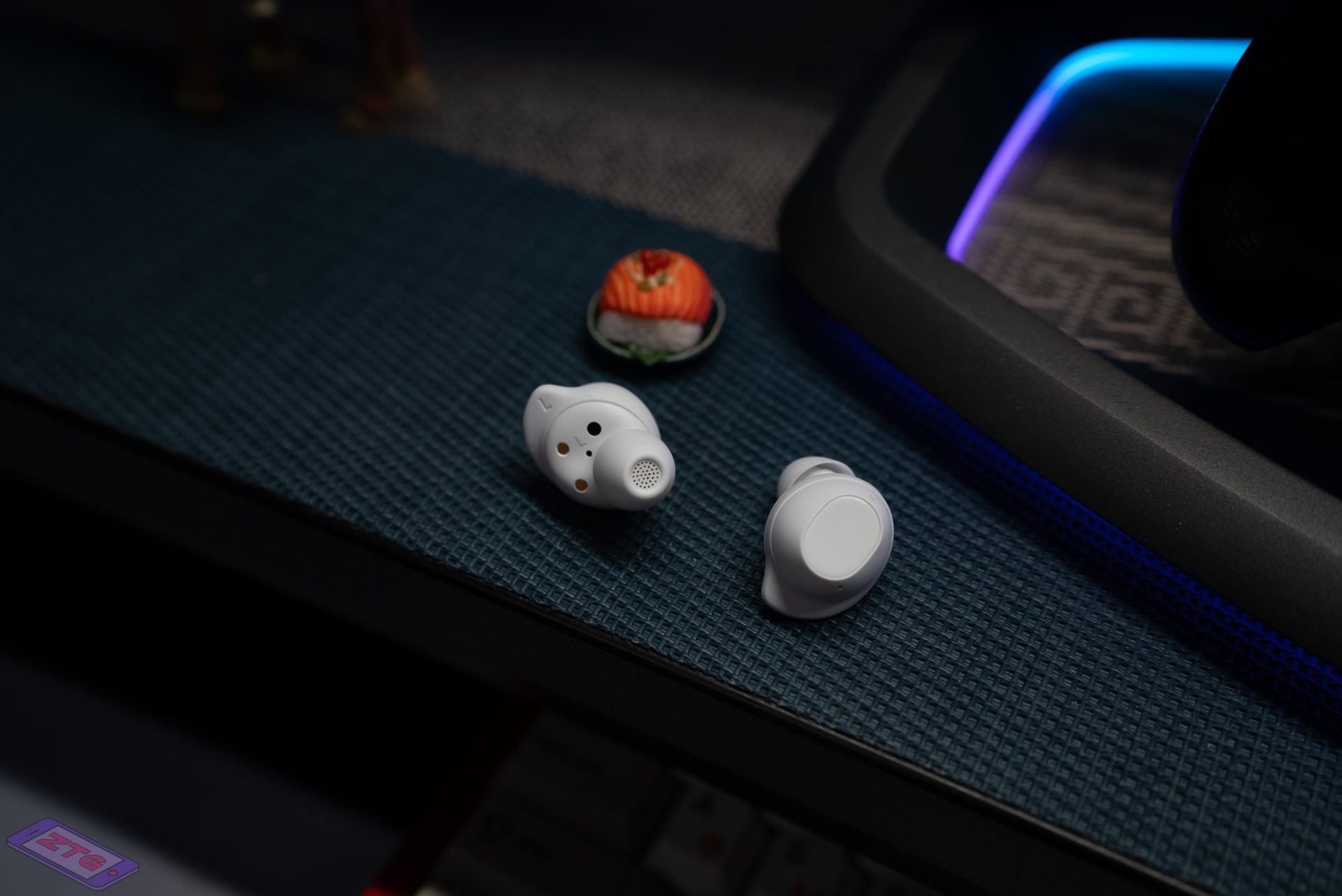 As for the tips, its your usual silicone and Samsung this time around brings back wing tips that extend to the ear bridge for a more secure fit. These were made ideally for exercise and sudden movements, so joggers, this one's for you. If you're not into that, the Galaxy Buds FE does include a pair of flat tips that you can replace to just use your ear canals as the main source of fitment.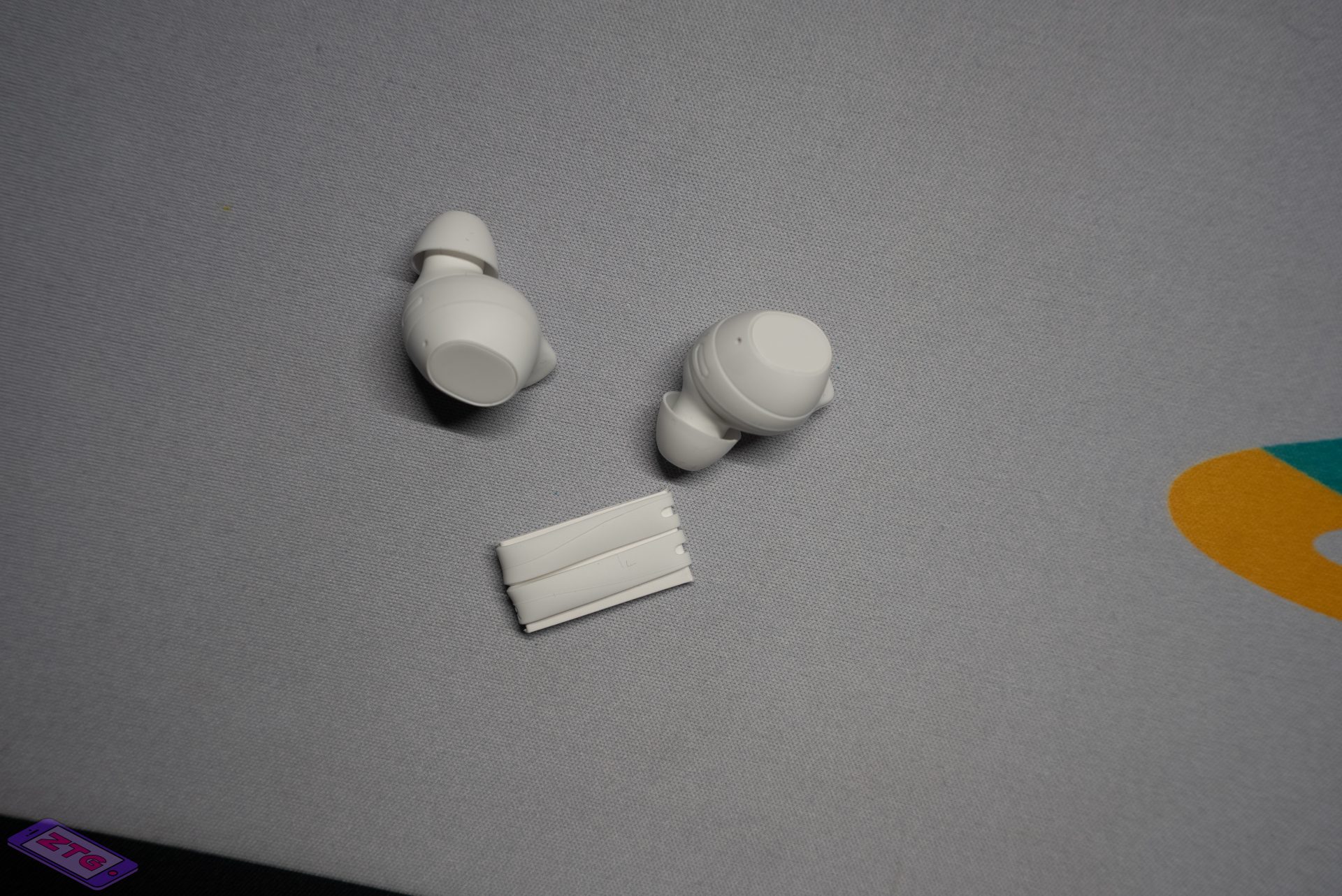 The fit was soft and comfy, and will not slide out of your ears no matter how hard your head jerks. Everything is just clear-cut and comfortable here.
Out of the box you get the case and buds with a USB Type-C cable, extra ear tips, flat tips and the manual. Initial pairing isn't done via a button on a case. You just simply slide them out and it'll already be on pairing mode. If you find youself unable to kick the Buds into pairing mode, simply tap both the sensors and hold until the indicator lights flash.
The Software Side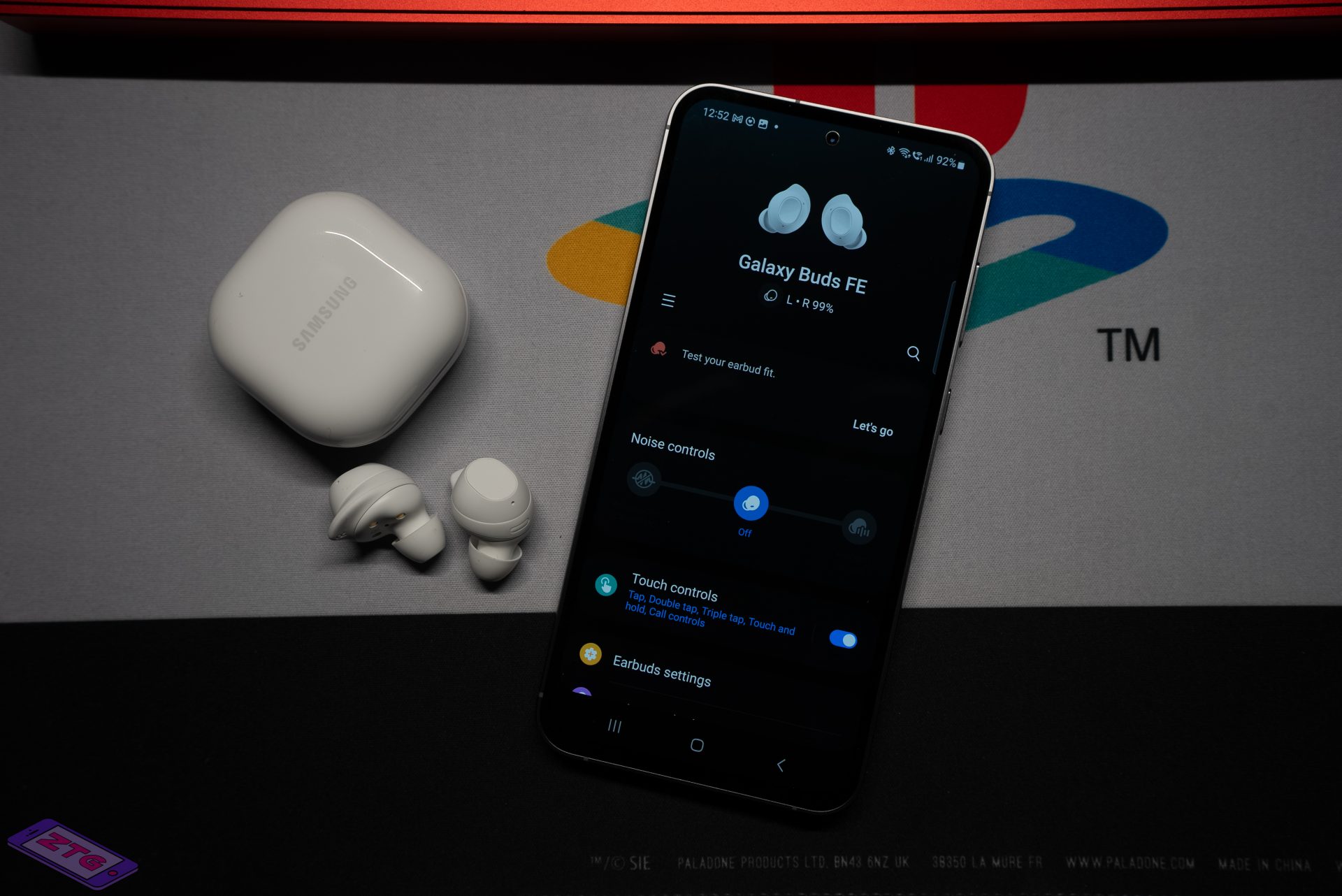 The Galaxy Buds FE will work on any smartphone regardless of system, but home advantage will always go with Samsung Devices with their pre-installed Galaxy Wearables App, which will then install Buds FE Manager plugin. If you're on a non-Samsung device but Android, you'll simply need to download the Galaxy Wearables app from the PlayStore. iPhone users aren't missed out too as the app is also available on the App Store!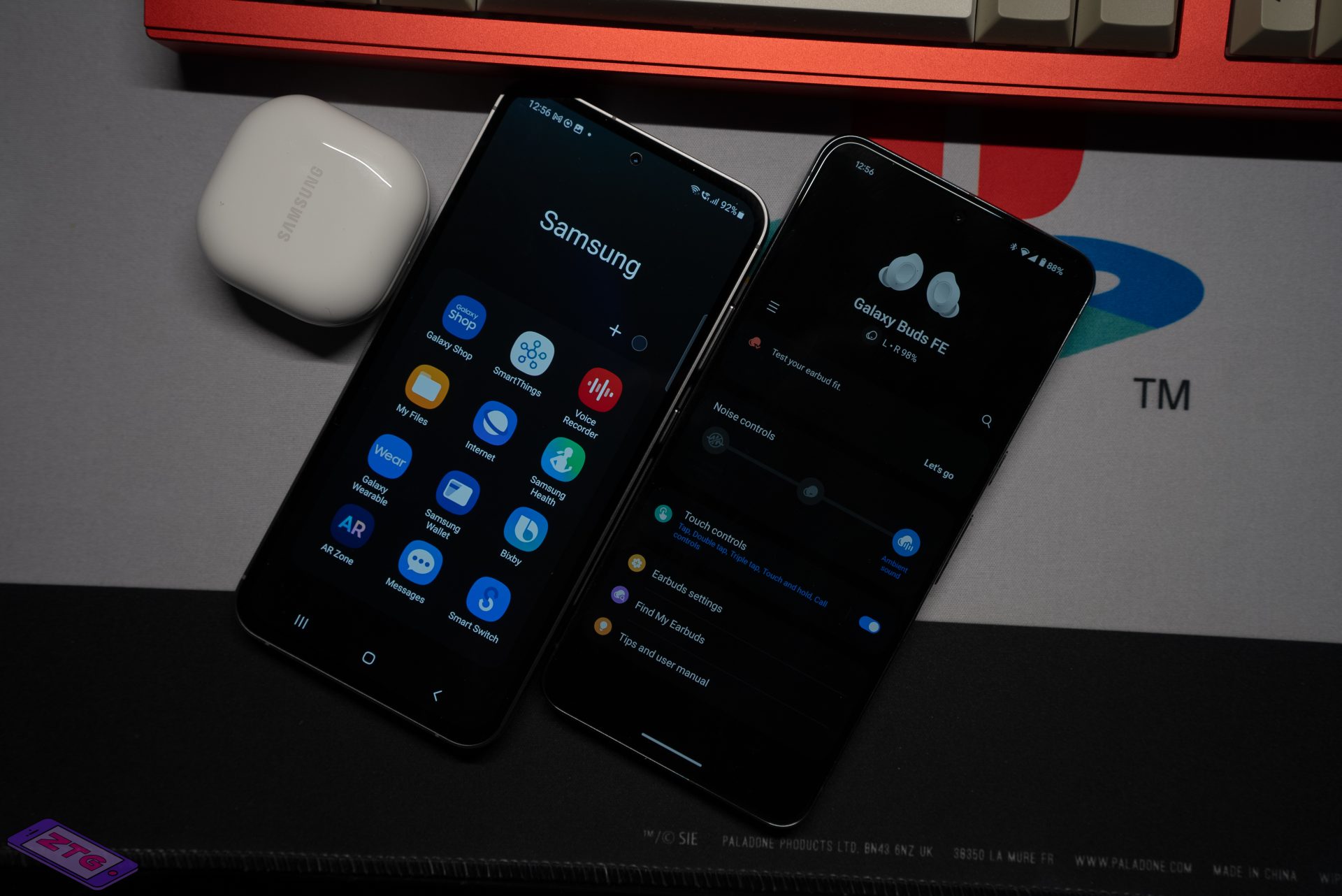 What Can You Do In The Galaxy Wearables App?
Update Firmware
Noise Control
Customize Gestures
Customize sound effects and set presets
The interface is easy to navigate and nothing was hard to find. It actually offers quite the granular experience when it came to EQ customization. You get to choose from a few EQ settings that range from your typical music genres and that's about it. The default preset is "Normal".
Supported Codecs and Protocol
Bluetooth 5.2 (can even use one at a time using Single Mode)
AAC
SBC
The Hardware Side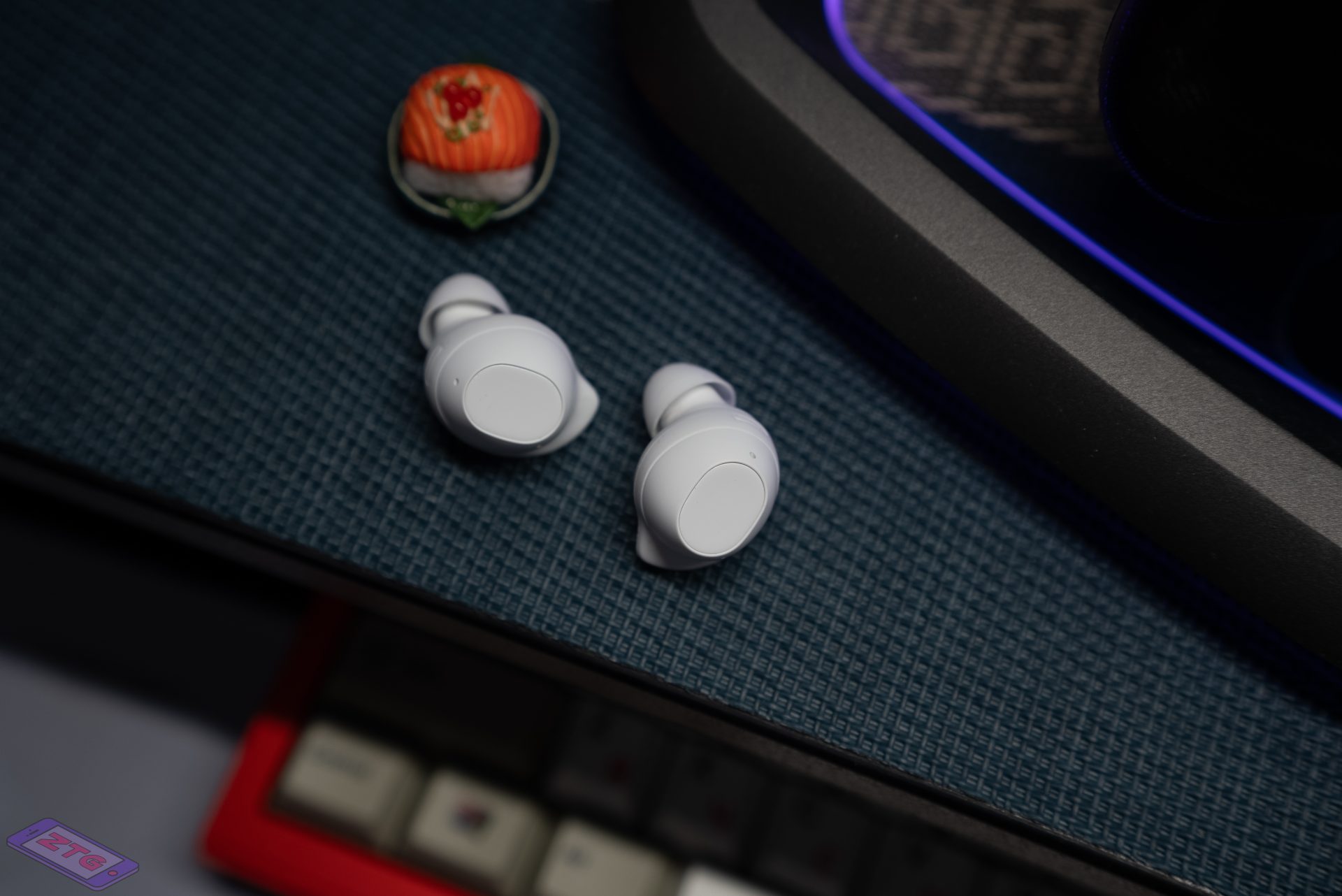 The Buds FE employs a custom 6.5mm one-way driver, and this is important info as the more expensive Buds2 and Buds2 Pro use a two-way driver. Obviously it's subjective to say that a two-way driver is better than a one-way, but one-ways would consume a lot less power and can handle a wide range of frequencies but takes a dip in lower frequency levels in terms of accuracy. That being said, a two-way driver draws more power, and power = performance. The frequency range will be broader and it will be able to handle itself on all levels of frequency, your highs, mids and lows since there's more hardware to do more work.
The Listen
Tracks That Were Great
You & Me – Jennie
After Dark – Mr Kitty
I'm Tired – Labrinth, Zendaya
Creep – Radiohead
Edge of Seventeen – Stevie Nicks
Tracks That Weren't Great
Teardrops – Bring Me The Horizon
Master of Puppets – Metallica
Kingdom of D'mt – JARVIS
Circles – Post Malone
No Time To Die- Billie Eilish
Analyzed
This is where certain tracks shine and some don't, and that's just the nature of this audio products. That being said, the Galaxy Buds FE does well with songs with bass and synthesizer samples, particularly a treat for songs like Jennie's You & Me and After Dark by Mr Kitty. You'll start off with good neutrality, followed by the bass thumping in that's ever so gentle yet making a healthy impact. This is simply because the vocals are given more priority and that's really the point.
Where it doesn't do well are songs with too much going on, such as Master of Puppets and Teardrops by Bring Me The Horizon. Across all frequencies, instruments are overwhelming and can get in the way of the vocals which still can be heard, just not as prominently as the instruments.
Overall, even without such a wide sound stage, the Galaxy Buds FE performed well, with a gentle bass that's flexible enough to make most songs sound okay.
Noise Cancelling
Of course ANC is available! The Galaxy Buds FE, in order to be a fan favorite needs to preserve critically important features at bone-cutting value, and you'll be glad to know that it's still here. You can choose between Ambient Sound and Noise-cancelling, and their sensitivities are similar to the Galaxy Buds2, so just know that they work and they work fine, though I still think ANC strength could be better as I was still able to pick up some wind during a scooter ride at an average speed of 25 km/h.
Battery Life
Per ear buds – 60mAh
Casing – 479mAH
Samsung promised a combined 30 hour battery life without ANC, and with knocks that down to 21 hours. In real time, you'll comfortable get over 9 hours of ANC-Off listening on a single charge, while constant ANC-On nets you about nearly 6 hours.
Typical users that would mix ANC usage throughout their day would find about 8 hours, which is pretty good.
As for charging, you're only able to charge it wired as the Galaxy Buds FE do not come with wireless charging capabilities. It's still okay since there has to be a feature gap between these and the Buds2 to justify its existence. I don't miss it, and neither do a lot of people since even the heaviest of users would find themselves charging these buds once every week typically.
Final Thoughts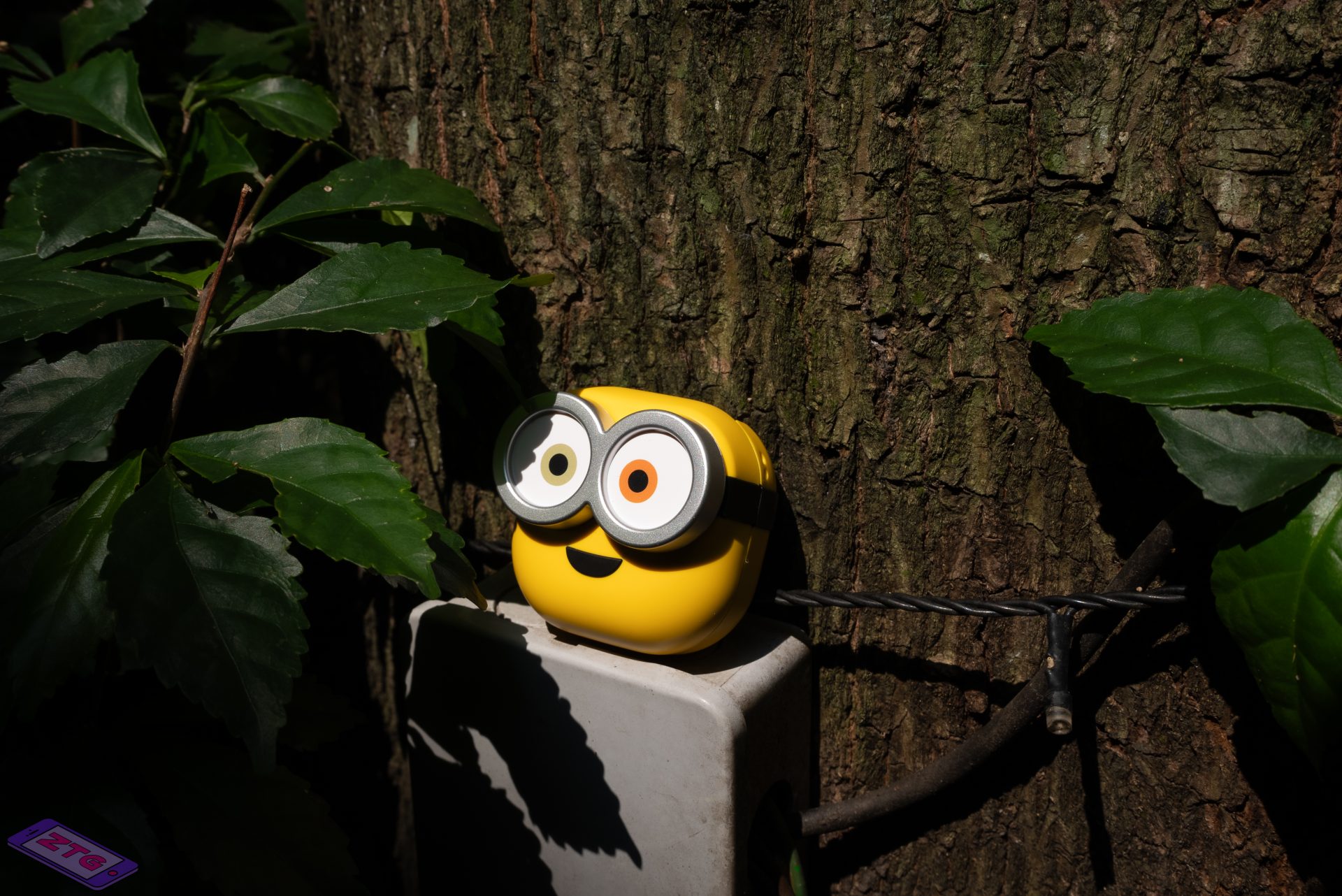 I love the existence of the Galaxy Buds FE. It's as though Samsung really wants to show their competitors how to REALLY make affordable wireless earbuds, complete with important features and good audio playback capabilities.
Even without a tweeter, the Galaxy Buds FE is able to produce a good level of bass that's neither too thumpy nor intrusive to my listening experience. It may not have the widest soundstage, but it is still impressive overall for what it is and what it can do.
Finally, it's really forward thinking to remain consistent in design, keeping the Galaxy Buds FE the same shape as their predecessors to allow them to be able to reuse their old casings that would have otherwise gone to waste, so this is a small, passive step towards sustainability.
RM399 is a great price to pay for the Galaxy Buds FE, even more so when they're on sale or when they go for even cheaper as a PWP when the time comes!