SAMSUNG GALAXY A23
The Galaxy A23 is an entry level device from Samsung that's targeted for the simplest users. It boasts long battery life, respectable main camera quality and even better selfies.
Good
microSD slot
Efficient battery life
Decent Main Camera
Ungood
eMMC storage is slow
Priced way too high
Aged Processor
No charger
---
Specs
---
CPU
Qualcomm Snapdragon 680 4G (6 nm)
Memory
128GB | 6GB RAM
Display
6.6'' FHD+ 90Hz IPS (PLS LCD)
Camera
50 MP, f/1.8, (wide), PDAF, OIS
5 MP, f/2.2, 123˚ (ultrawide), 1/5″
2 MP, f/2.4, (macro)
2 MP, f/2.4, (depth)
8 MP, f/2.2 (selfie)
Connectivity
Bluetooth 5.0, USB Type-C 2.0,
Wi-Fi
OS
Android 12, One UI 4.1
Battery
4500 mAh with 65W fast charging
Available Colors
Awesome Blue, Awesome Black, Awesome White, Awesome Peach
Retail Price
RM 999
Design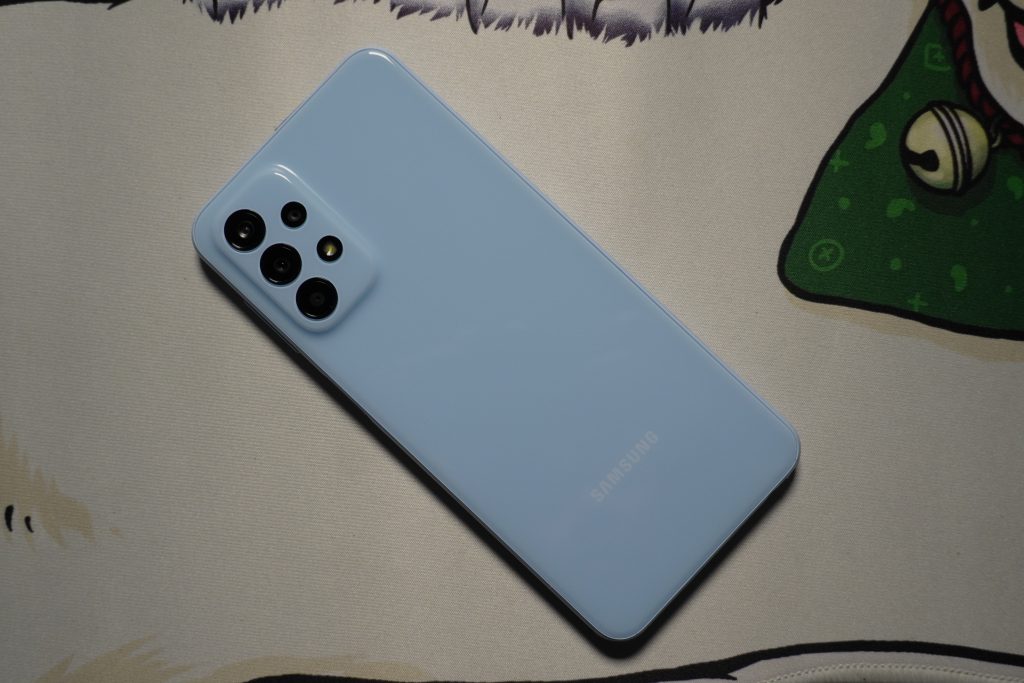 Looking very similar to the A33, the Galaxy A23 sports a one-piece design at the back with a camera module that slightly pops out. The side frames are a separate entity, omitting the device from being uniform in design. It's all plastic, and the finish is quite glossy so a cloth would be handy since this combo is infamous for fingerprint smudging.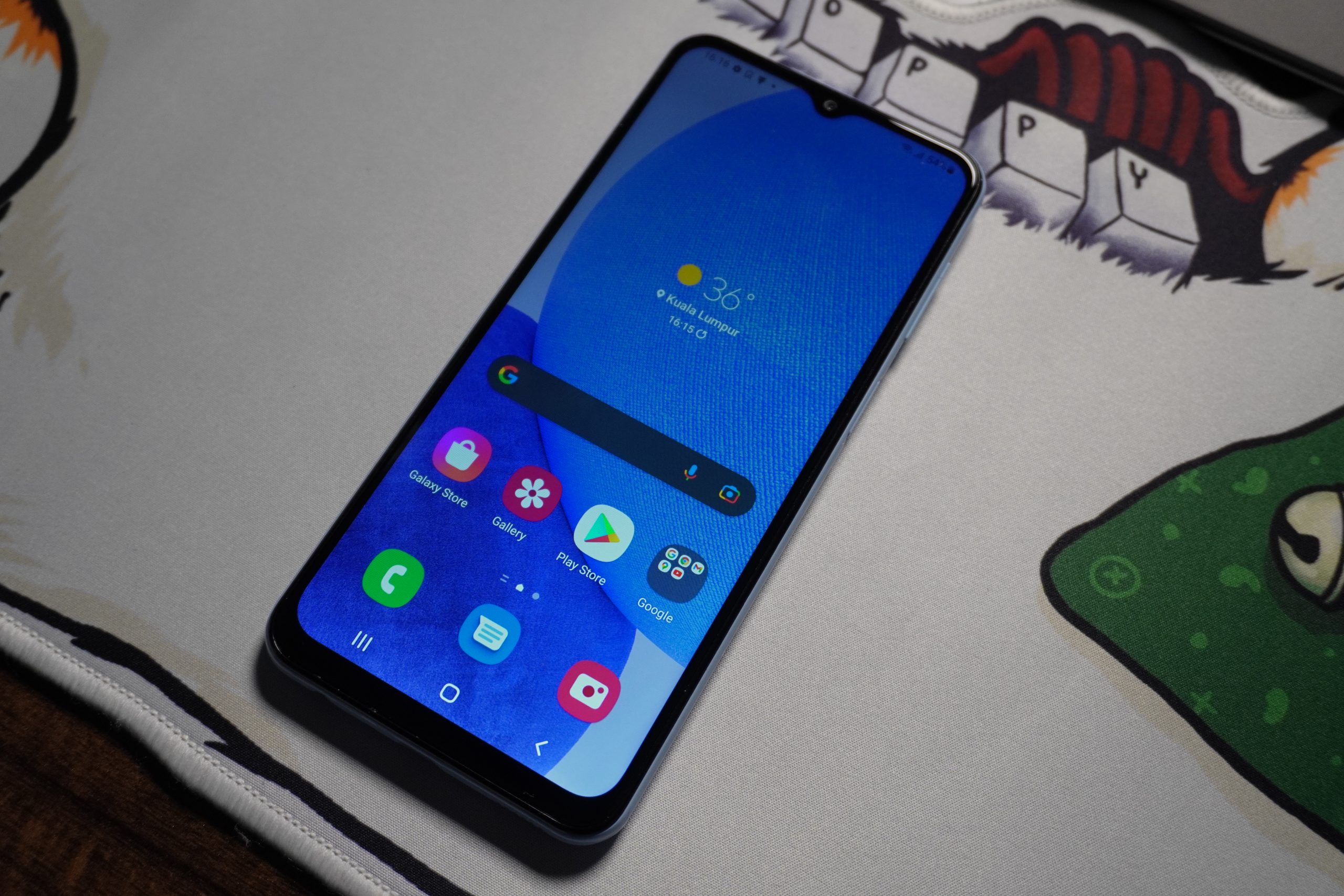 It's just a very run-off-the-mill Galaxy A device with the typical volume rocker and power button, but with a single bottom-firing mono speaker that's only decent at best.
The SIM card tray allows for dual-sim standby with a micoSD card slot still vacant for you to expand your memory, making it a triple-card slot.
---
Display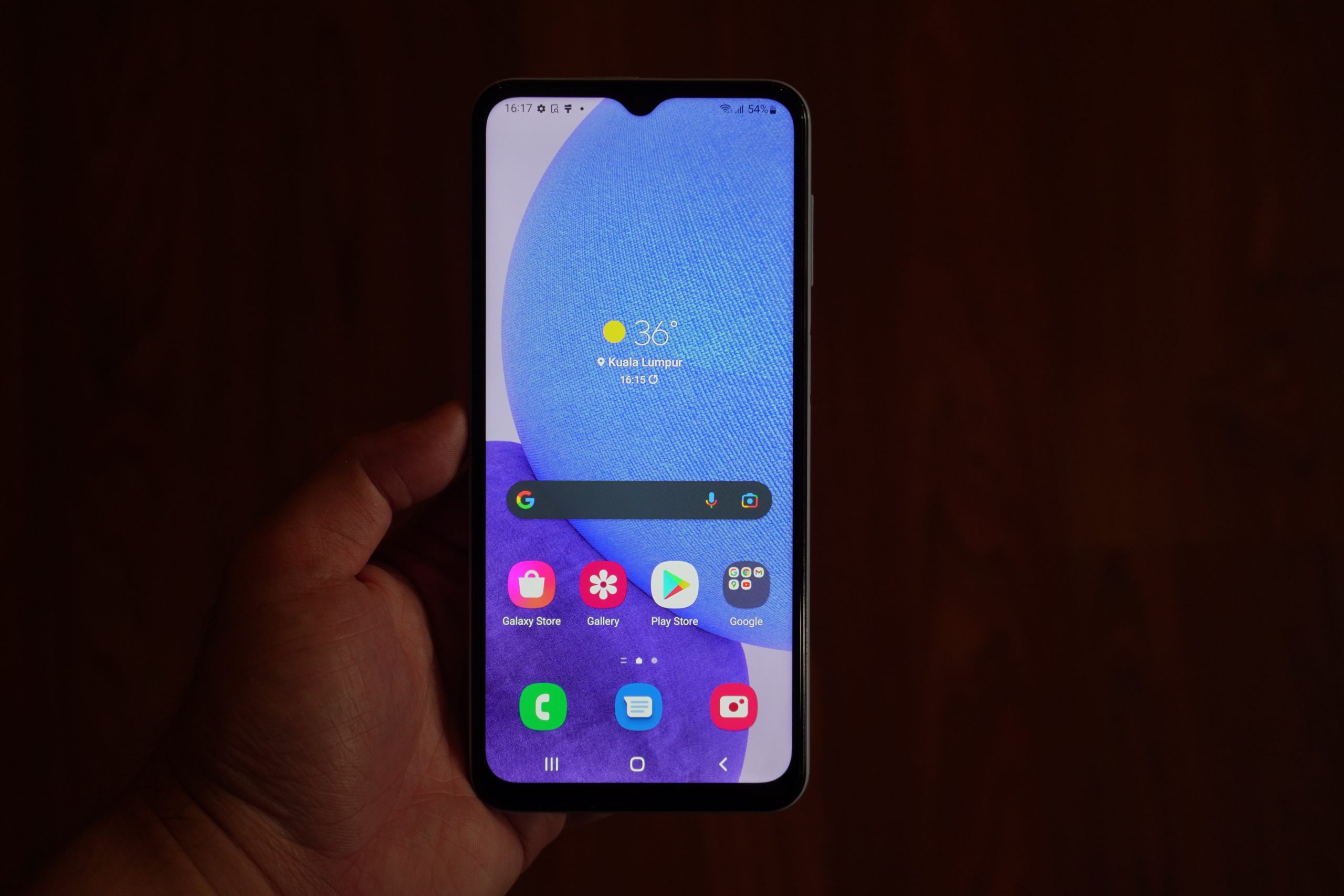 The Galaxy A23 packs a basic FHD+ IPS LCD panel running on 90Hz. There are somewhat thick bezels on the screen and the tip is slightly covered by the V-shaped notch which is nothing like the A53 5G which goes for a fuller display with a small hole-punched camera (but that's double the asking price).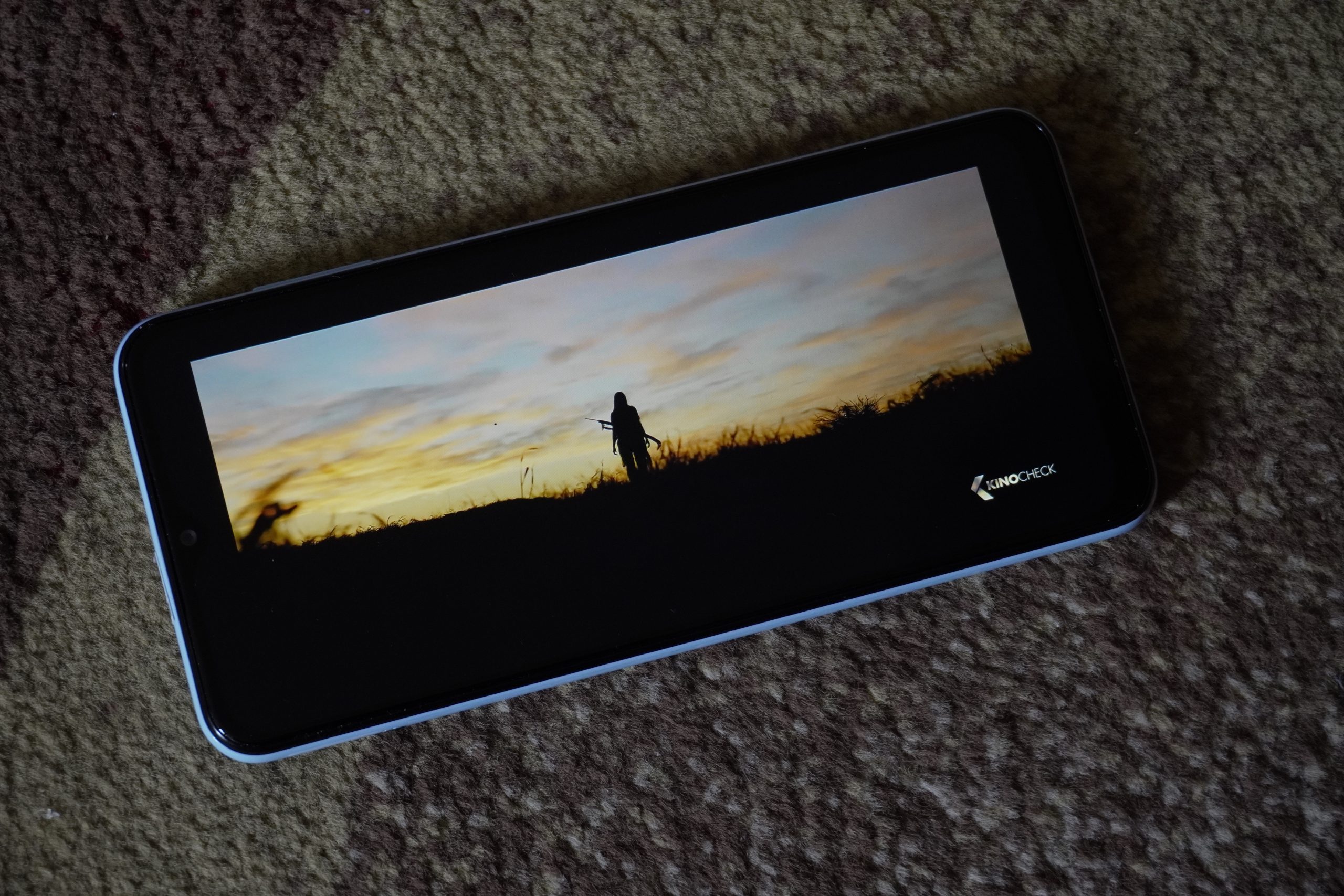 The Hardware
The Galaxy A23 runs on a Snapdragon 680 chipset which is known for its energy efficiency. It's an LTE chip so that'll be the maximum network spectrum this device is going to be in but that's no dealbreaker since Malaysia's 5G scene is still pretty spotty.
If you're running this device as a daily social media and video streaming device it would do just fine, and it goes up to 90Hz in refresh rate so navigating between menus and apps were somewhat tolerable.
Be that as it may, that would be the end of my ideal use-case for this device. It's not built for gaming anyway, because even though the chipset was released just last year, the cores of this processor is quite aged, and nothing can hide that fact, so I can only say that older game titles could be enjoyed on this device, despite the also aged Adreno 610 GPU. If this is no concern of yours, then the Galaxy A23 will do just fine.
Impressive Battery Life
On a full 5000 mAh tank, the Galaxy A23 is able to last either 2-3 days of conservative, non-busy use or just 1 full day of maximum intensity. For reference, it's able to outlive the likes of loftier, higher-end flagships that require charging by the late afternoon under the same maximum intensity (which is about 6-7 hours of Screen-on time). This is where the Snapdragon 680 shines best, making it ideal for people who run small businesses that need an affordable long-lasting smartphone to reply messages and make announcements. I can also see travellers picking up a device like this to serve as a spare phone for calls and messaging if they're heading to places with little points for charging.
There's support for 25W fast charging, which isn't included with the package since Samsung had decided to omit the charger from being included in-box on the A series now. If you do have a 25W charger lying around (from either Samsung or has PD 3.0 support), it'll typically take about 1 hour and 15 minutes to have it back up again in full, which isn't terrible.
---
Camera System time.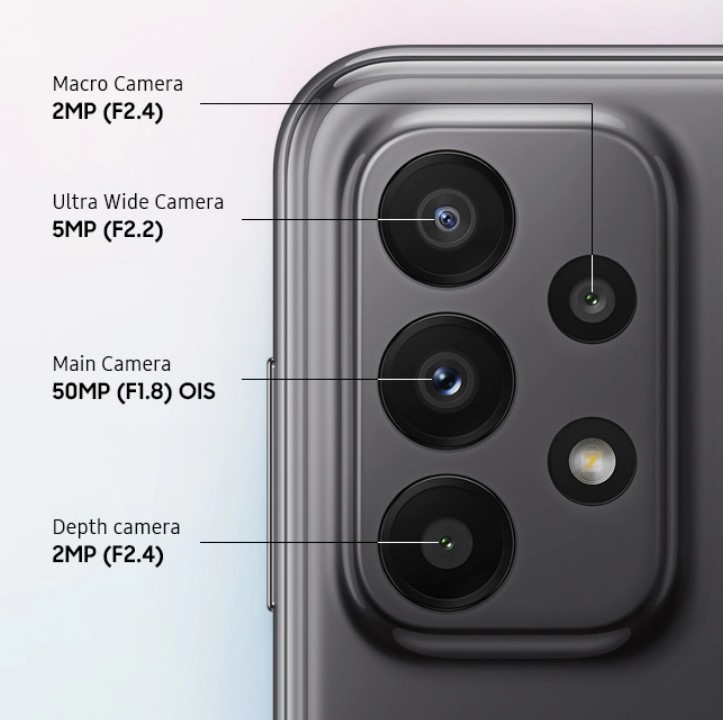 When you get below RM 1000, the camera system bracket does get extremely competitive, and this is probably where the Galaxy A23 has shined, but not fully.
Standard Wide Angle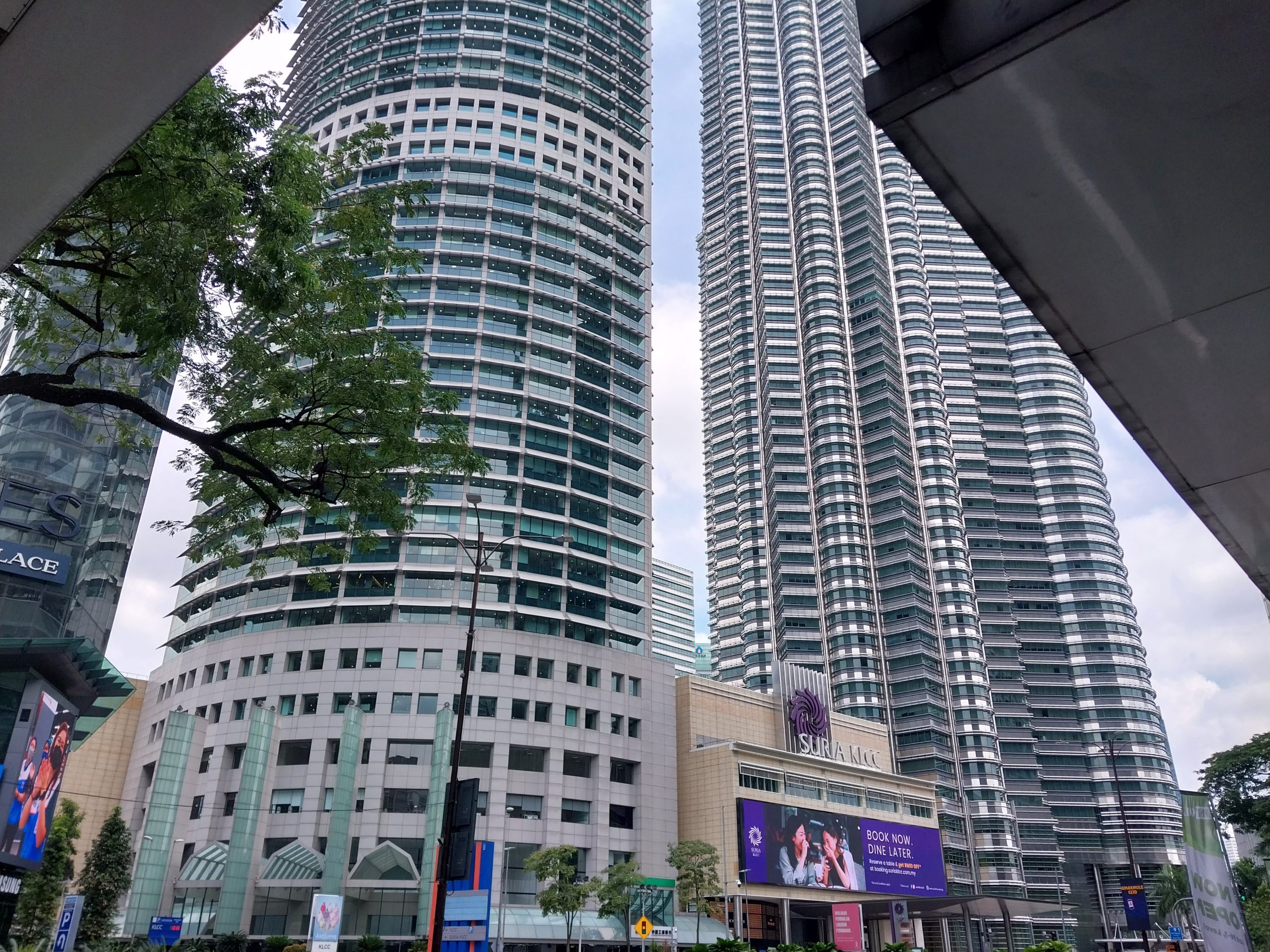 The Galaxy A23's 50MP main shooter shoots well, but colors are nowhere near as good as the higher tier A's, if we're comparing within the series. Still, it as a respectable amount of sharpness and the dynamic range is pretty accommodating to even near-overcast daylight like this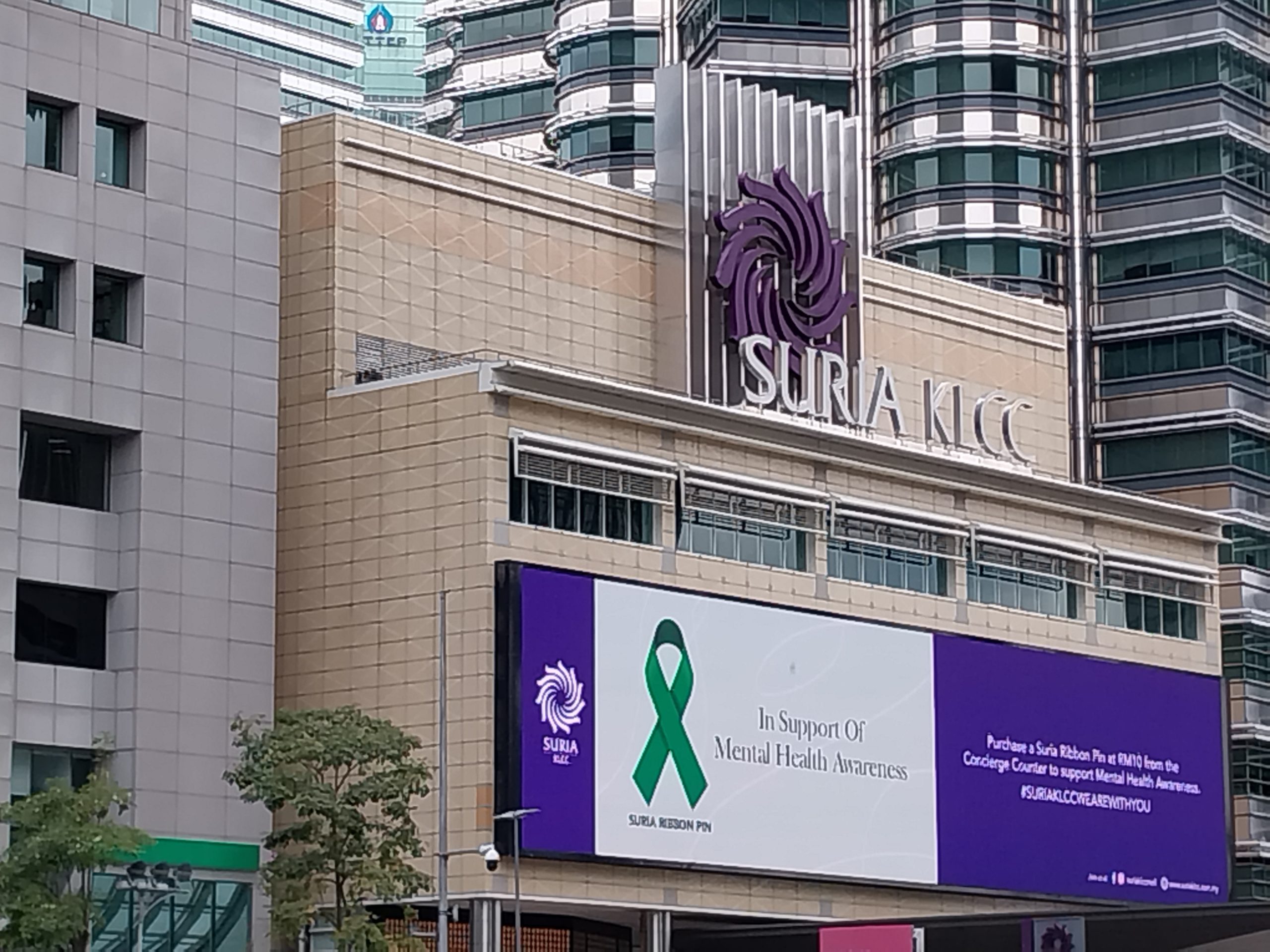 There are variable zoom options as well, and the 2x zoom did okay, preserving as much detail as possible even though it is digital zoom. You can observe here that zoomed shots can still make larger texts still readable but if the texts are smaller you're going to have to squint your eyes to make out what's been said.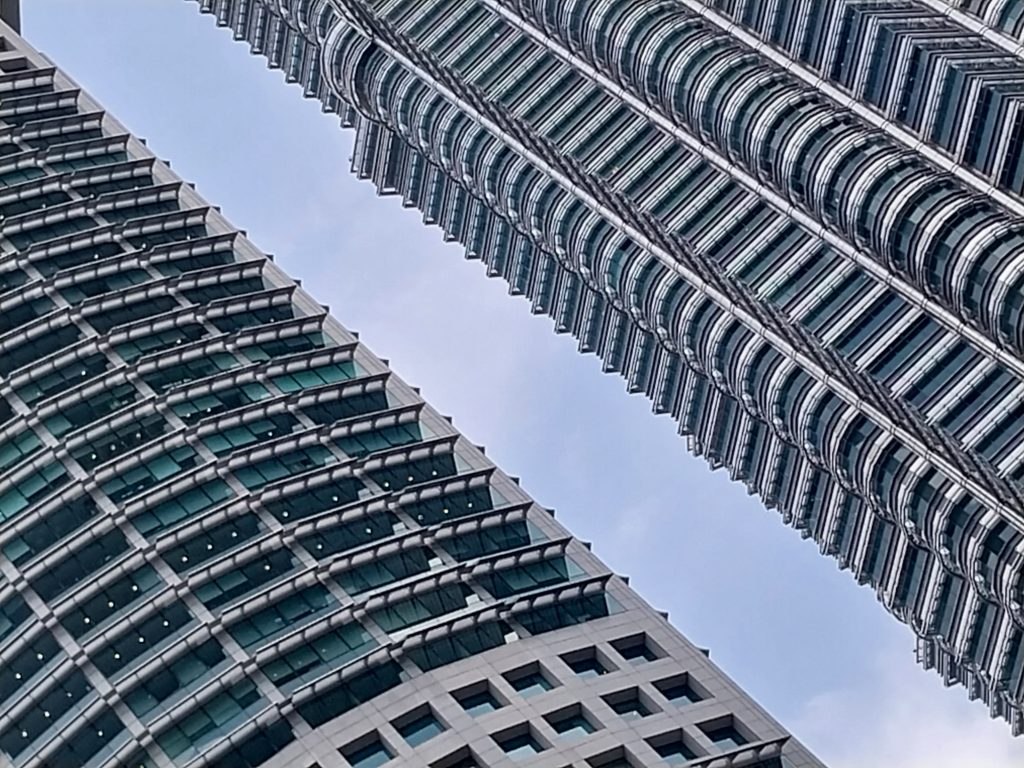 Ultrawide Angle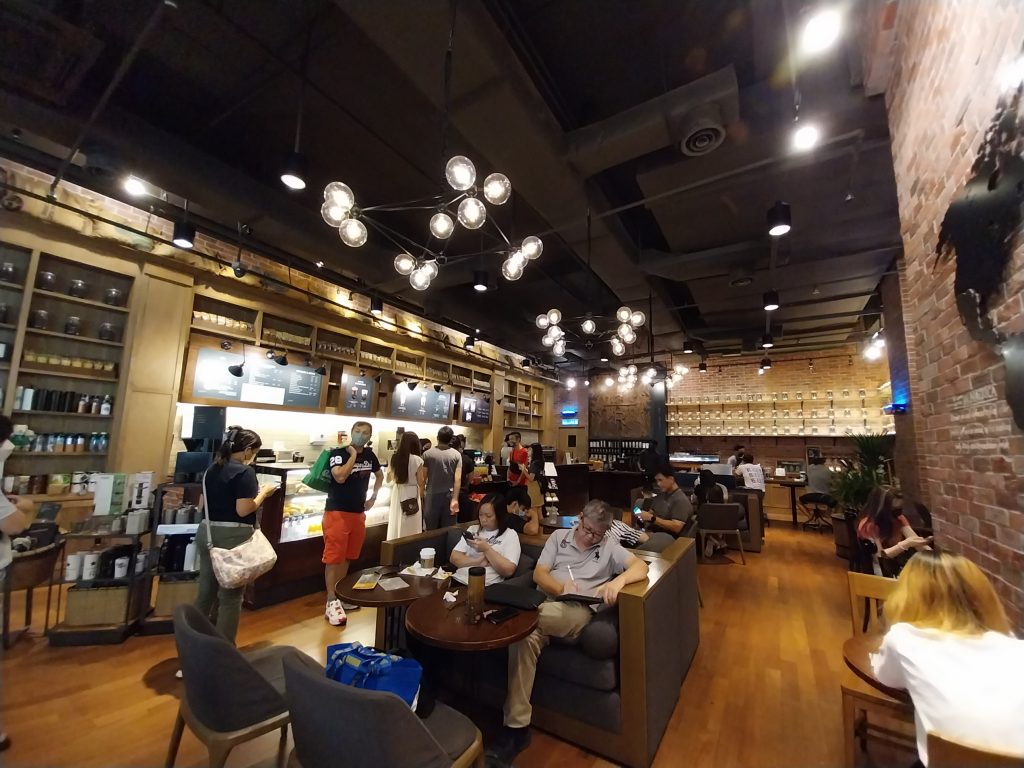 The ultrawide sensor measures up to 5MP, and produces shots that are near distortion-free. Colors are somewhat bland and the sharpness is lacking. There's plenty of noise in indoor settings with the sensor being quite slow to a point where even slight movements turns to ghosting. Dynamic range performance is mixed, with light sources that are closer to the sensor being okay and the further lights getting unavoidably puffed out.
---
Selfie time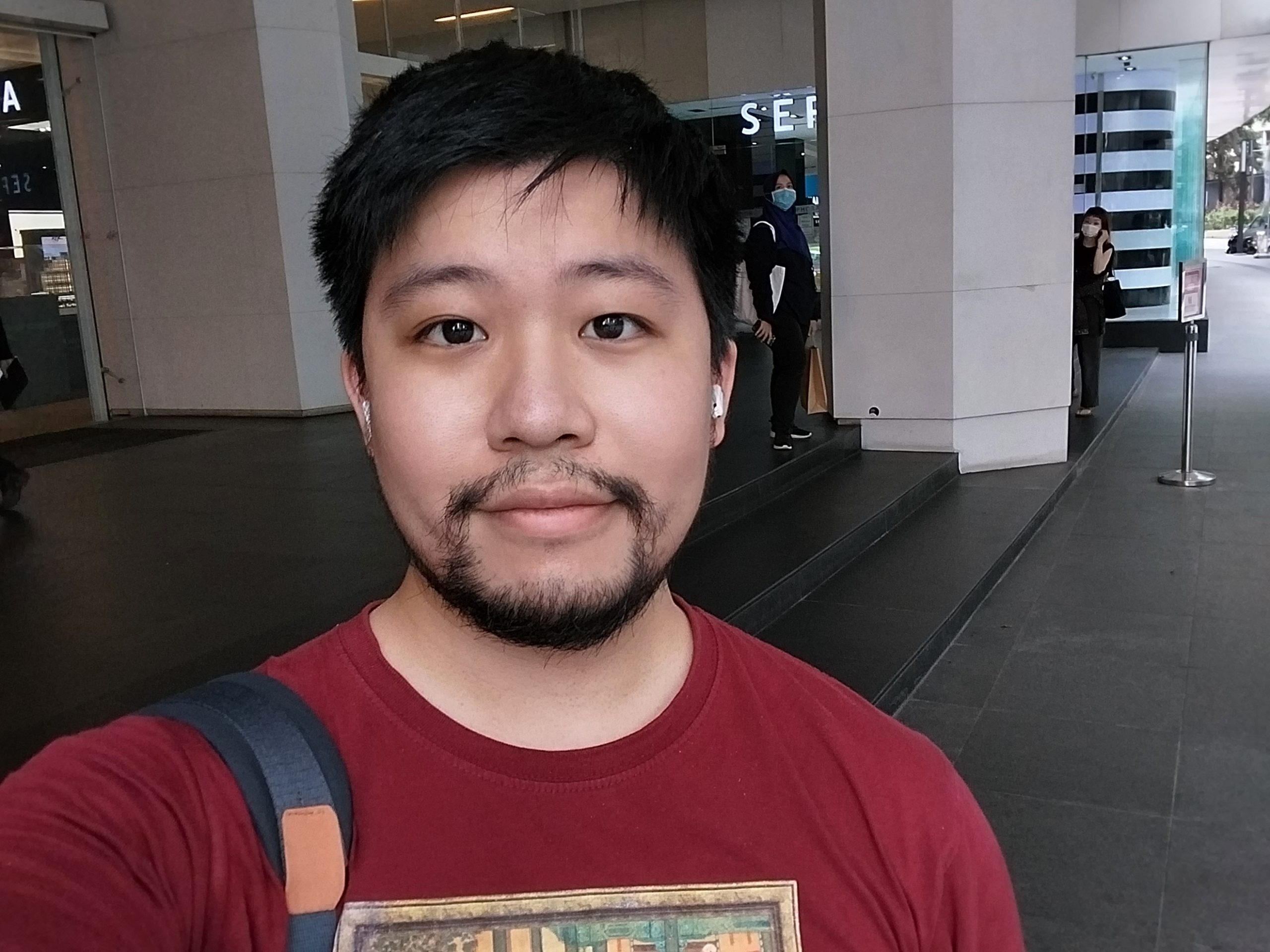 The selfie game fared better, with the 8MP sensor focusing on the face well. My messy facial hair didn't clip, but my hair did so slightly. Colors were accurate and not overly saturated, leaving the shot and the captured face as natural as it could be without any nasty over-sharpening that most China phones do to compensate for the lack of sharpness and clarity.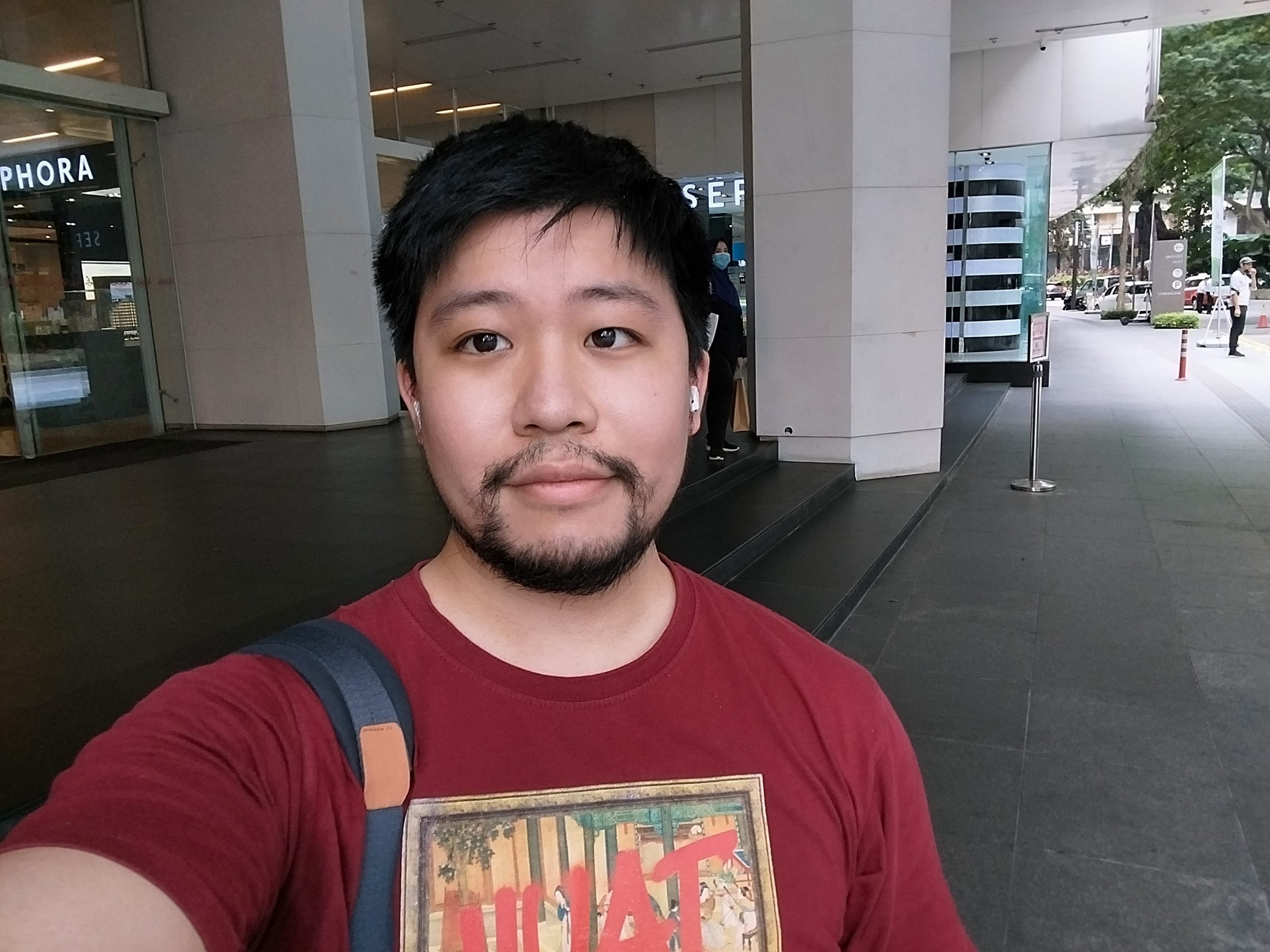 The Galaxy A23's selfie camera is definite respectable, and the ultra-wide selfie shot did really well too!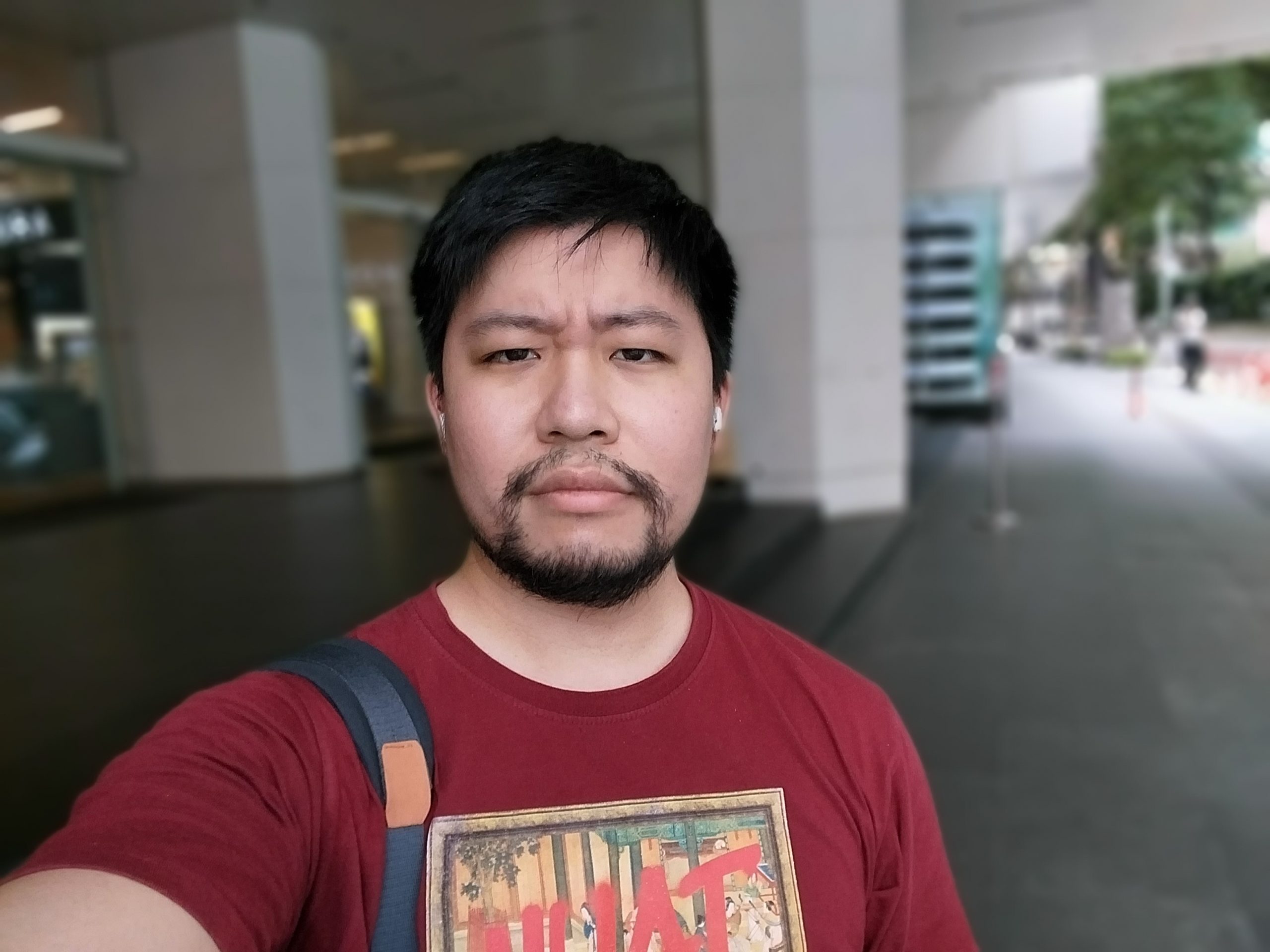 Portraits are pretty sweet too, capturing the same consistent quality as normal selfie mode with a natural looking blur. Colors are bit duller, but that's something forgivable and possibly remedied in editing and in brighter conditions. The top part of my hair got clipped into the blur though, but this is a non-ideal scenario and if you're in a clear, bright background the Galaxy A23's portrait mode would definitely do a lot better!
---
The Verdict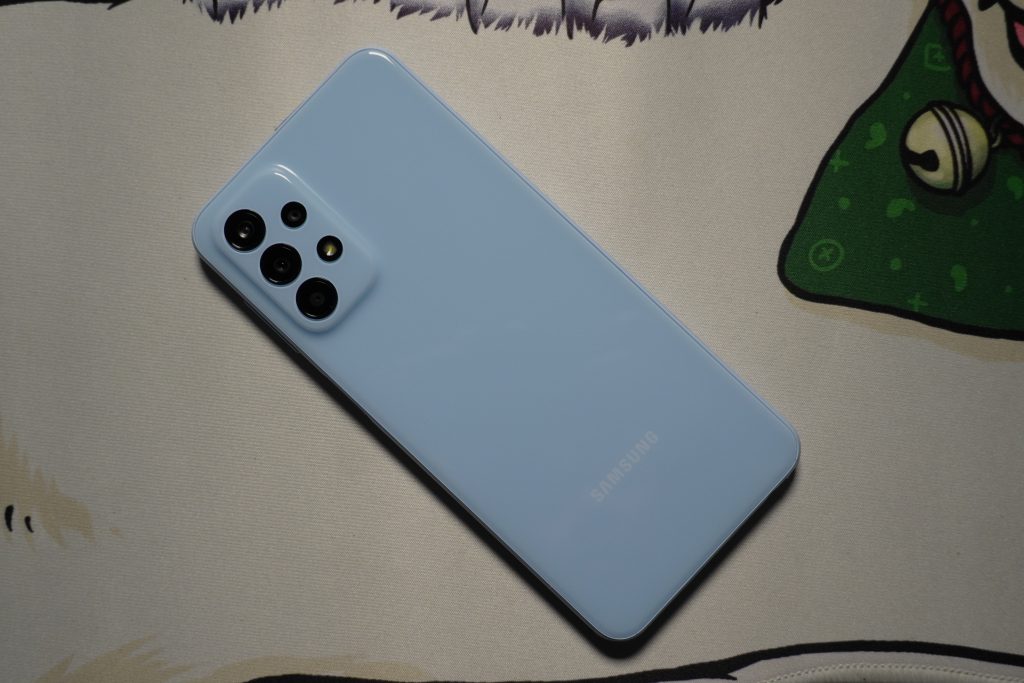 The Galaxy A23 is a passable device that anyone could get into, if their needs are extremely simple. A battery-focused chipset keeps your uptime between charges long and there's a triple-card slot to let you have 2 sims running without forgetting about the microSD card.
Camera performance is so-so at best, beating most in main sensor and losing to some in tertiary sensors. It's a decent RM 1000 phone that can be outpaced by competitors in probably a quarter or two.
Performance for gaming remains a good pass, so as both a camera and gaming phone, it's a good piece.
It's just not good enough to beat competitors in value, but you are paying for the experience, I suppose.