Fights tooth and nail for value
The Outlier Pros are priced at RM285 and I will immediately say that it's worth it. I'm all-in on such a fine tailored software with extremely flexible customization and plenty of presets to play around with.
Approve of
Good Price
Granular ANC
Stylish Case
Absurd long battery life
Approv'nt
Overly bass'ed out with a warm bias
Boring earphone design
Touch controls are slow
Creative's definitely not a strange name in the audio market, with decades of experience in the industry and for good reason. Their slew of wireless audio has been slowly seeping into local markets and it's up to us to see if they can stay in the game as veterans or otherwise.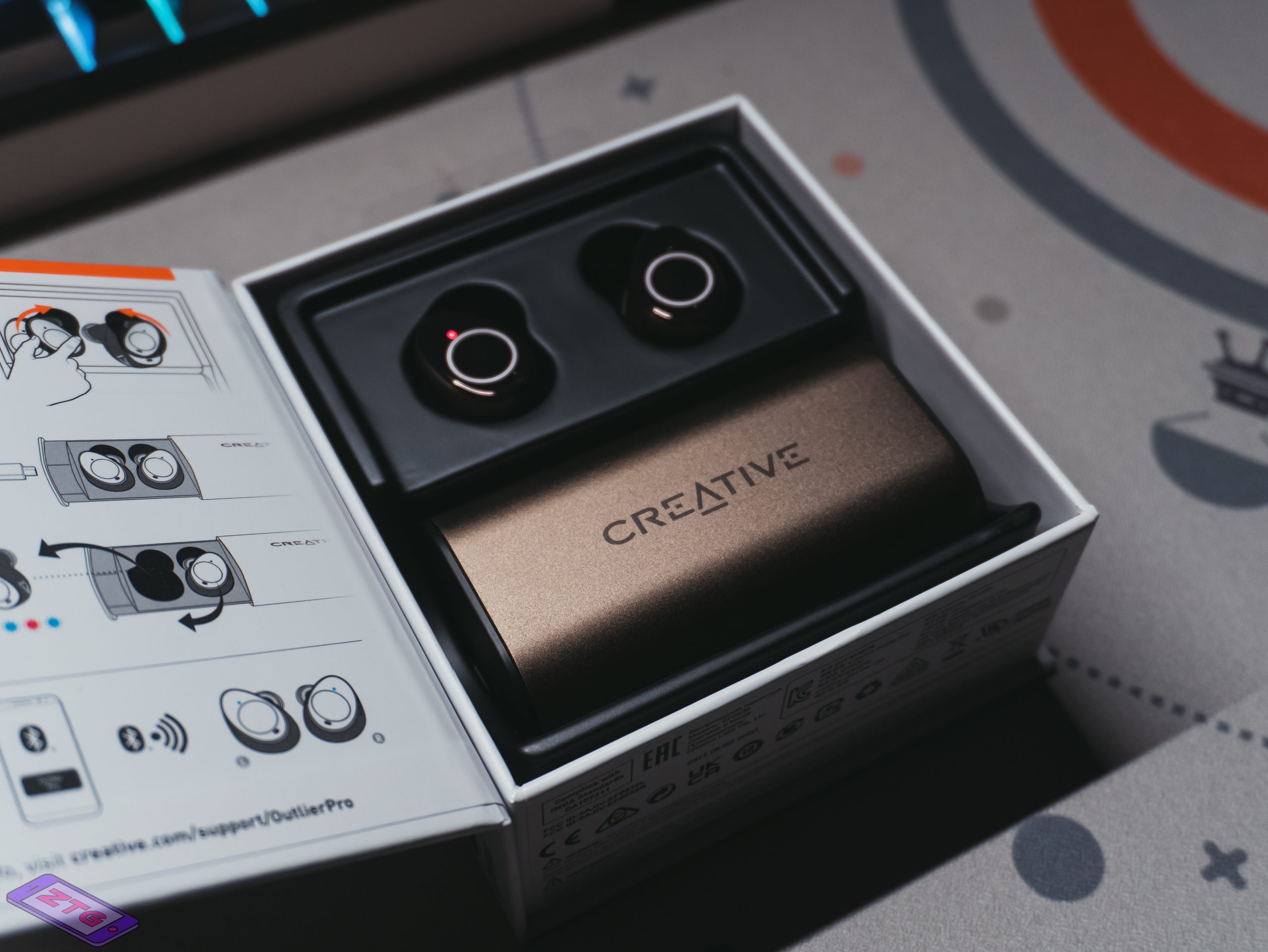 Generic Looking Buds, Cool Case
Coming in only metallic gray, the Outlier Pros come in a nice, long metallic case that's not your typical flip-up, but a slide-out. It houses buds that I find pretty generic looking. You'll find a typical in-ear design with a rounded case with a white circle that helps indicate the touch-control area for easier usage. Each bud has their own indication LED to check on connection and battery life.
As boring as it looks, the fit was very comfortable. The Outlier Pro's ship with 3-sized pairs of silicon eartips and once you find your fit, you'll experience a softness in your ear canals that's solid and gentle at the same time. You can definitely leave this jammed into your ears for long periods of time without any friction, yet alone an avenue to ever slip out.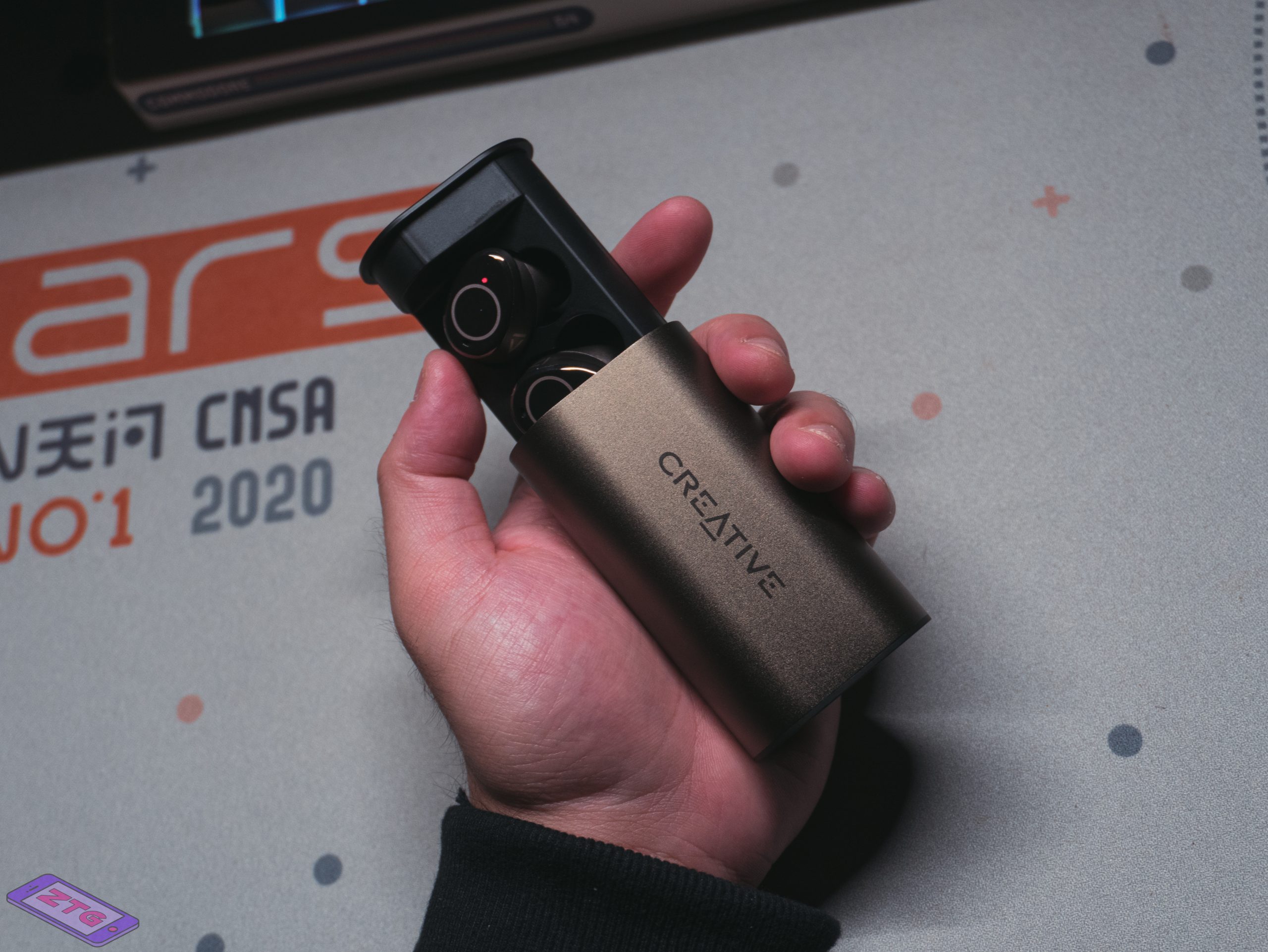 I personally like the case design. It's very industrial and sleek. The top just has Creative's branding and the left side is where the charging port and indicators are at. The 3 indicators are hella useful, letting you know the status of both individual buds and the case itself. On the right has stylized wordings that say "Super X-Fi Ready". That builds expectations that definitely need to be met!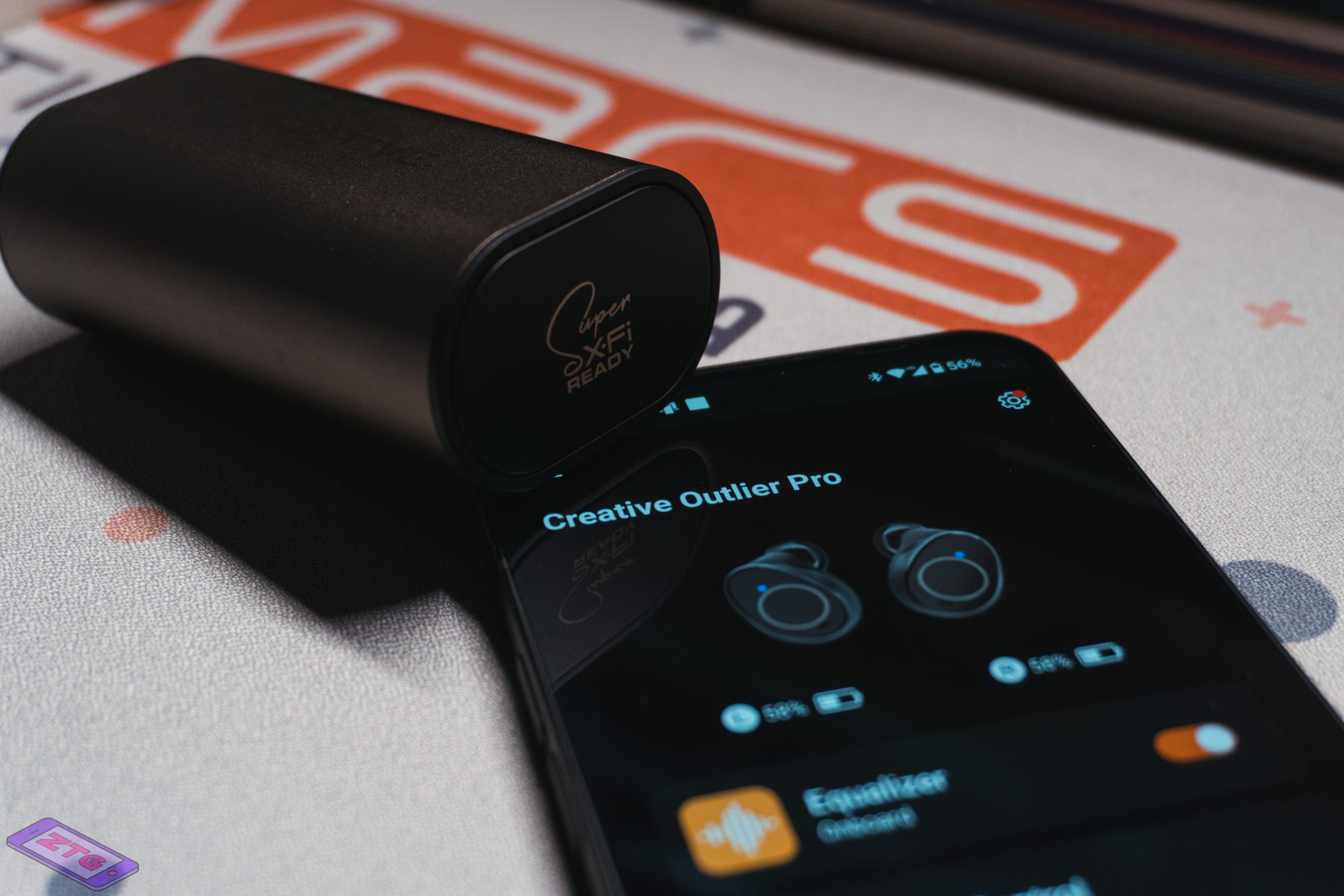 Out of the box you get the case and buds with a USB Type-C cable, extra ear tips and the manual. Initial pairing isn't done via a button on a case. You just simply slide them out and it'll already be on pairing mode. To unpair, simply press and hold either bud for 3 seconds. It also helps if you disconnect your Outlier Pro's from your Bluetooth settings if you're pairing up with another device as these do not come with multipoint tech.
The Software Side
The Outlier Pros will work on any smartphone regardless of system, but we'll be looking into Android's for now. To access granular control, you'll need to download the Creative App to get things started.
What Can You Do In The Creative App?
Update Firmware
Noise Control
Customize Gestures
Customize sound effects and set presets
The interface is easy to navigate and nothing was hard to find. It actually offers quite the granular experience when it came to EQ customization. You get to choose from up to 43 predefined EQ settings that range from your typical music genres and all the way up to even gaming profiles. If none of these fit your liking, you can still customize your own using the graph.
Supported Codecs and Protocol
Bluetooth 5.2 (can even use one at a time using Single Mode)
AAC
SBC
The Hardware Side
The Outlier Pro uses 10mm Graphene-coated drivers to drive your audio experience. These buddies particularly love bass, and whether it thrives in it is a different story. This means it will typically impress the general public who would most likely listen to pop and EDM, but definitely not the folk who prefer indie, vocal-strong and even some counts of rock. I have a dedicated 80s mix (which you should check out) and almost every track in there sounded amazing because of their synth-heavy/drum majors.
Tracks That Sounded The Best On The Outlier Pro
Don't You Want Me – The Human League
Everybody Wants To Rule The World – Tears For Fears
Crystal Dolphin – Engelwood
I Ain't Worried – OneRepublic
Overdrive – Lazerhawk
Tracks That Weren't Great On The Outlier Pro
DARE – Gorillaz
O mio babbino caro – Jackie Evancho
Somebody That I Used To Know – Gotye, Kimbra
緣分一道橋 – Wang Leehom Feat. 谭维维
Redbone – Childish Gambino
Analyzed
A major thing I approve of here is how generally clear-cut the treble is, which I place in the midpoint between soft and sharp. The midrange also quite clean, which synergizes with the treble to make vocals good, but that combination is occassionaly thwarted by a strong bass. This effect is more pronounced in higher volume, and seems to be more tame at about 50%.
In order to remedy this, I recommend lowering the bass in the EQ to gain better reproduction.
Noise Control
With 5 levels of noise cancelling to play around with, it was really easy to conclude how serious Creative was trying to be when it came to the budget segment to offer active noise cancelling.
For the most part, it does its job on the 3rd level, muting out typical shopping mall noise but not a street. At maximum, voices can still be heard, but it had blended into the background noice which reduced it to high-pitched static. I wasn't particularly fond of max level because of the high pitch result, so a safe setting would be levels 3-4 with volume set to 60-70%.
For ambient mode, background noise will still relatively audible on the 3rd level, and if you're playing music loud it'll be really noisy. Voice however was clear and definitely audible, and if you're not playing music, it's a definite sure-thing that you'll be able to have a clear conversation with the earphones still in your ears.
Phone Calls And Mic
There are 6 microphones in total, which you will use for calls and to a cancel out ambient noise. That being said, phone calls turned out to be muddled and soft, with some occassional cutting in denser areas. My voice, I was told, was recognized well especially when it was quiet and during ANC, which exceeded expectations.
Battery Life
The Outlier Pros are a hit in this department, offering nearly 20 hours on a single charge based on current noise controls and volume level.
| | | |
| --- | --- | --- |
| ANC | OFF | 19 Hours |
| ANC | ON | 14 Hours |
This is a good, healthy amount of battery life I believe all wireless earphones should have. The case adds 3 more full charges so you can roughly imagine just how long these can last in total. The case charges via USB-C or even wirelessly using a Qi charger for some wire-free goodness. A full case via wired charging will take about 3 hours.
Final Thoughts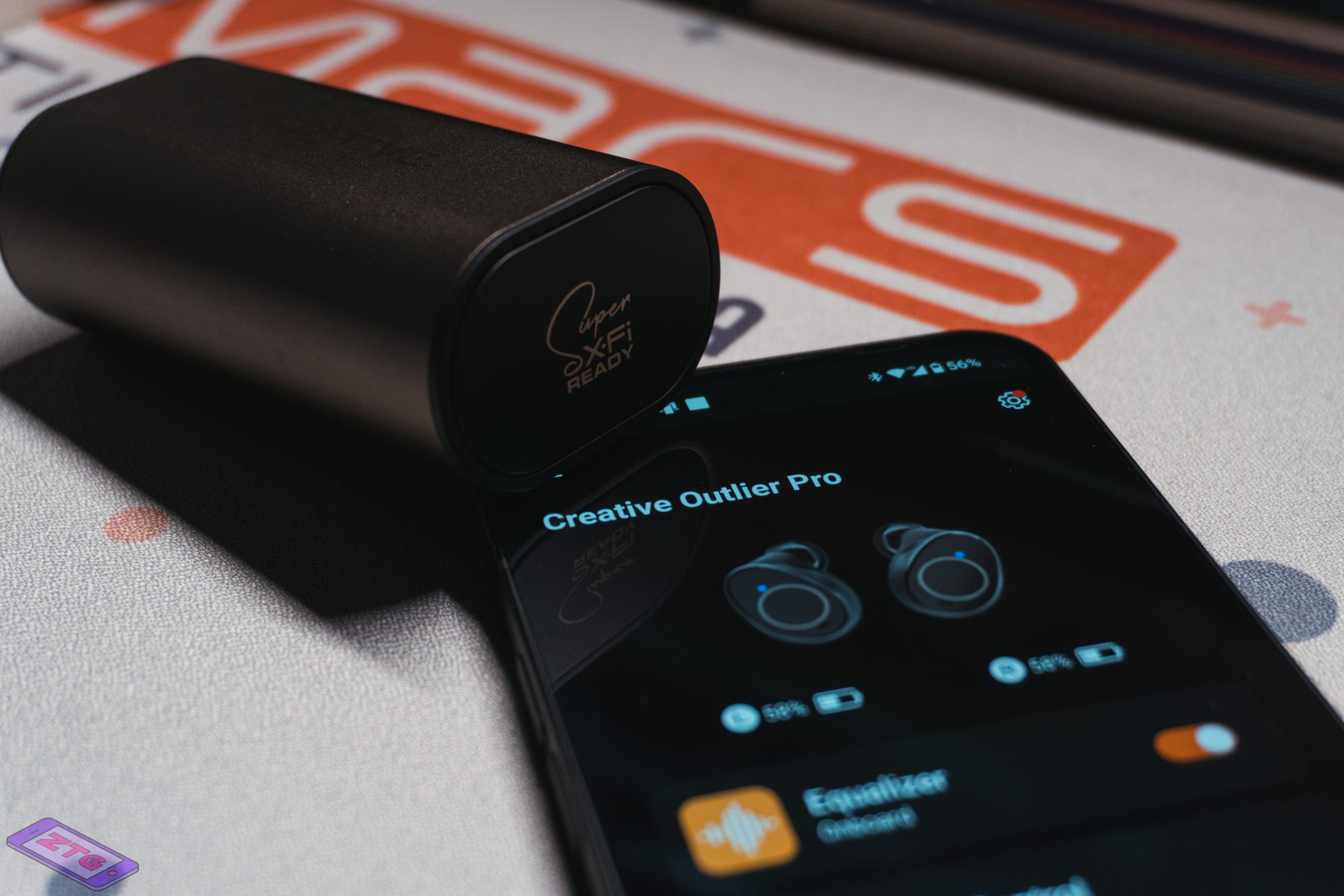 The Outlier Pros are priced at RM285 and I will immediately say that it's worth it. I'm all-in on such a fine tailored software with extremely flexible customization and plenty of presets to play around with. It's extremely efficient in battery life and is also able to withstand some water along the way. I would say that it stands to improve in bass refinement and more presets that help compensate the highs, and I believe firmware updates would do it right. I also would love to see gestures improve a bit too, allowing auto-pause and resume when were put on/off the earphones.