At the Qualcomm Snapdragon Tech Summit Digital 2021, realme had announced that they're to be among the first smartphone manufacturers to use the upcoming Snapdragon 8 Gen 1 Mobile Platform on their devices. The device that will carry it will be the realme GT 2 Pro.
What's Different?
First, let's get performance out of the way. The Gen 1 won't be offering improved processing performance, which means it would either be on par or slightly better than the already circulating Snapdragon 888+. The improvements lie in the gaming performance, as the new chipset claims to bring 30% of faster rendering performance while consuming 25% less power.
AI-related tasks gets an upgrade too, with up to a 4x jump in speed thanks to additional shared memory and a faster tensor accelerator.
In the network front, the Gen 1 will come with an X65 5G modem, capable of speeds up to 10Gbps. If you're on WiFi 6, (and connected to a WiFi 6 / 6E router), you can expect up to 3.6Gbps of download speed.
Qualcomm has put significant effort into improving the camera experience. The Gen 1 features an 18-bit image signal processor. That's a first for the company, and something it says allows the component to process 4,000 times more data than the 14-bit Spectra ISP found on the Snapdragon 888. Additionally, phones with the Gen 1 will have the ability to capture photos at 3.2 gigapixels per second. In practice, that means the Gen 1 can process data from three 36-megapixel cameras simultaneously without any shutter lag, according to Qualcomm.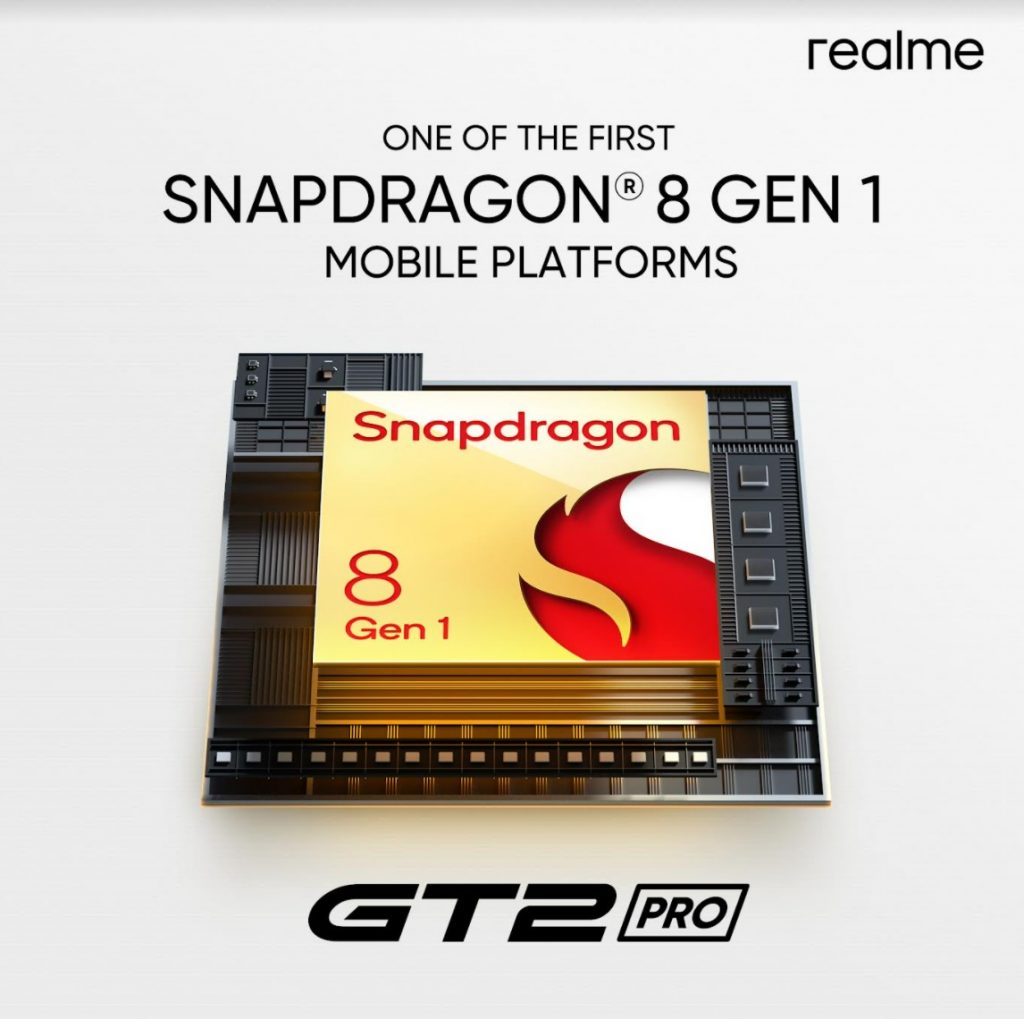 "Qualcomm Technologies has always been one of realme's most important collaborators. realme has already started the development of realme GT 2 Pro a few months ago, and will deliver a real high-end flagship product that will exceed the expectations of young users around the world.
realme has worked closely with Qualcomm Technologies since its inception to bring dozens of high quality, powerful smartphones to consumers around the world from the 4G era to the 5G era. In 2021, realme was one of the first manufacturers to use Qualcomm Snapdragon 888 and 870 5G Mobile Platforms. The realme GT Master Edition Explorer 5G with Snapdragon 870 and realme GT with Snapdragon 888 have been widely recognized by the markets around the world.
With powerful performance and top 5G capabilities, Snapdragon® 8 Gen 1 Mobile Platform, has expanded new possibilities for the development of realme's new flagship realme GT 2 Pro, especially in terms of gaming, AI capability and 5G, pushing user experience to a new level and becoming the powerful engine for realme's first premium flagship.
realme will continue to work with Qualcomm Technologies to bring new premium performance experience to young users around the world!"
– Chase Xu, Vice President of realme