It packs a decent punch
The Poco M4 Pro 5G is a pretty all-rounded entry level phone. It sports a 90Hz display and enough power to take advantage of it when casually gaming, with a nice set of cameras for everyday use. It lasts pretty long too thanks to a big battery.
Good
90Hz and big display
Long battery life
Centered selfie camera
Ultrawide camera
Side finger print scanner
Ungood
IPS Display
Priced a bit too high
Mono speakers
Poor photo and video quality
---
Specs
---
CPU
MediaTek Dimensity 810 5G
Memory
4GB + 64GB & 6GB +128GB
Display
6.6 Inch 1080p IPS 90Hz
Camera
50MP f/1.8 26mm Main
8MP f/2.2 ultrawide (119˚)
16MP f/2.5 Front Facing
Connectivity
Bluetooth 5.1,USB Type-C 2.0, 5G, Dual Nano SIM
OS
One UI 4.0 (Android 12)
Battery
4500 mAh, 25W Adaptive Fast Charging
15W Wireless Fast-Charing
Available Colors
Graphite, Olive , Lavender, White
Retail Price
4GB/64GB – RM 849 / 6/128GB – RM 999
Very Poco of you yeah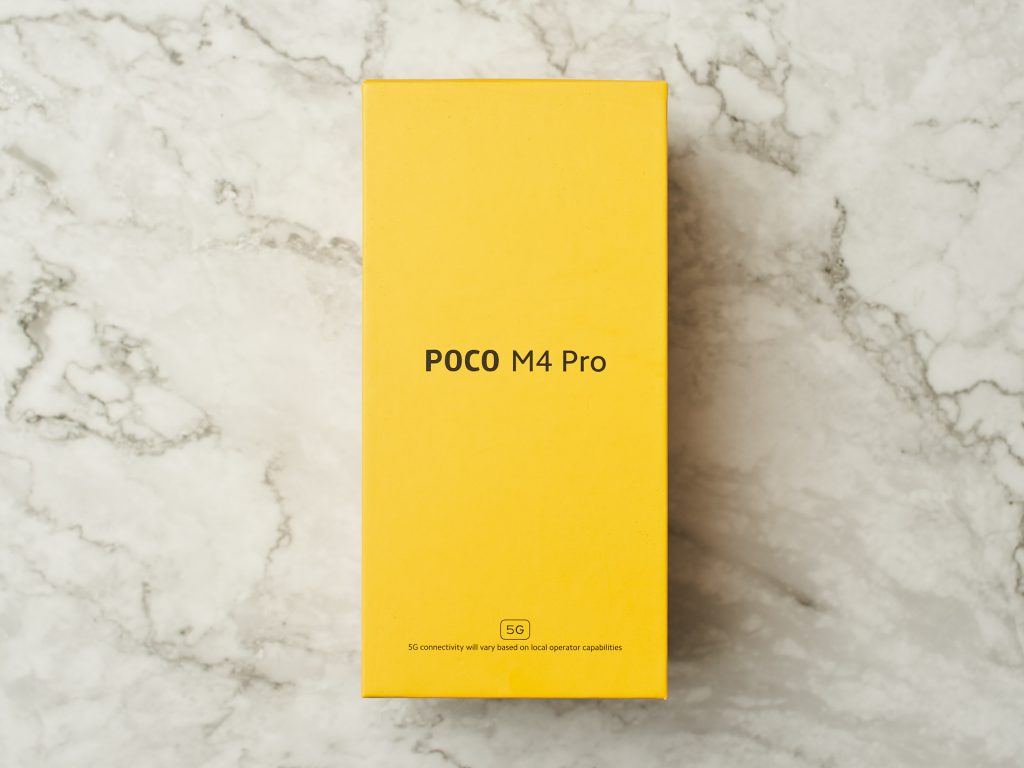 "LOOK AT ME IM A POCO"
Looking at the box it's unmistakably Poco, bright yellow, and attention-grabbing. Did you know? Yellow is the first color the eye notices, which is why the world's biggest fast good chain has thousands of big yellow signs by the road across the globe.
The M4 Pro 5G is the newest release by the value-for-money-oriented brand. It's built with a cutting-edge 5G chipset so you can take advantage of next-gen telecommunications as soon as it comes out in your area.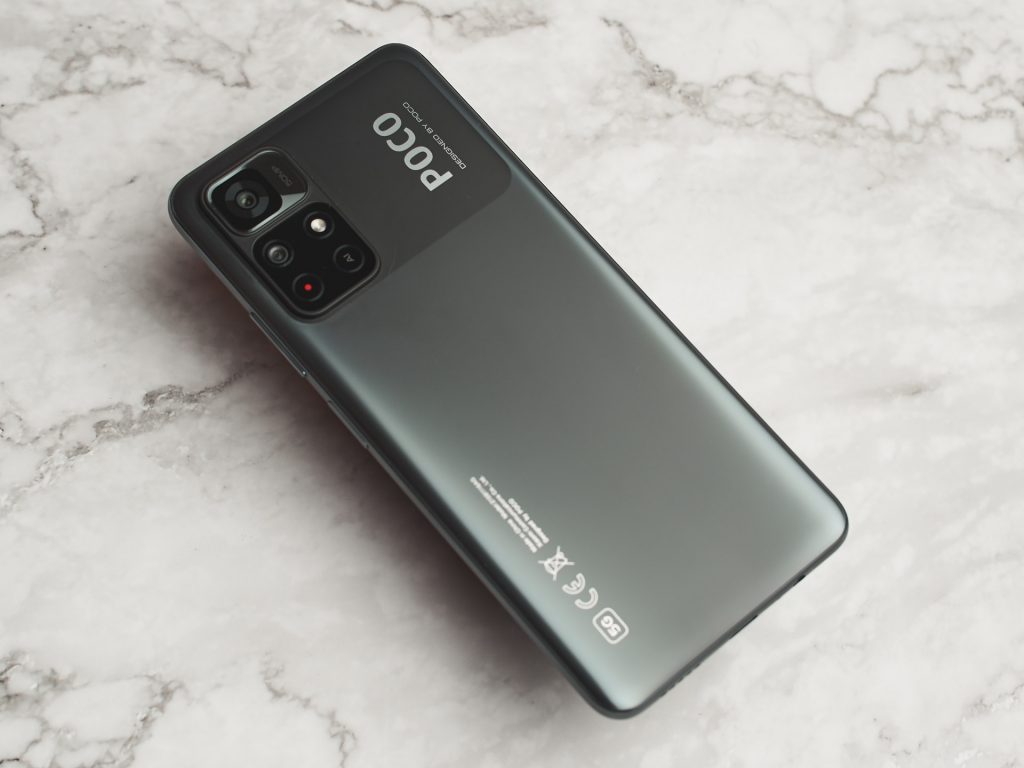 We've got a pretty nice matte/metallic back here that is plastic which I prefer more honestly because fingerprints do not show easily compared to glass back phones. The unit I have here is the Power Black, which is more of a dark grey. The camera and flash array looks like a stovetop, and a bit overexaggerated to look like it has a ton of cameras but there are really only two cameras in there.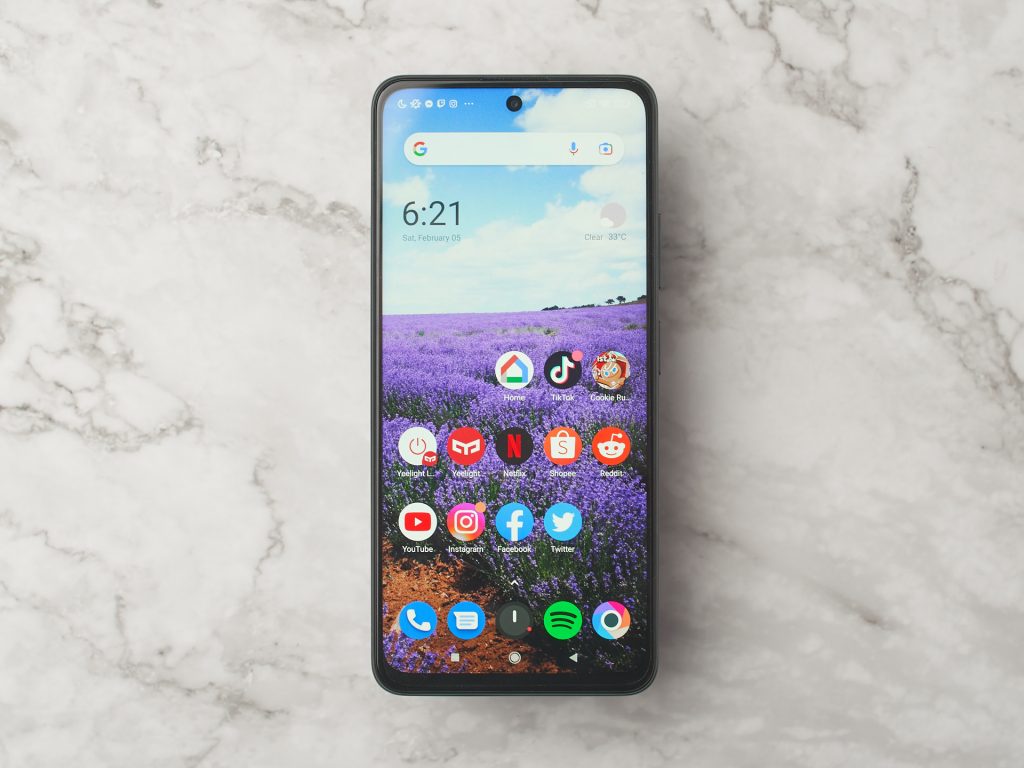 The display is a 6.6″ 1080P IPS that goes up to 90Hz. It's a pretty 2021 mid-range display here, trading off the AMOLED deep blacks and god-tier viewing angles for an IPS panel with a higher refresh rate for the gamers in mind. I'm pretty unsure about this decision as IPS displays just aren't as immersive to look at in person, especially in the dark situations like my bedroom before I sleep. It's very jarring in those situations but outdoors when the full 450 nits kick in, I'm grateful instead that it's an IPS.
Color calibration is a bit towards the cool tones, which is more strenuous on the eyes than an overly warm calibrated display out of the factory. There is a reading mode to turn colors warm at night but there is no color calibration settings built into this version of MIUI.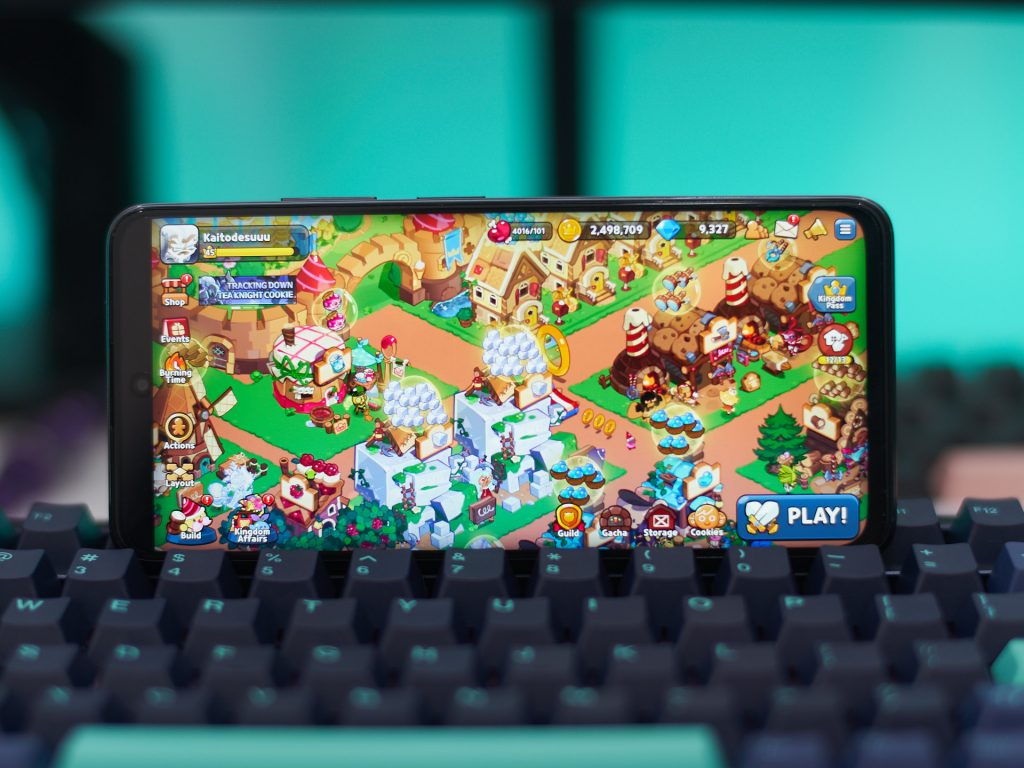 "It plays along with the Snapdragon 6/700 chipsets"
The POCO M4 Pro 5G comes with Mediatek's latest 810 Dimensity 5G. Is it any good? Well, it kinda is and it can play along with the other Snapdragon 6/700s used in phones at this price range in terms of daily use. No scientific benchmarks were really done as this is a mid-range phone and won't impress anybody with its numbers, so I evaluated this as somebody who paid RM 999 for it and used it as a multipurpose all-rounder phone.
How does it game? It does pretty okay with casual titles like Mobile Legends and PUBG Mobile but it cannot deliver a playable experience as soon as something seriously demanding like Genshin Impact is mentioned. I had no problem playing the mentioned esports title though. Very smooth and didn't hinder my ability to perform. So if you don't play super demanding games the M4 Pro 5G will work for you.

Battery-wise, it's got a chunky 5,000 mAh battery. Throughout my entire time with this phone, I set it to 90Hz which is the maximum this display can do. While I wish there was a variable refresh rate option to save battery, I can see why it's not in there. The phone lasted me well over 1.5 days without needing to charge even at 90Hz all the time.
Charging wise the M4 Pro 5G uses 33-watt fast charging for a 0-100 time of under an hour. In my testing, it took a little over an hour but was still better than normal charging nonetheless. The speaker is the last mini thing I want to talk about. it has top and bottom speaker grilles, which makes it look like dual stereo speakers but it was only mono and sound came from the bottom. It's loud and sharp but just not nice to watch videos on.
A great pair of cameras to have for this price point.
One main. One ultrawide. That's what a mid-range phone should have at the very minimum. Not a macro, not a telephoto. Just a normal wide and ultrawide is what should be the bare minimum going forward for all phones IMO.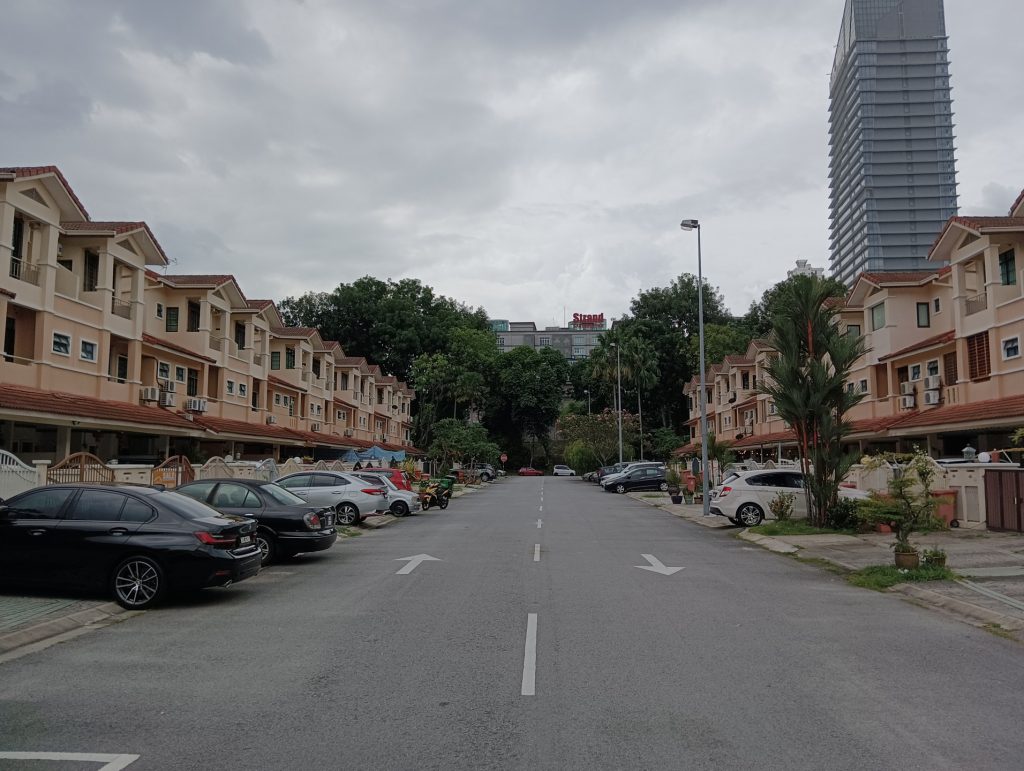 The 50MP main camera, HDR auto & AI on
It's not a very good performance here at the camera testing. Though Mediatek may be catching up to their competition's chipsets in other areas, they still lack in the image processing department. The optics is sub-par even for binned 16mp outputs from a 50mp sensor. Images are underexposed and undersaturated too. The contrast is okay though, quite a punchy look when the image is brightened up. Sharpness is also poor as the processing compensates for the soft image with aggressive sharpening which doesn't look good when zoomed in.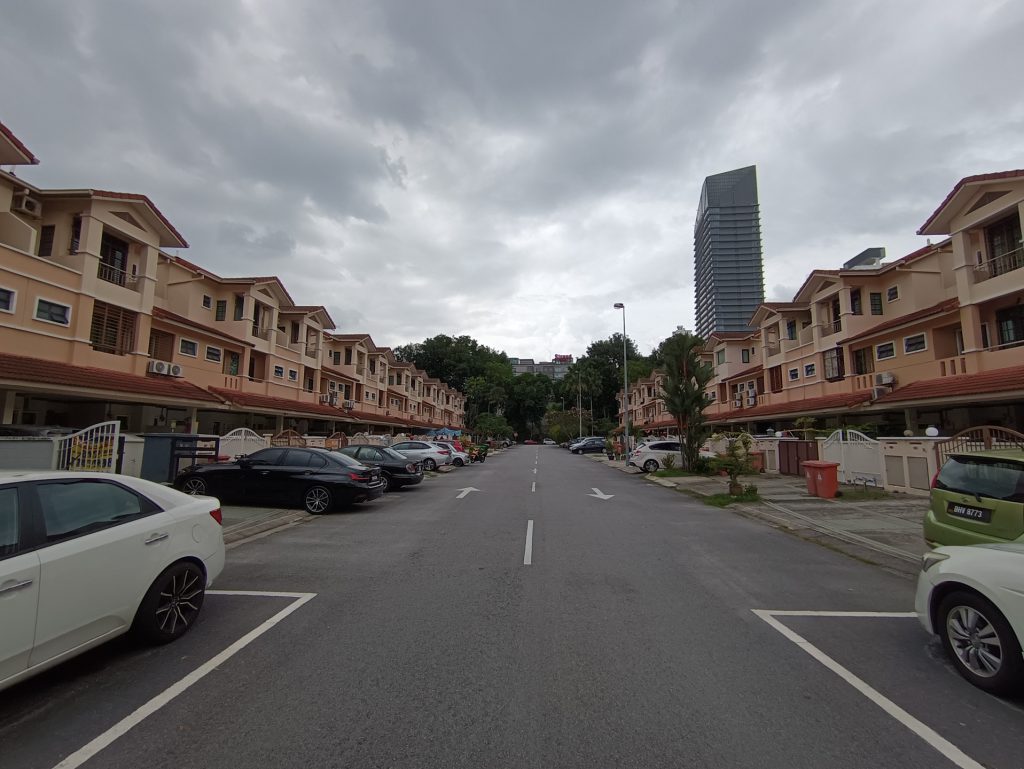 The 8MP ultrawide
It's the same story here as the ultrawide has the same problem as the main sensor, hence it is not a camera module problem but a chipset image processing issue. But with cooler color tones and a bit more saturation.
Issues aside, the two cameras were pretty good for daily use, especially when i manually make the exposure higher every time. It is a great pair of cameras to have for this price point.
---
The 16MP selfie camera, AI on
---
Is it worth it?
The POCO M4 Pro 5G is a pretty okay buy at the time of launch in November. It still sports one of the latest 5G-capable chipsets. The camera isn't great but overall it is still a whole lot of phone for the price tag. It will outlast your workday in terms of battery life and game when you want it to without much heat.
Unfortunately, we did take time to review this and since then better offerings have appeared in the market, such as the Realme 9i with a better AMOLED display and stereo speakers all while having the good points of the M4 Pro 5G at the same asking price. So unless you are loyal to the POCO/MIUI ecosystem, I would not recommend this as a top choice for your money.