ONEPLUS NORD 3 5G
At the RM 2199 mark, the OnePlus Nord 3 5G is a great upgrade over the Nord 2, packing plenty of flagship goodness at a fraction of the price.
Would this be one of those unusual times where we get both value and function in one package?
Good
Very Fast Charging
Great Screen
Outstanding Value
Plenty of RAM and storage
Ungood
Image sharpening too aggresive
Incosistent Selfie Performance
---
Specs
---
CPU
Mediatek Dimensity 9000
Memory
16GB / 256GB
Display
6.74'' FHD+ 120Hz FLUID AMOLED
Camera
50 MP, f/1.8, (wide), multi-directional PDAF, OIS
8 MP, f/2.2, 112˚ (ultrawide),
2 MP, f/2.4, (macro)
16 MP, f/2.4, (selfie)
Connectivity
Bluetooth 5.2 ,USB Type-C 2.0
Wi-Fi 6, Dual nano-sim standby, 5G
OS
Android 13, Oxygen OS 13.1
Battery
5000 mAh with 80W fast charging
(80W charger included)
Available Colors
Misty Green, Tempest Gray
Retail Price
16GB / 256GB – RM 2199
What's In The Box
Design
Mild Design Changes
Dual-Glass Smartphone with Plastic Frame
The Nord 3 5G's design makes it near indistinguishable between the Nord 2 and 2T. The body takes a dual-glass approach with a plastic frame holding it all together. This only applies to the Misty Green color, as the Tempest Gray has a matte finish while the former is glossy.
Your usual buttons are there, with the left side housing the volume sliders whereas the right comes the power button and the signature alert slider which I'm glass is still here this time around. From a one handed perspective everything is reachable, and for smaller hands you might have to reach upwards a bit to reach the slider which is more towards the upper edge.
There are 2 key differences here, one being the camera module design and choice of glass. The camera modules are still two prominent rings at the back without an extra rectangular frame to piece it all together. This makes it more uniform in design which all trendy premium phones are doing as well these days.
The glass are mixed now, with the back getting your usual Gorilla Glass 5 while the front is using Dragontrail glass by Asahi Glass Co. The display is of decent height at 6.74-inches, with an evenly laid out bezel that's thin. I personally like that direction because you simply get more screen out of it and it makes it look waaayy more premium.
Overall the Nord 3 looks premium but without the heft of weight that implies so. However, it still feels solid and with such strong glass at the back, you can actually skip using a case unless you're not a fan of fingerprints. It's also worth noting that the Nord 3 is officially IP54 rated so it'll handle some splashes of liquid for about 10 minutes!
---
Display
6.74″ 120Hz FHD+ Fluid AMOLED Panel
The FLUID AMOLED panel is great on the Nord 3. It dynamically works between 40-120Hz, giving you both the smoothness and passive battery savings, with the option to force specific refresh rates. Choosing between Auto Select (40-120Hz) , High (120Hz) and Standard (60Hz) allows some level of control, with Auto-select mode being the default option. Most stock apps prefer to stick around 60Hz including some of Googles', while anything UI related such as the home screen and app drawer sticks pushes it to 120Hz. I suggest to leave it on Auto-Select, as you simply just let the phone figure out which refresh rate is best for the situation.
As for colors, OxygenOS lets you choose between 4 modes :
Vivid : Default, pushes saturation up to hit DCI-P3 targets
Natural : sRGB color space
Cinematic : Less saturated than vivid, making it more DCI-P3 friendly
Brilliant : Most saturated, offering widest color coverage with a push

Regardless of which profile you go to, you can still do additional tweaking if the color temperature as a slider will appear to let you adjust accordingly.
If you're planning to watch lots of videos on the Nord 3, it's well covered in terms of color and smoothness, and if you want to watch the good stuff, the Nord 3 comes with HDR10+ cerification combo-ed with L1 DRM support so your Netflix and YouTube will be able to stream HDR content without any let-ups.
Most if not all games are stuck on 60Hz, and rightly so since it's not really marketed as a gaming phone. Still, if you're just looking to scroll through your stuff and do some work every day, just know that the display works as intended with a variable level of smoothness.
Work & Play
Mediatek Dimensity 9000 Chipset
16GB RAM & 256GB internal storage
5000 mAh battery capacity
Supports 80W charging
The Nord 3 employs the Dimensity 9000 chipset as the heart of the system. It's a great chipset for the price, offering robust performance that can even rival that of a flagship. Gaming was extremely stable, with the Nord 3 taking hours to begin throttling. It's one of the most stable gaming experiences I have experienced on a OnePlus phone, beating even the likes of the OnePlus 11 which throttled within the hour.
It can handle typical daily task you throw at it, and it's just simply impressive since the Nord 3 really doesn't look the part. I guess we really can't judge a book by its cover. However, upon further benchmarking with games across 2D and 3D planes, I noticed that this excellent performance was only catered towards moderate to simple games that don't have a lot going on on-screen. It aced games like Cookie Run and Mobile Legends, Nikke too, but when it came to heavier titles like CODM, PUBG and Devil May Cry, the throttling came a lot sooner, with diminishing performance starting at the 30 minute mark.
This may sound disappointing but it really isn't. Most titles aren't optimised these days and it'll take awhile before we see updates that will address this.
Still, the Nord 3 had left a solid impression on me when it came to raw performance and stability, making it one of the better high performers this quarter.
Expect plenty of smoothness in your day-to-day here, 16GB of RAM is very generous in this price range and you can even still expand the RAM using RAM expansion though I'd advise against it. You have more than enough RAM NOW.
For A Bit of Fun
I love that the Nord 3 has an IR blaster. Though it's not a new thing, not many brands outside of Xiaomi produce phones that comes with an IR blaster so this is a welcome feature, since some of Xiaomi's offerings aren't as durable and most can't stand MIUI.
Control your air-conditioner, TV, fan, anything! the IR blaster app lets you control a variety of products like it's original remote controller by blasting infrared signals right off your phone, and since you can add nearly everything, the Nord 3 essentially gets to be a master controller for all your smart/unsmart devices back home!
Long Days, Short Charges
Among the highlights of the Nord 3 5G is the solid battery life. It's able to withstand nearly 2 days of torture before giving up by the next day's noon from a full battery yesterday morning. My day consists of constant social media browsing, message replying, 10-20 minute gaming sessions and music playback throughout the day, which is why I'm praising the battery life.
Under beefier circumstances pertaining to gaming, expect to get home with still 30% of battery left in the tank if you spend most of your day out gaming and making use of other hardware such as the cameras.
Charging is fast too, with the Nord 3 getting that sweet 80W SuperVOOC charging. Using both the provided the charger and the infamous 10A red cable, a full charge takes barely 30 minutes and that's among the fastest you can possibly get. As a yardstick, the OnePlus 11 charges up to full in more or less the same amount of time as well. This means your phone can get ready with you the next morning without the need to charge it overnight, though OnePlus has its own smart battery settings to slowly charge your phone when you're sleeping, but it'll take time for the phone to learn your sleeping pattern so either way you won't be hurting your battery.
This is really apparent for the OnePlus brand, and there's no one moment where charging was a let down.

---
Camera System
50 MP, f/1.8, (wide), multi-directional PDAF, OIS
8 MP, f/2.2, 112˚ (ultrawide),
2 MP, f/2.4, (macro)
16 MP, f/2.4, (selfie)
Even though the Nord 3 5G pretty much follows a mainstream recipe for smartphone camera systems, it managed to carry itself pretty well as far as post-processing and AI work goes.
Let's get to the nitty gritty.
Standard Wide Angle
The Nord 3 5G has a major sensor upgrade over the Nord 2, packing a flagship level, high resolution Sony IMX890 sensor. It includes OIS and shoots mainly in 24mm. It outputs jpegs in 12.5MP which is typical. For the most part, you'll get really great detail and sharpness, though I may have to say that there's too much sharpening, especially when you zoom.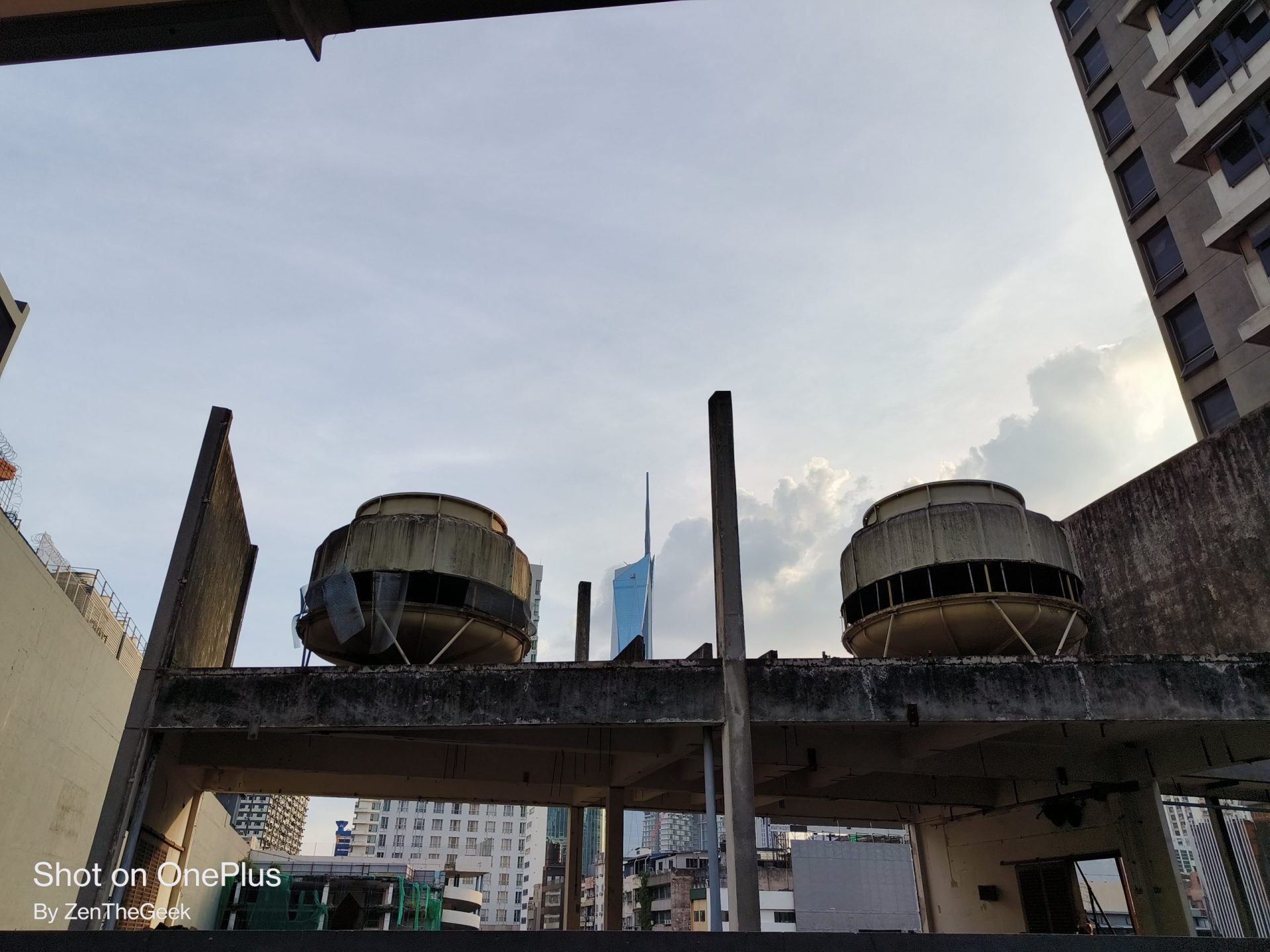 Dynamic range is good and natural, and I often realize that I didn't feel the need to edit photos as I felt the camera did a good enough job. There's not much noise to pinpoint, so generally if you're shooting out and about, especially architecture, you'll find pictures to be very pleasant to look at, and buildings do benefit from the aggressive sharpening so there's not much to edit in post.
Digital Zoom
Zoom's digital, and between 2x – 5x, you'll get fantastic shots. I quite liked the resolved detail, once again highlighting the high amount of sharpening in post. It's AI work and as a photographer I don't quite prefer it, but for average consumers, they'll love it.
Though as you can see at 5x, you'll start seeing noise but it's not enough to start complaining about. There are no optical zooms after all, so this is the best the Nord 3 5G can do given the facts.
Portrait
Portraits are straight up pleasant and benefits from the sharpening in post, the resolved detail is really good and subject seperation was on point, as you can see just how quickly I managed to snap this man's face even when he's moving really quickly.
However, the diminishing returns lie in distant portrait. Though the viewfinder managed to capture a face, there's a lot of noise, even though there's plenty of lighting around the author. In conclusion, the portrait mode prefers to deal with individual subjects from a much close distance, which should be in the range of 5-7 feet.
Ultrawide
The 8MP ultrawide shooter straight up has good detail but not much of a punch in color. Skies are nice and clear as HDR cleans up well in this kind of situation and that's the best we could hope for when it comes to tertiary sensors. This sensor is pretty usable and can be compared with the likes of Samsung and their prowess in this field. Images may be sharp but that's also still because that's how the software side of things prefer to do so, and this time, we aren't going to say that's a flaw as this is but only the second most-used sensor for anyone.
---
Selfies Don't Quite Hit The Mark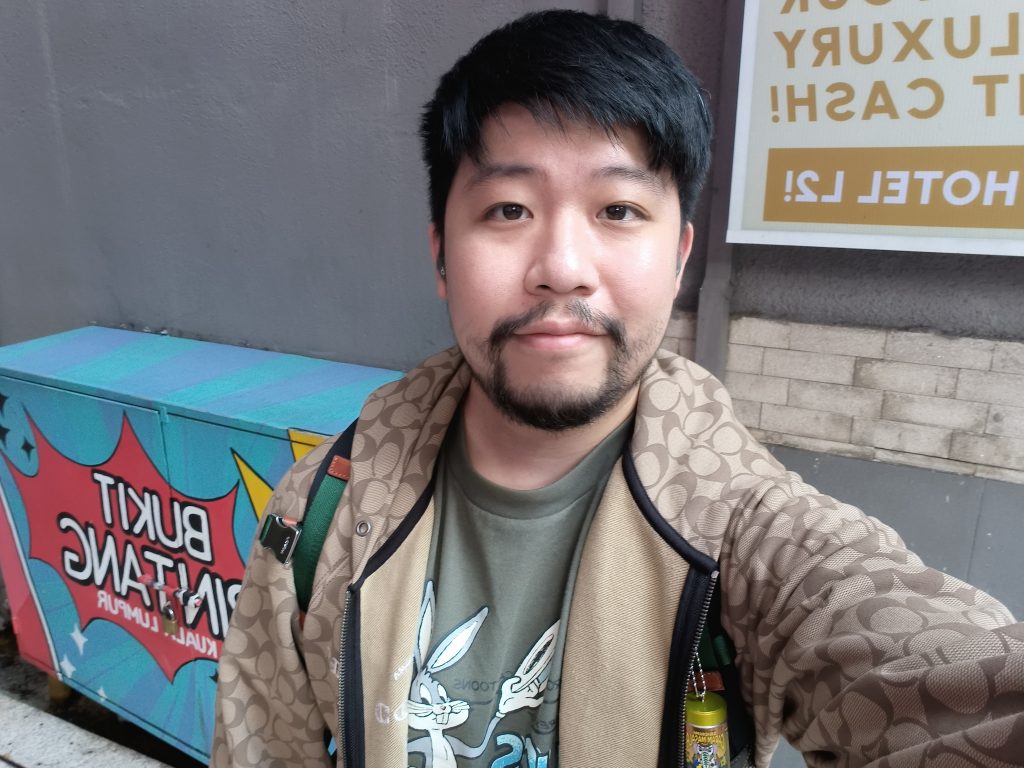 The 16MP shooter, once again goes with the Quad-bayer filter, which essentially means it outputs 4MP shots that are upscaled 4x. It performed above average, with a respectable amount of detail especially in broad daylight. HDR would obviously improve the dynamic range, neutralizing any aggressive highlights but leaves out some detail. You turn that off, you'll get much better skin results as you can see in portrait mode at the bottom.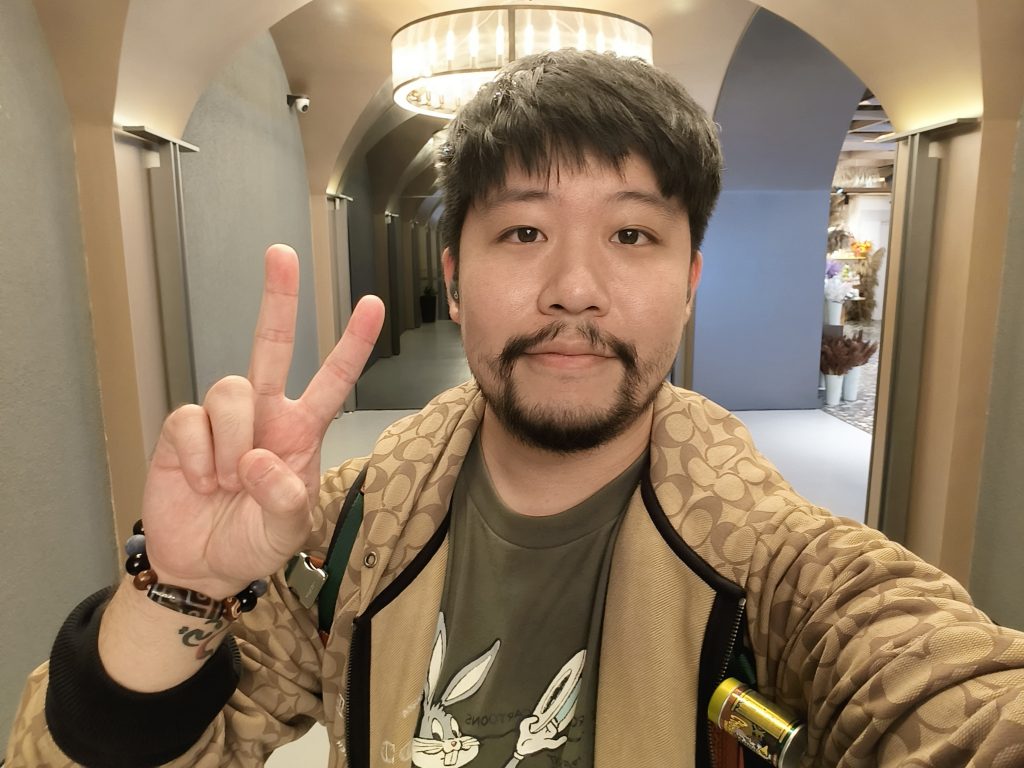 Indoor lighting was still okay, with the emphasis on my face being decently sharp, but everything else around it just gets muddled up together especially my hair. This is definitely the work of Auto HDR, which tried its best to keep the lights above me from being blown out so I do advise you to make the best out of situations where it requires HDR or otherwise.
As far as selfies go, it's a fair hit and miss with nothing much to shout about though it's already doing quite okay being as natural as possible without too much AI-related post-processing. If I were to leave any feedback, I would say that OnePlus should stop using the quad-bayer filter and favor a 12MP straight-up shooter.
---
The Verdict
At RM 2199, the OnePlus Nord 3 has a lot going for it, especially at being a excellent upgrade even from the Nord 2. It packs a lot of flagship grade hardware, from chipset to main sensor even at such a modest price tag.
You get a good balance of performance and battery life out of it, including the benefit of 30 minute top-ups to full, which is the OnePlus treatment we've been wanting for their midrangers. There's also plenty of RAM and storage to play with, and this total combination makes for a fast and smooth phone with a design that wants to look above its paygrade.
Oxygen OS remains as a great choice for those looking for a simpler UI with no ads or bloatware, and they're bored from using stock. OnePlus still is able to give users a very good level of user personalisation that not many can compete with.
I approve greatly of the OnePlus Nord 3 as an excellent RM 2K phone.