The Nothing Ear Stick is Nothing's latest addition into their audio line, offering an all-new design, improved audio and a price tag most would agree with. It's been our daily driver for a month now, so here's our thoughts on it.
Disclaimer: The Nothing Ear Stick provided to us is from Nothing Malaysia. We did not receive any form of compensation for this review.
---
Shotgun-Shell / Lipstick Case Design Spin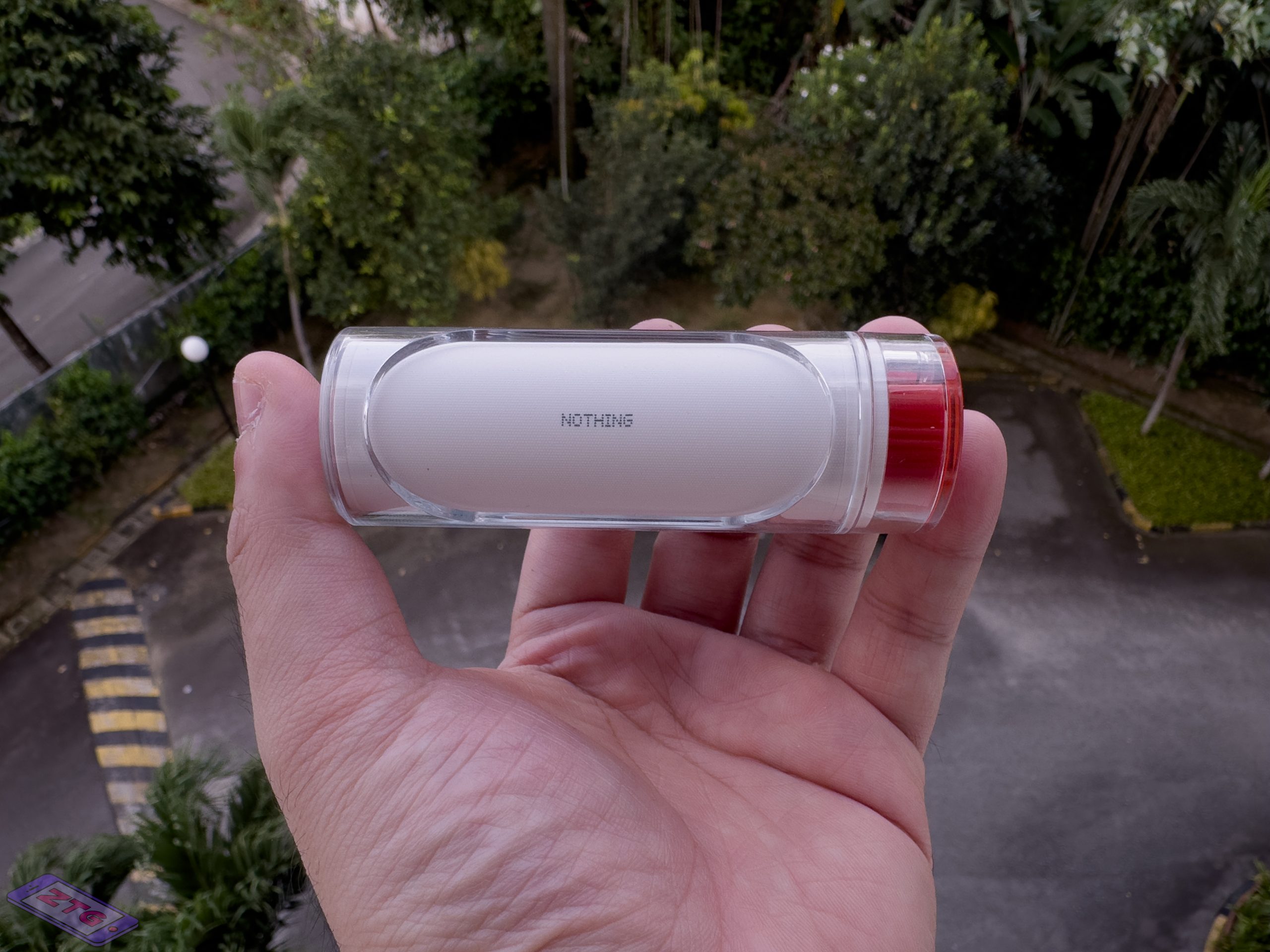 This is a company that strives to make every product different. From a phone with responsive light strips, to transparent clamshell earbuds, Nothing knows that they had to set themselves apart from the competition once again and the Ear (stick) just had to follow.
The case comes in a tube format, much akin to a 12 gauge shotgun shell or an expensive lipstick case. It uses the same transparent design principle that the company employs on its existing products, so you'll be able to see the buds immediately without opening the case. The color scheme is tri-toned, featuring a white base, black buds stems and red accents for the bottom charging area as well as one of the buds for Left and Right (red) indication. The red base helps in identifying which side is the charging port (which is USB-C) and the pairing button, which is a tiny reflective button on the same base.
Opening the case is simple. You just need to rotate the transparent case until you feel a tactile bump to keep the case open for you to pick up the buds. I quite like this design. It's not thick but it is tall, making it pants friendly since it slides right in vertically and you won't have an awkward square popping in your pockets.
The buds are held in place by magnets and a small hole in the case, with white and red spots identifying the left and right earbuds respectively. Each bud weighs only 4.4 grams, making it ideal for workouts and running. If you're caught in the rain, the buds are protected with an IP54 rating, which is a step up from the Ear (1)'s. The case however, is not, so do keep the case in your pocket or bag to avoid any damage water can cause.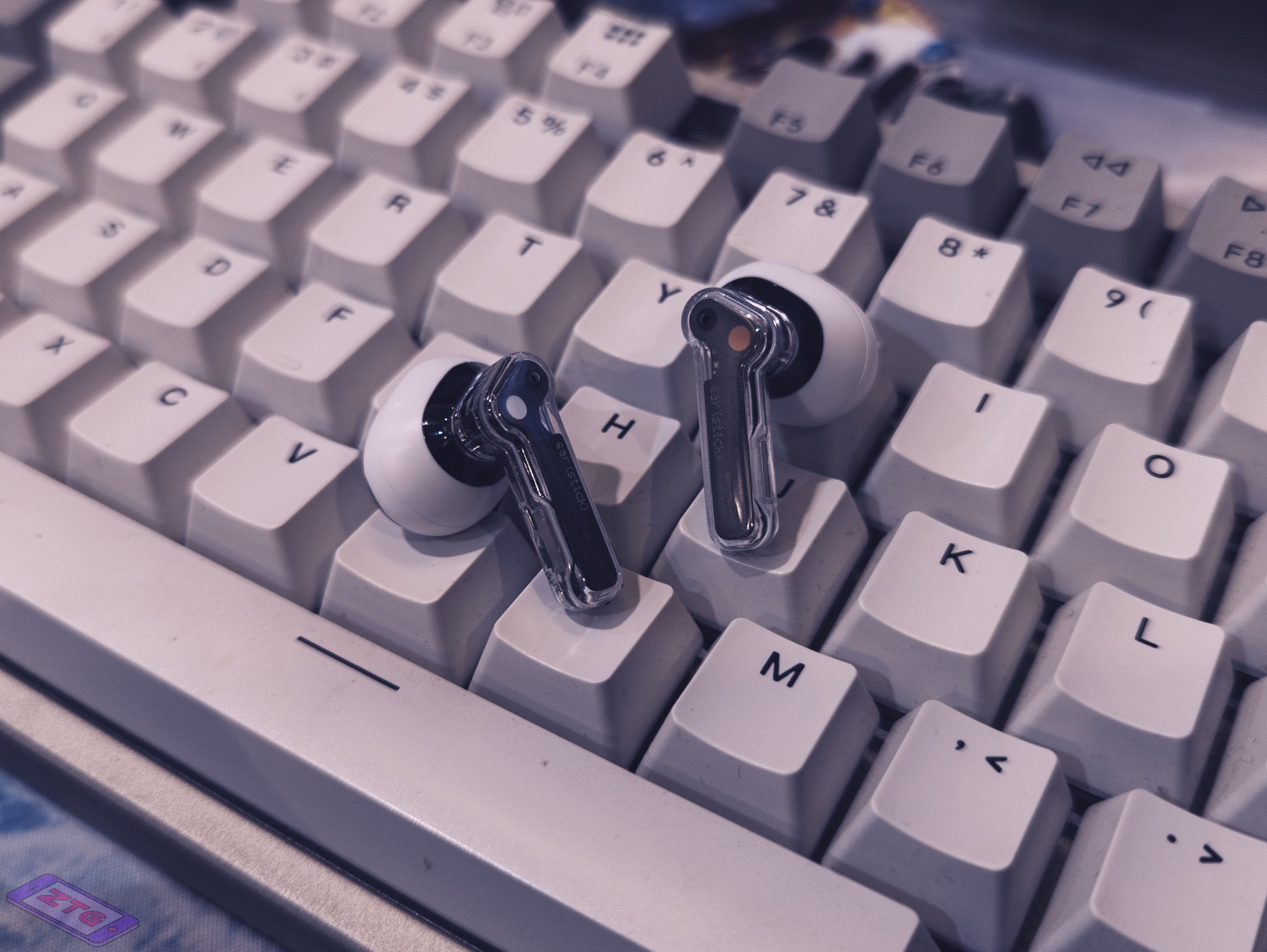 "Open Ear Design, Comfy"
The Ear (Stick) simply look like the Ear (1) but without the silicone ear tips. In its place is now a complete plastic dome with 3 grills of different sizes all over it. These house the speakers and microphones.
If you're new to the design, then these would look really cool to you. The design to me is a cool mash up of transparent and opaque, which are two contrasts that seemed to work here aesthetically. I mean, if you could see the insides of the case, why not be able to see the buds too right?
The Ear Stick's transparent housing is able to let you see where certain screws are holding parts in place, the magnets that lock them to the case for charging, as well as a tiny peek into the circuitry that makes these buds what they are.
"Passive, Not Active Noise Cancellation"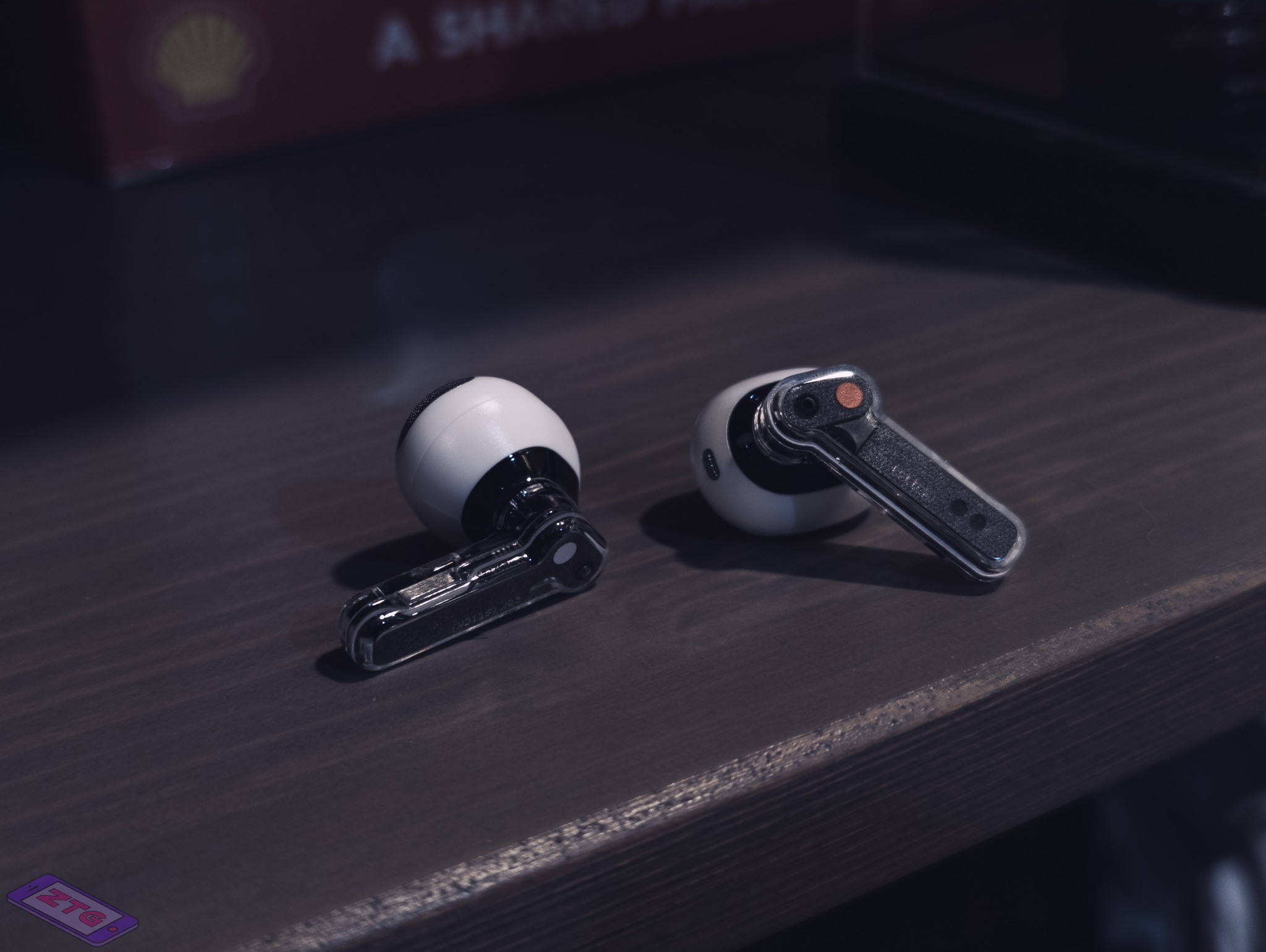 You can tell from the choice of bud design that these won't have the same noise-sealing experience the way silicone ear tips have, so there's bound to be some sound leakage due to the choice of an open design. This, in the earphone world isn't a design flaw, but a matter of preference. Some prefer not to have too much isolation so that they are able to still hear their surroundings while listening to music, and since the Ear (1)'s already feature active noise-cancellation with silicone ear tips, the Ear Sticks just had to be different to reach another customer that weren't looking for such tips.
The stem contains the sensors for control such as pause, play, skip and even volume adjustment. All actions are performed via pinch gestures on either bud and you can configure what each of them can do.
Both sides have the following actions by default:
– Double Pinch : Skip Forward / Decline Incoming Call
– Triple Pinch : Skip Back
– Pinch and Hold : Volume Down (Left) / Volume Up (Right)
– Double Pinch and Hold : No Action, customizable.
The in-ear detection was quite accurate and responsive, pausing music when the earbuds are out of your ears and resuming play when they are back in. It can be toggled using the Nothing Ear app on the App Store / PlayStore.
Pairing (Android and iOS)
If you're a Nothing Phone (1) owner, the Ear Sticks will feel right at home with immediate detection and pre-installed settings so you won't have to do download anything extra and just use them right away.
The pairing experience is pretty straightforward (especially for Android users).
You simply just have to open the case up and you'll be able to see the Ear 1's in the settings. click pair and you're done. This is because the Nothing Sticks support Google's Fast Pair
For those on iOS, you need to hold the pairing button for a few seconds and it will initiate pairing mode. From there you'll be able to see it in the settings and you're good to go.
The Nothing X app is useful to a degree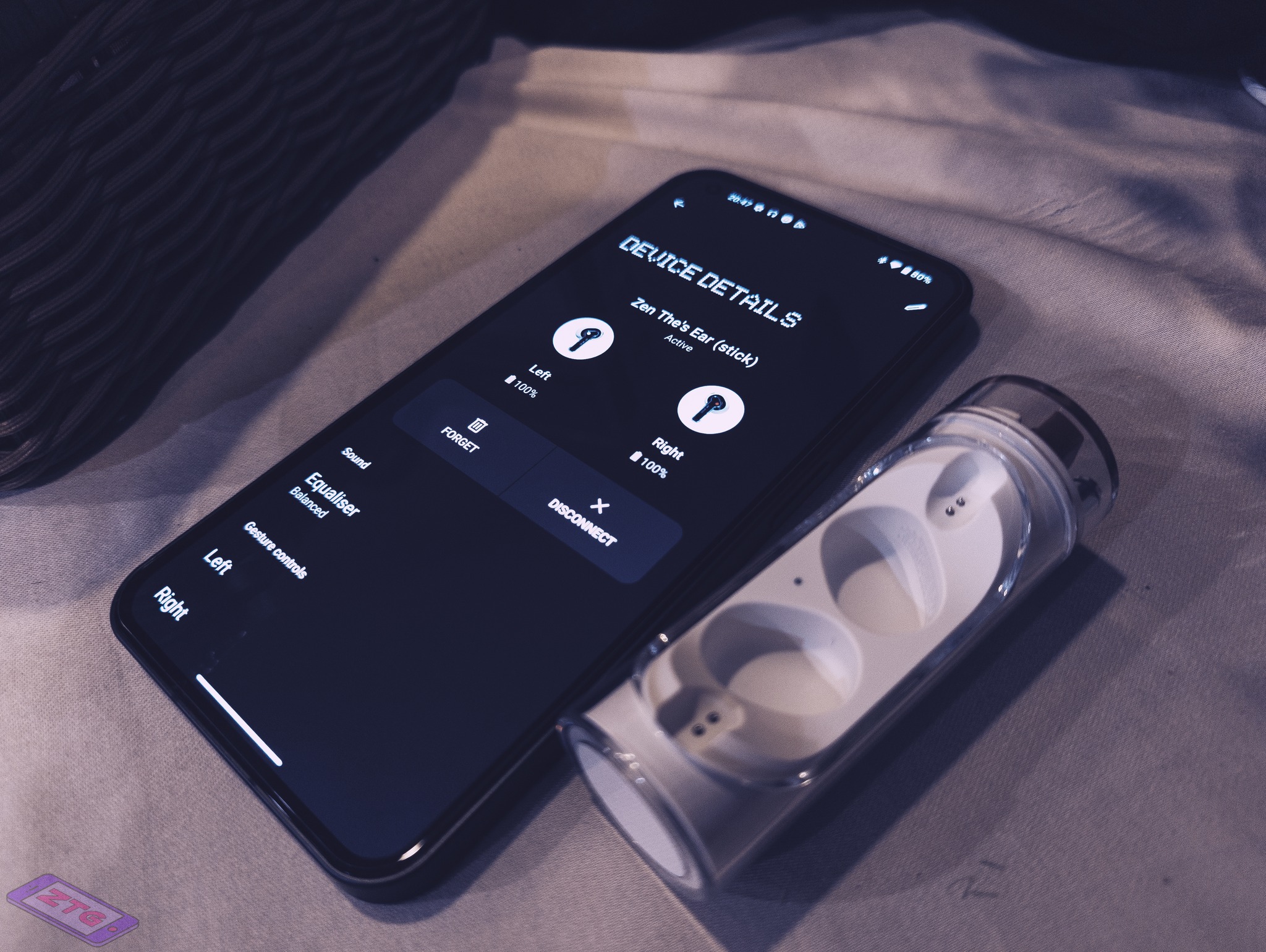 The Nothing Ear Stick has a companion app, simply named Nothing X. It's listed on both the Android PlayStore and Apple App Store and you'll be able to do the following things in-app:

• Check battery levels
• Change Equalizer settings
• Turn on/off and customise gesture controls on your earbuds
• Turn on/off In-ear Detection
• Ring your earbud using Find My Earbud
• Update your Ear Stick firmware
• Get tips & support
The app is pretty optimized and seems well made, with all the features above working without a flaw on both my ROG Phone 6D Ultimate, iPhone 14 Pro Max and obviously my Nothing Phone (1). One thing that I feel is a let down is that the equalizer is not as customizable as we'd like. You get presets like Bass and Treble boosts, right down to granular details.
The Daily Listen
Zen's Testing Playlist
The Adults Are Talking – The Strokes
Unholy – Sam Smith & Kim Petras
Circles – Post Malone
SUTERA – Aisha Retno
Blossom in a Stormy Night – Chien Chien Lu
I think the Nothing Sticks performed well across a diverse set of genres with an advantage towards music with drum 'n bass, electric guitars and some synthesizers. These are loud buds, since the dynamic drivers are large, like 12.6mm large, that are custom built for this model.
I particulary enjoyed Circles by Post Malone, as I was able to pick up how dry the drums were and the strums of the guitar which played the main melody of the track. Nothing felt drowned out, especially Post Malone's vocals.
Aisha Retno's SUTERA played quite decently too, but I noticed the heavy bass nearly overpowered her vocals and made her already moist vocals a little more damp. The intro however felt epic, giving the orchestral beginning a great punch to kick start her tale about Sutera cloth.
Blossom in a Stormy Night is one of my favorite work tracks. There's something about Chien Chien Lu's spirited vibraphoning that gets me mentally pumped, and with a solid piano and bass guitar medley, it's also a great track to test these loud and punchy Ear Sticks. The overall track sounded very well represented, with all instruments but the drums being soft, with the rest hitting just right.
The bass, which I was concerned with, left me underwhelmed. Stepping out of ear tip territory, my concerns were towards even just a normal level of thumping. Turns out Nothing's "Bass Lock" had proved itself to be a somewhat useful algorithm. When the sticks feel like there'll be an incoming loss of bass, it'll increase the lower frequencies to pre-compensate. I mean, it's an open design, obviously bass isn't going to be its strong suit, but Nothing tries still.
My only gripe here outside of performance would be the sound leakage. Because I could only truly enjoy my music at higher volumes, either the instruments or even the entire sound can be heard from people near me, which can cause a nuisance.
Battery Life is Better And Satisfactory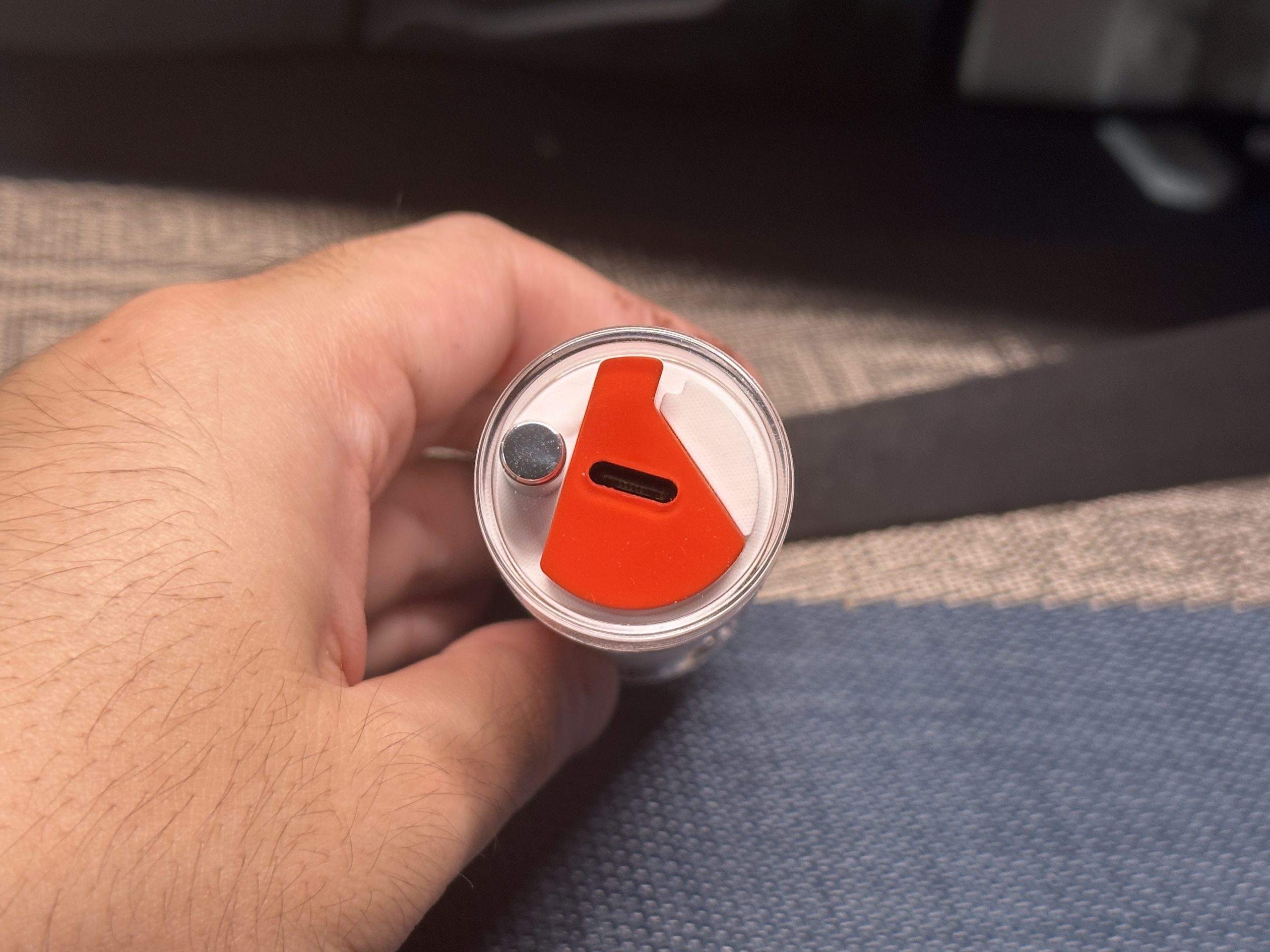 With no ANC to worry about in terms of power draw, the Nothing Stick lasted about 6 hours continuous, just an hour short of the 7 hour claim. This is because general volume was on the higher side due to my priority towards trying to drown out background noise.
The case adds another 28 hours of charge in general, with the added ability of being able to charge quickly. A 10 minute power nap for the Ear Sticks grants about 2 hours of playtime.
The only way to charge the Nothing Stick would be wired USB Type-C, provided in-box.
Improved Mics?
With claims of improvement towards call quality, I had to put it to the test. The parameters and protocols are simple, with the Ear Stick using its 3 external mics to filter out noise from wind and even traffic. We put that to the test in Petaling Street on a busy day and my test caller could barely hear the hustle and bustle going on in the background. My voice was also picked up clearly, and the only issue here is that because of its open design, I wasn't able to hear my caller very well because of the said hustle and bustle.
Aside all that, I found the mics to be marginally better than the Nothing Ear (1)'s. You may however benefit from hearing your caller better on the Ear (1)'s though.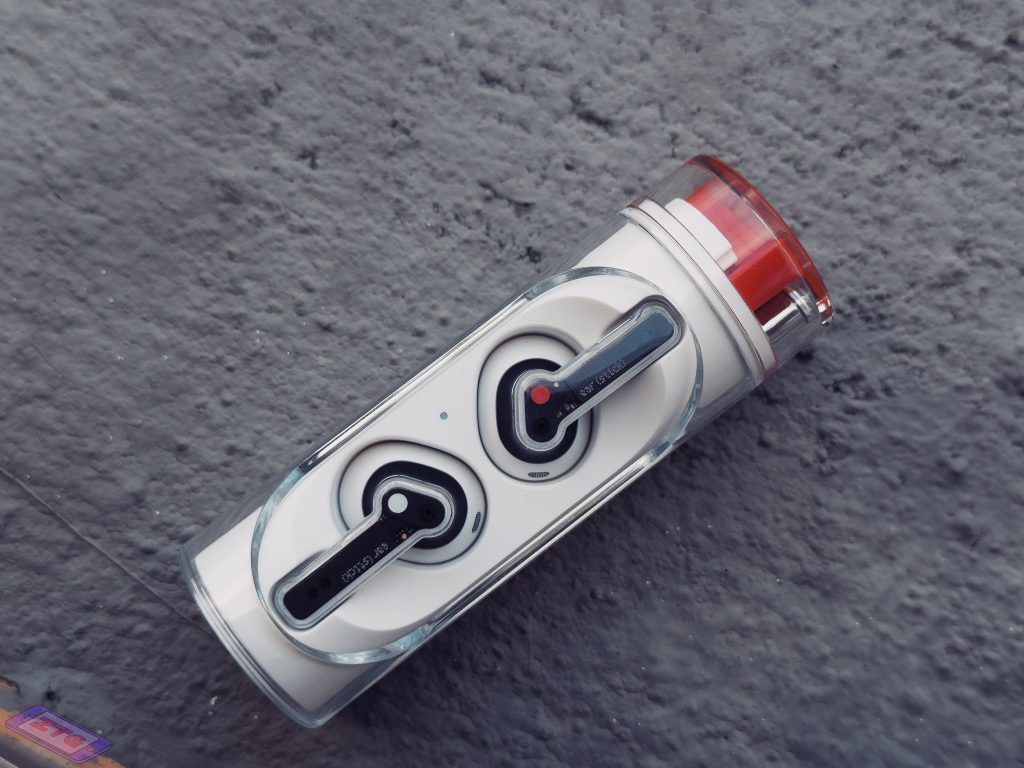 Final Thoughts
Commanding a price of RM 469, the Nothing Ear Sticks will appeal to people who aren't fans of in-ear tips. Its semi-open design is comfortable and doesn't generate any heat in your ear canal and they're loud enough to compensate for the lack of active noise cancellation.
The sound signature of the Ear Sticks prefer guitars, synthesizers and some vocals, while certain percussion and drum instruments are a hit and miss. The soundstage may be wide, but it's definitely not for picky audiophiles who would chastise a product like this. Instead, I would say that listeners with basic to intermediate requirements can enjoy these buds without much complaints.
The app had undergone some improvement, providing customization to gestures, firmware updates and some settings. Bass Lock works when it has to but does not cover the full experience on the buds.
Finally, we love the design. It delivers on uniqueness which the brand constantly strives for, and it slips into your pocket nicely!
The price of the Ear (1)'s was reduced to RM 399, offering full ANC and silicone eartips for a more immersive experrience, so it really depends on what kidn of fitment you prefer since the price difference is just RM 70!
---