Logitech G715 Aurora Collection
Logitech G715 Aurora Collection
As the flagship model to the all-new Aurora collection, Logitech made a mechanical gaming keyboard that's wireless, RGB-aplenty with features to allow gamers to be connected on a variety of devices. It's justifying the price that plays a vital role in completing this beautiful set.
Approve
Prettiest Keyboard You've Ever Seen
Solid Durability
Wide Connectivity Support
Per-key RGB with underglow
Lots of extra controls
Approv'nt
Price isn't competitive
Only for gamers
Limited Macro capabilities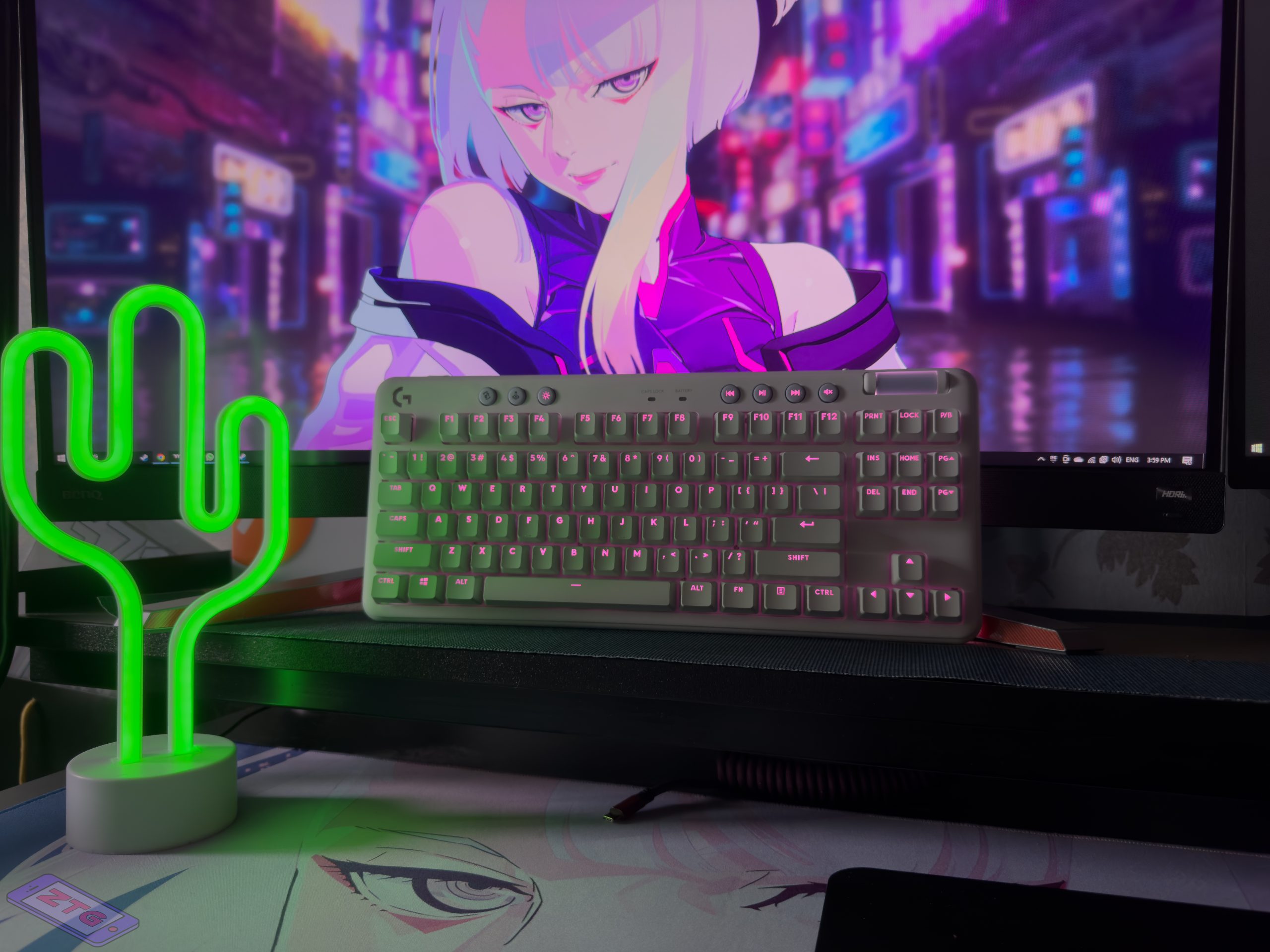 Soft Aesthetic That Brings Out Color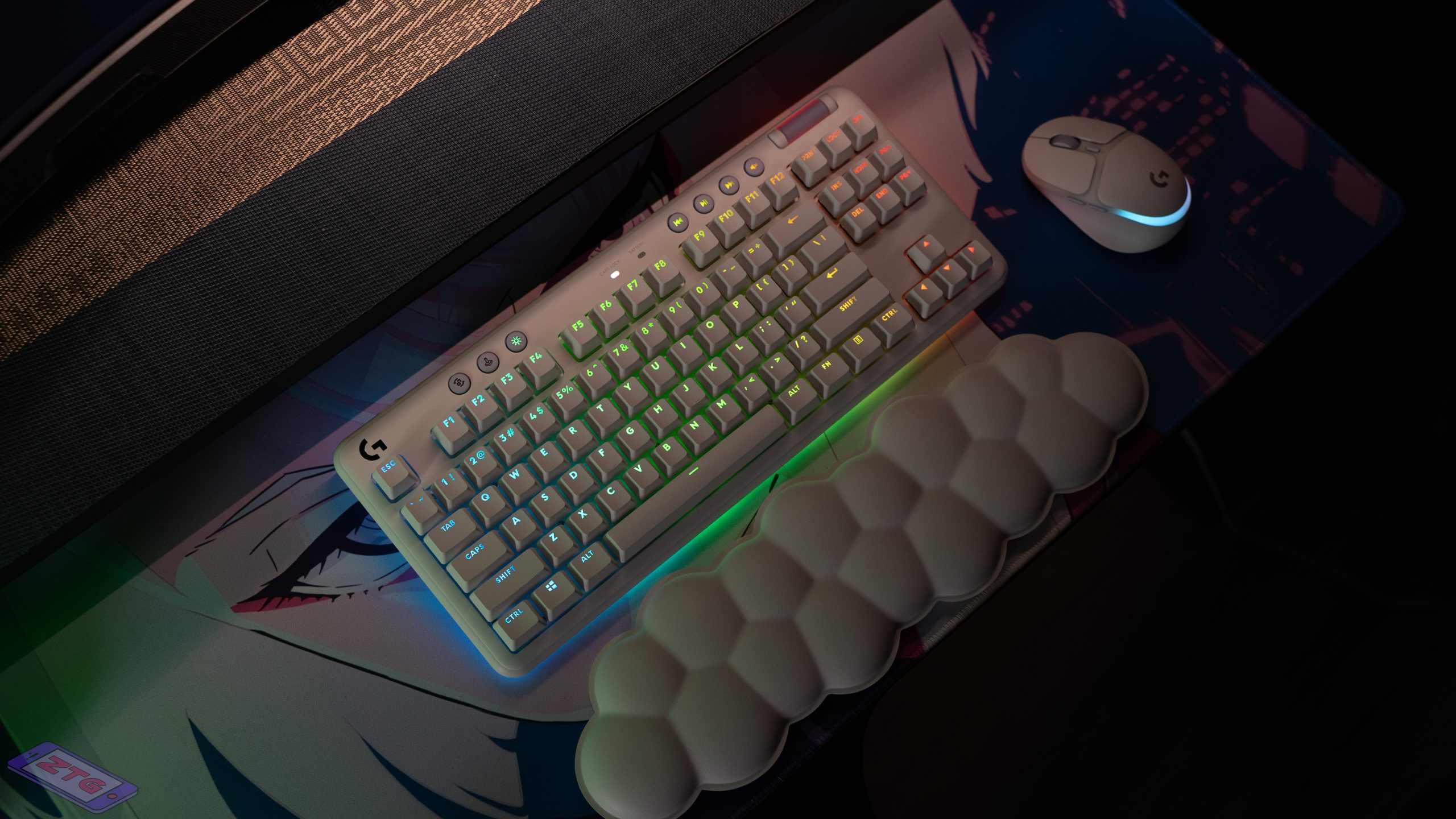 We weren't sure what a non-binary looking gaming keyboard would look like until we saw the G715 in person. Part of the Logitech G arm, the G715 doesn't look like your typical gaming keyboard. Available only in White, it brings out a soft aesthetic through its rounded edges and matching white shine-through textured double-shot PBT keycaps. It's definitely made to catch the eyes, especially when you include the wonderful cloud wrist rest that completes the look and delivers on comfort.
It really doesn't look too feminine, I can see any gamer using this easily. In terms of customization, you can change the top plate of the G715 to another color but that'll be a seperate purchase. You simply just need to lift up the metallic top plate without needing to unscrew anything which is convenient. There are built-in magnets on the keyboard that'll keep it in place.
Lightning plays an important role in the "pretty" factor here. The G715 features per-key RGB customization, complete with RGB underglow, extending to even the volume wheel. You'll need to install Logitech G Hub to customize its effects, and we've always loved the software. Apart from being able to customize lighting, there are pastel-colored presets that well complement the G715's cloud white exterior.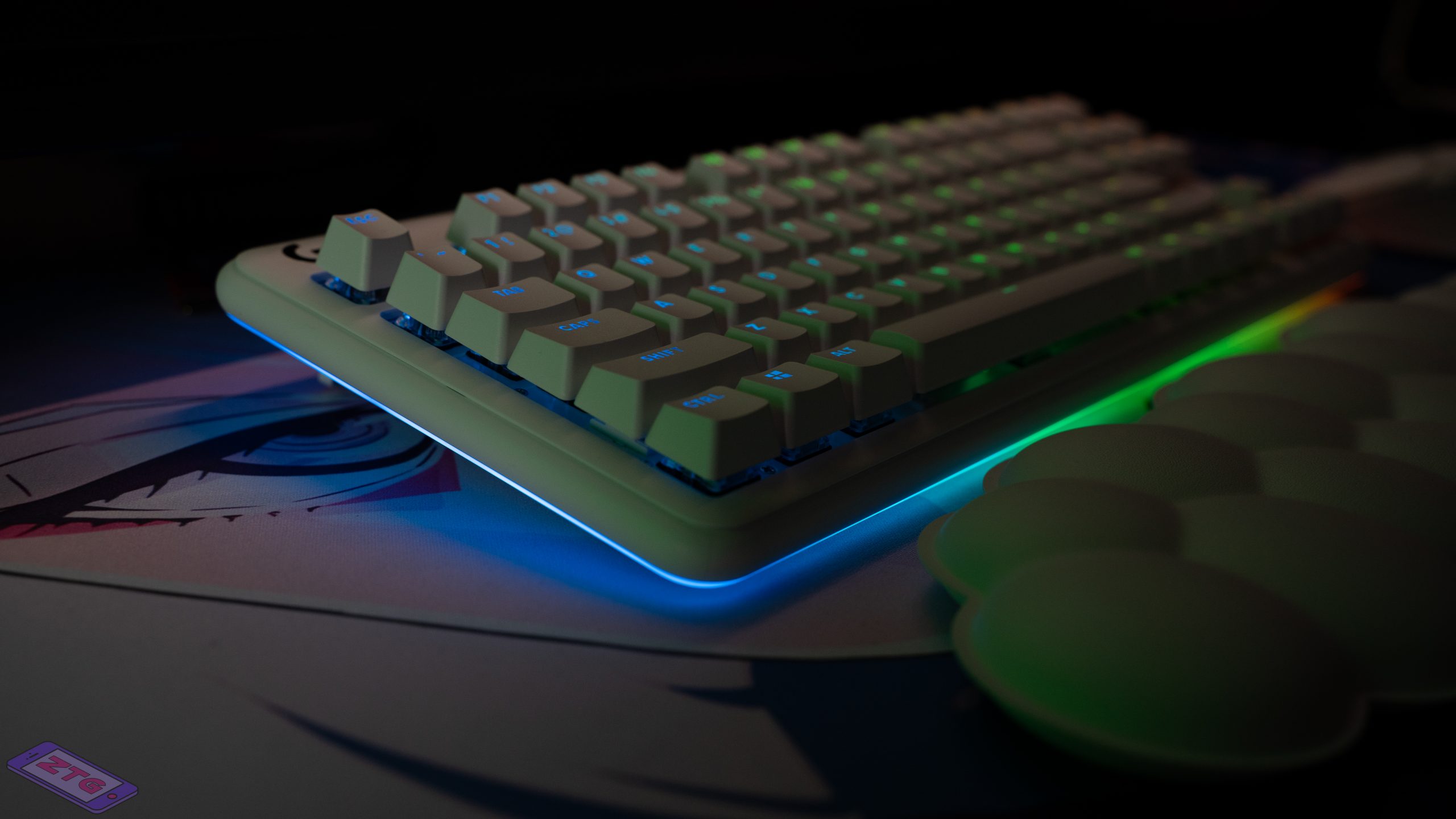 For elevation, there's 3 levels for you to reach via the kick stands at the back of the keyboard. It doesn't sit flat by default, as there are rubberised feet at the bottom for a minimal level of raise so that you can see the RGB underglow. Besides that there are 2 more levels of kick stands to increase the height allowance between
4° to 8°. In terms of ergonomics these are comfy numbers, and with the plusy cloud wrist rest typing and gaming for hours was confortable.
Connectivity And Media Controls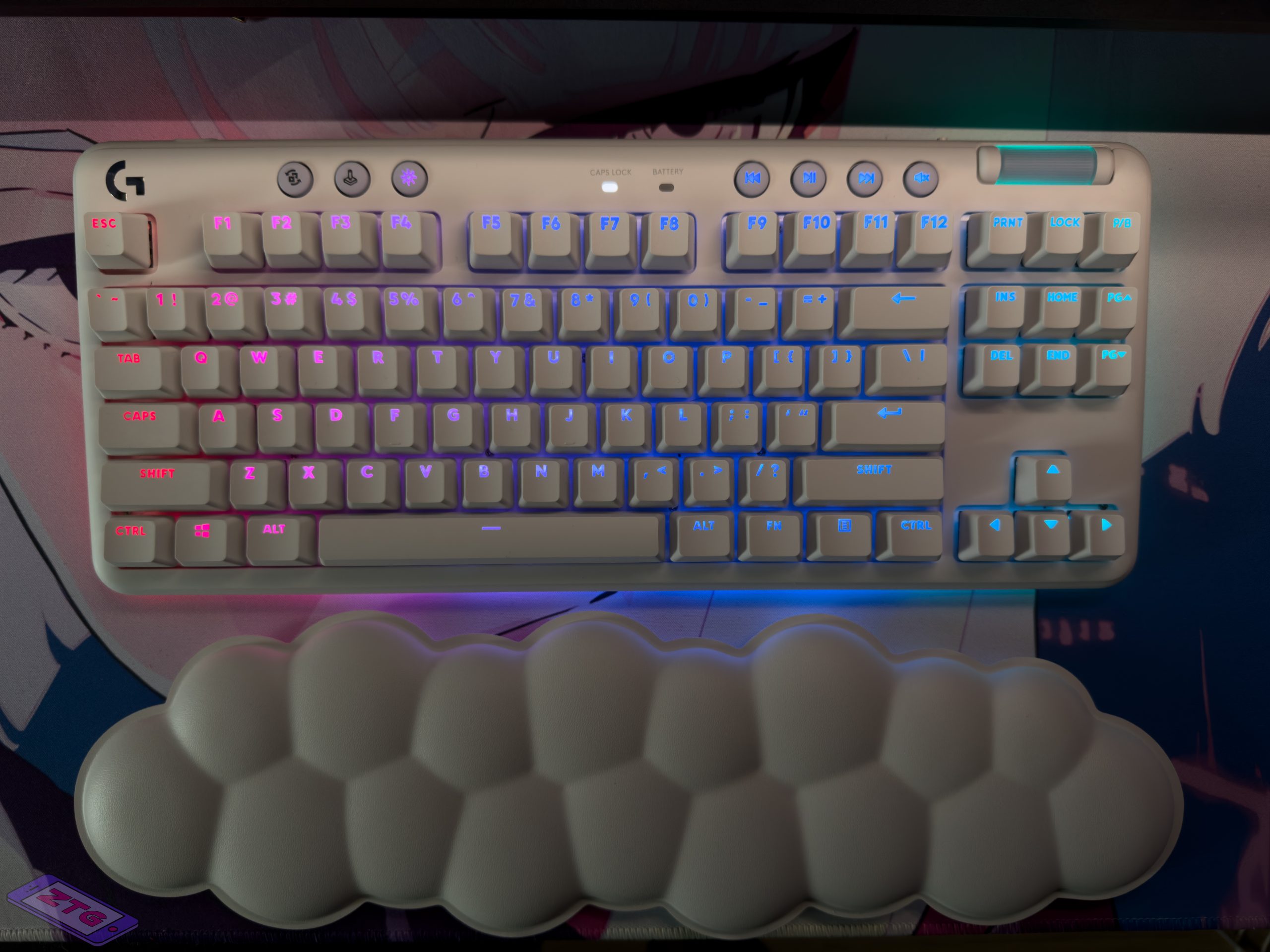 Connectivity is very diverse for the G715, covering wired and wireless connectivity in every aspect. Traditional gamers who prefer wired configurations draw benefit from the included 180cm USB-A to USB-C cable which also offers simultaneous charging while playing.
For the wireless gang you can take advantage of Logitech's LIGHTSPEED wireless by using the included 2.4Ghz dongle that's stowed under the keyboard base. Alternatively if you don't have any ports you can still connect the G715 to your system via Bluetooth, which is slower than LIGHTSPEED in terms of responsiveness but not a matter if you're just typing. LIGHTSPEED was made for low-latency wireless competitive gaming so just keep that in mind.
Tip: You don't need Logitech G Hub to connect using LIGHTSPEED or Bluetooth but it is recommended as you can benefit from firmware updates, macro settings and on-board memory configuration.
One drawback is that you won't have access to Logi Flow which is only accessible on Logitech MX line. You won't be able to drag and drop files between systems. There's also no built-in profiles that'll let you switch between devices at the push of a button, but the workaround is relatively simple. You can connect the G715 via dongle to your gaming PC, and your laptop/Macbook via Bluetooth. You simply click the Connect button that's on the top left to settle connectivity between 2 devices. Blue color indicates Bluetooth, whereas Cyan is LIGHTSPEED mode.
The rest of the control buttons are as follows (from Left to Right)
Connect Button – To establish connection between Bluetooth / Lightspeed (wired is automatic)
Game Mode – Blocks the Windows and Menu keys from accidental pressing (additional keys can be customized in G Hub)
Brightness – To configure lighting brightness across several levels,
Caps Lock LED
Battery Level LED – Green Fully Charged. Pulsating green during charge. Exact Battery % can be found in G Hub ONLY)
Back, Play/Pause, Skip, Mute Media Buttons for video and music playback
Volume scroller wheel.
The Type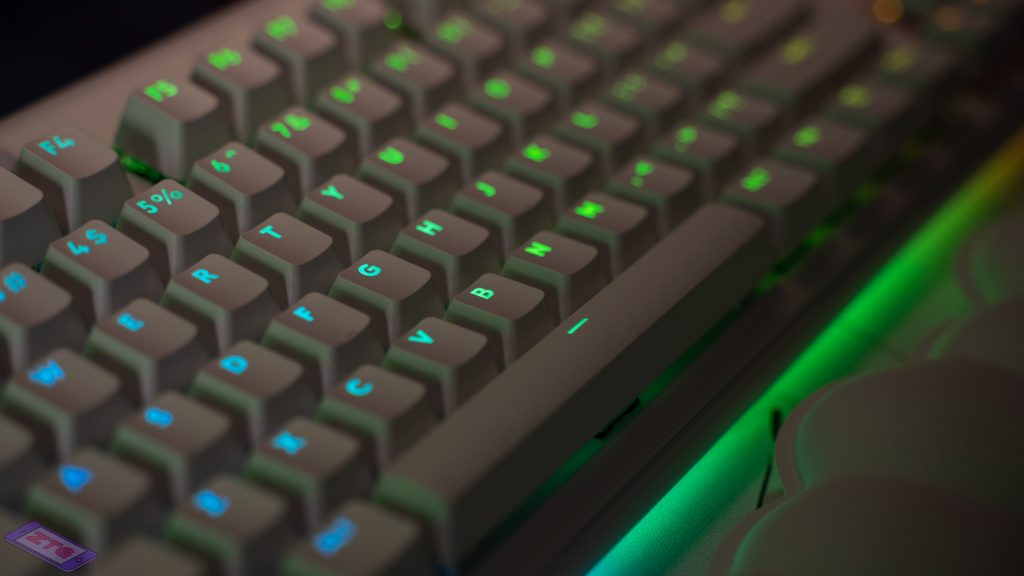 The G715 comes in 2 switch configurations ; Linear or Tactile. Switches are Logitech's own GX Mechanical line, but doesn't stray from the mainstream options, as GX Linear are basically Red Switches and GX Tactile would be Brown (our review unit).
Our tactile unit may have a short travel distance but required a little more force (about 59 gf) to press down. They're relatively quiet but not as quiet as the linear configuration. There's also no stabilizers on the small modifiers (ALT, TAB, CTRL) so it might come off a little rattle-y. Coming from a world where I got to enjoy both pre-made and customized mechanical keyboards I found the gaming experience to be acceptable but for typing I personally still prefer a lighter switch like a Gateron Yellow Pro so I mainly used my G715 as my gaming tool since I am the type of gamer that would hammer down my keys heavily during intense gameplay.
Tested Games :
Call of Duty Modern Warfare II (2022), PS5
Warhammer 40K Darktide, PC
DOTA 2, PC
Total War : Shogun 2
The keycaps are good quality PBT, so typing on was decent but scratchy since the switches aren't factory lubed. The wrist rest helped reduce wrist and finger fatigue, which is essential for people who are on their keyboards daily across long hours.
In my opinion, I think the G715 holds pretty well towards shooters more over MOBA / Strategy titles as you can take advantage of this keyboard's well spaced out layout with tall keycaps so familiarizing yourself with your regular keys (WASD, R, G, Q) was a quick job to master. I found myself mistyping less and less in Warzone 2.0 and managed to clutch a couple of Gulags since it demands better maneuverability to reach optimal kill positioning.
Latency
Wired : 3.5ms
LIGHTSPEED receiver : ~4.0ms
Bluetooth : ~13ms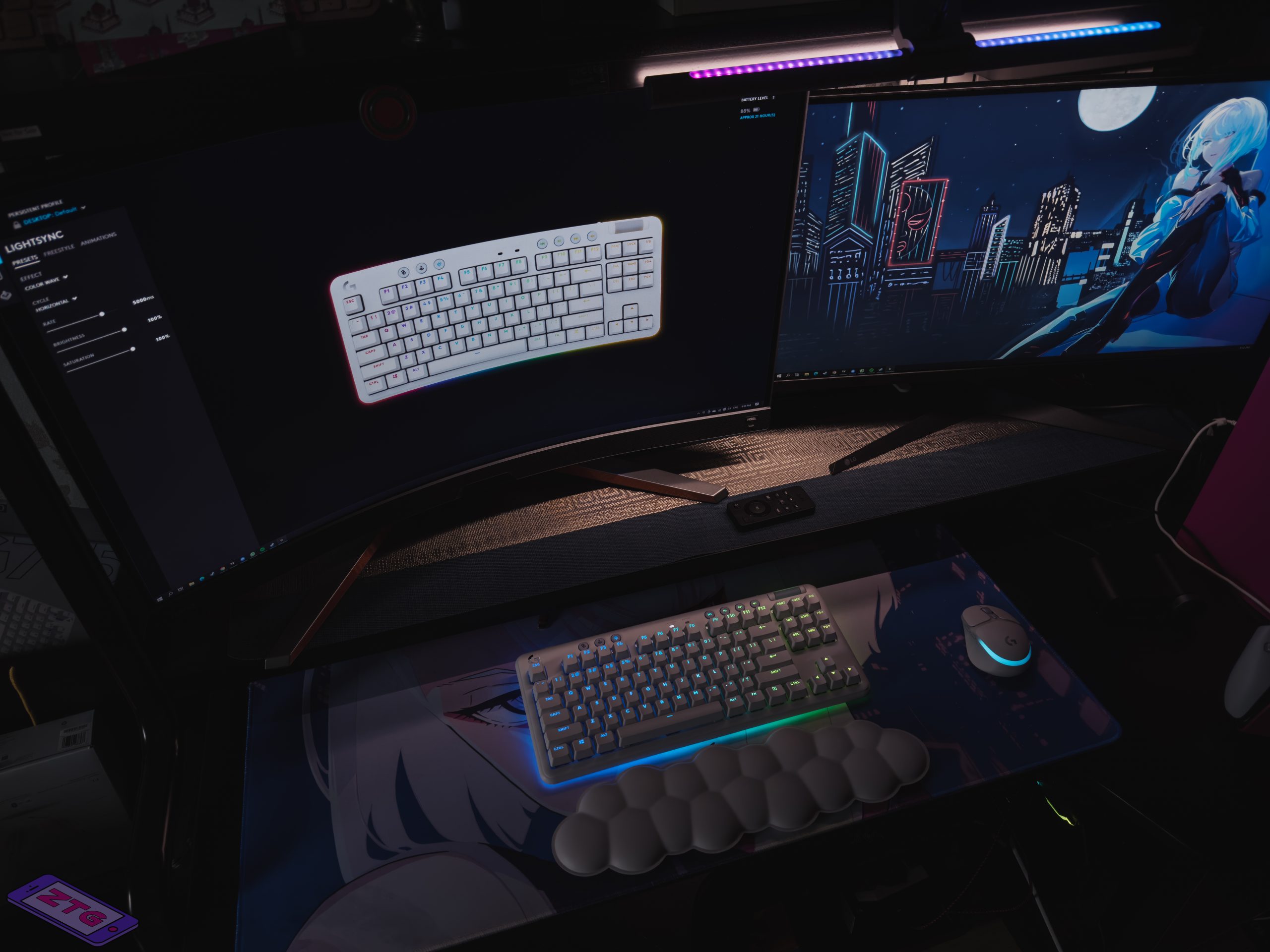 Battery life was on-par with Logitech's 30-hour run-to-die claim. Here's some results based on different scenarios :
Full RGB brightness, Color cycle profile on max speed LIGHTSPEED Connection – 26 Hours
Full RGB brightness, Bluetooth Connection – 30 Hours
These are respectable numbers, especially when you're maxing everything out. I mean, LIGHTSPEED is an incredibly fast wireless protocol, offering just a millisecond of difference from a wired connection which virtually won't affect your performance one bit so it'll definitely draw more power over Bluetooth. If you can compromise with lower brightness levels, over 30 hour battery life is more than obtainable. You can also squeeze out some extra time if you changed your RGB preset from a dynamic one to a static one since there's more power draw from making LED's change color constantly.
---
The Verdict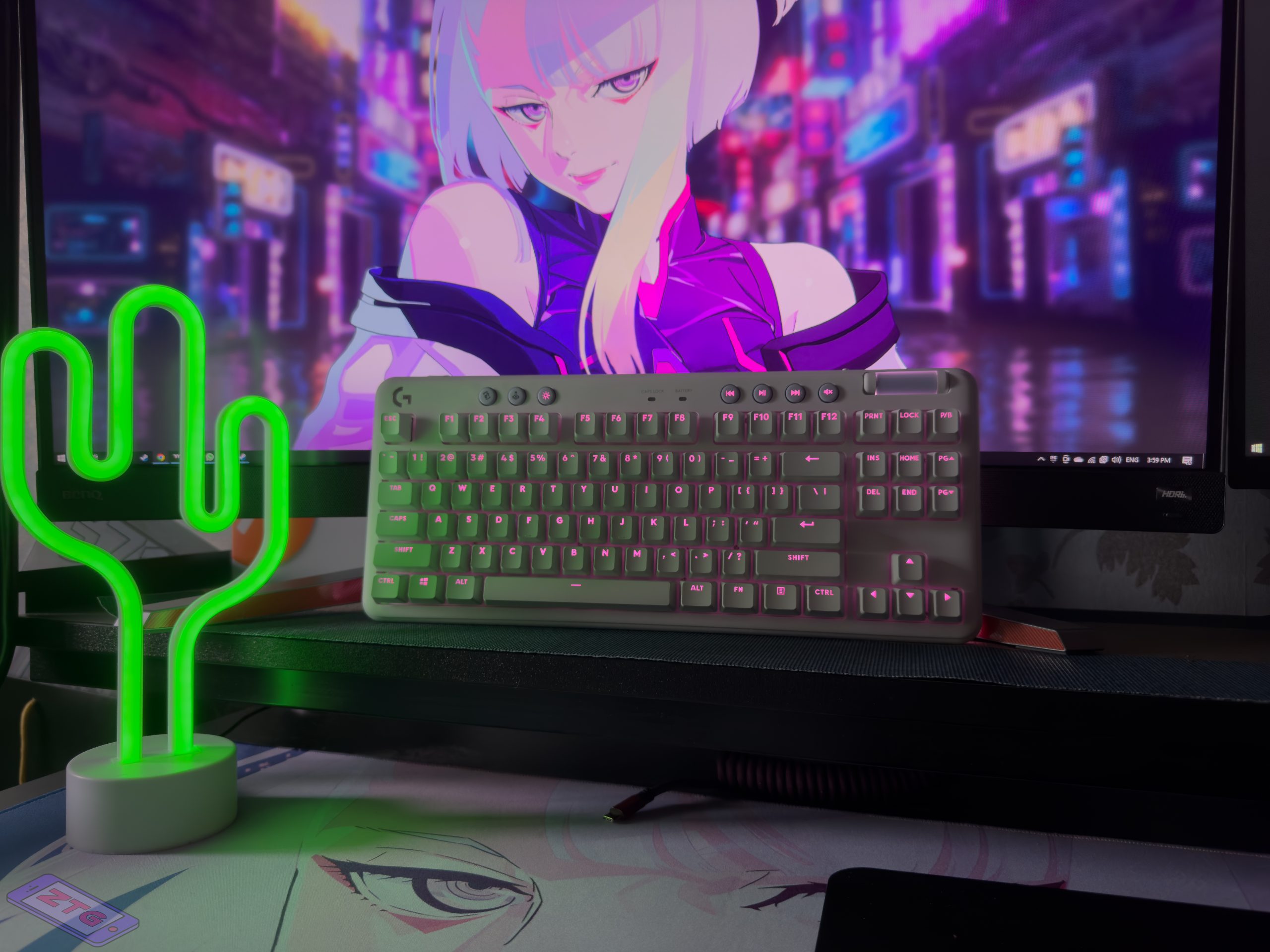 Regardless of your choice of linear or tactile, the Aurora G75 retails for RM 799, and that puts it in the near high-end category. That being said, it may be expensive but it is in line with the competition. Its value lies in Logitech's confidence in software, connectivity and physical appeal towards all-genders by looking extremely minimal and letting your choice of customization speak for you.
It's a TKL format, so those with smaller desks can have a little more breathing space. Its focus on gaming reflects how much it doesn't focus on productivity, such as the omission of Flow and better macro configuration.
Still, it's a pretty, well-built keyboard that can outshine the competition like an aurora.