Logitech G735 Aurora collection
Tries hard to cover all bases
The Logitech G735 Aurora Collection is a versatile gaming headset that brings all connectivity to the white-loving gamer in a tight and stiff package. Customization for colors and audio profiles are backed by mature software support but how and what are we paying the premium for?
Approve of
Very Fast Wireless
Over 30 Hour Battery
Detachable Mic
White Design With Pastel RGB
Immersive Gaming Audio
Approv'nt
Walk Too Far and You'll Be Out Of Range
Inconsistent Music Performance
Older Bluetooth Protocol
Part of the Logitech Aurora 3-piece set of the G715 Keyboard and G705, the Logitech G735 is here to complete the trio, continuing the white colorway with pastel-eque RGB lighting and LIGHTSPEED goodness that we've learnt to rely on for one of the fastest latencies in the wireless gaming hardware scene.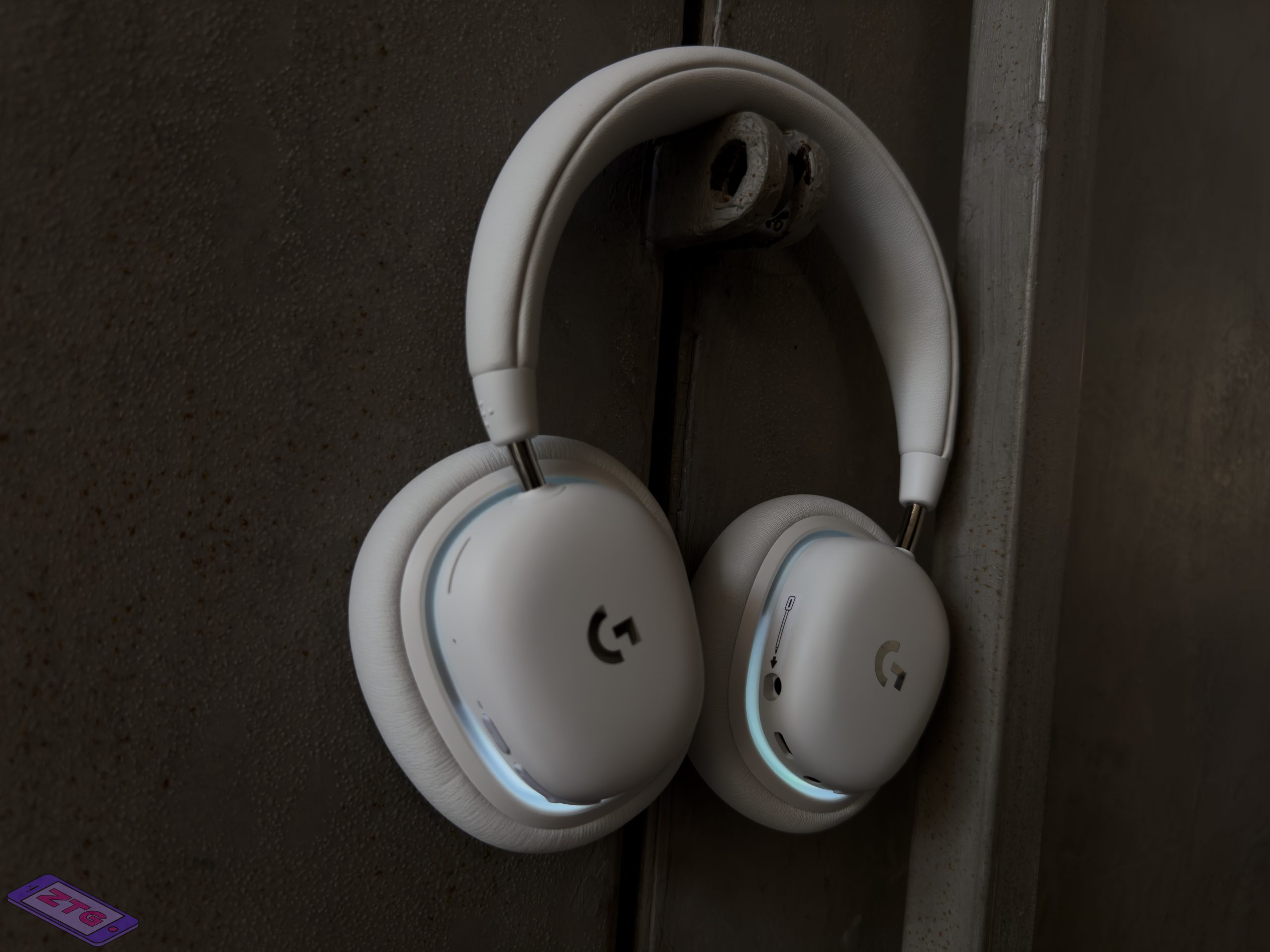 Design & Comfort
The G735 looks expensive, like Apple expensive. It takes on an all-white design with the only flair being the chrome Logitech G logo on each case. The cups are fit onto a plastic case which also house various buttons and controls on each side which I'll get to later on.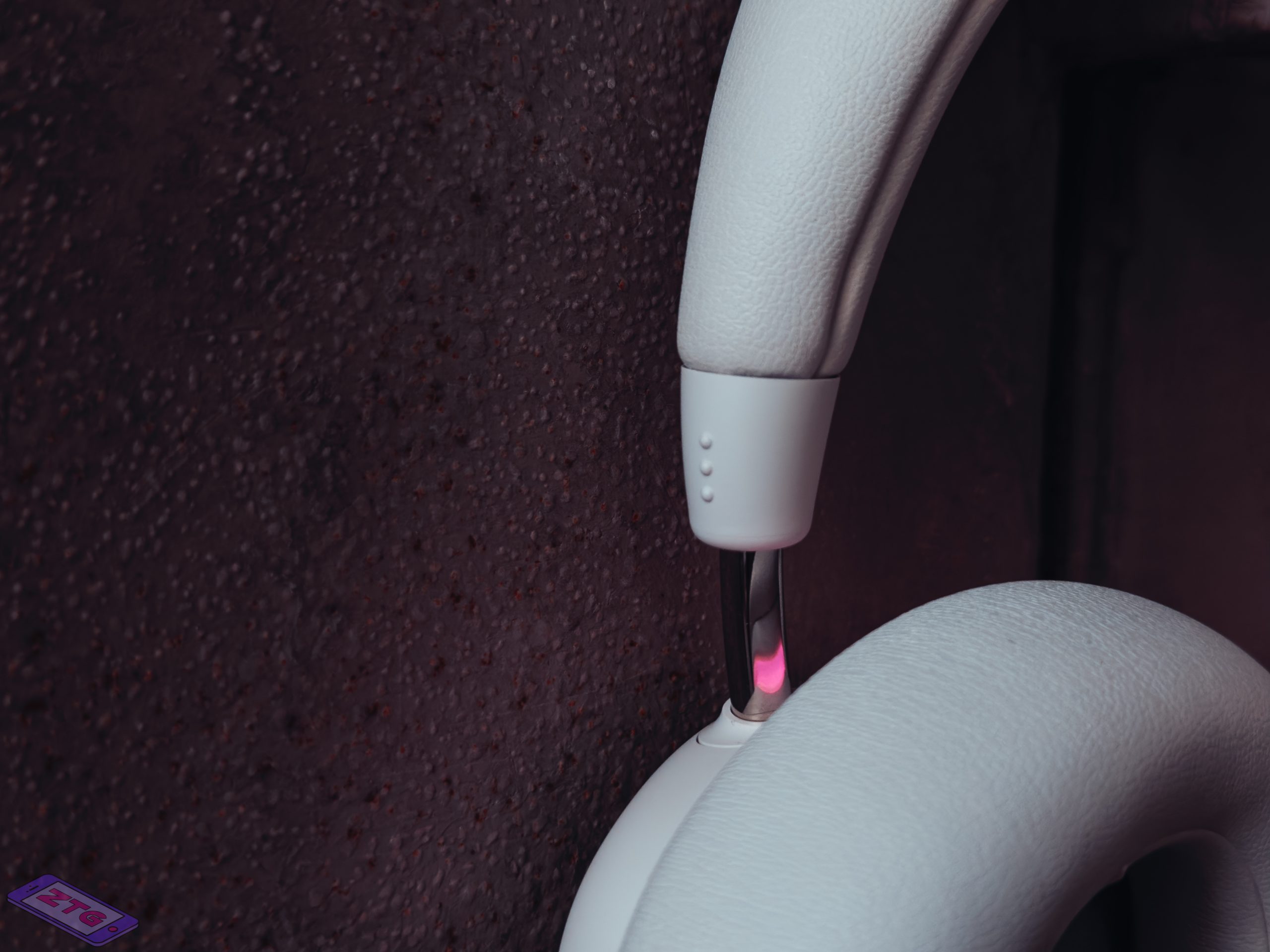 The frame is like a sandwich. The top is plastic, while the bottom arch has a small layer of foam inside to keep things soft for your head. They are wrapped and sewn together in leatherette that meets in the middle, with plastic caps on each side to close it up. From there, you'll have your heavy metal rods slide in and out of the band to grant you your fit. I also want to give a shout out to Logitech for the caps, as they included Braille code on both sides for mentally impaired users to know which side is left or right.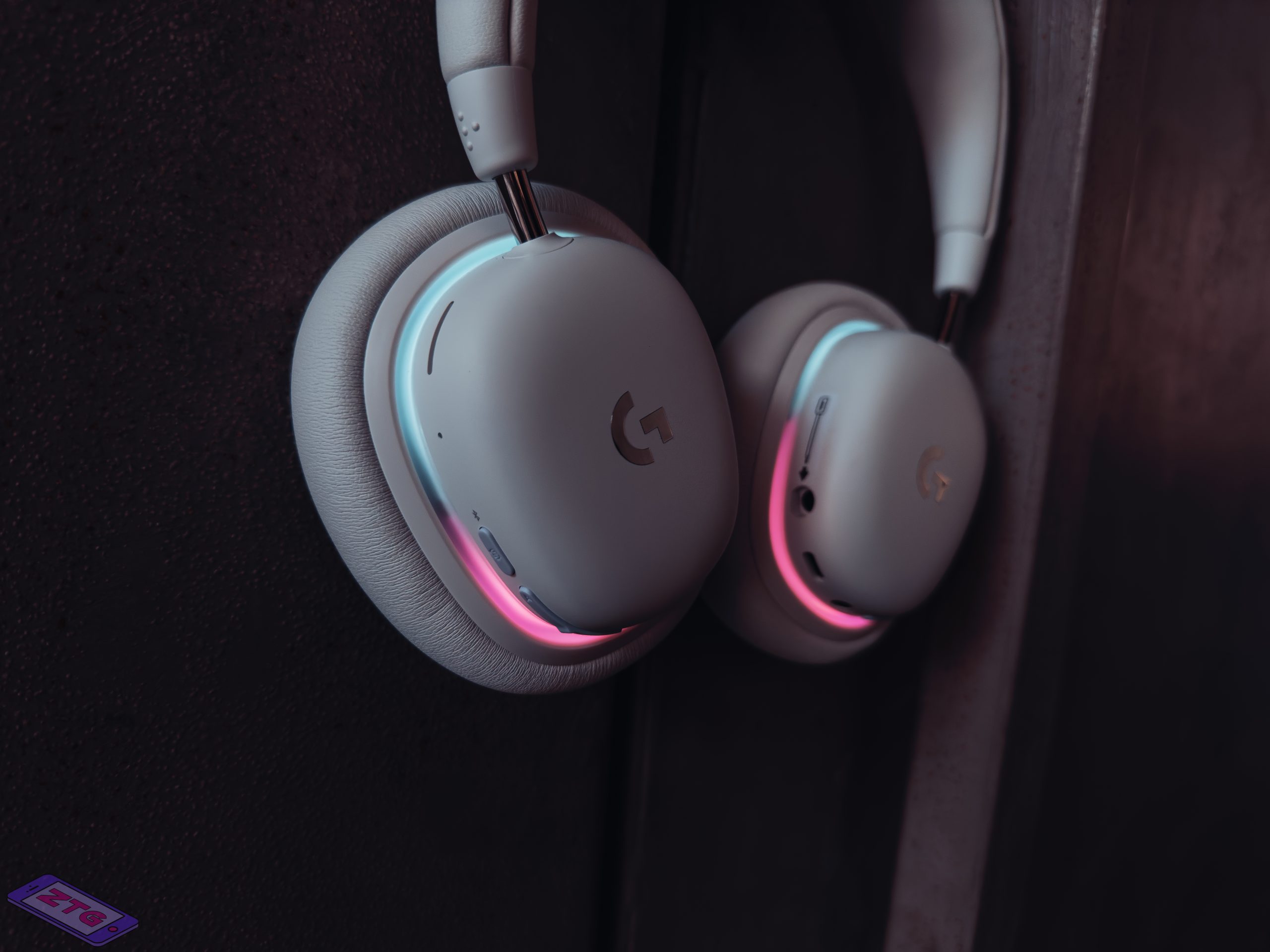 As for the cups, these aren't designed like most gaming headsets today. It's actually a little smaller with a tighter fit, and the only reason why you won't feel squashed is because of the ear cups. They're well sponged out and fluffs itself back out again when you're done using them, which makes them memory foam. My ears are well covered in the cups because they're quite deep, so it makes long-haul sessions quite comfortable, while providing a decent seal. The weight is also distributed quite evenly, neither side has a bias.
Remember I said that the frame was like a sandwich? Yeah, so are the cups and casing, as there's a frosted ring between them that showcases the RGB lighting and that's a classy move by Logitech. It's actually quite bright and it can definitely light up a dark room. The RGB doesn't stop there, as it is so bright that you can even see it inside the ear cups as little dotted cutouts that form a ring shape.
Connectivity and Sound Quality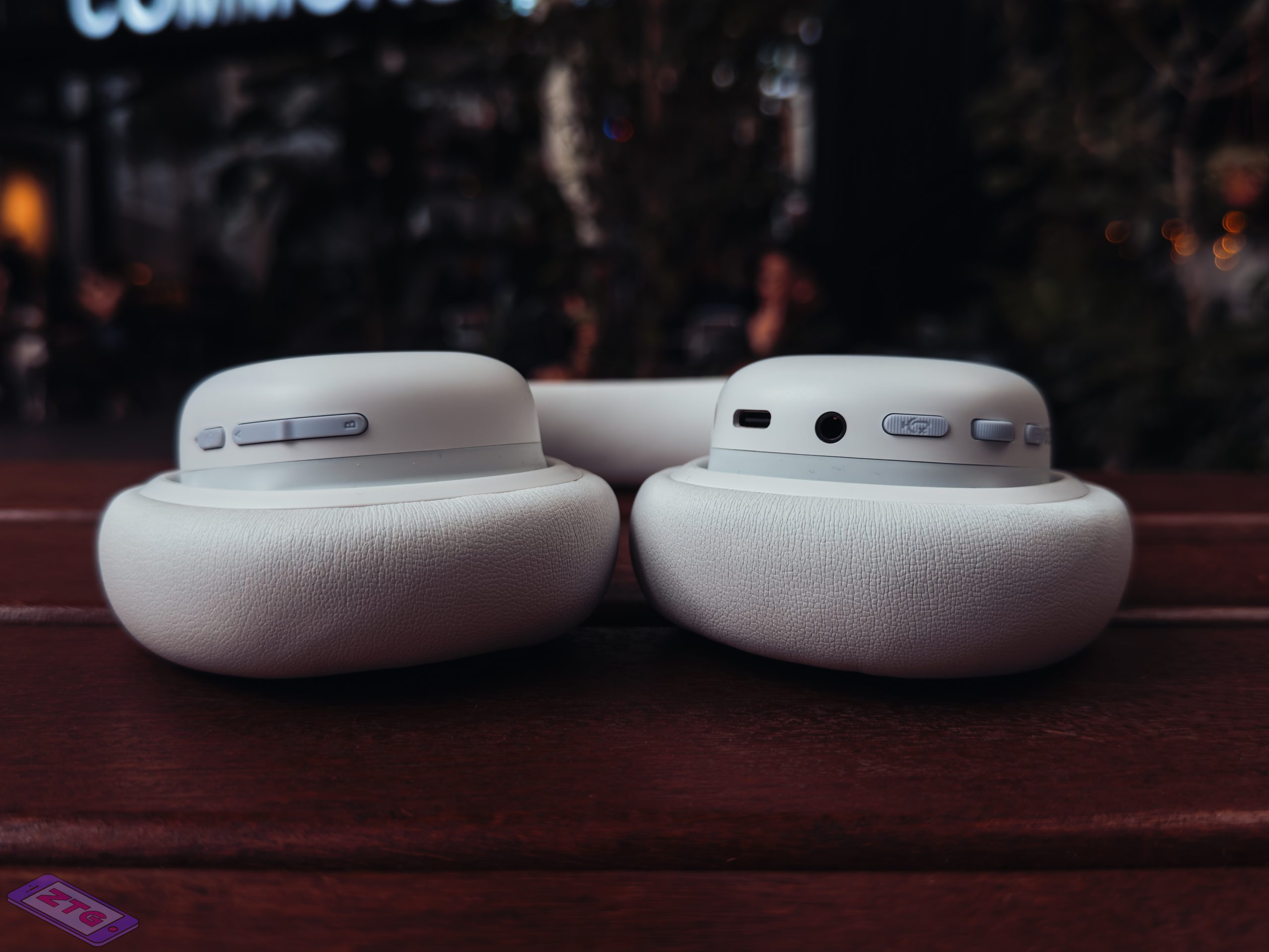 Just like the rest of the Aurora Collection, the G735 is well prepared in the connectivty game. You can use it wired, you can use it wireless, and that covers both Bluetooth and LIGHTSPEED Wireless via the included 2.4Ghz.
The G735 was definitely tunned for bass and that's definitely the sound profile it has. However, I'd say that most of the testing Logitech themselves had conducted was for gaming and not too much for music. When I play a game like Warhammer 40K Darktide (I regard this game as a gold standard for video game sound engineering), I could really feel immersed into it, feeling every heavy step I take as an Ogryn, right down to my grenade gauntlet's launching thump and the clash of metals when I reload. It was deep and meaningful, but when my character speaks dialogue out and the OST is in the background, it was easily drowned out and that really bummed me out sometimes.
Mid performance was really good, but again overshadowed with bass which definitely needed to be tuned down in G Hub equalizer settings. It's not as bad as it sounds, as you'll only really hear it in the low-mids.
As for treble, it's for the most part just acceptable. It's mostly uneven, and you won't really be able to pick up on vocals if you're listening to music that has a lot of drum and bass and some singing in-between.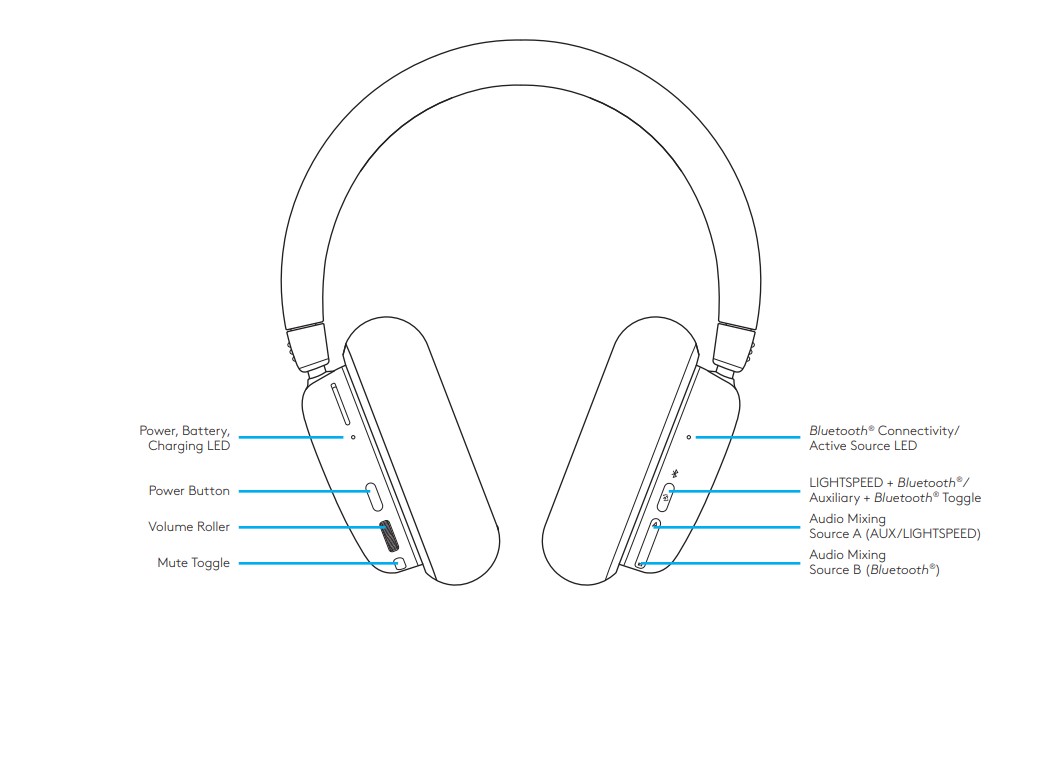 Both sides of the headset house various buttons and ports.
Left : USB Type-C Port, 3.5mm jack, microphone jack, mute button, volume rocker, power button
Power LED indicator
Right : Bluetooth/LIGHTSPEED Toggle Button, Up and down buttons for Audio Mixing (up is for AUX / LIGHTSPEED, down is for Bluetooth)
Bluetooth mode just works with my Androids and iPhone, but only supports SBC codec, no AAC. It's fine, it's made for PC and console gaming, not for your phone's Spotify.
LIGHTSPEED is one the fastest, most consistent connections I've ever used, if you're constantly in front of your PC. You can still walk around the room and it will be fine, but once you get out to get something and it's more than 20 meters, that connection starts to break so keep that in mind.
Software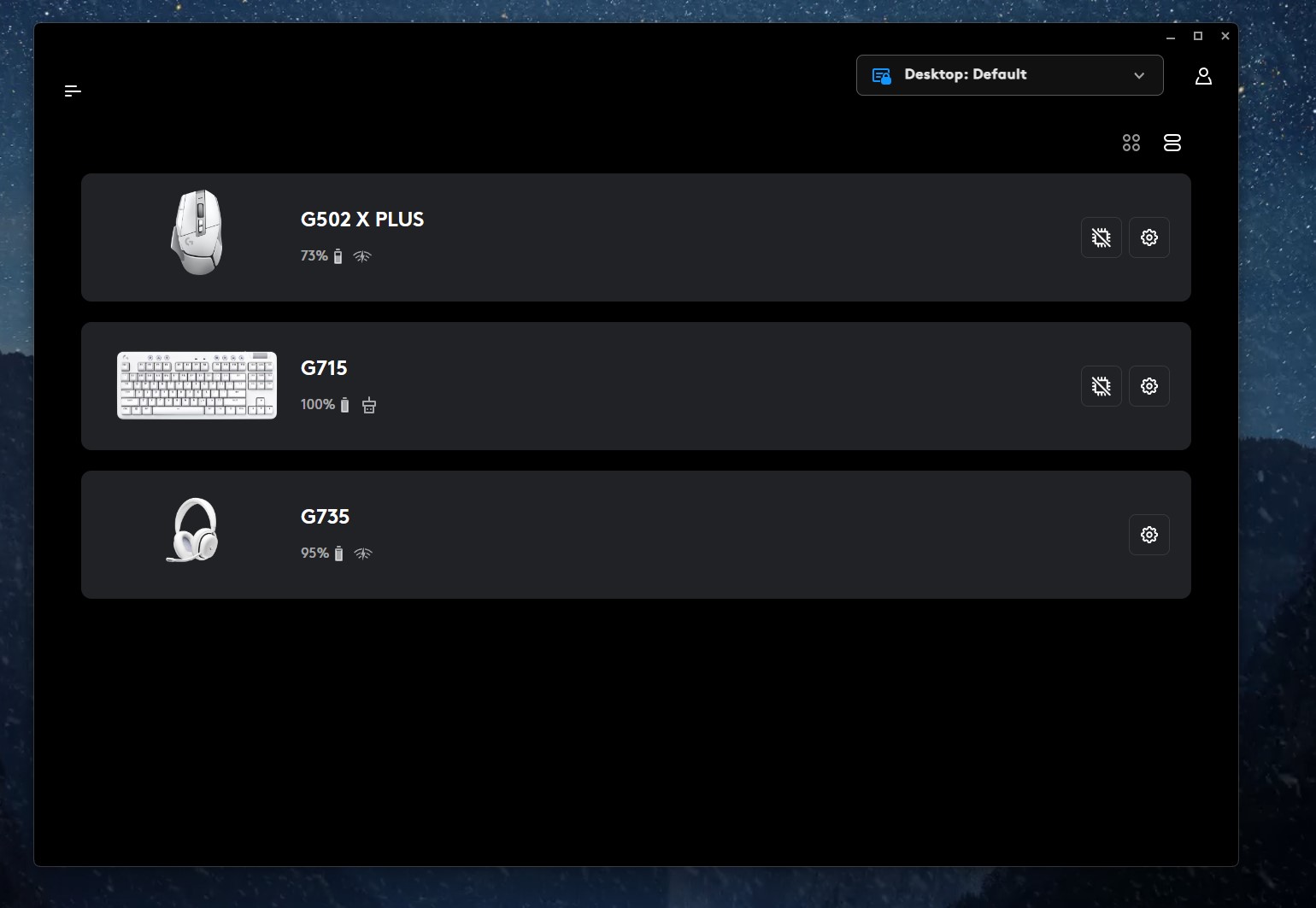 Logitech G Hub takes care of all things configuration, and if you own both the G705 and G715 already, you know that this is a must install onto your PC.
The Microphone.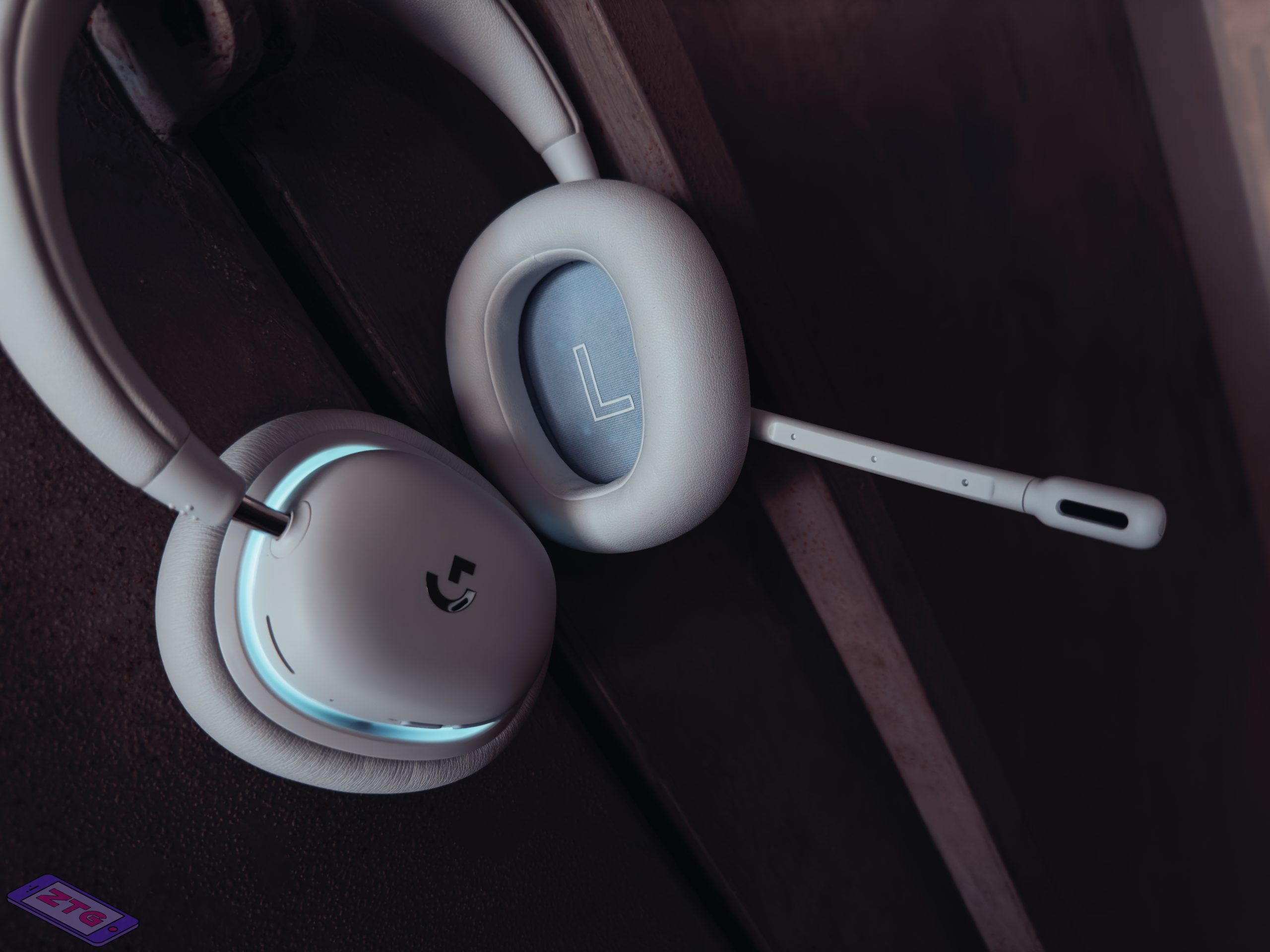 This is a mic test of the Logitech G735 in its default settings in the first half, with the second half using the Blue Vo!ce voice enhancement Broadcaster 1 preset
The Logitech G735's mic is detachable and is connected via the microphone jack towards the front of the case. It picks up in a unidirectional cardioid pattern and it's a fixed size, so it pretty much will just pick up your voice and very little of whatever's in the background. I'm all for a detachable mic since you can replace it with a new one easy should it go faulty.
For the most part the mic is clear and concise, with an uncommon level of clarity that's only beaten by the likes of the new Steelseries Arctis Nova Pro Wireless.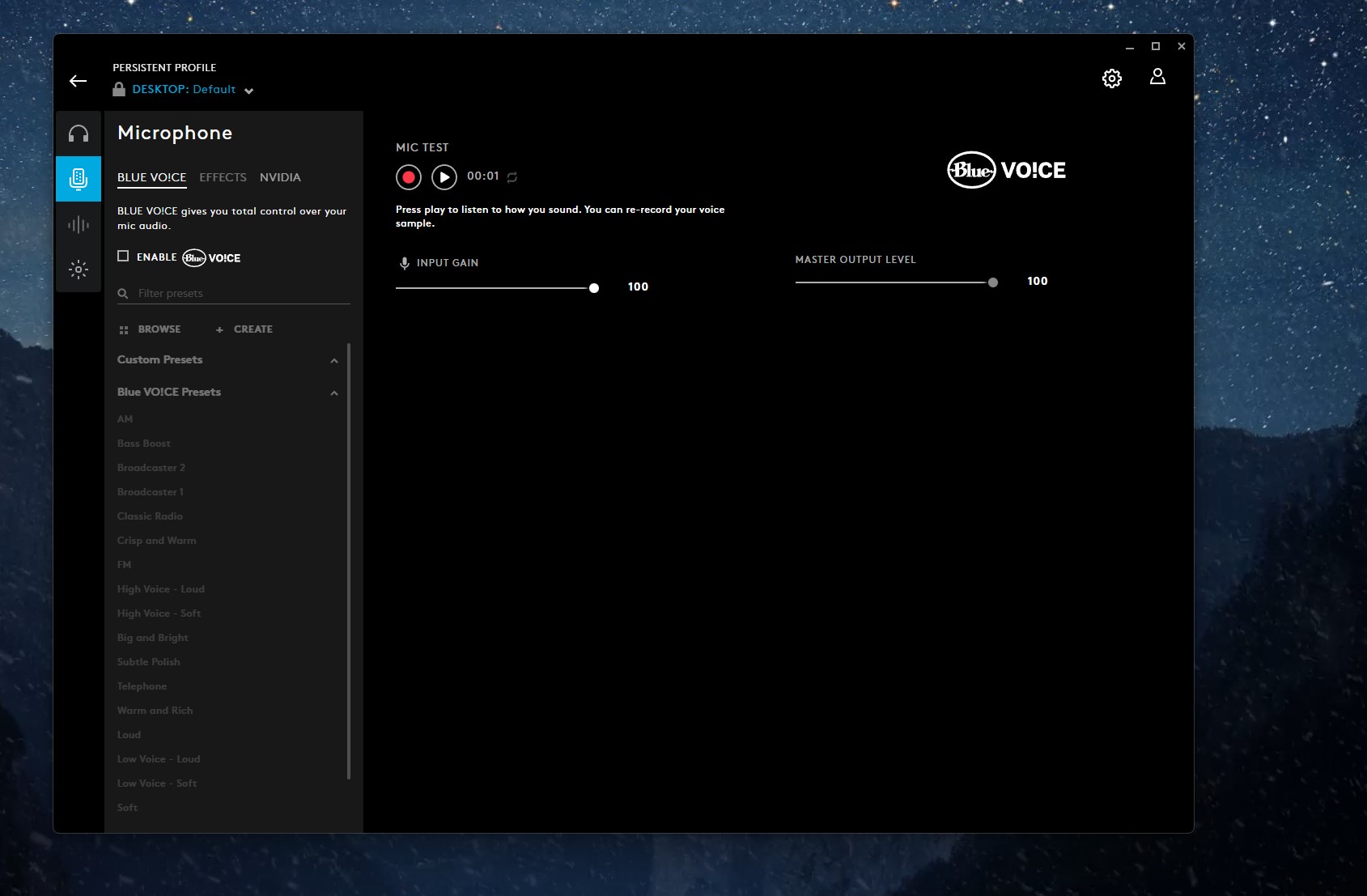 You can also enhance your voice using the BLUE VO!CE suite that's part of Logitech G Hub that you can only see when the headset's connected.
Battery Life
Battery life was pretty long, lasting over 24 hours on a single charge, with the lightning enabled. If you're not a fan of the lights (which we'll find strange), turning it off easily gets you over 40 hours, and all this is on LIGHTSPEED connection.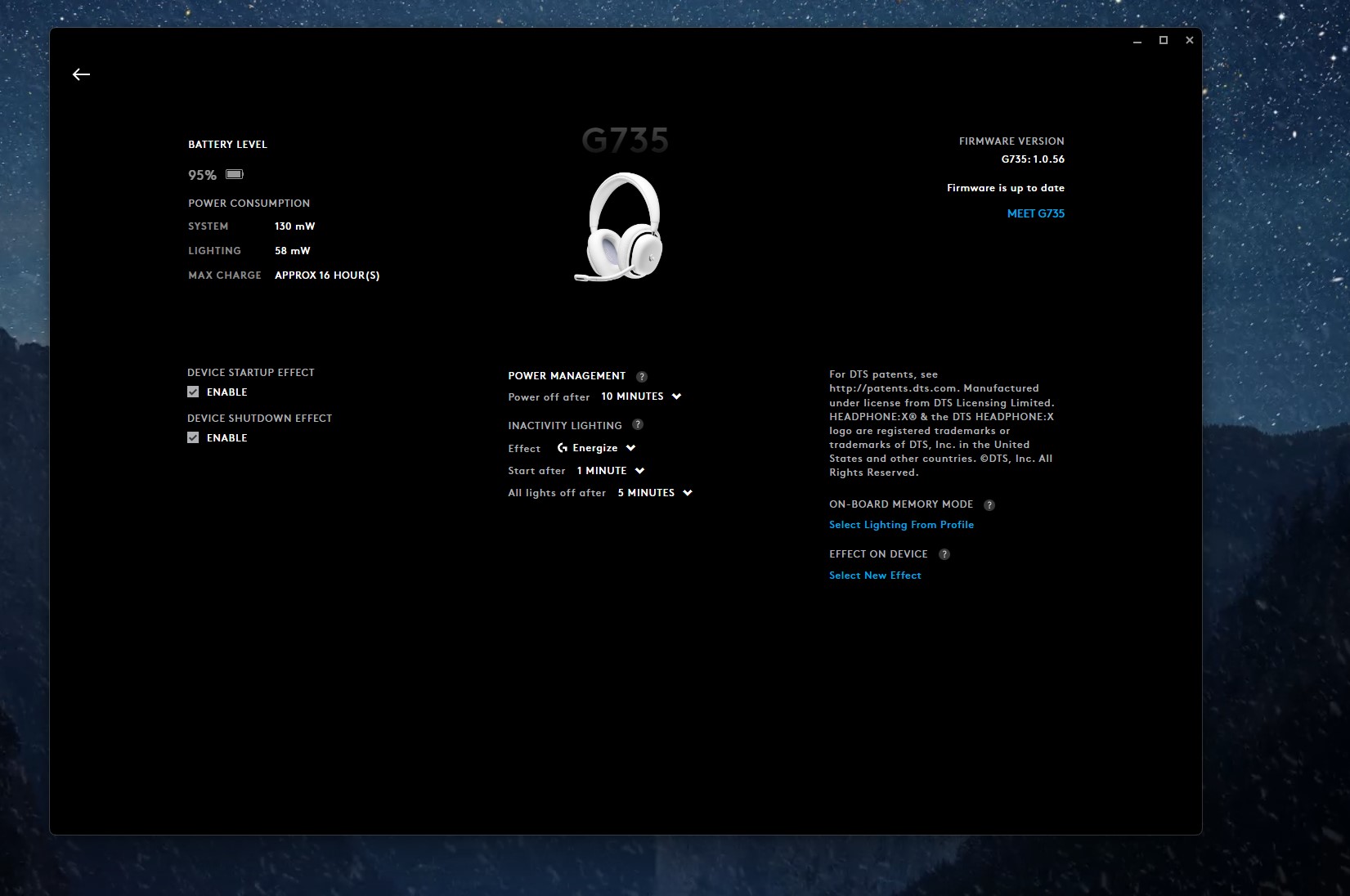 By default, the power saving feature is on, so the heaset will shut off on its own after 15 minutes. You can toggle this off in Logitech G Hub.
It charges via USB-C, and yes you can charge during use.
Final Thoughts
For the long haul, I'd consider the Logitech G735 to be a sturdy investment at RM 949. It lasts pretty long between charges and the RGB lighting is modest but cool. Though it isn't as sturdy as the Logitech G Pro X Wireless nor the Steelseries Arctis Nova Pro Wireless, it's still RM 1000 and that's usually the figure prosumer gamers would look towards.
On the audio front, the tuning leads towards gaming audio rather than music, and if you preferred it to be balanced and less bassy, these will not do for you. I'm also frankly disappointed at Logitech's choice of using an older Bluetooth protocol but it still works. Besides, you'd want to take advantage of the incredibly fast LIGHTSPEED wireless connection and that's the main point.
Fast, Flashy and Off-White. The final piece of the Aurora Collection.