Well, besides the standard yearly affair of having a Christmas sale, PC Image ups the ante by having an even bigger one this year, in tandem with their recent milestone achievement of 20 years in the business as well as being the "Largest Computer Retail Outlet In Malaysia" stamped in the Official Malaysia Book of Records.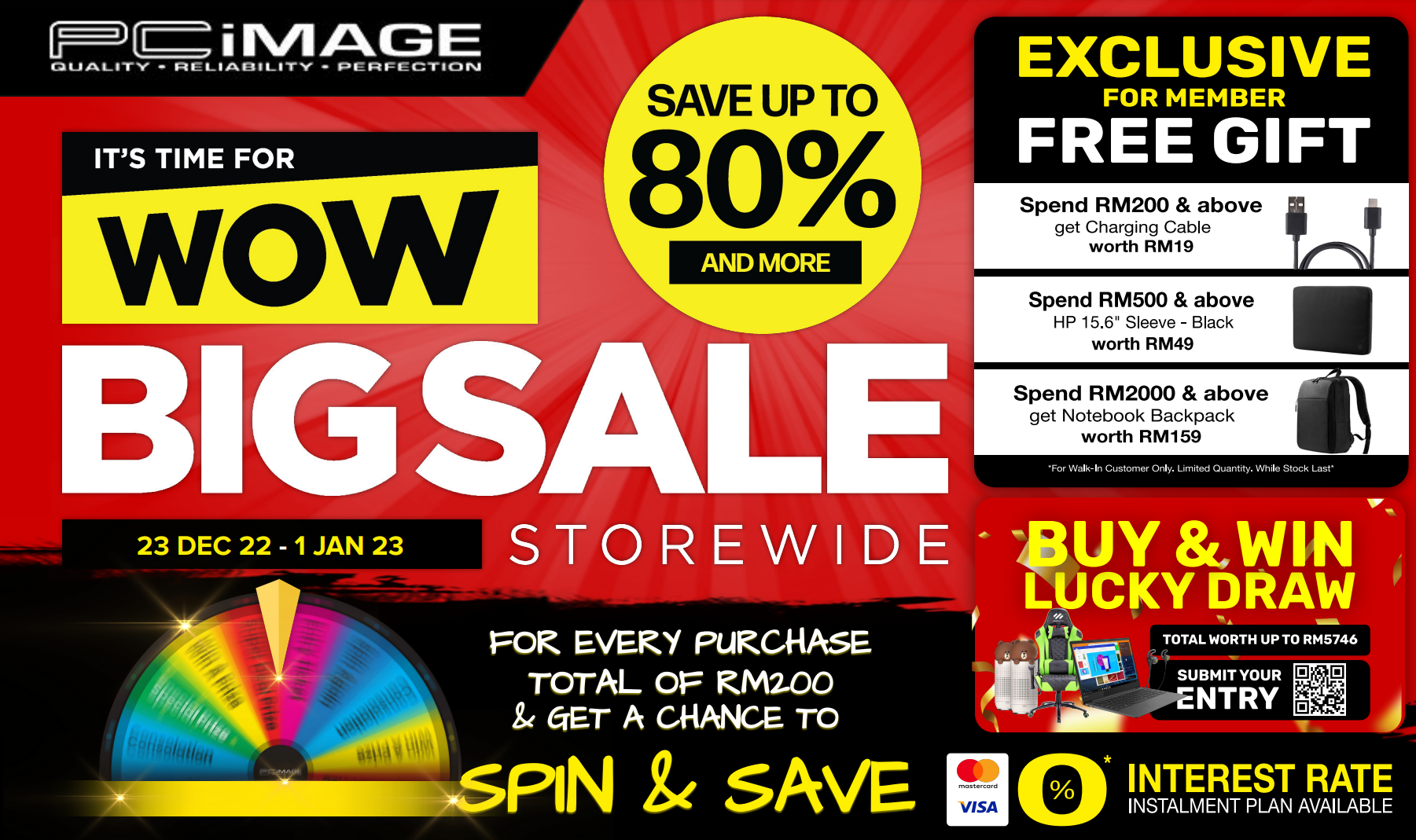 So I'm gonna quit stallin' and show you what's good if you're out searchin' for some new gear!
But before that, make sure you join the Elite Club so you can score points with your upcoming purchase. It's RM 1 for 1 Point so you can use those points to redeem stuff in the future!
Earn 1 Elite Point (EP) for every RM 1 spent store wide (Valid for 3 years from date of purchase)
Earn up to 3x Elite Points for special promotion period
Purchase products at member price at our showroom
Enjoy in-house limited time offers
Get email notifications about latest promotions
Top spending members are entitled to join limited time lucky draws
Convert Elite Points to cash voucher
Redeem products by using Elite Points.
Combine Elite Points and cash value to purchase products at cheaper prices
Membership is RM 10

Spin & Save, Buy & Win!
With every purchase, there are 2 additional activities to do!
Spin & Save
Purchases RM 200 and above (per receipt) gets you a chance to Spin and Save! Just spin the wheel and get an on-the-spit discount for the item that the arrow stops at!
Buy & Win
Any purchases in a single receipt of any amount gains you an entry into the Buy & Win Lucky Draw!
Just scan the QR code and submit your entry. Do take note that one receipt grants you only ONE entry! The winner will be announced on the PC IMAGE Facebook Page LIVE at 7PM on JANUARY 1st 2023.
---
Laptops
Here's a quick list of laptops based on budget and best use cases!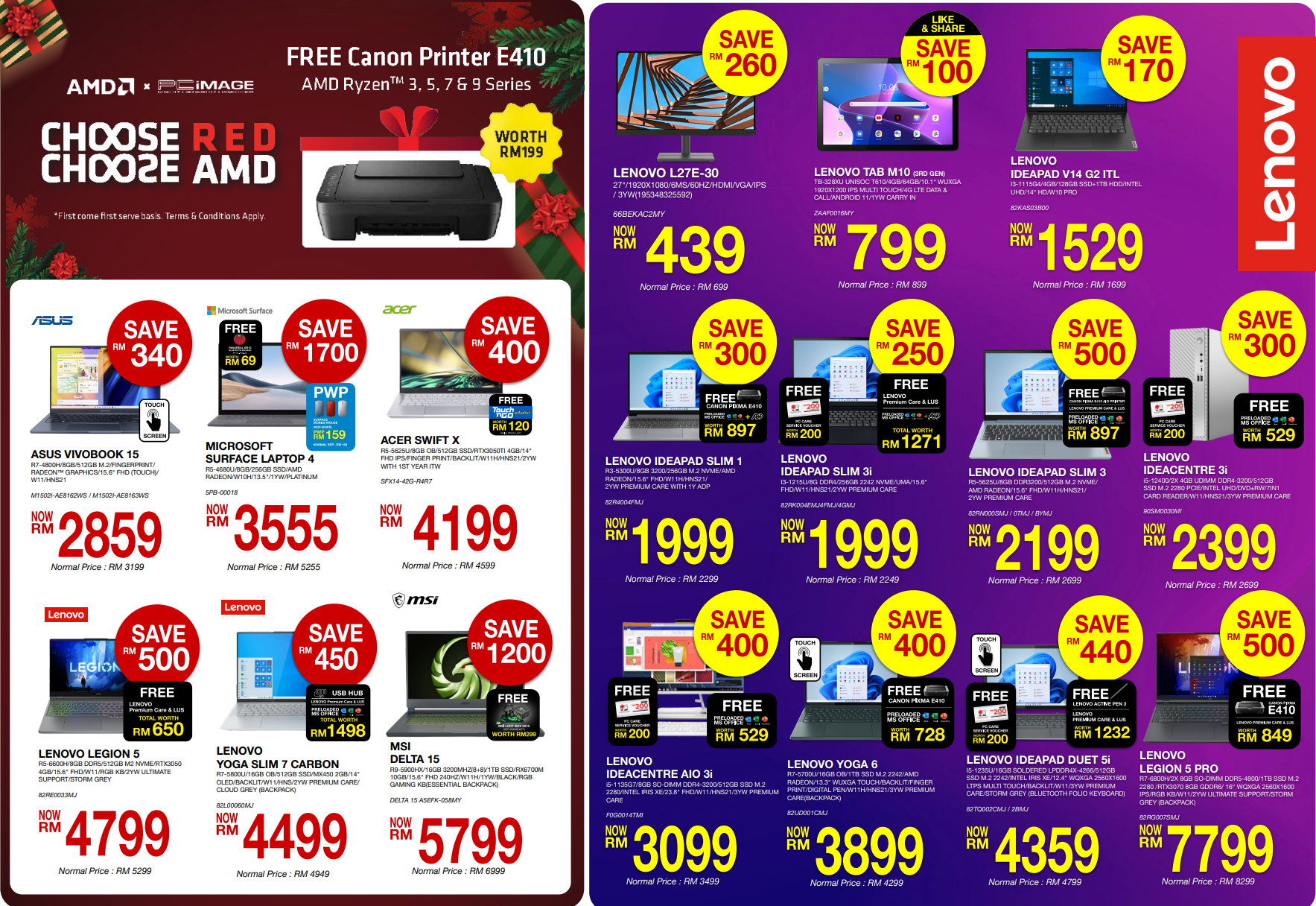 There's never a good time to go with team #AMD, because there's not only up to RM 1700 in discounds, but also a free Canon Printer E410 in it for you when you choose any laptop that comes with the AMD Ryzen 3,5,7 or 9 chipset!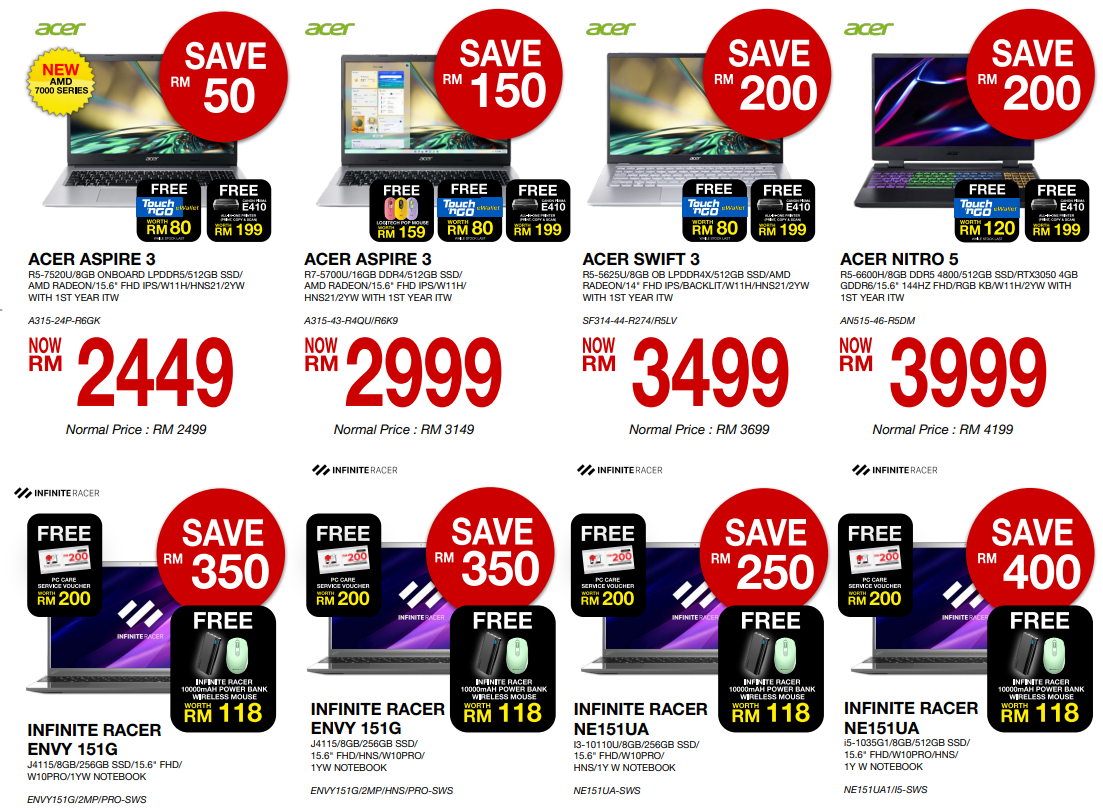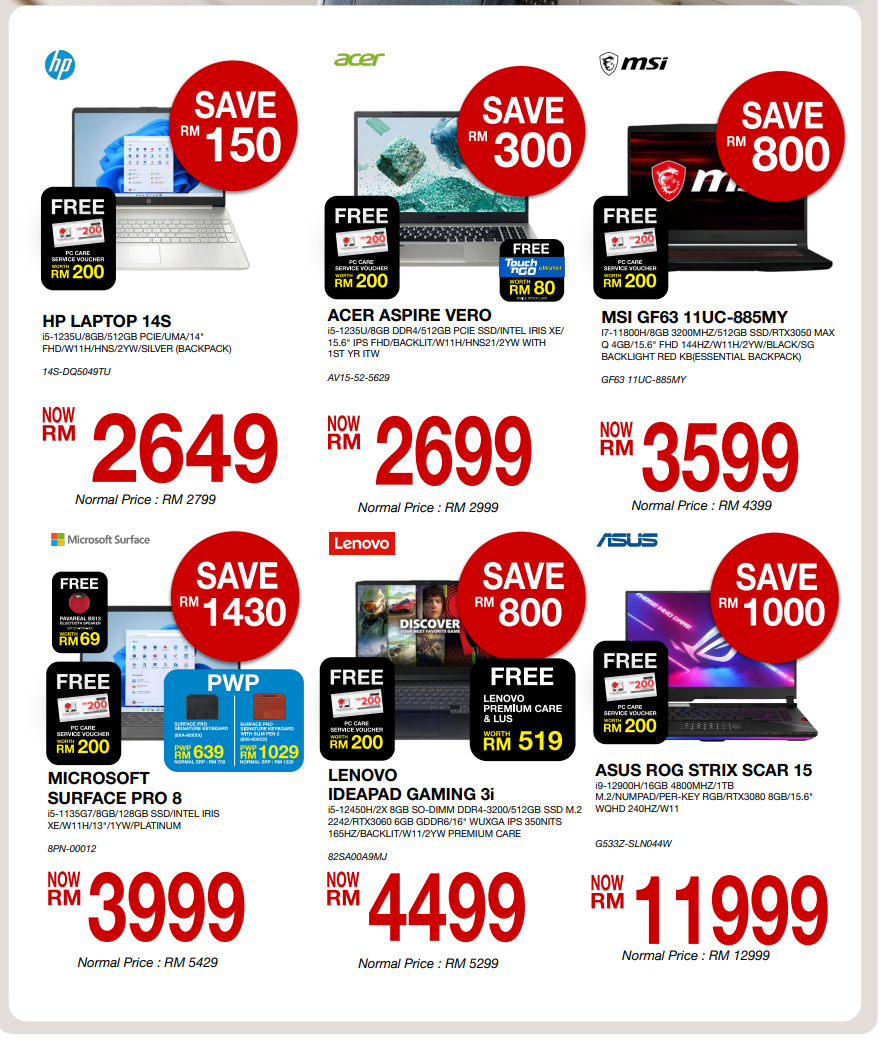 Best of Budget #TeamAMD (RM 3K and Under)
If you're looking for a laptop just to do simple Microsoft Office, Google and Assignment Work, here's what we recommend!
LENOVO IDEAPAD SLIM 3 (15.6″) RM 2199
This is a good deal for RM 2199. For RM 200 over the IDEAPAD Slim 1, you get a way better processor (Ryzen 5 5625U vs Ryzen 3 5300 U), but also twice the storage. 2 extra cores, better single and multi-thread performance and even power efficiency? Sign me up.
FREE GIFT : Canon PIXMA E410 Printer, LENOVO Premium Care & LUS, Preloaded MS Office
MSI Modern 14 (14″) RM 2299
RM 2299 gets you this robust 14″ laptop that slips into any bag easily. With up to 8 cores and 16 threads, the Modern 14 can handle graphics work and even some FHD video editing after you add some additional 8GB DDR4 RAM since you have 2 slots. You don't get many 14″ laptops with RAM slots so this is a treat for those looking for long term use and upgradeability.
FREE GIFT : Canon PIXMA E410 Printer, Sleeve Bag
ACER ASPIRE 3 (15.6″) RM 2449
R5-7520U is a more recent processor, and you get 512GB of storage and 8GB of onboard LPDDR5 RAM which is significantly faster than DDR4. You can get work done just a little faster with some savings in battery life. A good choice
FREE GIFT : Canon PIXMA E410 Printer, RM 80 TnG eWallet Code
HP VICTUS Gaming Laptop (15.6″) RM 3229
If you're looking to work and play some games in between, then the HP VICTUS Gaming Laptop is top choice to do just that. You get a high performance R5-5600H, 512GB of storage and a GTX 1650 GPU that can handle titles like Dota, CS GO and Valorant easily, so you can take advantage of the 144Hz panel. This is the better deal over the MSI Bravo 15 which is RM 180 cheaper with more or less the same specs but you only get a 60Hz panel.
FREE GIFT : HP Deskjet 2336 AIO Printer, Backpack, RM 200 PC Care Service Voucher
---
Best Mainstream #TeamAMD (Above RM 3K)
ACER SWIFT X (14″) RM 4199
If you're looking for a 14″ with a bit more punch, the Acer Swift X squeezes out a RTX 3050 TI for those looking to edit their videos smoothly. You'll also be able to do great photo editing, since it as a 100% sRGB color coverage.
FREE GIFT : Canon PIXMA E410 Printer, RM 120 TnG eWallet Code
Lenovo Yoga 6 (13.3″) RM 3899
For the illustrator on a budget, it's the LENOVO YOGA 6. It's speedy with a Ryzen R7-5700 U and you can store (and load) plenty of your files on the 1TB SSD. It's extremely portable, and the touchscreen can be used as a huge canvas since it includes a stylus for you to draw and sign documents with.
FREE GIFT : Canon PIXMA E410 Printer, Preloaded MS Office
HP VICTUS GAMING LAPTOP (16″) RM 3799
You want a big screen, you want to game on 144Hz, this Victus has it all. 16″ with a RTX 3050 and DDR5 memory puts you exactly in that spot, and at a comfortable price-range.
FREE GIFT : HP Deskjet 2336 AIO Printer, Backpack, RM 200 PC Care Service Voucher
MSI DELTA 15 (15.6″) RM 5799
Looking for something to game, edit videos and even rendering 3D? That's the Delta 15 you're talking about. You get a beastly Ryzen 9-5900HX with 16GB of DDR4 RAM and a 1TB SSD and that's already a deal. To seal it is a RX6700M graphics card that has 10GB of memory and that's pretty big. Concerned with your frames? well the panel is 240Hz. I'm VERY sure you're NOT going to have a problem here.
FREE GIFT : Canon PIXMA E410 Printer, MSI Lootbox
---
Best of Budget #TeamINTEL (RM 3K and Under)
ASUS EXPERTBOOK (13.3″) RM 3199
Expertbooks are a real jack of all trades. It has plenty of ports to connect literally everything and even a built-in NUMPAD onto the touchpad, making it one of the only 13.3″ laptops that have that. Perfect for business owners and data analysts with a small bag.
FREE GIFT : RM 200 PC Care Service Voucher
MICROSOFT SURFACE GO 3 (10.5″) RM 2377
Looking to work on a Windows platform but tablet sized? then the Surface GO 3 is a great budget choice. This 2-in-1 comes with a touchscreen and support for the Microsoft Surface Slim Pen 2 which is pretty good for drawing up ideas on your screen and even signing documents.
FREE GIFT : RM 200 PC Care Service Voucher, Pavareal BS13 Bluetooth Speaker
INFINITE RACER NE151UA (15.6″) RM 2099
RM 2000 is a typical point for anyone looking to get a decent enough laptop to tackle assignments and emails, but sometimes we just need something to do a little more. The Infinite Racer NE151UA offers a still-relevant i5-1035G1 with 8GB of RAM and a 512GB SSD, which you don't get to see every day at this price point.
A great choice before heading to college!
FREE GIFT : INFINITE RACER 10,000mAH power bank, INFINITE RACER WIRELESS MOUSE, RM 200 PC Care Service Voucher
Best Mainstream #TeamINTEL (Above RM 3K)
MSI PRESTIGE 14 (14″) RM 3999
Something that exudes style, portability and function would be the MSI Prestige 14. It ha strong specs for its price, capable to tackling any kind of task you give it, with even a little room to play some games at acceptable framerates.
FREE GIFT : Canon PIXMA E410 Printer, RM 120 TnG eWallet Code
MICROSOFT SURFACE PRO 8 (13″) RM 5949
When you want the thinnest, most optimized and powerful 13″ 2-in-1 with everything ready to take your day on, then the Surface Pro 8 is for you, complete with Thunderbolt 4 ports, a 120Hz touchscreen and Intel Iris XE graphics, this bad boy can even edit 4K video files without breaking a sweat.
FREE GIFT : Pavareal BS13 Bluetooth Speaker, RM 200 PC Care Service Voucher
MSI STEALTH 15M (15.6″) RM 5699
This is current gen. Core i7 1260P, paired with 16GB of DDR4 memory and a RTX 3060 MAX Q. It's sleek, it's all black and it's thin. Oh, the screen's 240Hz too, you're going to be so fast in your games that no one would realized you've killed them. That's Stealth.
FREE GIFT : RM 200 PC Care Service Voucher, MSI Lootbox
---
There's Really, Really, So Much More
From printers to speakers, cables to graphics cards, there's never more a great time to pick up your tech during this holiday season. So here's the order of things you should do to maximise the benefits this sale has to offer:
Sign up for PC Image Elite Club (costs RM 10)
Make your purchase
Redeem your free gifts (while stocks last)
Earn your points from your purchase
Spin and Save to save on your next item
Submit your Buy and Win Entry
Full WOW Big Sale List – PC Image
FAQ
How long is the sale?
23rd December 2022 until 1st January 2023
Walk-in or online only?
Both. All promotion items will be available for sale at all PC Image stores nationwide.
Does every AMD laptop we choose get a free printer? Are only sale AMD laptops eligible?
It's first come and first served, and even laptops outside of the sale are eligible for the printer. Just make sure the model you chose has either a Ryzen 3, 5, 7, and 9 processor.
Is there 0% instalment for purchases?
Yes, selected banks only.