Logitech G705 Aurora Collection
Logitech G705 Aurora Collection
Small hand gang, this one's for you. The Logitech G705 is a petite gaming mouse catered for delicate hands. If it's the right size for you, it can be a LIGHTSPEED killing machine under the guise of stylish clouds and fluffy RGB lighting.
Approve
Good Glide thanks to huge feet
Solid Casing
Wide Connectivity Support
Stylish RGB Representation
Wired and Wireless latency are the same
Approv'nt
Price isn't competitive
Only for small hands, creating a niche
Imagine Holding A Marshmallow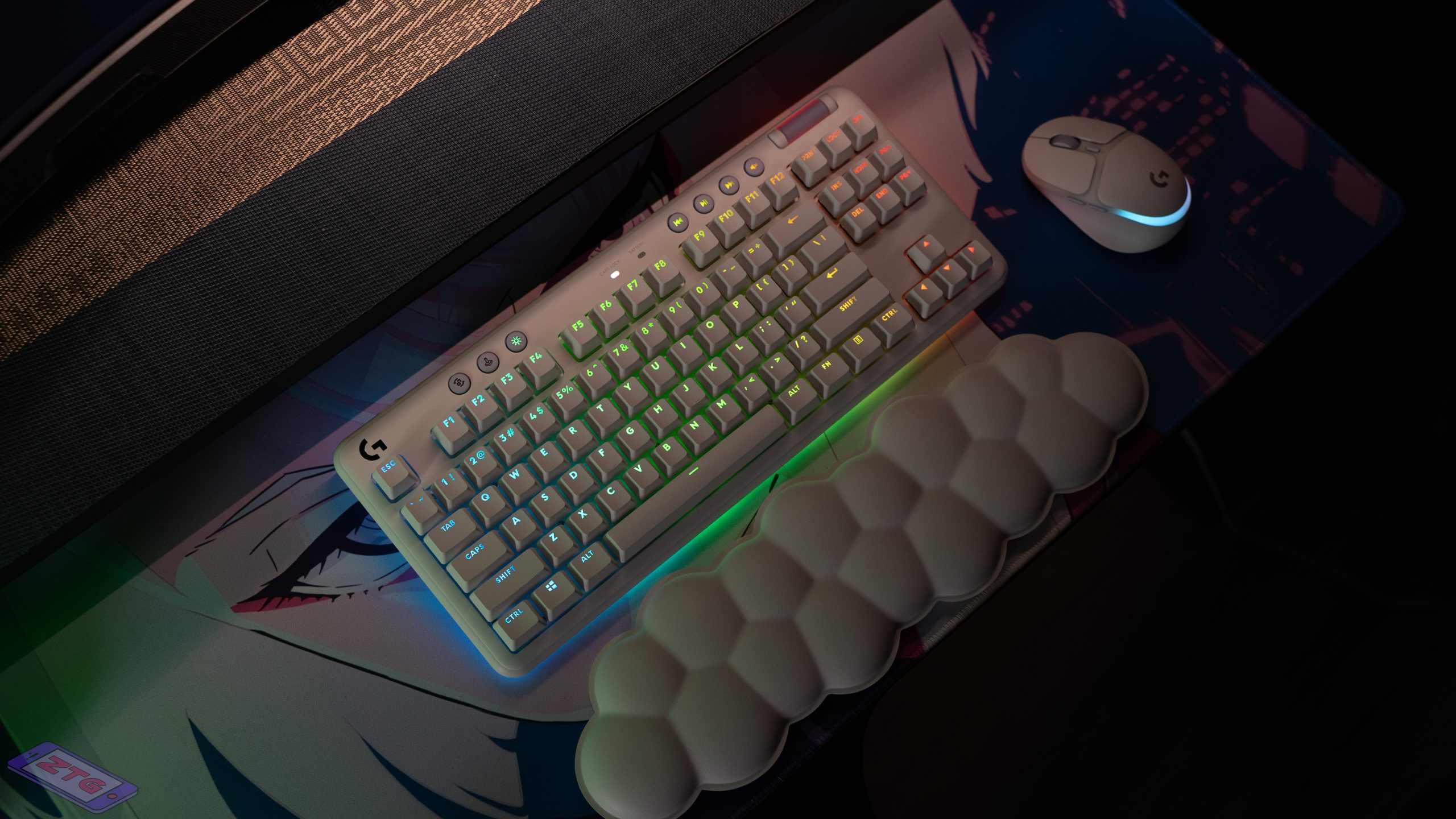 For some reason the G705 looks like a little marshmallow, with an off-white colorway with a single transclucent grey stripe that house the RGB lightstrips. From an aesthetic point of view it's cute, it's tiny and contoured enough for even big hands to claw grip, but that's a stretch. If your hands are small enough to envelop the entire mouse then it's comfortable, but for the rest of us, the claw-grip is the only way and I believe some would swear by it.
It really doesn't look too feminine, I can see any gamer using this easily. In terms of customization, all 6 buttons (includes the scroll wheel and the button below it) can be programmed to your liking via the Logitech G Hub that you must install.
Apart from being able to customize lighting, there are pastel-colored presets that well complement the G705's cloud white exterior.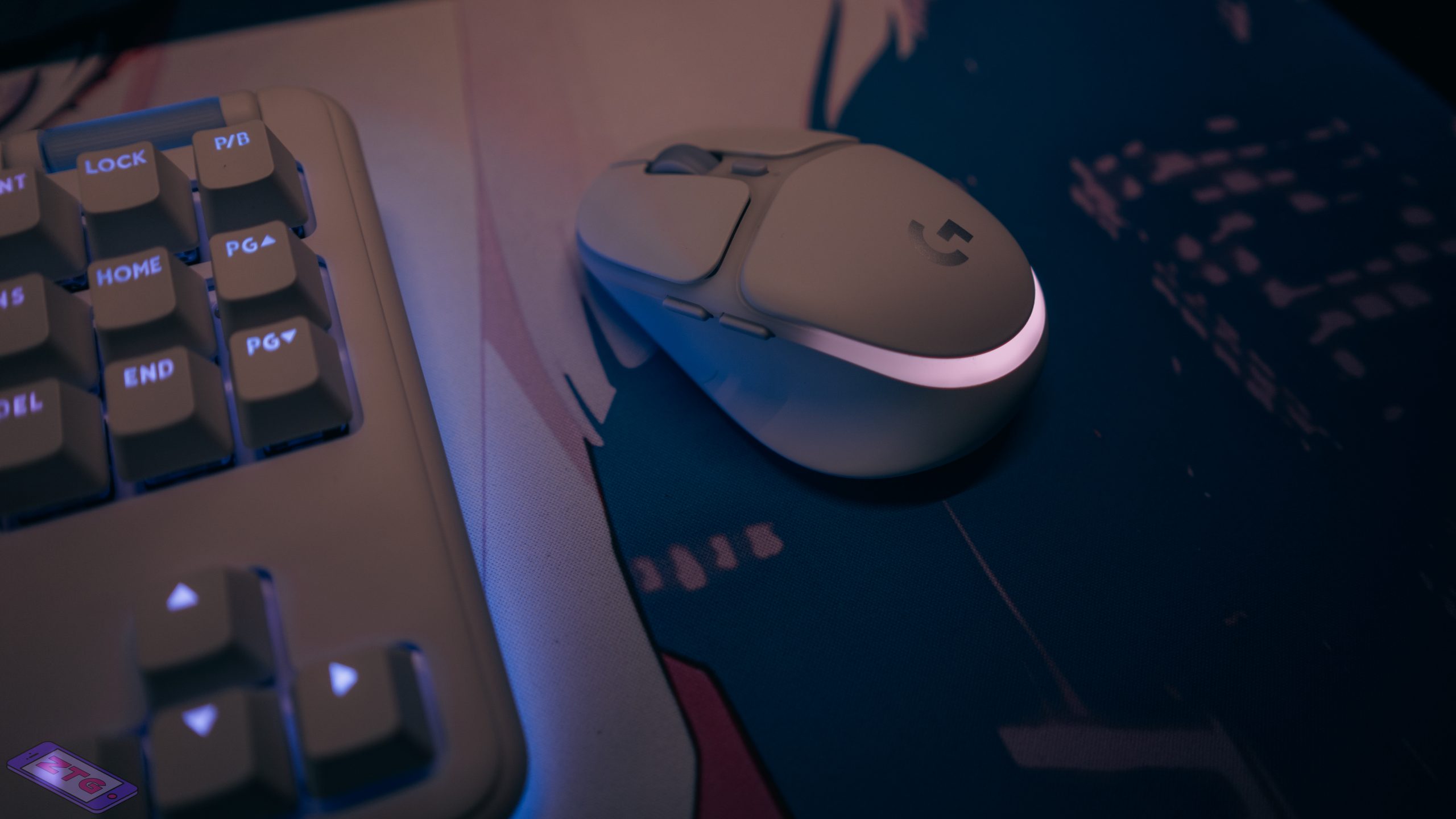 I like that the bottom of the mouse rests two very large feet, which is pretty much like 60% of its total mass and the outcome of that is awesome. I really enjoyed the seamless glide it provides but also feel a little dread in not knowing where I can find replacement feet for it when it's time for a change after hundreds of hours of gaming and scratching them teflon feet into shreds.
From here you'll have view of the sensor, the power switch on the right and the Connection Button on the left.
Connectivity And Control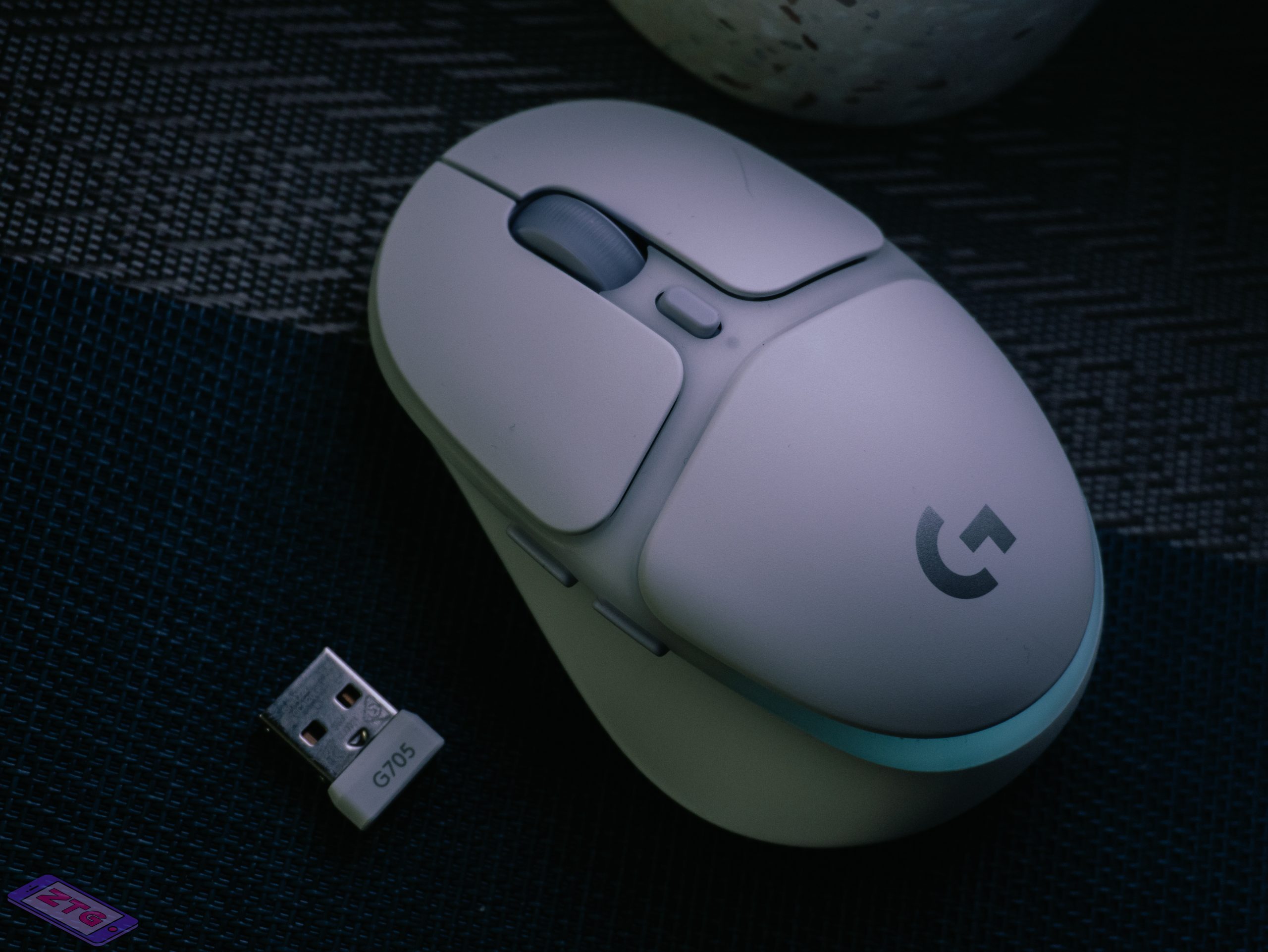 Connectivity is very diverse for the G705, covering wired and wireless connectivity in every aspect. Traditional gamers who prefer wired configurations draw benefit from the included USB-A to USB-C cable which also offers simultaneous charging while playing.
For the wireless gang you can take advantage of Logitech's LIGHTSPEED wireless by using the included 2.4Ghz dongle that's stowed neatly under the top bottom shell of the mouse. Alternatively if you don't have any ports you can still connect the G705 to your system via Bluetooth, which is slower than LIGHTSPEED in terms of responsiveness but not a matter if you're not gaming. LIGHTSPEED was made for low-latency wireless competitive gaming so just keep that in mind.
Tip: You don't need Logitech G Hub to connect using LIGHTSPEED or Bluetooth but it is recommended as you can benefit from firmware updates, macro settings and on-board memory configuration.
You can connect the G705 via dongle to your gaming PC, and another system via Bluetooth. You simply click the Connect button that's on the top left to settle connectivity between 2 devices. Blue color indicates Bluetooth, whereas Cyan is LIGHTSPEED mode.
In short, the Connection button is all you need here, and pairing mode is achieved by simply pressing and holding down the button till you see the lights flash.
The Work and The Game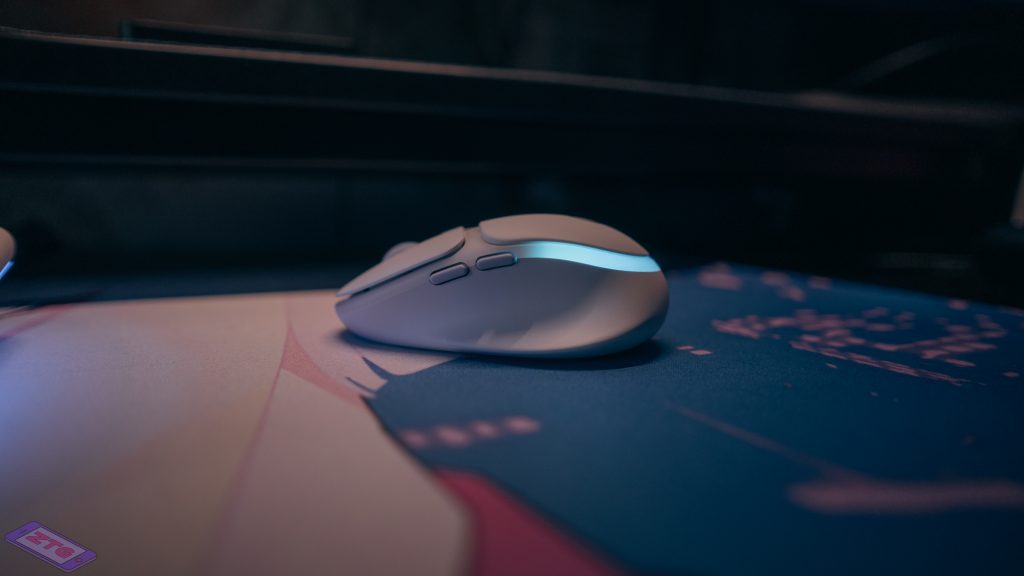 While it serves well as a mouse for work, it serves even better for gaming. The G705 employs Logitech's in-house Lightsync sensor, providing sensitivity between 100 – 8200 DPI and a 1000Hz polling rate which is an industry standard.
Overall, it's a mouse whose performance outcome relies solely on the player's grip and hand size, so I will be representing the average-sized majority, while another reviewer in the team would speak on behalf of the ladies.
Tested Games :
Call of Duty Modern Warfare II (2022), PS5 (FPS)
Warhammer 40K Darktide, PC (FPS)
DOTA 2, PC (MOBA)
Dawn Of War 3 (RTS)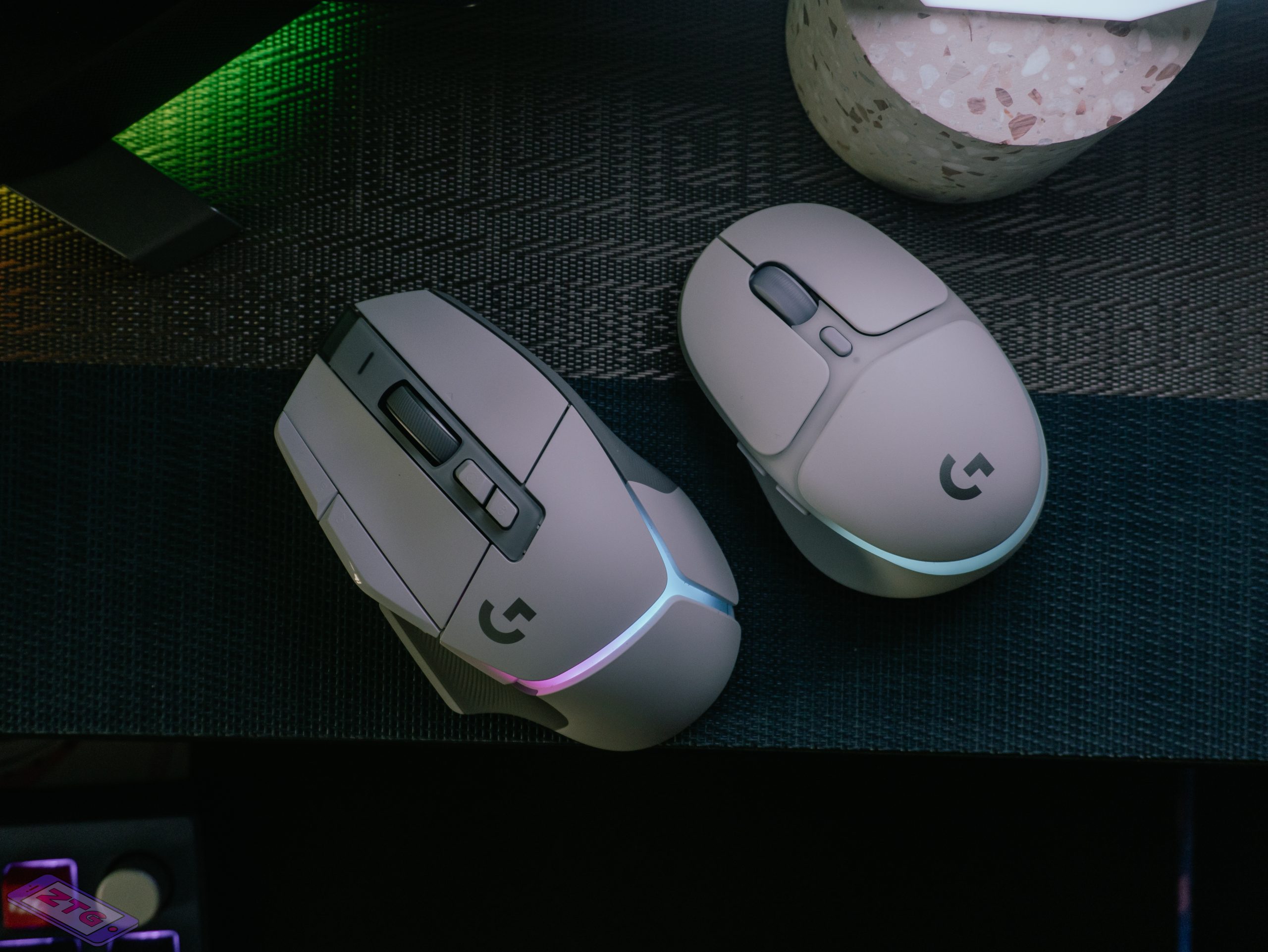 Average Hands
Going for the normal grip, you'll easily cover the entirety of the peripheral. This means that my fingers felt stretched out, making harder to press down the left and right clicks while the side buttons were an easy reach since it's exactly where your thumb would be. Average sized hands would not find this mouse optimal for shooters since there'll be a delay from slower clicking so this will not be the best option for you.
RTS genre however was more than adequate since you don't need to be fast with the clicking. If you however go for the claw grip, it's a lot faster in clicking but the height it creates will result in slower side button pressing since there's a gap in between your upper-palm and the mouse shell.
Little Hands
Here it's simply downright near perfection, being able to reach it all without feeling an more than a little stretch. You will be able to use nearly every form of grip without any drawbacks. Take note however that you might need to exert a little more force for a better glide and sharper turns for your game since tinier hands might not have as strong as force as larger hands due to the fitment.
Latency
This is incredible. Both wired and LIGHTSPEED wireless were the same 2.6ms speed which was hellishly fast, with Bluetooth (no dongle) being about 12ms which is not shabby at all. In fact, it might probably be one of the faster Bluetooth connections we've seen on a wireless mouse.
Wired : 2.6 ms
LIGHTSPEED receiver : ~2.6 ms
Bluetooth : ~12 ms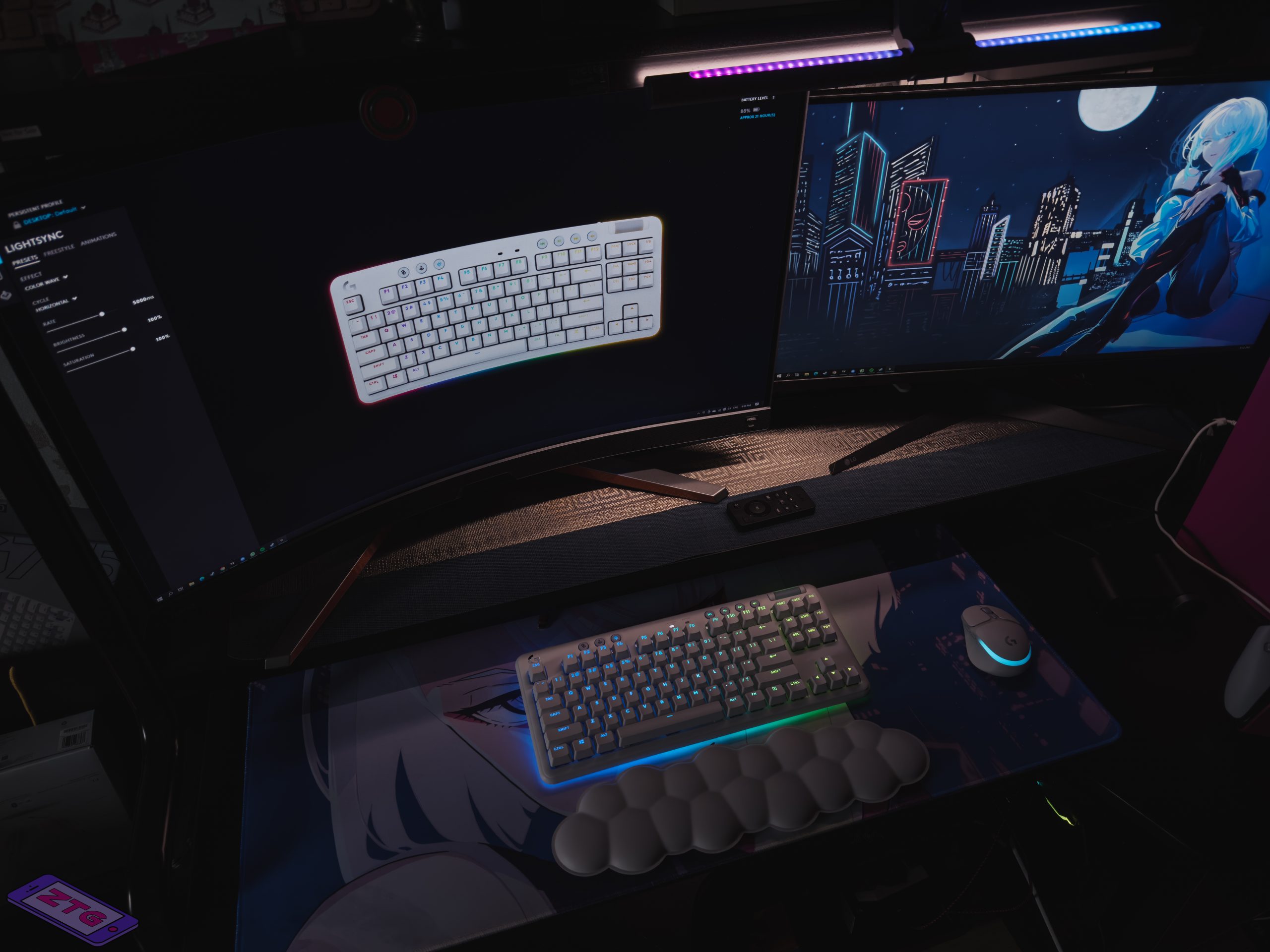 Battery life was on-par with Logitech's 40-hour run-to-die claim. Here's some results based on different scenarios :
Full RGB brightness, Color cycle profile on max speed LIGHTSPEED Connection – 40 Hours
RGB OFF, LIGHTSPEED Connection – 140 Hours
---
The Verdict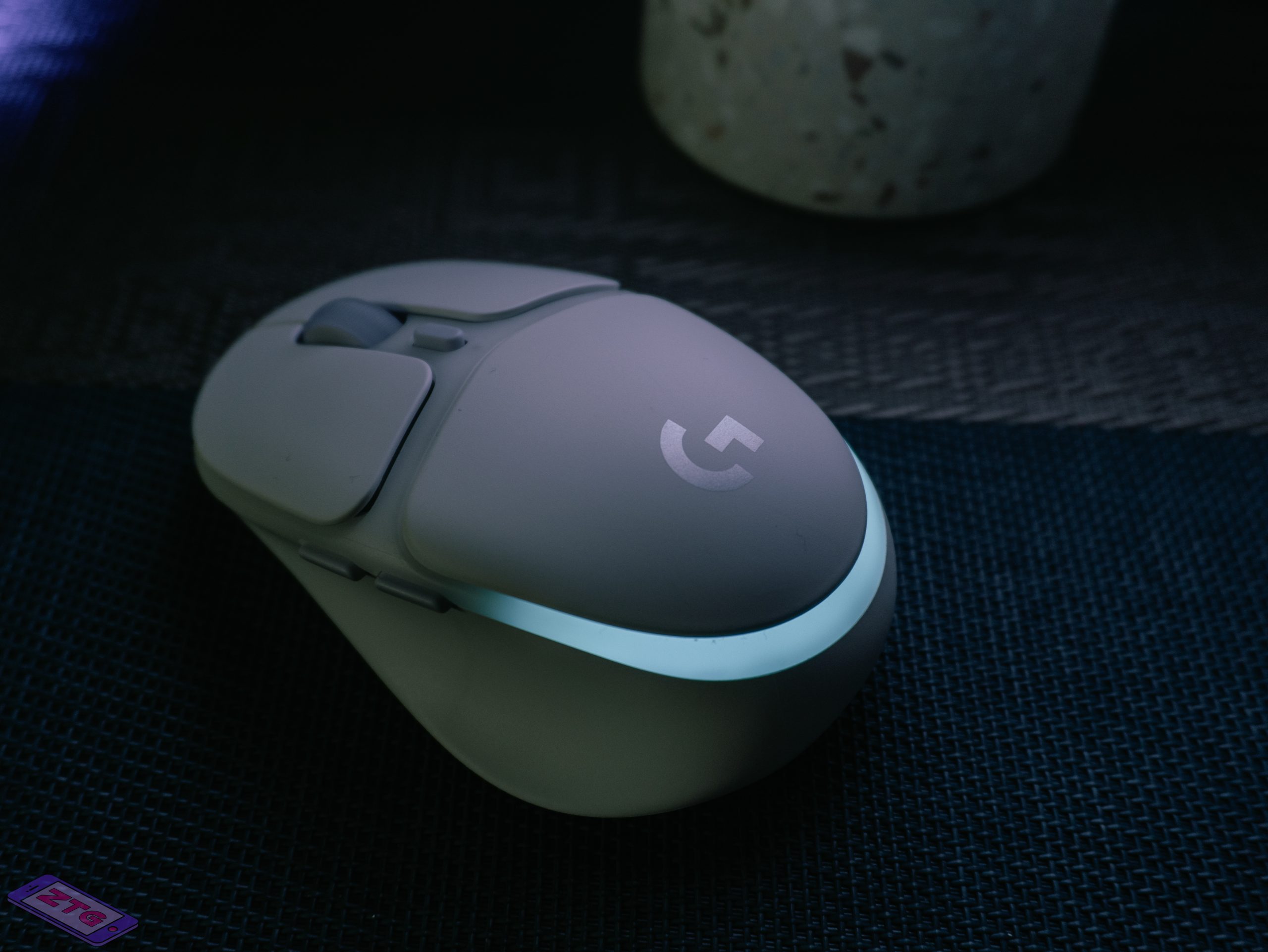 Overall the Logitech G705 is a good mouse that's intended for the crowd with smaller hands, with a captivating design that aims to complete the Aurora Collection circuit. It offers great connectivity as well as latency regardless of how you choose to connect it to your PC, as it should.
However, RM 399 is a tall order for such a small mouse, so we suggest waiting for a sale to soften the blow.