ASUS vivobook 13 slate OLed (T3300)
Starts from RM 3,499
The Vivobook Slate 13 OLED shines as a tablet that's highly portable with plenty of accessories out of the box. The screen is downright gorgeous that works well with qualified speakers for a mobile cinemative experience.
To love
Gorgeous display
Impressive cameras
Above average speakers
To Love'nt
Ambitious Pricing
Not for heavy-media tasks
Lackluster battery life
No Thunderbolt 4
---
| | SPECS |
| --- | --- |
| CPU | Intel Pentium Silver N6000 |
| GPU | Intel UHD Graphics Jasper Lake |
| RAM | 8GB DDR4 3200MHz (soldered) |
| Storage | 256GB PCIe NVMe SSD |
| Display | 13.3-inch OLED 16:9 FHD Touchscreen Display |
| Weight | 1.39 kg |
| Price | RM 3499 (as of November 2021) |
A Right Proper Windows Tablet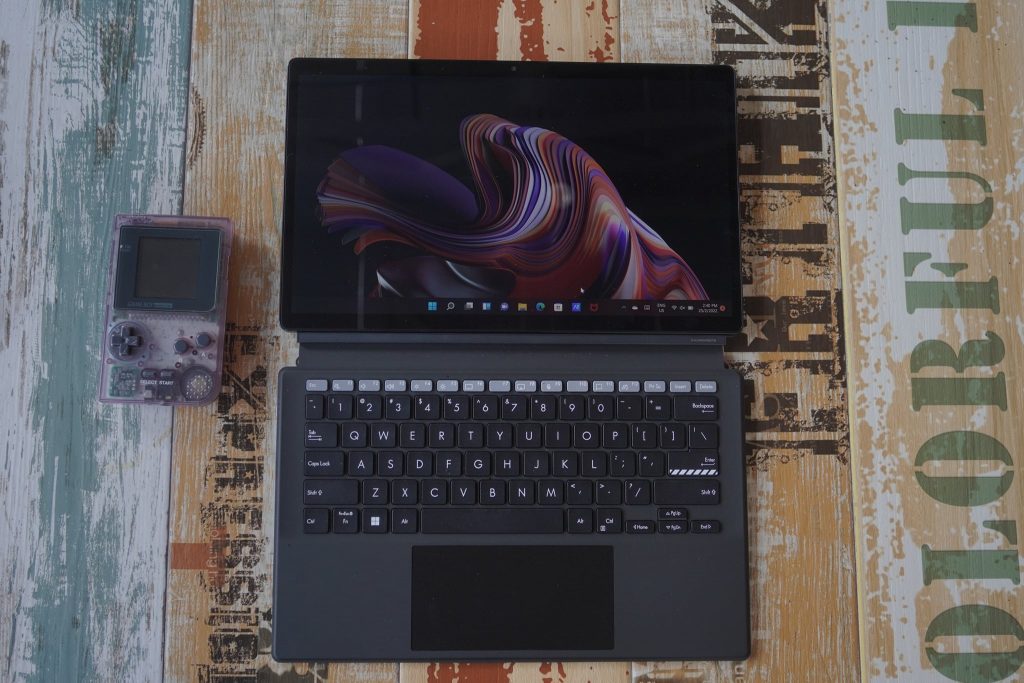 As i've just said. The Vivobook 13 Slate is a right proper Windows Tablet experience that you simply can't call a laptop. It's literally a solid metal frame with a touchscreen that's fit to the front. With everything nearly inaccessible and on-board, it gives off a feeling of familiarity, using the power button on the site to wake it from sleep and flicking the screen to unlock into the OS. It IS a tablet, and a good looking on at that.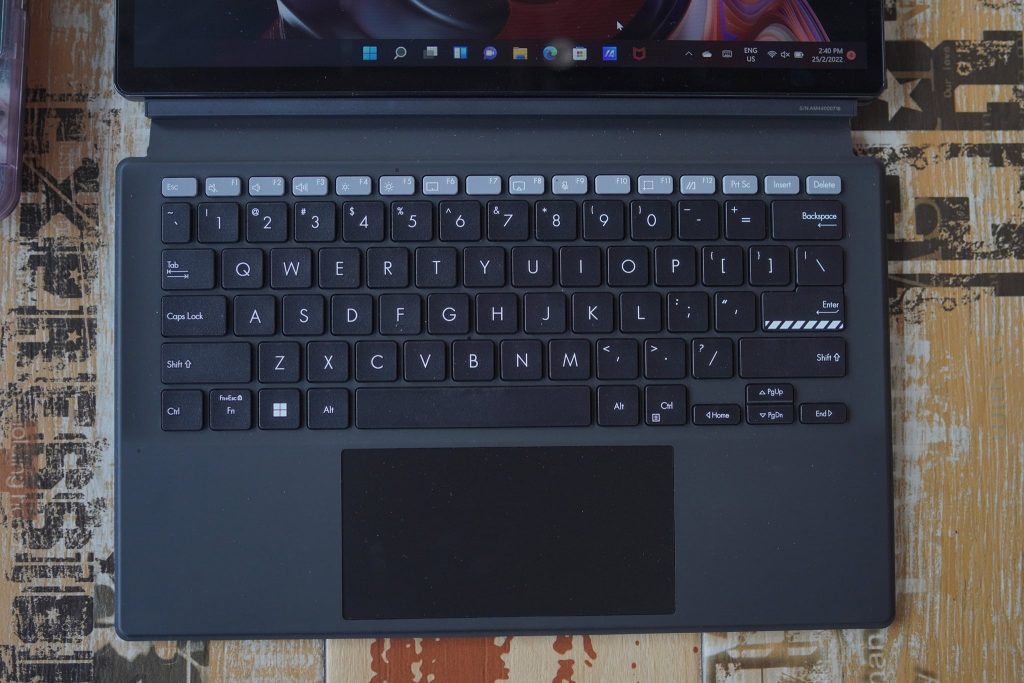 Your critical included accessory will be the keyboard sleeve, which magnetically attaches to the bottom. It was easy to find the pre-defined fit for the keyboard so you won't find yourself fumbling with the slate in the dark when you're trying to attach the keyboard. The keyboard sleeve doubles as a protective cover but not a stand, as the stand is a seperate piece on its own.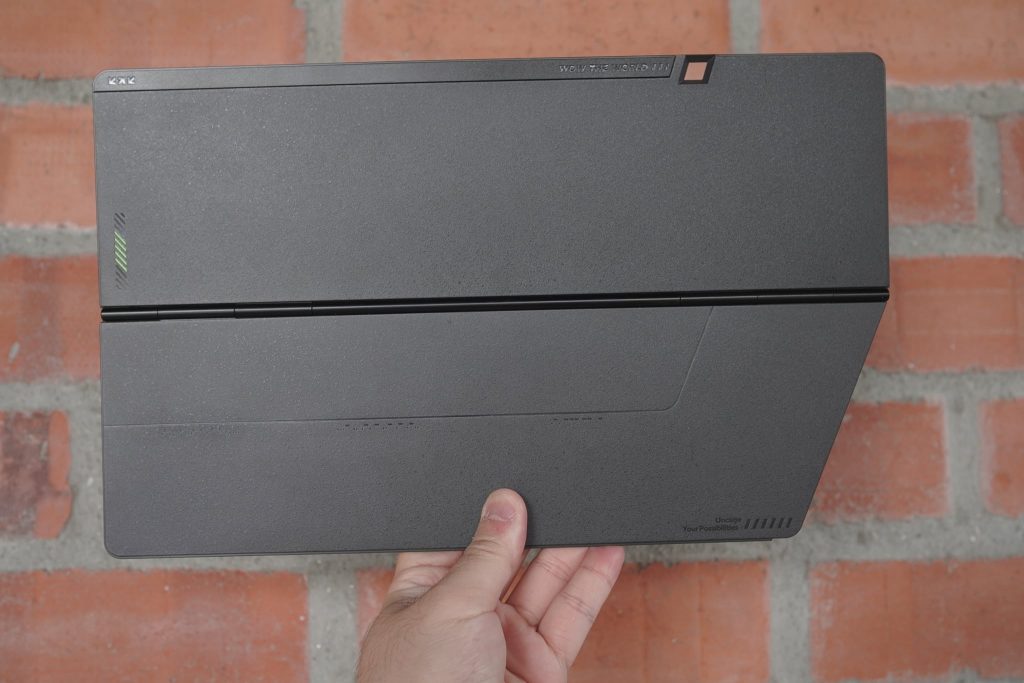 The stand plate sticks firmly to the back and instantly provides between 110 to 117 degrees of angling. It will stay solid on your table and I won't recommend you using it on your lap no matter how "steady" you think you are.
The OLED Treatment Made Ultra Portable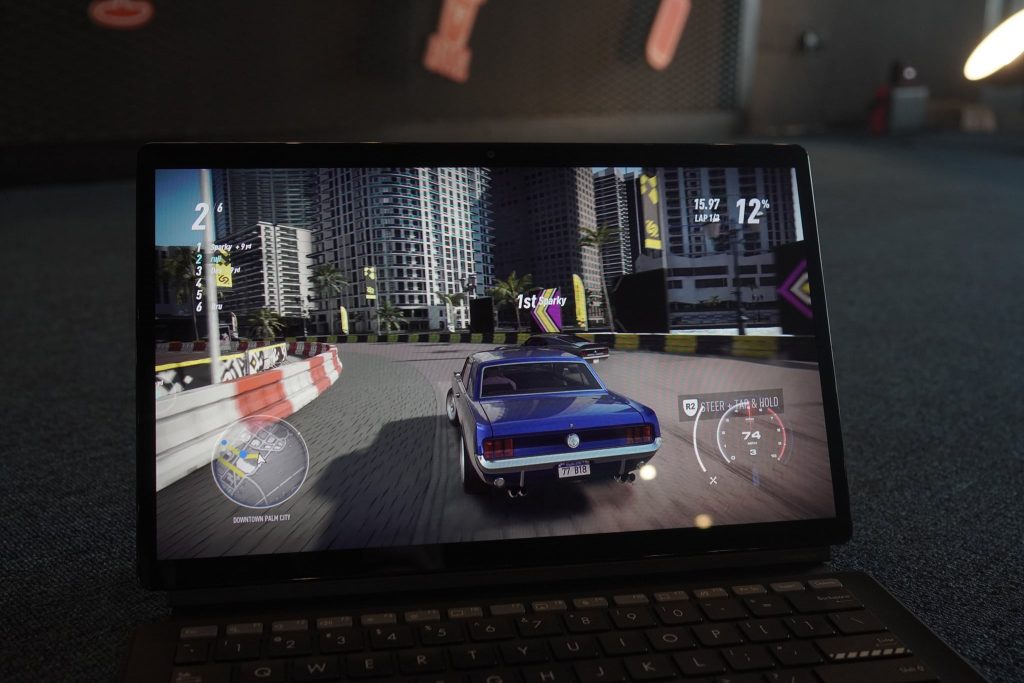 The Slate's 13.3″ OLED panel makes for a beautiful visual treat. It covers the P3 color space with HDR True Black 500 compliance. Imagine having a flagship smartphone's display stretched to a tablet. You'll know you're going to be in for a great movie night by the night train home or in bed.
As for all OLED's, you have to learn how to take care of such a pretty panel as the bane of its existence is burn-in from showing static too long. Combined with its quad speaker setup, the Slate 13 managed to be a great movie machine, combining both visual fluidity and audio clarity together. Remember, it's still a tablet, and you can only stuff so much speaker in it. It did great with the treble and lows, but sort of misses in mids and the bass was definitely lacking. It does however perform better than most laptops in this price range if speakers are concerned.
Be sure to keep your Pixel Refresh and Pixel Shift settings enabled on the MyAsus app, as they're in charge of moving images one pixel at a time to stop the burn-in process from happening. This in turn does affect battery life but not enough to cause any drastic drops in usable hours.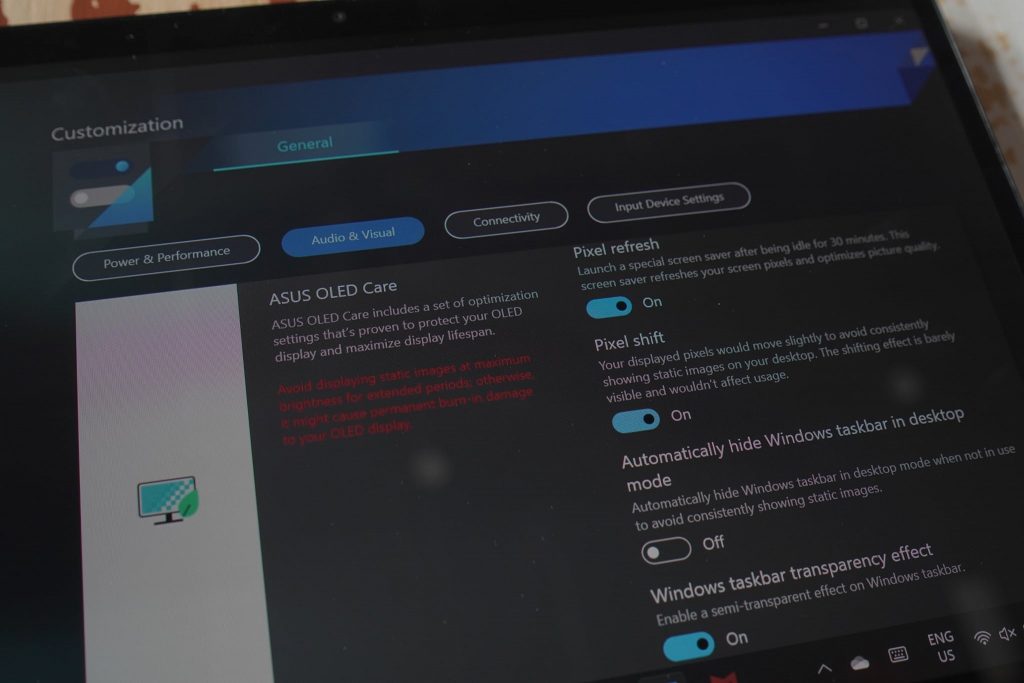 Now to the keyboard sleeve. The square keycaps are nearly flat and have a really short travel of about 1.4mm. They're quite spaced out well so that it doesn't feel too cramped up. The only cramped up bit would be the arrow keys that are half the standard key's size. Guess ASUS has to do all they can to fit everything onto the tablet's size. Just like the Vivobook laptops, the only accented key would be the ENTER button. There's no backlighting on the keyboard but that's a feature I hardly missed since I get to use the touchscreen and pen.
Also, the pen does not stick directly onto the Slate. Instead, you'll be attaching the pen to a seperate holder that magnetically attaches to the Slate itself. It's cumbersome, having to remember all the little different parts that come with this tablet.
The touchpad is wide, smooth, and easy to use. You'll most likely pair your laptop with a mouse so there are no red flags here during my tenure with this device.
Getting (Limited) Work Done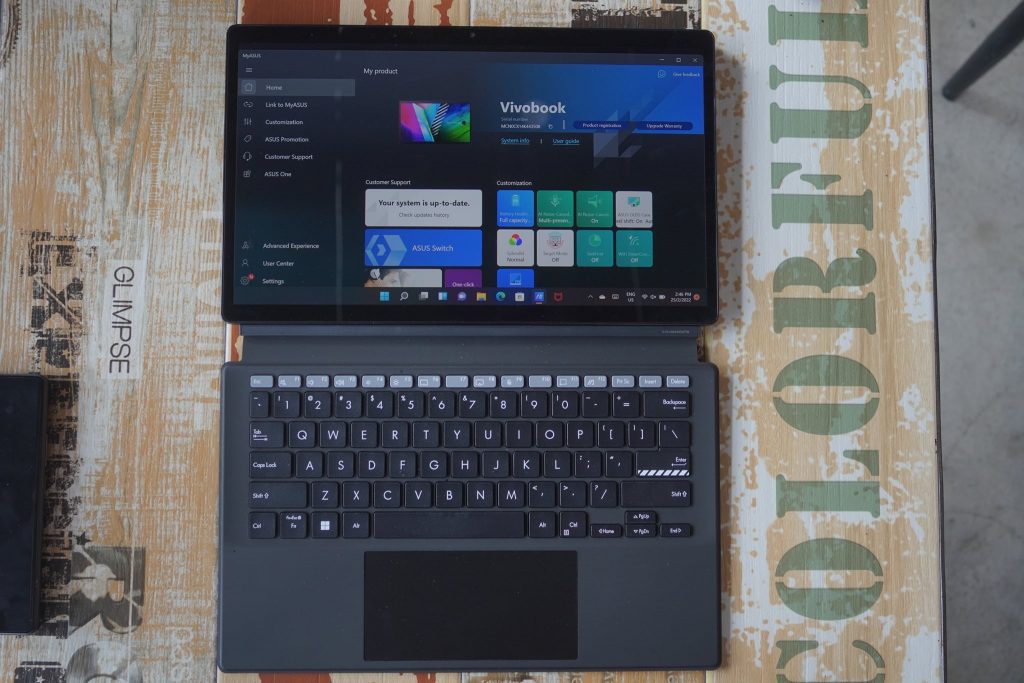 The Vivobook 13 Slate comes with Intel's Jasper Lake architecture, in the form of a Pentium Silver N6000. The processor runs its quad cores up to 1.1 Ghz, but can clock up to 3.3 Ghz during single-core scenarios.
As expected, running my standard Adobe apps and even something as optimized as Filmora 11 was a sluggish experience, and it's not just the processor and RAM. It turns out that after a quick SSD read/write test, the SSD only managed to output nearly 200 MB/s, which is nowhere near heavy-task ready. As for lighter media work like Lightroom and Photoshop, the Slate 13 is able to run them with some effort. In my experience, I just loved how cool (temperature) and quiet it was when I was editing photos. I practically played my Lofi playlist whilst working and it really felt like I was in a good place in my life.
Putting it all together, rendering a 4 minute drone-footage file on Filmora 11 took about nearly 30 minutes and it's for certain that it's not built for tasks this demanding. As the Slate does not possess its own fan-cooling and relies on a passive outflow system, temps managed to reach nearly 50C which is probably not too shabby for this work scenario. What's bad was the constant 100% CPU load which made multitasking not ideal during that phase of media work.
Working on Chrome, Canva and Microsoft Office however was a relative breeze with some hiccups in between when there are too many tabs open. I would say that efficiency would still be at a manageable level at this point should you use this for non-media heavy tasks and binging on some good films.
It Comes With (Decent) Cameras!
Ok, it's rare that I get to even say this for a computer, but the Slate 13 have pretty decent cameras for what it is. You get 2 of them, 13 MP at the rear and 5MP in the front. For once a company pays attention to webcam quality and not the junk 0.3 to 2MP cameras we get to see all the time. Shots from the front camera were sharp, colorful and balanced as you can see here on my selfie. I definitely will enjoy Zoom calls on this.
The rear camera works well too, offering a lot more detail than the front while keeping dynamic range in check. Again, super rare to find good cameras on a computer that's not external. I'm really happy that I don't have to bring my USB webcam around when I need to take a quick video call with the team or my clients!
8- hour battery life
On a single charge, the Slate 13's able to dish out just over 8 hours of use-time, spanning use between Chrome, Netflix, Spotify , Photoshop and Microsoft Office. It didn't feel choppy for Photoshop but it did for Lightroom. I recommend staying plugged in for photo-editing, as the power-efficient chipset needs all the juice it can get if you're planning to edit large photos.
You'll be charging it by occupying one of the USB Type-C ports, and that's great in my books. Goodbye stupid barrel charger.
---
Fair Number of Connectivity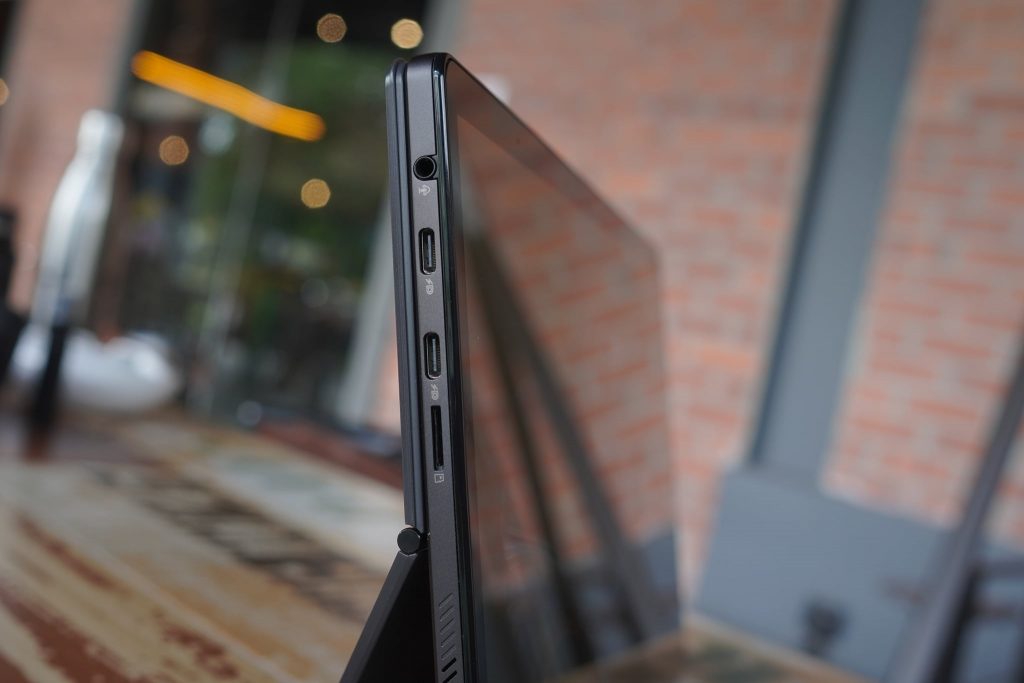 The Slate 13 packs a limited number of ports, given its size and low power draw. There are no full USB ports, but there are 2 Type-C ports that are able to display out. In a home setting we can typically imagine one port being occupied by the charger and the other one for the monitor. Unless you plan to use a hub then you better have a bluetooth mouse and keyboard ready for home use. It's also worth noting that those two Type-C's are NOT Thunderbolt compatible.
For media offloading there's a microSD card slot if you fancy those still. It transfers out at 39 MB/s which is pretty good for a tablet like this. If it were a regular laptop I would be livid at those speeds. It doesn't truly matter if you're planning to use a hub.
As for WiFi, it employs the Intel AX201 card so you'll definitely be reaping WiFi 6 speeds wherever you are.
Other buttons include the power button which also functions as a fingerprint scanner. Other than this and a password, there is no Windows Hello onboard for facial recognition because the webcam isn't an IR camera.
---
Made For Easy-goers Who Want To Carry Less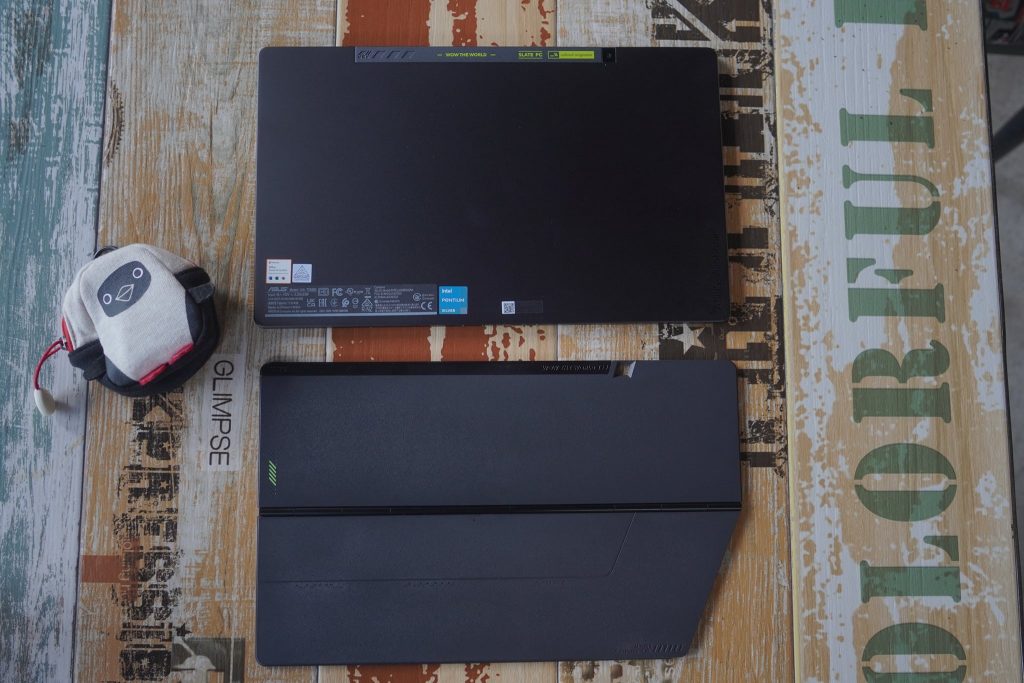 The Vivobook Slate 13 OLED is for those who want to put display and extreme portability first. It does well as a tablet and should not be seen as a full laptop, although its moderate performance can, on occasion, say otherwise.
In terms of performance, know that it's head on with Microsoft's Surface Go 2 and does better than the Acer Switch 1. It's also pretty much the ONLY OLED Windows tablet in the market that offers a near complete experience. It's easy to picture the Slate 13 OLED in a work setting for students who want to take quick notes using the ASUS Pen, or watching your favorite shows in flight with a gorgeous screen.
---