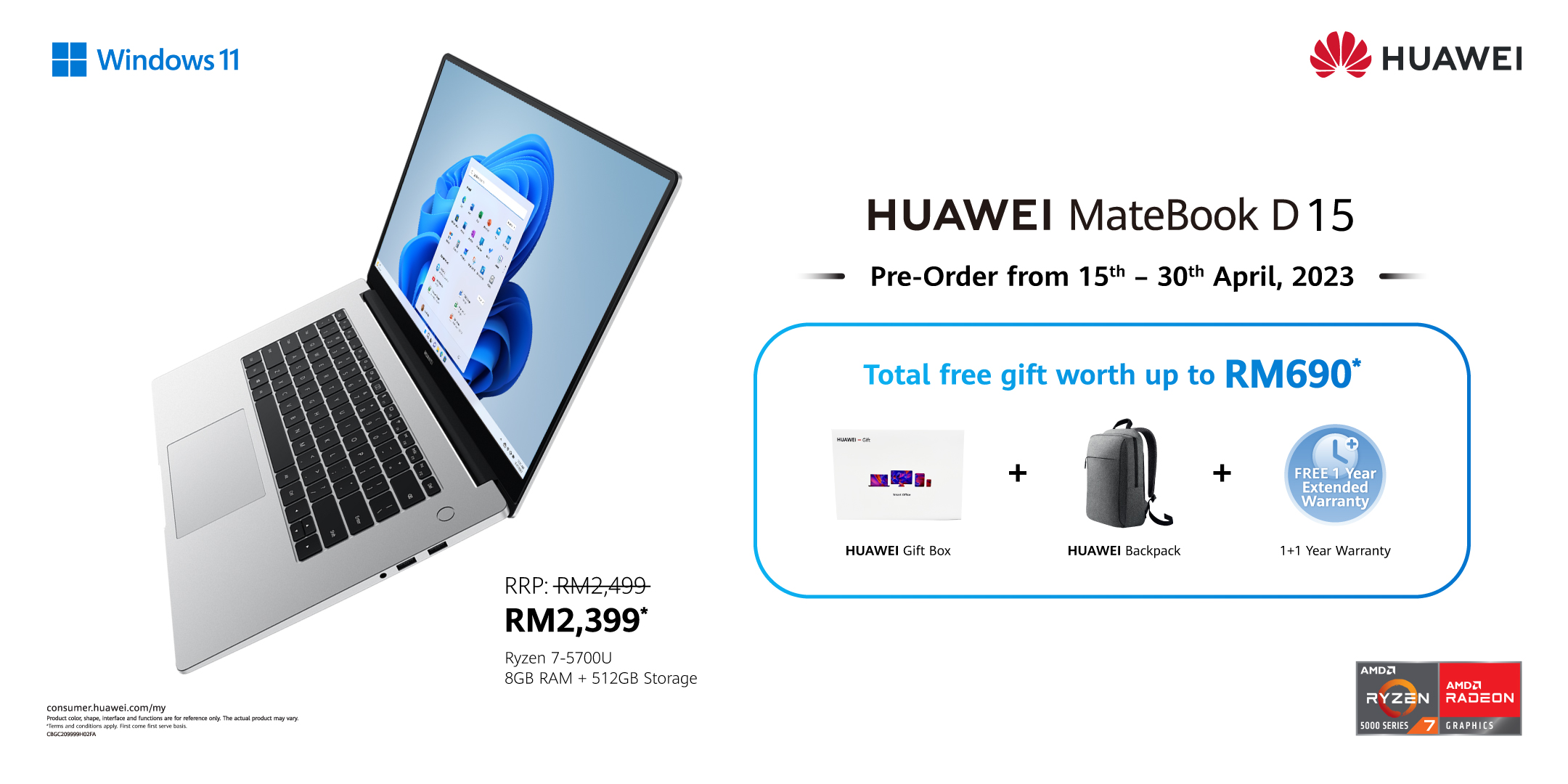 HUAWEI Consumer Business Group (CBG) recently announced that its new HUAWEI MateBook D15 (R7 8+512GB) is now available for pre-order in Malaysia. The new line of AMD-powered laptops is designed for young consumers in this Era of Mobile Productivity – answering the diverse demands for a casual office and mobile productivity which have gradually emerged in the PC industry.
The new line of MateBook D15 is a powerful laptop that offers outstanding performance, thanks to its brand-new AMD RyzenTM 7 5000 series processor, which is an 8-core, 16-thread processor that delivers 28 percent better multi-core performance compared to its counterpart in the previous-generation laptop. It also comes with an integrated AMD Radeon™ Graphics, 8GB RAM, and high-speed PCIe SSD, which provide reliability and speed for handling resource-heavy tasks.
The laptop is priced at RM2,499 but customers who pre-order the laptop from 15th – 30th April 2023 can enjoy a special discount of RM100, additionally you will also be walking away with goodies worth up to RM690! Pre-orders can be placed through the HUAWEI Official Website or through the selected dealership below:
ULTRA-LIGHT WEIGHT, IMMERSIVE VISUALS
The HUAWEI MateBook D15 is a sleek and lightweight laptop designed for those who are always on the go. Its thin profile of only 16.9mm at its thickest point and streamlined design highlight its robust build quality. Weighing only 1.63kg, it is perfect for consumers who work remotely.
With a 15.6-inch 1080p Full HD 16:9 IPS display, the laptop delivers an immersive viewing experience, thanks to its extremely narrow top and side bezels, which allow for a screen-to-body ratio of 87 percent. Moreover, the panel has been certified by TÜV Rheinland for Low Blue Light and Flicker Free features, making the HUAWEI MateBook D15 (R7 8+512GB) perfect for extended use without causing eye fatigue[1].
POWERFUL PERFORMANCE
The HUAWEI MateBook D15 boasts impressive hardware specifications, including a 7nm AMD Ryzen 7 5000 series processor that delivers 28 percent better multi-core performance than its previous-generation counterpart. This 8-core, 16-thread processor, coupled with the integrated AMD Radeon™ Graphics and high-capacity 8GB RAM, ensures smooth handling of resource-intensive tasks. Additionally, users can store and retrieve files quickly with the high-speed PCIe SSD. The laptop's upgraded 56Wh high-capacity battery offers improved battery life, lasting up to 9.1 hours of continuous productivity work on a single charge. The laptop also features Balanced Mode and Performance Mode, allowing users to toggle between rightsized performance for everyday productivity tasks and full-throttle performance for more intensive applications.
The HUAWEI MateBook D15 offers expandability through its USB-C port, USB3.2 Gen1 port, HDMI port, 3.5mm audio jack, and two USB2.0 ports. Its highly efficient cooling system, which utilises a HUAWEI Shark fin fan with ultra-thin fan blades, keeps airflow high and noise levels low. This makes it ideal for users who require a silent work environment to focus. Overall, the HUAWEI MateBook D15 is a powerful and versatile laptop that is perfect for users who require high performance, expandability, and long battery life.
SUPER DEVICE: DRAG TO CONNECT
The HUAWEI MateBook D15 offers an enhanced user experience with Super Device, a convenient feature that allows users to connect their laptop with other devices. With Super Device, users can initiate pairing by clicking on the Control Panel icon at the lower right corner, then dragging the icons of devices towards the PC icon. This intuitive and straightforward way of pairing makes connecting multiple devices more convenient than ever before. Additionally, the HUAWEI MateBook D15 seamlessly collaborates with other Huawei products, including phones, tablets, and monitors, providing users with a powerful and all-scenario inclusive experience.
Multi-Screen Collaboration is another feature that allows users to connect a Huawei tablet to the HUAWEI MateBook D15 and use it as a drawing pad or a second screen. This feature also enables up to three active windows during video calls, freeing users' hands from holding the phone while the call is active. Files can be transferred between devices with a simple drag and drop, and smartphone files can be opened on the laptop and edited directly. With future updates, even more interconnectivity options will be available, providing users with new all-scenario experiences.
For more information or latest announcement on Huawei's products, please visit HUAWEI Official Website, HUAWEI Official Facebook page or Instagram.
---
[1] The product is not a medical device and is not suitable for medical use.