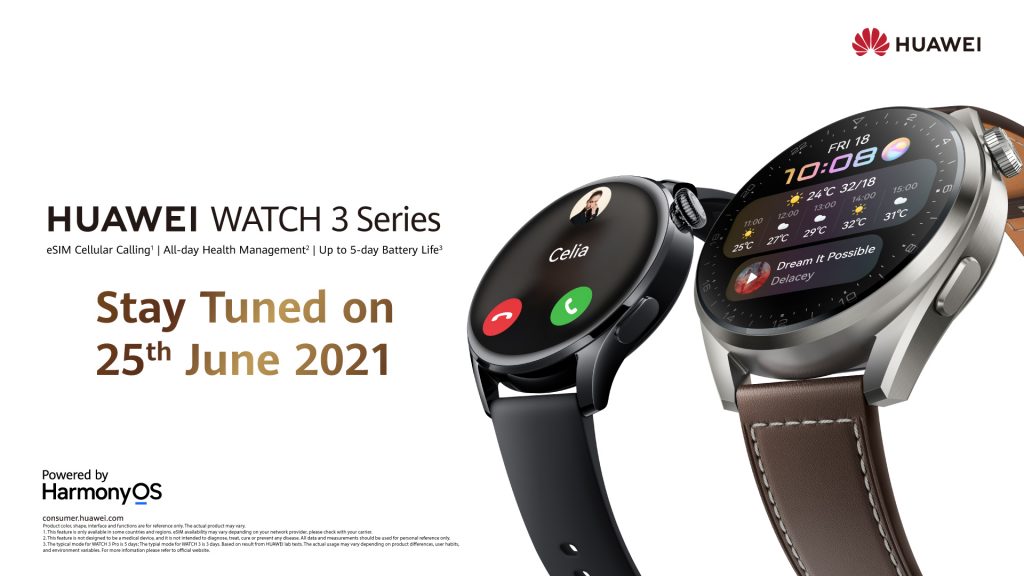 We first saw the Huawei watch 3 series earlier this month when Huawei announced their new products equipped with Harmony OS 2 and I have to say, I'm excited for this and the watch 3 Pro. So stay tuned on the 25th of June at Huawei Malaysia's Facebook page.
What should we expect from the Watch 3 series ?Well, for starters it supports other OS syncs right out of the box so you can calm down. This year it's equipped with e-Sim capabilities so you don't have to rely on a single connection all the time. It also promises a 21-day super long battery life with the battery saving mode as well as wireless charging. Other than that it also has your usual exercise functions and health monitoring tools like heart rate and sleep quality. It's even got a cool Smart alert function where you can press the power button 5 times and it'll call for emergency help.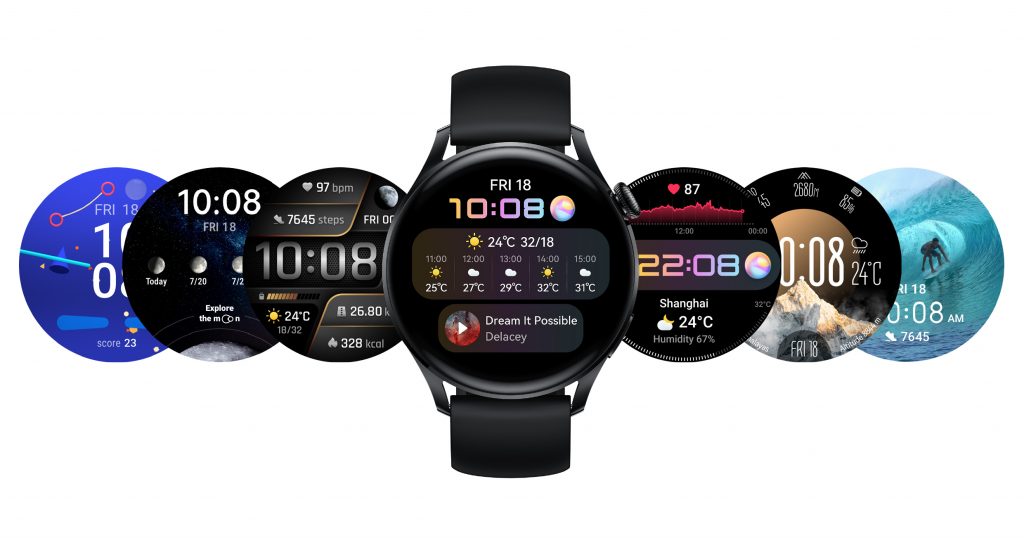 All that in a sleek ceramic glass back and glass screen with a rotating dial that provides tactile feedback to work with the new OS. I'm excited, are you?
Features
Independent Connectivity with eSIM Calling
HUAWEI WATCH 3 Series supports standalone connectivity with its eSIM cellular calling. By activating the service on its users' smartphones, users can utilise the eSim function on their smartwatch without carrying a smartphone around. The eSim feature supports local operators which users can easily opt-in at the nearest local operator stores. HUAWEI WATCH 3 Series are made not exclusive to connect with HUAWEI smartphones only, but it is also user-friendly which can be synced with Android and iOS-powered smartphones. Users can also utilise MeeTime's seamless communication via Wi-Fi and data in real-time by simply tapping the notification on the watch itself or smartphone. In case of emergency, these smartwatches can make phone calls with its SOS mode to local emergency services.
Industry Leading, 21 Days Ultra-Long Battery Life
HUAWEI WATCH 3 Pro features five-day long battery life in Smart Mode and can last up to 21 days in ultra-long battery life mode. HUAWEI WATCH 3 on the other hand can go up to three days in Smart Mode and up to 14 days in ultra-long battery life smart mode. With dual charge method support, the smartwatches are made easy for users to have an option to charge with reverse wireless charging. Longer battery life ensures the smartwatch accompanies its users all day long.
24/7 Health Monitoring Support
The long battery life is likewise matched by the monitoring support the HUAWEI WATCH 3 Series provides
1. These smartwatches can take SpO2 monitoring measurement at the same time. Not just that, with HUAWEI TruSeen™ 4.5 heart rate monitoring technology built-in; the smartwatch series is coupled with advanced algorithms that improve heart rate monitoring accuracy. This allows for 24-hour continuous heart rate monitoring to be available and assists users to track their heartrate in real-time.
During the day when users are going about their daily lives, avoiding stress is arguably impossible. HUAWEI WATCH 3 Series addresses this common issue with its 24/7 stress monitoring. This comes with the HUAWEI TruRalex™ feature with breach exercise to help release pressures. At night, the HUAWEI WATCH 3 Series also makes sure its users score high on sleep quality by offering sleep monitoring and big data analysis. Featuring HUAWEI TruSleep™ 2.0 combined with AI technology, these smartwatches can identify certain common sleep problems and suggest personalised solutions.
Smart Alert Assistant That's Got Your Back
This time around, the HUAWEI WATCH 3 Series features more smart assistant features. One of them is SOS mode which will let its users make a phone call In an emergency. They can simply activate it by pressing the volume button five times in a row. With the Fall Detection feature enabled, HUAWEI WATCH 3 Series will automatically enter Help mode when a fall of its users is detected.
What are other things that the smart assistant can do? HUAWEI WATCH 3 Series comes with Voice NotePad that allows users to record voice note almost instantly. Besides that, they also come with interactive video watch face, where users can design their own watch face style. The multi-functional watch faces will help to visualise what they want to see and enjoy a fully personalised experience.
Stay Active with Enhanced Sports Experience
HUAWEI WATCH 3 Series would not let users flop during their sporting activities! Offering sports monitoring with over 100 workout modes, these smartwatches are always ready and up for challenge accompanying their users. While sweating out their favourite activities, HUAWEI WATCH 3 Series will record key data to provide users with scientific exercise plans as well as generate data infographic, ready to be shared on social media. The key data includes calories burnt, activity duration, heart rate interval, workout progress, recovery time and more. With the HUAWEI WATCH 3 Series, your calories burnt do matter and will always count.
The HUAWEI Watch 3 Pro is further recognised as the first-ever smartwatch manufactured with Dual GPS, encouraging users to stay active and move freely. The chipset underneath will not only be meant to receive satellite data for positioning but also to make motion and trajectory recording more reliable at a better accuracy rate.
Aesthetic-Focused Watch Design
HUAWEI WATCH 3 Series redefines wristwear fashion with its aesthetics overall design. Sporting an ultra-curved 3D glass screen, ceramic glass at the back, packed in a titanium watch body with a super interactive rotating crown, they were designed to deliver practicality, functionality with curated style in mind for its users. The rotating crown comes in a 3D form factor with premium quality and provide tactile feedback. Not to forget, interactive and upgraded watch faces will be useful for its users while retaining a uniquely personal look on their wrist. These aesthetic values allow the watch to be suitable for all genders, as the strap size is adjustable and able to fit anyone.
The World First Smartwatch Powered by HarmonyOS 2
As the world first smartwatch powered by HarmonyOS 2, the HUAWEI WATCH 3 Series features newer and smoother interface grid launcher. Aiming to provide efficiency, the screen is highly visual with its recognisable icon layout. Gesture control is intelligently sensing hand gesture. For instance, users can answer an incoming call by releasing a clenched fist with a raised wrist. It is worth mentioning that the HUAWEI WATCH 3 Series supports local apps in Malaysia. Users now can download the applications via the on-device HUAWEI AppGallery.
The HUAWEI WATCH 3 Series also supports other OS syncs by simply scanning the QR code out of the box.
With all of these exciting features packed in a single product, what else is there to do than to stay tuned as the new member of the HUAWEI WATCH family makes its official debut in Malaysia? Mark your calendar on 25 June 2021; it will be available soon with exciting promotion and amazing freebies!
In the meantime, you can also check out HUAWEI Facebook and HUAWEI Official Website to keep yourself updated with news and information about the product.