Asus Zenbook Duo 14 UX482
Starts from RM 5199
The Zenbook Duo 14 UX482 is ASUS' latest model of the beloved Zenbook series just to keep up with the times with even more tricks up its metal sleeves to tantalize the likes of content creators, designers and even corporates who long for something different and stylish.
Performance (Multimedia Work)
8
To love
Great Value
Comfy Keyboard
Smooth work performance
Long standby time
ScreenPad actually useful
To Love'nt
Requires wrist rest for comfy use
Only MicroSD slot
Not the lightest
No LAN port
---
SPECS
CPU
Intel® Core™ i7-1165G7
GPU
Integrated Intel® Iris Xe Graphics
RAM
32GB DDR4 4x 4266MHz Built-in (Retail units up to 16GB only)
Storage
512GB M.2 NVMe™ PCIe® 3.0 Performance SSD
Display
14-inch (1920 x 1080, 60 Hz) PANTONE® Validated touch Screen
ScreenPad™ Plus: 12.6" FHD touch display 178˚ wide-view technology
Weight
1.6 kg
ROCK HARD BUT DELICATE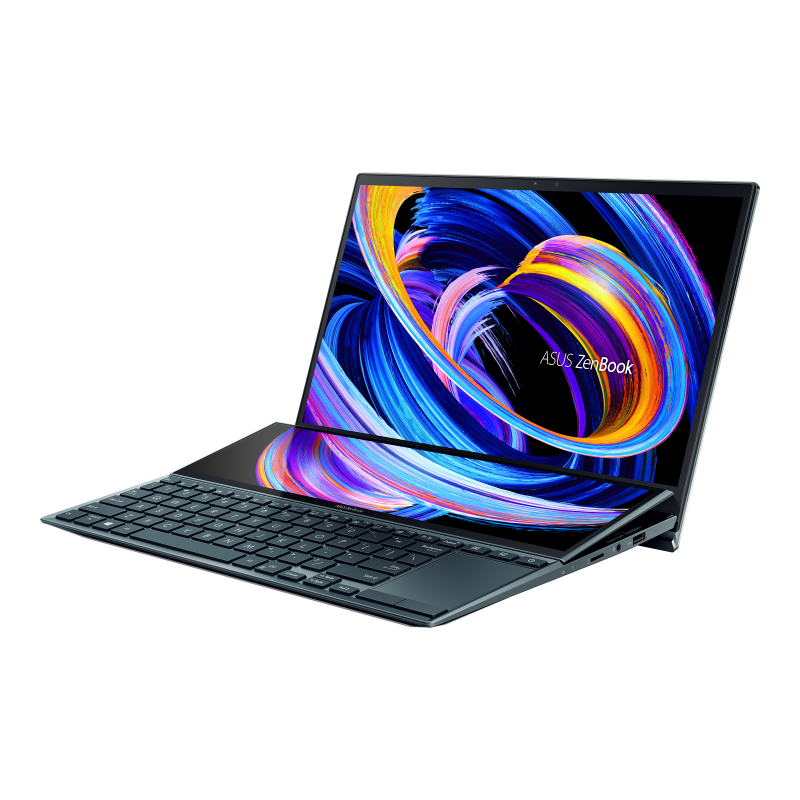 ZenBook Duo's have always fascinated me from a design point of view. I could not imagine the amount of hours and days put into engineering and design to come up with a notebook like this. On a 14-inch form factor that's relatively thin for what it features, two high-res displays just fit end-to-end, maximizing all that real estate space to keep things portable and hand-carry friendly.
What truly makes this ZenBook stand out is how it stands UP when you lift open the lid. The ErgoLift hinge, what I consider to be a clever engineering marvel, lifts the rear of the laptop upwards like a little laptop stand, resulting in the keyboard leaning forward to the user.
The ScreenPad is able to stand upwards too using its own hinge for better frontal viewing. Doing this also cools the laptop as well since air is able to enter through the gap. All movements worked flawlessly with smooth transitioning. I couldn't help but feel that everything is so in place that it's going to be fragile. That however was not the case. The 1.6 kg weight adds a lot of heft to it, probably due to the various hinges and the second screen. Worth the extra load!
Build quality is overall tough, I'm confident that it can take a little beating if that ever happens.
2 Screens = twice the work done?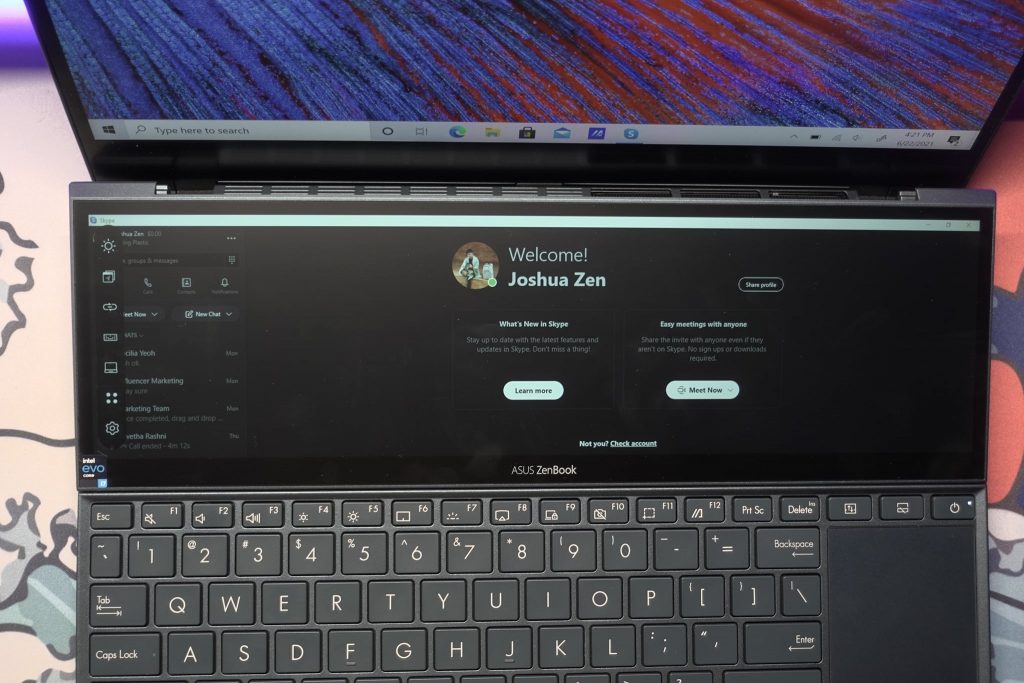 Everybody gangsta till they see the ScreenPad Plus on the ZenBook Duo. It's been changing the game ever since its conception years ago and its done nothing but improve here. With tons of new shortcuts, integrations and quality of life improvements such as slightly better touch and tools, the secondary screen plays a big role in setting the ZenBook apart from anyone else out there.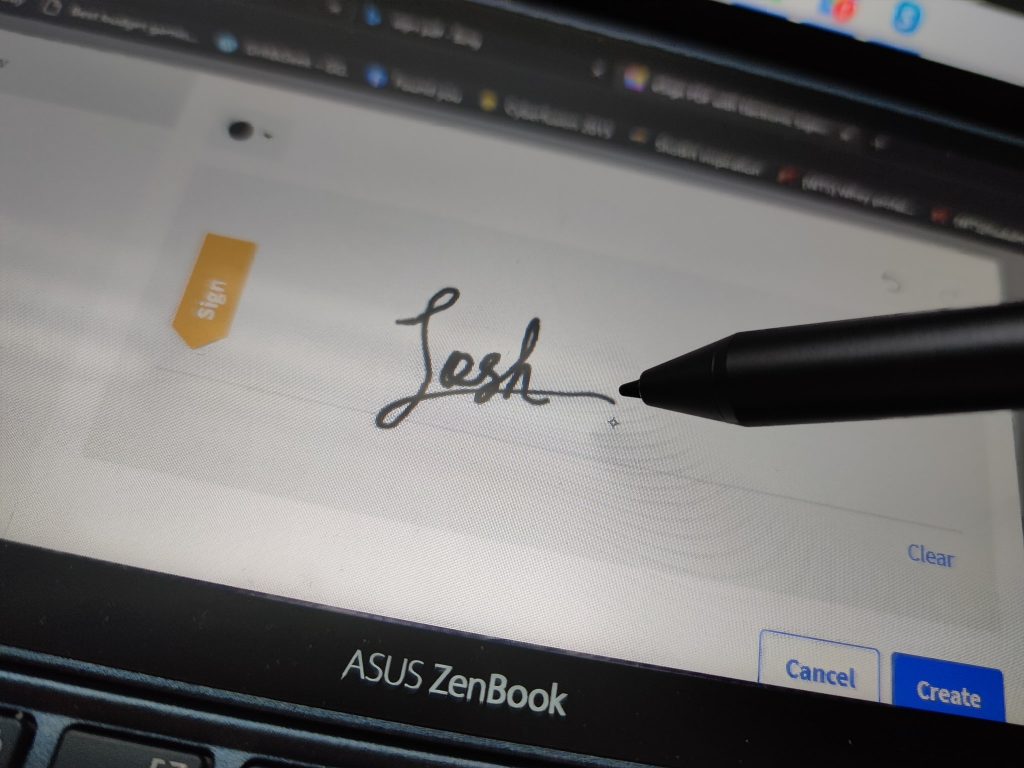 You'll be spending most of your time on the ScreenXpert 2 app, from customizing your preferred shortcuts to notetaking and even drawing things out. Whip out the included 4096-pressure point stylus and get ready to go to town. Taking notes were a real treat, being able to feel smooth and accurate with barely any input lag. For a moment it felt like I could keep my iPad Pro and Samsung Tab S7 into the drawers for a bit.
For the Adobe Suite folks out there, yes, the dials, shortcuts and tools can be customized onto the ScreenPad Plus for a quicker workflow. This puts that MacBook Pro's Touch Bar to shame.
The main display is a 1080p touchscreen, with excellent colors and contrast, thanks to a well invested IPS panel. You'll enjoy watching shows on the ZenBook Duo 14, as the speakers were loud and well placed. They're from Harman Kardon anyway so that speaks volumes (figuratively and literally).
The contrast in colors fall short on the ScreenPad though, with the colors looking significantly more washed out, especially with the matte-like surface it has. I wouldn't recommend doing direct editing work on it.
---
Portable Workstation Ready
The ZenBook Duo 14 features a robust set of I/O ports that's spread evenly well, with my only gripe being the inclusion of a microSD slot instead of a full-sized SD slot. With 2 Thunderbolt 4's, you can do so much, including taking advantage of a GPU enclosure for gaming and adding more ports if you intend to turn this into a workstation with multi-monitor support.
Main Ports
Thunderbolt 4 x 2
USB Type-A x 1
MicroSD slot x 1
3.5mm Audio Jack x 1
Keyboard's Nice, Touchpad hard to get used to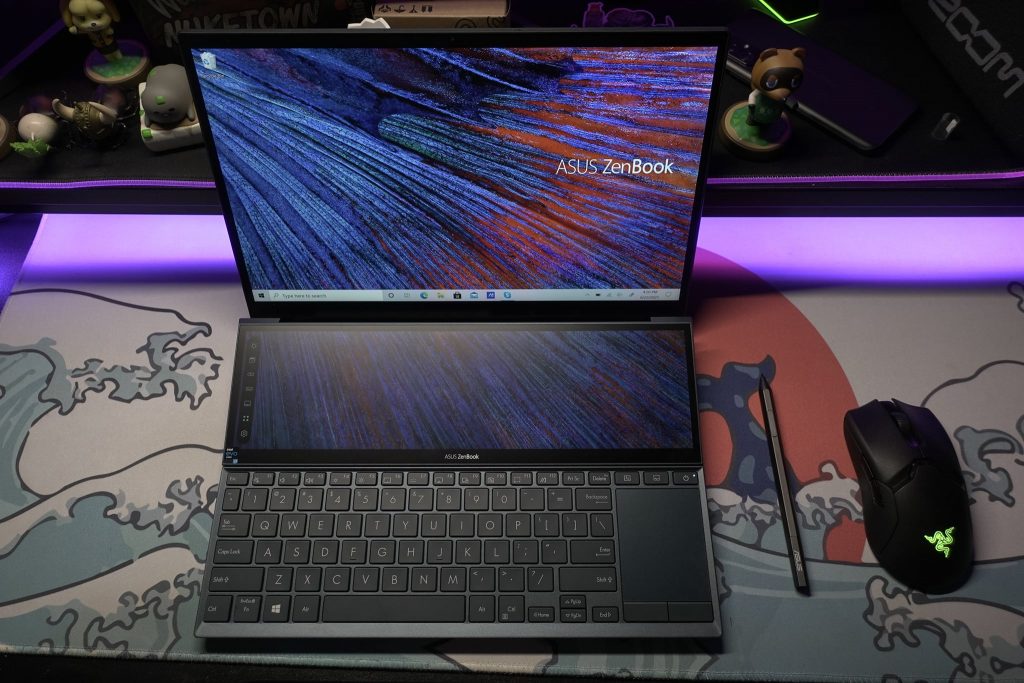 Yes, I know most reviewers out there aren't too particularly happy with the ZenBook Duo 14's keyboard for the most common reason; the placement being too frontal. It can hurt the palm being in that position as common laptops have space on their housing to facilitate some ergonomics in the whole typing experience. What I actually did was just put a palm rest in front of the keyboard and everything turned out just fine. It's inexpensive and you can choose any kind of material you want your palm rest to be.
The keys travel well, and have a somewhat satisfying click to it. You can definitely get work done with or without a palm rest. One thing that I took longer to get used to was the touch pad. There isn't much choice when it came to the engineering of things so the touchpad was crammed to the right side of the keyboard with left and right click buttons. This was actually a smart choice as the clickers tend to do a lot better than the ones that are integrated into the touchpad.
TLDR: You don't like keyboard placement, get a palm rest. You don't like the touchpad? Get used to it or explore the notion of actually getting a mouse.
---
Work and Play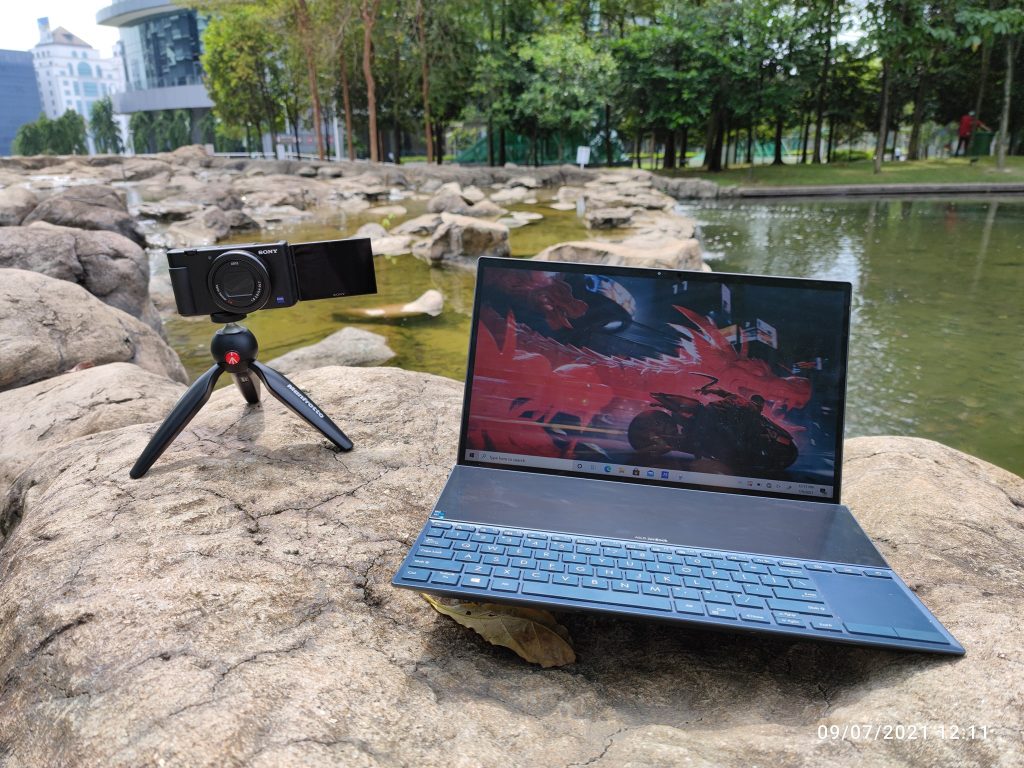 The review unit came with 1TB of fast SSD storage, along with 32GB of DDR4 RAM. Retail units come with only up to 512GB SSD storage with 16GB of DDR4 memory mind you.
Processing all things is the latest Intel Core i7-1165G7 CPU, which is an Intel 11th Gen Evo. With a combo like this, bolstered with over 3GB/sec disk speed, everything pretty much loaded in seconds, including boot.
I edited the ZenFone 8's review video on this ZenBook and it was nothing but smooth. All my 4K footage loaded onto the timeline and it didn't even throw a fit, even when editing with full sized files instead of the much faster proxy sized ones. Fans were silent despite heavy rending requirements and the ZenBook never got above warm. I was rather impressed in this aspect as my beefier laptops could reach some heat with more or less the same level of workload.
The creator in me never felt more confident to lug this premium slab around and not worry about a thing, from battery to getting work done fast.
Battery Life is NO JOKE.
Even with the benefit of USB Type-C fast charging, I paid a lot of attention to the ZenBook Duo 14's battery life. It's such an optimized piece of tech, that even with the ScreenPad Plus enabled, it managed to pull an impressive 12.5 hours uptime on a single charge. I guess the Intel EVO certification was well deserved.
I know what you're going to ask next. How much more juice could I squeeze if turned the ScreenPad Plus? I'd say give or take an additional 3 hours.
Mind you, all I did on the ZenBook Duo 14 was general work on Office, Chrome, Lightroom and OneNote. This includes alternating between Netflix and YouTube, Spotify and Discord.
I am over the moon about the ZenBook Duo 14's Battery Life it's not even funny.
---
The ZenBook Duo 14 is a good, multi-talent notebook that works hard and lasts long.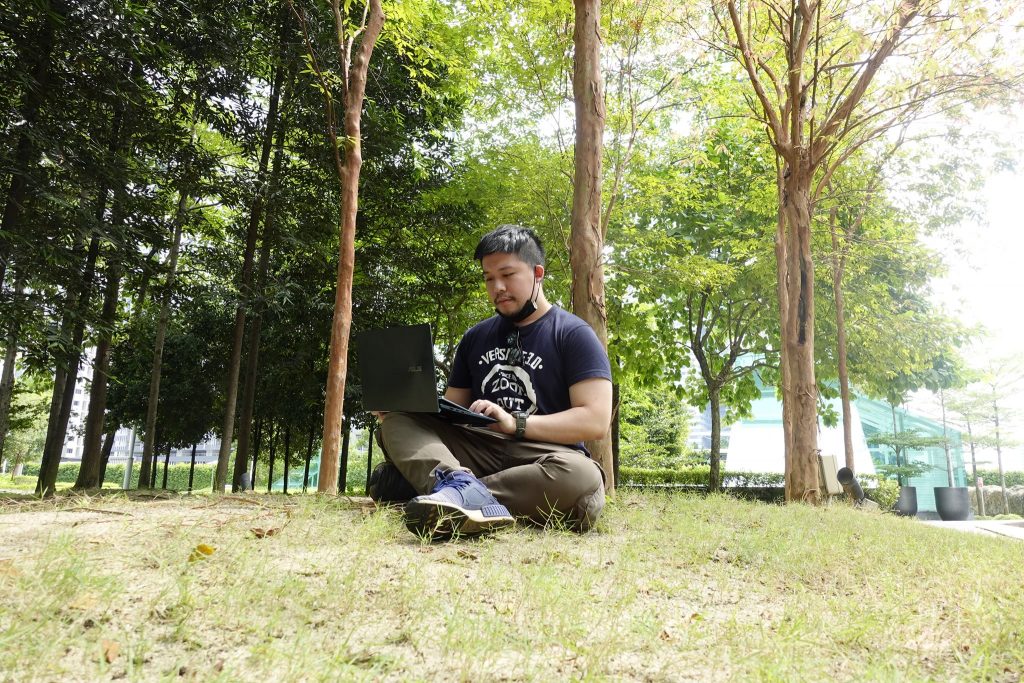 If you're someone that wants to get work done anywhere and you don't always have access to a plug point nearby, then the ZenBook Duo 14 is surely your marathon runner.
You need to get used to the keyboard and touchpad, as well as not being able to plug into LAN or read an SD card without a dongle. My gripes with the device have relatively affordable solutions.
The ScreenPad Plus may not be an essential but it's an extra that no one would complain about. It sure makes note-taking and DocuSigning a whole new experience!
Even though it has a relatively small 14-inch footprint, it isn't as thin as some would like, and if that's going to be an issue for you, you may want to give this one a rain check and go for the thinner ZenBook 13 or 14 that doesn't come with the ScreenPad. The ZenBook Duo 14 deserves the Gold. Here. Just take it (and let me keep this I beg you).
---
---
It's a deal!
Ready to commit? That's good to hear. Please support us by buying from our friends here, as not only do they have honest pricing, but very competent after-sales service as well (that matters to us a lot)