Honor 90
After the Magic5 Pro's debut, did HONOR have anything else epic to follow up after the flagship launch? Well yes, and it's pretty impressive, the HONOR 90, but up to a certain degree. Targeted for masses on a budget, is it worth picking up?
Good
Great performance
Superb Display
512GB storage
Long Battery Life
Front Facing 4K video
Ungood
Still USB-C 2.0
Mono speakers
No OIS
---
Specs
---
CPU
Qualcomm Snapdragon 7 Gen 1
Accelerated Edition (4nm)
Memory
512GB+12GB RAM
256GB+12GB RAM
Display
6.7″ AMOLED 120Hz, HDR10+ 1600 nits Peak Brightness
Camera
200 MP, f/1.9, (wide)
12 MP, f/2.2, 112˚ (ultrawide)
2 MP, f/2.4, (depth)

50 MP, f/2.4, 100˚ (selfie)
Connectivity
Bluetooth 5.2, USB Type-C 2.0, WiFi 6
OS
Android 13, Magic UI 7.1
Battery
5,000 mAh, 66W Fast Charging
Available Colors
Midnight Black, Emerald Green, Diamond Silver, Peacock Blue
Retail Price
512GB+12GB – RM 2099
256GB+12GB – RM 1799
Design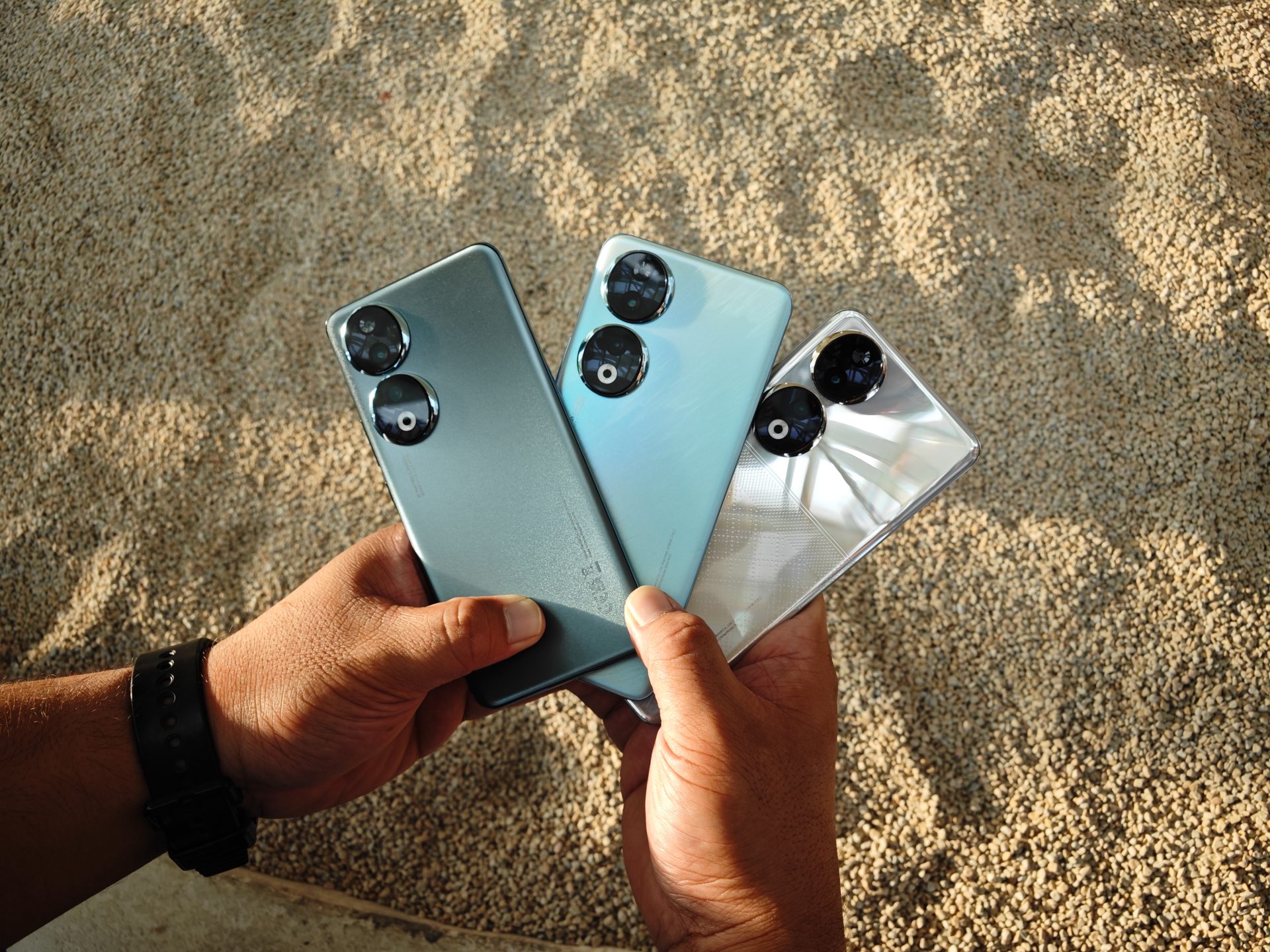 This time around, HONOR gave priority to design language when it came to the HONOR 90. Inspired by jewelry, the HONOR 90 highlights a really fancy back housing that's shimmering shiny, catching and reflecting light in all sorts of colors, but it's not all the way though. The back has 3 seperate patterns. The top part where the camera modules rest is primarily glossy, while a seperator of micro dots are right underneath, followed by an array of bigger micro dots forming a diamond shape take the rest of the lower half.
At first I found it weird, but after a few days in, I found it unique and likeable. The dots are very small, and don't really offer any additional gripping benefits. They're mainly for aesthetics and I'm okay with it. This pattern is unique to the Diamond Silver variant, while the Emerald Green and Peacock Blue take more traditional stances, but definitely standout on their own.
It feels great on the hand, and comfortable too, considering that the Honor 90 has a pretty slim and light form factor with very rounded edges all over. Nothing can hurt you on this phone, not even dropping it onto your forehead from one of the corners (please don't try).
The most prominent part of the design would be the camera modules. There's two of them, and they're called "Moon Phase Rings", obviously mimmicking the distinct movements of the moon and its various phases throughout the nights. They're initially quite alien looking, almost bug like, with matching silver accent rings on each module of varying thickness. This element simply ties the whole thing together, and if Honor literally was trying to make a fashionable phone but prefers to call it art, then they've done it.
Unfortunately the rainbow stops mid way, as the Honor 90 does not come with any form of water/dust rating, which means you'll have to be extra careful if you're constantly caught in the rain. To be honest, I'm sure the Honor 90 should be able to handle some splashes as most smartphones do (the ones without ratings I mean), and perhaps the company just didn't want to spend on IP rating certification (which is a thing).
"The Honor 90 Is A Very Comfy Phone To Hold, And It Looks Good Too"
6.7″ Curved AMOLED 120Hz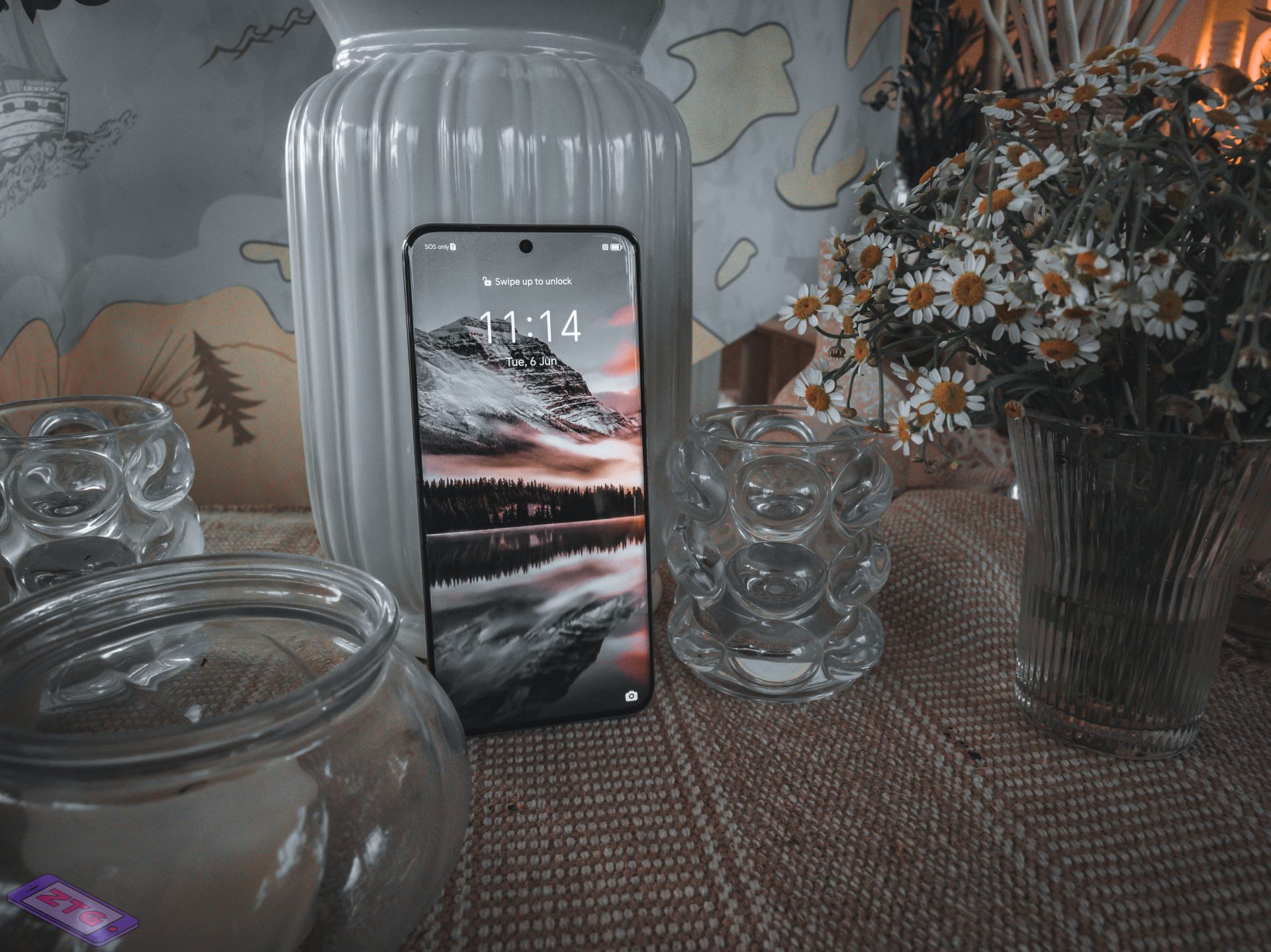 It's a medium-sized phone with a large display, standing at 6.7-inches. HONOR prides itself constantly when it comes to display tech, offering panels with great colors, resolution and eye-friendly measures. The HONOR 90 has exactly all those things. The panel is sharp and colorful, and supports HDR10+ content with 10-bit color. I use a lot of AMOLED's, and it honestly gets harder every time to judge them since they're all nearly identical, but I definitely know when I'm doing a review with HONOR when it comes to their displays and tuning.
They tend to focus on PWM dimming, a much needed solution for displays that tend to flicker when brightness is dialed down too low. It's literally for the typical scenario where you're in your room all dark, trying to scroll yourself to sleep on your phone. Phone without this PWM tech would normally start flickering when the brightness is toned down, and dialing it up is NOT a solution. The flickering would affect your content, making you squint your eyes more to focus, and that in the long run is not good for your eye health, so PWM dimming does the job. It refreshes the screen at such a high rate that the flickering is really close to gone. It's gone up to 3840Hz (Magic5 Pro was 2160Hz), and you won't be experiencing flickering or ghosting when you're on very low brightness.
As for refresh rate, the HONOR 90 may not sport an LTPO panel, but it'll still support variable refresh rates (just now as low as 1-10Hz). It'll switch refresh rates to cater to the content you're consuming to save some juice (1Hz – 120Hz), but the real champion here is the high-frequency PWM dimming system now. It's gone up to 3840Hz (Magic5 Pro was 2160Hz), and you won't be experiencing flickering or ghosting when you're on very low brightness, which is great for viewing stuff when you're in the dark.
If you want more control of your refresh rate, you can choose from 4 settings :
Dynamic (smart switch)
High (up to 120Hz)
Medium (up to 90Hz)
Standard (60Hz)
For audio, the speakers are a let down with only a single bottom-firing speaker that's mono. It's good enough to just watch videos and hear its audio, but definitely not for enjoying some tunes. It's loud no doubt, but it's also too flat and underwhelming. To most, it's no dealbreaker, I simply had to highlight this out of due diligence.
Current Generation Specs
The Honor 90 ships with a mid-range Snapdragon 7 Gen 1 that's slightly overclocked, making it the 'Accelerated Edition'. The benefits are mostly seen in operating smoothness and some gaming. Despite that, the Honor 90 was still able to be a battery efficient chipset considering its small 4nm process. That being said, performance is really smooth when it comes to mainstream games like Mobile Legends and PUBG mobile. You'll get your 60FPS easily with nearly the highest settings, without much heat build up.
Stressing the CPU out was games like Farlight 84. The squad-based battle royale on the highest settings made the HONOR 90 fare around the 50-60 FPS range, with thermals getting toasty at the 45 degree celcius line and climbing. It's not too shabby considering more expensive options obtained more or less the same thermal range, but let's not forget that this is a midrange chipset with a massive 4483mm2 vapor chamber that includes a woven copper mesh. I toned down the settings to medium while retaining the high refresh rate option and it did way, way better, beating the likes of the Realme 11 Pro+ by miles.
For Gaming, Simple titles get the best graphics settings while Battle Royale types should stick to medium settings.
Outside of gaming, standard operation is smooth and without hitches. Honor's Magic OS 7.1 comes out of the box for the Honor 90, complete with native Google Play Services. It's a fairly simply UI that does the job. I don't particularly fancy it because I personally feel like that it's a quickly slapped on operating system but as long as it works there's really nothing to complain about except for taste.
Memory options are good, offering 12GB RAM across the board with the option of 256GB / 512GB storage options. Unlike the Magic5 Pro, the Honor 90 only has USB-C 2.0, which makes wired data transfers slow. It's not really a red flag considering that the competition when it comes to China phones made the same choices anyway.
Generally, the Honor 90 is a solid performer in the mid-range segment, regardless of whether you use it for gaming or otherwise.
Battery Life
The Honor 90 packs a 5000 mAh battery juiced up by a 66W fast charger. On the daily, if you're not gaming, you'll easily get 6 hours of screen-on time before needing to charge it back up again. Gamers, if you're playing a series of 20-30 minute games per day, it'll get knocked down to 4-ish hours.
For charging, you'll get back a full charge from flat in under 47 minutes. That's particularly quick, and there was a time where I didn't charge my phone overnight and woke up with 40%, a quick 30 minute top up got me going again for me to start my day.
---
Camera System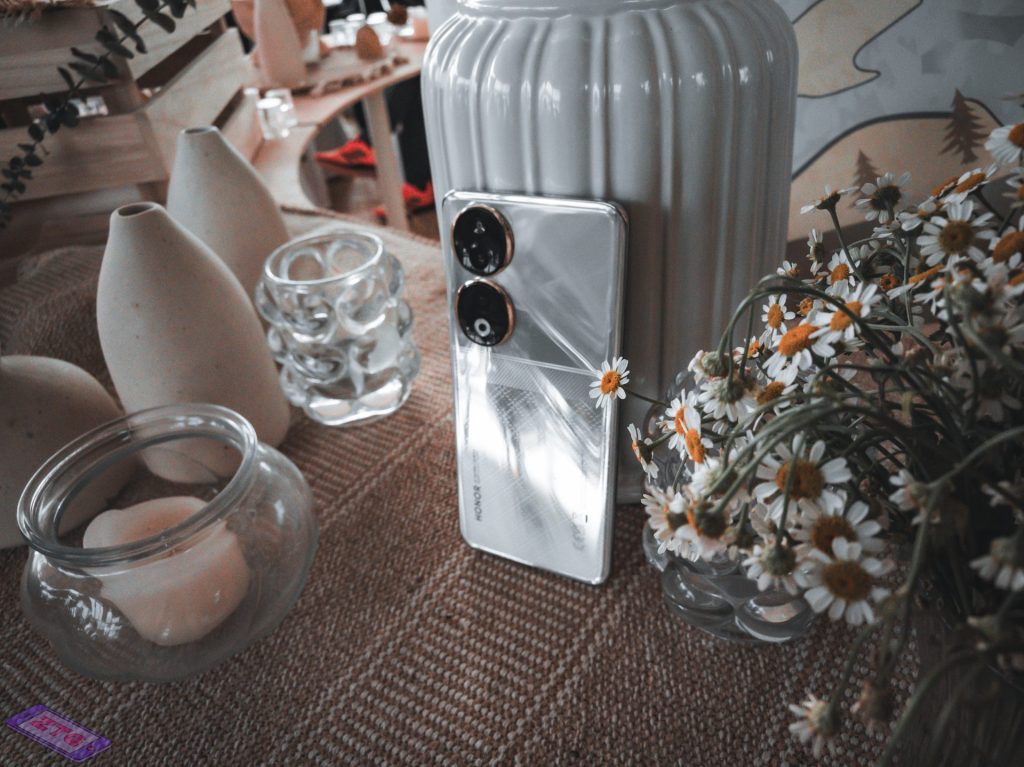 200MP main wide sensor
12MP ultra-wide and 2MP depth sensor
50MP selfie camera
The Honor 90 has a pretty robust camera setup, highlighting a large 200MP main sensor and a unique 50MP selfie shooter.
The main sensor packs a pretty decent punch, offering vibrant images that's colorful and an acceptable level of detail. I'm impressed by the HDR and contrast, as it's simply not overdone. I managed to capture my subjects whilst retaining clear and colorful skies with very little effort. I didn't even need to manually adjust the exposure! You'll have to be extremely still though, because the camera setup does not come with OIS. I really wished they did but I guess it's to save cost.
It's still a pretty decent sensor, with its strengths falling into color, HDR and some level of detail that I would say is good.
While not as detailed as the main sensor, the 12MP ultrawide has consistent colors with the HDR and contrast optimization being similar. It's honestly good but it can stand to benefit from some post touch-ups. Outdoor shots in daylight performed wonderfully while indoor lighting takes a dip in detail but that's a wide known fact for smartphone ultrawides so it's not a specific problem here. You'll enjoy taking shots but watch your lighting and your corners as well. Distortion correction is there but not the best.
Without a dedicated optic, all zooms are digital crops. At 2x-3x, subjects were still nice and sharp, retaining great colors and HDR, whereas up to 5x things started to get really noisy and blotched up. Such is the nature of digital zooms.
---
Selfie Time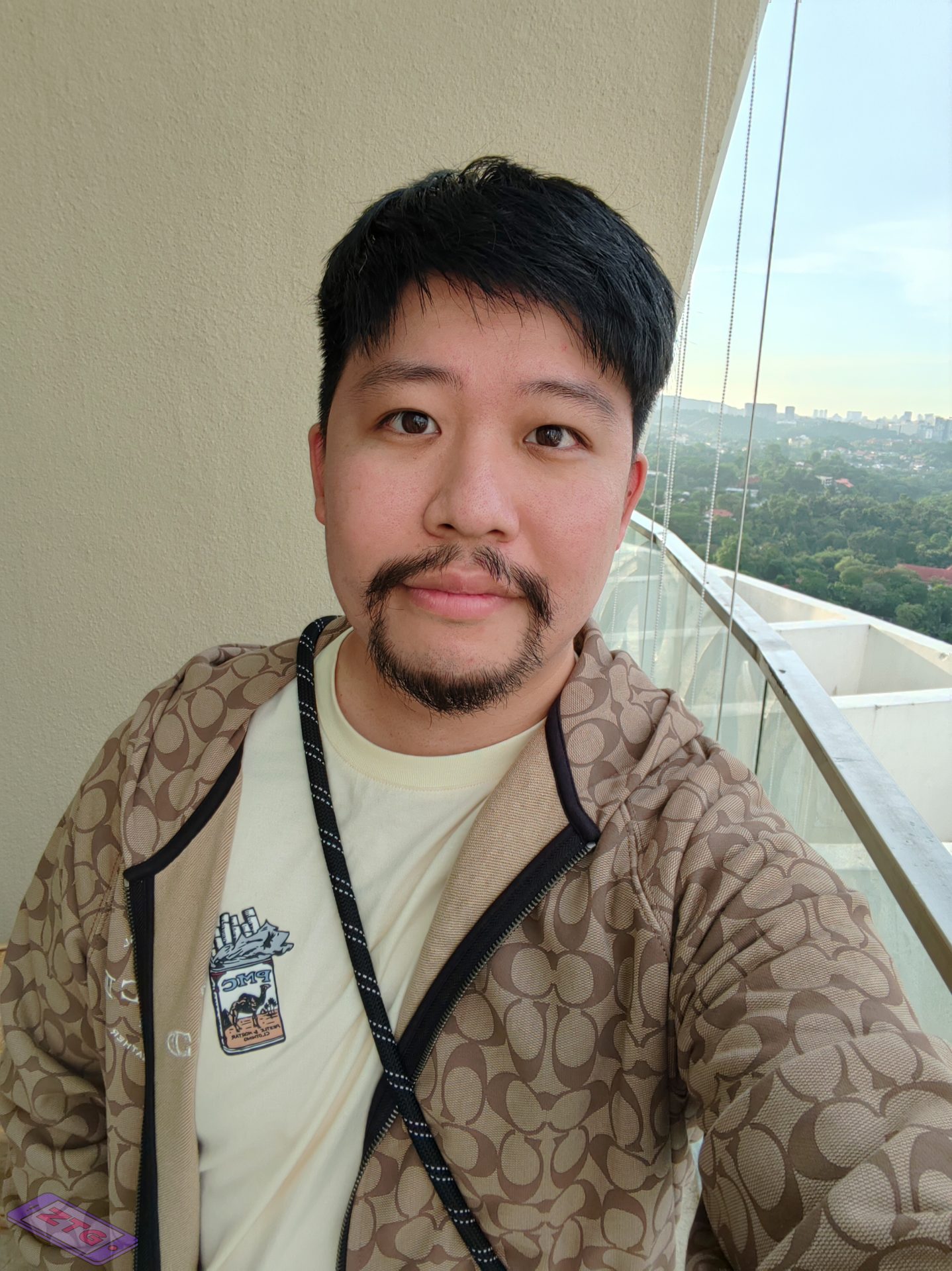 For the record, the Honor 90 renders fantastic selfies, complete with a good level of detail, colors and sharpness. It can go up to 50MP, but the real treat here is the wideness and the video capabilities. It's really one of the few phones out there offering 4K 30 FPS on the front camera, even more so in this price range.
It's definitely catered towards influencers and vloggers who require high-resolution selfies and video-taking capabilities.
---
The Verdict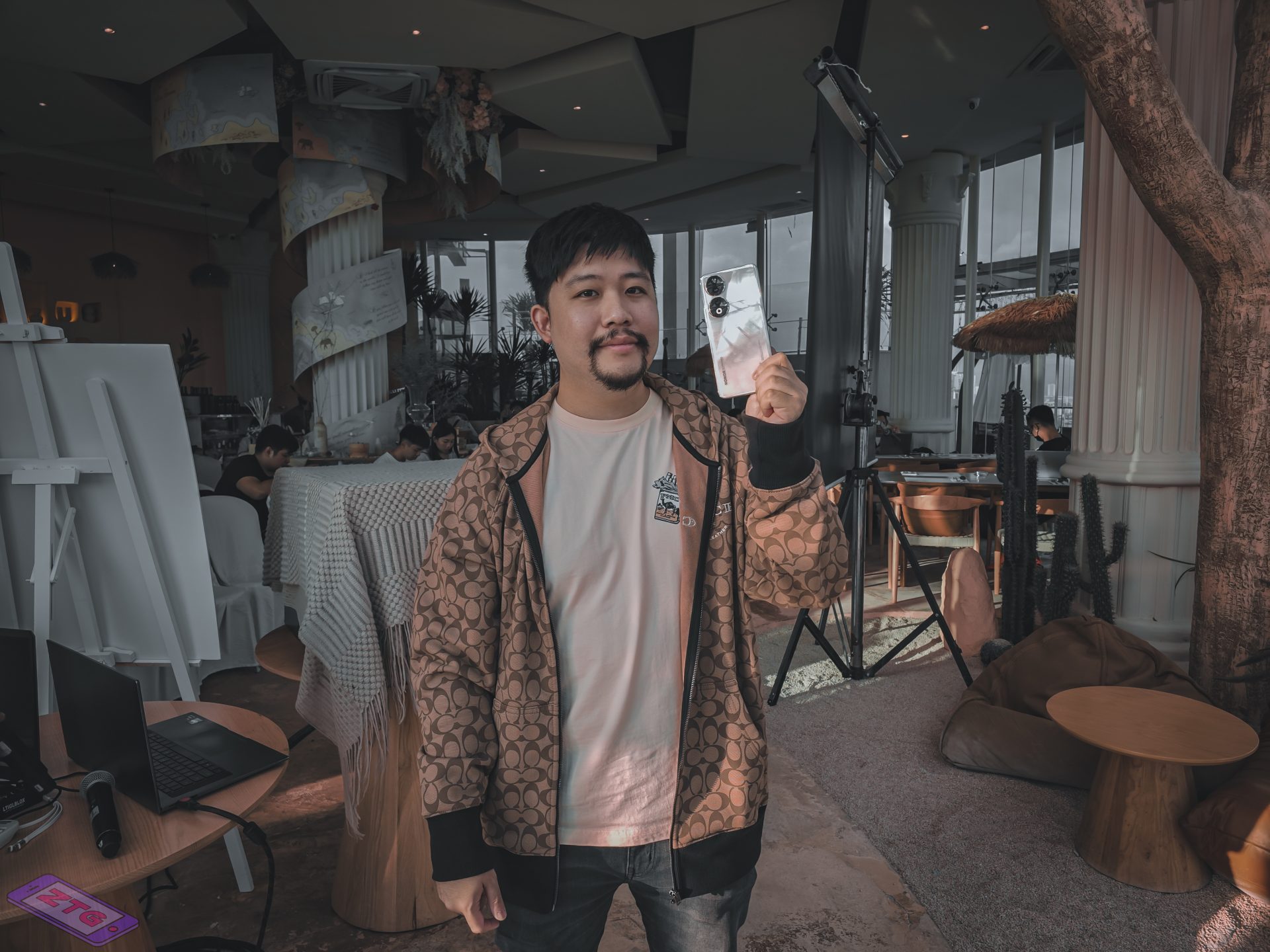 The Honor 90 is an ambitious midranger that walks the talk. The price is set quite attractively and it's got enough features to make it a great choice for people looking to upgrade in the RM2000 range. I particularly enjoy its display, general performance and had a good time with the cameras, especially knowing that it can shoot 4K footage from the front-facer!
The designs vary between color choices, giving you the option to choose what's best suited for you. Points to improve on for the next Honor midrange for me is to give up stereo speakers and some waterproofing!