Nvidia's latest RTX 3070 Ti and RTX 3080 Ti models of graphics cards have finally launched and Gigabyte is bringing in their own flavors through the Aorus series for enthusiasts who want the best performance and a colorful gamer RGB appearance, the Gaming OC series for performance and value minded gamers and the Vision OC for creators who like the industrial design aesthetic.
All of these cards are build on the NVIDIA® Ampere architecture which delivers class-leading performance with features like DLSS and Reflex latency reduction for gamers and Broadcast streaming features for creators.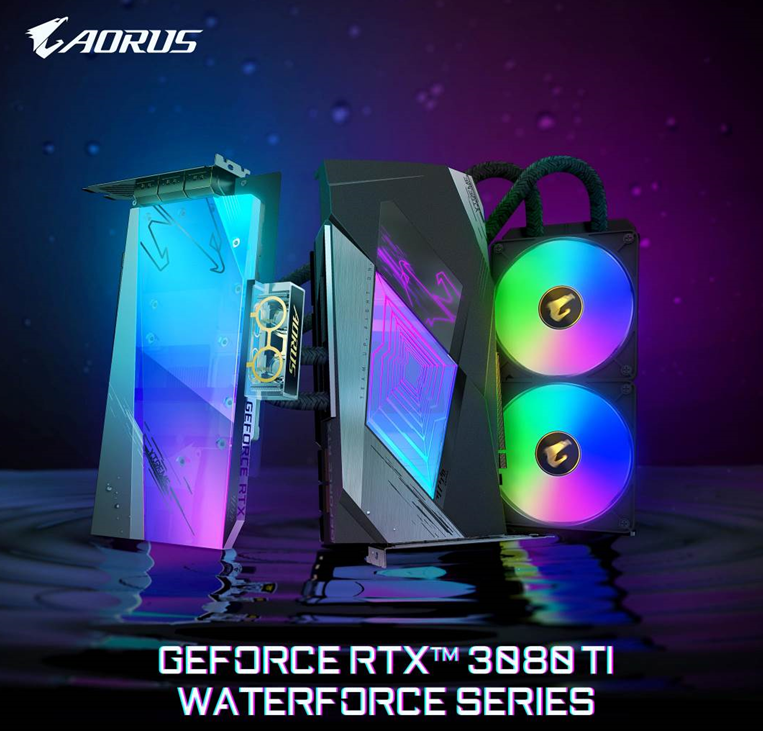 Additionally, Gigabyte also designed the Aorus Xtreme Waterforce all-in-one liquid cooled RTX 3080 Ti for those who want the best of the best performance while being quiet. It comes equiped with a 240mm aluminum radiator and built with aerospace-grade PCB and over-temperature protection.
Price list and availability
GeForce RTX 3080Ti Series (on-shelf June 3, 9PM)
GV-N308TEAGLE-12GD MSRP RM6,099
GV-N308TEAGLE OC-12GD MSRP RM7,199
GV-N308TGAMING OC-12GD MSRP RM7,629
GV-N308TVISION OC-12GD MSRP RM7,999
GV-N308TAORUS M-12GD MSRP RM8,399
GV-N308TAORUS X-12GD MSRP RM8,699
GeForce RTX 3070Ti Series (on-shelf June 10, 9PM)
GV-N307TAORUS M-8GD MSRP RM4,999
GV-N307TVISION OC-8GD MSRP RM4,799
GV-N307TGAMING OC-8GD MSRP RM4,699
GV-N307TEAGLEOC-8GD MSRP RM4,399
GV-N307TEAGLE-GD MSRP RM3,899