This one was a real curveball thrown at me when i've been using much smaller 60-75% keyboards for a better chunk of last year. I've returned to full sized with a wrist rest for a few weeks thanks to this Sakura edition keyboard by cooler master. Boy I must say, i think pink lovers will really love this.
Specs
| | |
| --- | --- |
| Size | 104 key full-sized ANSI layout |
| Switches | TTC Browns |
| Hotswap | No |
| RGB | Yes, per-key Illumination |
| Wireless | No |
| Typing Angle | 5 and 7 degrees adjustable with flip out feet |
---
Build quality/ design "A very different pink"
Being used to much more expensive custom keyboards lately I have to revert to my grassroots mentality of prebuilt gaming keyboards, so I assure you I've reset my expectations.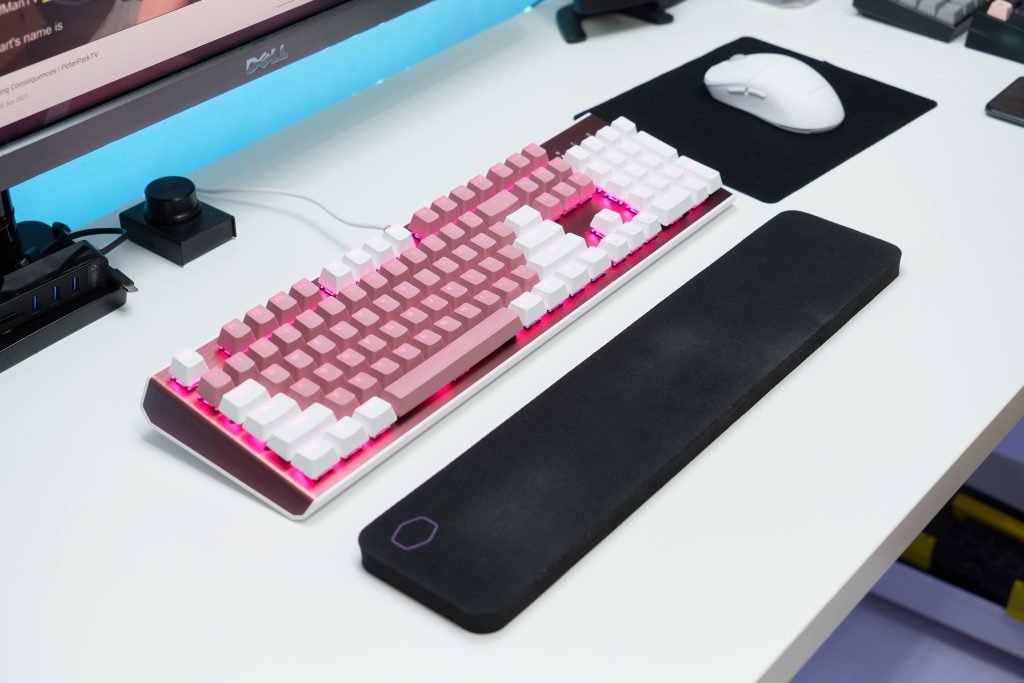 The overall design is a open-top 104 key layout which most gaming keyboards have, and the difference here lies in the Sakura edition difference. There's a pink-white and white-pink version where the pink and white keycaps switch places. Both of them use the same stylish pink brushed aluminum top plate which is one of the highlights on this keyboard.
When I first plugged it in, RGB LEDs glowing through the key caps and bouncing on the pink plate really surprised me. Going into this I really didn't expect much from it but when the RGB LEDS are set to pink and it bounces off the pink plate, it creates a really neon pink/ gamer vibe that I like. It even comes with a nice foam wrist rest that looked soft on the website but I assure you this is dense foam which does not become flat when I rest my arms on them.
---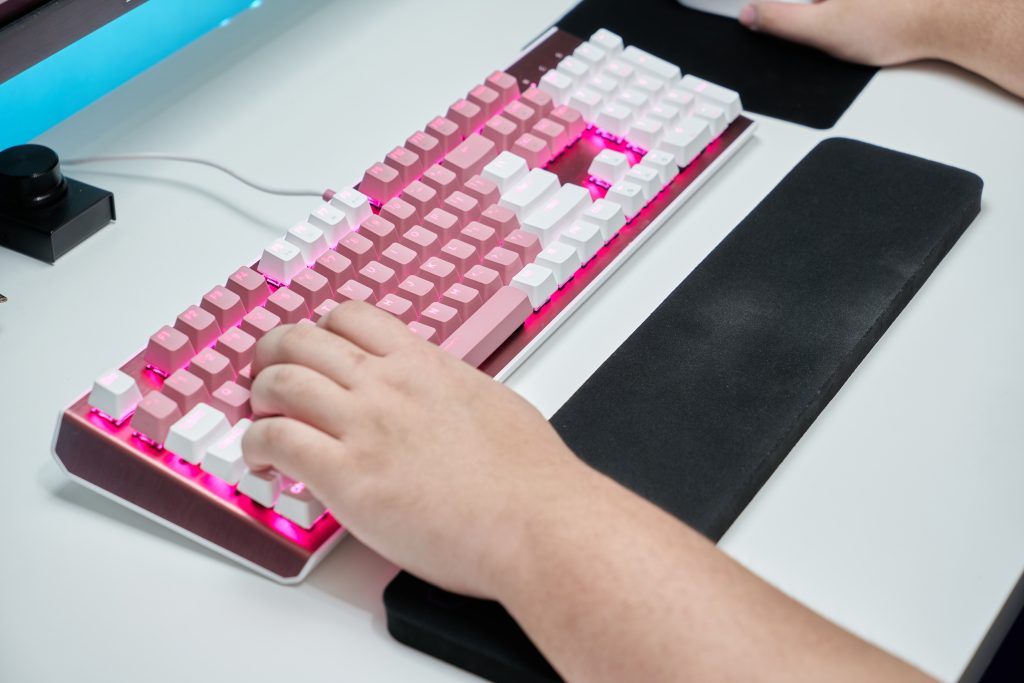 User experience: It's pretty standard
The CK550 V2 Sakura editions only come with TTC switches, you have the good old red, brown and blue options all at a msrp of RM 279. If you're not familiar with TTC you can just treat them as Gateron as the switches are cherry mx style and rated for 50 million actuations too. Would love to see hotswap but at this price from a gaming brand maybe it's just not a thing. Good thing there's warranty from a very established computer parts brand though.
These browns feel as standard as it gets, it starts off with a slight bump and travels to the bottom with some scratch. The stabilizers come pre lubricated which is surprising for a gaming keyboard but the rattle is still super obvious as usual (not that gamers care about this hehe).
The keycaps are PBT doubleshot in this special pink and white two-tone. They're not cheap thin keycaps but they aren't thick ePBT custom keycap thick either. Pretty average but the average gamer wouldn't pay too much attention either. This board would look amazing with white pudding keycaps, and thanks to the standard ANSI full size layout it will be easy to buy.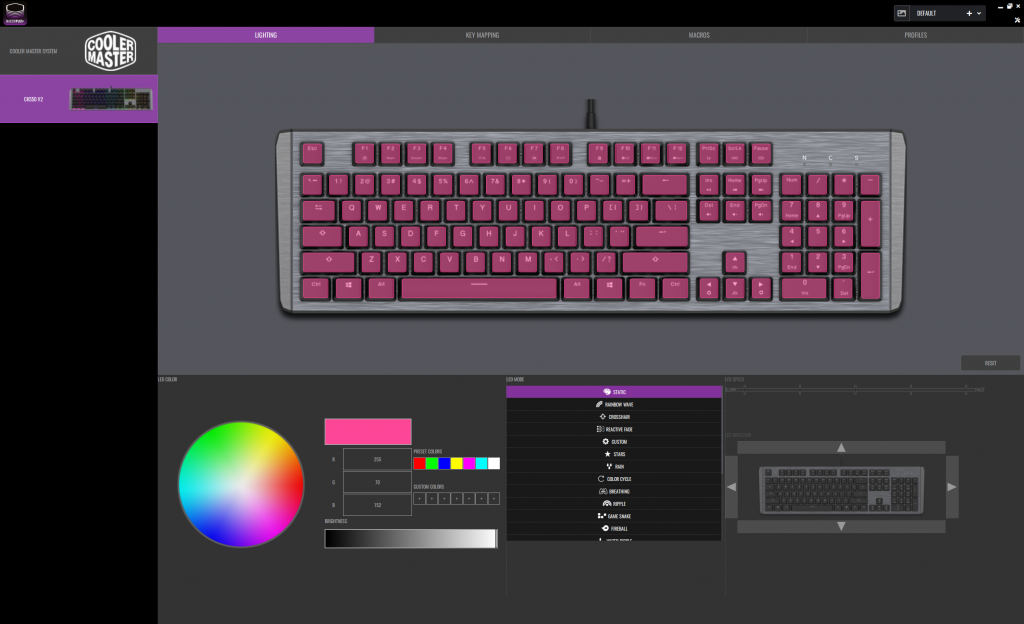 The keyboard uses Master Plus, which is shared across a ton of CM peripherals and even receives regular updates. Throughout my experience with this keyboard i've had 3 updates for the keyboard, mouse and software itself so safe to say Cooler Master is actively paying attention. The UI is better than basic and everything is pretty easy to use, RGB mode, custom colors, speed and directions are all straightforward, 8/10 here could be more polished graphically that's all.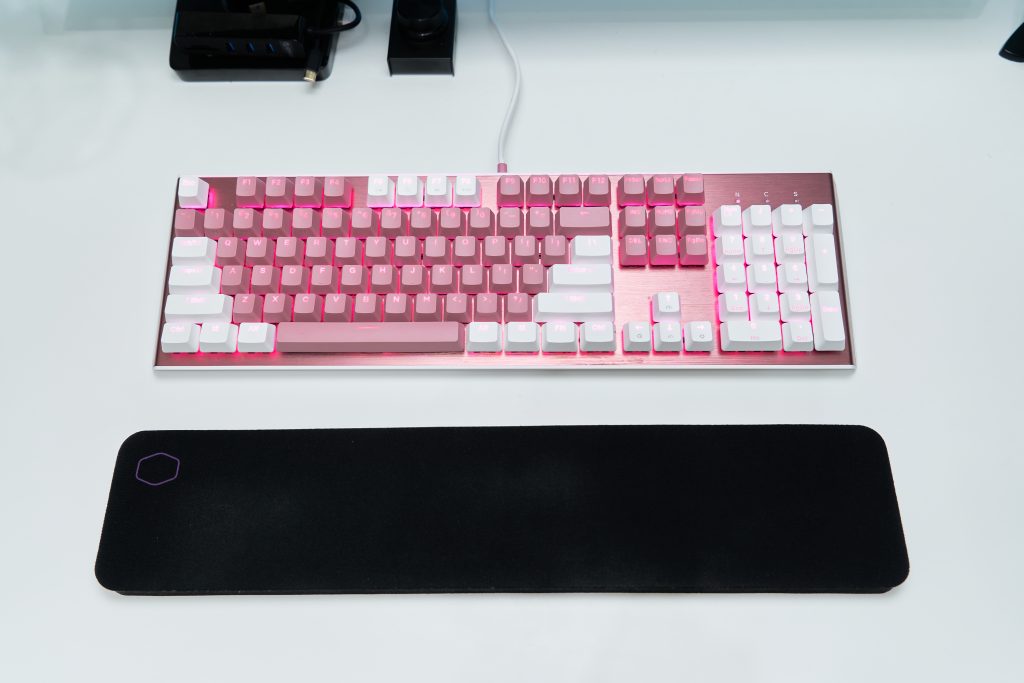 Conclusion
Cooler Master promised a no-nonsense keyboard without compromise with the CK550 V2 and they added a pink Sakura edition to it. After using it for a couple days and typing this with it too, Cooler Master really did what they promised. This is a high quality full sized mechanical gaming keyboard with RGB and good software. Everything I think a gamer who wants a mechanical keyboard deserves is achieved with this keyboard, only in a pink theme that both the men and ladies would love too. Kudos to Cooler Master, this is well worth the RM 279.