A Hesitant upgrade
The Black Shark 5 Pro easily keeps itself in rank with top gaming smartphones but still remains as only a chip upgrade compared to the Black Shark 4 Pro along with some camera bumps. Its best features is still the stunning 144hz AMOLED panel and great pop-up mechanical trigger buttons.
Good
Ludicrous 120W fast charging
Strong performance
Tons of accessory support (external cooler fan)
144Hz AMOLED display is beautiful
Ungood
No wireless charging
Max storage is only 256 GB in Malaysia
Heavy Gaming without fan is too hot
Battery Life Is subpar
---
Specs
---
CPU
Qualcomm Snapdragon 8 Gen 1
Memory
8GB +128GB
12GB+256GB
16GB+256GB
UFS 3.1 Storage, LPDDR5 6400MHz RAM
Display
6.67″ FHD+ AMOLED @ 144Hz, 1300 nits Peak Brightness, HDR 10+
Camera
Primary: 108MP, f/1.75
Ultra-wide: 13MP, f/2.4
Macro: 5MP
Selfie : 16MP, f/2.45
Connectivity
Bluetooth 5.2 ,USB Type-C 2.0, 5G, Up to WiFi 6
OS
Joy UI 13 (Android 12)
Battery
4650 mAh, 120W Fast Charging (QC + PD)
Available Colors
Black, White
Retail Price
12GB/256GB – RM 3,499
16GB/256GB – RM 3,799
Design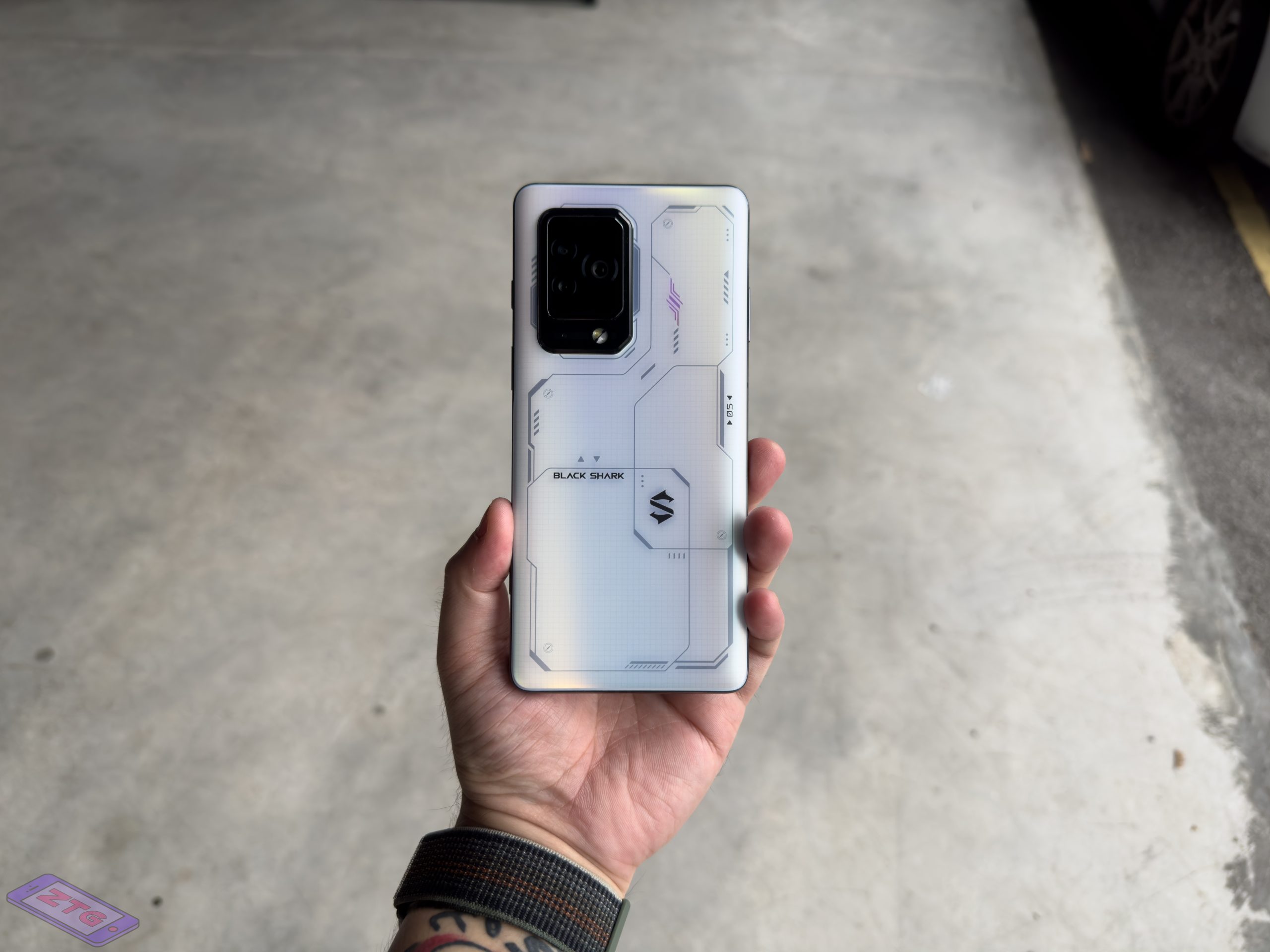 "Glass, Metal, Glass. A Primo Sandwich"
With the Black Shark 5 Pro, the company finally cools it with the glossy outlook and ops in for the geometric, space station-esque design language. It's clearly trying to mimick a HUD interface of a digital helmet or something along those lines so that's subject to taste. It's a tad bit softer this time around, but you'll definitely know that it's a gamer phone if people had to peek closer. There's also a light-up RGB logo at the back, which is simply a cluster of geometric lines that fit the general look. On the white color model it's pretty nice since you can set any color and it'll diffuse into the frosty finish nicely.
It's clean and the back's still glass with a nice frosty feel. Come to think of it, the Nebula White which I have now is very aesthetically pleasing. It honestly feel great but definitely accumualates oil from your fingers so I don't recommended snacking on anything that'll leave a trail. Our's is white so it was definitely a big no. You can however use the included case to be rid of that problem temporarily.
The camera module is in a clustered square position, housing a big main sensor with flanking tertiary cameras. Outside of the same module is your duo-tone flash.
As always, the signature Black Shark pop-up triggers are here to stay and they're just right next to their activation sliders which you can slide to each end to pop-up or pop-in. This, this just still means that won't be any form of official IP rating since I'm pretty sure they're not sealed for water yet alone dust. The power button is on the right side and doubles as a fingerprint reader. Why it's still not a touchscreen fingerprint scanner is beyond me, but at least you can also use your face to unlock and that process was quick and easy.
Display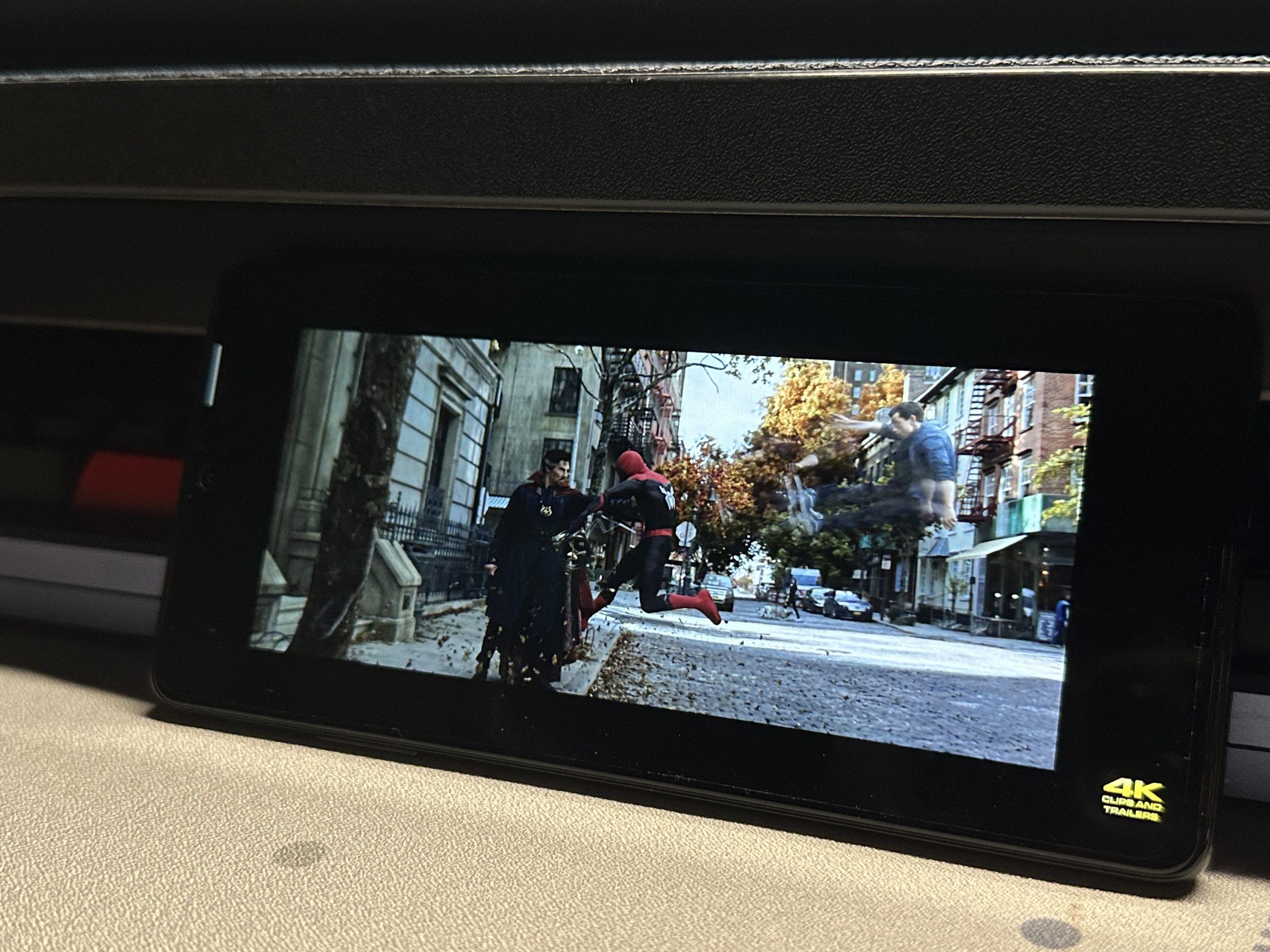 The 6.67″ display size is pretty mainstream, and since it was on the Black Shark Pro 4, it'll most certainly stay the same here. It's sleek and tall, plenty of screen real estate for all my gaming. The bezels were surprisingly thin all around, with a little tiny cutout for the front-facing camera. There's a pre-installed film on the display so there's some assurance out of the box that it'll be free of scratches.
The Black Shark 5 Pro uses a new Samsung AMOLED panel, capable of 144Hz gaming with options to tone down to 60Hz or 90Hz, adding versatility right off the bat. That versatility was quite confusion though, because of strange UI-related dictations to the refresh rate. Standard runs everything at 60Hz, Ultrahigh mainly 90Hz, and Ultimate at 144Hz but in reality, we tracked the UI and some apps to just stay at 120Hz. We're not missing out too much from losing 24Hz, but I'm sure it was a choice for battery perhaps? Auto for the most part dynamically switches refresh rate but only within the 60Hz – 144Hz range because the panel isn't really equipped for it.
It stays competitive in the market too, going along with the staple 720Hz touch sampling rate which is only beaten by a small handful of devices that go up to 920Hz.
"Top Scoring Performance With A High Cost "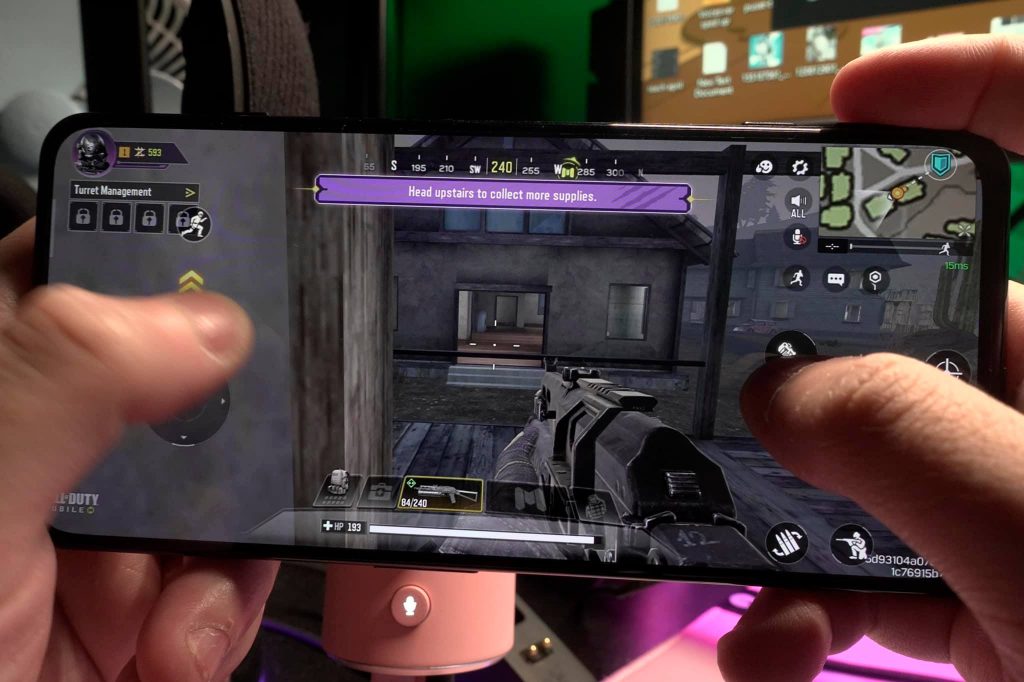 The Snapdragon 8 Gen 1 chipset has had many rocky starts this year, plagued with numerous issues that seems to revolve around heat. This time around, Black Shark's approach to building a Snapdragon 8 Gen 1 smartphone is to give a high thermal limit as well as a large sheet of graphene with accompanying vapor chambers. Honestly that's what almost everyone else is doing but somehow Black Shark's thermal limit for the 5 Pro is pretty high, which means you can squeeze out performance but at the cost of heat build up.
The Black Shark 5 Pro sticks very close to 60 FPS on almost all AAA titles, with throttling kicking in after at least an hour. It can handle prolonged gaming sessions but its going to get really, relaly toasty, like 45-45 degrees celcius toasty. You can however just mitigate this by buying one of the company's own fun coolers, which we happen to have. After slotting a fun cooler 3 pro on, it managed to stay at a more manageable 41 degree average.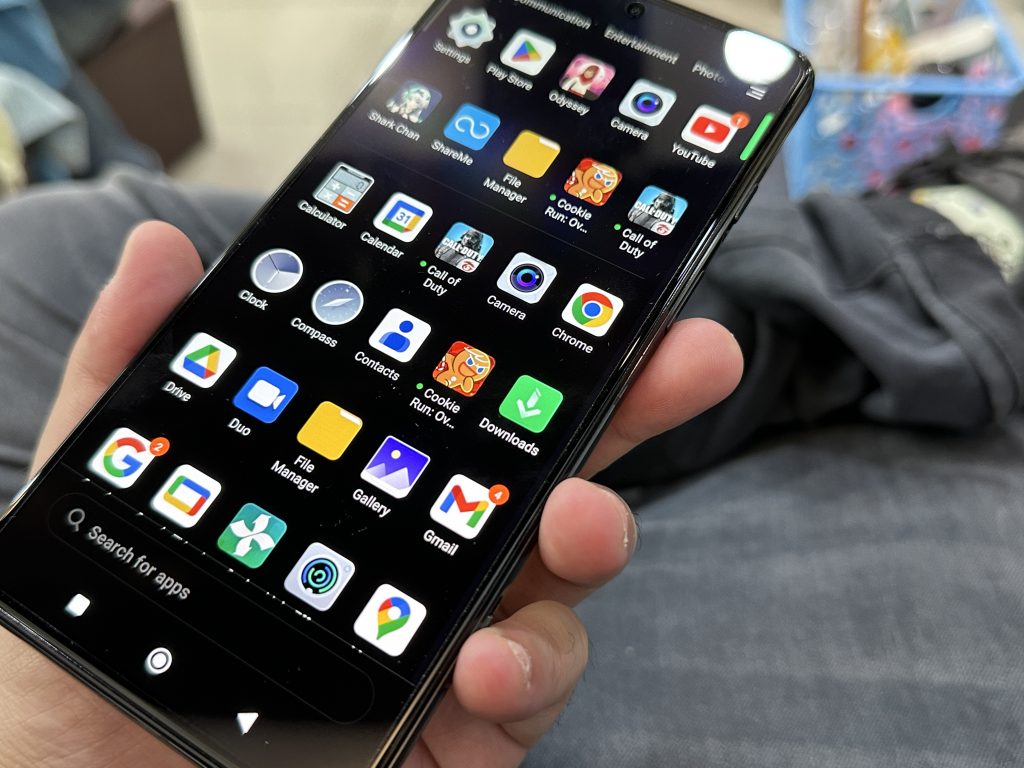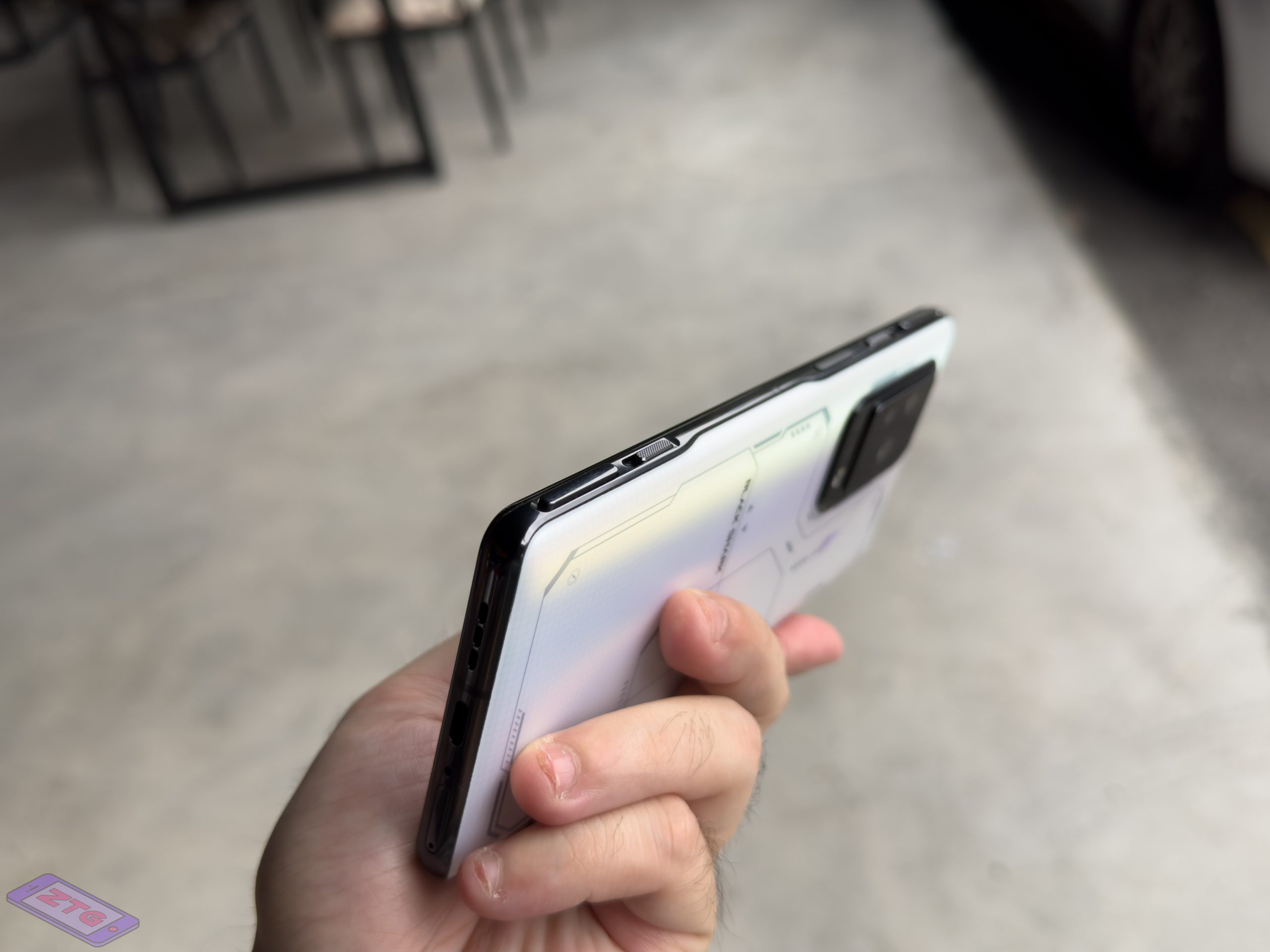 Tip: CODM, PUBG Mobile and FreeFire users, you won't be able to get the full 144Hz refresh rate as most titles have their own FPS caps, so forcing it would cause things to stutter. I highly suggest setting the refresh rate to "Intelligent Switch" in the drop-down performance manager when you're in game to keep things running smooth.
The 4650 mAh battery is charged via the provided 120W charger in the box. You'll get to choose between 2 modes to charge your Black Shark 5 Pro.
Super Flash Filling : As fast as possible, quickly. (About 18 Minutes)

Constant Temperature Charging : Intelligent Monitoring and Application of wattage to maintain temperatures to keep battery heat as minimal as possible. (Nearly Half an hour)
Regardless of which choice you make, you'll defintely be up and running again in 30 minutes tops, and we lean more to the latter approach to charge since we found it significantly cooler than the former, which is great for your battery health due to lesser heat.
Take note that these charging speeds is because of proprietary technology, so you can't just use any 120W charger AND cable. You'll need the brand's own.
The Black Shark 5 Pro runs on Joy UI 13, based on Android 12. There's nothing outlandish in UI design, but you'll definitely be greeted with Black Shark-eque logos that you'll find familiar if this isn't your first Shark.
Of course, you'll also get Shark Chan on board, an interactive AI character that you can even set toon your home screen. You can poke her around and even have her as your alarm for you to wake up.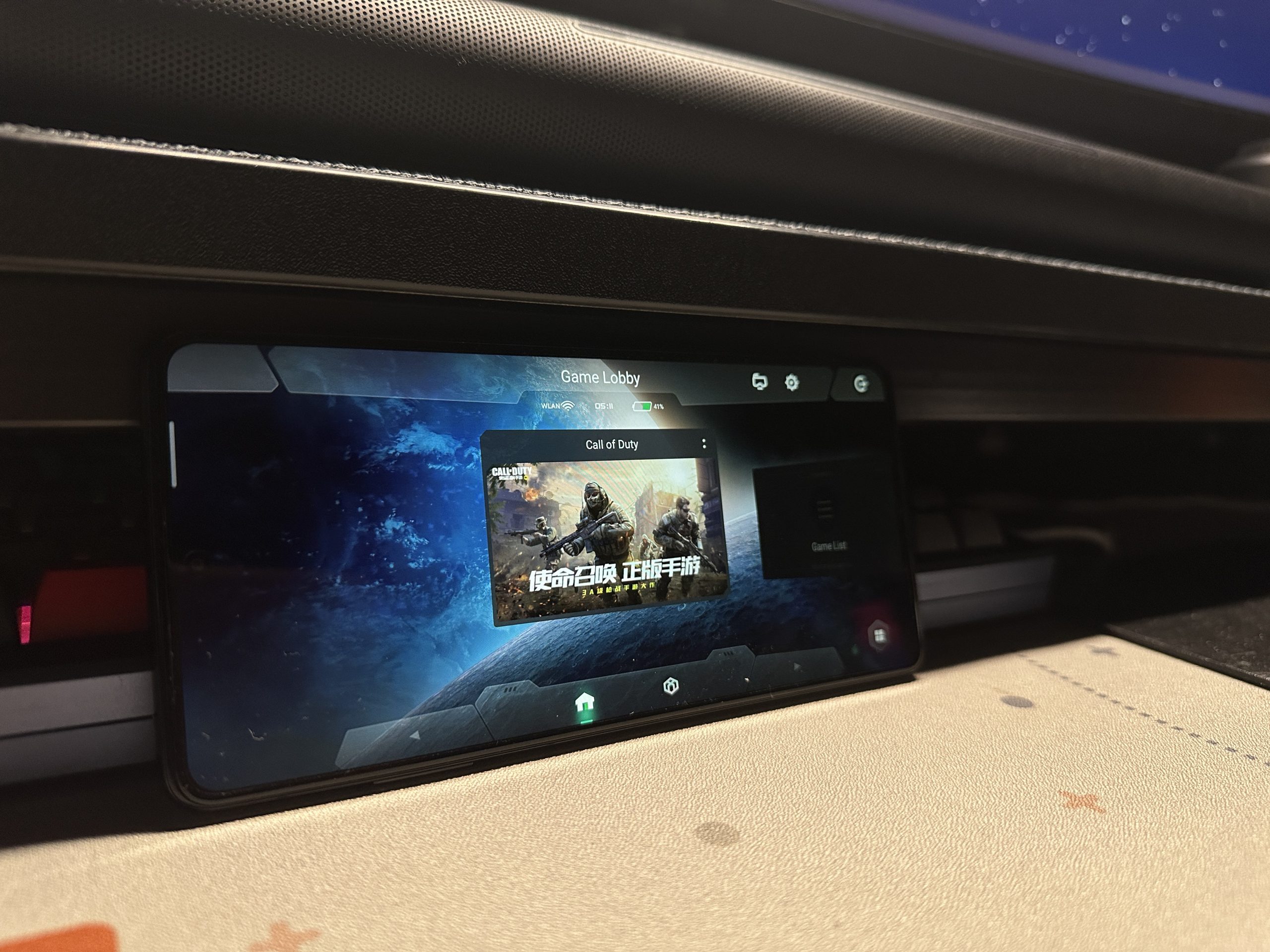 Shark Space
Shark Space would be the core app you'll be using to customize and manage your gaming experience. You can either tap on the app or press and hold both the trigger buttons to activate it.
From there you can manage all your games, accessories and all game-related settings like universal brightness, auto-rejecting phone calls and choosing refresh rates. Shark Space is also able to be called on by swiping the corners of the Black Shark in any game that you're playing to change things on-the-fly.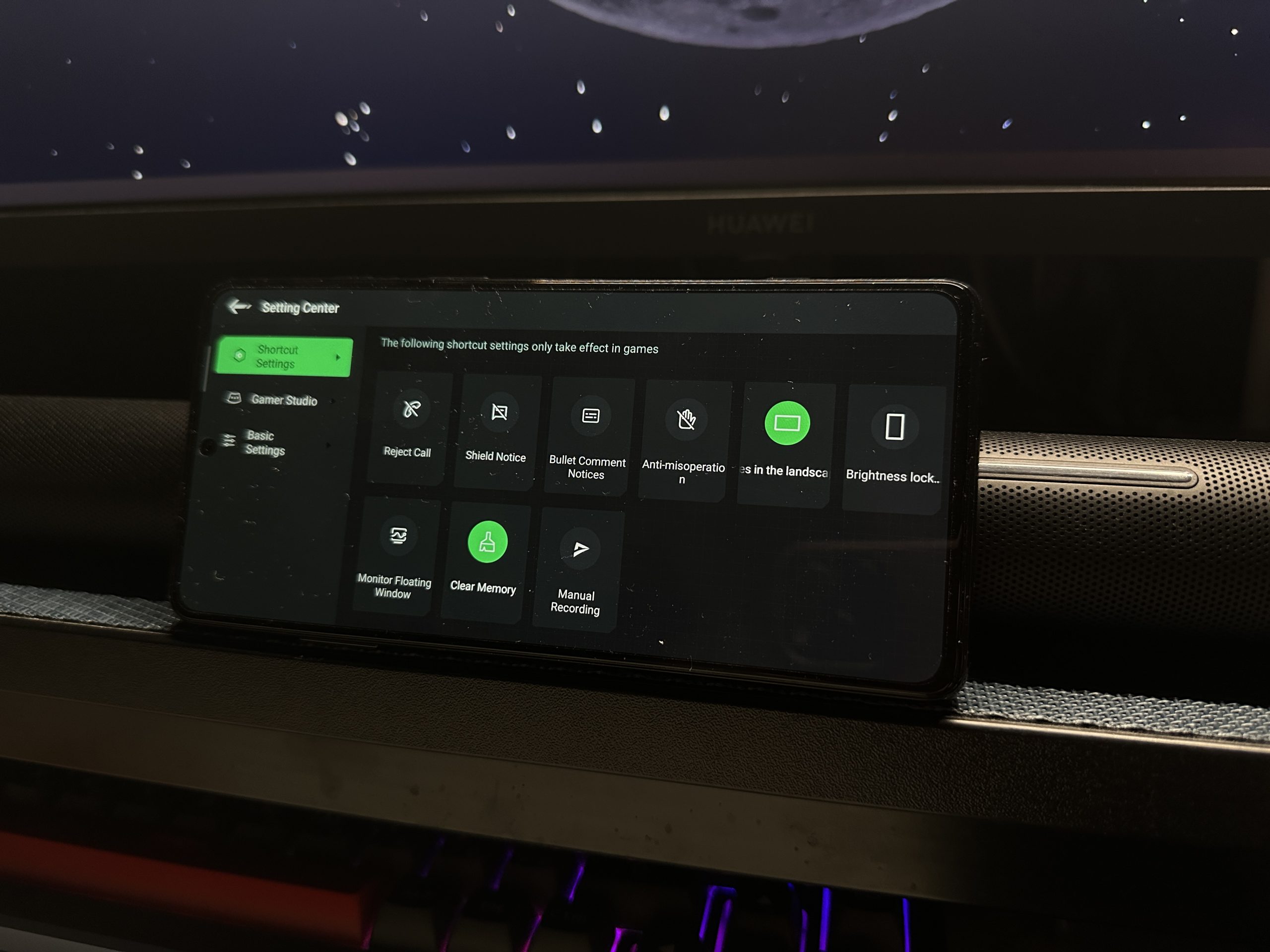 Right On The Money Camera Setup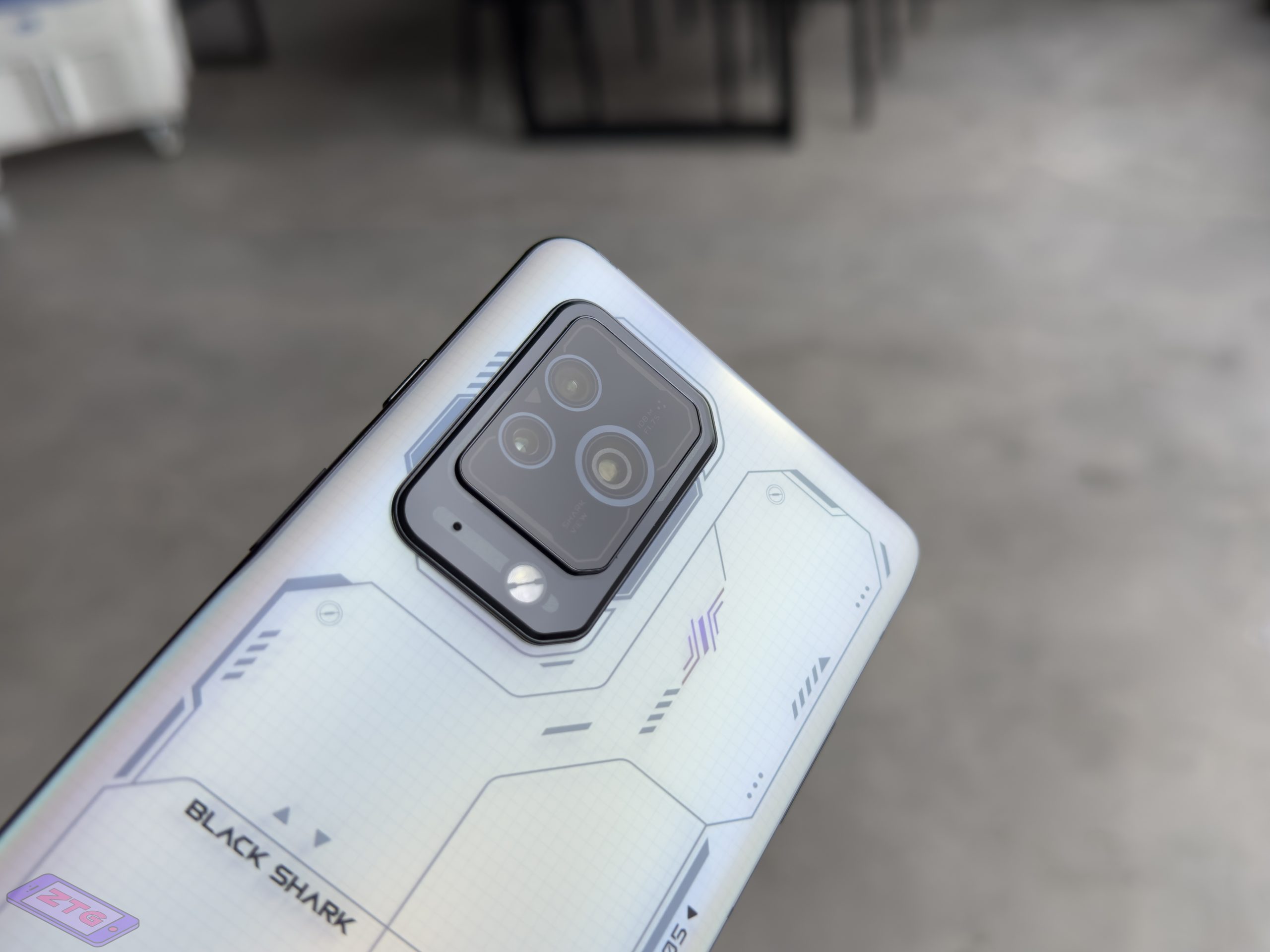 The Black Shark 5 Pro has a pretty usable set which is several steps up from last year's 64MP shooter on the 4 Pro.
The main sensor is a 108MP wide angle Samsung HM2 sensor, as seen on the Galaxy A73 5G and even the Xiaomi 11T. It's a simple package here, offering basic PDAF and EIS. I'll forgive the lack of OIS because it's a gaming phone. I'm grateful at this point if the image quality is usable at all, since I have expectations on Black Shark's execution towards a nona-binning arrangement that leads to 12MP shots.
Main Wide Angle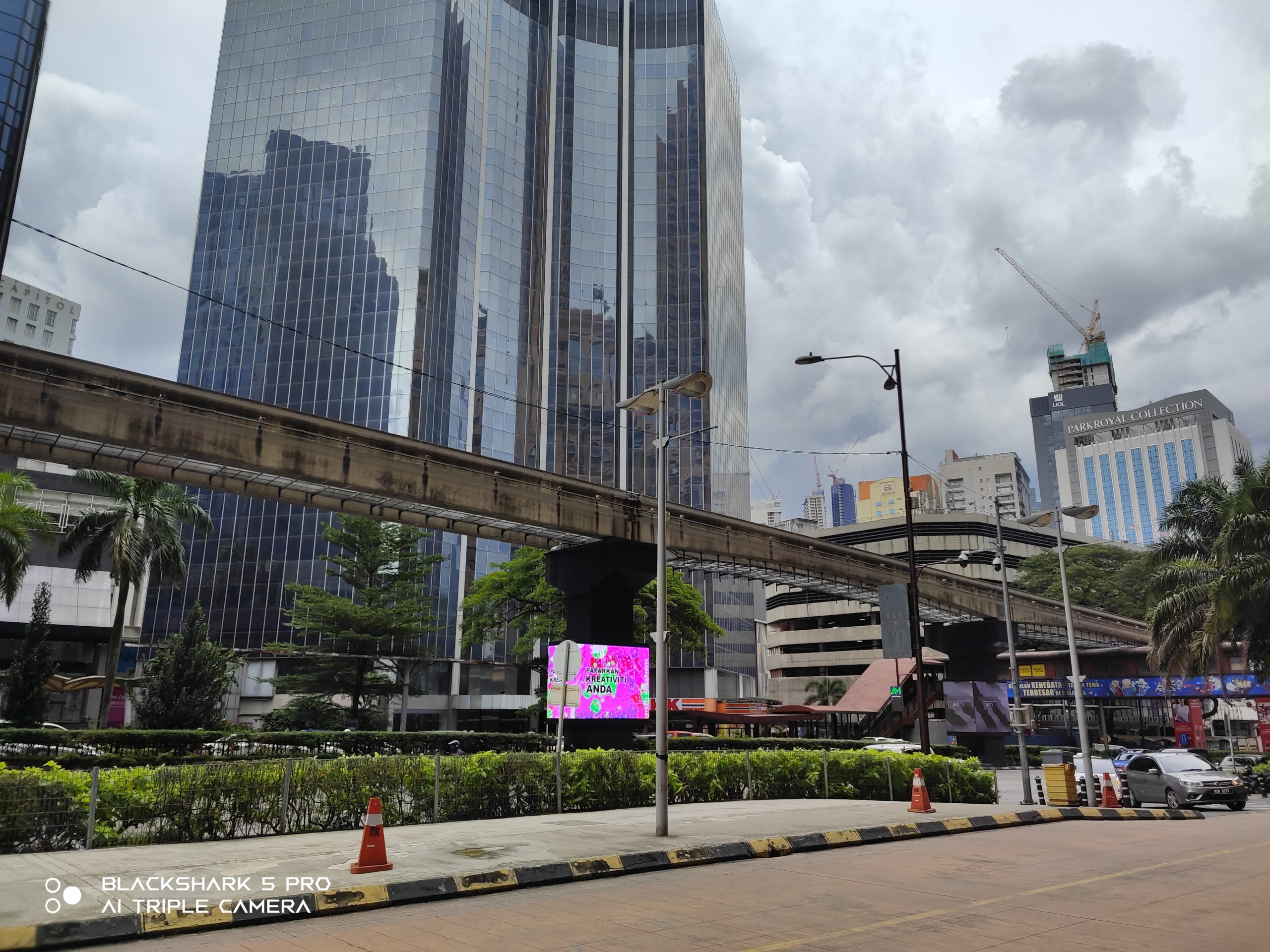 The main shooter does well in producing good detail, respectable sharpness and slightly buffed up saturation, or as i'd like to call it "Neutral+".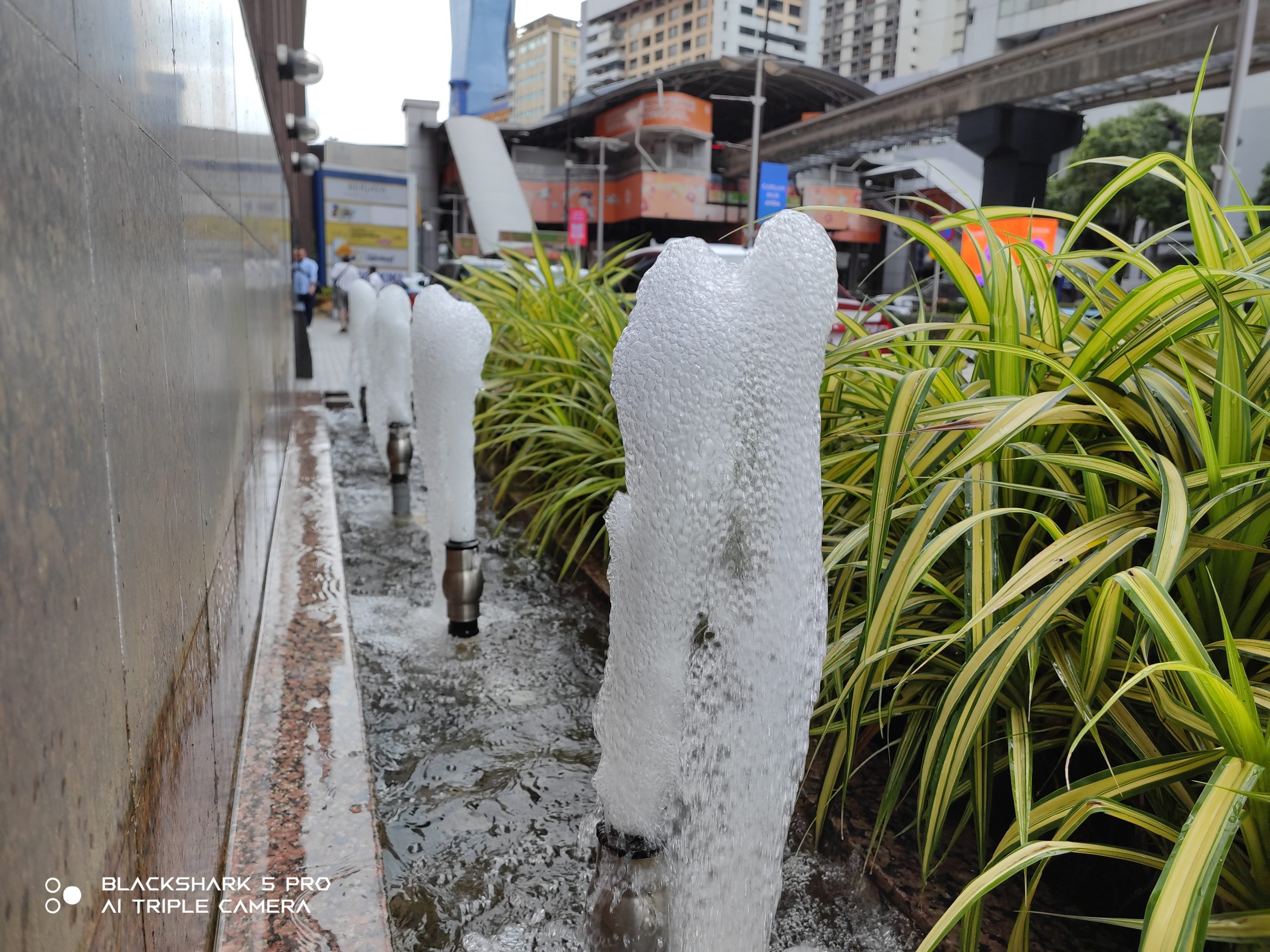 Contrast occassionally suffers and sporadic HDR behaviour is a major part of the blame. If you didn't focus your shots, especially outdoors, expect blown out skies. Also, you can see that in buildings, you'll notice the amount of sharpening applied in post is quite excessive, leading up to artifacting and excess shine, especially towards mirrored objects. It's as though in post digital gnomes pop in with a cloth and some shoe shine to shine out everything it sees.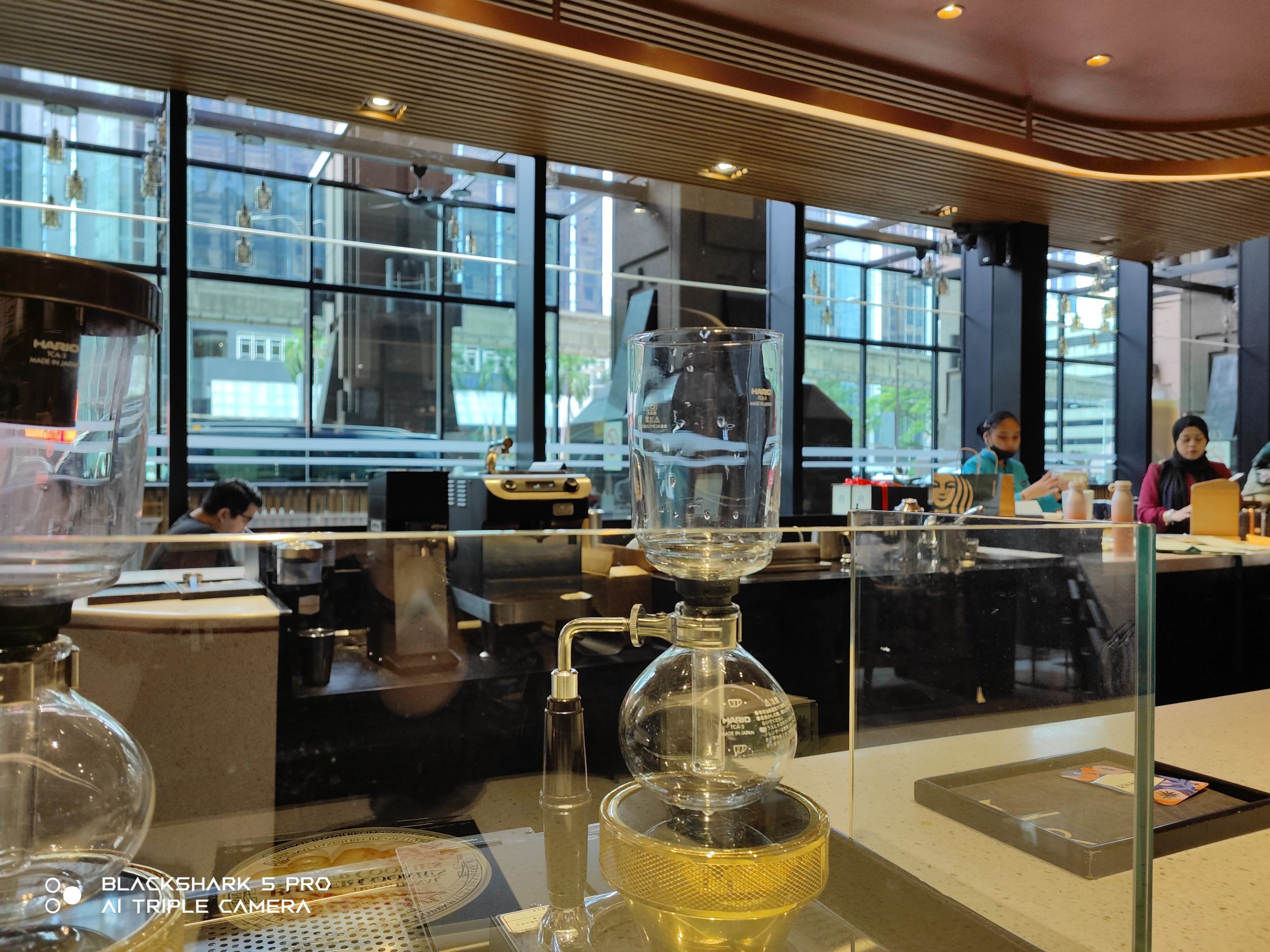 The 13MP ultrawide seemed to fare better than the main sensor with a good level of sharpness and detail that gets buffed out with some slight over sharpening and some points of extra saturation. Dynamic range was more obedient here too.
The digital zooms were usable as well, capable to making words even readable from a distance. It's extremely sensitive to lighting, and the slightest drop in brightness can pixelate the shot at anytime especially beyond the 2x zoom mark. Dynamic range and contrast fared well, but definitely far from perfect. You can see in these shots that the sensor could not tame the sky, especially on the right side.
---
Good Surface Level Selfies
The 16 MP selfie camera is perfectly serviceable, keeping the overall tone neutral with an impressive level of detail on a surface level. Portrait shots are flexible, letting you choose between variable blurs for some flexibility.
The seperation and blurring for the most part gets an A, but you can see in my fingers that there'll be some halo effect which does dock some points for me. That being said, other complex materials like hair didn't clip on top of one another too badly, but other elements like light facial hair the general detail was well defined.
These are definitely usable selfies that can be fit for a profile picture change.
---
The Verdict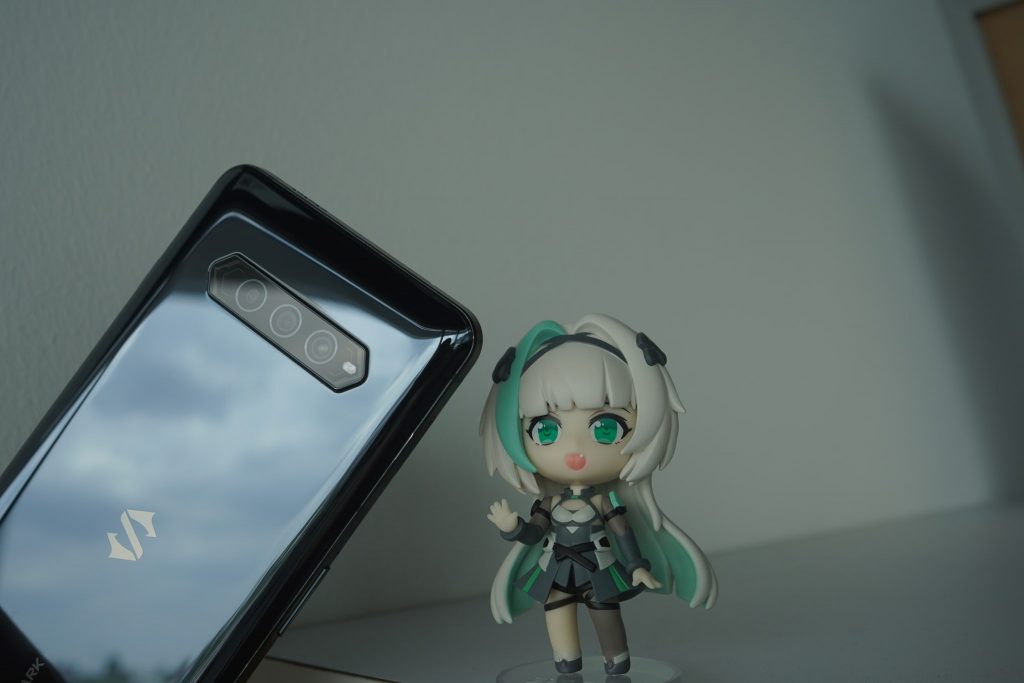 My question is, can good looks and performance carry you so far? Can your need for top-tier gaming let you overlook the flaws and live with it? The Black Shark 5 Pro is a strong performer with the looks to boot no doubt but with concerns of lots of heat on your hands and little quirks like the lack of IP rating and audio jack, is it really a worthwhile jump from its own predecessors?
It really, really depends. The screen is fantastic and so are the speakers. It really does offer a spectacular media and gaming experience that I can get behind (including the still-awesome pop-up triggers that beat sonic sensors any day in my opinion). I do however, recommend you picking up one of their external fan coolers to take some the heat off your hands because It really can get unbearable especially if you're a AAA title gamer. Esports titles however are more easy going and lighter on the resources.
If this is going to be your first Black Shark, then this variant is fine if you have the change to spare. If you're on a budget and prefer a more cool experience and not wish to get a fan, then the Black Shark 5 or Black Shark 4 will do a great job even with the old but gold Snapdragon 870 chipset.