A netizen had recently compiled a small list of people who have received their Peranti Siswa devices after applying for them through their respective education institutes have been seen openly selling them, including mentioning that they had gotten them at no cost from the government sponsored Peranti Siswa programme.
What Is Peranti Siswa?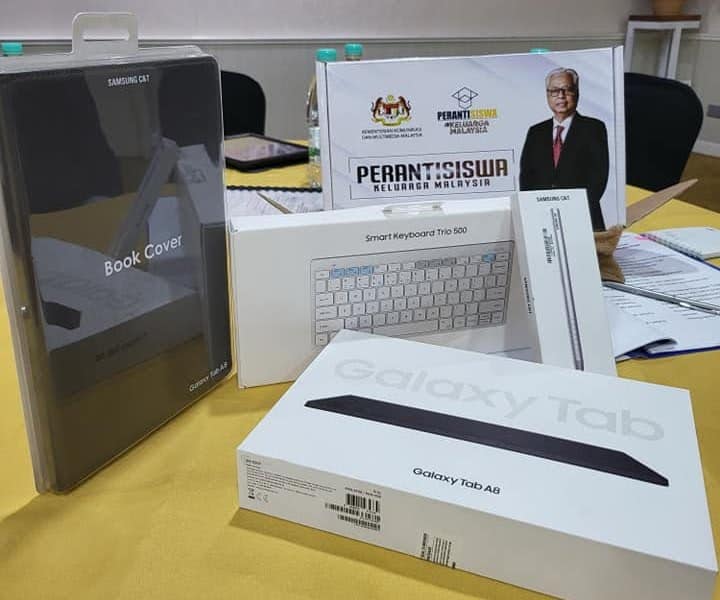 The Peranti Siswa initiative under the 2022 budget was aimed at providing tablets for university students from low-income families. – FreeMalaysiaToday
With over 400,000 recipients and many more applicants, this initiative was introduced for students and teenages to be provided with the necessary consumer tech tools needed to transistion to digital learning, especially for families of students who are of low-income and may not be able to afford to provide it for them.
What's Given To The Applicants And How Much?
Samsung Galaxy A8 Tablet (64GB+4GB) – RM 1299
Book Cover Case for Galaxy A8 – RM 209
Smart Keyboard Trio 500 – RM 179
Stylus Pen – RM 99
Total Value : RM 1786
Street Value Listing : RM 800 – 1000+

It's All Over Carousell and Possibly Other Platforms!
Why Is This Happening?
According to their (the recipients) reasoning, some have mentioned very unfair reasons such as saying iPad suiting them better, some want to cash out to upgrade to more expensive models, with the worst of the lot being : I ALREADY HAVE AN IPAD SO I AM NOT USING THIS. This grinded my gears. If you're not using or have no use for this, WHY BOTHER APPLYING FOR IT? It's already a fact that the government might not be able to provided every living applicant due to budget, so why would you deny their opportunity to study? Just for a quick RM 900 cash-grab?
How Do We Know If Its A Peranti Siswa Tablet?
Well, the tablet basically boots up with an image with Peranti Siswa and some government logos, and the wide known fact that Samsung Malaysia does not officially sell these tablets at any of their stores or authorized partners. They had only listed it to make sure people can check the specs and features but will not openly sell them to the public as it could be too confusing and the pricing might be different due to government arrangements.
This Paints A Bad Image On All Sides
The government may have had great intentions, choosing a decent set of hardware from a reliable brand, but may have not done a stellar job vetting through families who's incomes are not as low as we think. It is a very selfish cash grab that really spells out : "It's my item, I do what I want with it, what's it to you?". We are pretty sure this initiative was a calling for actual struggling families with children who have a bright future with excellent grades but really do not have the chance to be provided with the appropriate hardware to further their studies.
Syed Saddiq Also Shared About This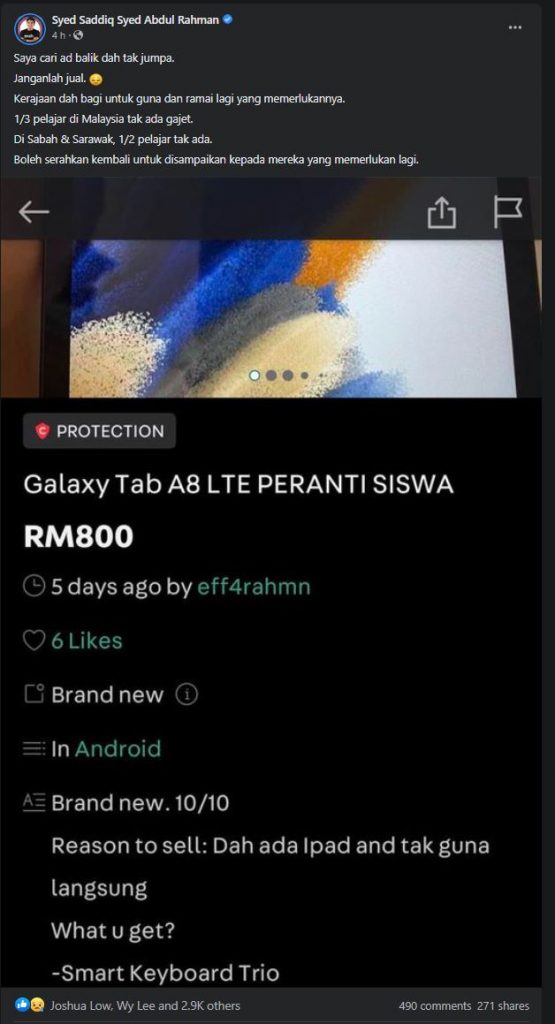 Translation:
Saya cari ad balik dah tak jumpa.
Janganlah jual. 😔
Kerajaan dah bagi untuk guna dan ramai lagi yang memerlukannya.
1/3 pelajar di Malaysia tak ada gajet.
Di Sabah & Sarawak, 1/2 pelajar tak ada.
Boleh serahkan kembali untuk disampaikan kepada mereka yang memerlukan lagi.
ENG
I looked for the ad but couldn't find it.
Please Don't Sell Them. 😔
The government has provided it and there are many more who need it.
1/3 of students in Malaysia do not even have gadgets.
In Sabah & Sarawak, 1/2 of the students are absent.
Can you please return it so that others who need it more can have it?