Pros:
Decent Sound Quality based on earphone type
IPX6 water resistance
Comfortable design with extreme flexibility
Long battery life
Large 14.mm dynamic drivers
Competitive Pricing
Cons:
Sound leakage is loud
No in-ear detection
Weak Microphones
What Are These?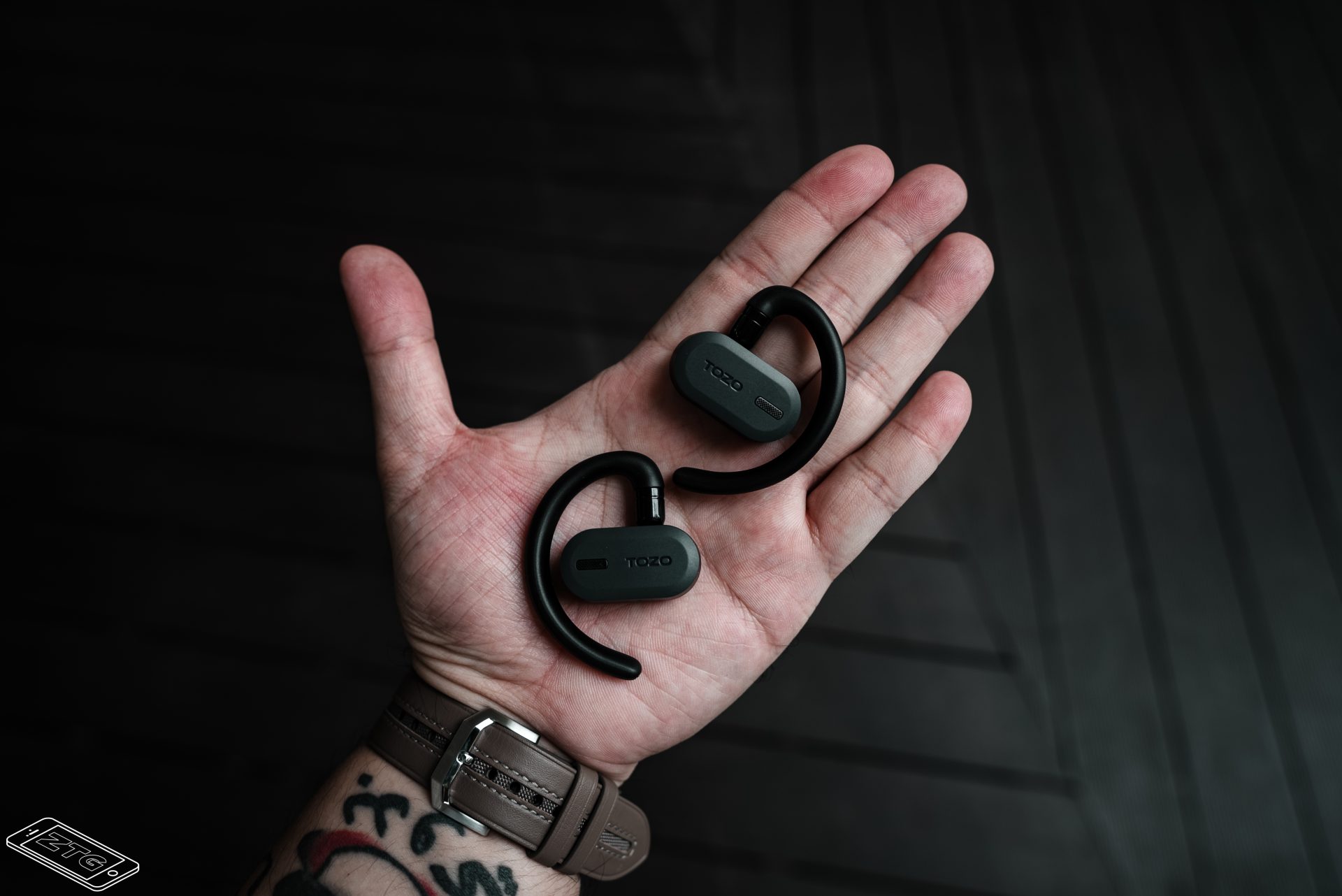 The TOZO Open Buds are a pair of true wireless earbuds that are mainly targeted towards people who need a pair of earbuds that would be ideal for exercise, running or even hearing difficulties through its unique biaxial rotation design and the use of air conduction to deliver sound throughout your ears instead of into your ears.
They are priced at $99 (Or RM 460), and we got our unit during a special sale for $70 which made it RM 325 instead.
Design (Case)
First off, the Open Bud's charging case is large and flat, and is definitely the biggest wireless earbud case I've ever had in my possession. It's plastic based and comes in a typical matte finish, in the shape of a flat pill. The case measures 92mm x 56mm and weighs 72g. This large size is meant to simply accommodate the size of the earbuds. As usual, you'll have your LED indicator outside the case in the front, with a single USB-C port at the back for charging. There's no wireless charging, and both earphones and charging case takes about 1 hour 30 minutes to full charge.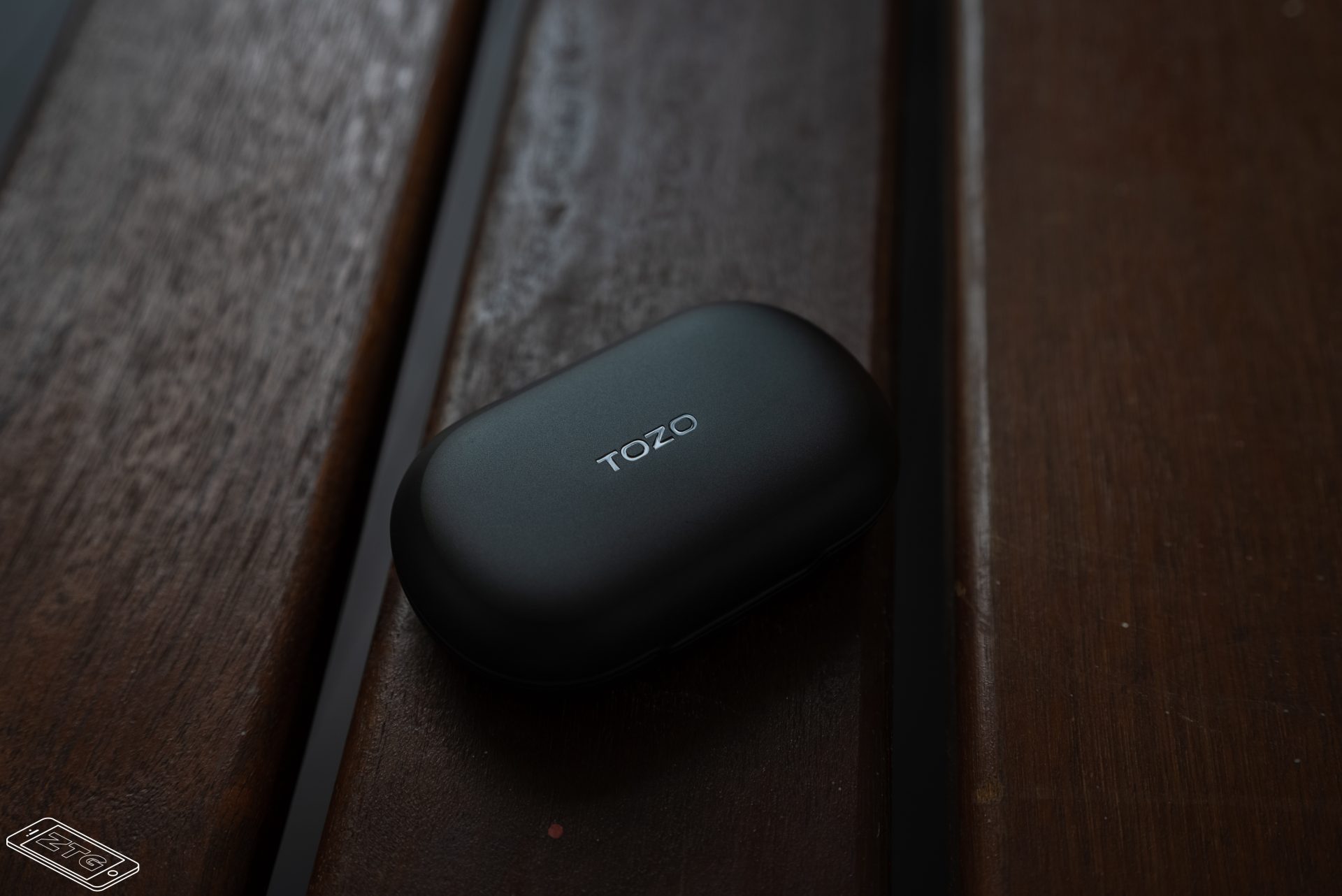 The charging case opens up to reveal the earbuds themselves along with the pairing button.
It's Simply A Big Case For Large Earphones. We Suggest Storing It In Your Bag Most Of The Time.
Design (Buds)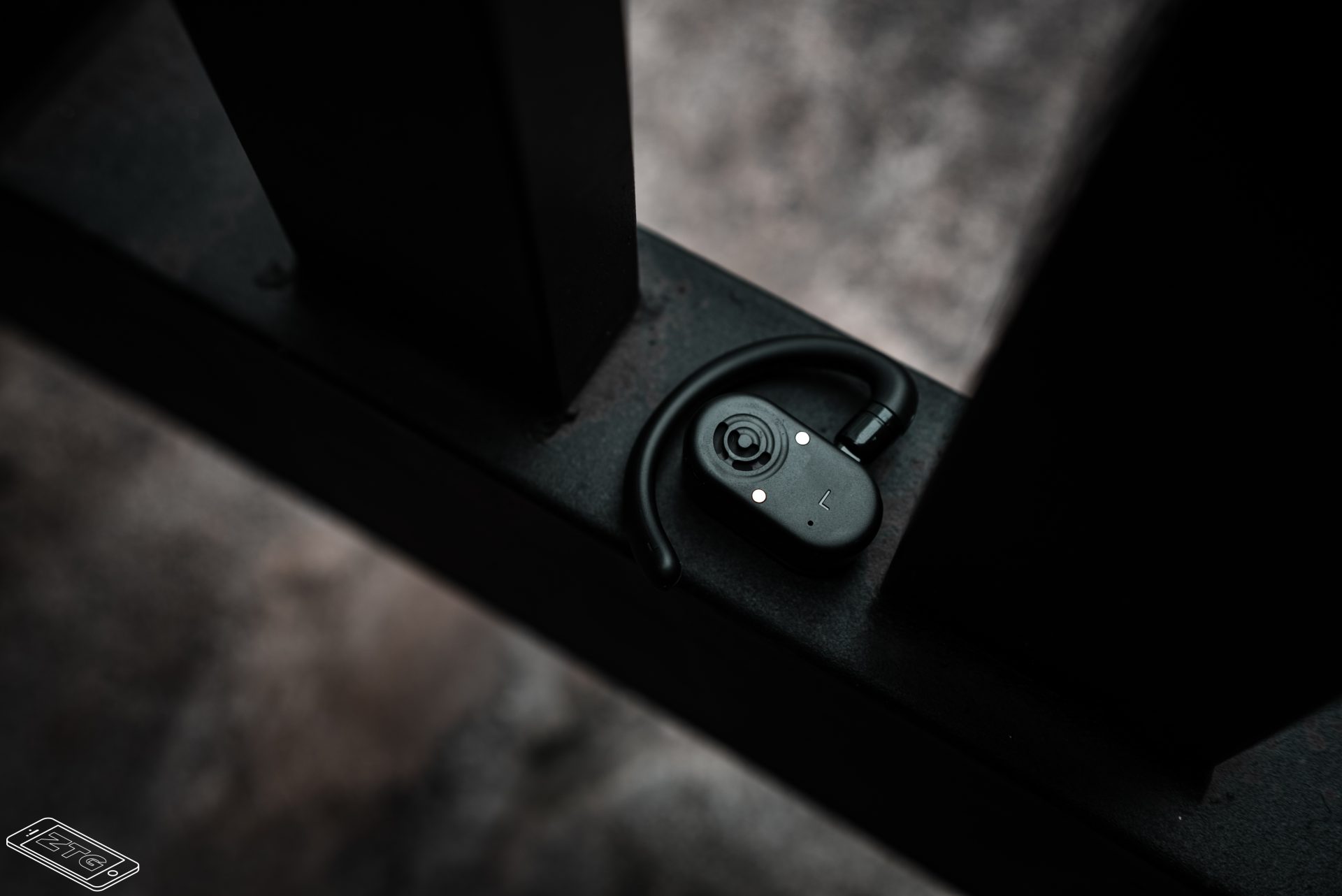 At first glace, they just look like conventional ear buds with hook design that curves right onto your ears, but instead of the in-ear design for the bud, you'll be getting direct speaker drivers that will directly place themselves onto your ear canal. The nature of the hooks are extremely flexible, offering a biaxial rotary approach that allow full horizonal and vertical adjustment, which will make these appeal to a wide range of user, especially people with irregularly/non-symmetrical shaped ears.
After first adjustment, the Open Buds felt pretty natural and comfortable on my ears, even if they're a little on the heavy side ( a little over 5g ). The fit is secure and even survived the most violent headbanging I have ever done in an attempt to make these buds fly off my ears. Turns out they stayed stubbornly and that's earned quite the praise if I do say so myself.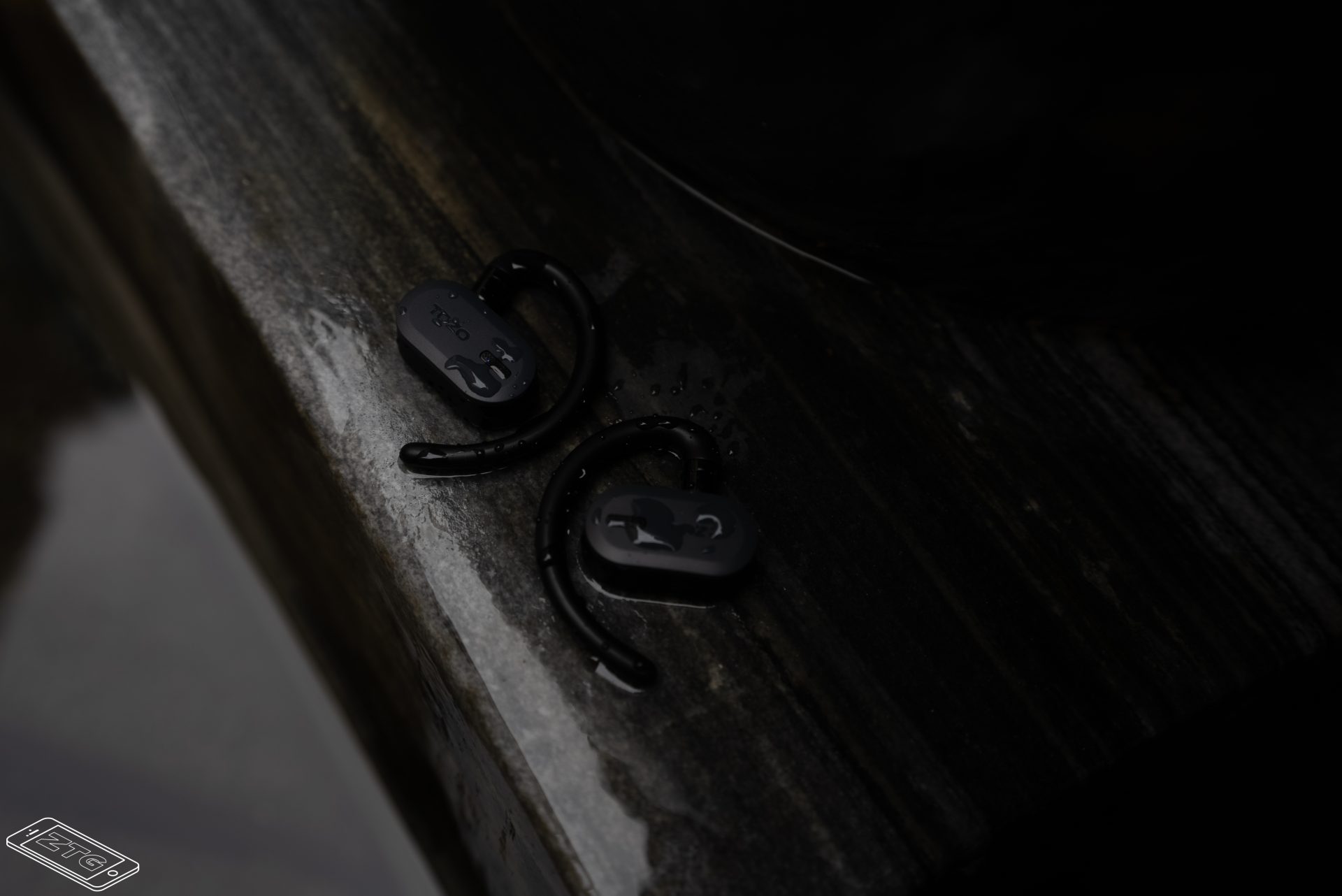 As expected of sports-focused earbuds, the Open Buds come an IPX6 water resistance rating, making them suitable for use in light rain or sweat.
How To Control
The Tozo Open Buds are touch capacitive on each side, and you can control everything from answering calls, skipping music and even volume adjustment, which is a feature I quite like since I don't like to dig into my pockets for my phone's volume rocker while I'm running.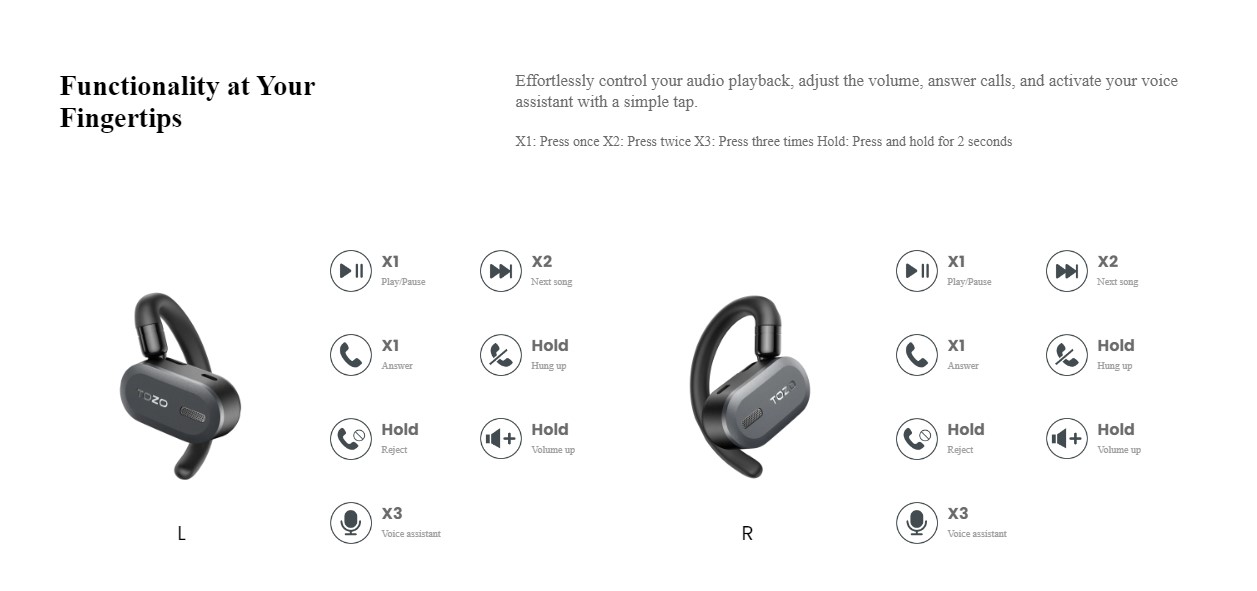 App and Gestures
The Tozo companion app has a clean and well-organized layout. The menus are easy to navigate, and you can access features like updating firmware, EQ, and touch control settings with just a few taps.
Tozo's Acoustic Labs customizes the number of available EQ presets for all their products, and the Open Buds gets only 5 presets compared to my Golden X1's total of 16 presets. As you can see it includes bass and treble modes, as well as music genre-specific presets to suit your listening preferences. In addition to the EQ presets, you can also customize the EQ to your own liking and save your own preset.
Connectivity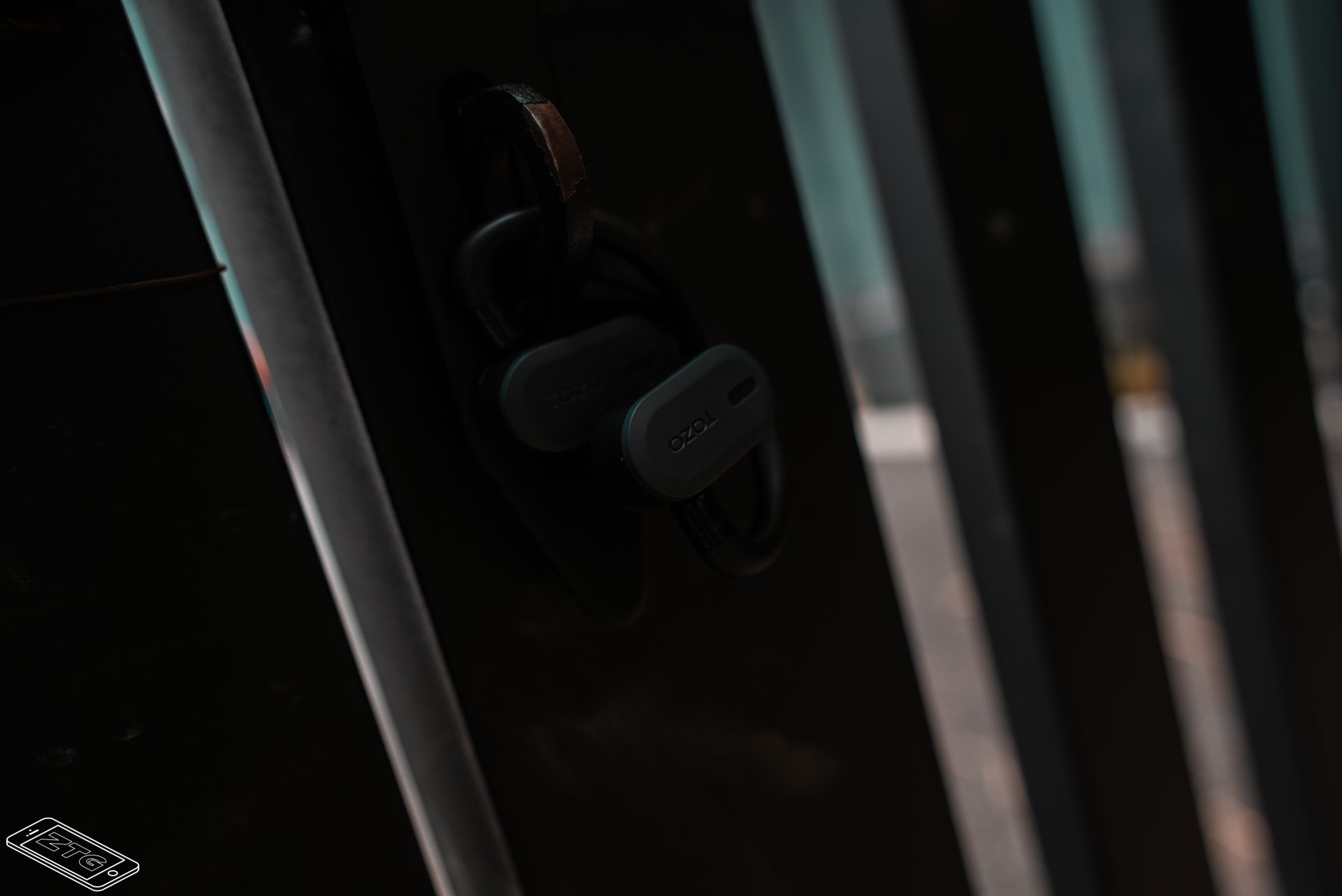 Bluetooth 5.3: The TOZO Open Buds use Bluetooth 5.3, which is the latest version of Bluetooth. This means that they offer a fast and stable connection with your device.
Multipoint pairing: The TOZO Open Buds support multipoint pairing, which allows you to connect them to two devices at the same time. This is useful if you want to use them to answer calls on your phone and listen to music on your laptop at the same time.
USB-C charging: The Open Buds come with a USB-C charging case. This means that you can use a standard USB-C cable to charge them.
The TOZO Open Buds supports the following audio codecs:
SBC: SBC is the standard Bluetooth audio codec. It offers good sound quality, but it is not the best.
AAC: AAC is a higher quality audio codec than SBC. It is supported by most devices, including iPhones and iPads.
Music?
Under that speaker grille, the Open Buds house a massive 14.2mm dynamic driver backed up by OrigX acoustic technology. What this means is that the Open Buds come with their own patented tech that takes care of the loss of frequency when sound passes through the curve of the ear canal by means of compensation. They are open-ear by design, so there's definitely a loss of frequency since they don't behave and work the same way conventional ear buds do, in which they blast the ear drums directly.
This results in a balanced and enjoyable sound profile, with a focus on clarity and detail. The bass is present but not overpowering, providing a pleasant rumble without overpowering the mids or treble. The mids are well-defined, ensuring that vocals and instruments retain their prominence, while the treble is crisp and clear, adding sparkle and airiness to the overall sound.
They're loud, and loud enough for the person next to you to hear due to its design that really leaks sound out, so keep this in the running track and gym, since I feel that it prefers to thrive in that environment.
The Finer Details
Bass: The bass on the Tozo Open Buds is surprisingly strong for an open-ear design. It provides a decent amount of depth and impact, but it doesn't overwhelm the other frequencies. The bass response is well-controlled, avoiding any muddiness or overemphasis. Overall, the bass is well-balanced and contributes to the overall enjoyment of the sound. You're gonna think there's a thump, but it's not.
Midrange: The mids are the star of the show on the Tozo Open Buds. They are well-defined and detailed, ensuring that vocals and instruments retain their prominence. Vocals are clear and present, while instruments have a nice timbre and texture. The mids are not overly forward or recessed, providing a well-balanced and natural sound.
Treble: The treble on the Tozo Open Buds is crisp and clear, adding sparkle and airiness to the overall sound. The treble response is well-controlled, avoiding any sibilance or harshness. The treble is not overly emphasized, but it does add a touch of brilliance to the sound.
Soundstage: The sound stage on the Tozo Open Buds is surprisingly wide for an open-ear design. Instruments and vocals have a sense of space and separation, creating a more immersive listening experience. The sound stage is not as expansive as some closed-back headphones, but it is still quite impressive for an open-ear design.
Battery Life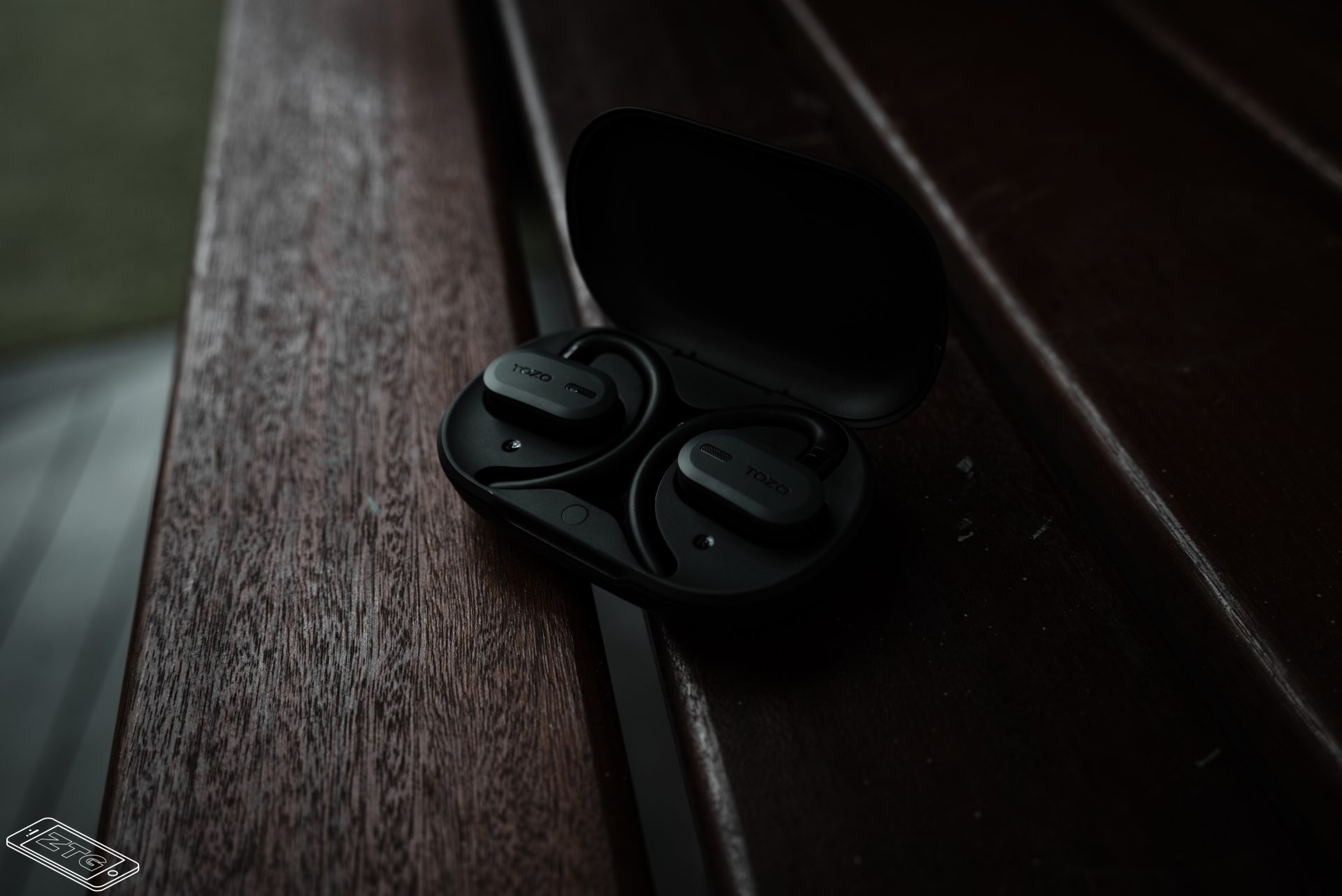 The earbuds themselves can fully charge in approximately 1.5 hours when using the included USB-C charging cable. The charging case, which provides multiple recharges for the earbuds, takes around 2 hours to fully charge.
The TOZO Open Buds charging case boasts a 650mAh battery capacity, providing up to 30 hours of additional listening time. This means that the combined battery life of the earbuds and charging case can reach up to 42 hours.
In real-world usage, the TOZO Open Buds have consistently delivered an impressive battery life. At moderate volume levels, the earbuds can last around 10-12 hours on a single charge. With the charging case providing multiple recharges, the total battery life can easily exceed 30 hours, making the TOZO Open Buds a reliable companion for long commutes, travel, or extended listening sessions.
Microphone
The microphone call quality of the TOZO Open Buds is generally adequate for casual calls in quiet environments. The microphones effectively pick up your voice and transmit it to the other party with reasonable clarity. However, in noisy environments or during windy conditions, the microphone performance can suffer, leading to muffled or distorted audio for the caller on the other end.
Strengths:
Adequate Voice Capture: In quiet environments, the microphones effectively pick up your voice and transmit it with reasonable clarity.
Dual-Mic Noise Reduction: The TOZO Open Buds employ dual-microphone noise reduction technology, which helps to reduce ambient noise and improve call clarity.
Multi-Point Pairing: The TOZO Open Buds support multi-point pairing, allowing you to connect them to two devices simultaneously. This feature can be useful for making calls from your smartphone while also being connected to your laptop for work or online meetings.
Weaknesses:
Sensitivity to Noise: In noisy environments or during windy conditions, the microphone performance can suffer. Background noise and wind can be picked up, leading to muffled or distorted audio for the caller on the other end.
Average Call Quality: While the microphones can capture your voice adequately, the overall call quality is not exceptional. The audio can sometimes sound a bit hollow or tinny, and there is not a lot of richness or depth to the sound.
Lack of Dedicated Noise Cancellation: The TOZO Open Buds do not have a dedicated noise cancellation feature for calls. This can further limit their effectiveness in noisy environments.
Final Thoughts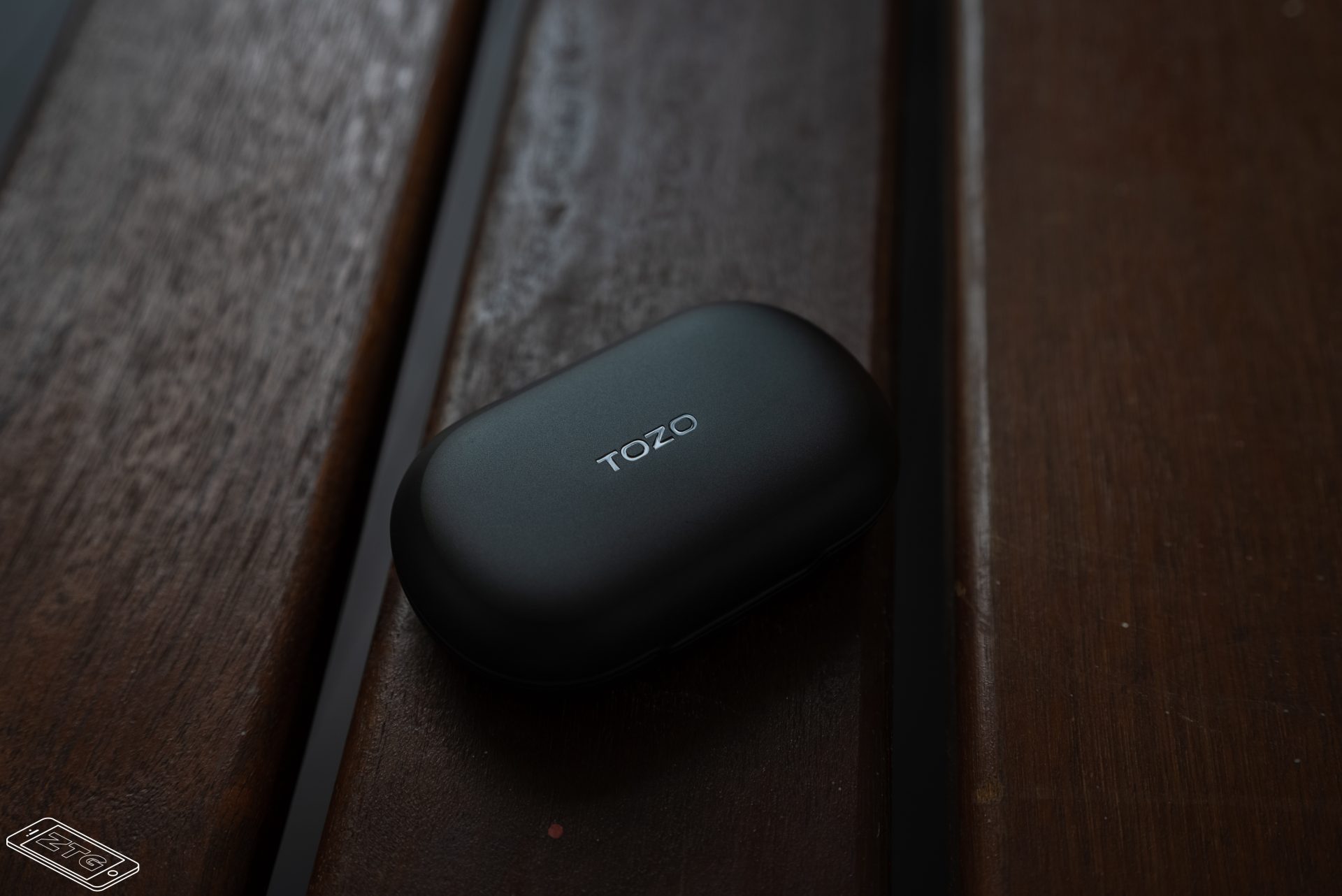 Overall, even though isn't currently available in Malaysia, the TOZO Open Buds are an interesting offering that greatly relies on appealing to a user that wants to focus on comfort, situational awareness and wear-stability at a friendly price tag. It's pretty much my first time going into air conduction, and through that simplicity, is this comfortable running companion that stays put in your ears no matter how sporadic you want to be with your movement.
The effort to deliver quality sound is recognised too, and with such a huge driver, you'll definitely see yourself getting into the zone without losing track of your surroundings. It may not be an ideal commuter buddy due to its prominent sound leakage, but that's simply the limitation by design.