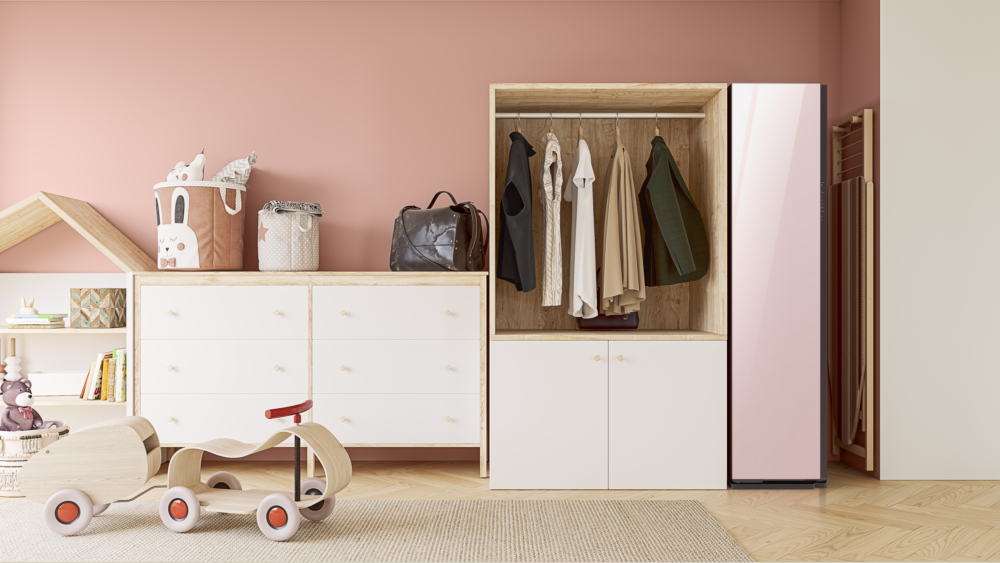 With people spending an increased amount of time at home these days, it stands to reason that they would be looking to decorate the insides of their homes differently and more expressively. In particular, this has led to many going with an interior aesthetic that revolves around bright colors.
In May, Samsung Electronics introduced the BESPOKE Home, which expanded the idea of BESPOKE from the flagship BESPOKE refrigerators to other appliances in the kitchen, then to appliances throughout the home.
The BESPOKE AirDresser, the latest addition to the BESPOKE lineup, has brought BESPOKE design and smart features to Samsung's innovative clothing care device. The product offers six different panel options in various finishes, spanning from Crystal Mirror to Cotta Charcoal, to allow users the freedom to find just the right fit for their home aesthetic.
Samsung Newsroom met with AirDresser product designers Jinsook Park and Jaejin Lee, and UX designers Haeyoon Park and Seungwoo Choi, to hear about how they designed an AirDresser with a BESPOKE touch.
A Design Based On Preferences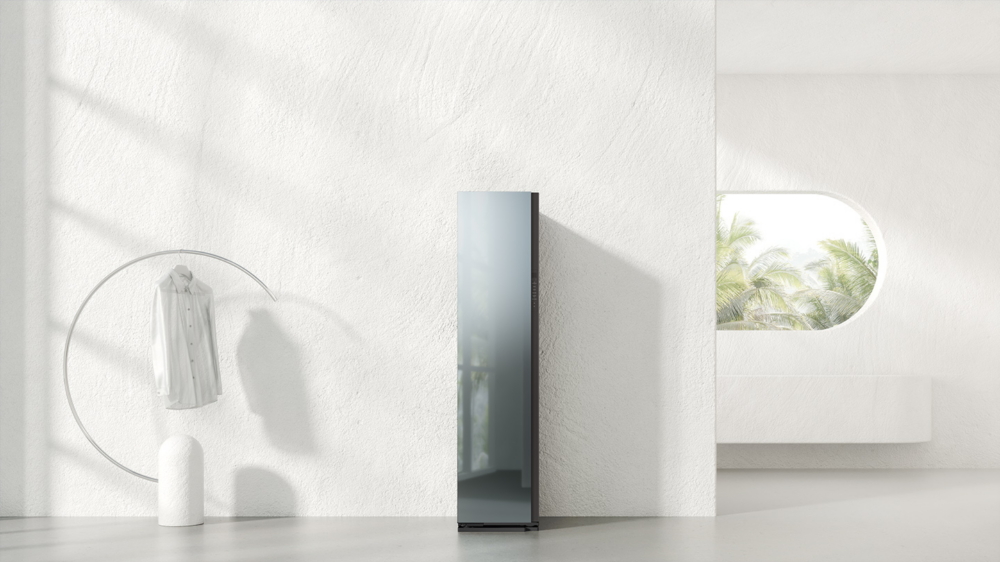 It's not easy coming up with a design that will suit the tastes of such a broad range of users. The designers of the BESPOKE AirDresser, in particular, had to put great thought into designing a final product that would captivate users from different cultures with varying values and living conditions.
The designers thus surveyed users, asking questions like where they would install the BESPOKE AirDresser, how each member of their household would use it and what types of garments they would maintain with it. The insights gained from the surveys were then used to design the AirDresser's clothing care experience. Samsung was also able to analyze clothing management experiences across different countries and generations from a total of 6,000 global users.
"People from different countries have different methods for taking care of their clothes. The global usage data for the first model laid the groundwork for the BESPOKE AirDresser's main features. We conducted interim assessments on not just the aesthetics, but also the convenience of the control panel and whether the option names and different clothing care cycles made sense to everyone. We also incorporated braille into the control panel for visually impaired users, and added different default audio tones for each option and process step in order to assist hearing-impaired consumers"
Haeyoon Park and Seungwoo Choi, Samsung AirDresser Product Designer
But for a solution to truly represent the best in home appliances, its beauty must be complemented by convenience. "We had to balance aesthetics and functionality while designing the BESPOKE AirDresser's range of accessories, such as the hangers that are made to maintain the form and fit of garments," related designer Jinsook Park. "When outstanding usability is guaranteed, the beauty that the designers have established is accentuated all the more."
It is also important to establish the right UX design. For instance, something as minor as the text being the wrong color or the sequence of information being slightly off can make the product difficult to use. "We've been working with GUI (Graphical User Interface) and UI (User Interface) designers since the planning stage to ensure that the product delivers information logically and consistently," said Seungwoo Choi. "While working on the design, we conducted usability tests and strived to maintain a balance between usability and aesthetic appeal by studying whether design elements are affected by personal tastes, whether they affect usage patterns, and so on."
Innovation Didn't Stop At Launch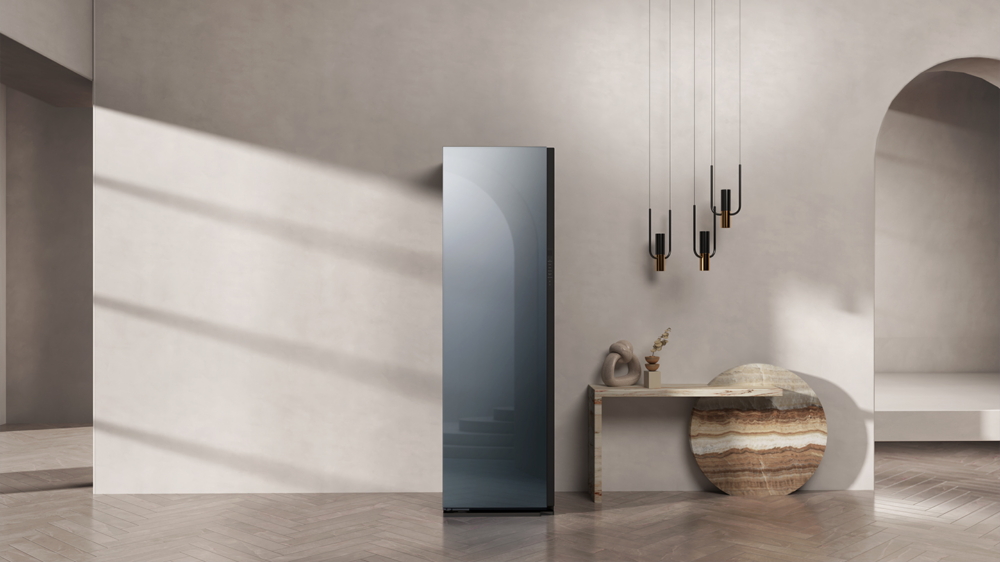 Even after the product has been launched, the designers are still working to make the BESPOKE AirDresser captivating to everyone. "Home appliances provide convenience, but they can also come with stress because they are related to doing chores," said Haeyoon Park. "We are continuing to analyze whether users experience any inconvenience in our quest to establish a product that makes consumers' lives more convenient while also making using home appliances enjoyable."
"Design trends are changing all the time, so I study trends in fields like fashion and furniture in order to better reflect users' tastes," said Jinsook Park. "I focus especially on furniture design, because it is a great reference for structure and design elements. I'd like to utilize this knowledge to come up with a design that provides convenience and meets users' needs."
These designers have strived to deliver both convenience and aesthetic beauty in the BESPOKE AirDresser by delving deep into the lifestyles of consumers and analyzing their usage. Going forward, they will continue going to great lengths to provide users with the best possible experiences.
Captivated?
Check out this link for the Samsung BESPOKE AirDresser!