Beam Mobility has recorded new highs across several areas. With new records in terms of total rides, riders, e-scooter deployments, and more, this signals the coming of a new age of transportation in Malaysian have been looking forward to for a long time.
Since Beam's debut in Malaysia in 2019, the platform has helped citizens from all walks of life with access to immediate, affordable mobility solutions that do not contribute to the ever rising carbon emissions that vehicles produce.
Beam Ridership & Deployment ; 2022

Over the past year, Beam registered over 80,000 new sign ups, bringing the total pool of riders to be 65% higher than it was in 2021. This shows that Malaysians continue to recognise e-scooters as an alternative, innovative method of getting around – especially with first and last mile transport.
To elaborate, over one million trips were carried out in 2022 – a 2.5x multiple from the year before in 2021. Moreover, over 100,000 of those trips were to move people to or from a public transportation facility like an MRT, LRT, or bus station; an astounding 5x increase compared to the year before as the workforce returns to the office after COVID-19 lockdowns. This is a clear reflection that Malaysians are becoming increasingly aware and accepting of Beam's e-scooters as an efficient method of first and last mile transport to complete their journeys.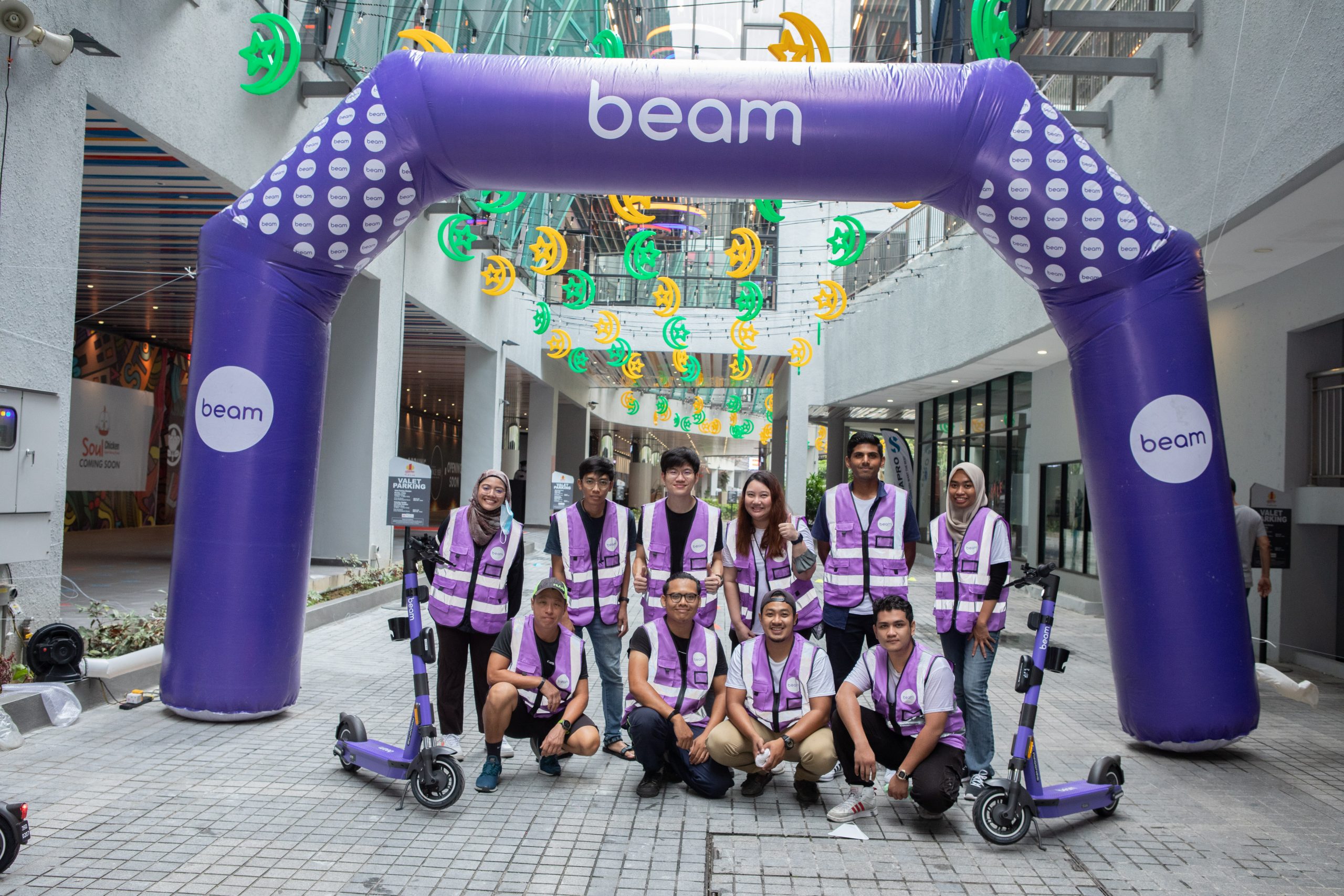 Over the past year, Beam has also been ramping up the deployment of new e-scooters in key areas around the nation. Over 3,500 e-scooters are deployed all over Peninsular Malaysia that are in Perak, Pahang, Johor and a wider coverage in Klang Valley to include neighborhoods like Mont Kiara, Bandar Utama, Ara Damansara, Cheras, and more. With a larger fleet, more Malaysians are able to enjoy getting around efficiently while also having fun with it.
While riding with e-scooters contributes to riders' financial, physical, and mental health, one cannot deny that it has been highly beneficial to our environment as well. In 2022, Malaysians traveled a total of over two million kilometers using Beam e-scooters instead of cars. This means that more than 486 tonnes of carbon emissions were prevented from being released into the air if those journeys were made with the conventional car!
"The data clearly shows that an increasing number of Malaysians are more accepting of shared e-scooters as a real mode of transport. I would like to thank all our riders for the constant support and constructive feedback over the past year. As we head into the new year, let's carry this momentum forward and work towards realizing the dream of creating a city that flows smoothly,"
Justin Tiew, General Manager of Beam Mobility Malaysia
But What About 2023?
"Our positive performance can be simply attributed to hearing the negative experiences of public transport riders when completing the first and last mile portion of their journey and creating a solution that prioritizes safety by combining industry-leading hardware and software. We hope to work closely with authorities and other service providers to establish a more enhanced public transport network in Malaysia"
Taty Azman, Head of Government & Public Affairs (Malaysia, Thailand) at Beam Mobility
From Team Beam
Our success stems from the trust that cities have placed in us to provide a green transport mode outside of traditional vehicle models. We are grateful to city councils of Shah Alam (Selangor), Petaling Jaya (Selangor), Ampang Jaya (Selangor), and Kuantan (Pahang) who share the same vision as we do – low carbon city through smart mobility.
We have also heard the woes of universities that struggle with the rise of student numbers that create a problem of limited parking spaces. Our partners Universiti Sains Malaysia (Penang), Universiti Teknologi MARA Seri Iskandar (UiTM Perak), and EduCity Iskandar (Johor) have witnessed the positive impact we have made to the livelihood within campuses.
The Improvement
Beam might be the winning platform for micro-mobility in Malaysia, but safety rules and massive infrastructure changes to roads and buildings should be looked into more. It's not always about coverage, but governance of safety and alternatives since the law is still pretty strict about e-scooters. We hope to see more scooter/bike lanes implemented in key city areas to make sure all riders have a dedicated space to ride in to get to where they gotta go.