Our friends at Notebook Plaza are celebrating their 11th Year Anniversary this coming 5th January onwards with an uber exciting IT fair!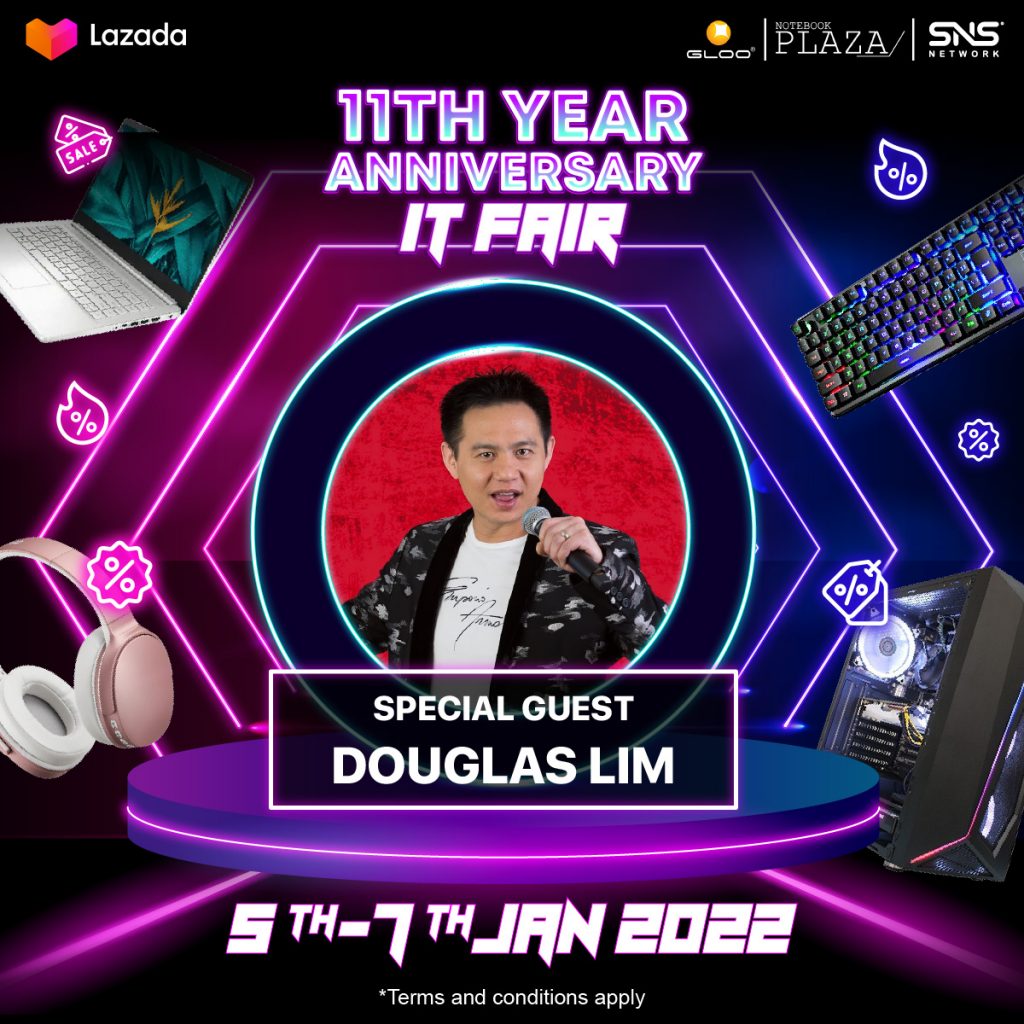 It's happening exclusively on Notebook Plaza's Lazada page with a very special guest appearance, local actor and haha-dispenser Douglas Lim!
Now, Lenovo's stuff isn't particularly the cheapest, BUT, they're incredible in quality, value (in terms of long term investment) and performance.
The Laptops
---
The IdeaPad 3i (82H700D7MJ)
Literally EVERYONE should know Lenovo's IdeaPad series by now, and I'm also pretty sure a lot of Malaysians use 'em (I'm looking at you, Startups and SME's). The most affordable in this line is the IdeaPad 3i (82H700D7MJ). Aimed for students, it starts you off with an Intel® Core™ i3-1115G4 chipset coupled with 4GB soldered DDR4 3200Mhz RAM (there's an extra SO-DIMM slot for upgrades) and 512GB of SSD space (M.2 2242 PCIe 3.0×4 NVMe). The 14″ form factor makes it a reliably portable companion, with a FHD TN panel to boot. It comes preloaded with Windows 10 Home and a LIFETIME License for Microsoft Home & Student, perfect for both assignments and documents without needing to front up extra costs for an original license!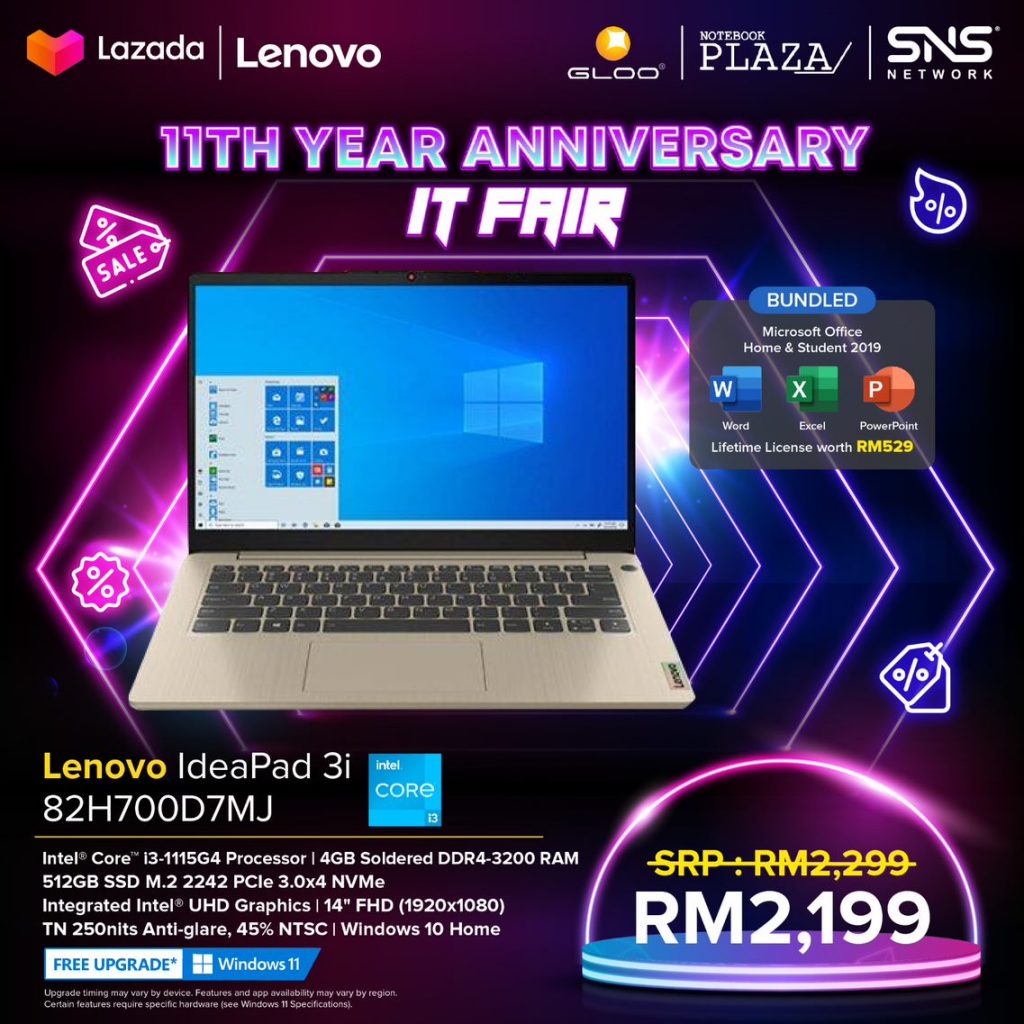 Lenovo IdeaPad 5 (82LM006QMJ )
If you have the extra budget to up the ante, the IdeaPad 5 would be a good mid-range price, coming in at RM 2999. You get a beefy Ryzen™ 7 5700U, 8GB of RAM and 512GB of SSD storage. It comes in the same 14″ form factor with a 1080P resolution. Its IPS panel makes colors a little livelier compared to the IdeaPad 3's TN panel. It's definitely able to perform 3D intensive tasks like video editing, thanks to integrated AMD Radeon™ graphics, and it's also proven to perform impressively on simple games like DotA 2 and even Genshin Impact!
Here, you'll also get the same free gift, a LIFETIME License for Microsoft Home & Student!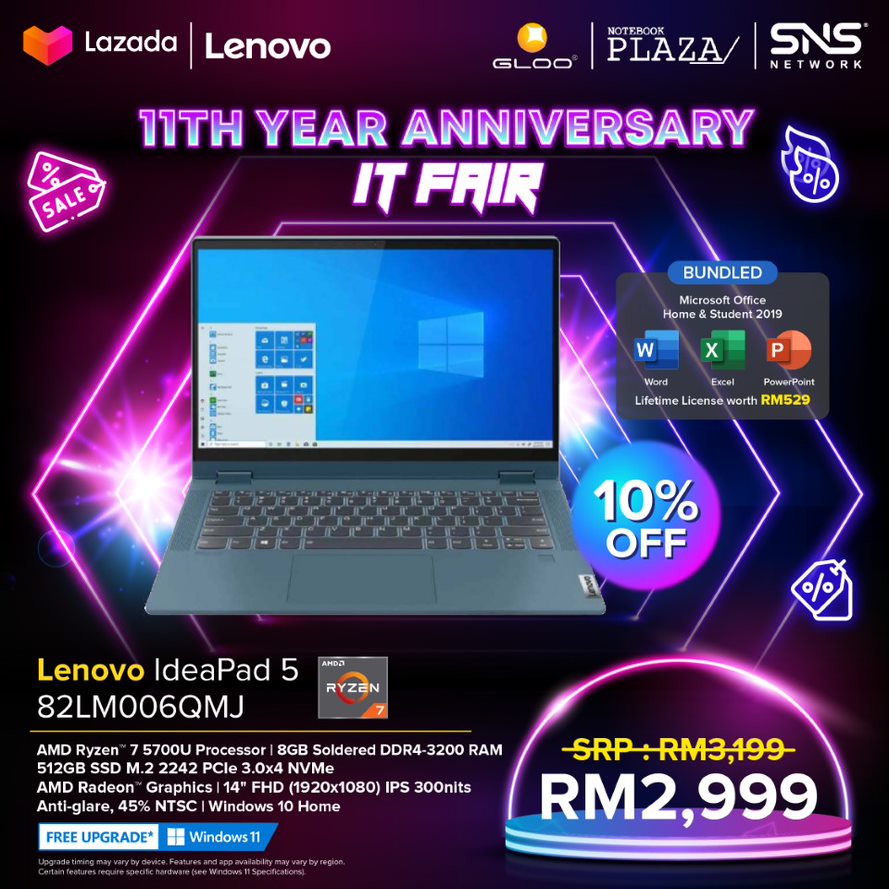 Who Should Buy The IdeaPad Series?
Students in highschool and college that need to use Microsoft Apps
Office workers who need to get document work done on the go
Business owners who are on a budget but need a laptop to handle POS, Office and manage social media on their browser.
(IdeaPad 5 only) Students who need a good practice laptop for video-editing, Photoshop.
---
Premium Goodness
The Yoga Series
Lenovo's Yoga Series have always been known to be an excellent all-rounder choice, boasting a constantly-improving flexible hinge, rich touchscreens, top spec sheets and thin design. It requires a level of investment that's out of most people's comfort zones, but when you do put the cash in, you'll find yourself a laptop that's still just as alive and energetic as the first day even though it's been 4 years!
But which should I pick?
These 2 are really, really great choices for those seeking media power in an ultra slim package. They both pack the Intel® Core™ i7 11th-gen series, with the Yoga 9i leading by just a notch with the Core™ i7-1185G7 whereas the Yoga Slim 7i Carbon gets a Core™ i7 – 1165G7. We've actually reviewed the Lenovo Yoga Slim 7i Carbon HERE and it had earned a Gold Award from us!
Apart from that, both laptops come with 16GB of soldered LPDDR4X RAM that runs up to 4266 Mhz, which is pretty darn fast. There's also 1TB of SSD storage pre-installed, so you can confidently off-load your media files in without feeling insufficient. Combined with efficient, intergrated Intel® Iris® Xe™ Graphics, you can definitely edit up to 4K videos on the go without a hitch!
In terms of display, there's differentiating factors that determine your use-case for these two pieces of hardware. The Lenovo Yoga Slim 7i Carbon isn't as flexible as the 9i, but it makes up for it by having a higher definition 2560×1600 display over the 9i's 1920×1080 resolution. The Yoga 9i is completely flexible and can be used as a single-sided tablet thanks to its touchscreen.
Finally, it's the form factor. The Lenovo Yoga 9i comes in a 14″ size whereas the Yoga Slim 7i Carbon is at 13.3″. Either way, they're both compact and light enough to fit in a sling bag without feeling overencumbered.
---
So Zen, what's the promo, where do I go?
All 4 laptops will score you a Microsoft Office Home & Student Lifetime license worth RM 529, perfectly ready for you to tackle your 2022 workflow!
Click HERE to get to Notebook Plaza's LENOVO Page and get buyin'!
The Accessories
No true laptop purchase is complete without some great accessories to go along with it and Lenovo knows this all too well, that's why the show continues with the Lenovo L22i-30 monitor and Lenovo Legion H500 Pro 7.1 Surround Sound Gaming Headset!
Let's start off with the monitor. The Lenovo Monitor L22i-30 is a 21.5″ FHD IPS monitor that's simple and affordable. Connecting any of the above laptops via HDMI sends you on a smooth 75Hz experience that's also responsive thanks to a 4ms response time when Extreme Mode is enabled. 21.5″ may be small for today's standard, but your back will thank you if you're someone that needs to work in-between home and office and you need to lug an extra monitor around, making this a great companion that solves a long term logistic issue!
Alright, now it's about the Lenovo Legion H500 Pro 7.1 Surround Sound Gaming Headset. It's a versatile piece of headgear that can connect to your PC via USB or 3.5mm. IT features a condenser mic that's capable of even noise cancellation. The polar pattern is omnidirectional, perfect for people who require to speak at different angles. There's 7.1 virtual surround sound for additional immersion. You can activate it from its standalone sound card that you connect your 3.5mm cable to and from there the USB. It has a steel frame but it's flexible, combining both comfort and durability because of a versatile adjustment capability.
---
There's something for your parent's too!
Let's not forget our parents, shall we? if they're not too into the idea of learning to use a laptop, a tablet is usually the better solution as it offers a bigger screen for weaker vision, and provides them with apps for their typical needs, such as reading the news, watching some videos and even calling you at odd hours of the day. Without stretching your last bit of ringgit, Lenovo's tablet offerings are actually quite attractive.
Both tablets are definitely well under RM 1000, and RM 240 apart from each other. If you aim to provide the absolute basic, then the Tab M8 will just work if you just want to make sure you can call your parents every now and then. They'll also be able to read and watch articles easily as the 8″ HD screen provides a more than adequate viewing experience.
If you wanna kick things up a notch (which I seriously recommend), Then the Tab M10 HD is the far better choice, doubling up the memories (4GB vs 2GB RAM) and (64GB vs 32GB storage). The screen gets an additional 2.1″ of size as well, making it ideal to even watch movies bedside. There's a built-in modem too, for you to slot a simcard in and from there they'll be able to make and receive phone calls wherever they are! With LTE data, they'll be happy to be able to stream and read media anywhere without asking for the WiFi password. After all, convenience that's on top of the gift, simply makes it sweeter.
Alright, that's all we have to shout about for Lenovo's laptop and lifestyle gadget offerings for Notebook Plaza's 11th Year Anniversary IT fair! Be sure to take note that these deals are only available online:
When and Where
Date: 5th – 7th January 2022
Where: Notebook Plaza Lazada
Buy & Win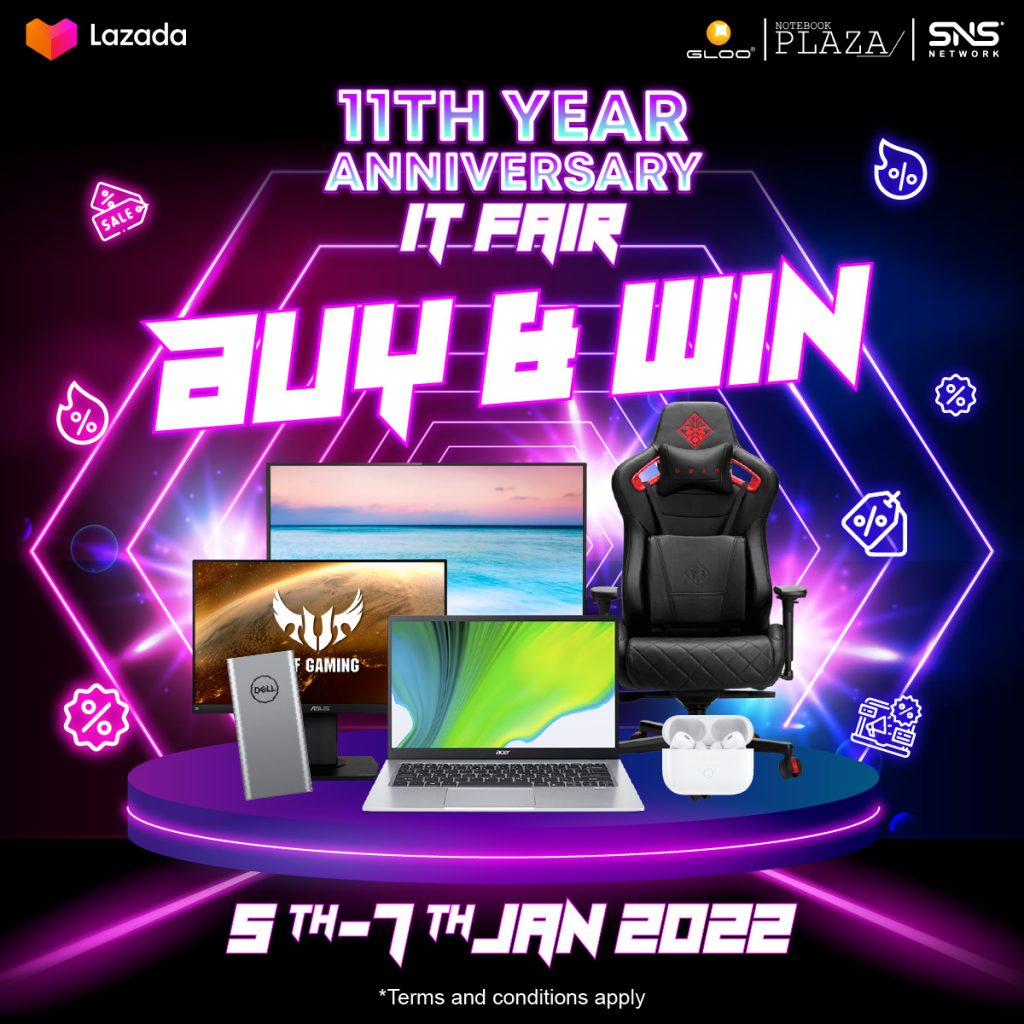 With every RM 300 spent, you'll stand a chance to be part of a lucky draw with 100 attractive prizes, ranging from gadgets to even a gaming chair! Don't forget to claim your RM 200 voucher as well and use it on Notebook Plaza's Lazada Page!