Xperia I V
The Xperia I V is Sony's hero product for 2023, offering a comprehensive camera system on top of great quality of life features, but it's targeting a small niche of media professionals and elite content creators. Could it still stand tall for the rest of us?
Good
Great innovations behind timeless design
4K front-facing video
Actually useful Game Enhancer app
Jaw-dropping 4K OLED screen
Ungood
Slow charging
Camera UI not beginner friendly
Charger and cable is a seperate purchase
---
Specs
---
CPU
Qualcomm Snapdragon 8 Gen 2
Memory
256GB | 12GB RAM
microSDXC support up to 1TB
Display
6.5" 4K OLED HDR Display – 120Hz
Camera
48 MP, f/1.9, 24mm (wide),Dual Pixel PDAF, OIS
12 MP, f/2.3, 85mm (telephoto), f/2.8, 125mm (telephoto), Dual Pixel PDAF, 3.5x-5.2x continuous optical zoom, OIS
12 MP, f/2.2, 16mm (ultrawide), 1/2.5″, Dual Pixel PDAF
12 MP, f/2.0, 24mm (wide selfie)
Connectivity
Bluetooth 5.3, USB Type-C 3.2,
Up to Wi-Fi 6
OS
Android 13
Battery
5000 mAh with 30W fast charging
15W wireless
Available Colors
Khaki Green | Black
Retail Price
256GB | 12GB RAM : RM 6399
100% Pure Camera Phone DNA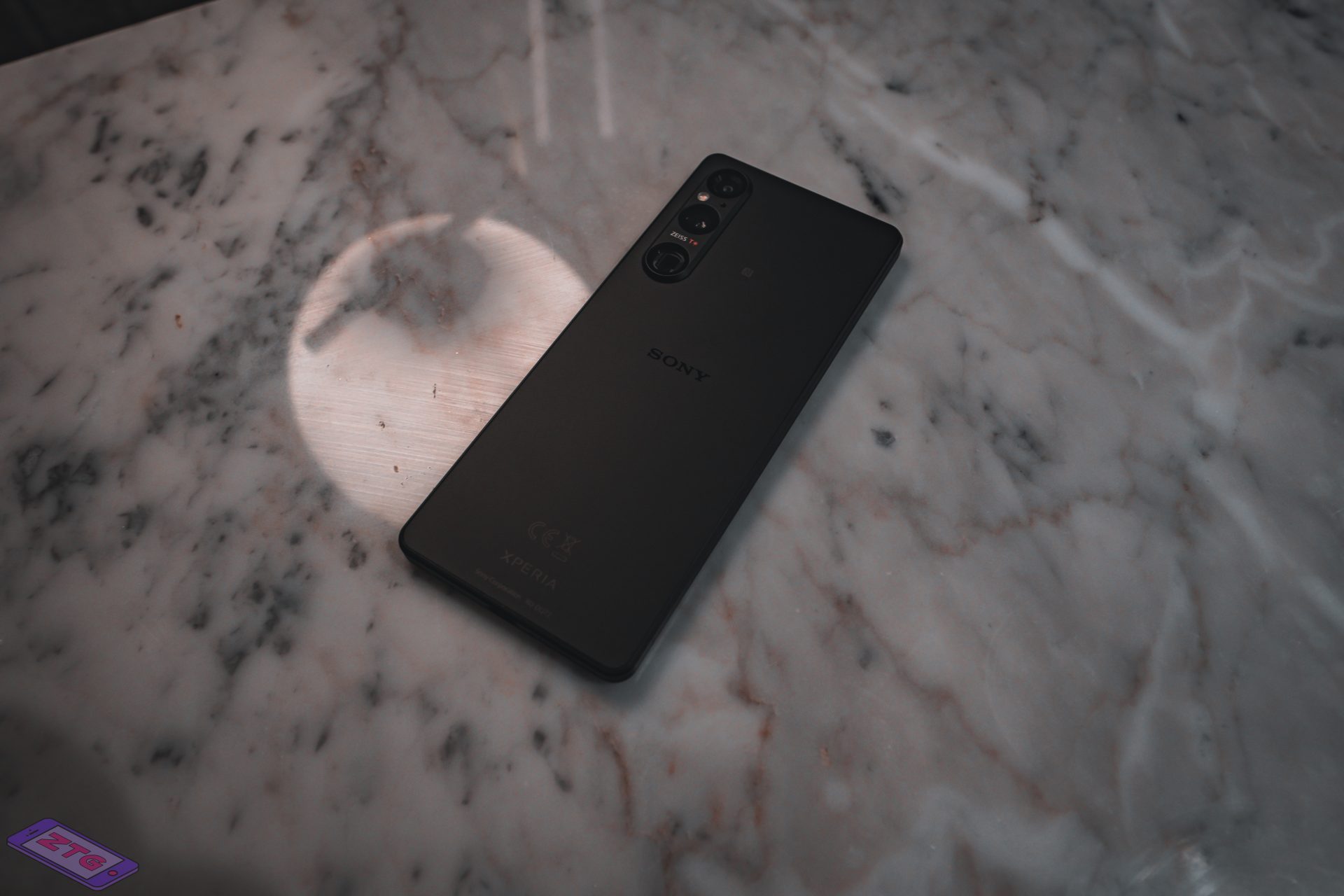 The Xperia 1 V looks relatively simple for a camera phone, but it does stand out because looks good. Built upon generations and generations of the 'Xperia' look, it's an unmistakable blend of verticality and durability.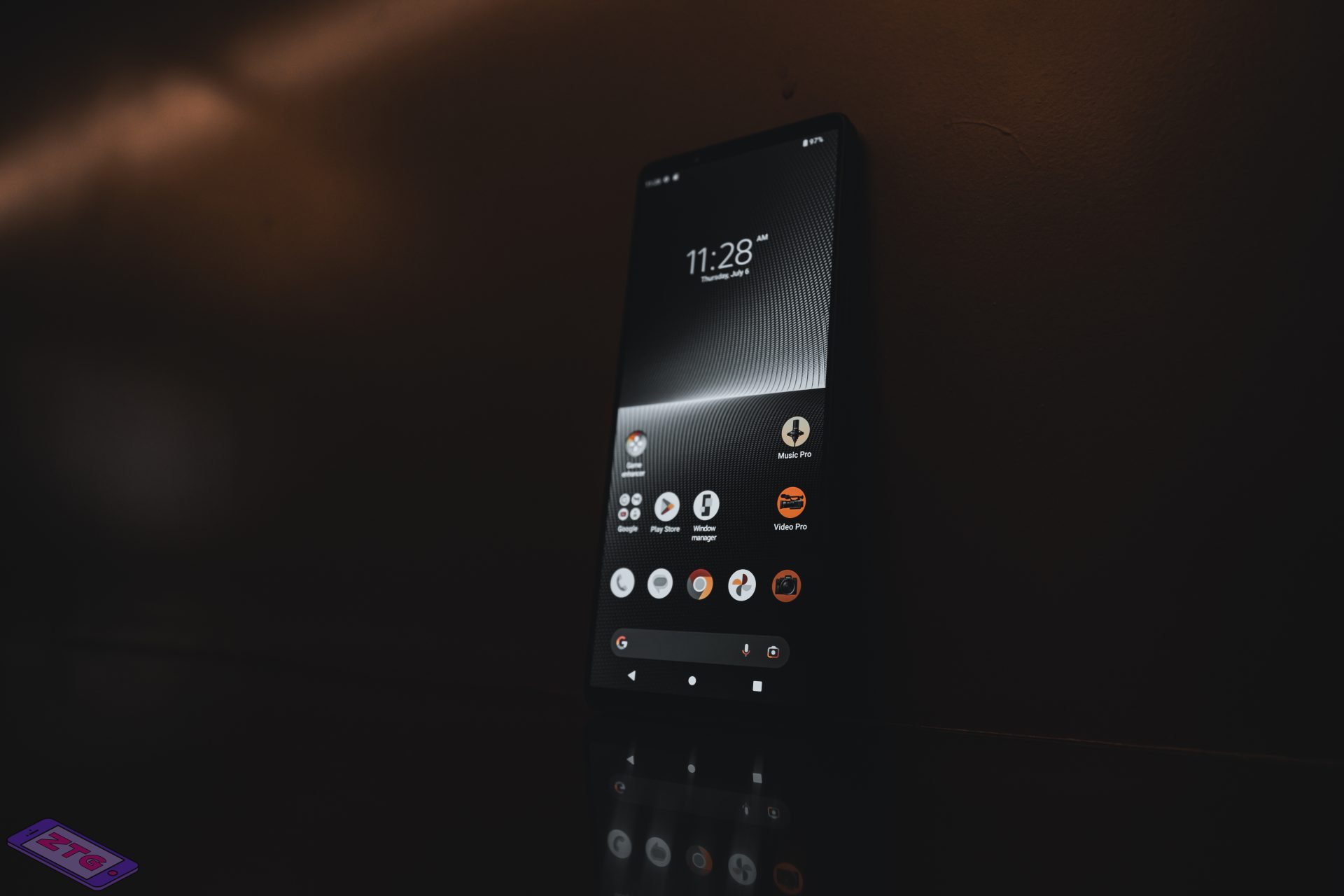 The body is literally the Xperia Pro-I's, all tall and glorious with a lightweight metal frame. Being not too thin and not too thick either, it makes for a solid grip for your fingers to easily articulate / latch onto the phone without feeling foreign while feeling a little new to it, even more so if you've never owned an Xperia before.
The difference here is the back of the 1 V. It has a texturized layer that gives it a lightly brushed ruggedness, comprised of several little bumps that also give it a confident grip. This layer not only serves to give a solid, comfortable grip, but also protection for the real layer which is glass. The Xperia 1 V uses Gorilla Glass Victus 2 to protect the display while the back gets Victus 1. It's a typical layer of glass and metal, only this one prioritizes feeling like a camera. You know it's a phone, but it's also a camera. As an added bonus, the choice of material for the rear literally does not attract fingerprints nor smudges. Definitely scores high in functional design.
It's an Xperia after all, a physical shutter key is to be expected. Now with a rugged pattern that makes shutter pressing easier and more familiar.
As with all Xperias', the 1 V comes complete with IP65/IP68 ratings for waterproofing. On its own, it's ready to be submerged with you into water, on top of being able to handle jets of liquid at high speeds.
"In short, the Xperia 1 V's design poses It to be a lightweight, strong and durable machine that's just ready to tackle elements that other phones would need purpose-built cases for. This Xperia will conquer any weather and call it Tuesday. "
---
Standard Raising Display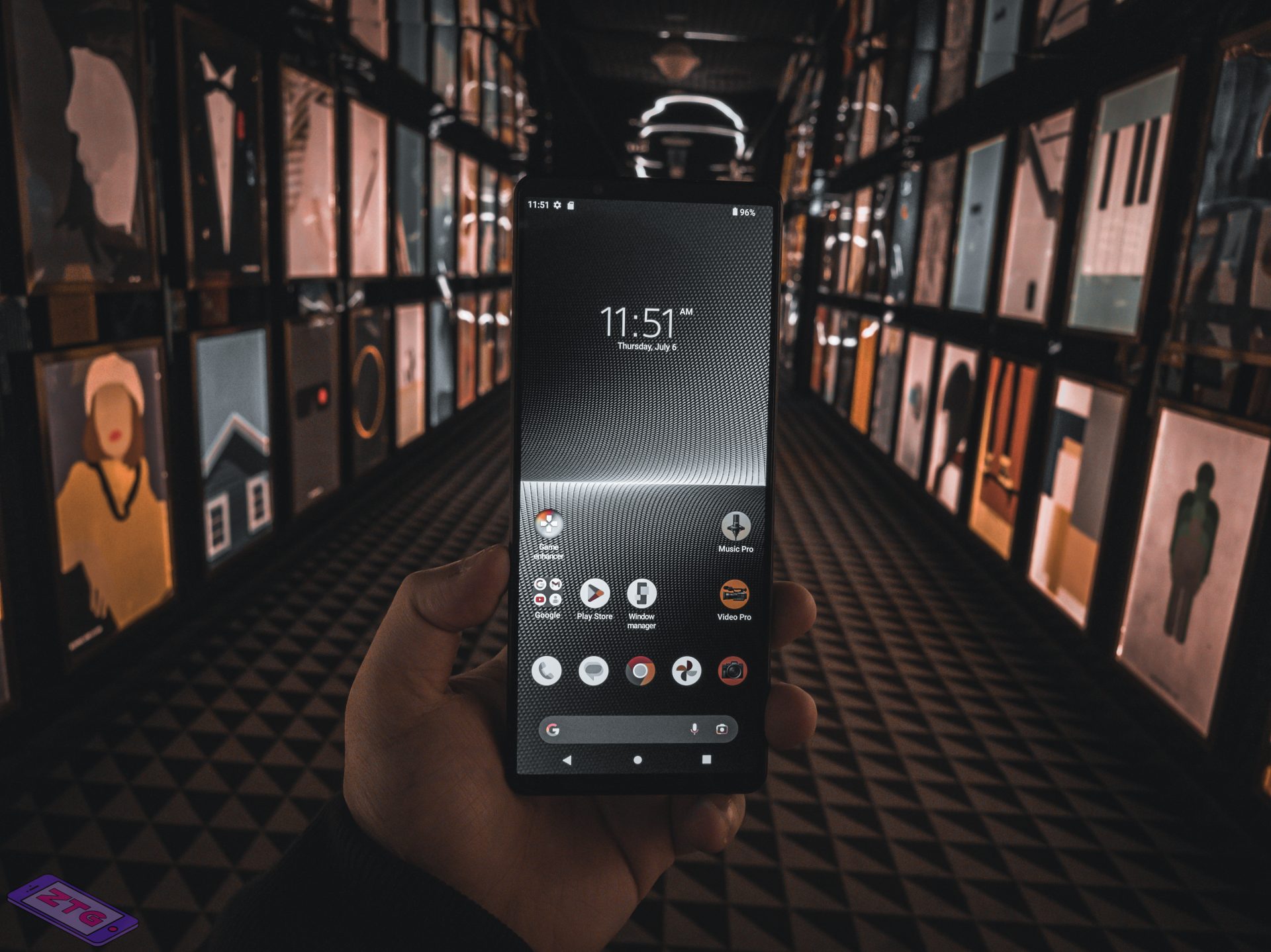 Up in the front is a display that's going to spoil you for the better. That's a 6.5″ OLED panel you're staring at, going up to 4K resolution on a cinematic 21:9 aspect ratio. A complimentary treat in terms of design here is Sony's choice of bezels. The 12MP selfie camera is built into the bezel, so that you'll be able to view your content without any camera cutouts, giving a full, wide view of whatever you're watching!
A technical aspect that I must state, is that the Xperia 1 V would be running on FHD+ resolution for the most part, in order to be more friendly to the battery as well as the temperature. The 4K resolution would be dynamically switched to when viewing media such as photos, shot videos as well as movie streaming.
As for the color, it's RICH. If you've owned a Sony TV you'll know exactly what I'm talking about. It has a highly qualified panel that supports HDR10+ and 10-bit depth. You'll be able to choose and customize between Creator and Standard modes for display profiles, with each being able to be further customized between Warm/Medium and Cool presets. Adding further granular control would be custom color temperatures including RGB sliders for you to hit that sweet spot.
Creator Mode : Tailors to working with content such as video / photo taking. Goes up to 4K with HDR on top of BT2020. This makes colors less vibrant as it prefers to target more realistic colors.
Standard Mode : Fairly accurate colors, though with a bump in saturation. This default setting prefers to be on the cooler side, so colors like blue are stronger, while neutral tones like white and gray get a slight blue tinge.
You can also enable the Xperia 1 V to dynamically switch between Creator and Standard when engaging with compatible content! In our testing, we haven't gotten Netflix to push 4K yet alone SDR, and only managed to get YouTube instead. If Netflix was what you're after, you're going to have to wait for Netflix to approve it.
Refresh Rate may be the Xperia 1 V's weakest point, giving you the option to either enable 120Hz or not. It's as simple as just one option in the settings. When on High Refresh Rate Mode (120Hz), it'll force itself to use 120Hz everywhere possible, expect for videos and some Google apps. Heck, even viewing photos was in 120Hz!
Overall, watching videos on the Xperia 1 V was smooth and surreal, offering a color-rich experience that lives up to its predecessors that first pioneered 4K displays back in the day. Expect a pocket-sized cinematic experience that simply can't be outdone for now.
The Hardware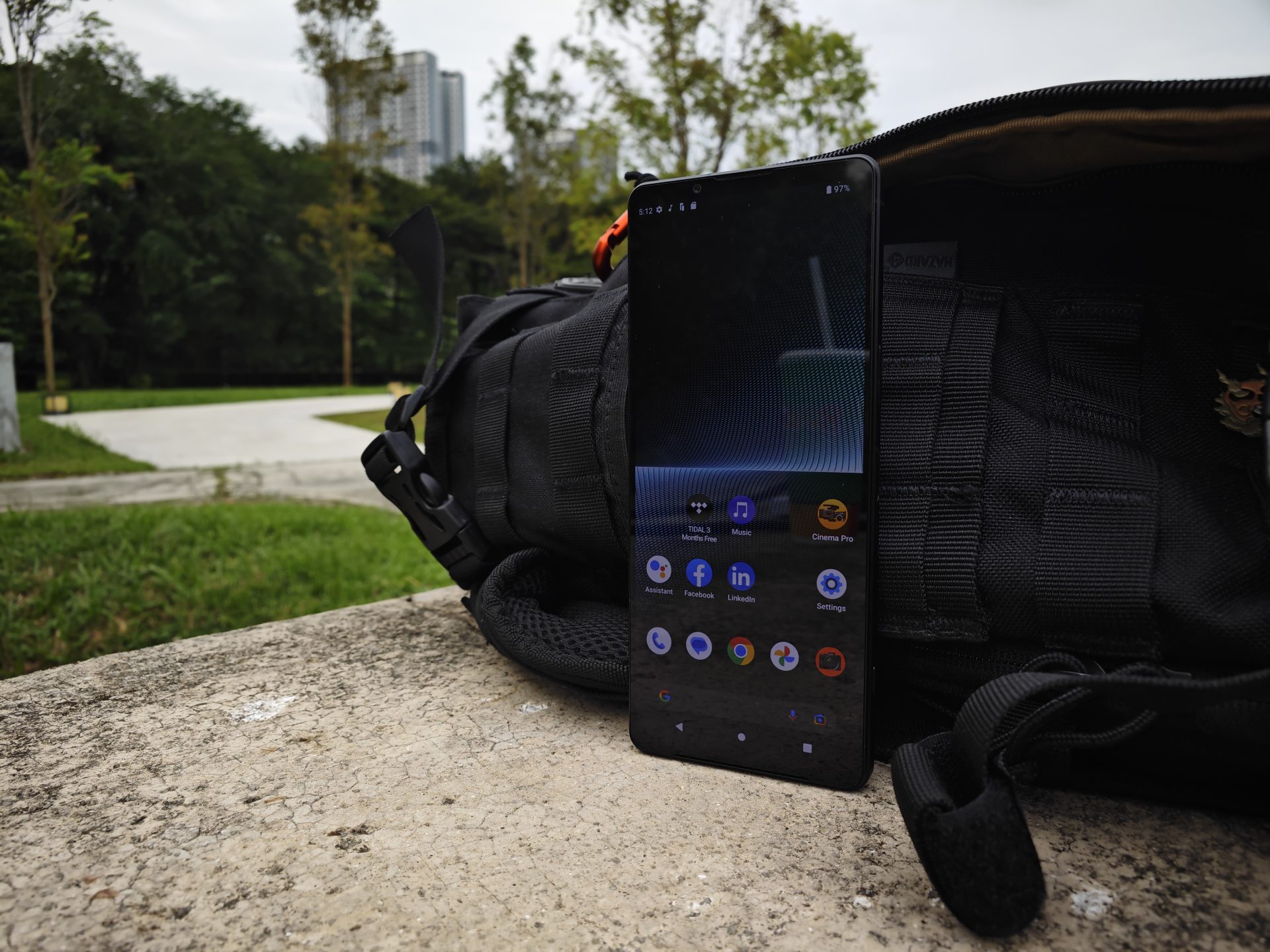 On the daily, the Xperia 1V drives the latest Snapdragon 8 Gen 2. It'll ace your daily work easily, but the bulk of the experience relies on its thermal reliability and throttling, since I do expect you to be using this phone for primarily video and photos.
That being said, I'm pleased to report that the Xperia 1 V is able to handle long, sessions of photo and video taking, but be weary. As with mirrorless/full-frame systems, it does get hot from prolonged operation, and the Xperia 1 V isn't spared of that fate. In my experience, throttling would reduce the hardware's framerate to 60FPS and we'd get the 'Hot' icon, just like a camera. To counter this however is easy. A gaming fan. Slap that bad boy on and you'll be able to stay cool for hours till the battery dies out.
As for gaming, you'll get access to Sony's exclusive suit of tools that focuses just on that. Game Enhancer is a simple app that lets you swtich refresh rates for games that support more than 60FPS, by going up to 120FPS (again, for compatible titles only.) Games like Unkilled, Cookie Run Kingdom and Diablo Immortal managed to get 120FPS, and performance stayed the course throughout long sessions. Sadly wasn't able to do the same for Mobile Legends though, I managed to only get 60FPS out of that.
"be it gaming, movie-binging or full filmmaking, the sony Xperia 1 V has the raw power and display prowess to handle them with no ease."
Battery Life
On average, the Xperia 1 V is able to last a little over a day with some change.
On Screen Times
Social media / Messaging / Music : 6-7 Hours
Gaming / Video Streaming : 4-5 hours
Full day of shooting photo and video : 3-5 hours
The most taxing task is obviously shooting photos and videos throughout the day, and it definitely outdid even the likes of my Galaxy S23 Ultra and Xiaom 13 Ultra in that respect. The Xperia 1 V truly outdid itself, especially knowing that it can intelligently switch between resolutions to view content while saving battery.
The only next-gen feedback I'd like to give is to hope to see the next Xperia flagship to have an even more battery-efficient LTPO panel and more granular refresh rate control, such as being able to choose between 60Hz, 90Hz and 120Hz.
As for charging, the Xperia 1 V supports up to 30W of fast charging. You won't be seeing a charger or cable in the box as Sony doubled down on sustainability and e-waste, so you'll have to either have a compatible PD 30W+ charger and cable lying around or buy a bundle from Sony (XQZ-UC1 PD) which costs a cool RM 220.
Using my own PD compatible j5create JUP43130, I managed to get to 50% from flat in 30 minutes, whereas a full charge took about 1 and a half hours. This ain't trailblazing, but this approach definitely falls in line with Sony's commitment to battery care, promising at least 80% of usable capacity after 3 years of use. This is also not the longest time I've seen a flagship fully charge. The iPhone 14 Pro Max comparatively takes nearly 2 hours.
---
Camera System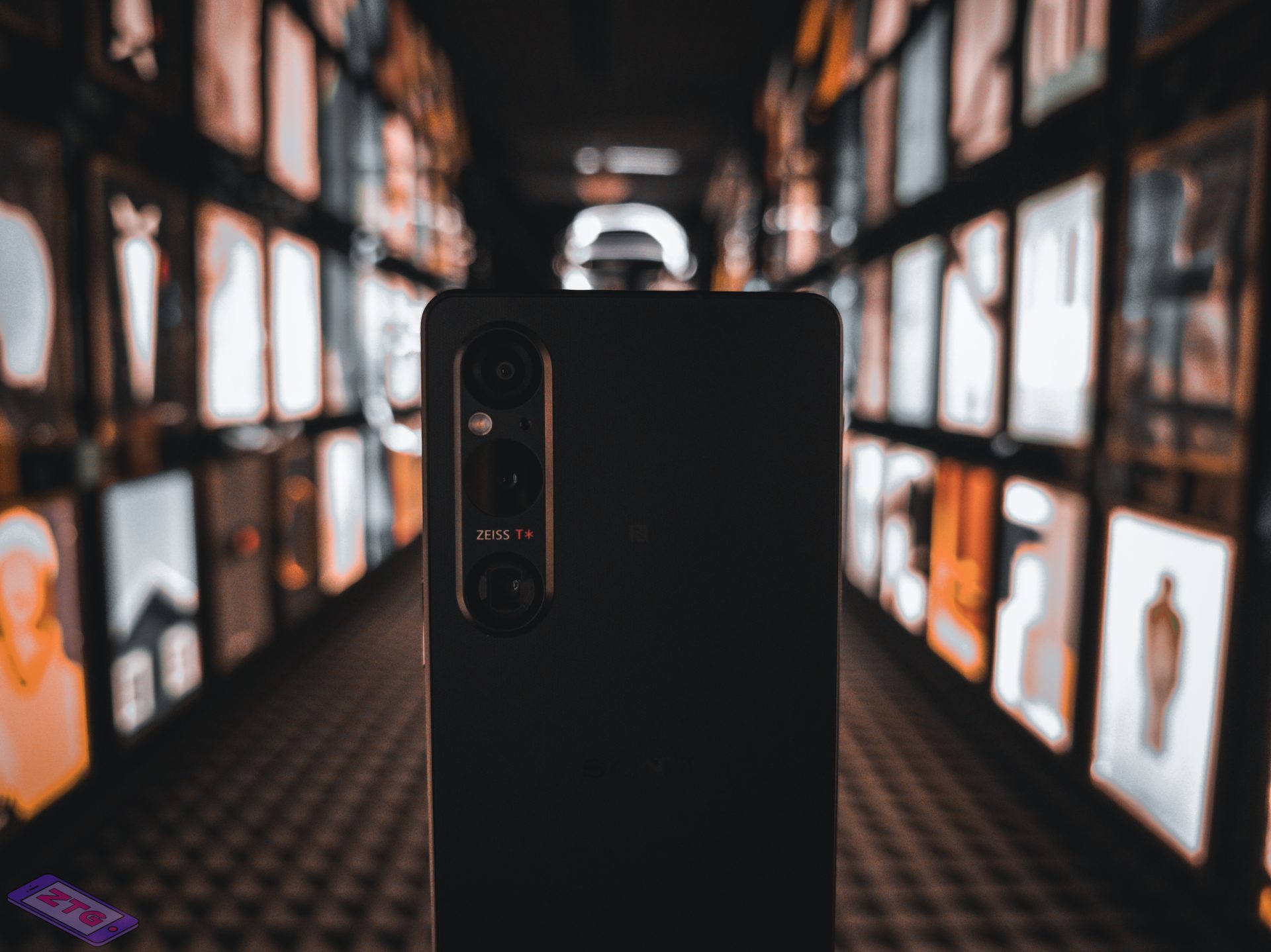 Already so many aces in the hole, and we haven't even gotten to the highlight of the Xperia I V! Let's finally talk about the robust camera system.
Camera UI
I have a love/hate relationship with Sony's approach to camera software. The inner photographer in me ADORES the level of granular control you get to have on the system, choosing between PRO and BASIC modes, right down to following the feature wheel as if you were on a Sony camera. You can manually choose focus, ISO, exposure and shutter speed. Not even the Xiaomi 13 Ultra's PRO mode comes close to just how good Sony's Photo Pro app is.
Which brings me to the hate part. As a normal consumer, the UI is very intimidating, implying a steep learning curve. At first glance, I'd be thinking to myself "Oh my god, there are so many dials! what is background defocus? what is this and that?". Because I am a photographer/videographer on a Sony system, I didn't need to learn anything from scratch, because this is a Sony camera system. If you're picking this up for the first time, be prepared for a journey which will be worth it.
'If you wanted to learn how to use a phone to learn how to use an advanced Sony camera, this would be it'
Standard Wide Angle

The first sensor would be the Exmor RS Sony IMX 557 which shoots 12MP images, optically stabilized (OIS) behind a 24mm f/1.7 lens. As with the rest of the sensors, it uses ZEISS T* anti-reflective coating, which makes images shot on this sensor brighter and sharper by reducing reflections from glass surfaces in contact with air, so shots against highly reflective glass and even bright lighting sources can be tamed and nearly flare-free.
That being said, the main sensor really took immersive and breath-taking images free of noise and plenty of sharpness. Color rendering by default is on the more saturated side, but some may like that. I purposely put the Xperia 1 V in challenging enviroments with plenty of foliage, and I was pleased to see that they rendered in quite nicely without artifacting.
Dynamic range was put to the test too, and as you can see, the clouds were captured nicely, retaining their shape and free-moving habits. All 3 shots were done using Pro mode, which is manual, so i was able to control and fine-tune an exposure level that was favorable to landing great shots.
These were shot on basic mode, and while I can see that HDR tried their best, it prioritized highlighting the dark areas in the bottom right corner, along with the wooden installation. As you can see, the bright lights were free of flares, while in the second photo the glass house did not display any form of artifacting or aggressive reflections that a non-coated sensor would have picked up and turn it into a light show.
It's been a treat with the main sensor and I absolutely loved it.
Zooms – Telephoto
The telephoto setup is a 85mm-125mm 12MP IMX650 periscope lens. The mentioned range is optical, so you'll get to zoom up to 125mm on hardware. Beyond that would be going digital. The telephoto sensor has 2 default lengths, which are 3.5x – 5.2x, and because it uses a continuous optical zoom approach, you can freely go zoom between that range without any weird frame skipping, as though you were using a camera.
Images were nice and sharp for the most part, with a focus on high contrast on 3.5x while the 5.2x goes slightly lower and adds a bit of exposure to compensate. They're likable photos and the colors are definitely consistent, but do take heed that when you're going towards 5.2x, you'll lose a bit of sharpness but that's just nitpicking.
Overall the telephoto zoom system delivers natural shots, with really good post-processing and handles noise like a pro. Very reliable, very fun.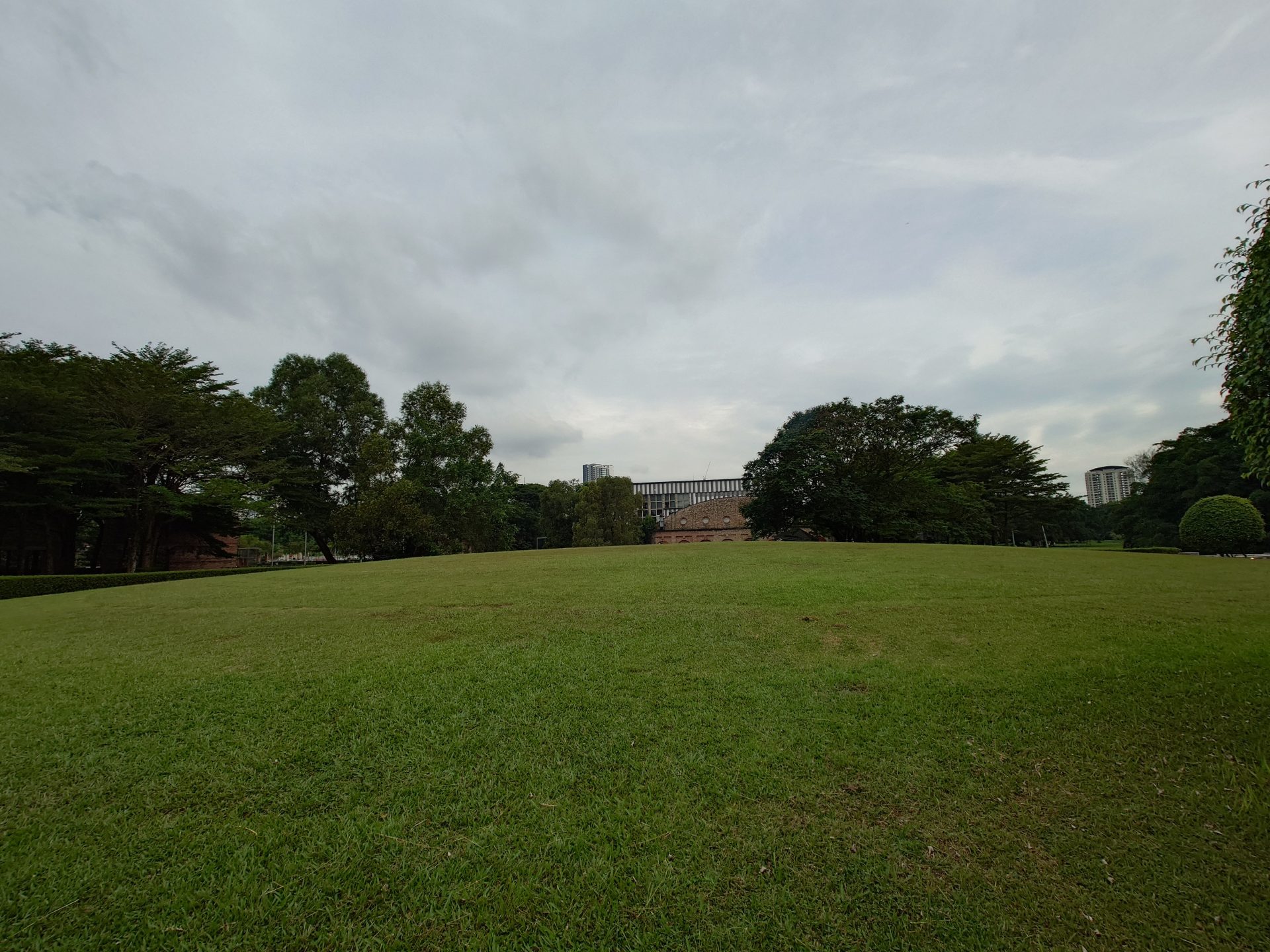 Ultrawide
Even on border low-light conditions, the 12MP IMX563 sensor shoots great, wide shots thanks to its 16mm f/2.2 lens. HDR kicked in to keep clouds from blowing out while the bright f/2.2 aperture kept details like the foliage still visible and reasonably sharp. Corners are distortion-free, while detail towards the center is sharp and natural. The corners however gets a little soft as 16mm is pretty wide and that's just how ultrawide focal lengths tend to behave anyways. Regardless, you still have autofocus to help you pick the best angles, and this case, I still wanted that brick building to look nice.
---
Front Facing Camera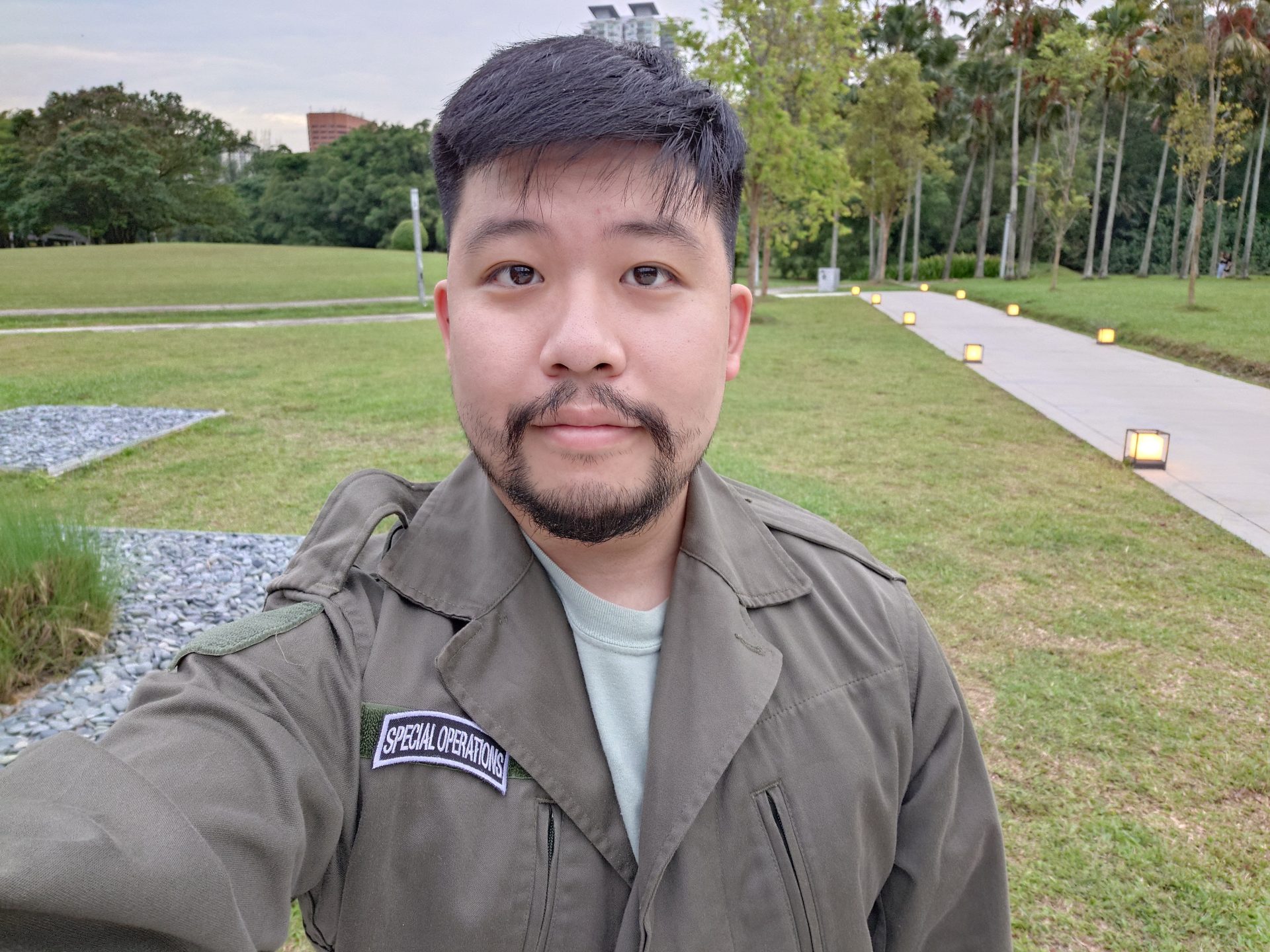 On selfie duty is a 12MP Sony IMX663 that's full of surprises. For one, it's a real 12MP sensor, not upscaled from 4MP like what the competition's doing with the whole Quad-Bayer approach. This is more expensive, but absolutely needed considering that the Xperia 1 V is the company's hero product for the year.
Colors were natural, the sharpness isn't overdone and facial hair doesn't bunch up. The background has a reasonable level of defocus without looking artificial, it's as though I used the rear camera to take portrait shots of myself. This left me impressed, and I'd say that the Xperia 1 V has one of the best selfie cameras I have ever tested.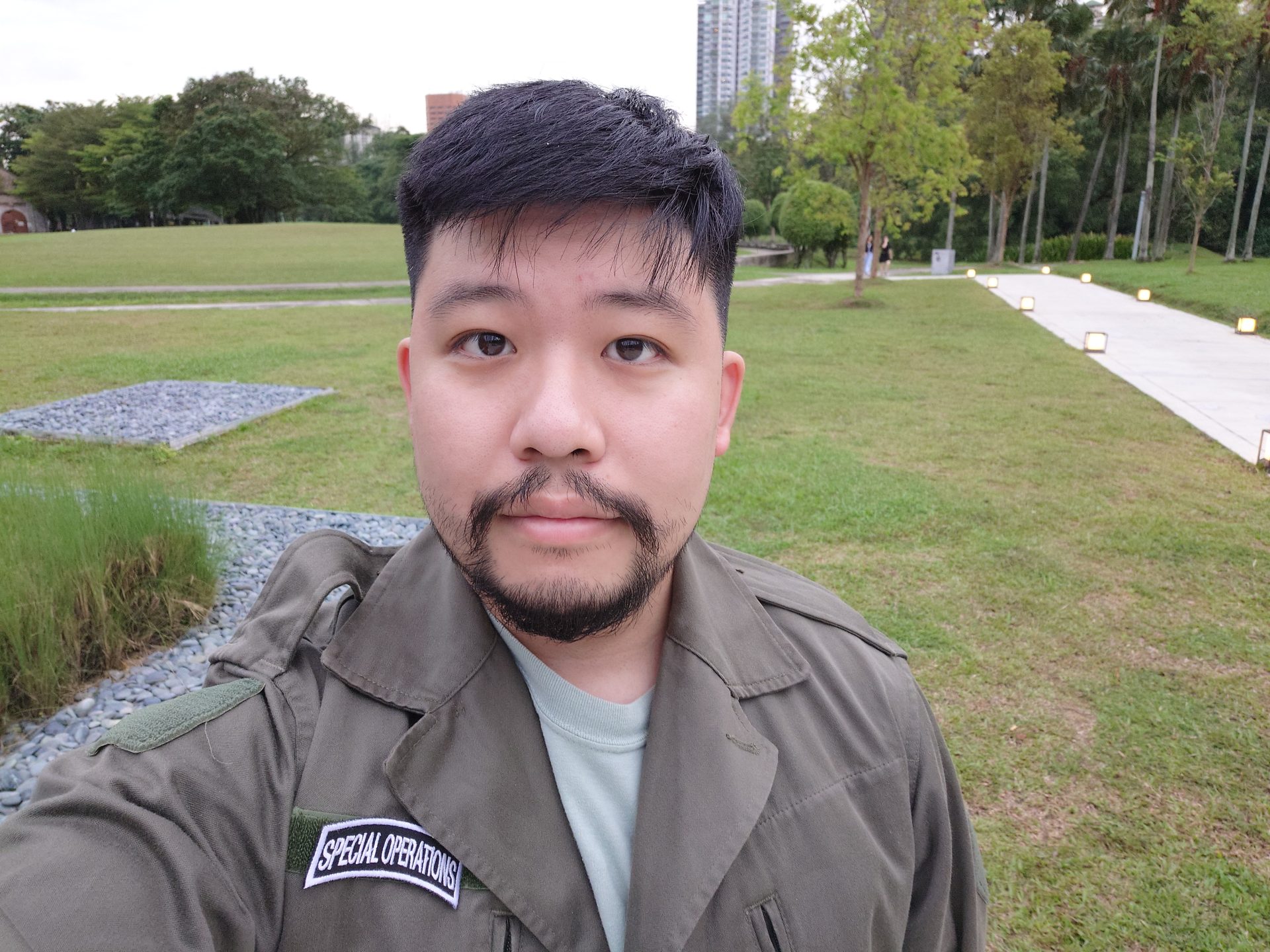 Oh and one more thing. VERY VERY Important thing. The Xperia 1 V is also able to shoot front-facing video at 4K, finally, a phone that isn't Samsung or iPhone that's doing it.
It's really shaping itself up to be a complete, creator-centric phone.
---
The Verdict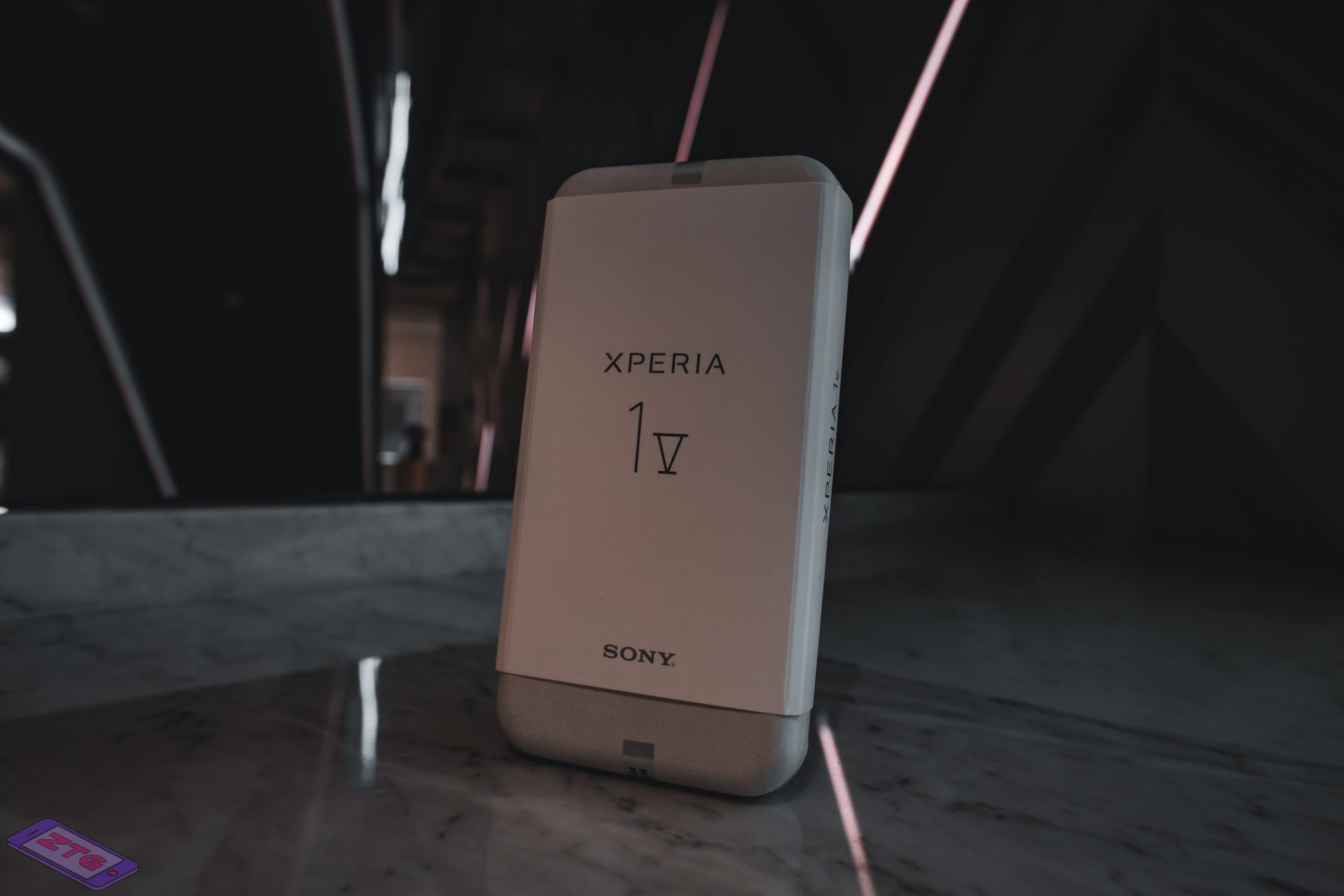 The Xperia 1 V really has a lot of great things going for it. A premium screen, flagship performance and a gaming suite, a camera system from front and back that simply stops the show. Even the design too is to be commended. Although it's not a new form factor, Sony chose to not fix what's broken, and instead innovate by creating a finish for the back panel that's rugged, unique and downright comfortable.
Look, I'm not gonna be in denial. RM 6399 is a mammoth of a price, and it's definitely targeting an elite, professional group of people that could take full advantage of the 1 V's camera system in both the photo and video front. Professionals that are looking for the closest experience to a camera that fits right into their pocket, this right here is what you've been looking for.
It's not for the masses, but damn it's really an experience you won't ever forget. microSD card slot? 3.5mm jack for headphones / microphone? proprietary wired monitor accessory for vlogging? check.
We can understand the throttling from hot temperatures from shooting too long, but that also happens to cameras too, but at least this one, we can slap a cooling fan at the back and call it even.