Samsung has launched blood pressure and electrocardiogram (ECG) tracking for the Galaxy Watch5 starting 25 Jan in Malaysia.
6.4 million Malaysians have hypertension, according to the National Health and Morbidity Survey in 2019, and almost HALF that number are not aware of it, because many do not exhibit the symptoms, unless they have their blood pressure measured. They call hypertension the "silent killer" for a reason.
Unfortunately, only 53% of Malaysia adults had undergone medical check-ups in the past year, according to the Ministry of Health, which is not satisfactory. Going for regular check-ups will help you detect any disease or condition even if you feel well, without any symptoms or signs of illness. Early detection, followed by treatment can result in a better prognosis and lowers the risk of severe complications. Routine check-ups are generally recommended to be once every 3 years if you're under the age of 50 and in good health, and once a year once you turn 50.
Blood Pressure Testing
A blood pressure test measures the pressure in the arteries as the heart pumps, and is done as a part of a routine health check-up or as a screening for hypertension. It's important to track your blood pressure
readings regularly to take proactive steps and lifestyle modifications to improve your blood pressure. Beyond going for your usual check-ups, you use personal monitoring tools to check your blood pressure at home. The Galaxy Watch is built with a Photoplethysmogram (PPG) sensor inside. You can record your systolic and diastolic pressure, as well as your pulse rate, and record it in the Samsung Health Monitor Blood Pressure app.
How To Use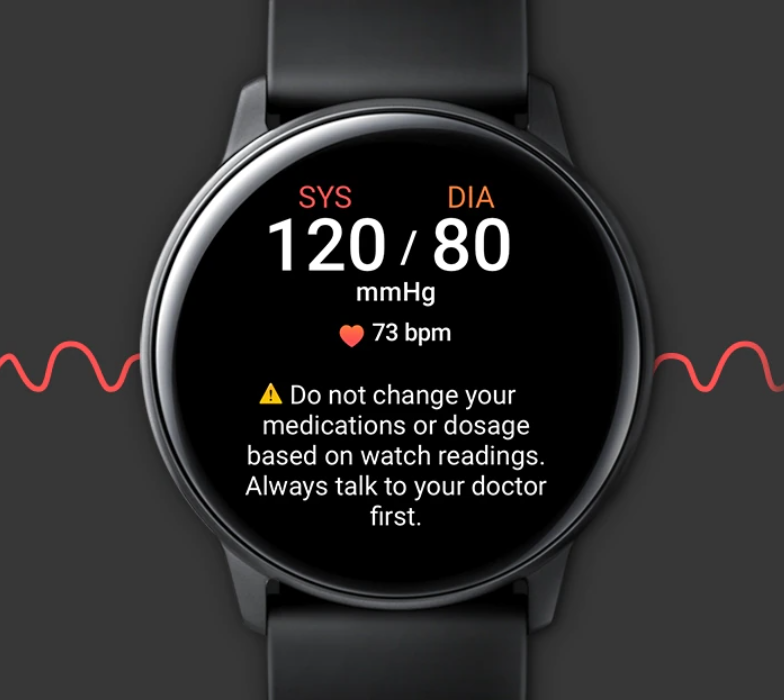 How to use: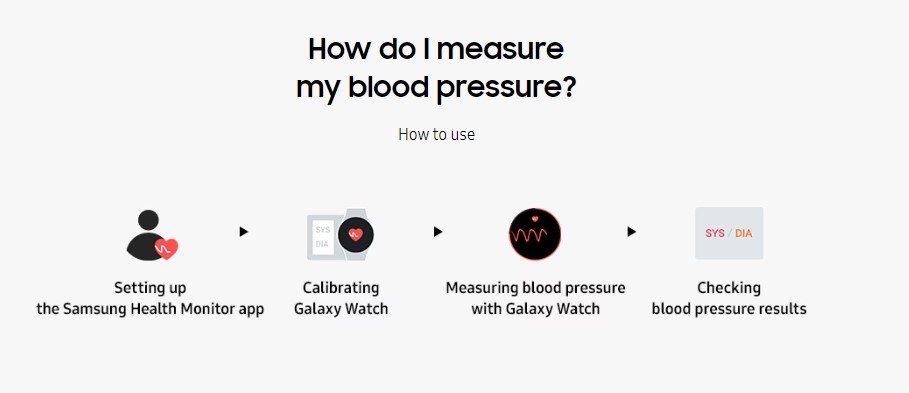 Set up Samsung Health Monitor on your Galaxy Watch and Galaxy smartphone.
Calibrate your Galaxy Watch based on the instructions on the Samsung Health Monitor app.
Wear your Galaxy Watch on the same wrist as during the calibration and make sure the strap is snug, then measure your blood pressure.
Review your blood pressure measurements.
What About ECG?
An ECG is a simple test to check your heart's rhythm and electrical activity, in order to detect irregular rhythms. Sensors are attached to the skin to detect the electrical signals produced by your heart each time it beats and the information is recorded on a graph. The Galaxy Watch is built with an ECG sensor, while you can use the Samsung Health Monitor ECG app to create, record, save, and export ECG data.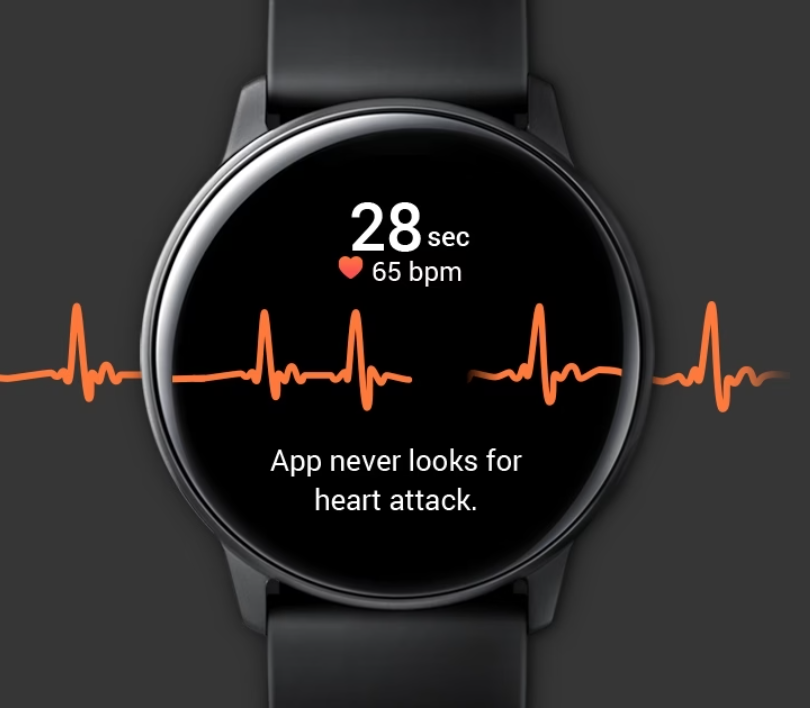 Pair your Galaxy Watch with the Galaxy smartphone.
Wear the Galaxy Watch snugly on your wrist.
Open the Samsung Health Monitor app on your Galaxy Watch.
To take an ECG reading, rest your fingertip of the opposite hand lightly on the Galaxy Watch's top button for 30 seconds.
The ECG data is synced to the paired Galaxy smartphone where a PDF report is created.
Be Sure To Set Up Samsung Health Monitor!
For your Galaxy Watch to work optimally, do follow these important, detailed instructions on how to set up and calibrate your Galaxy Watch, Galaxy smartphone and Samsung Health Monitor app.
Additionally, with your Galaxy Watch, you can measure your Body Composition, which shows you your body fat percentage, muscle mass, and body water percentage. With that, you can make the right fitness, nutritional, or lifestyle changes to increase muscle and lose fat.
Things You Need To Absolutely Know
1. The Blood Pressure app should not be used for any diagnostic purposes regarding hypertension or other heart conditions. The Blood Pressure app is not meant to replace traditional methods of diagnosis or treatment by a qualified healthcare professional.
2. Do Not use the Blood Pressure app if you have any of the following conditions:
– Arrhythmia
– Prior heart failure or heart attack
– Peripheral vascular disease or compromised circulation
– Valvular disease (diseases concerning the aortic valve)
– Cardiomyopathy
– Other known cardiovascular disease
– End-stage Renal Disease (ESRD)
– Diabetes
– Neurological disorder (i.e. tremors)
– Clotting disorder or if you are taking prescribed blood thinners
– Tattoo(s) on the wrist where you will wear the Galaxy Watch
3. The Blood Pressure app uses optical signals collected from a sensor on the Galaxy Watch and needs a good-quality signal in order to calculate blood pressure. The quality of the signal can be affected by various factors, such as the watch sensor's cleanness or the measured area's optical properties.
4. DO NOT change your medications or dosages without first consulting your doctor.