When we first laid eyes on the Freestyle earlier this year, we felt that it was the most outstanding among the sea of releases that come each year. It's a bag/pouch friendly projector that showed us just how far the tech has gotten, but from how we've experienced it, it is a long way to go, and the product shows some level of promise since I would say that the concept was nailed well.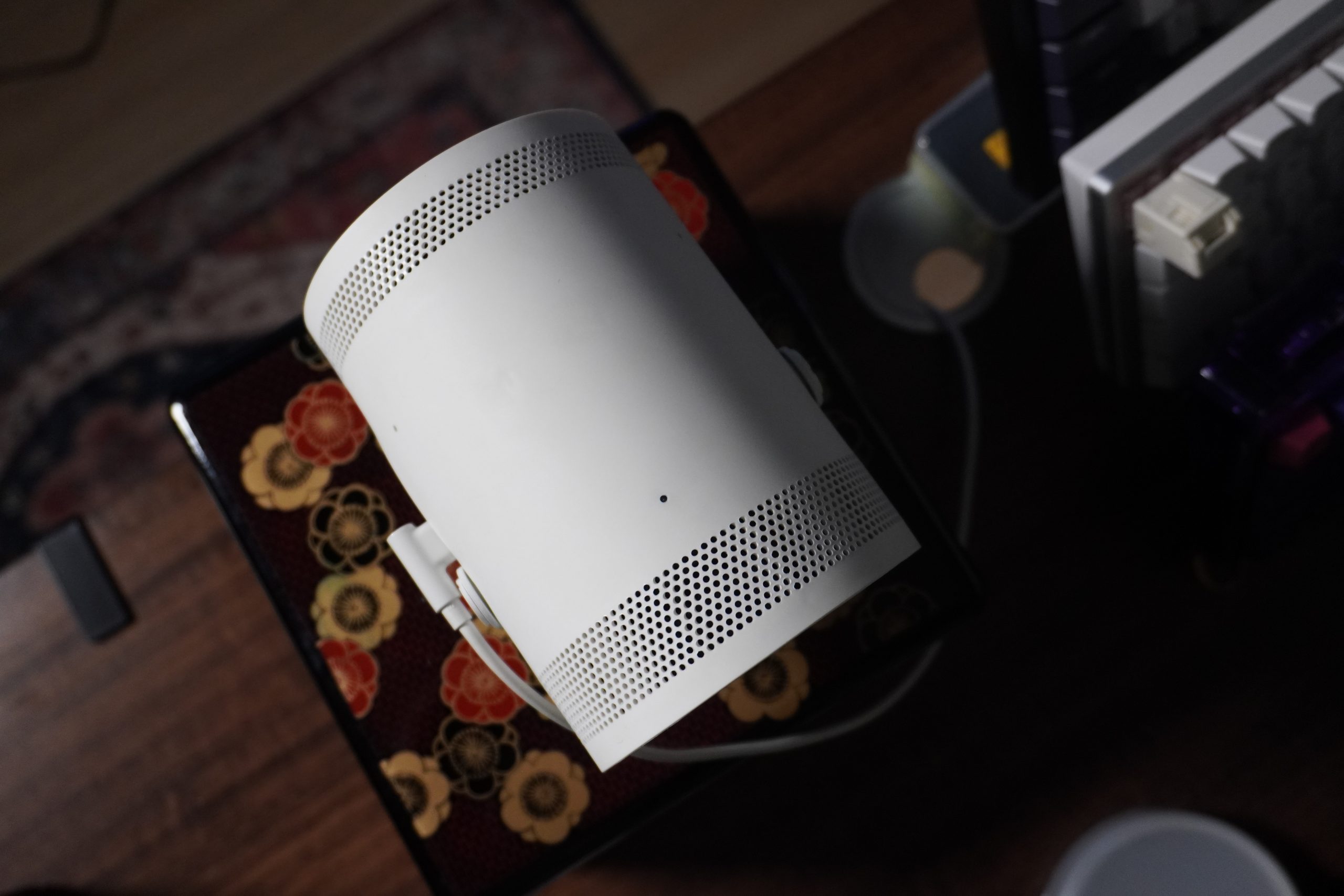 This projector is able to point 180-degrees, making it easy to orientate to anywhere you point. Supporting that would be autofocus and auto-keystone collection.
What We Liked
---
The Design
It IS a looker. The Freestyle is a circular tube supported by 2 stubby stilts that you can rotate around. Our unit is in a stylish white, with a standard plasticky finish which simply houses the projector components. There's a relatively simple I/O section that's side mounted to make it easy to find.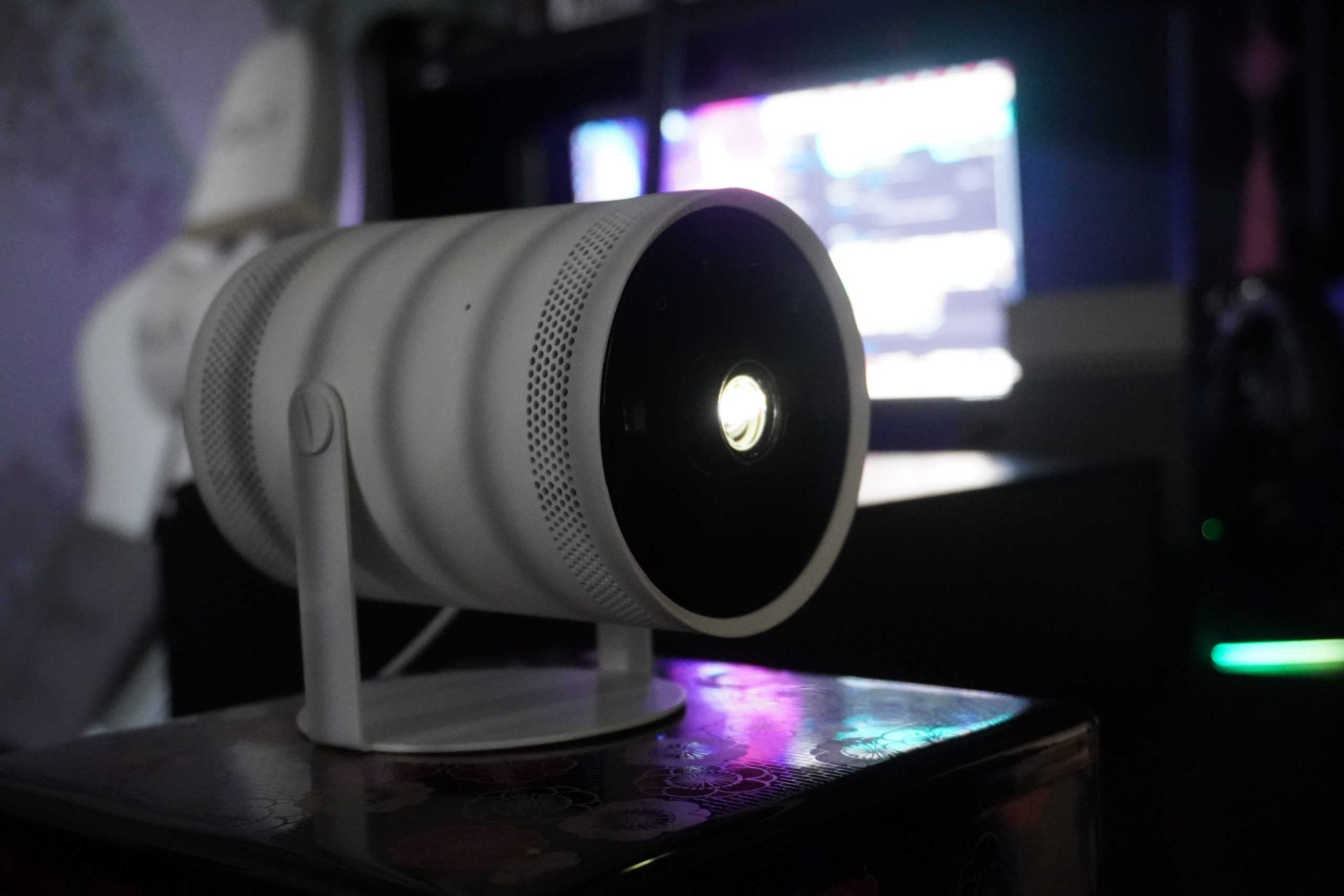 It manages to blend well in almost any environment, which does leave you with plenty of imagination to consider where you'll be going around with the Freestyle. Play Nintendo Switch on the ceiling? sure. Movie night with the family on the dining table? of course. Van-travelling with your best mates on the open road? well, make sure you bring enough powerbanks because the Freestyle doesn't come with a built-in battery and from what I can see here is for good reason.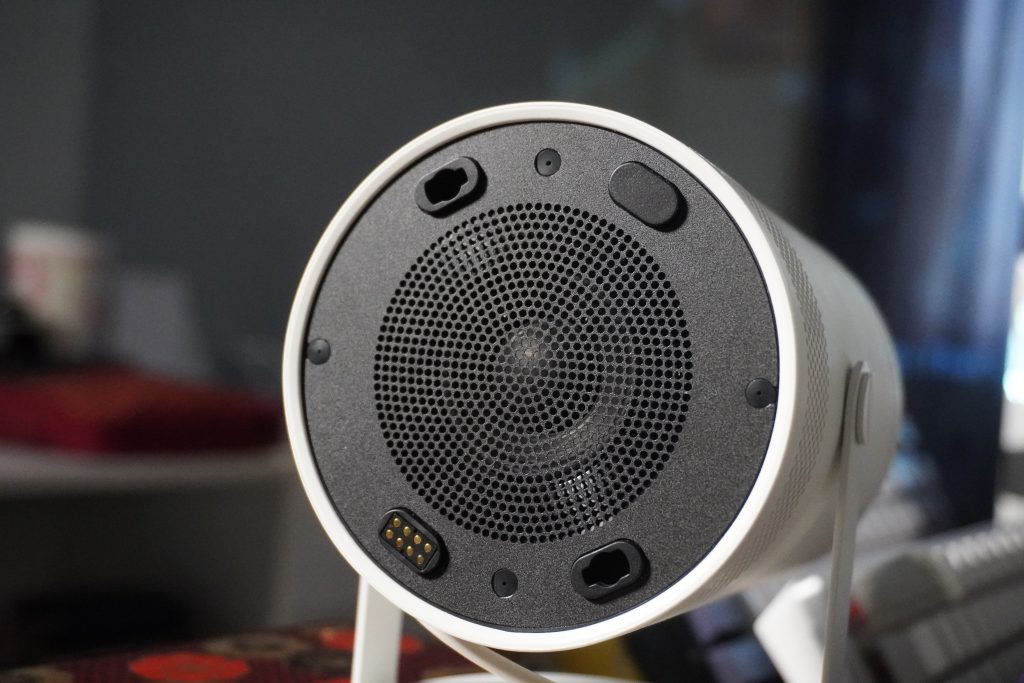 It's TINY, it's a PROJECTOR, and this combo definitely generates a lot of HEAT. But it's no dead end though, because at the bottom of the projector there is a pogo-pin styled socket where there is room for an extended battery case that you'll slot right there.
There are lots of little holes on the top and bottom sides of the Freestyle that expels heat generated, and when idle, it's actually pretty quient (but not silent, yeah).
Connectivity
There are 2 ports and a switch, namely a USB Type-C port for charging, a MicroHDMI port for display output and a switch to mute mics.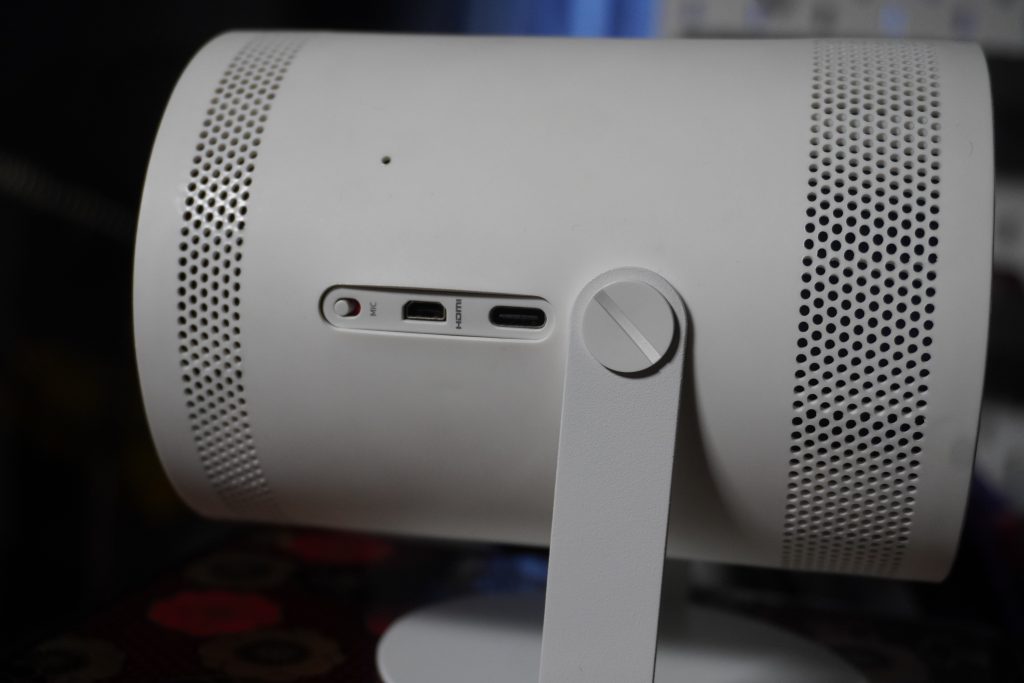 MicroHDMI: This port may not be a full-sized HDMI but it does support HDMI-CEC, so you can definitely connect a computer, PS5 or even a Nintendo Switch if you have the right adapter. You're only getting 60Hz, so it's a go for casual gaming, but definitely not for competitive.
Mute Mic Switch: With Bixby and Alexa intergration into the software, you may use the Freestyle like a smart speaker / TV and give it voice commands. The switch is to simple disable the mic if you choose not to talk to your Freestyle. A simple, and definitely neccessary feature to have.
In the lens section, there are capacitive touch buttons for you to control things like power, volume and SmartThings connectivity. SmartThings is a useful bridging app for you to connect your Android / iOS device to view content from the projector.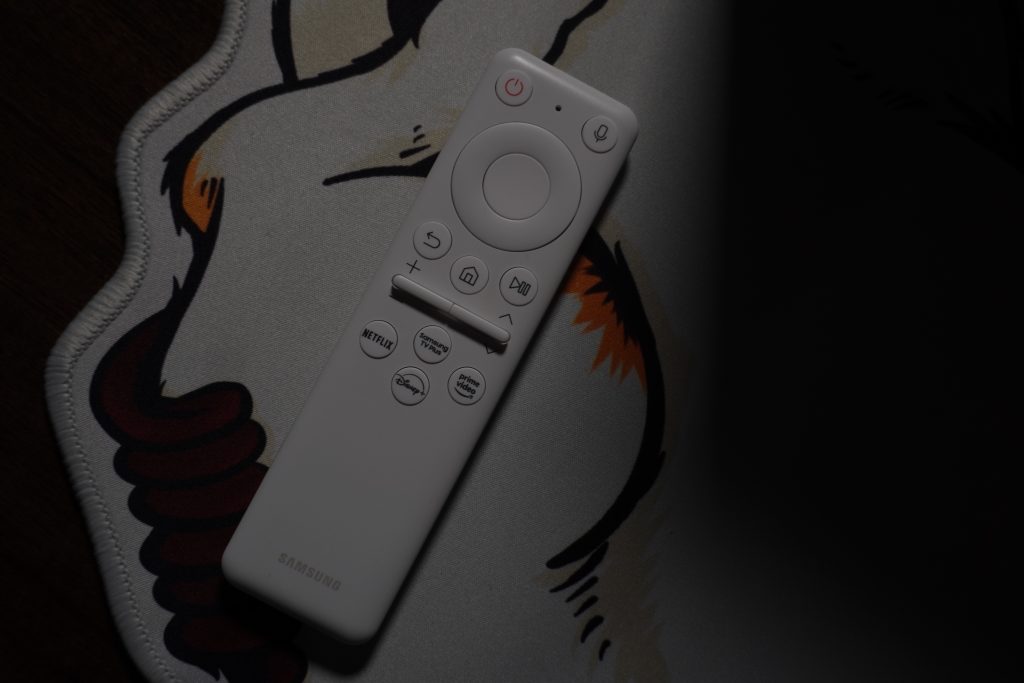 If you're not into buttons, you can use the included remote controller for easier navigation. It's a standard looking smart TV controller that you can recharge using USB C. IT also includes useful shortcuts like Netflix, Amazon's Prime Video and Disney+, so this does make it passively easier to teach an older person on how to operate this piece of display hardware.
Some of the Software features are cool.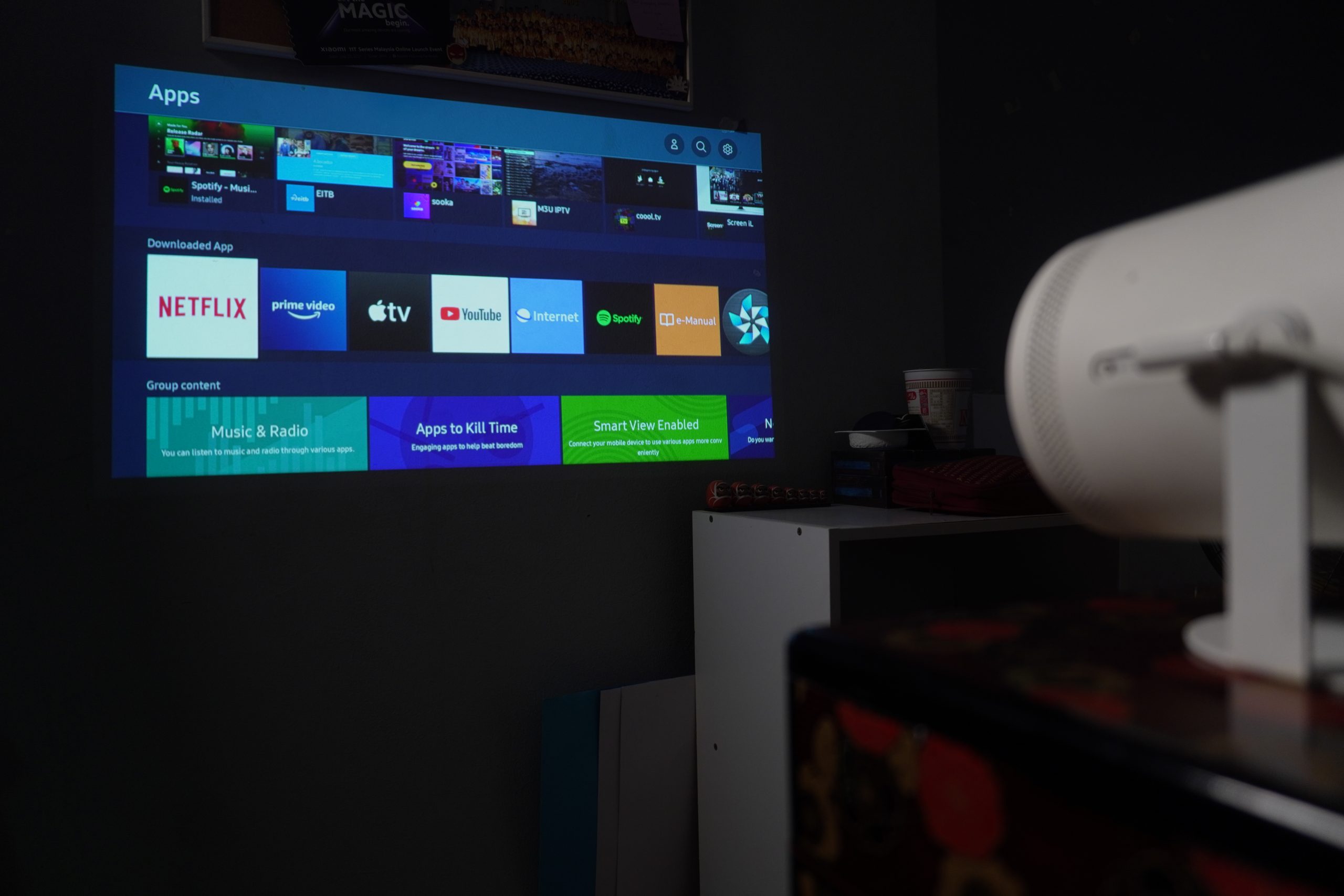 The Freestyle operates on a tailored Tizen OS that Samsung Smart TV's use as well, and navigation and setup of that system should not feel foreign to any level of tech user. The home menu looks rather boring but that can easily be fixed through perhaps some version updates in the future. There are 2 good things that I do enjoy out of the Freestyle, and that is the inclusion of streaming services as well as the Ambient mode.
Another major great feature is the auto-keystone function, no matter what distance you're suddenly rotating to, the Freestyle would automatically adjust the keystone to compensate for the change in distance. That essentially makes it a hands-free setup, saving a couple of minutes where you'll have the most "sharp" as possible image quality at any given time.
Streaming Services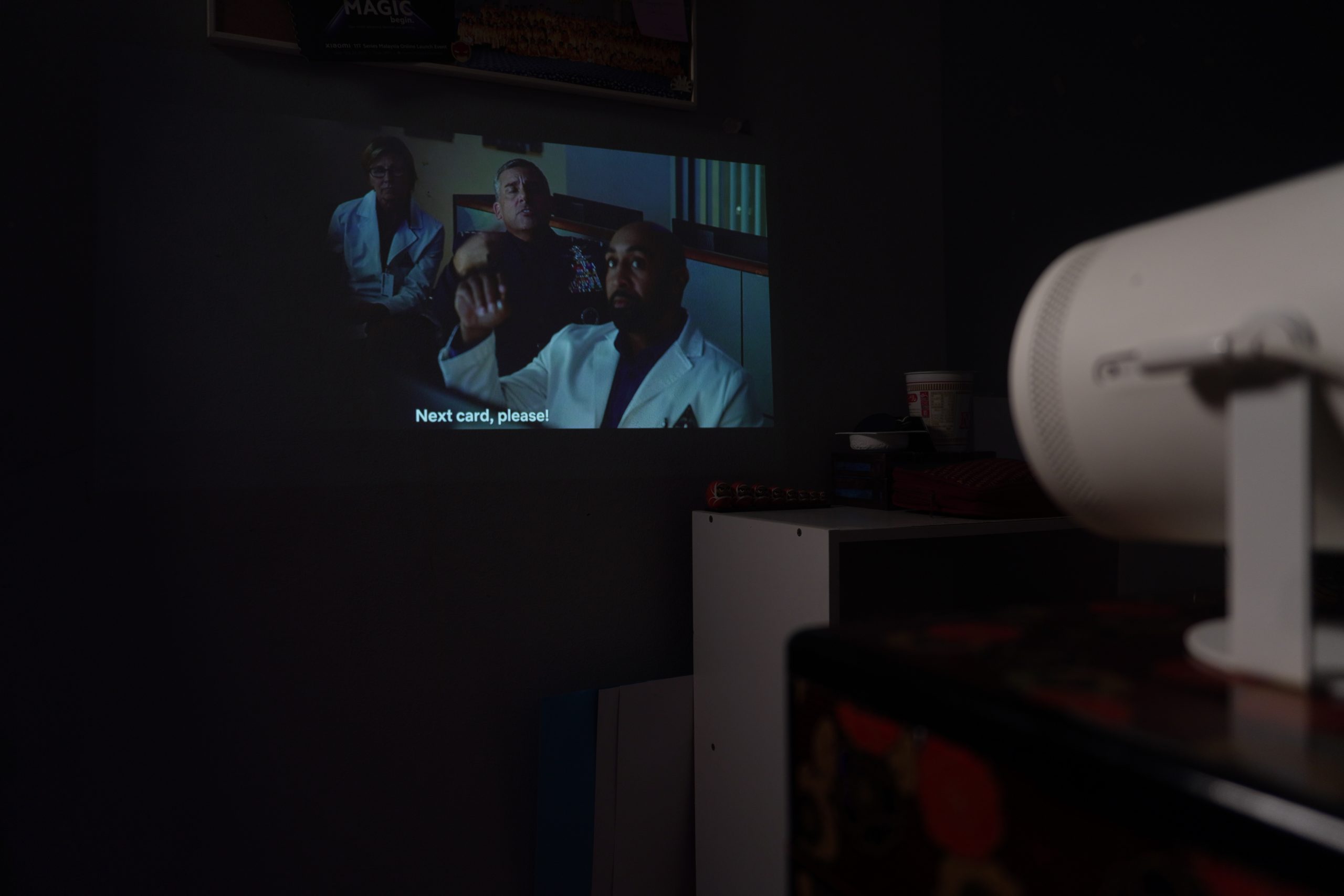 Your usual suspects like Netflix, Prime Videos and Disney+ are on board. It's a matter of convenience here because we essentially cut out setup time wherever we are (as long as you're connected to the internet). You can literally pick up where you left of from whichever show you were watching with a smooth transistion that the UI was able to perform to give it that seamless experience. It doesn't just awkward pauses into static like every other TV (especially those really bad Android TV ones).
For now, Samsung's free TV Plus service is not available for Malaysia, so there's still Spotify and YouTube to keep you entertained.
Ambient Mode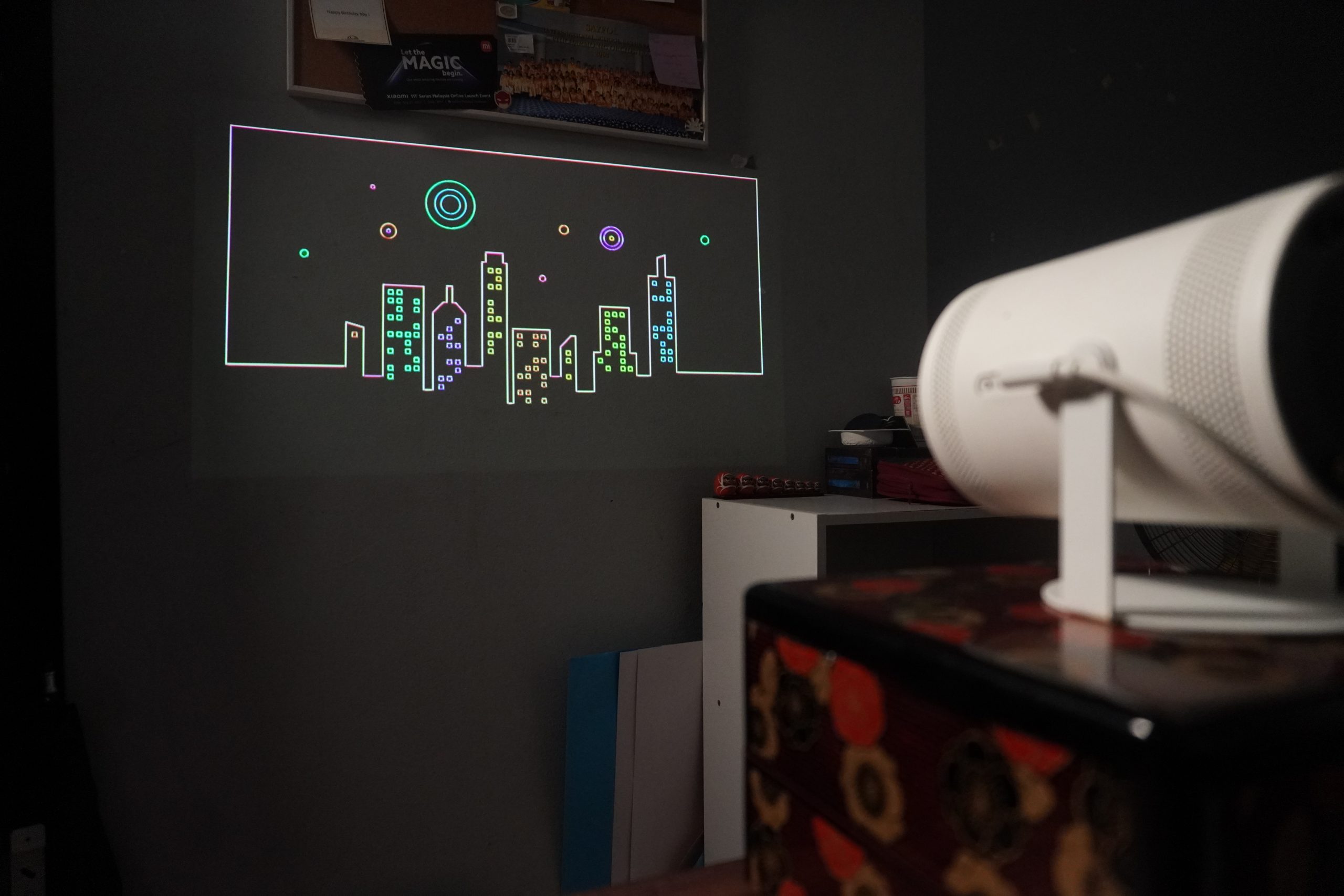 This is the coolest part of the Freestyle. It's good to see that the functions of the Freestyle as a smart projector get amplified to perform other, non media consumption related duties.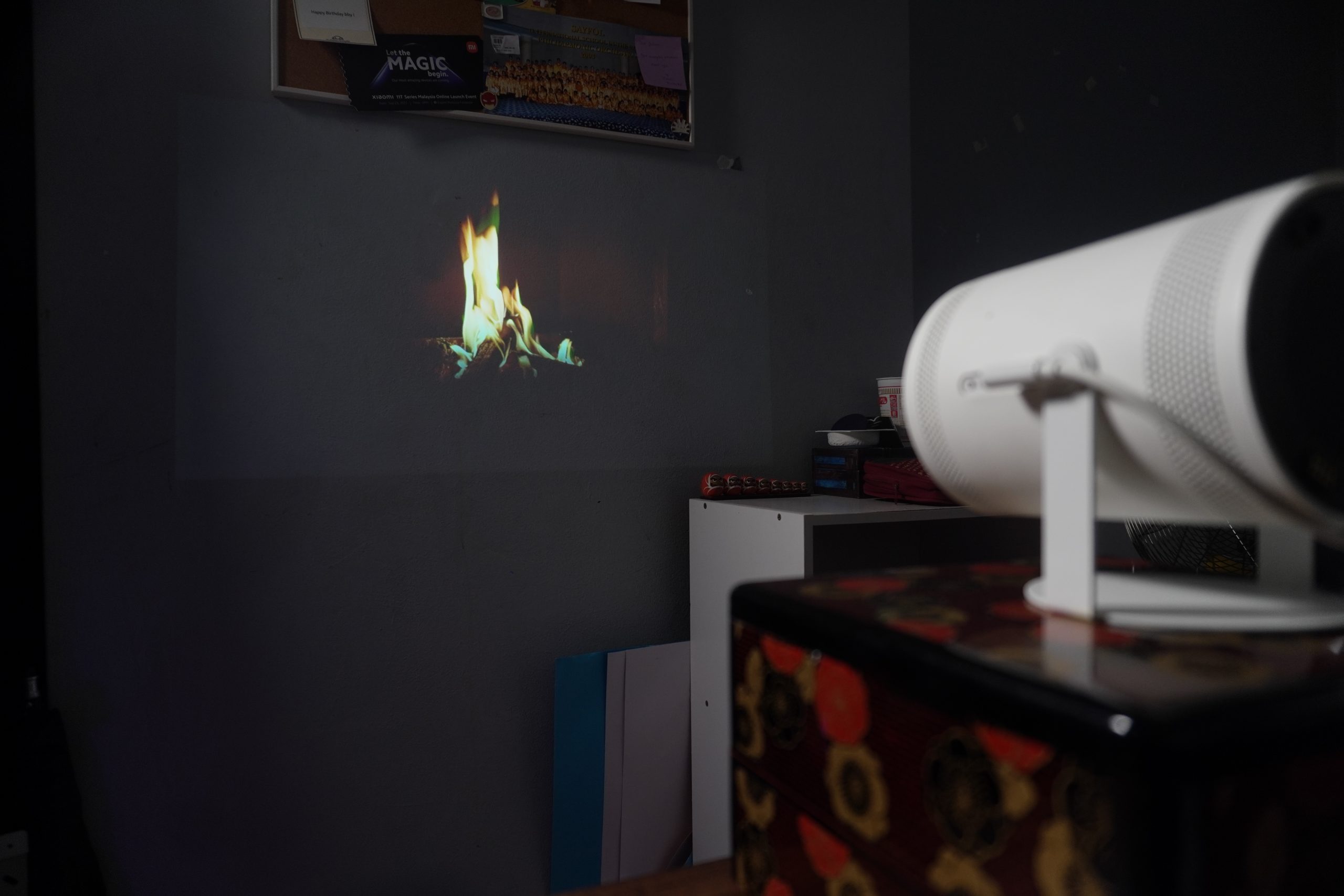 This is pretty much where you can use the Freestyle to project either a static background or something as ambient as an active fireplace to change the mood of things in a snap. We can even see the application of this for content creators to project a background for their dull walls to make their videos look livelier.
The Accessories are stylish and useful
To protect the enclosure, the Freestyle gets a handful of accessories immediately upon launch and if you were early with the pre-orders, you would've gotten a pretty cool hard-fitted case or if not, at least a couple of silicon cases in different colors. The hard case felt like a must have, and it comes with a carabiner for you to hook onto a backpack or a rack for easier (and stylist) access.
We believe that an external battery attachment would be coming soon for the Freestyle and we agree from an engineering perspective that it should be external rather than internal. This makes it easier for replacement as well as not adding any additional contributors of heat to the internals.
What We Didn't Like
---
Projection is only 1080P at a 4K Price Tag.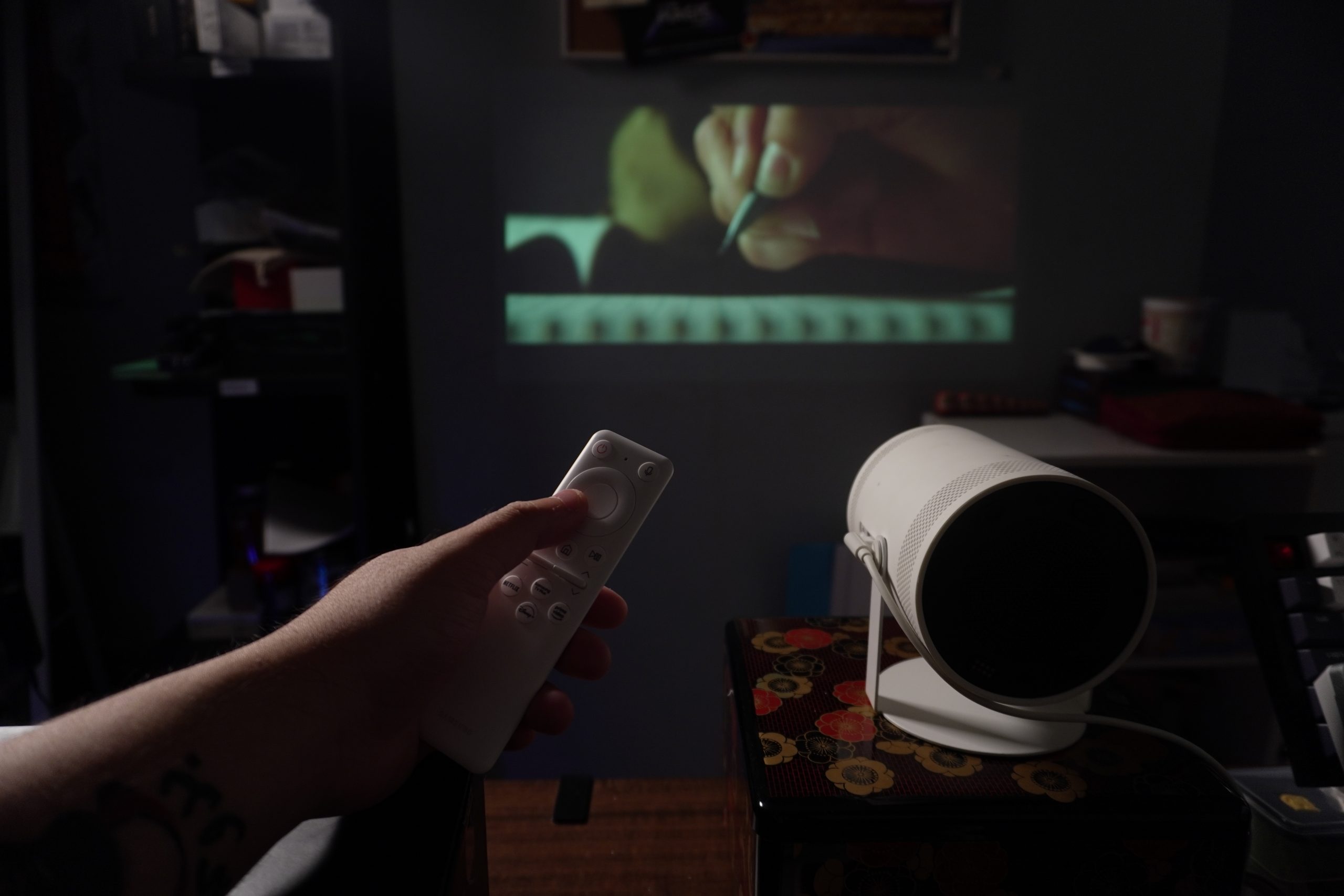 Although the contrast and color reproduction are good, paying RM 4999 for a portable 1080P projector may not sit well for a lot of people. From about 3 feet, the projection goes up to 32 inches, so at that distance it's good enough for an office or room to watch anything comfortably. You can get up to a huge 100 inches from about 9 feet.
I'd normally loom around 32 – 42 inches because the image clarity tends to get soft when you're going 50-60 inches and onwards.
It's not the brightest of the bunch
We put the claim of 550 lumens of brightness to the test and we found it wanting. We compared it to a projector that we use, just a little bigger and even that couldn't reach 550 lumens but was definitely brighter than the Freestyle. This doesn't make this a bad projector, but it's certainly not as bright as it claims. You'll certainly need a dark environment to watch things properly and not always rely on just brightness as it's bad for the eyes in the long run.
---
Just Who Is It For?
Right off the bat, I already know the type of person who would buy this. It's for the traveller who doesn't want to watch off a laptop or a hotel's crummy TV. Image quality is great enough to not rely on a projector screen, so you'll have a blast with even just a wall and ceiling. The option to stream content from both Freestyle itself and other smart devices opens the doors in terms of versatility and definitely encapsulates the existence of this projector well.
I would say however, that the tech is not perfect, but Samsung has laid a path that might be hard to beat, and it all started by making the Freestyle roughly the size of a 2 smartphone boxes, and letting you keep it in style.
Well done, but the journey's just begun Samsung. I'll see you again in the 4K ring.