Happening on August 18, POCO's Super Brand Day on Shopee includes deals on the new POCO C40 smartphone from only RM449 (RRP: RM499), POCO M4 5G from only RM649 (RRP: RM699).
Just when we thought POCO can't get any more affordable, they just upped the ante once again with the C40 and M4 5G. Launching on August 18 as part of POCO's Super Brand Day campaign in Malaysia, shoppers can also look forward to an exclusive price on the new POCO C40 and POCO M4 5G, as well as deals for fan-favourite POCO smartphones including the POCO F4 GT, POCO F4 and POCO X4 GT.
POCO C40

The POCO C40 smartphone comes at an unbeatable recommended retail price of RM499 (3GB + 32GB) while offering segment-leading performance. Boasting a huge 6.71-inch LCD Dot Drop display, the largest display ever featured on a POCO smartphone, users are able to be fully immersed in the POCO experience. Its large screen and intuitive features make watching videos, playing mobile games and even texting more accessible and help kill time while traveling. Built with Corning Gorilla® Glass, the device is also scratch-resistant, making it the ideal companion for outdoor adventuring this summer.
The display has a brightness rating of up to 400 nits, complemented with features such as Sunlight Mode Display which smartly sets screen brightness in proportion to exposed direct summer sunlight. Reading Mode switches the screen to a warmer colour temperature to reduce eye strain during long reading sessions. POCO C40 also boasts a whopping 6,000mAh battery, lasting more than two days on a single charge[1]. It also supports 18W fast charging to maintain high-grade performance throughout the day[1].
An entertainment powerhouse, POCO C40 has added a powerful loudspeaker to enhance users' overall experience. POCO C40's speakers open up a world of vibrant sound for clearer phone calls, more expressive music listening, and captivating audio-visual experiences to stay up to date while on the go.
The device is fitted with a dual back camera array, with a 13MP main camera and 2MP depth sensor, as well as a 5MP front camera. This setup comes with the added support of a wide range of innovative photography and videography features and modes, that capture each and every moment with clarity and precision. The 5MP front camera is perfect for selfies and video calls, while the 2MP depth sensor lens allows real-time depth detection for an undeniable aesthetic and quality in photo composition.
Under the hood, POCO C40 carries JLQ Technology's latest high-performance octa-core JR510 processor. Its mobile platform is built on an 11nm process with eight Cortex-A55 cores running up to 2.0GHz. POCO C40s young and vibrant design encapsulates a bigger and bolder look and makes it more secure in your hands than ever before.
POCO M4 5G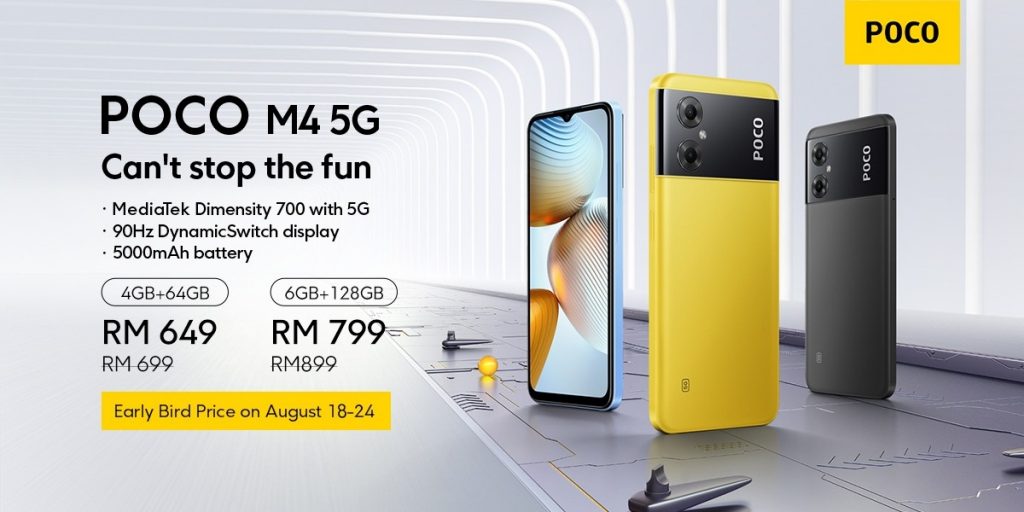 Delivering on the promise of 5G, the latest addition to the POCO line-up gives users the smoothest and most stylish way to play games, watch videos, connect with friends on social media, and more. Designed
for youthful trendsetters that won't compromise either performance or value, the POCO M4 5G is a 5G entertainment star with the processing power and dynamic display functionality to suit hyper-connected on-the-go lifestyles.
For the smoother experience when mobile gaming or livestreaming, POCO M4 5G brings ultra-fast 5G to value-conscious users thanks to its advanced MediaTek Dimensity 700 processor[2]. With an integrated 5G modem and incredible power efficiency, it ensures faster and more reliable connections on both 5G SIM slots and smoother processing, all day and night. Fast storage and memory further empower users with shorter app installation time, faster large file transfer and smoother daily use.
POCO M4 5G features the signature DynamicSwitch display to intelligently switch the display refresh rate from 30Hz up to 90Hz depending on what the user is doing. This ensures fluidity and optimal enjoyment among different activities like gaming, watching sports, texting as well as shooting a video while saving power and extending battery life. The new POCO smartphone comes with a high-capacity 5,000mAh battery and 18W fast charging that can handle everyday tasks with ease[3]. From making a lengthy phone call to opening a power-consuming GPS location app, there will be no low-battery anxiety. The new smartphone's large 6.58-inch display is also built with the incredibly tough Corning® Gorilla® Glass for extra durability amid a busy on-the-go lifestyle.
POCO M4 5G radiates a young and vibrant aesthetic. It stands out for its stylish design and beautifully textured matte finish that gives good grip and resists smudges, fingerprints and scratches for good looks that last. Perfect for taking better photos every time, the POCO M4 5G is fitted with a dual-back camera array that comprises a 13MP main camera and a 2MP depth sensor for real-time depth detection. The phone also comes with a wide range of innovative AI-enabled photography and videography features and
modes to help users capture every moment and share their world with clarity and precision. Helping users stay in touch, and look good while doing so, the new POCO sports a 5MP front camera that is perfect for selfies and video calls.
The POCO M4 5G comes in three colours: Power Black, Cool Blue and POCO Yellow. It will also be available in the following variants: 4GB + 64GB and 6GB + 128GB.
"POCO's products have always required best-in-class performance on all fronts and meeting the highest standards for top-quality entertainment while maintaining competitive affordability. We are excited to offer our loyal users and fans amazing deals for our latest products through the POCO Super Brand Day on Shopee Mall. We can't wait to see more users using our great POCO products in the region, and now making it even more accessible and affordable with great deals through an e-commerce platform, like Shopee."
Angus Ng, Head of Product Marketing at POCO Global
"Across the region, we continue to see strong consumer demand for electronic lifestyle products such as smartphones, laptops and smart gadgets on Shopee. Thus, we are always glad to work with e-commerce-focused technology brands such as POCO, to give our shoppers exclusive first-hand access to innovative new technologies, such as the new POCO C40. Together with POCO, we look forward to bringing more innovative devices to shoppers at wallet-friendly prices on Shopee Mall."
Pavan Challa, Director, Regional Brand Partnerships at Shopee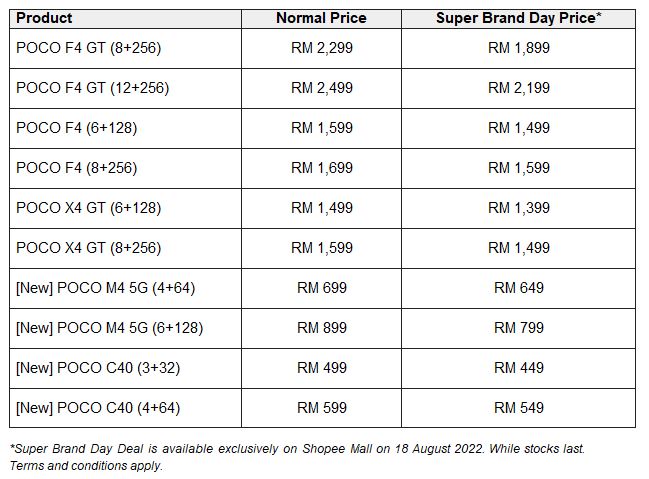 Useful Links
Pre-order