PICO 4 VR HEADSET
The PICO 4 VR Headset is a great standalone package, complete with everything users need to get started on their VR journey. Commanding a RM 1699 price tag for the base model, there's plenty of fun and entertainment to be had, but how long can their market dominance be maintained in Malaysia?
Approve
Lightweight comfort
High resolution
Wide field of view
Good tracking
Very Competitive pricing
Nationwide warranty
Approvn't
Battery is about 2.5 hours max
Not a big native game library yet
Games need more aggressive optimization
Specs
Processor
Qualcomm XR2
RAM & Storage
8GB RAM, 128GB/256GB storage
Connectivity
WiFi 6 dual-band, Bluetooth 5.1
Display
2,160 x 2,160 pixels per eye, up to 90Hz refresh rate, IPD 58-72mm, 105-degree FOV
Sensors
6DoF Positioning System
Battery
5300 mAh on headset (20W fast-charging)
2 x AA batteries for controllers
Price
RM 1699 – 8GB RAM, 128GB | RM 1999 – 8GB RAM, 256GB
---
What Is This?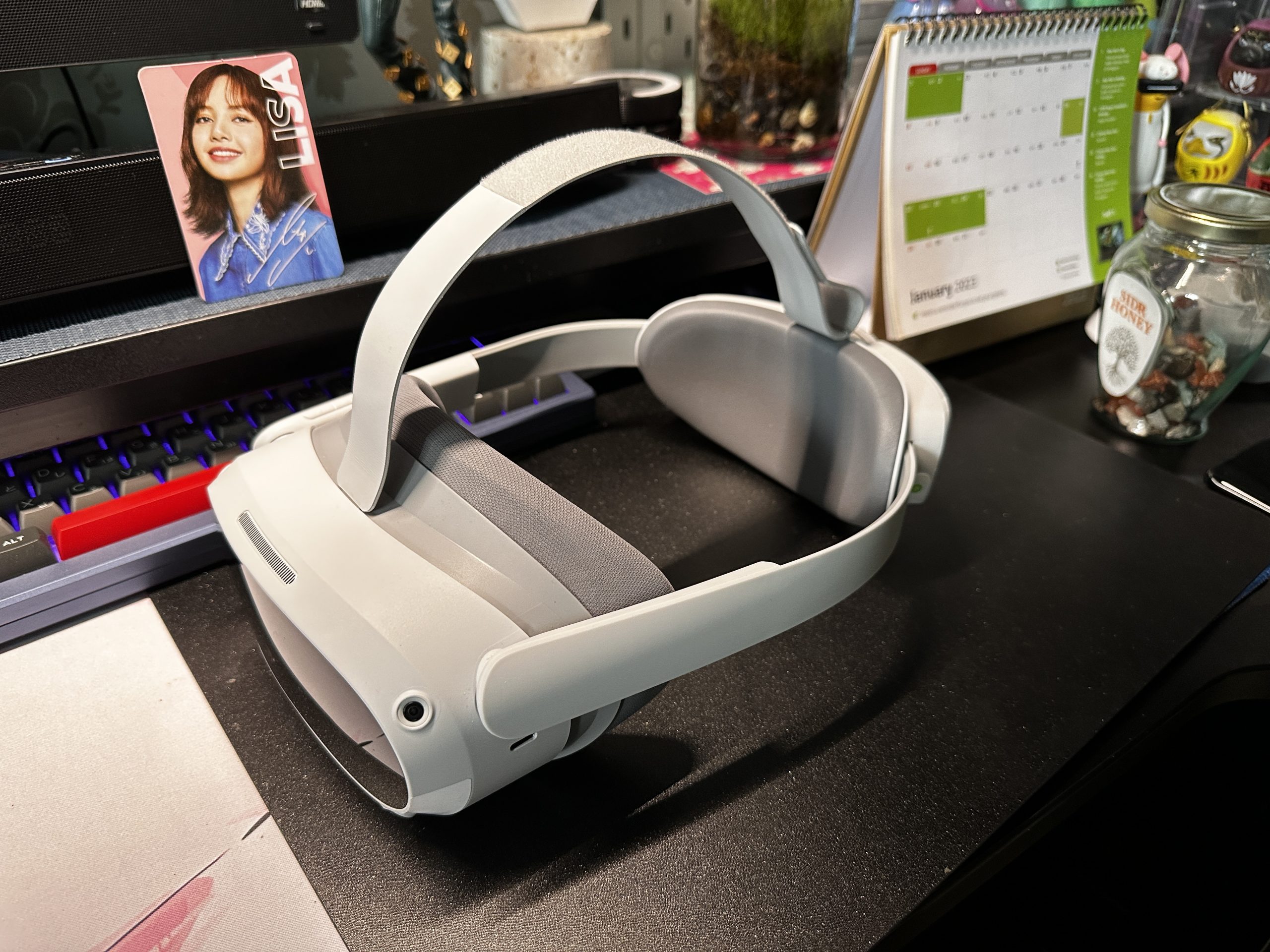 Well, it's a VR headset from China that aims to beat the Meta Quest at their own game by simply creating a more durable headset. Although designated as entry level, the Pico 4 is well designed. It's for the most part a pretty rounded and curvy headset that weighs between light and heavy. We can't have too light a headset as it can deviate your vision should you shake a little too hard. The weight is quite well distributed, considering that the battery is at the back compartment and not at the head-mounted display (HMD).
The external case is mostly a medly of whites and greys, with the highlight being the front panel which is a fingerprint-trapping glossy black.
The accompanying motion controllers follow the headset, being just as round and curvy, hugging your palms quite easily and seamlessly. Don't forget to tie in the included wrist straps for safety!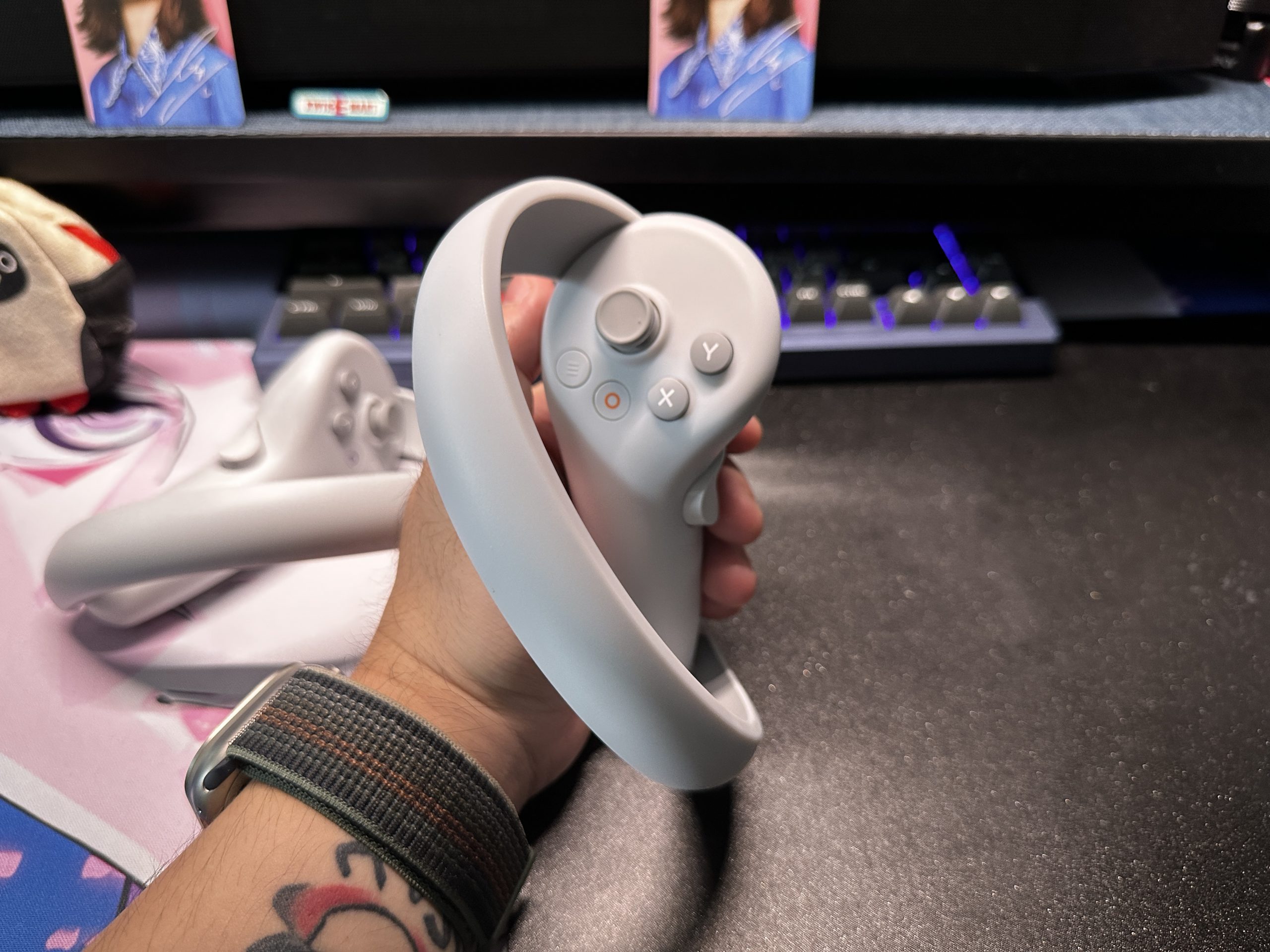 The buttons are nice and soft with a satisfying clickiness to it. Both controllers feature a single analog stick capable of motion tapping without pressing down. The tracking rings go over your hand, and this is an unusual but positive move as you can move your controllers closer to your hands without the clashing onto one another.
This is also a concern for safety as your fingers could hit objects easily and that includes walls. But then again, VR users should take more percaution and due diligence to their surrounding and not be near objects or the wall before initiating play anyway.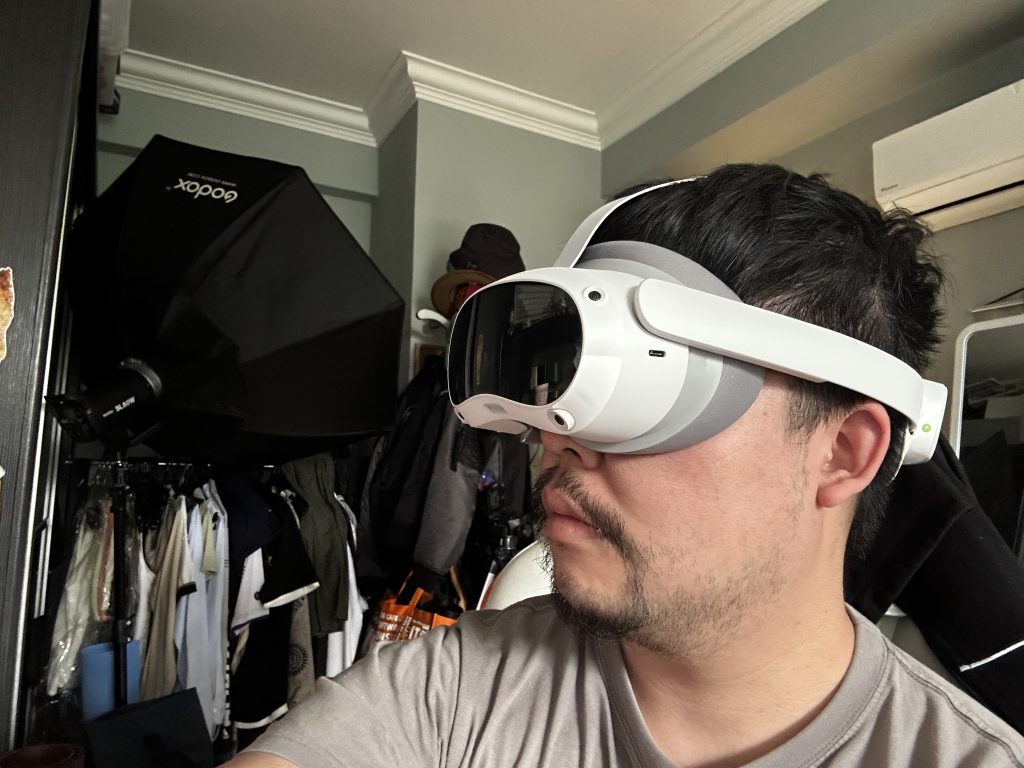 The wear was overall comfortable, even when playing a full play-session of 2.5 hours on the Pico 4. The front headset foam was soft and gentle to my face, and the back of my head was also cushioned by a grippy faux leather padding.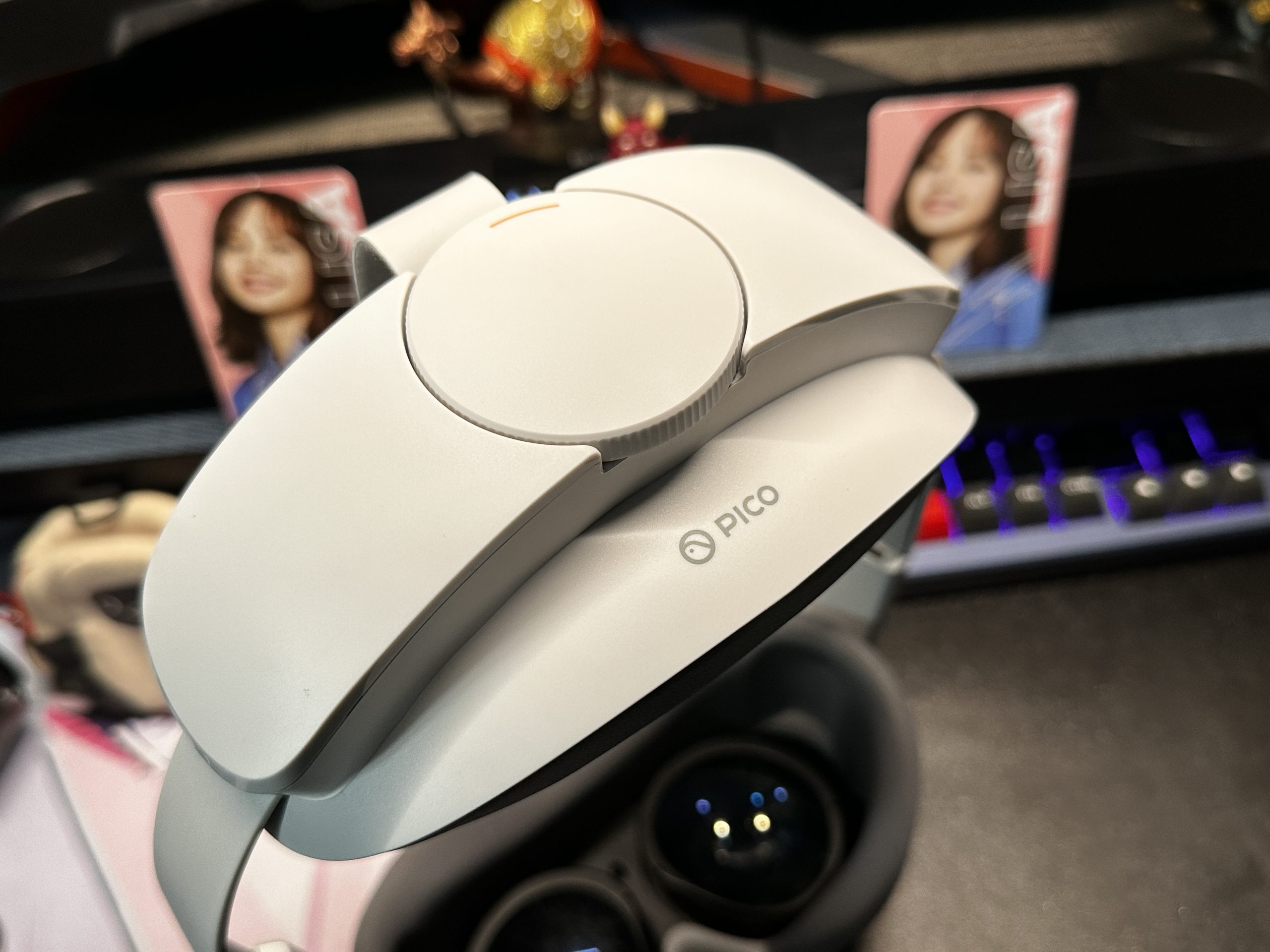 Fittings and adjustments were simple to do, using the rear panel's crank for front-back tightening, and the top velcro-ish straps for the top. These approaches are good, as you can seamlessly adjust even during immediate use. The paddings may be comfortable, but you'll still need to get to your sweet spot of tightness so that your eye sockets don't feel too pressed into the headset.
Do take note that not everyone, especially new users can get immediately accustomed to long periods of VR use. I remember getting really dizzy and migraine-y during my first 20 minutes so do take your time and pace seriously before challenging your body and vision to longer periods of play. I promise you'll get there, promise.
OS and Games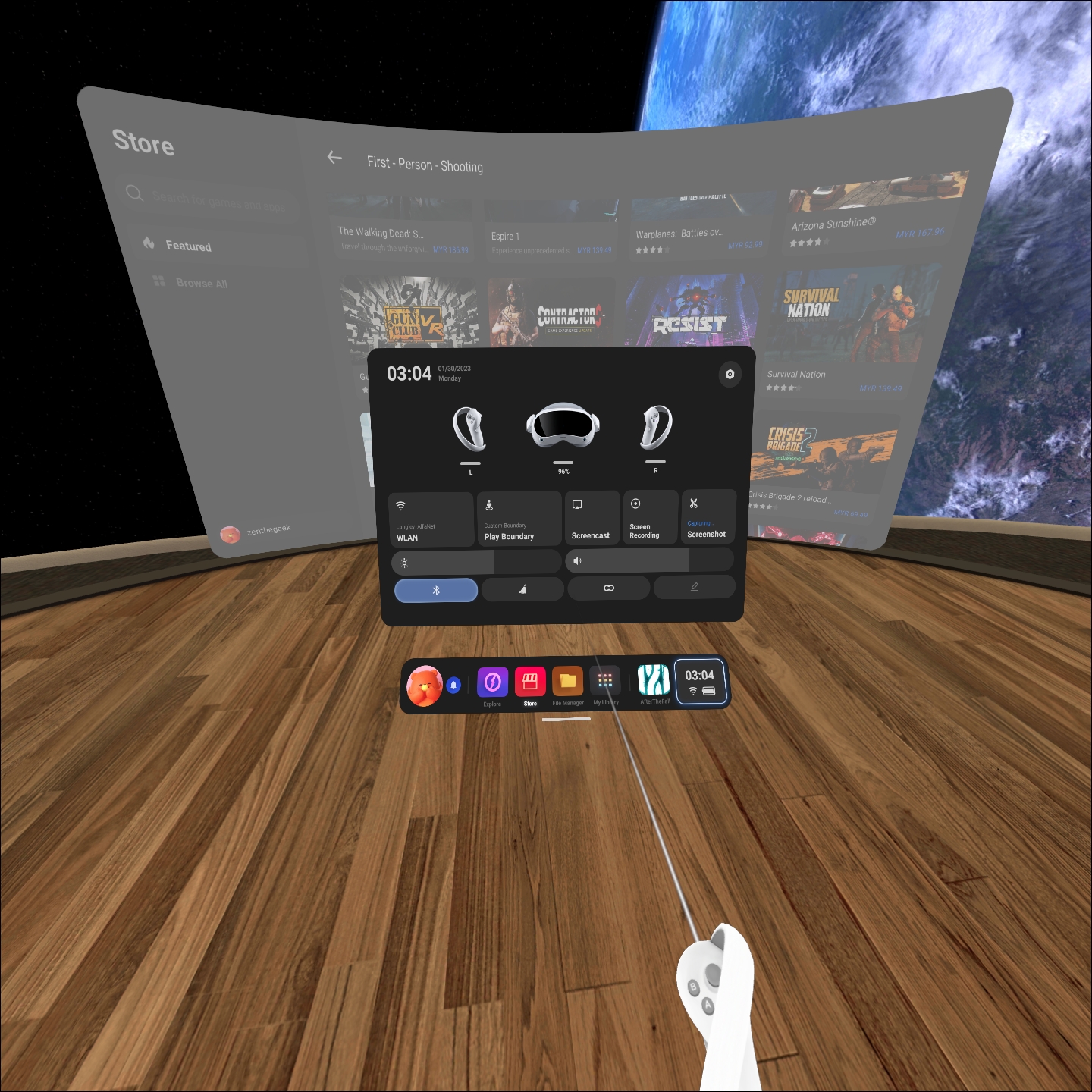 The PICO 4 uses its own proprietary OS, simply called PICO OS.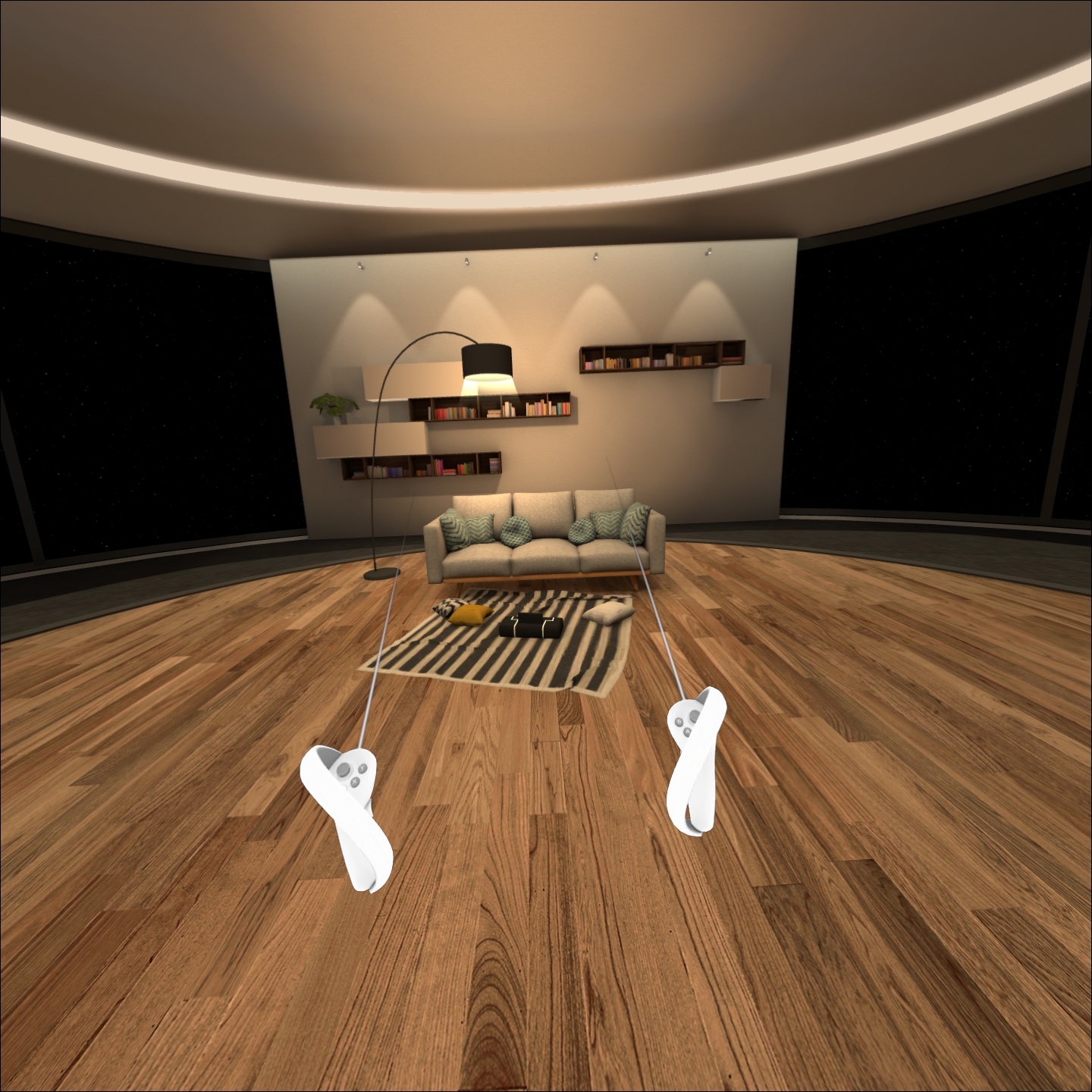 It includes everything you need from a customizable virtual world where you can interact with menus and setting dock, to a fully currency-localized store for you to buy games and download it straigh to your headset. You may also connect your PICO 4 to Steam VR via wired/wireless means.
Setup was easy, simply follow the instructions for motion, controls, setting up a playing-zone and connecting to the internet via WiFi 6.
Gaming performance should not be of too much concern for you, as it uses the same Qualcomm Snapdragon XR2 chip like the Quest 2, which performed well. I would say however, the PICO 4 would be the better choice, as you'll benefit from strong base specs, offering 8GB of RAM and 128GB of storage. As a yardstick, the Quest 2 offers only 6GB of RAM, and with a base capacity of 64GB all the way to 256GB.
By default the PICO 4 runs on a 72Hz refresh rate which you can increase to 90Hz for a smoother experience. It can be found in the settings under Labs. It will increase power consumption but not by a lot. It's worth doing so I would say.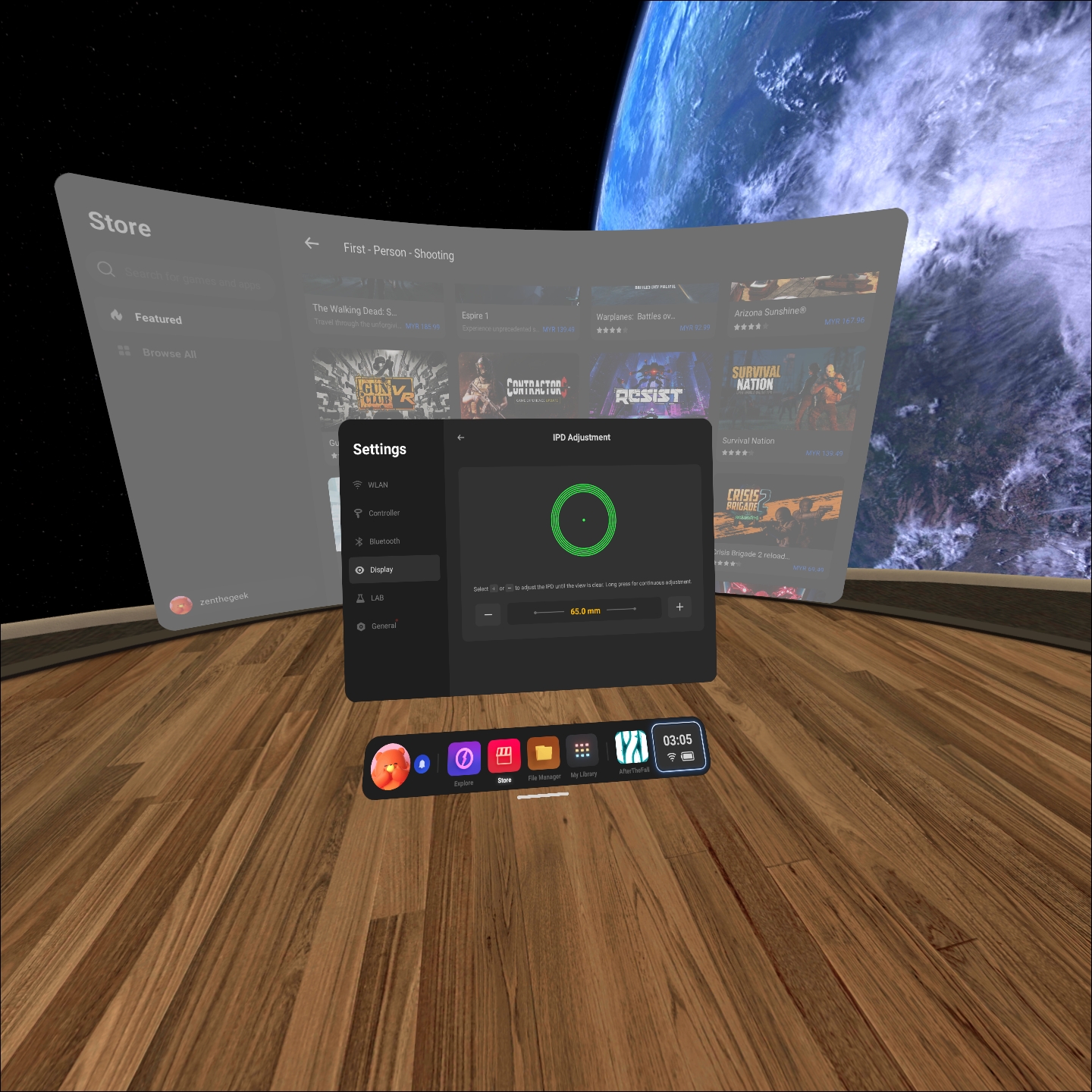 Immediate Goodies
Upon activation and setup, the PICO 4 comes with a starter pack of 4 games:
After the Fall (Single / Multiplayer Zombie Shooter)
All-In-One Sports VR ( Selection of Sports Games)
Down the Rabbit Hole ( RPG Puzzle)
OHSHAPE (Fitness Movement Based)
It is a valuable mention as consumers have direct access to a diverse set of VR titles without paying any extra out of the box.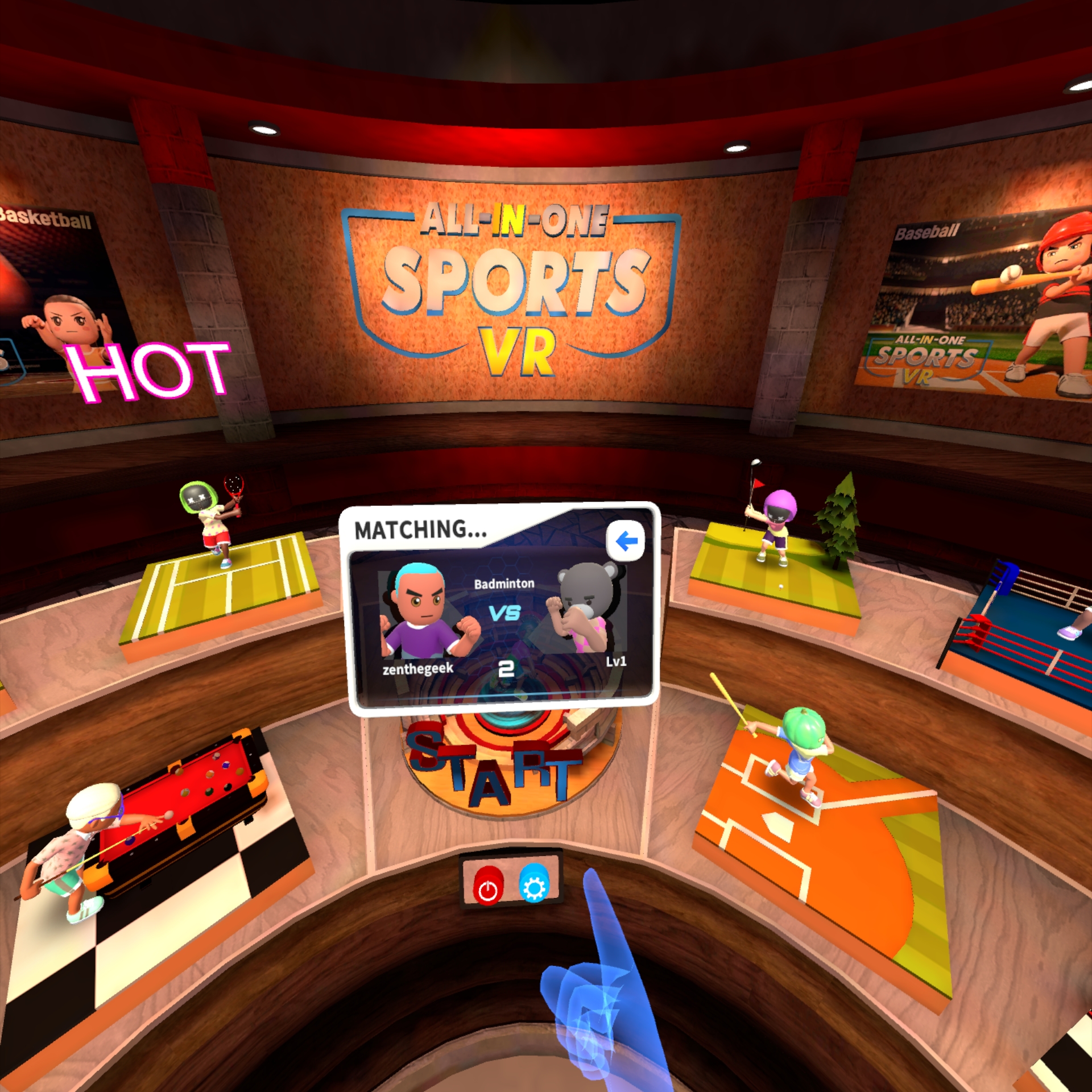 PICO VR Games
Of course, games off the PICO Store would be the most optimized and easily available since it's just a matter of purchase and download, so we've bought our favorite titles Pistol Whip and Blade and Sorcery : Nomad into our library. We've also tested alongside the included games from the Starter Pack.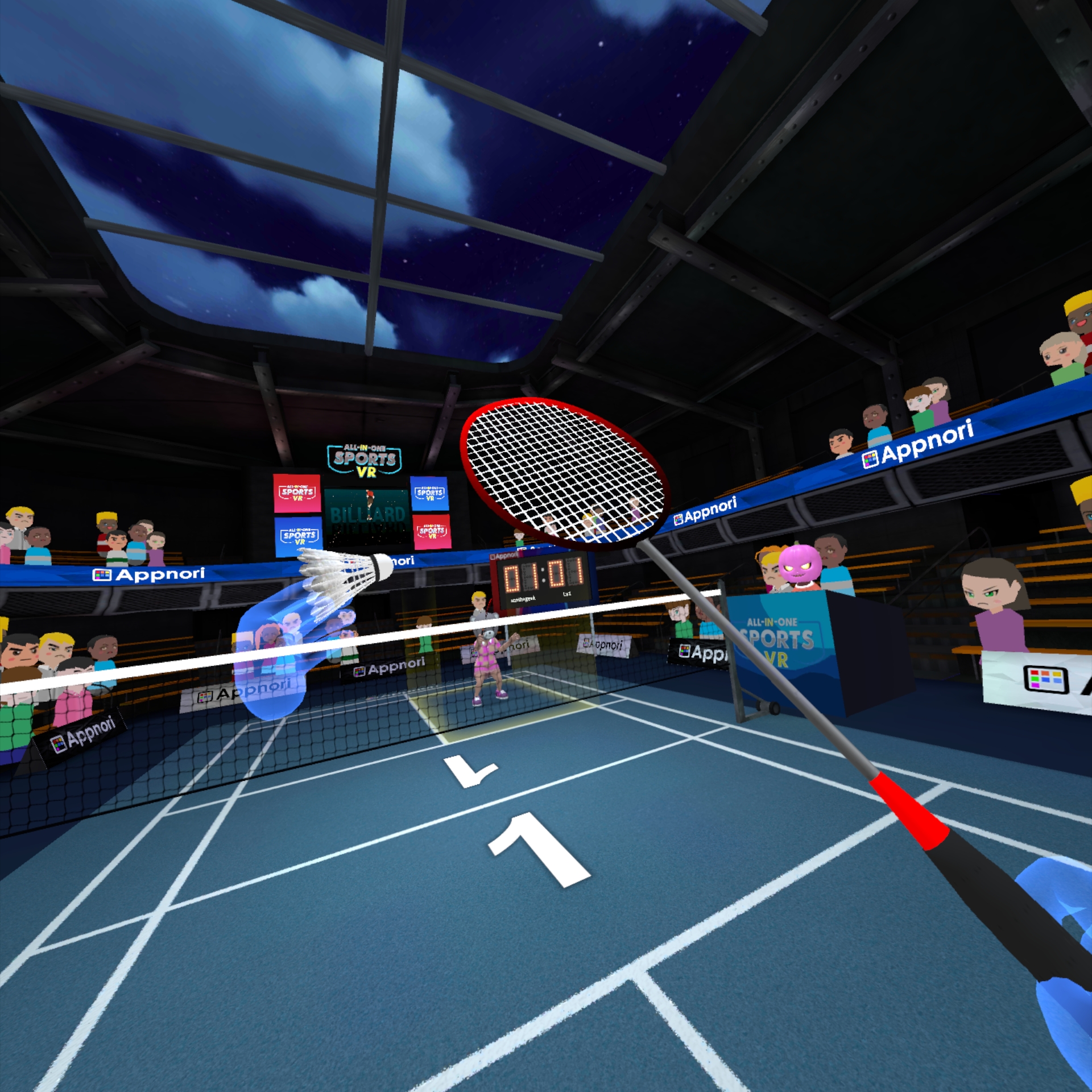 Sports games we're hellishly fun, and the AI posed a good challenge. I actually lost! The movements such as backhanding was pressure sensitive and too soft a hit landed me on the net, whereas smashing movements actually made me jump! It really did feel like badminton and it worked up quite a sweat for me.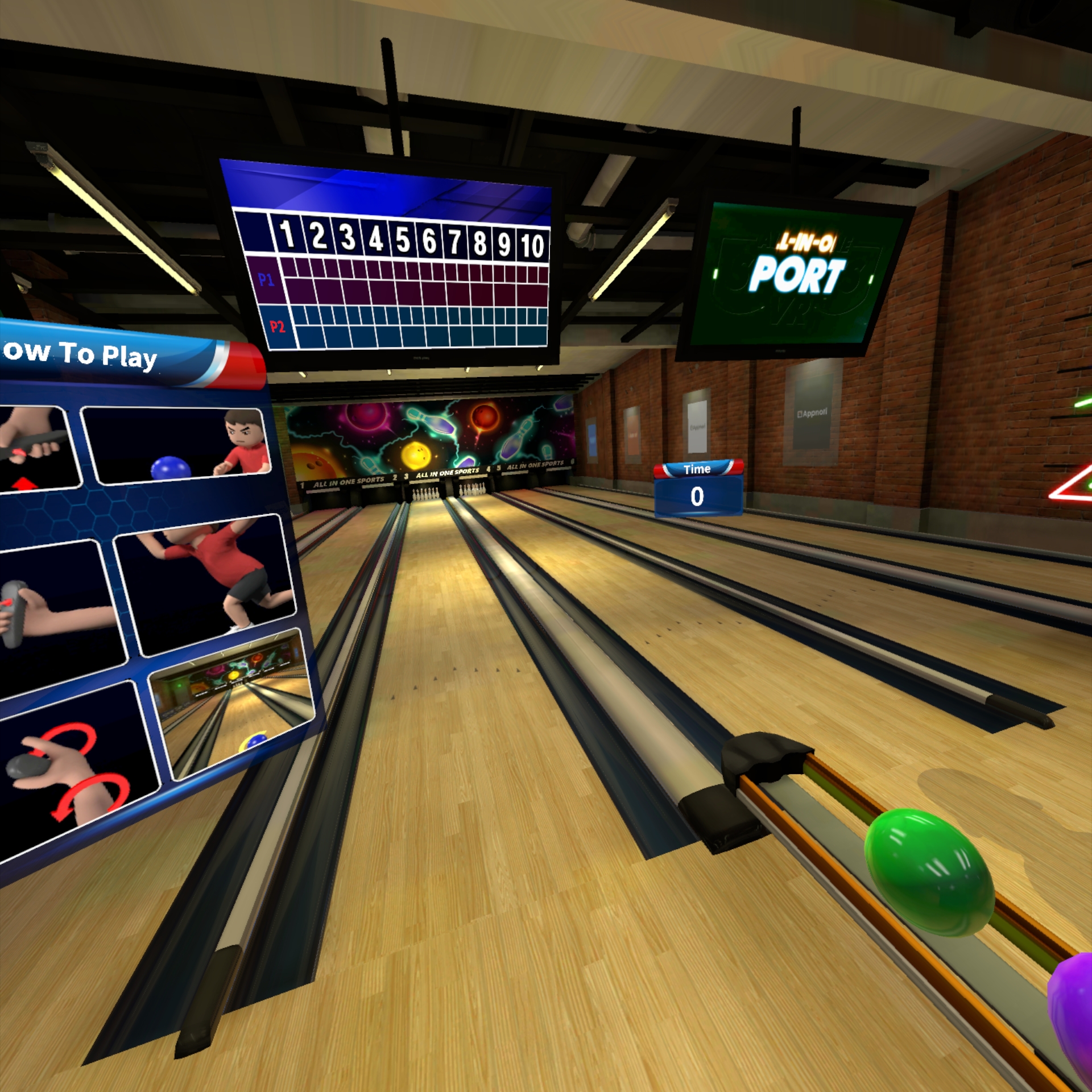 Bowling was also quite REAL. The slightest deviations could end in a gutter ball, or in best scenarios, a fast curve ball that hits dead center regardless of which end of the side you choose to start from.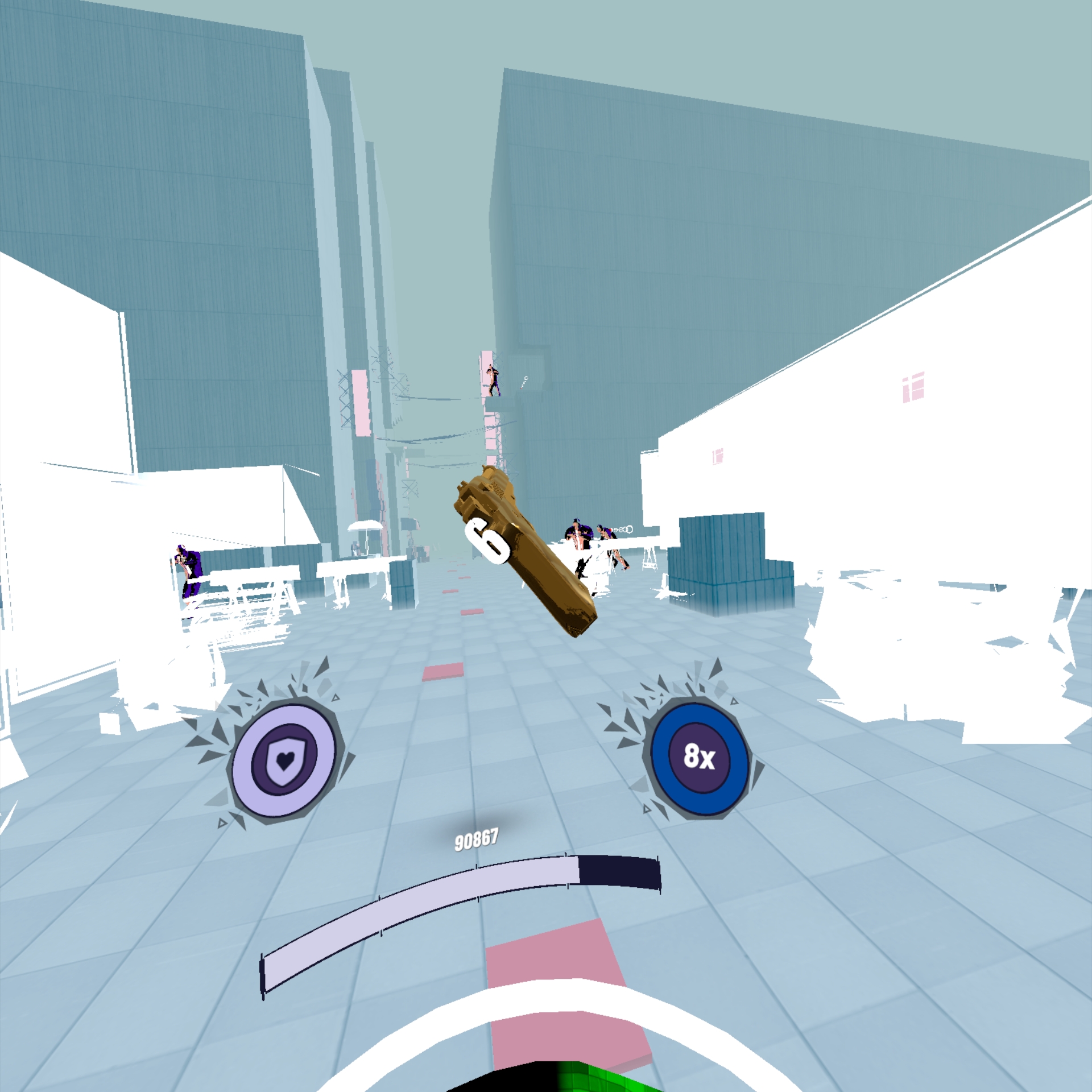 There's plenty of fun and destressing to be had on Pistol Whip. The game stayed faithfully to 90Hz and all actions were smooth and quick. You get to choose different guns and even what sounds they make. The campaign needs to be unlocked by simply playing several rounds of Arcade first to get the feel of things. From there you'll be able to unlock more guns and even melee weapons later on. Retails for RM 139. We will also be testing the responsiveness of the Steam version of Pistol Whip and will talk about it later on.
Playing Off Steam
There are many approaches to getting to play SteamVR games on the PICO 4, such as Virtual Desktops and PICO Link. We'll be doing a separate article which will include setting up and linking as we found it to be quite a lengthy process to setup.
Videos and Content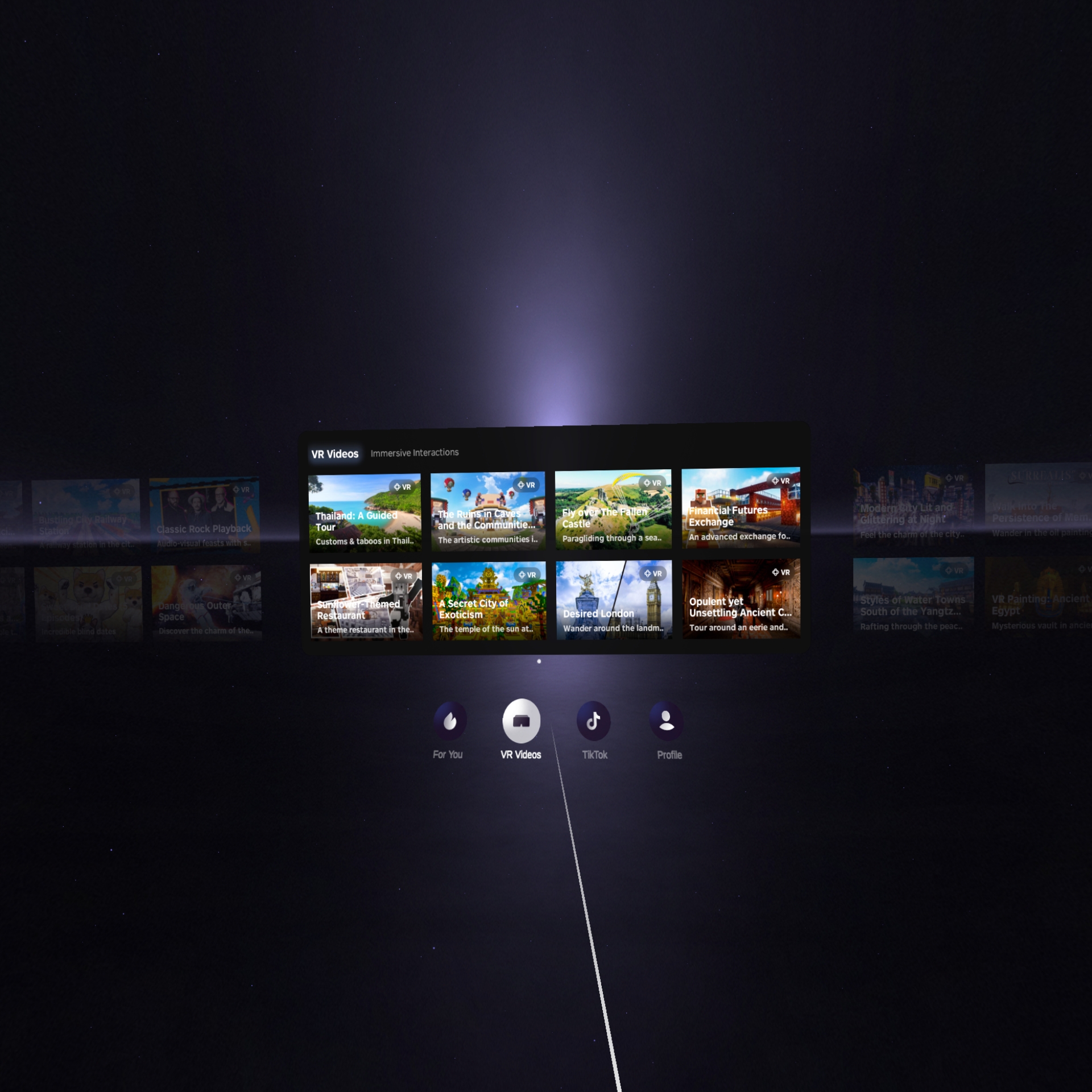 Apart from the standard YouTube VR, PICO has their own PICO Video app, which is pretty much a streaming library for you to pick and watch videos from.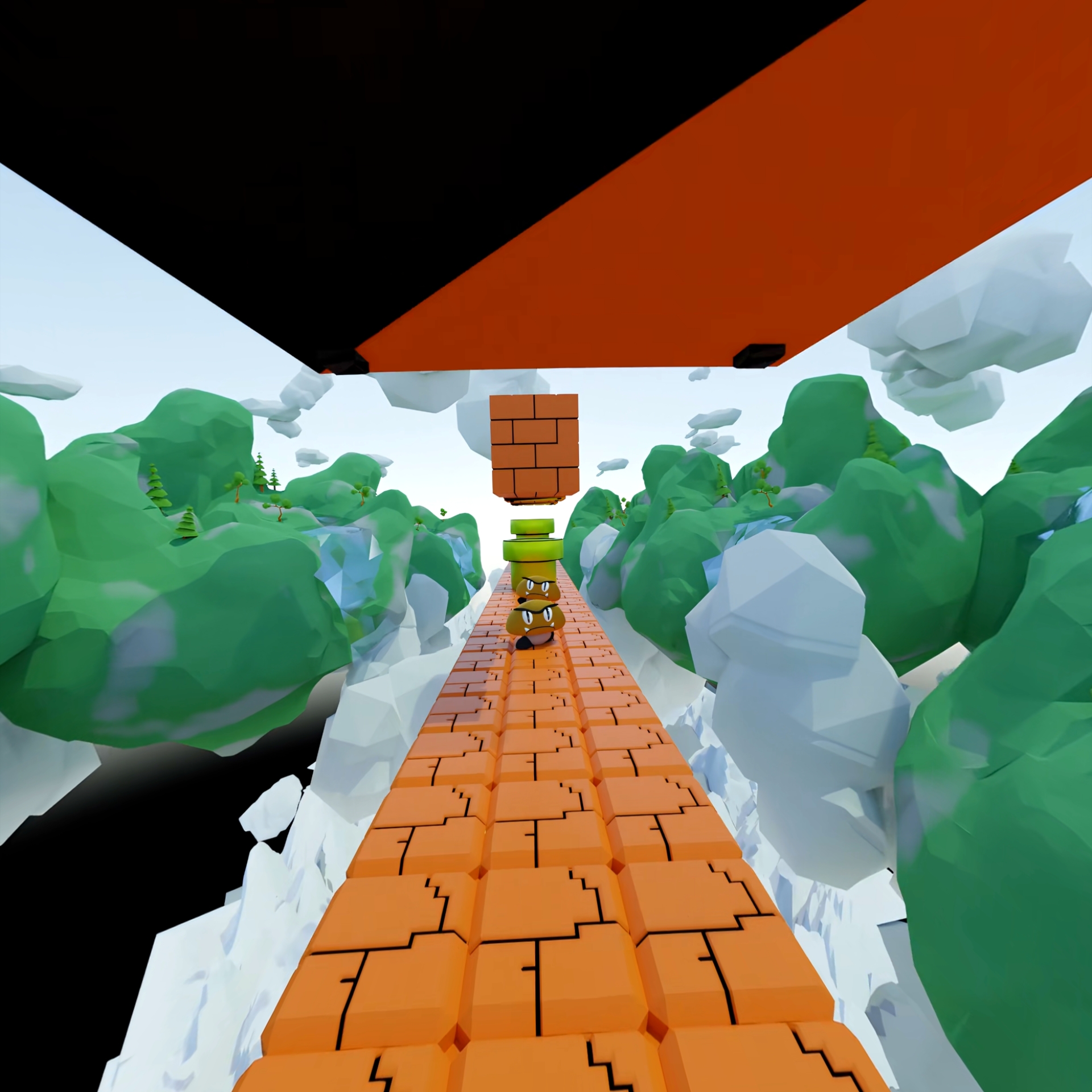 There are lots of immersive content to enjoy, and among them some that are even interactive, such as the first-person perspective Super Mario video. You can also find live concerts and even visit landmarks which really does add entertainment value in the long run, and I look forward to more contributions to this library, as I always felt that VR entertainment cannot always be revolving around just games. Take advatange of the PICO 4's wide 105° field-of-view here, make sure you give yourself a good spin around everything! (literally).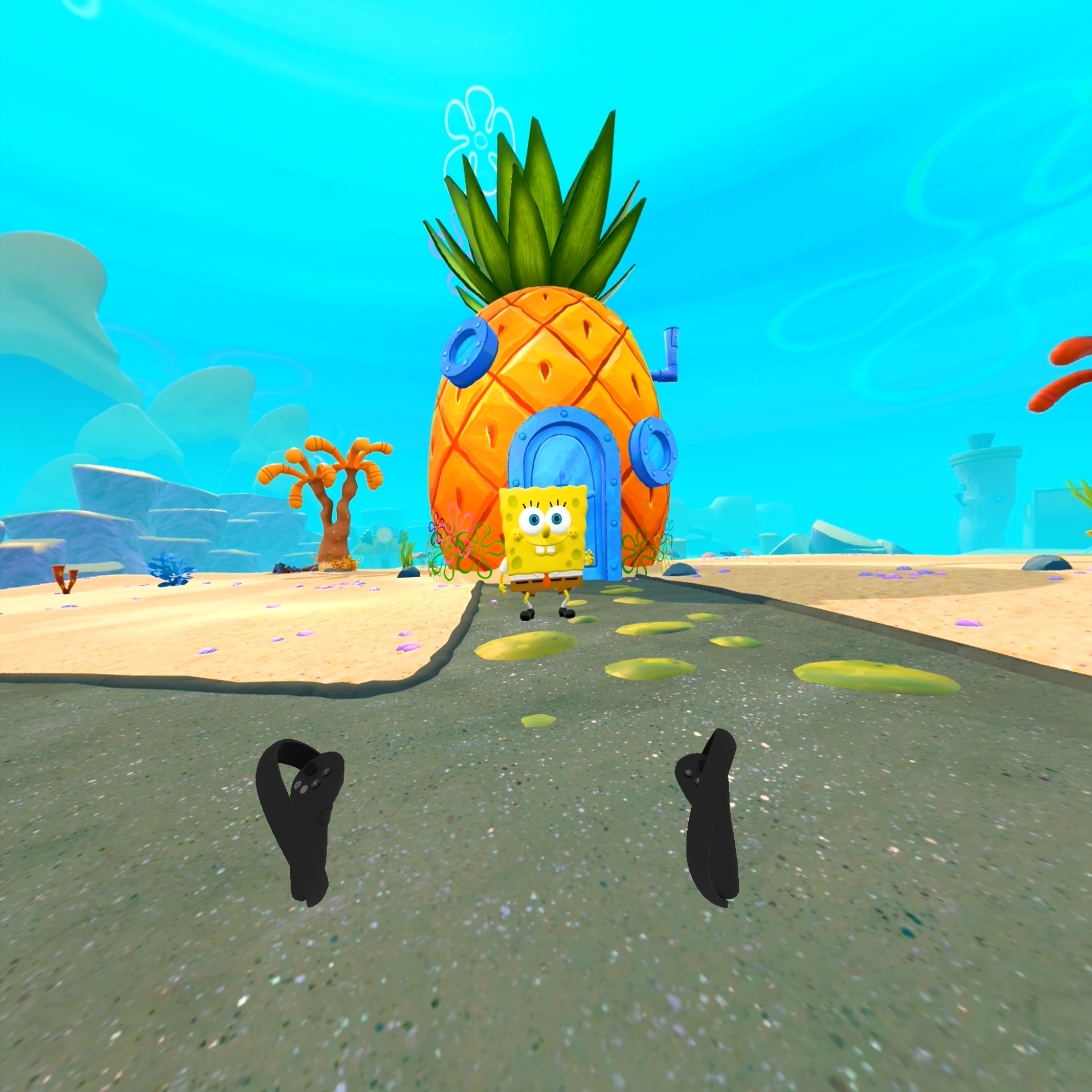 The Verdict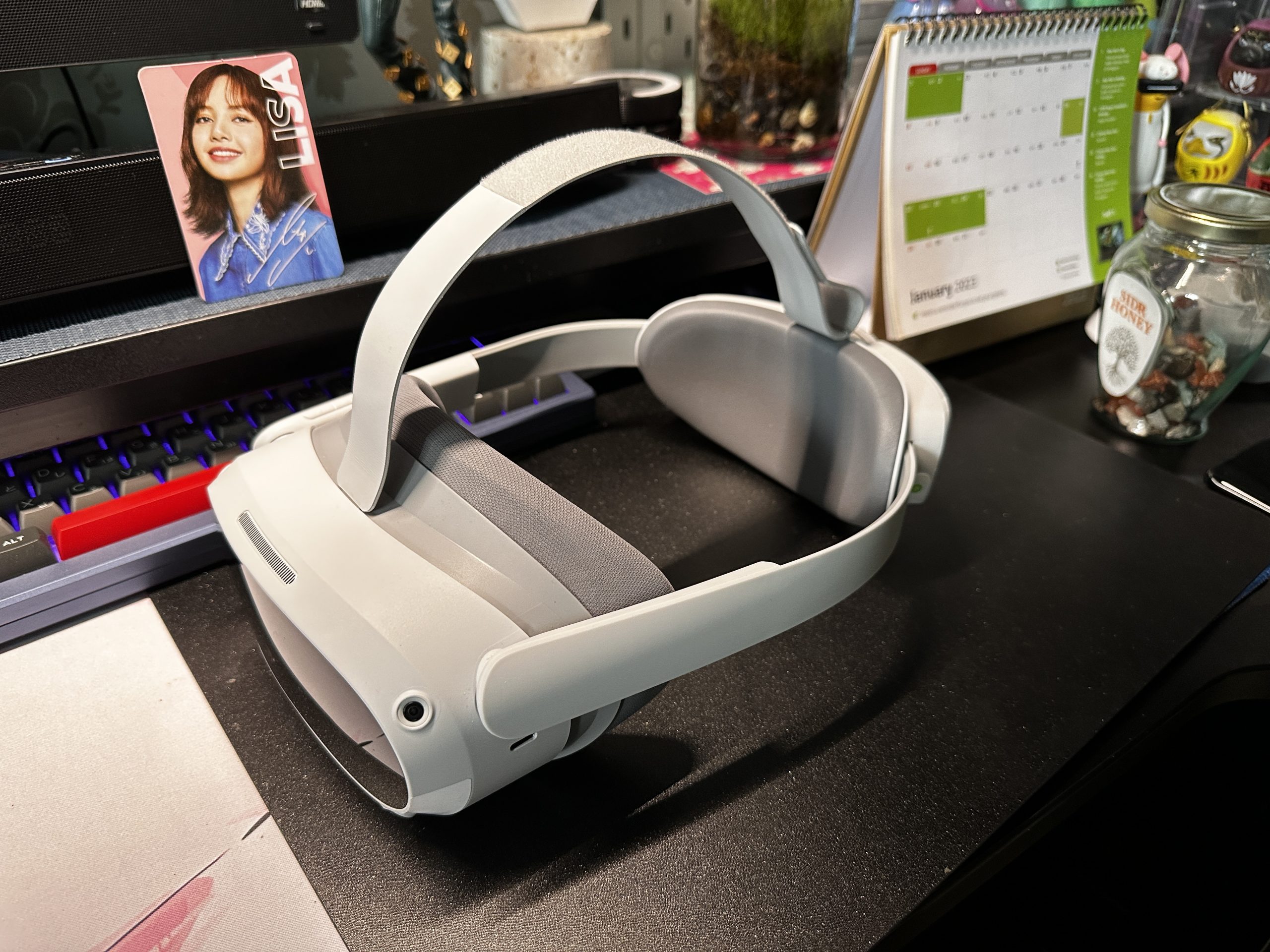 Complete with local service centres and customer support, the PICO 4 is easily the most accessible and affordable VR headsets you can get for your home and family. It performs well as what it is, and with lots of ready content to consume as well as a good sense of momentum to be constantly updated with ports from other systems. RM 1699 is not a lot for what it is, and with such an attractive starter pack it's no wonder sales for this has been steadily climbing.
PICO picked a great start for Malaysia, and makes a grand effort in making sure Malaysians embrace the world of VR with none of the complication.