A Real Speed Demon
Starting from RM 2999, the nubia Red Magic 7 is an ambitious gaming smartphone that offers plenty of hardware to keep things ultra smooth and cool.
Good
Tip Top Gaming
Fast 30 Minute Charging
Built-in Cooling Fans
165Hz with 720Hz touch sampling
Fast heat dissipation
Ungood
Lackluster cameras
Operating System isn't great
---
Specs
---
CPU
Qualcomm SM8450 Snapdragon 8 Gen 1
Memory
Obsidian – 128GB+12GB RAM
Pulsar – 256GB+16GB RAM
Supernova – 256GB+18GB RAM
Display
6.8″ AMOLED 165Hz, FHD+
Camera
64 MP, f/1.8, (wide)
8 MP, f/2.0, 120˚(ultrawide)
2 MP, f/2.4, (macro)

8MP, f/2.0 (selfie)
Connectivity
Bluetooth 5.2, USB Type-C 3.0, WiFi 6e
OS
Android 12, Redmagic 5.0
Battery
4,500 mAh, 65W Fast Charging
Available Colors
Obsidian , Pulsar , Supernova
Retail Price
Obsidian – 128GB+12GB RAM RM 2999
Pulsar – 256GB+16GB RAM RM 3499
Supernova – 256GB+18GB RAM 3899
A Bold Gamer Design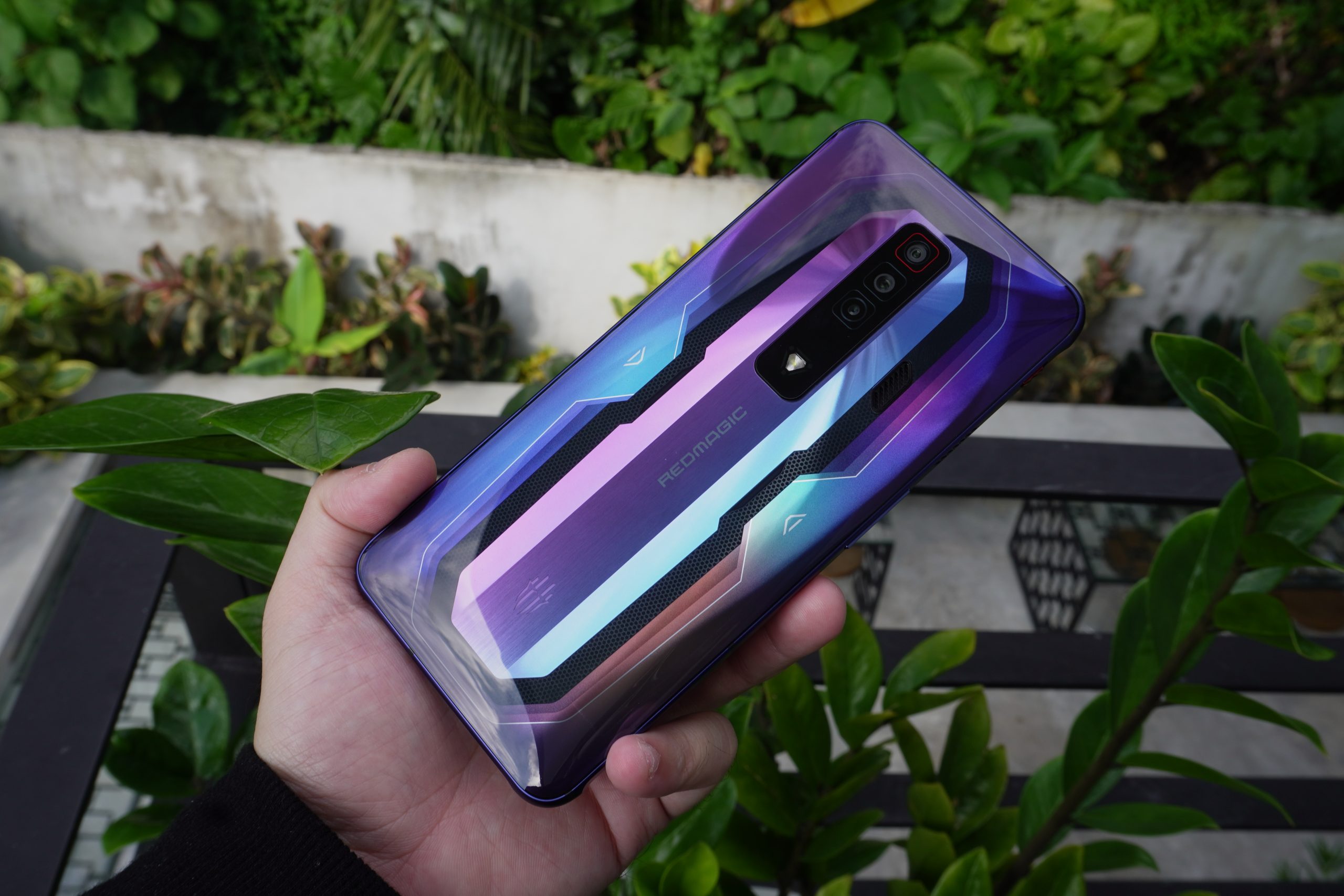 The Red Magic 7 straight up is a gaming phone at first sight. Being ZTE's dedicated division for gaming, the design language this time around doesn't stray too far from its predecessor, the Red Magic 6. We have the Supernova, the top variant of the Red Magic 7, and it's a subtle design compared to Pulsar which goes for the loud purple and neon paint job.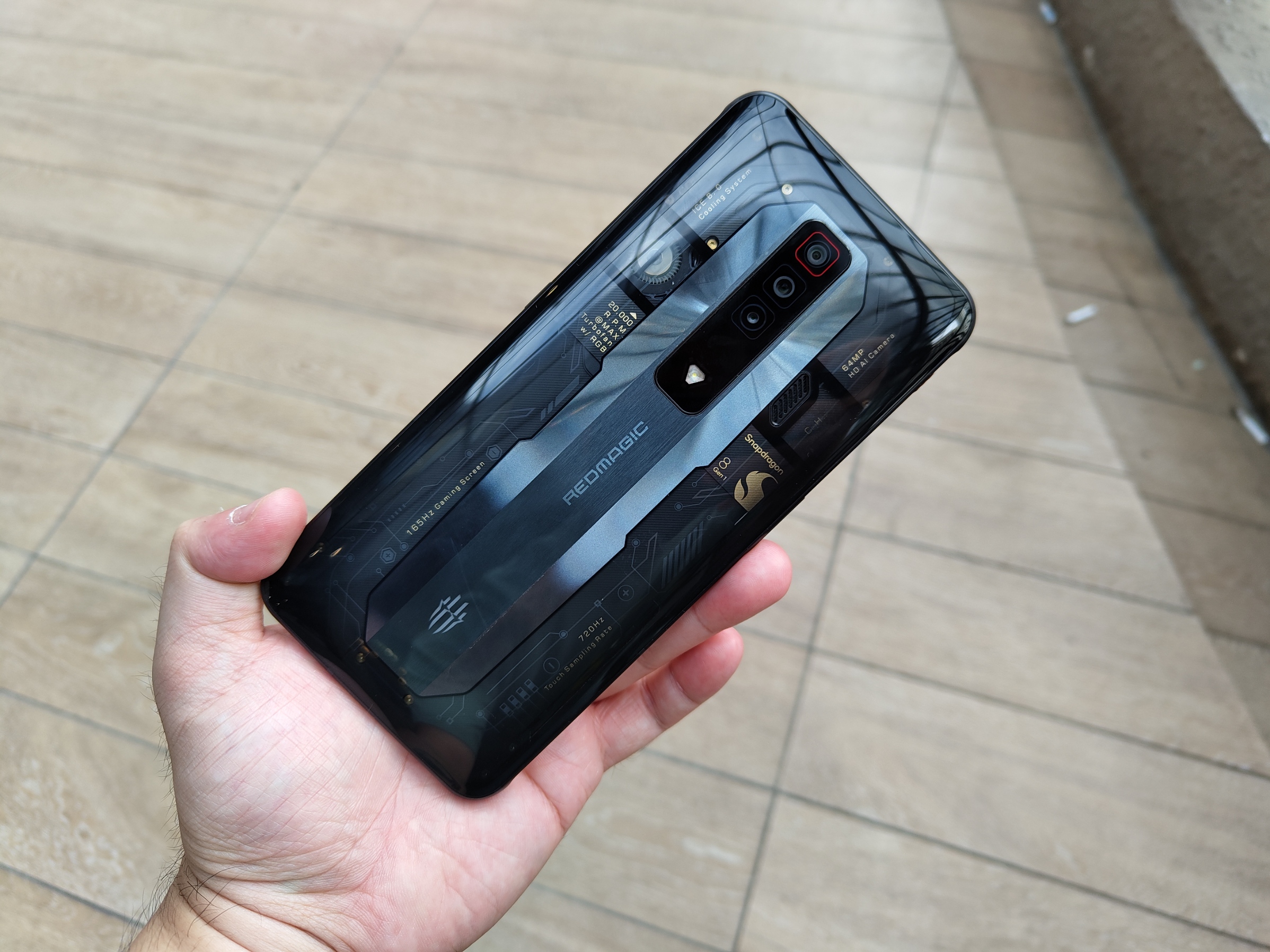 The Supernova sports a transparent back design, showcasing the internals with the most prominent being the fan area on the left. The camera array is neatly stacked vertically in the middle, in-between the fan and heat vent. The sides of the phone are full metal, much akin to a solid slab of machined metal with chamfered edges for that raw, industrial power look. The edges serve a purpose too, helping to indicate where the touch trigger buttons are located (which is the right side if you're facing the screen).
Game Space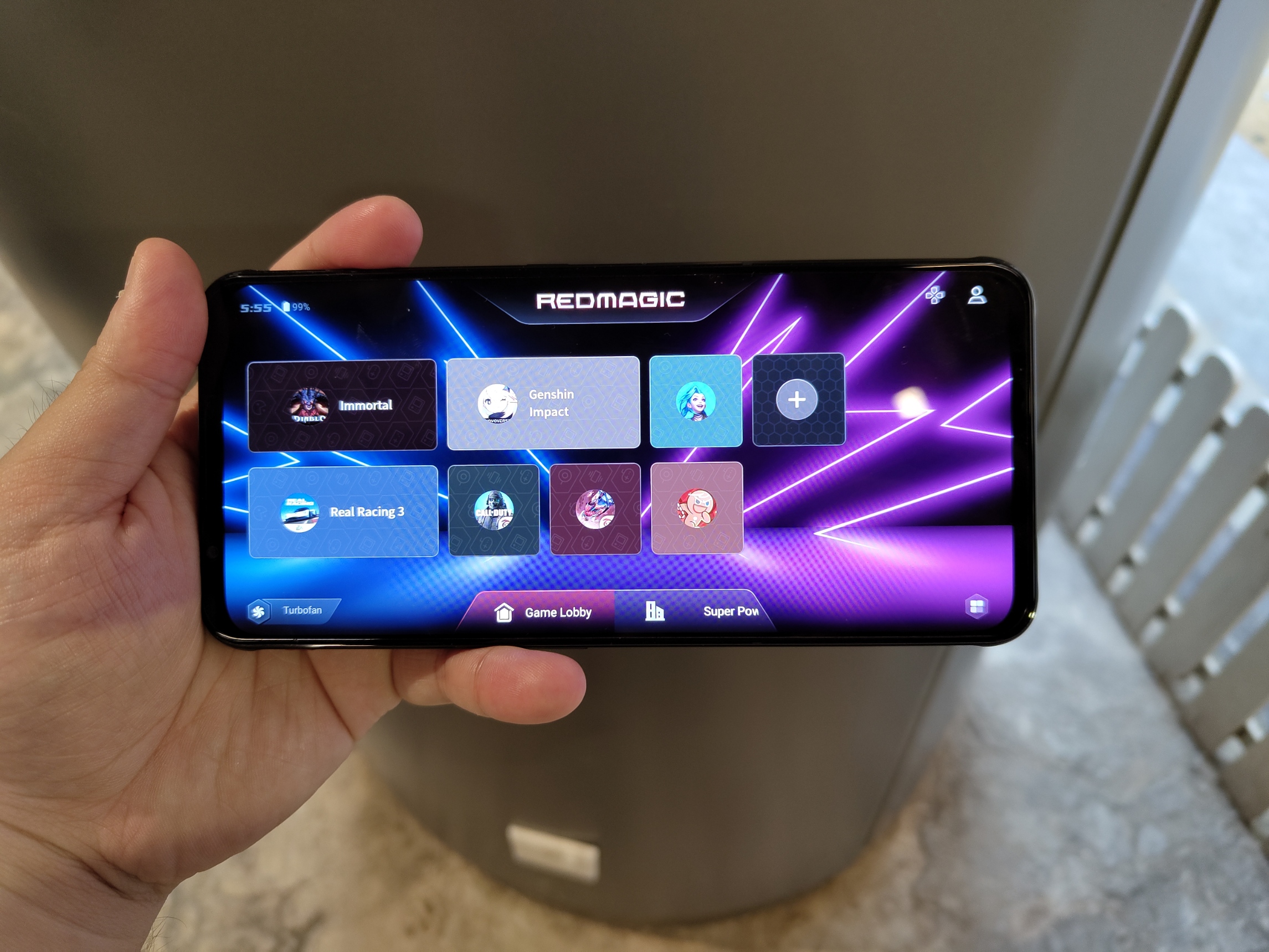 There's a dedicated gaming slider button on the left side with a slight pearlescent red finish with some grill marks for easier ergonomics. When you slide, you'll be greeted with a Red Magic animation and you'll end up in Game Space. It's a fantastic dashboard that lets you keep track of all your games and its accompanying metrics such as hours spent.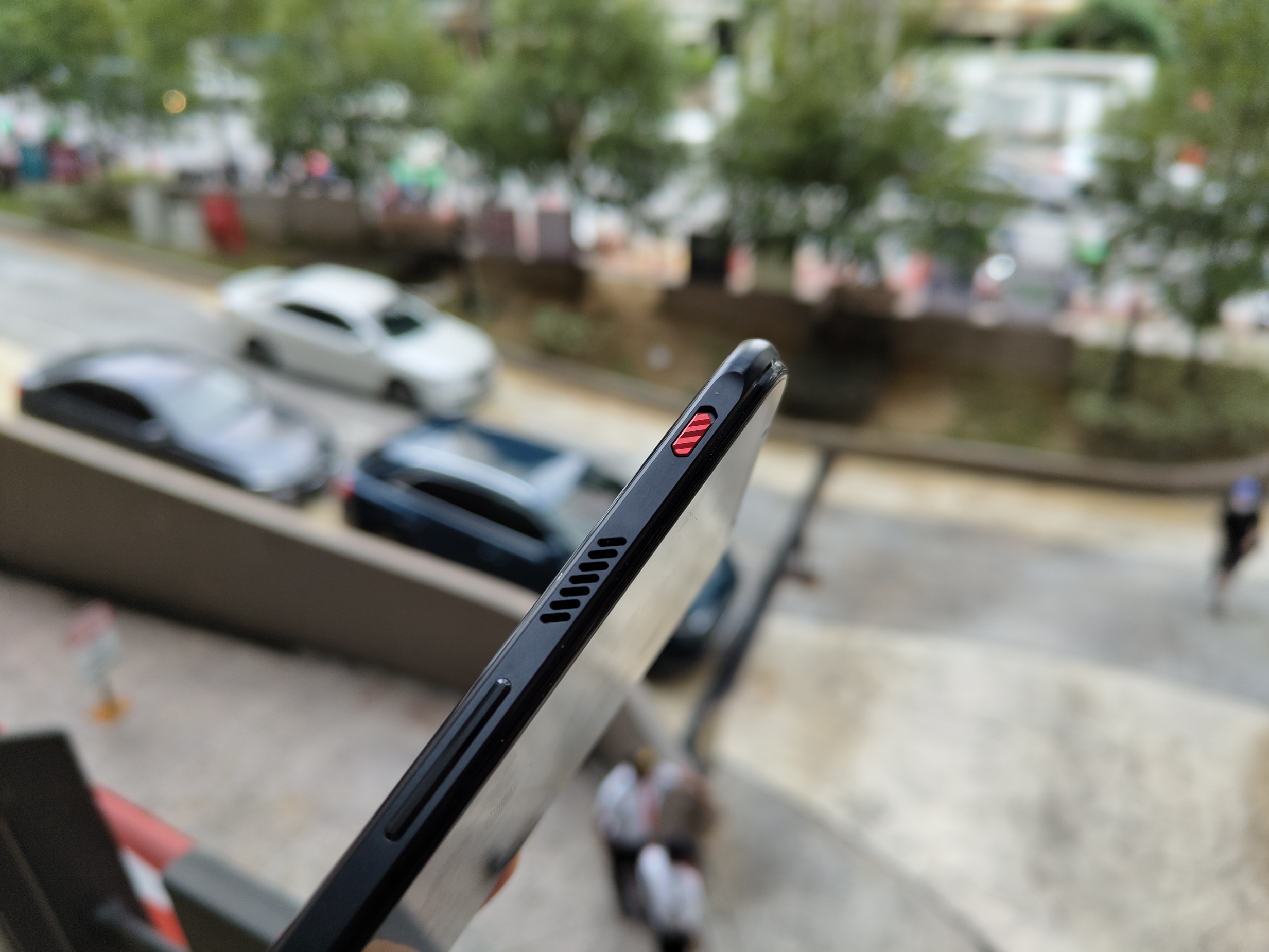 The granularity of customization here is not bad. You're able to set performance modes, pretty much allowing you to choose just how much power you want your processor to push for a specific game. You can also set whether you'd want the fans to spin or not.
Plugins Library
The Red Magic 7 has a set of plugins that serve a variety of uses, such as sound equalizer, double tap assist, investigate mode (center crosshair zooming), aim assist and 4D shock (haptic vibration customization). If you're a shooter genre lover, these plugins almost felt like cheating, I mean, being able to just zoom into your crosshair with a magnifier? that was nuts!
Red Magic Studio
From here you can even expand your gaming experience via Red Magic Studio, a PC app that you download where you can pair your Red Magic 7 to your computer wirelessly/wired and play using the keyboard and mouse. We've tried that out and the experience was straightforward and easy to setup. I was concerned with the latency, but it proved to be minimal at best. You can even map mouse and keyboard inputs for the projected app for better controls and even be able to answer calls without interrupting the screen projection which is pretty cool.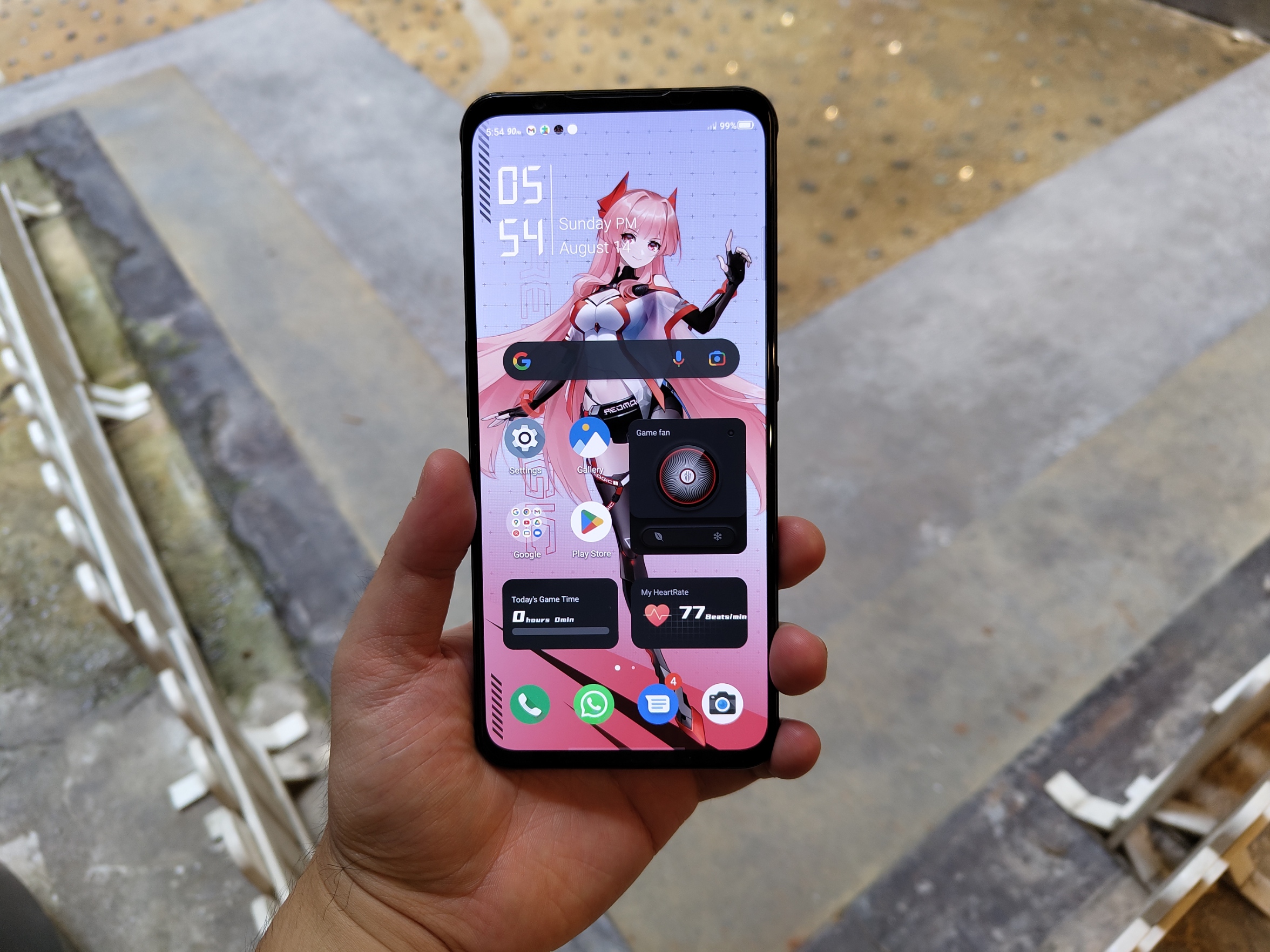 6.8″ 165Hz AMOLED Gaming Monitor
The Red Magic 7 has one of the fastest screens I have ever seen, going all the way up to 165Hz. It's one of the fastest screens you can get in the market now, and you'll feel it the moment you crank up the touch sampling rate to 720Hz.
The AMOLED panel is a bit of a mixed result for me. While the blacks and some major colors looked pretty good, the whites looked a little washed out, and the tone tends to be bias to the colder side of things. This can be adjusted in the settings, and as a gamer that's buying a gaming phone for gaming, this is not an issue at all. Apps like NetFlix and YouTube allows for HDR content to be played out and it worked as intended with a good level of brightness too, and it stays at a cushy 60Hz.
Refresh rate control is pretty good, allowing you to toggle between 60, 90, 120 and 165Hz in the settings. Not a lot of games out there support up to 165Hz anyways so I usually just loom between 90-120Hz to keep a balance in smoothness and battery life.
Extremely Stable Gaming Experience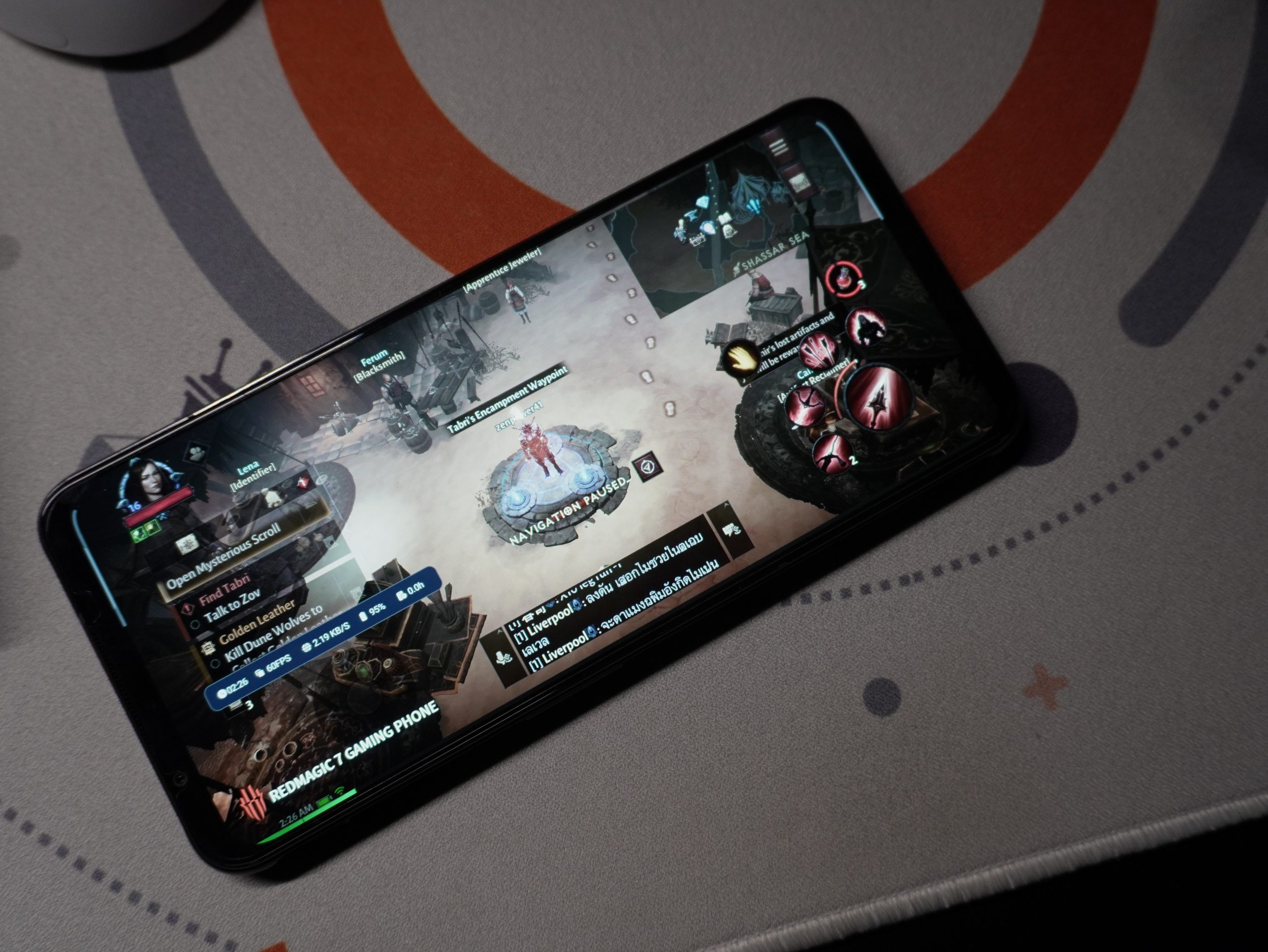 Now, this is what we're here for. The RedMagic 7 packs the SD 8 Gen1 chipset with plenty of RAM and storage. 18 gigs is definitely a lot and it shows. There's perpectually ZERO instances of lags or stutters in daily use and navigation.
The story is about the same when it comes to gaming too. Diablo Immortal ran at a steady 60 FPS on maximum details and it was steady throughout the entirety of my daily bounties which take about 45 minutes to complete one cycle of 4 quests. Even in graphically intense situations such as my Demon Hunter throwing every skill out or my Necromancer summoning an entire army during PvP, at most the FPS just dropped to 58 FPS and that was downright impressive, considering that it's a game that stresses the CPU, GPU and even network.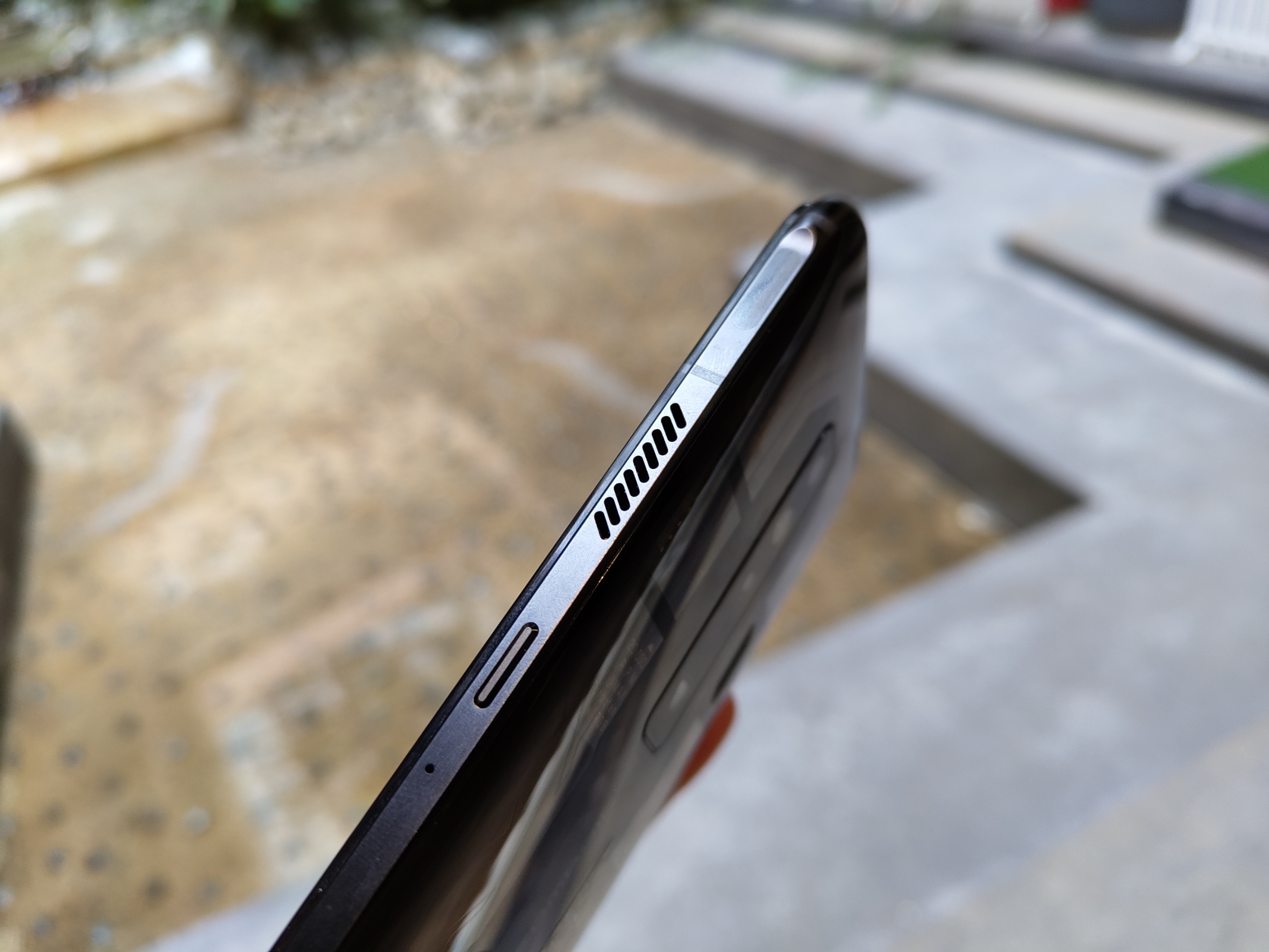 With the turbo fans on, I felt the heat being pushed out of the devices' numerous vents, and the back didn't feel too toasty at all. That being said, internal metrics measured the temperature to peak at about 41 degrees. That doesn't sound impressive, unless I tell you how the other phones fared. Devices like the Poco F4 GT, Black Shark 5 Pro and HONOR Magic 4 Pro went to the mid-to-high 40s under the exact same intensity and duration, and that difference can be felt on your hands. The fan spins up to 20,000 rpm which is FAST, and you'll definitely be able to hear it. It's up to 45 dB, so I recommend that you play with headphones on (there's a 3.5mm audio jack if you want wired) to not make it a bothersome experience for you.
I was the most impressed here, as everyone's been trying to bundle or sell you an external cooling fan, nubia does one better and just builds one into the phone itself. From this perspective, you save on buying additional accessories and pocket space as you don't need to lug an extra piece around just to play outside. It's worth taking note that the fan can only be seen on the Supernova model due to its transparent back. The Pulsar and Obsidian will just have an RGB gradient light at the back, and you will only be able to see the fan's RBG lights shine out of a metal grill which makes it more subtle if you're into that.
4,500 mAh with 65W fast charging
Gaming phones usually compensate the battery drain that games cause with a big fat battery and the Red Magic 7 straight up doesn't do that. Instead of the usual 5000 – 6000 mAh pack we see, this one comes in 4500 mAh, probably due to engineering limitations and to make room for that RGB turbo fan. This is probably the weakest link for this phone, as compared to even the Black Shark 4 which has the same capacity but a less powerful chipset and no fan to power.
The use case determines how long your battery will last you here. On non-gaming days, you can expect up to a day with some change with everything cranked up. A day of gaming in-between parts of your day would leave you with a smidge of 30% at the end of the day in which you'll need to charge it back up again. Thank goodness that the drain is compensated with a good charging speed. In our global version we get a 65W GaN charger, taking just 30 minutes to go back to 99% from flat. A full charge would take nearly 40 minutes because of the current being reduced to preserve battery health. A 30 minute average is a strong number in the charging world, and the fact that the fans spin up during charging to push heat out is a pretty useful feature (which you can turn off in the settings if it's too loud for you).
---
Simple Camera System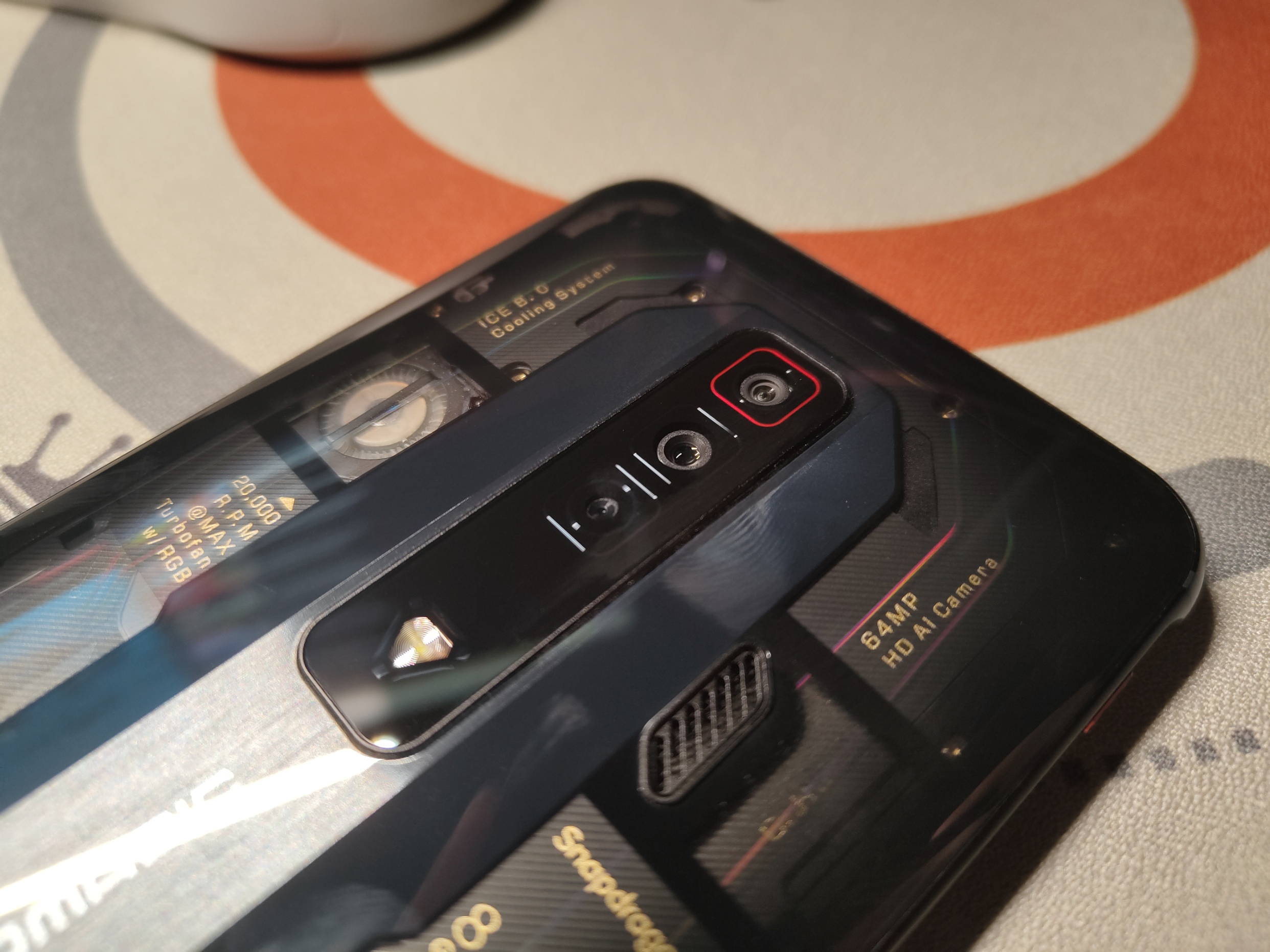 The Red Magic 7 is equipped with a triple camera setup, consisting of a 64MP main that's flanked by the typical 8MP ultrawide and 2MP macro combo that we literally see from everyone else in the market.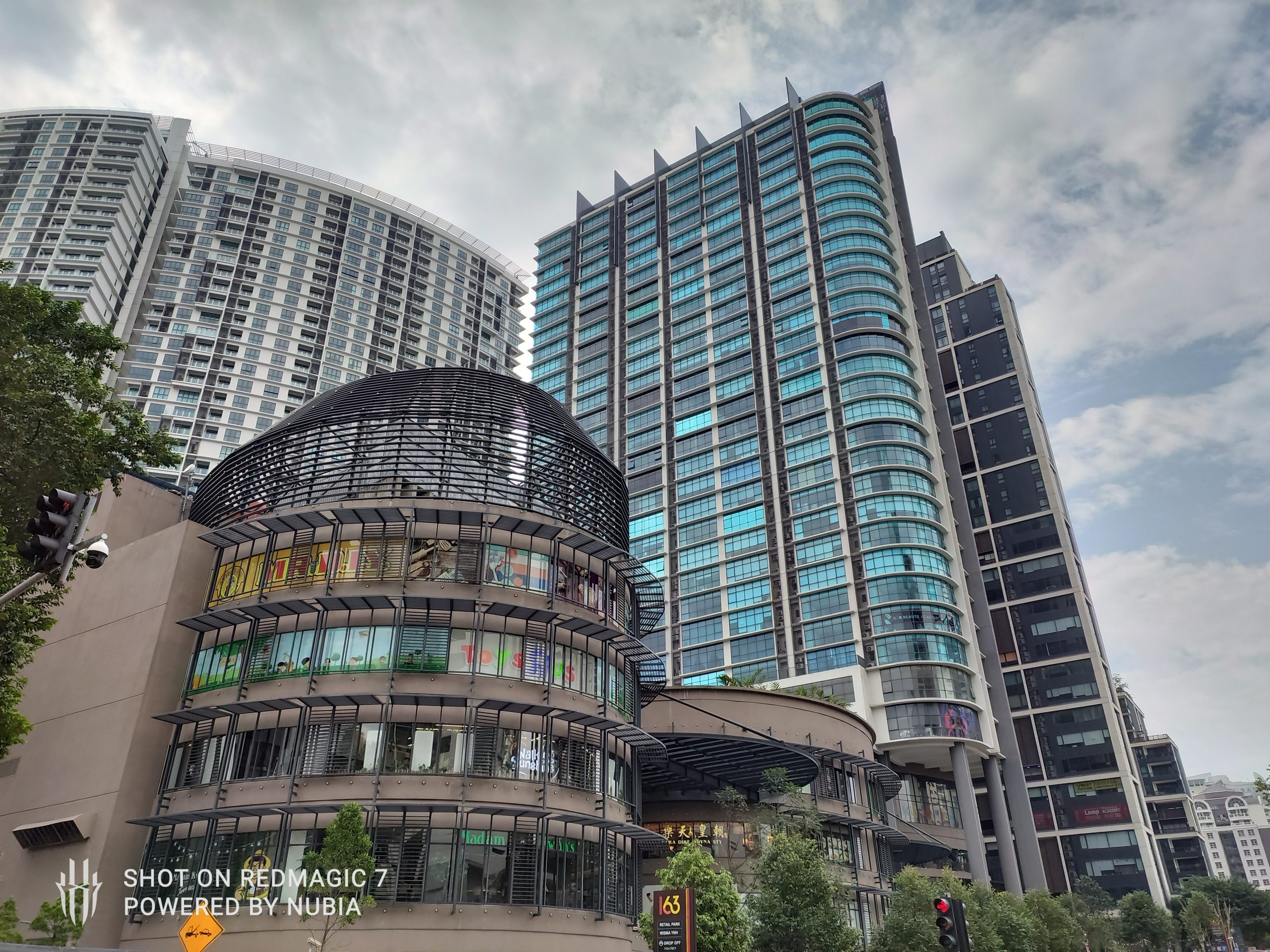 The main sensor measures up to 64MP (binned) and outputs to 16MP. It's actually pretty decent, with plenty of detail and a wide dynamic range. While sharpness isn't there, the contrast makes up for it and colors end up looking natural and not too saturated. Exposure is darker here, and there's a cool-tone bias in almost every shot.
For a gaming phone, a sensor like this managed to produced some decent shots overall.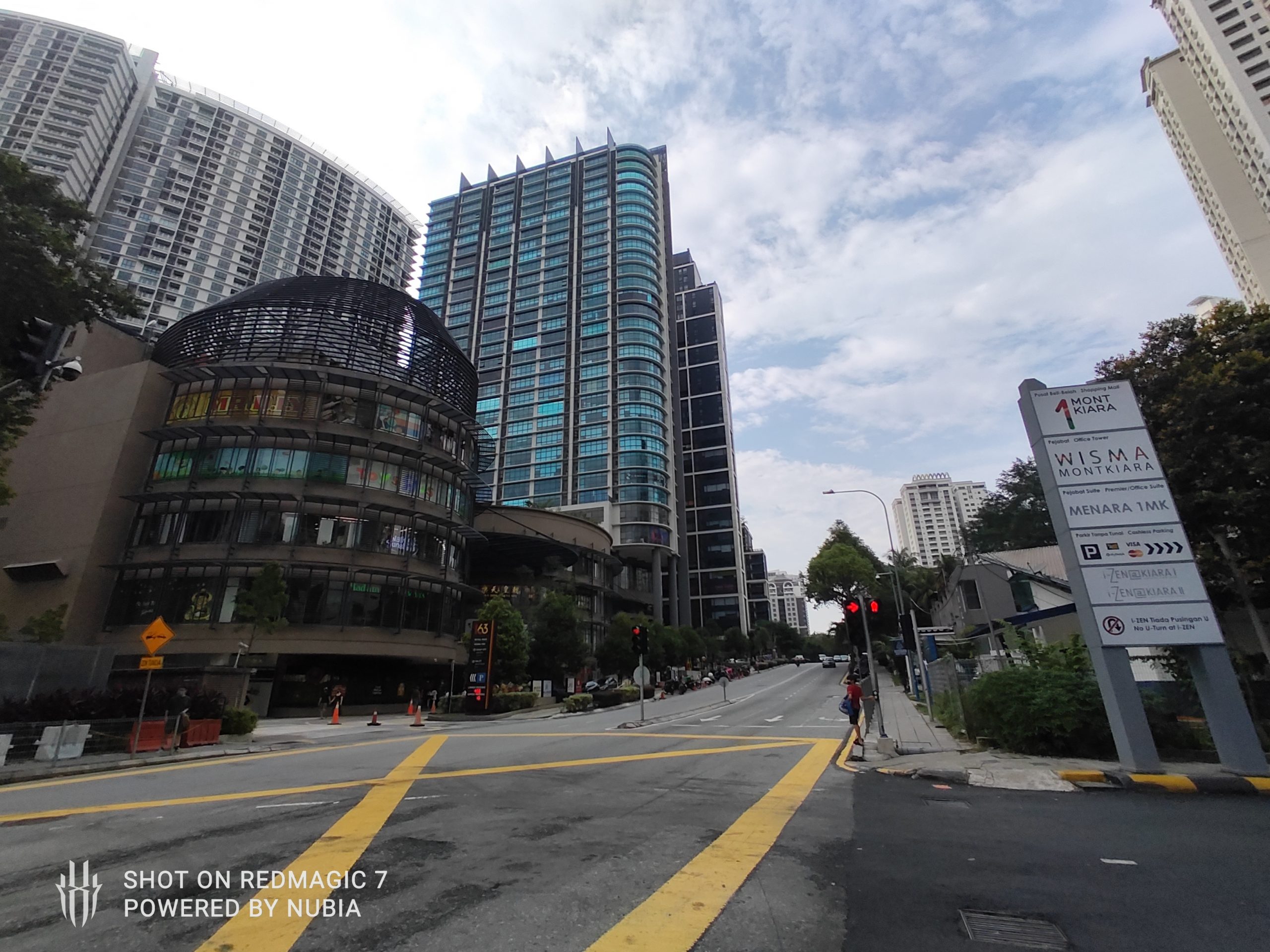 The 8MP Ultrawide performs like a midrange filler sensor. It's bland, washed out and doesn't produce a lot of detail. There's also a layer of unrealistic oversharpening to compensate for the lack of detail. It does the same thing as the main sensor, shooting in a dark exposure with the contrast boosted up. Only difference here is, you can tell so there's no subtlety in making it look natural.
The 2MP macro lacks focus of any kind, which makes it hard to lock. However it's not like every other brand out there that just slaps this sensor on and not give a care whether it will work out for you or not. The camera software for macro has focus peaking which helps in determining the best distance to shoot, on top of an extra zoom to close in on the subject without much movement on your end. Still, don't expect any wonders here, and you definitely need a lot of lighting to get things right here.
---
Basic Selfies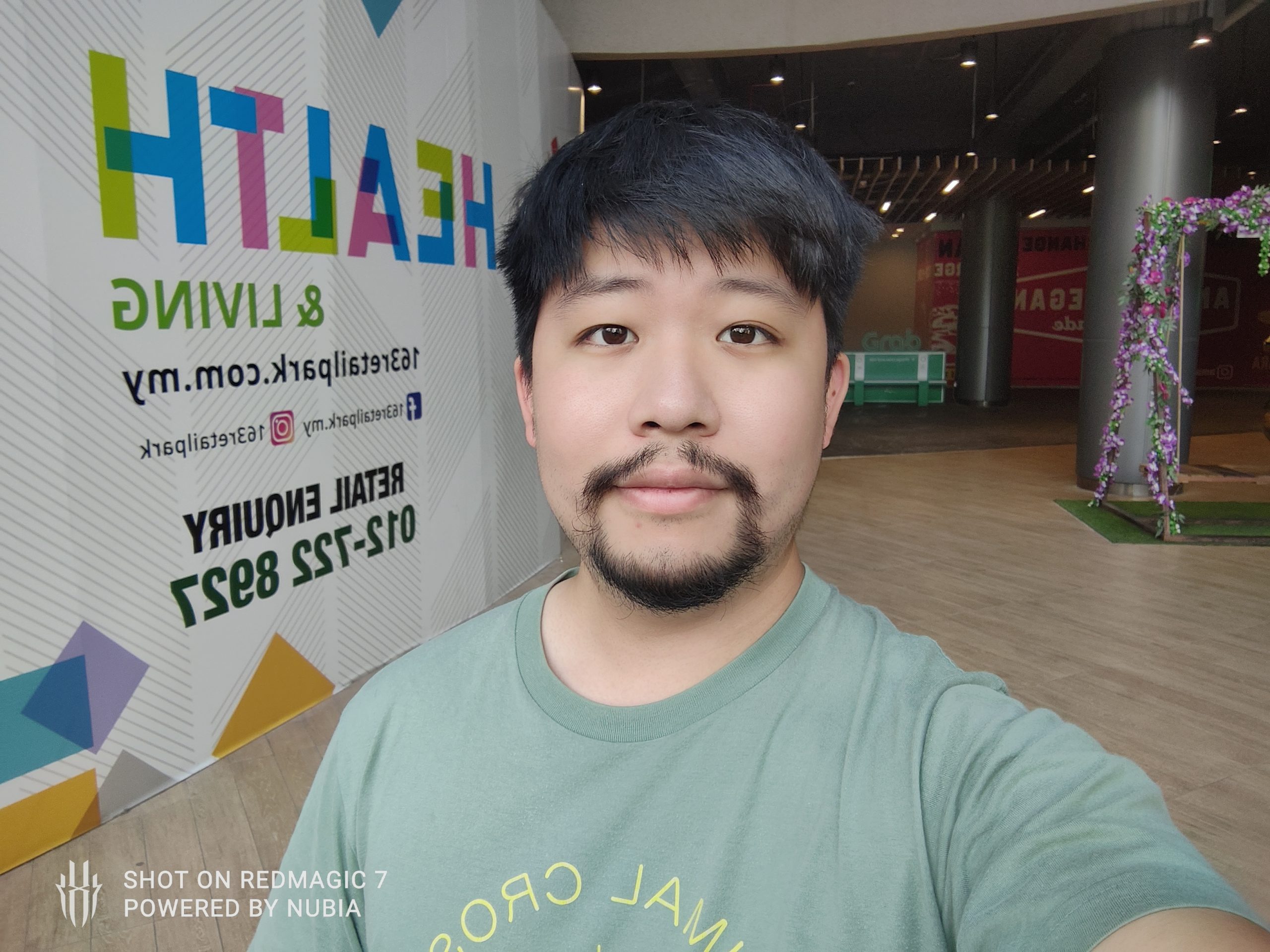 Selfies are in 8MP too, and it's pretty basic and nothing to shout about here. There isn't plenty of detail yet alone colors, but it gets the job done. Skin tones were very very soft, much like a beauty effect and if this is the only phone you have for selfies then this is something you simply have to deal with.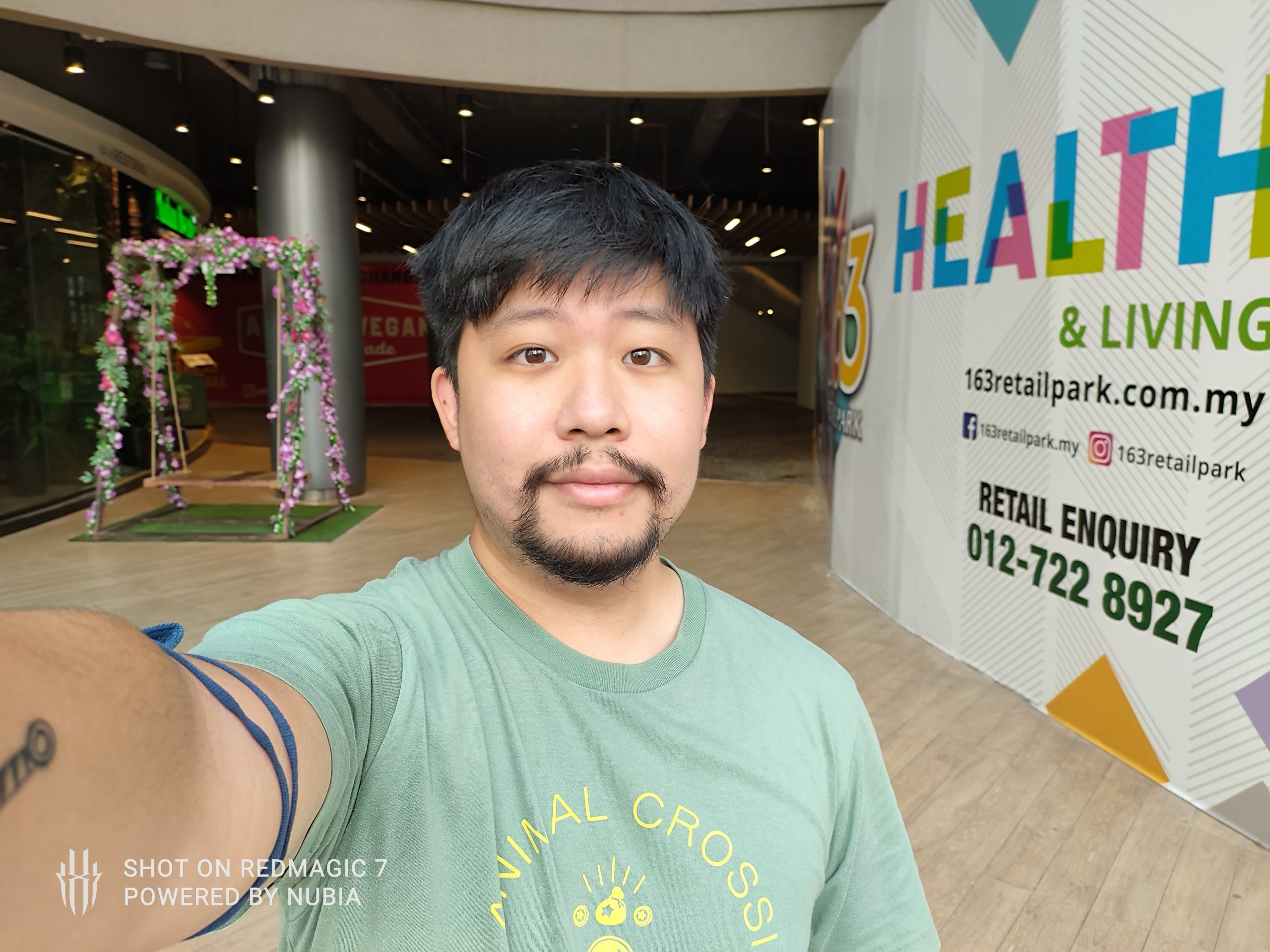 ---
Conclusion – Very Tech-ed Out Hardware and Gaming Performance!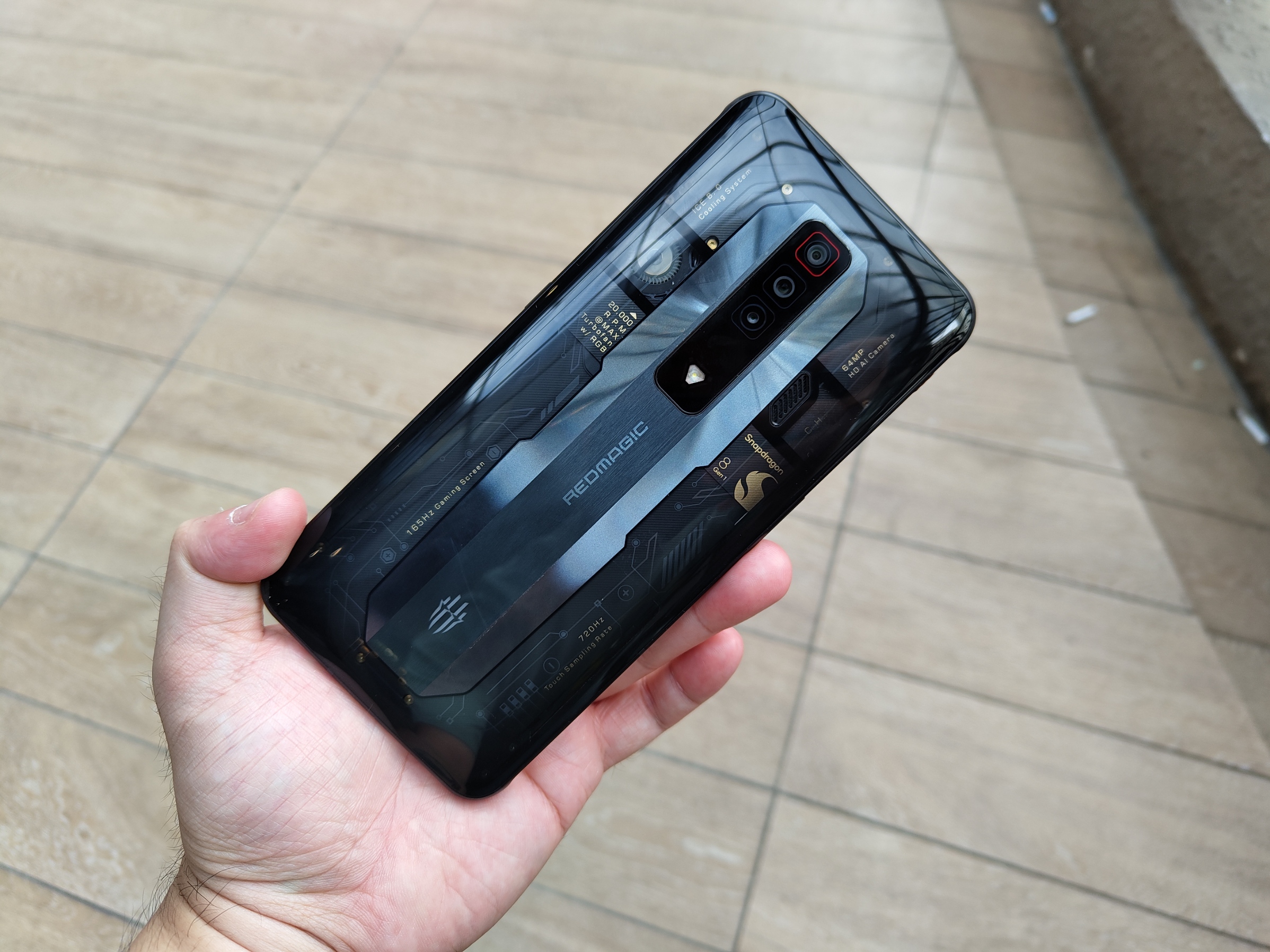 Starting from RM 2999, the nubia Red Magic 7 is an ambitious gaming smartphone that offers plenty of hardware to keep things ultra smooth and cool, but it is bound by an operating system that's buggy and mistranslated. It also features great 30 minute charging and a design that gamers would definitely love.
The screen is particularly smooth and touch controls were fiendishly responsive, so a competitive gamer can confidently pick this up and not have any let downs in performance.
The price may be right and the variants scale up healthily in value, and all nubia really needs to do is to step up their branding game to make it to the mainstream leagues.