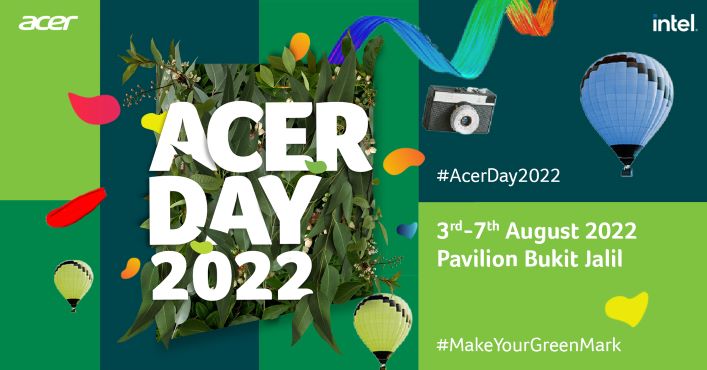 The annual Acer Day celebration is back and will feature a special line-up  of performances, sales promotions, rewards, and activities for everyone to enjoy! This year's theme,  'Make Your Green Mark', highlights Acer's care for the environment by reigniting its passion for  sustainability practices and serves as a reminder for the collective efforts needed in making a "green  mark." 
"Introduced in 2017, the Acer Day campaign has helped elevate the company's brand image among  consumers as 'Young and Stylish', while promoting its advocacies, consumers, and channel partners.  This year, with the focus on sustainable living and the promotion of the eco-friendly Vero series, Acer  hopes to garner more support for environmental efforts and remind everyone of their duty to preserve  and care for our planet,"
Andrew Hou, Acer Pan Asia Pacific President.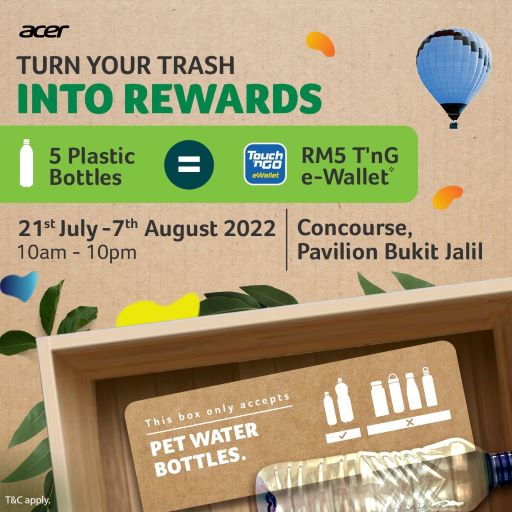 Acer is inviting Malaysians to join in the sustainability effort and  'Make Your Green Mark' by reducing, reusing and recycling. As a small step such as recycling can reduce  waste and make a big difference to the environment, Acer encourages Malaysians to bring at least five  (5) empty, clean PET plastic bottles to the Acer Day 2022 in Pavilion Bukit Jalil, or Acer concept stores  or Acer office in the Klang Valley and be rewarded for their effort with RM5 Touch 'n Go eWallet credit.  The initiative is ongoing from 21 July until 7 August 2022 and the collected PET plastic bottles will be  sent for recycling after the event.
As every step, regardless how small or big, matters in sustainability, Acer wants to help Malaysians to kick-start their sustainability habits through a 21-day challenge takes participants through various activities that can help them to reduce, reuse and recycle. Participants who complete the challenges will stand a chance to win an Aspire Vero.
As part of this year's celebrations, Acer Malaysia is also holding a 5-day Acer Day 'Make Your Green  Mark' roadshow in Pavilion Bukit Jalil starting from 3 August 2022. It features a series of exciting  promotions including a trade-in programme for both working and non-functioning tablets, laptops,  desktops and AIOs with up to RM500 cash rebate for an Aspire Vero.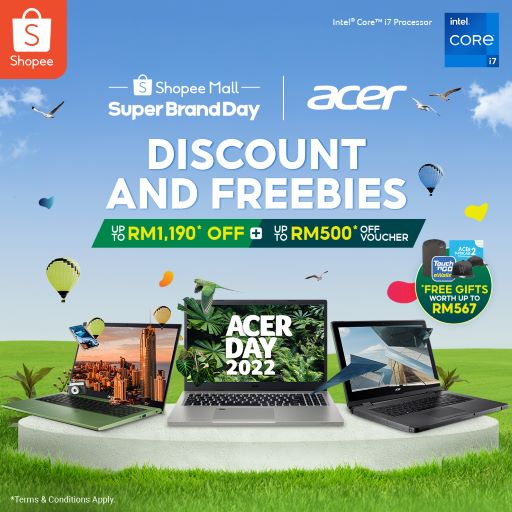 Adding more excitement to the roadshow, Acer will hold a flash sale on 7 August 2022 at the Acer Day  roadshow. With 15% to a whopping 90% discount on select items, below table highlights a few flash  sales promotions. 
| | | |
| --- | --- | --- |
| Items | SRP | Flash Sales Price |
| Aspire 3 (A314-35-C1E0, A314-35-C3ZU) | RM1,699 | RM999 |
| Nitro 5 (AN515-45-R49W) | RM9,199 | RM7,699 |
| Predator X28 | RM3,699 | RM2,499 |
| acerpure cool C1 | RM1,299 | RM399 |
| ConceptD 3 Ezel Pro C315-72P-7735 | RM8,699 | RM6,999 |
| Predator Gaming Chair (Blue Accent) LK2341 | RM1,299 | RM499 |
On top of the flash sale promotion, the first 100 flash sales customers will also stand a chance to bring  home select items with special prices such as up to 90% or RM3,400 off for an Acer Nitro 5 or get an  acerpure Cozy air circulator for just RM19.90! 
Special Purchase-with-Purchase Price for first 100 Customers During Flash Sale Below
| | | |
| --- | --- | --- |
| Items | SRP | Special Price |
| Acer Nitro 5 (AN515-45-R9NK) | RM3,799 | RM399 |
| Acer Aspire 3 (A315-35-P9D3) | RM1,799 | RM199 |
| Acer Aspire C22 (C22-1600-4505W11) | RM1,999 | RM599 |
| EI242QRP – 165Hz | RM679 | RM299 |
| KA220HQ | RM419 | RM99 |
| acerpure Cozy F1 | RM599 | RM19.9 |
| Acer Thin & Light USB Wireless Mouse | RM99 | RM1 |
| Predator Mouse Pad M Size | RM89 | RM1 |
| Predator Bomber Jacket | RM299 | RM9.90 |
| Predator Reflective Tshirt | RM89 | FREE |
| Predator Snapback Cap | RM8 | FREE |
Don't Worry, Online Also Got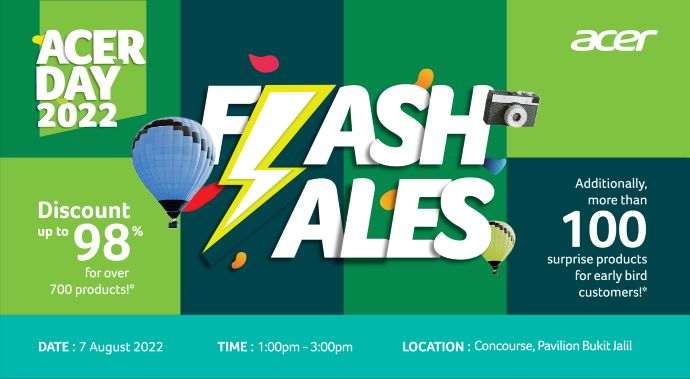 For customers who are not able join the roadshow physically, Acer will be organising a Shopee SuperBrand Day on 3 August 2022 to bring more discounts and free gifts to Malaysians. Some highlights include Aspire 3 which is priced at RM3,299 after discount, Aspire Vero is RM2,799 after discount and lastly, customers can purchase Enduro Urban at a discounted price of RM2,399.
An additional up to RM500 off vouchers for Shopee users are up for grabs, and customers can also  receive free gifts worth up to RM567 that will be sent directly to them as well as redeemed via www.a redemption.com. 
This year, Acer Malaysia is working with APE Malaysia to plant a tree for every purchase of select Acer  devices from 3 August 2022 until 30 September 2022. Eligible customers just need to register via a redemption.com to be entitled to receive an e-certificate for the tree planted for them. The trees will  be planted in Lower Kinabatangan, Sabah to help the wildlife including the Bornean orangutans and  Borneo Pygmy Elephants.