Huawei is finally making their entrance to the smart TV market with their Vision S series lineup. They come in 55″ and 65″ sizes and they are now open for preorder with some freebies until 12th May !
Features
Huawei Vision S series TV's are equipped with a magnetic cameras for video calls with MeeTime with you and your loved ones through any phone or another Vision S smart TV. That's right, ANY phone as long as you download Huawei AppGallery.
The Vision S boasts a 4K Ultra High-Definition display at 120Hz with Quad 10w speakers for a stimulating audio and video experience at the comfort of your own home. You don't have to worry about running out of things to do on the TV too as it has Huawei AppGallery pre-installed so you can sing karaoke and play games on top of streaming support from platforms such as Kaodim, Kuali and Doc2Us. You can plug in your favorite game consoles too and enjoy the 120Hz through HDMI.
Last but not least, with supported Huawei smartphones you can use OneHop which projects your phone onto the TV with just one tap.
The Promo
With every purchase of the 65″ Vision S you can walk away with free gifts worth up to RM698(3). If the 65″ is too big for you the 55″ is available for preorder online with a RM200 instant rebate (valid only at the Huawei Online store and Huawei Official Shopee store). The 55″ will be available in-store starting 13th May.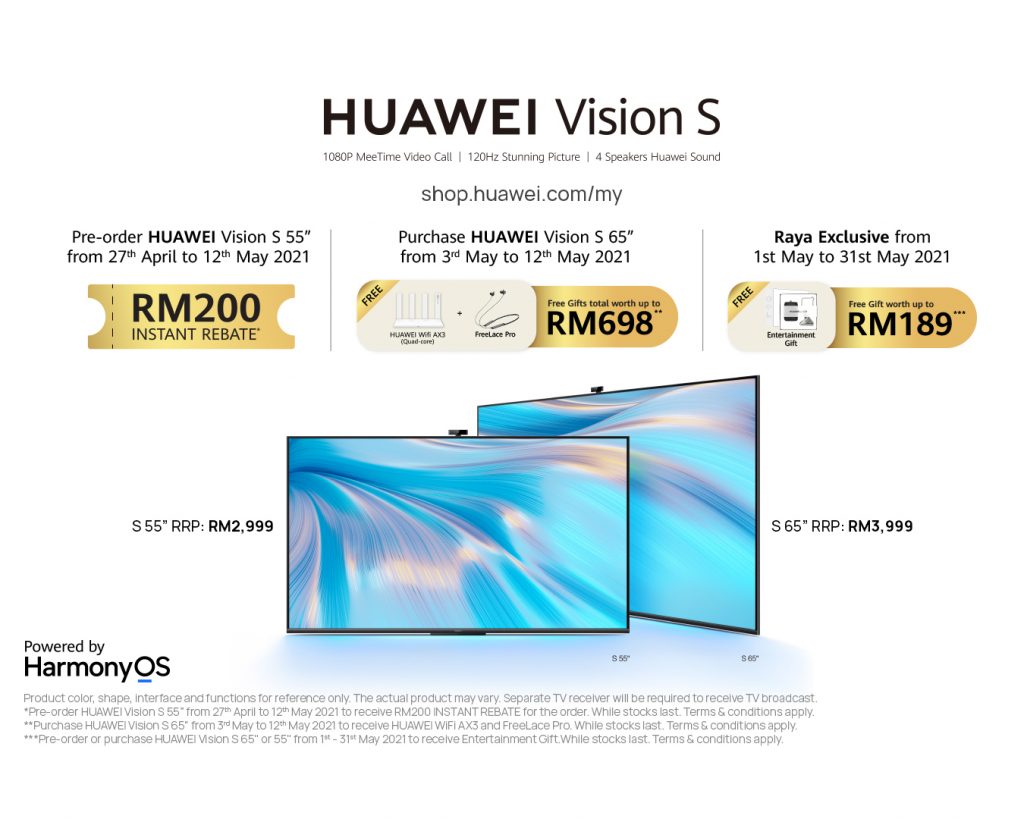 On top of that there is also another Raya Promo with free gifts worth up to RM189 throughout May wehn you purchase any variant of the Huawei Vision S.
Double bonus! Stand a chance to win a Huawei Vision S 65″ with purchase of selected Huawei products. See more information here.
Links to buy the Huawei Vision S
Huawei Store Online
Huawei Official Shopee Store
A new way of shopping with Huawei
Starting today, stores equipped with Huawei MeeTime can make voice and video calls with customers. click here to see which stores you can call to!