track your track records!
The Forerunner 55 proved to be a competent, entry level health wearable that's made for beginners to intermediate athletes. PacePro does an excellent job for tracking runs that's complemented with granular features to even track your sleep and stress.
Good
Accurate tracking of run routes
Reminders for Stress
Body Battery helps you aim for better rest
1 week battery even with ALL notifications on
Ungood
Not very beginner friendly user interface
Steps count even when not walking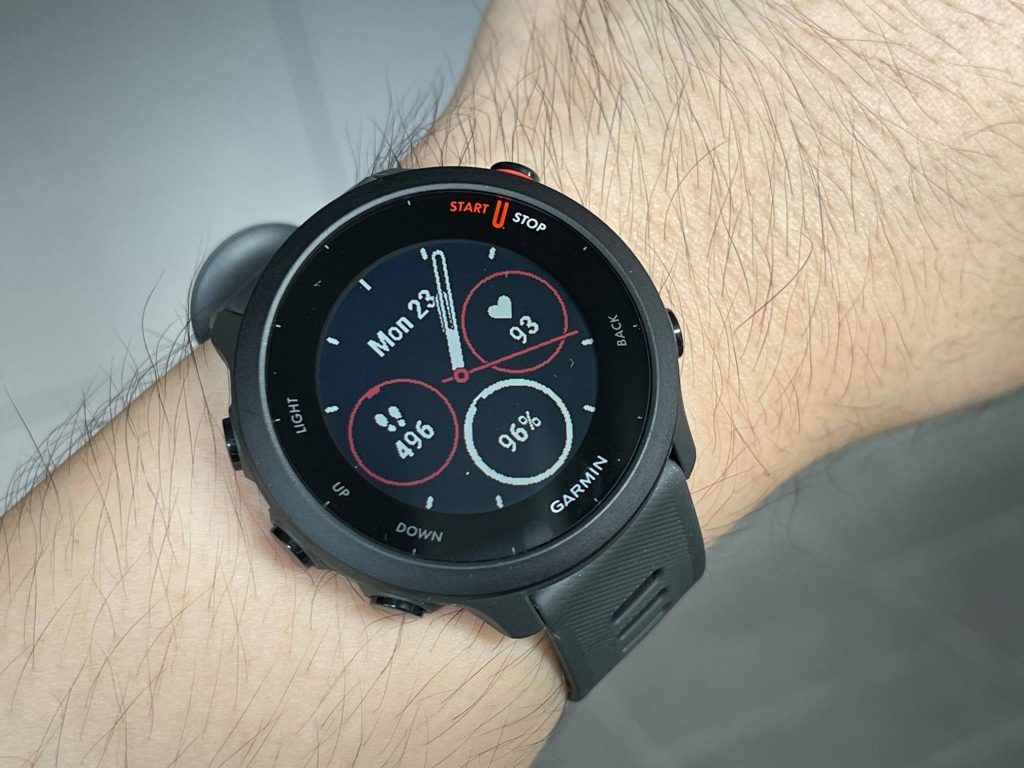 ---
For the Runners
The Forerunner 55 is literally the "Welcome to Garmin" package. It's feature packed with plenty of trackers for your running, built-in GPS and heart-rate monitoring.
The GPS
I would say, compared directly to the Forerunner 45, the GPS had gone through major improvements in terms of accuracy without taking a hit on battery life. Even if you have notification pushing turned off, you'll easily run through the battery in about 12 days. As for me, I did enable notifications and all my messages and emails got pushed to the screen. From there, I managed to squeeze just a little over 7 days before needing to charge it back up again.
Features that I enjoyed
PacePro
This is a unique gem that makes me recommend this watch to anyone who runs. Its a feature that used to be on the more expensive Garmin options such as the Forerunner 245 and 945 but now here on the 55.
PacePro tracks your run and your pace, and creates a unique pacing strategy for that specific run and recommends you an ideal pace rate. It also factors like elevation and terrain on top of your bio data ( or fitness level). I found this useful as I am someone who prefers bursting sporadically and end up exhausted to a walk, which would ruin my times. You'll have to connect to the Garmin Connect app on your phone for the unique pacing strategy to generate.
Daily Suggestive Workouts
Don't buy this watch and give up after awhile! This watch would vibrate the hell outta you to get up and running again with this feature. The Forerunner 55 analyses your previous workouts/runs and suggests the best paces for your future ones with everything factored in (even your recovery!) I followed some of the paces in the beginning but found that the recommended paces were a little exaggerated and I couldn't fulfill them. This is however normal, as the watch was simply trying to learn about you better and it (the paces) became more realistic to my fitness level after a few days of more running.
Quick Lesson
Pace = Time taken per KM (or mile) i.e 8 minutes per KM.
Body Battery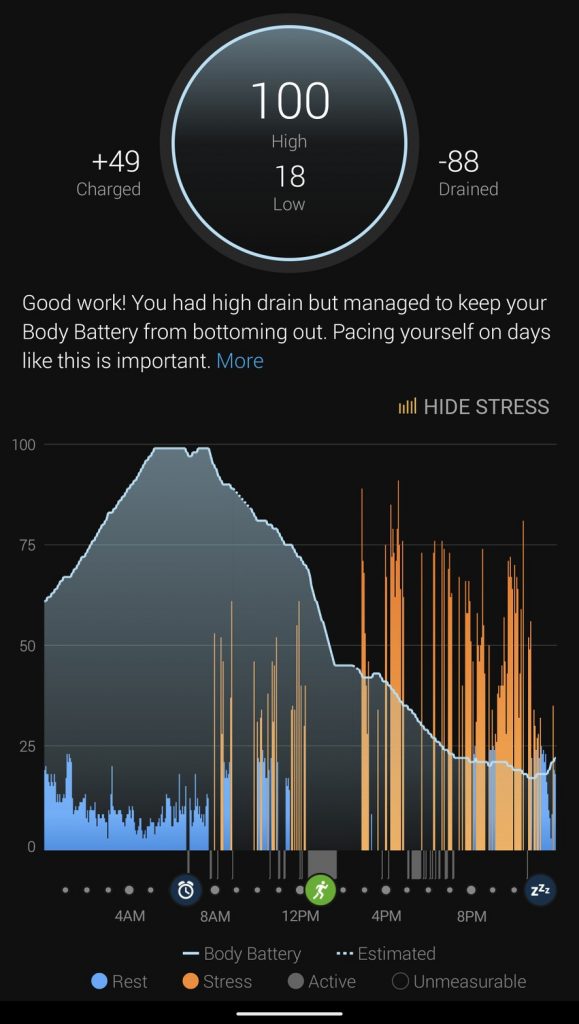 Body battery is another favorite (but not new) feature of mine. If you keep the watch on you most of the time, it's able to measure the amount of energy reserves you have to face your day. It's a simple 0-100 scale, where higher numbers mean more energy. Please know that it's not an accurate means to track your energy (yet), but the projection did benefit me in terms of knowing how good a quality my sleep and rests were and how much they add to that said battery. It works together with Stress levels to calculate the drain. When those reductions were low enough, a rest notification pops up and suggests rest, which I did my best to facilitate. In short, napping when your watch tells you to does help a long way!
Design and Display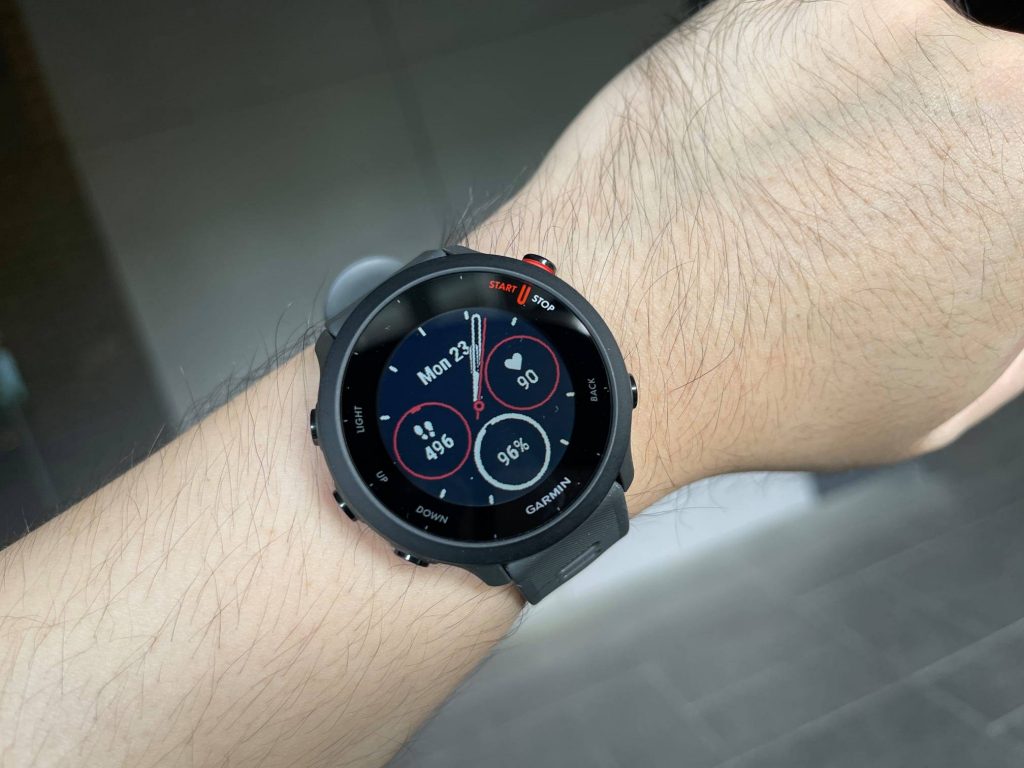 The Forerunner 55 is a very easy looking watch. It's nearly identical to the Forerunner 45 and uses a round, 42mm case (only 1 size available). Surrounding it are 5 buttons with indicators to show what they do, just outwards of the watch face. It ain't a touchscreen and the display's a low-res 208 x 208 color screen. I welcome this, as I don't prefer a touchscreen watch because my slippery fingers would not register touches well and buttons are a much better solution to this.
The LIGHT button on the topmost left is my favorite as it dimly lights up the screen, much akin to the G-Shocks I've regrettably collected over the years. The Forerunner is all plastic that's waterproof (5 ATM, equivalent to 10 meter submersion), with quick-release silicone straps for easier replacement/customization.
The watch is charged via magnetic pins that connects securely at the back of the watch. (USB-A to magpins) It weighs just 37G and is very comfortable. You won't even remember you've been wearing it this whole time!
Watch faces are customizable via the watch itself by pressing down on the UP button or from the Garmin Connect app. You can also download additional ones from the Connect IQ store but I think the built-in ones are sufficient and display all the important info that I need to care about as a runner's watch
"Screen's too small to show routes, so check your phone when you're done."
Conclusion
The Garmin Forerunner 55 is a very beginner friendly watch with enough features to even capture veteran runners. The user interface might be a little rigid and unpolished at first but you'll be able to look past it once you have it set up for the first time and you actually start running and working out.
The RM 960 price tag can be seen from 2 perspectives. From a tech perspective and a fitness perspective.
From a tech perspective, you'd obviously lean towards an actual smartwatch for that budget and therefore it's not for you. It's made for those looking into enhancing their fitness levels through granular data tracking that the Forerunner 55 can do well and with pin-point accuracy (compared to an Android smartwatch)