SAMSUNG GALAXY A54 5G
Though perceived as just as simple yearly refresh, the Galaxy A54 5G is a complete makeover in design, and then only a hardware upgrade. Better battery life, improved cameras and up to 5 years of support gives it a decent advantage in the mid-range market, but can this "awesome" change the landscape?
Love
Beautiful display
Excellent Camera Systems
IP Rating
Unified Design language
Loven't
Dicey front facing portrait performance
No charger, 1 hour full charge
Parts mostly brought over from previous generation
Hey Bixby, Read this review with me!
---
Specs
CPU
Exynos 1380 (5nm)
Memory
8GB / 256GB (microSD expandable)
Display
6.4″ FHD+ (2340 x 1080) Super AMOLED @ 120Hz
Camera
50 MP, f/1.8, (wide), PDAF, OIS
12 MP, f/2.2, 123˚ (ultrawide), 1.12µm
5 MP, f/2.4, (macro)
32 MP, f/2.2, – Front-facing
Connectivity
Bluetooth 5.3,USB Type-C 2.0, 5G,
Up to WiFi 6
Dual-SIM standby, shared SD slot
OS
One UI 5.1 (Android 13)
Battery
5000mAh, 25W fast-charging
Available Colors
Lime, Graphite, Violet, White
Retail Price
RM 1899
---
Design
"A Unifies With S"
The Galaxy A54 5G isn't like any of the A series we've seen so far. It looks and feels way moer premium, with a metal frame and a glossy plastic back. I would say the back is unique, as it almost felt like glass and it has glass-like properties. It's actually hard to notice fingerprints on it. It really feels great on hand and you'd never imagine phones under RM 2000 to get this kind of look and feel.
Following the rest of the back you'll see that the camera arrangement is now more unified with the rest of the brand, taking a vertical alignment with each sensor having a little shiny ring on them to protect them from scuffs. It doesn't protrude out the the A53's, where you'll get a little mole hill to over the rest of the system. It's now all part of the back case itself and this is a design shift I can really get behind.
The Galaxy A54 5G comes in 4 colors, ranging from your usual Black and White, followed by the bolder Lime and Violet. We got the lime, and it's not in a striking hue, which definitely takes after the S series and their subtle coloring queues.
The 6.4″ form factor sounds small in today's standards but I can assure you that it's more perfect and ideal than anything. It's incredibly pocket-to-hand friendly, an overall solid feeling device made of a good mix of materials that feels expensive but really isn't.
As with the A53, the A45 still doesn't have a 3.5mm audio jack, and I'm pretty sure we're all used to that by now.
In the front there's a 6.4-inch Super AMOLED panel that runs on a FHD+ resolution. It runs up to 120hz. Pretty much retaining the same display hardware as the A53 but only a tad smaller. The main difference here is the aspect ratio. It's gotten a tad smaller, from 20:9 to 19.5:9. It's not going to be really noticeable, as you'll still get your usual FHD+ resolution with a semi-adaptive 120Hz refresh rate.
When we say semi-adaptive, we just mean being able to choose between 60Hz or 120Hz. The adaptive part is situational, dependent on what you're doing on your phone at present. It can scale down to 24, 48 and 60FPS when needed to conserve some battery life.
As usual, you'll be treated to pinpoint color accuracy and deep AMOLED blacks, and I sometimes really feel like I'm actually holding an S23 more than anything.
The brightness game has also been increased to 1000 nits under the right conditions, 200 nits more than last year's 800 nits on the Galaxy A53. As for colors, there a new Vision Booster algorithm which is a different approach to color toning to tackle difficulties in legibility under very bright conditions such as an overly sunny day.
The Exynos 1380 Is Balanced and Efficient
The A54 5G employs a 5nm Exynos 1380 chipset coupled with 8GB of RAM and 256 GB of internal storage. Expandability via MicroSD is available, and will be using the 2nd sim-slot if you don't plan on using a 2nd number on this device.

Gaming was smooth on almost every level with accompanying thermals being within comfortable temperatures, doing a lot better against the A53 with less hiccups and frame drops during gaming. It's still no flagship processor, but in this industry we really care more about efficiency and optimization. We're going to see a lot less Exynos chips running around for awhile, so it kinda makes the A54 special.
It was also able to handle high-frequency app switching really smoothly, but we don't just thank the chipset, but also One UI. There's been a lot of improvements in efficiency and quality of life from One UI 4.1 to 5.1, and we can definitely feel that Samsung's put a lot of effort into making the A54 smooth and easy sailing, considering that it's one of the most top-priced mid-rangers in the market currently.
A real plus point here is the support backing the A Series as of now. Like the A34, the A54 gets treated to 5 years of security patches, 4 years of One UI updates (which follows Android versions) and a 2 year warranty, making this a phone that can really last for years to come, which is something Chinese competitors have still yet to learn, along with good UI design. I ain't biased but I will admit just how polished One UI is outside of stock Android.
The Galaxy A54 5G

may be the highest priced competitor, but you're paying for long quality of life and support

and that's okay
Game Test Results:
Duration : 20-30 minute intervals with 1 minute cooldown period
Graphical Settings: Medium – Max (when possible)
| Game | Activity | Highest Temperature |
| --- | --- | --- |
| Eversoul (MAX) | Dimensional Labyrinth @ 60FPS | 41°C |
| Cookie Run: Kingdom (HIGH) | Bounty, PvP and Story missions @ 30/60FPS | 41/44°C |
| COD Mobile (MEDIUM) | Mixed Battle Royale, Ranked Matchmaking @ 60FPS | 45/46°C |
Did I Just Like Every Camera Sensor On The A Series?
The main sensor looks pretty credible on paper, sharing the same 23mm focal length as the Galaxy S23 with an f/1.8 aperture. It outputs to 12.5MP by default. As usual, you'll have the AI scene optimizer along with auto HDR.
The ultra wide is 12MP f/2.2 . We expect it to perform on par with its mid-range competitors with a slight edge as Samsung usually nails it with excellent distortion correction and dynamic range.
There's a macro camera on board too, and it's a 5MP sensor, a good move compared to following other brands in this price range that offer sub-par 2MP ones instead.
These tertiary lenses I suspect them to be from the A53 5G, but they definitely don't produce the same results, with the A54 5G taking the lead.
This new 50MP main sensor really surprised me. It can handle a very diverse set of lighting situations, especially in broad daylight. You can see that HDR is so well managed here, you can clearly see and identify the blue sky and its sparse clouds without any blowout. The highlights are great too, giving enough shadow to see the bridge's tinting without any noise as well!
The windows of the buildings are well seperated, along with good exposure and not blowing out the sunlight that reflects from them. As for colors, saturation is on the modest side, as you can see from the khaki color building.
For wide angle, shots were primarily clean and clear cut with colors on the saturated side. However it's not the most detail rich we've seen but for the price it's good. It's definitely on par with last year's release which we found to be impressive from a value-quality standpoint.
Zooms did good at 2x and starts to slowly go down at 5x. There's no dedicated telephoto lens, so all zoom efforts are digital. There's a lot of post processing involved here, with AI doing some heavy lifting. You can see how reflective the car is, but it doesn't smear the lighting from the coating. A lot of phone cameras seem to fail in this test, but the Galaxy A54 managed to keep things sharp and clear. Plus, this is indoor lighting, which is actually still a tricky hurdle for most smartphones these days.
You can really nail really great shots with the Galaxy A54 and the results really show. Colors are still not saturated, leaving the Morris still in its classic British Racing Green paint job.
Ultrawide is consistent, with HDR kicking it real good except for the 3rd attempt (the trees), where you can see that the sensor was trying too hard to keep the leaves visible but couldn't contain the sheer sunlight shining through. It's a best 2 out of 3 here so I'd say it's still a pretty good ultrawide camera with all things considered. Colors remained consistent with the main sensor so that's pretty squared away. As for highlights, I like how the pillars are made out but it didn't do too well with the light bulbs.
Samsung's also pretty efficient with their lens distortion correction, so it'll never look awkward or stretched out. Overall, the ultrawide here is quite reliable and can be used in even environments with difficult lighting.
As for macro the 5MP sensor captures a good level of detail and color, but it's caked in a layer of processing and exposure bumping that could be quite off-putting for some. It can definitely impress under really good lighting, but nothing comes close if you don't have stable hands to keep it in place. If you can look past that layer of shine, it can really be usable in a variety of situations. I actually quite like how the second photo turned out. It managed to capture the rust off the nails and rivets, and even the layers of dust in the weave that was actually quite hard to see with my own eyes.
---
Selfies
The 32MP front-facing camera outputs to 12MP, with accurate toning and good of dynamic range. It aims to produce more natural looking shots by slightly toning down the saturation and I'd say that is a smart choice, leave it to the consumer to add more color! (which we don't think it needs anyway). Hair is well defined and sharp, with nothing clipping and just the right amount of light blur to not make it look like it only takes portraits.
You can also go ultra-wide selfie, which gives you a bit more headroom (literally) to fit more people in the frame if you're looking to do group selfies. I like this mode more because I feel that the execution was on point, and it's not that in-your-face (again, literally), so you look a little smaller. It's just cropping to achieve these focal length for selfies so tone, color and contrast pretty much just looks the same.
For portraits, there's a slider for you to adjust how much background blur you would want in your shot, and I recommend that you keep this modest between 50-60%. Subject separation is actually okay this time around, with skin tones looking fantastic above all else. HDR keeps aggressive lighting at bay though in this case, the sky is already blown out but only by a little bit. I'm just happy at this point that the camera kept my hoodie looking sharp and not just my face, really adds more natural presentation rather than just on my face but everything else is blurred out.
If it weren't for that slider, I'd already be complaining about how aggressive the bokeh is so it's plus points to the software for letting us choose just how much blur we want for our portraits. In this second shot, the moment lighting tones down I realize just how detached I look, as though I was edited in. There's this uncanny light halo effect when HDR tries to keep the lights balanced enough to not make things like ears and hair awkward. I think this needs a little improvement from a software update.
Apart from that, shoot portraits to your heart's content here, it's still good but still needs to do just a little bit better.
---
You'll get more than a day's battery life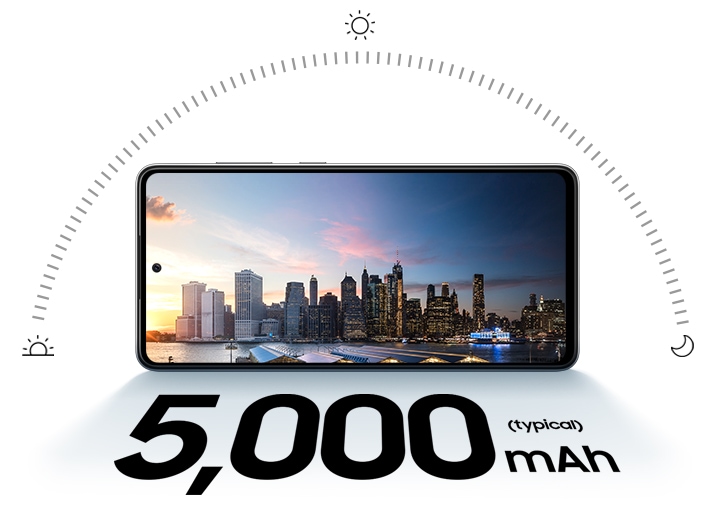 It packs the same 5000 mAh battery as the Galaxy A53. After some comparison, it's facts that the A54 lasts longer than the 2 days battery life the A53 had to offer. There are a lot of factors at play, primarily software over hardware. Though it is an upgraded processor, it's still a 5nm chip so power use is more or less the same. As for software, One UI 5.1 is a generation ahead of the A53 5G's 4.1, so improvements in quality of life, power management and performance would have played a key role in giving users more battery life.

On a marathon run, we managed to get to day 3 with just 17% left in the tank with Power Saving. If you're a heavy, intense user, expected overnight top-ups regardless.
Now comes the charging. It's still a little slow in today's standards to recharge, coming in at 25W max. A full charge still takes slightly over an hour which isn't too bad of a speed despite the low charging wattage.
Luckily we have our own 25W Samsung charging brick and we managed to get some charging speed tests done.
Charging Results
| From 1% | Unplug % |
| --- | --- |
| 15 mins | 36% |
| 30 mins | 55% |
| 60 mins | 97% |
Is it for you?
"The Galaxy A54 pops more inside than outside. It has more than enough upgrades to justify its asking price, with a look and feel that's absolutely great and an unusual set of colors to choose from "
If you're looking for absolute reliability for years to come, the Galaxy A54 5G will have up to 5 years of support behind it. Camera performance was simply awesome for its tier and performance matches the competition although not strong enough to blaze the scene. It's more like a fair fight in that stance.