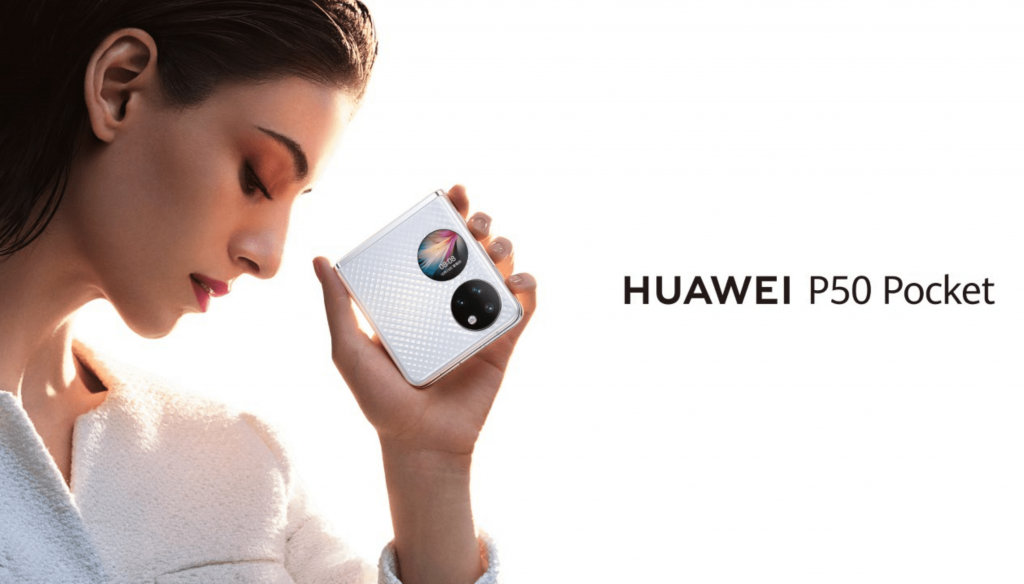 HUAWEI had just globally announced their P50 Pocket, an interesting foldable with some cool quirks to take on 2021's foldable dominator Samsung. But in order to fight this Goliath, HUAWEI needs to bring out the big guns on their P50 Pocket as they've had a year to look into their competitor's flaws and find every avenue to improve on to take the fight into 2022. Let's dive into the potential edges the P50 Pocket might have, as we've gotten a hands-on taste today!
---
The Display
Probably being one the most eye-catching part of things, the outside part of the device has a small 1″ ring cover screen that's capable of displaying glance-worthy notifications like time, date and even maps. It's a colorful screen that's as big as the camera module that's the exact same shape.
Unfolding the device leads you to the main screen, which is 6.9″ display with a 21:9 ratio which results in a full-screen viewing experience (much akin to their Full-view style displays). The screen is ultra responsive as well, running a 120Hz refresh rate with a 300Hz sampling rate potential if you're keen on gaming.
Cameras
The P50 Pocket has a tri-camera setup, consisting of a a 40MP main cam with a 26mm equivalent lens alongside a 13MP f/2.2 ultrawide snapper and a 32MP f/1.8 ultra spectrum camera which give a color rendering boost and follows the DCI-P3 gamut spectrum.
The Hardware
The chipset of choice for the P50 Pocket is the mainstream Qualcomm Snapdragon 888 SoC, an interesting pick as we've come to expect HUAWEI to lean more to the Kirin side of things. I still say it's a good pick but the brand must be careful in optimization to prevent overheating. Still, We expect better photo reproduction since Qualcomm has a better ISP in my opinion to achieve this. Keeping things smooth is 8/12GB of RAM with 256/512GB of internal storage.
The battery has a 4000mAh capacity that's juiced up by 40W of wired SuperCharging. I'm happy to see a foldable go beyond 20W of charging. Seriously.
The Design
The P50 Pocket sports a mixed design finish, each with their own unique feel. We got to touch the white, which has a mildly ribbed hexagon finish that feels solid to the touch and firm to the grip. It will combat slips if you're part of the sweaty palm gang. The phone is 7.2mm thin and does not have any gap for any small objects to hide in. Neat!
Huawei P50 Pocket comes in white and black colors as well as a special premium edition gold trim.The standard P50 Pocket comes in a single 8/256GB trim and retails for CNY 8,988 which equals $1,410. The special edition gold model with 12/512GB will cost CNY 10,988 ($1,725). First sales in China start today. Malaysia's official release date is yet to be announced but it's for damn sure going to be some time in 2022.