You've probably seen these tiny sized keyboards around recently. Or better yet, were looking around at wireless gaming keyboards and this guy was in your search results. Mechanical keyboard? Check. RGB lights? Check. Wireless at rm250? This can't be right it sounds too good to be true. I knew what I was getting into, but the Anne Pro 2 genuinely surprised me.
Specs
| | |
| --- | --- |
| Size | 60% ANSI Layout |
| Switches | Gateron Brown |
| Hotswap | No |
| RGB | Yes, per-key Illumination |
| Wireless | Yes, Bluetooth 4.0 up to 4 devices |
| Typing Angle | 6 degrees, non-adjustable |
---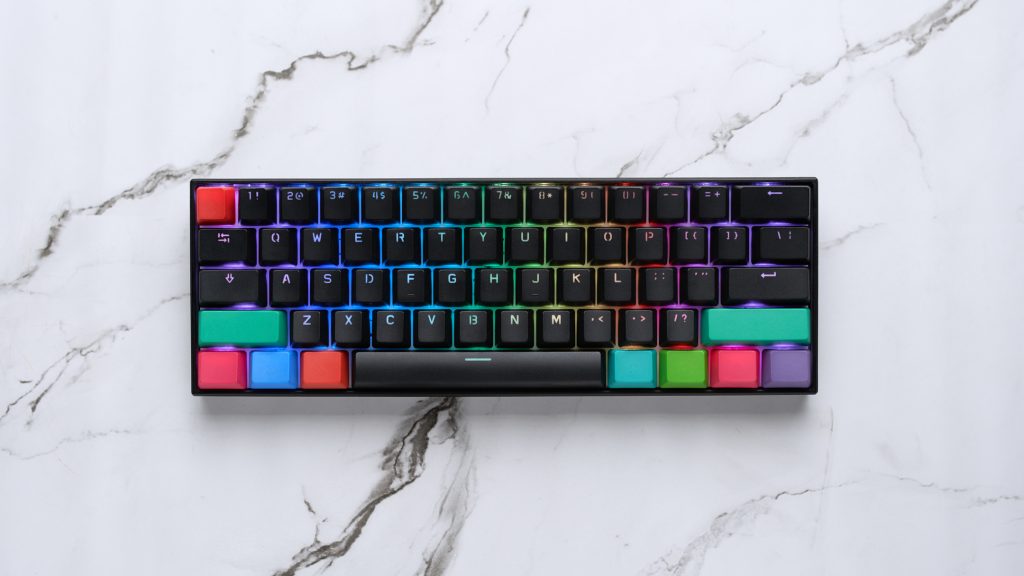 Build quality/ design "Guaranteed street cred right out of the box"
At first touch the keyboard feels light, which is perfect if you plan bring this on the go. The case is plastic with a mild and safe typing angle while the keycaps are PBT double shot, so it will outlive whatever phone you're using now while being way more fingerprint resistant.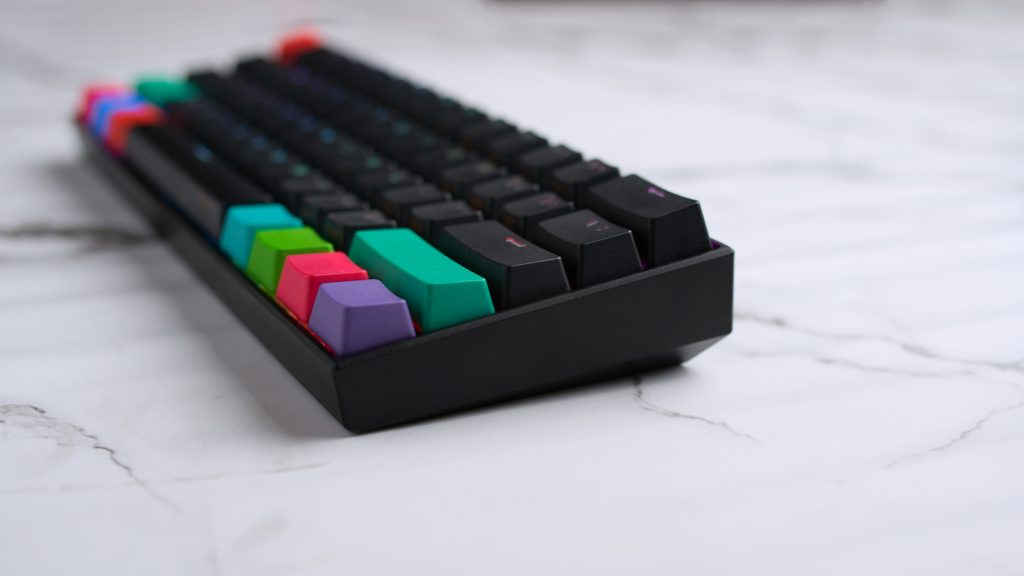 The case has an angular design reminiscent of much more expensive keyboards with no flip out feet to adjust typing angle, but it does have rubber strips underneath that keeps the keyboard planted very well. The Anne Pro 2 is available in black or white and comes with extra pack of colored keycaps if you want it to be special enough to let you use the disabled parking. I customized mine with as many different colors as I could, and I am quite pleased with the outcome (and it looks gorgeous on camera too, to my surprise).
The Anne Pro 2 is also non-hot swap, so you don't get to put in other switches, but there is still modifying potential such as the typical lubing process and adding foam in the case which helps eliminate the hollow sound of the keyboard. A little fun fact: the Anne Pro 2 is compatible with the immensely popular KBDFANS aluminum metal case, so the Anne Pro 2 can transform into a premium custom keyboard if you put the money and time in it.
---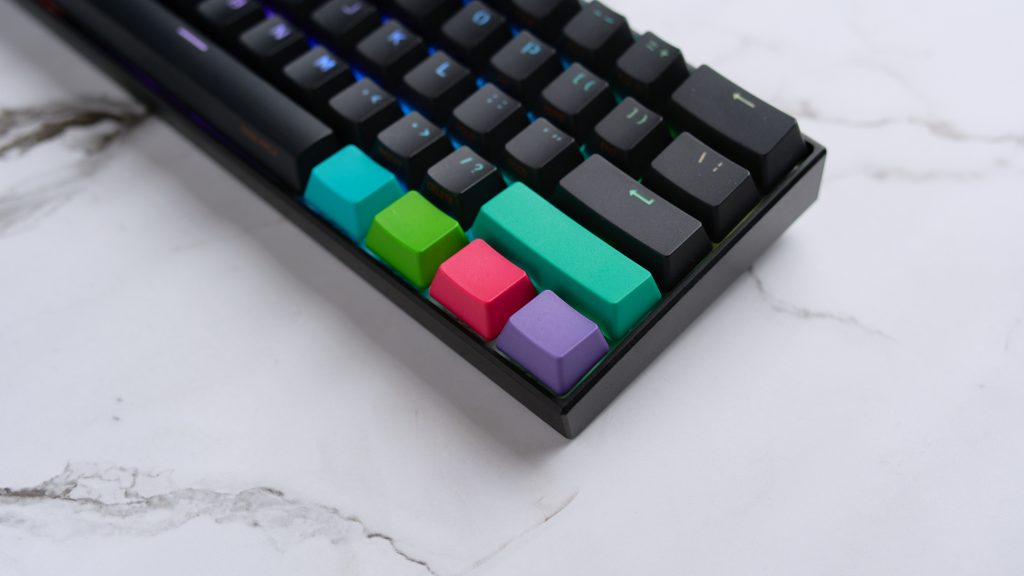 User experience: Unassuming but incredibly smart
The Anne Pro 2 comes in clicky, tactile and linear switches from Gateron, Kailh and Cherry. The prices increase according to the brands I've listed with the latter being the most expensive but known for its tried and tested switch life span. Mine has Gateron browns in them.
Cherry: RM 325
Kailh: RM 280
Gateron: RM 240
These browns (p.s. not racist) feel as standard as it gets, it starts off with a slight bump and travels smoothly to the bottom. The stabilizers come pre lubricated but the rattle is still very much present and leaves much to be desired. The Bluetooth works great with latency being very minimal if your Bluetooth receiver is in direct line of sight.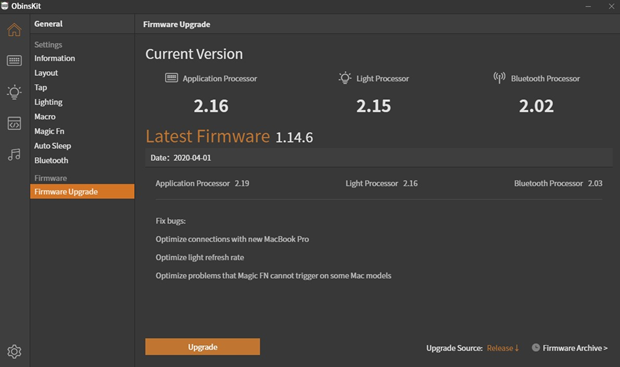 The Anne Pro 2 has its own software called Obinskit. From here you're able to view everything at a glance and make all sorts of changes, from RGB configuration, key mapping and even checking your wireless battery life. The lighting presets are nice and it even has an audio reactive preset that's more commonly seen in more upmarket keyboard brands like Razer, that come with price tags that are 2-4x the Anne Pro 2's. The biggest surprise here was that the firmware updates make really impactful updates such as tweaking the RGB refresh rate and optimize connections to the newer MacBooks. Here comes the sad train, as the one that that let me down about this keyboard was the missing ability to control the RGB effect speed. It may sound like a small feature to nitpick on, but it is available on most RGB keyboards so why is it missing on the Anne Pro 2?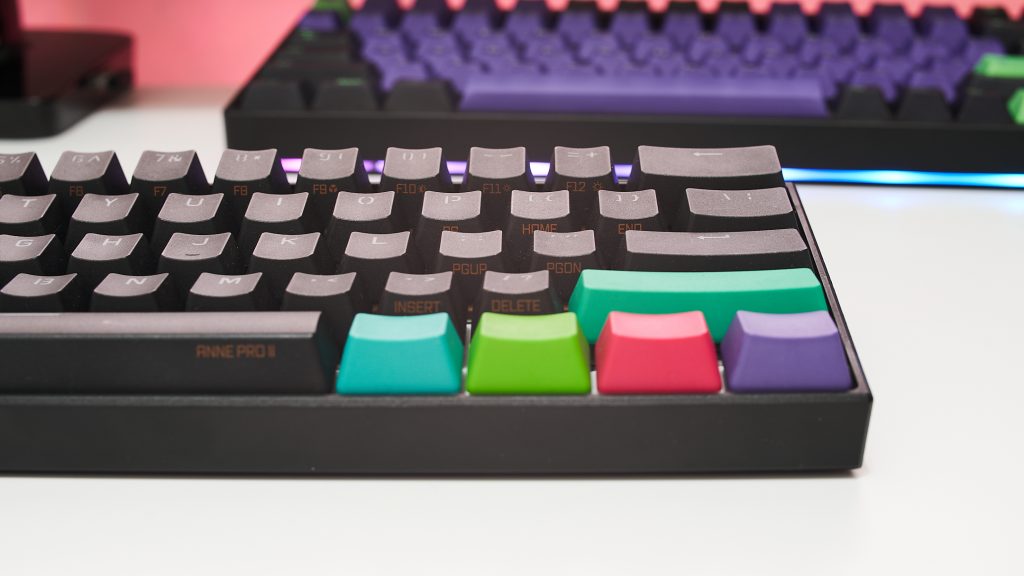 The Anne Pro 2 sports a super standard layout, typing on it will feel no different than any other keyboard (if you don't live in the UK). Your delete keys and other extras are now mapped under a FN combo which is also conveniently side-printed on the keycaps, very thoughtful of Obinslab!

Now here comes the genius part of the keyboard. Most people don't use a 60% keyboard because of the lack of arrow keys, but Obinslab solved this problem by setting right shift and the 3 right most keys on the bottom row to work as arrow keys if you rapidly tapped them. This completely blew me away when I first used it by accident. The implementation felt natural and truly is an innovative solution to a common problem. Massive props to Obinslab for coming up with this.
During my Discord and Microsoft team sessions, my condenser microphone would pick up the keyboard which annoyed people, so this is not an office friendly keyboard (unless you work in a cybercafe).

Big brain special discovery: The Gateron switch variants while being north facing have no issues with using Cherry profile keycaps like the expensive GMK sets.
Conclusion
To wrap things up, the Anne Pro 2 is a very compelling entry level wireless 60% keyboard. There are cheaper alternatives but none of them have software as good as this does at the time of writing.  If you are looking for a wireless 60% that's budget friendly, get the Cherry switch variants and it will last you a long time. If you accidentally fall into the custom keyboard hole, the Anne Pro 2 will have plenty of things to teach you.