This was the piece of tech i've waited for Samsung to release for ages last year. It had all the right ingredients to become a great tablet that's finally not an iPad, and it did. However, there were just quirks in the software side of things that just made the productivity focused tablet feel more like an entertainment tablet and that's fixable, we just don't know when.
---
Specs
CPU
Qualcomm Snapdragon 865+ (7 nm+)
Memory
8GB RAM / 256GB (microSD up to 1TB)
Display
12.4-inch 2800 x 1752 SUPER AMOLED 60/120Hz
Camera
13MP – Wide
5M – Ultrawide
8MP-front
Connectivity
Up to WiFi 6, Bluetooth 5.0, USB Type-C 3.2, Magnetic Connector
OS
One UI 2.5 (Android 10)
Retail Price
RM 4599
Available Colors
Mystic Black, Mystic Silver , Mystic Bronze (N/A in MY)
Freebies
Keyboard Cover
---
Excellent Workhorse of a Tablet

The Galaxy Tab S7+ was both impressive on paper and in real life use. The tablet is huge and unyielding but not for iPad Pro 12.9-inch owners. If this is your first tablet, don't worry, you'll get used to the size in no time. It was able to run any game and app you can throw at it with the added bonus of a S Pen in the mix for a good measure of anything.
The 12.4-inch AMOLED panel was nothing short of amazing, as though you were holding a portable Samsung AMOLED TV on your hands. The 120-Hz refresh rate made things very speedy to navigate around, and even if you are looking to play games here to take advantage of that refresh rate and specs, you better have big hands, as it gets very hand cramping when you're trying to play FPS games here. If you have a controller lying around, then you pretty much have a portable console.
The tablet was definitely capable of multi-tasking, with 8GB of RAM to keep things zippy. The onboard 256GB of storage was adequate in tablet standards, with expandability of up to 1TB using the microSD slot.
The S Pen is awesome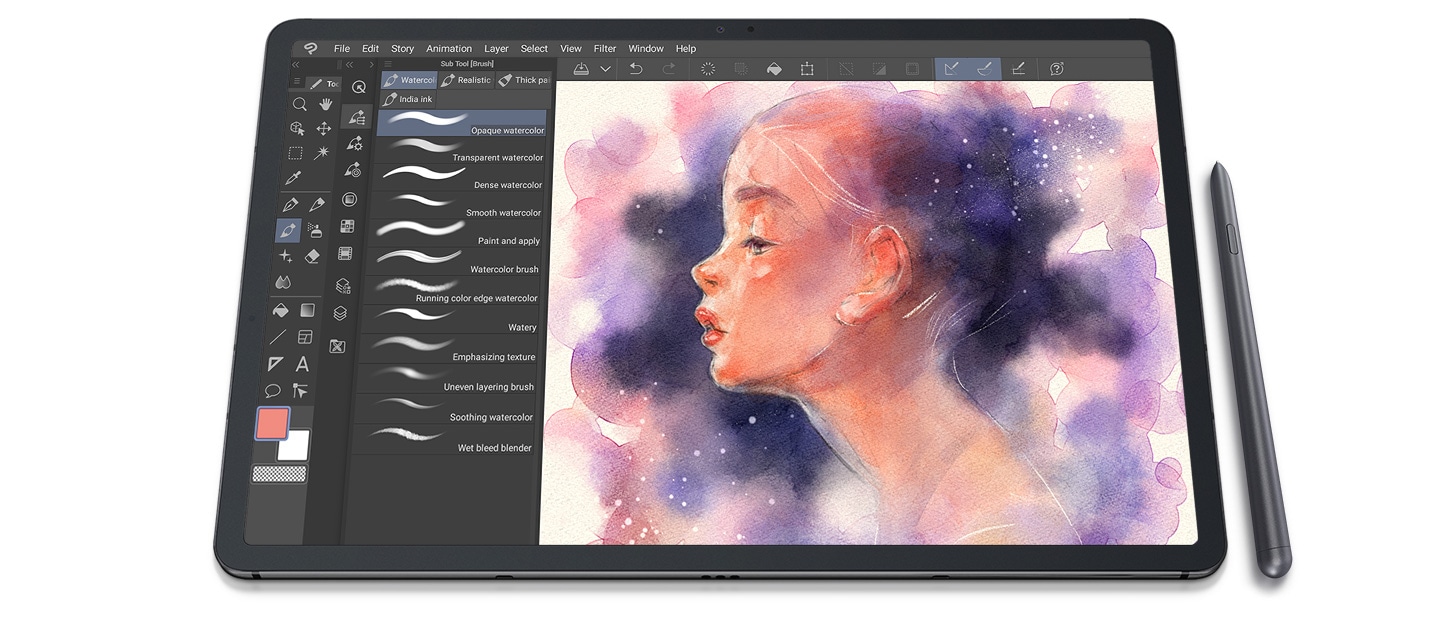 I liked my Note 20 Ultra very much, but as with all the Notes i've ever used, I would always still feel that the screen was too small to really do much except writing down my quick notes. Here, you're getting a bigger S Pen with a rapid 9ms response time, complete with all the gestures ONE UI has to offer to their S Pen users. Writing and tracing has never felt more fluid and responsive, and it was a better experience compared to pairing it to a mouse when it came to using Canva and Photoshop. It charges magnetically behind the tablet near the camera sensors. The included magnetic case has a dedicated flap for you to access the S Pen and it keeps it from separating out if you've wrongly aligned your S Pen and it doesn't attach magnetically. Convenient!
Battery Mileage may vary
You've got the chipset, the memory and the display. How about the battery life?
On 120Hz, you'll definitely get a day's use of medium usage, but if you were to push it to the max you'd be begging for the charger by the early evening if you start your day in the morning. 60Hz-mode pretty much doubles down these times, being able to push up to nearly 2 days with the same habits. I do suggest toggling here and there throughout your day to maximize your screen on time potential. Be wary, as under heavy usage from games, videos and even just word work, it did get toasty, especially on the lower middle of the device.
Charging speeds were expected, taking about 3 hours to fully charge using the included 15W charger. It's about the same with other tablets, and some might say it's too long, but hey, find me another way to charge its huge 10,090 mAh battery without high heat and degrading battery health and then I'll shut up.
Audio playback was good, with four loud AKG-tuned speakers boasting Dolby Atmos support. Almost every aspect of the playback quality was impressive, having richness in the lows, mids and highs. From my Classical to EDM playlists, I forgave the omission of the 3.5mm audio jack. You can keep your bluetooth speakers home, son.
Now the keyboard
For the Malaysia market, we're blessed with getting the book keyboard case included in the package without extra cost. Knowing that, I decided to be more lenient towards the keyboard. It's a good keyboard don't get me wrong, but the limitation is the design itself, where it's simply not sturdy enough to stay stable on your lap. It's a separate case that attaches magnetically on the slate and that's also how you charge it. All you have to do is simply kick the tablet case out for it to stand upright and it'll look exactly like every other 2-in-1 notebook in the market.
Typing was comfortable, and the trackpad almost decent. I still prefer navigating via the S Pen , touch and even a mouse, even with DeX mode on, which is pretty much One UI's Desktop Mode. This is where things get wild. My love-hate part towards this tablet are both the keyboard and using apps on Desktop/tablet mode. It's not entirely Samsung's fault here, but also towards the development scene of apps. They're simply just not optimized to resize or stretch properly to fill the screen without looking like a weird rectangle with missing icons or windows. DeX lets you run apps in both fullscreen and windowed, with limitations. Some apps do let you resize those windows, and for the apps that can't, you'll have trouble navigating so I just recommend sticking to tablet mode if you're particular about your app sizes. In this respect, my final words are, DeX has made strides since its early days, but the journey is still long and arduous.
Final Thoughts
The Samsung Galaxy Tab S7+ is the only real competitor to the iPad Pro, bringing function, performance and connectivity to the table. It's a refreshing sight to have. I love my my iPad Pro, but to have a tablet with Android's versatility and customization is a fresh perspective in a stagnating tablet scene. It can't possibly be a complete laptop replacement, but it closes the gap even tighter. If you wanted to expand your Android ecosystem even further, then this tab needs to be on your list.
The cost of adoption might be dissuading to some, with an an asking price of RM 4599. It's a lot, but comparing apples to apples, you're getting a full package deal, complete with the keyboard, cover, and S Pen, ready to use, saving you time (and money) on having to get extra accessories out of the box.