We've recently reviewed the Samsung Galaxy S22 Ultra 5G, and we found it to be quite the flagship camera phone to get used to. It managed to pull off a solid camera experience that both photographer, social media addict and content creator can get behind. Today, we're taking a deep look into the camera systems, from A to Z, as detailed as we can.
Here's a quick Spec reminder so that you'll know what you're dealing with.
---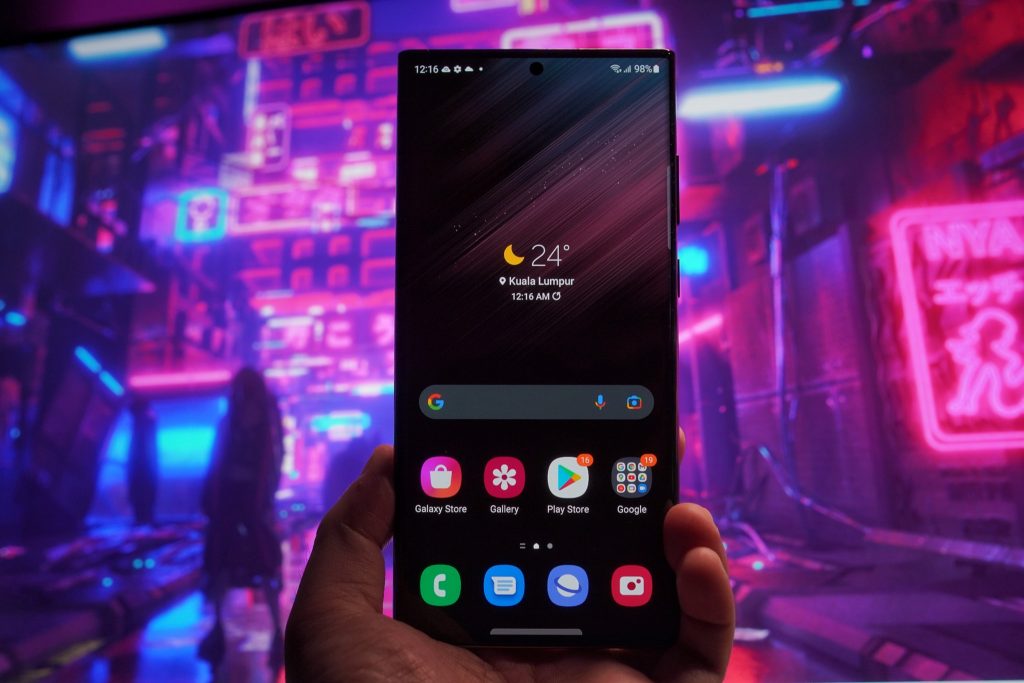 Specs
---
CPU
Qualcomm SM8450 Snapdragon 8 Gen 1
Memory
128GB+8GB RAM, 256GB +2GB RAM, 512GB+12GB RAM
Display
6.80″ Dynamic AMOLED 2X, 120Hz, 1750 nits Peak Brightness
Camera
108 MP, f/1.8, 23mm (wide)
10 MP, f/4.9, 230mm (periscope telephoto)
10 MP, f/2.4, 70mm (telephoto)
12 MP, f/2.2, 13mm, 120˚ (ultrawide)
40 MP, f/2.2, 26mm (wide selfie)
Connectivity
Bluetooth 5.2 ,USB Type-C 3.2, Samsung DeX
OS
Android 12, ONE UI 4.1
Battery
5,000 mAh, 25W/45W Fast Charging (PD 3.0)
15W Wireless Charging
Available Colors
Burgundy, Phantom Black, Phantom White, Green
Retail Price
8GB/128GB – RM 5,099
12GB/256GB – RM 5,499
12GB/512GB – RM 5,899
Rear Camera Systems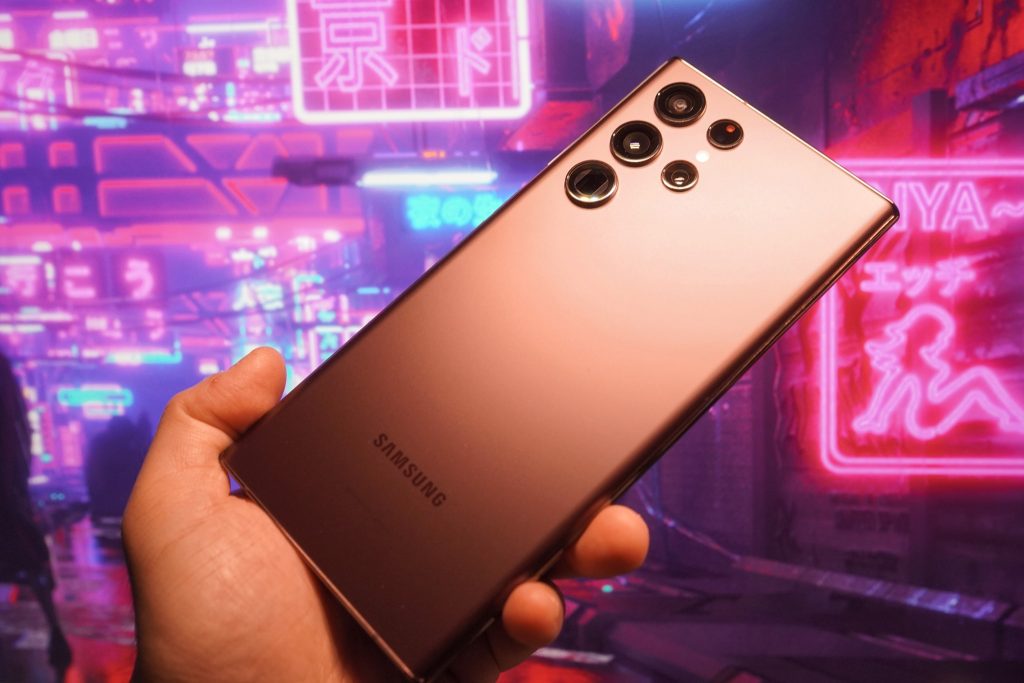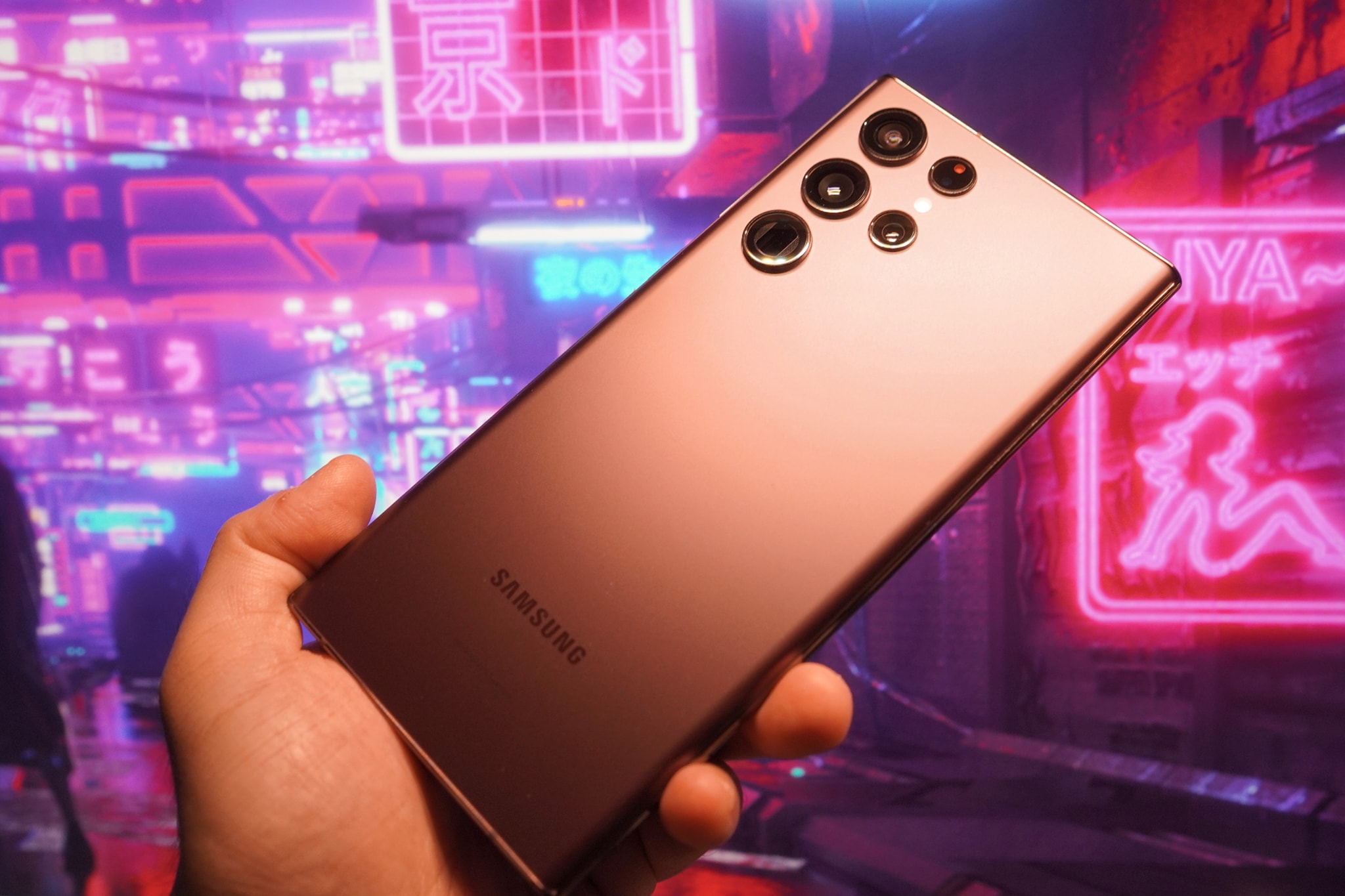 The Low down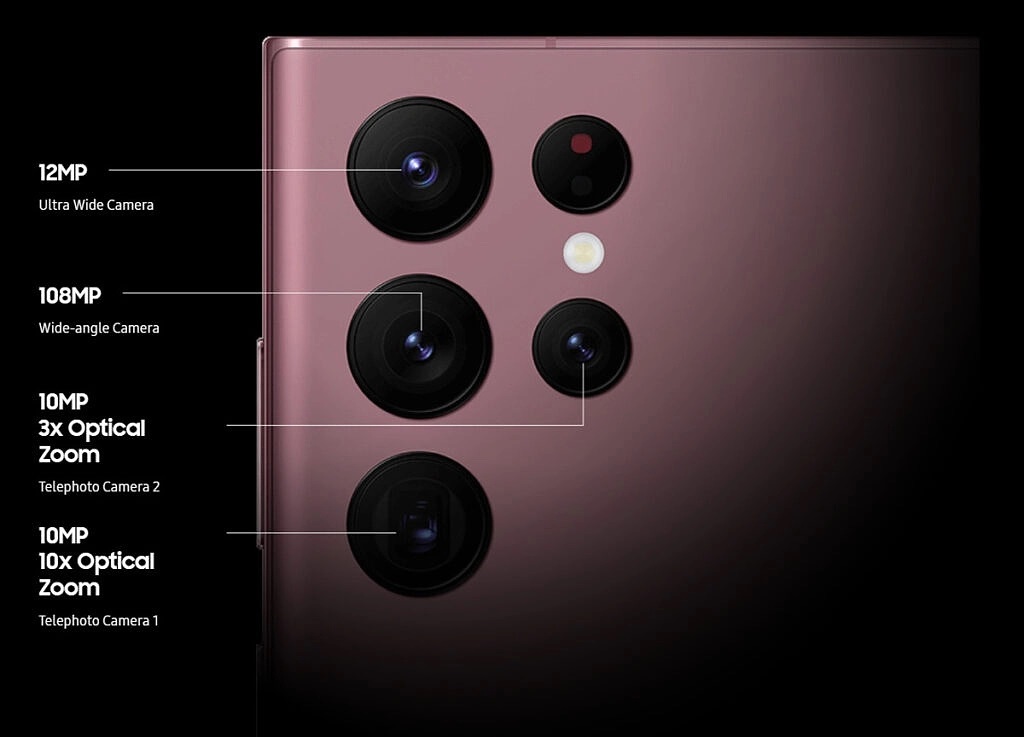 The Galaxy S22 Ultra 5G deploys quad-camera setup – a 108MP primary camera, a 10MP telephoto, 10MP periscope telephoto, and a 12MP ultrawide sensor.
---
Standard Wide Angle (108MP / 12MP)
Although on paper it reads as a 108MP camera, it's technically a 12MP sensor since that's the default it outputs images to. It's the same ISOCELL HM3 sensor as last year's S21 Ultra, so it's a 1/1.33″ sized sensor with a pixel size of 0.8 micrometers. It has a focal length of about 23mm, and what makes it work well is the pixel binning tech, which is 9:1 on the S22 ultra, essentially adding those numbers up to 2.4 micrometers. With an aperture of f/1.8, you'll be able to capture a small amount of depth of field with a good amount of brightness.
Best Application
As a standard wide-angle, you're able to capture just about anything and it'll look good. The priority here is making sure your focus game is on point because smartphone cameras tend to have blurs outside of the center-focus point, which would more apparent with low-light shots. If you really wanna nail those shots that are well focused, ALWAYS go PRO mode.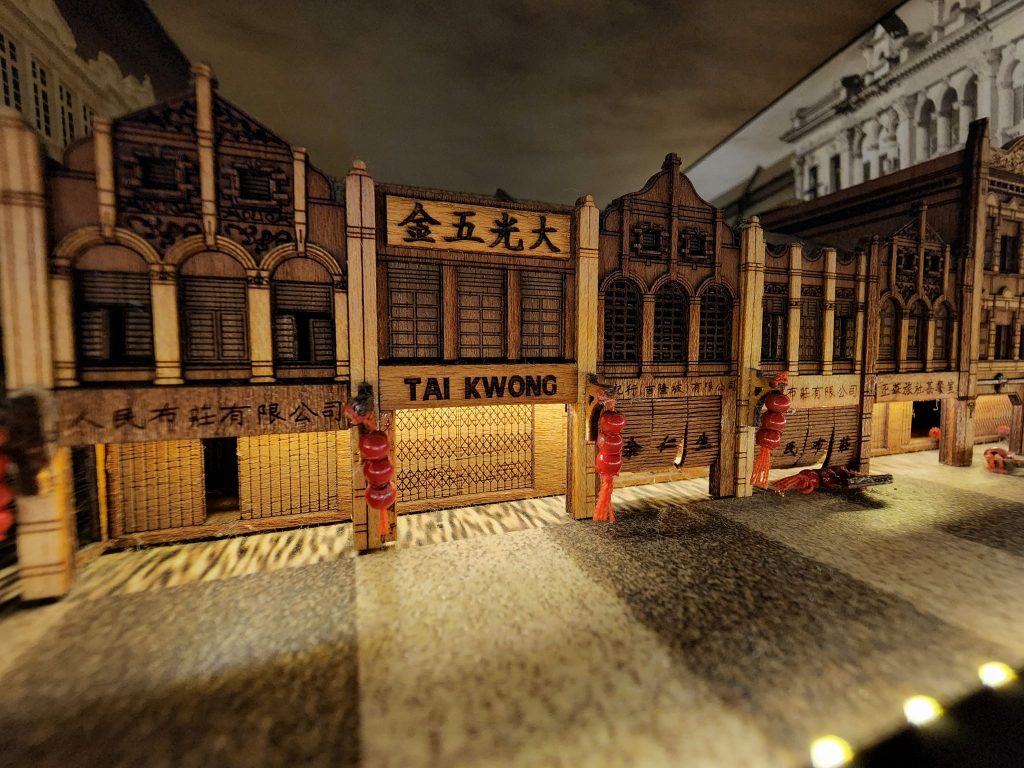 Not only would you have full control, but you'll get to control your shutter speeds, exposure and focus points. Choosing manual focus and rolling the dials does a better job than the AI at times, which might fail to focus on the right part of the subject that you want to take nicely. Taking good shots, the AI can do, but for great shots, its up to you, the user.
Out of all the sensors, we expect that this one would be used the most by the common user. Practice different perspectives, explore all possible exposure levels and focus well. Here's a couple more shots when it comes to lending perspectives, as we too encourage people to practice in skill to complement the hardware.
Ultrawide Angle (12MP)
If you're not a zoom kind of person, then the 12MP ultrawide camera would be your 2nd most used sensor. Being able to cover 120 degrees wide, it's always tricky to nail the best look perspectives whilst trying to maintain some semblance of balance and sharpness all around.
This is when you need to rely on the autofocus here. Not all phones that have ultrawide lenses come with autofocus, but this S22 Ultra does (and sadly the other 2 22's don't). Using the autofocus on an ultrawide helps the phone lock in on your point of focus better and again, if it fails to do so or it's not focusing on the right part, then you can still use PRO mode and selecting the ultrawide lens in the process. Be sure to check your compositions and make sure the lighting's just right, because ultrawides are infamous for producing grainy shots if the lighting is poor. You can take a look at our sample night shot in the slideshow to see a good example of a well-lit night scene.
The Telephotos
Zooms can be tricky on any smartphone, since it's either hardware or software assisted. The best would be hardware, since it would be a dedicated lens for the job. Even as such, it's also the hardware's (processor) job to output images well, putting all the pieces together to make one gorgeous image.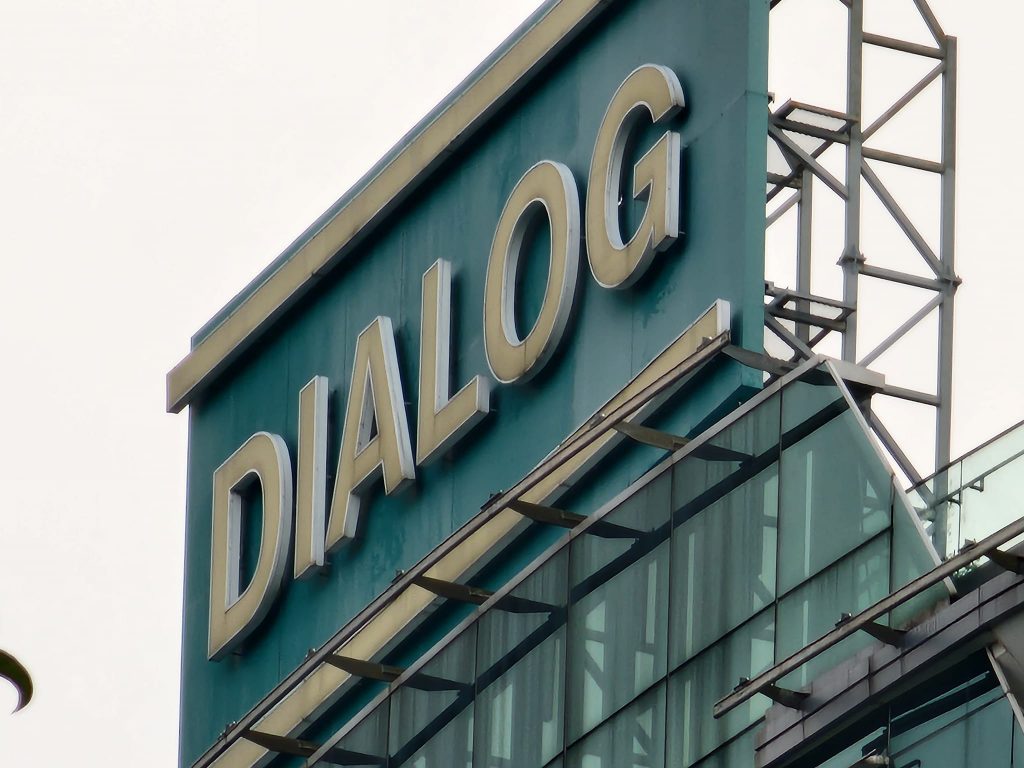 So what's the difference between the S22 Ultra's Telephoto and Periscope Telephoto?
The difference is the movement and non-movement. Telephoto cameras are able to zoom optically with/without moving any parts, whereas the periscope simply acts as an extension to the existing telephoto lens. The advantage is having a natural zoom experience with little to no parts moving when taking the shot. The reason why shots can be so sharp and detailed even when zooming in is because it's the hardware that's zooming and it's definitely not digital. This results in shots that have less noise and grain compared to digital zoom.
On the S22 Ultra, it's not pure hardware zoom mind you. It's more of a hybrid, so when you go really far, like lets say 30x and beyond, you'll be stretching the limits of the periscope and the rest of the phone has to zoom digitally to reach your desired zoom level, like 50x or 100x. With this combination, shots might more more noisy, and the device has to compensate in post, so you might notice a watercolor effect taking place, and it's up to you whether you'd find the image usable or not.
The application here is not always about taking sick, far out shots, but more towards just being able to see a great distance to find out what's out there. This makes it more of a tool, and you'll need to understand at this point that the final image might not look as pretty as we think.
Samsung Calls This Space Zoom, And It's Impressive.
We Could See Genting From KL!
As you can see, Zooms really have come a long way, and we're still able to get the S22 Ultra to be as "thin" as it is right now. We took the above zoom shots from the heart of KL (KL Trillion), and Genting Highlands is about 50KM away! You'll definitely need to be a stable as you can, and even though we recommend a tripod for your device, sometimes you'll still be able to pull it off ghetto-style by just leaning your device onto a rail and remaining and still as possible, because at these crazy zoom levels, the slightest of deviations could potentially smudge up the shot and create plenty of noise. We were lucky to have such balanced evening weather (also thanks to the camera's excellent dynamic range capabilities) to have landed such clear shots!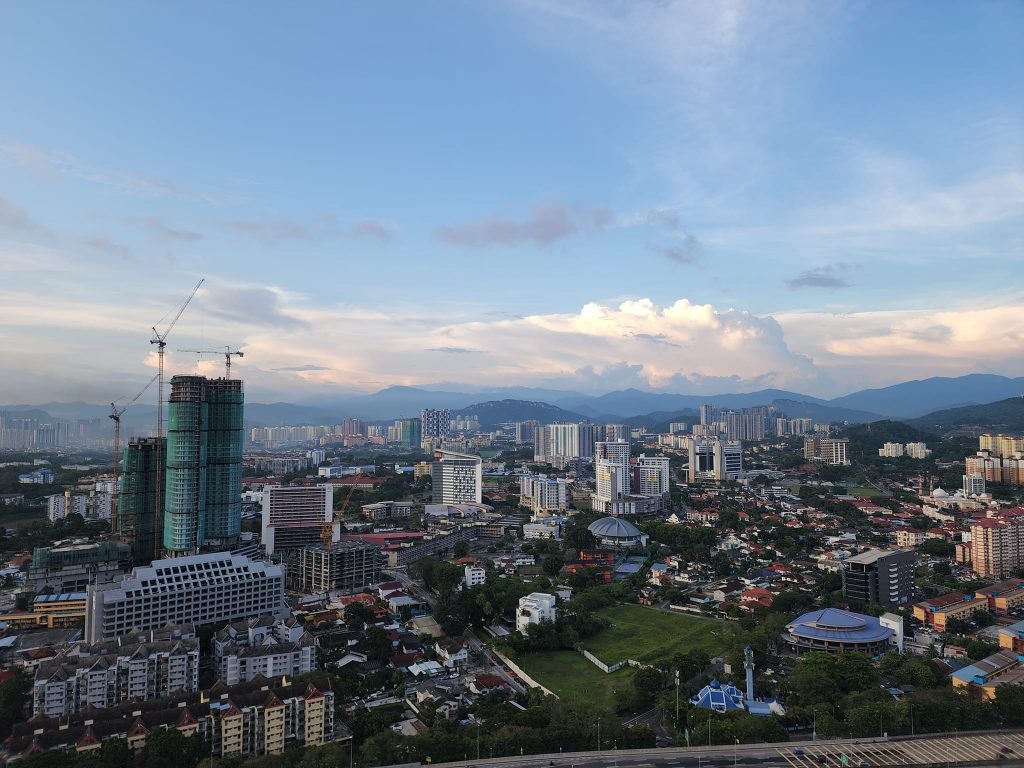 To The Moon and Back
Of course, moon shots have now been synonymous to Samsung since its debut of Space Zoom on the S20 series. 2 generations later, it only makes sense that the tech should advance and make things better than before. Again, we're playing with 30x and 100x, no tripod, but absolute, trained stillness. Here's how it went.
---
No Pro mode is needed to get these. Just be on default mode and start pinchin' to zoom. Obviously we'll see the gradual drop in detail when we reach 100x zoom, but for now, no other phone can come close to this level of detail and distance, no matter how hard we've tried. Even though it's clear that we should recommend only 30x for the moon and probably ask you to just crop, sometimes you'll never know how lucky you are to land a perfectly sharp shot of the night sun. We didn't edit the image in any way. All natural baby.
PART 2 – Nailing The Urban Setting